| | |
| --- | --- |
| AceNotes Today | Thursday, April 6, 2023 |
Lot H to close for Bike Race
Lot H will be closed to all vehicles beginning on Sunday, April 9th at 3pm. The closure will remain in place through Saturday, April 15th. The closure is will allow for improvements and preparation for the Annual UE Bike Race. If you are using Lot H prior to April 9th, please move it prior to the closure.
The alternate lots are Lot C behind Koch Center, Lot A behind SOBA, and Lot O next to the Armory.
Submitted by Jason Cullum jc647@evansville.edu
Koch Market Temporarily Closed
Due to terminal failure in the POS system at Koch Market, this location will be closed until we are able to locate and connect a replacement. We apologize for the inconvenience and appreciate your patience while we work to resolve this issue.
Submitted by Samantha Williams sw342@evansville.edu
Pep and Vim/Reunion Weekend
FREE Swag for Volunteers - Purple Flags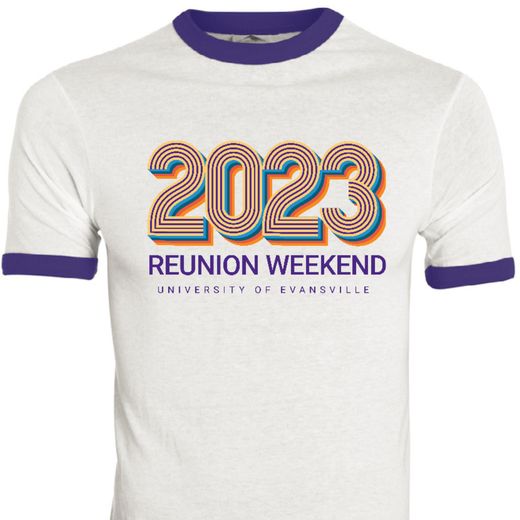 On Saturday, April 8, the Alumni and Engagement team will be placing purple flags around campus for Pep and Vim, the UE annual day of giving. One way we express gratitude for UE donors is by planting one flag for every person who has made a gift to the university over the past year. This allows everyone on campus to see the generosity of the UE family and to know there's an amazingly philanthropic community that continues to empower all Aces.
We need your help planting flags on April 8! We will begin at 10:00 a.m. and we should be finished by noon. Each volunteer will receive a FREE Reunion Weekend t-shirt, and one volunteer will be selected at random to win a premium prize! If you would like to volunteer, please contact alumni@evansville.edu.
Thank you and GO ACES!
Submitted by Jaime Wilder jw663@evansville.edu
SAA Volunteers Needed for Penny Wars
Penny Wars is coming, and we need your help to raise funds for the UESAA Scholarship. This scholarship is sponsored every year by the generosity of the campus community through the annual Penny Wars competition. SAA members are needed to help run the table during lunch from April 10-14. Sign up today!
Submitted by Jaime Wilder jw663@evansville.edu
Alumni Awards Dinner is Saturday, April 15, 2023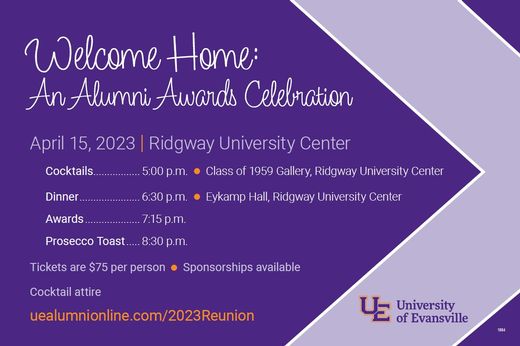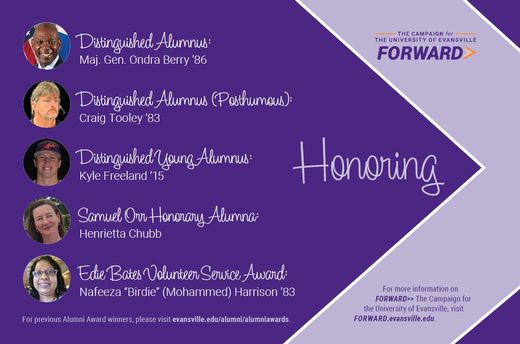 Welcome Home: An Alumni Awards Celebration
April 15, 2023 – Ridgway University Center
Cocktails 5:00 p.m. Class of 1959 Gallery, Ridgway University Center
Dinner 6:30 p.m. Eykamp Hall, Ridgway University Center
Awards 7:15 p.m.
Prosecco Toast 8:30 p.m.
Tickets are $75 per person.
Sponsorships available.
Cocktail Attire
Register here! (use link uealumnionline.com/2023Reunion)
Honoring:
Distinguished Alumnus Maj. Gen. Ondra L. Berry '86

Distinguished Alumnus (Posthumous)

Craig Tooley '83

Distinguished Young Alumnus Kyle Freeland '15

Samuel Orr Honorary Alumna

Henrietta Chubb

Edie Bates Volunteer Service Award Nafeeza "Birdie" (Mohammed) Harrison '03
Submitted by Jaime Wilder / jw663@evansville.edu
Pep and Vim, the UE Annual Day of Giving, is April 14, 2023 – Click to learn more!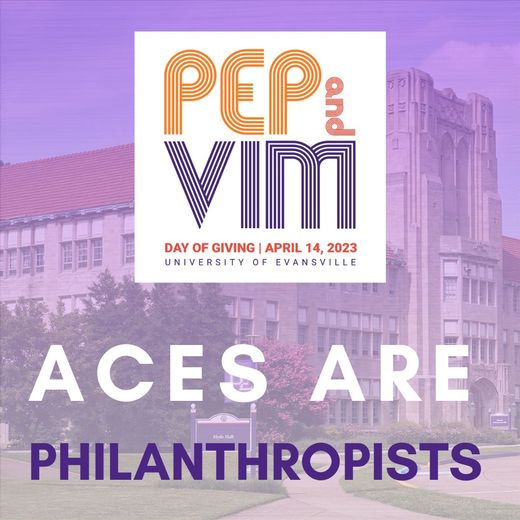 First created by a UE alumnus, "Pep and Vim," UE's Annual Day of Giving, was brought to life in 2012. We shouted our school spirit from the rooftops, and we were honored that the Aces community responded to our first Pep and Vim by making 250 philanthropic gifts that totaled over $5,000.

Flash forward to April 2022, Pep and Vim's 10-year anniversary, and you can see how UE's Day of Giving has grown over the last decade. Over 2,000 gifts were made to the university, totaling over $400,000. Gifts came in from 44 states, providing opportunities for growth within all 3 academic colleges on campus, as well as for Harlaxton College and UE Athletics.
Now it's time for Pep and Vim 2023, and with you by our side, we know we can up our game once more. The UE Alumni Board of Directors has issued a philanthropic challenge! If, as one Aces family, we make 2,023 gifts to any UE project, they will gift $20,000 to the UEvansville Fund!
Sometimes philanthropy can feel too big for us as individuals. But when we join together, we can change the lives of countless others. That's why, at UE, everyone can be a philanthropist. Whether you can give $5 or $5,000, your gift will move the University of Evansville FORWARD into a bright and hopeful future.

To make a gift and help unlock the Alumni Board's challenge, please visit www.evansville.edu/give
Thank you and GO ACES!
Submitted by Jaime Wilder jw663@evansville.edu
Research in Gerontology Symposium on Tuesday, April 11 at 12:30pm
Please join us for the 4th annual Research in Gerontology Symposium, hosted by the UE Gerontology Center, on Tuesday, April 11 from 12:30-2:30 in the SoBA Atrium. The symposium will feature poster presentations from students in Sociology, Psychology, Criminal Justice, Cognitive Science, Ethics & Social Change, Environmental Administration, Health Services Administration, Education, Creative Writing, and Theatre Design on a variety of topics in death, dying, and bereavement.
Additionally, the Sociology Programs will be announcing the winners of their annual awards, including:
Hanns G. Pieper Sociology and Criminal Justice Senior Research Award
James Berry Sociology and Criminal Justice Outstanding Junior Award
Mary Rode Petkovsek and Ludwig A. Petkovsek Sociology and Criminal Justice Outstanding Service Award
Lowell A. Dunigan Award for Outstanding Research in Gerontology
Submitted by Mari Plikuhn mp168@evansville.edu
Save the Date: UE Litfest April 14-April 15
Save the date: UE Litfest will take place on the evening of Friday, April 14 and the morning of Saturday, April 15! UE English and Creative Writing's 11th annual Melvin M. Peterson Literary Forum and Hemminger-Brown Lecture kicks off on Friday night at 7pm in Soba 162 with guest speaker Dr. Vanessa Rapatz speaking on Shakespeare's Histories and Netflix's The Crown and is followed by UE student presentations on Saturday morning on the second floor of the Schroeder School of Business Building. This event is free and open to the public!
Submitted by Sara Petrosillo sp220@evansville.edu
CDEI Upcoming Programming
CDEI has some amazing upcoming programs, and we hope to see you there! Head to UEngage or our Instagram @uediversity for more information as the date approaches!
4/5
6-7:30 pm Sexual Assault Awareness Month Panel
On Zoom
Panelist include individuals from the following organizations/ roles: Albion Fellows Bacon Center, Evansville Police Department, Indiana Tracking Victim Assistance Program, Vanderburgh County Deputy Prosecutor, Vanderburgh County Prosecutor, Sexual Assault Nurse Examiner
Please register for this meeting
4/10
12-1 pm Disability Awareness Month Keynote Speaker
On Zoom
Gregory S. Fehribach
Gregory S. Fehribach of Indianapolis, Indiana is principal of the Fehribach Group, a consulting firm specializing in accessibility, universal design, and compliance with the ADA that he founded in 1995. He is of counsel to the firm of Tuohy, Bailey, & Moore, LLP in Indianapolis and has practiced law for the past 30 years. Since 1988, Fehribach has served as a panel trustee for the U.S. Bankruptcy Court, Southern District of Indiana. In 2009, he was designated a Distinguished Fellow at Ball State University where he established The Disability Project, which was renamed the Gregory S. Fehribach Center on July 25th, 2019. Fehribach has served on the Ball State University Board of Trustees, the Indiana Governor's Planning Council for People with Disabilities, the Board of Directors of the Indianapolis Public Transportation Corporation, and the Marion County Health and Hospital Corporation Board of Trustees. He received a bachelor's degree and a master of arts degree from Ball State University and a law degree from Ohio Northern University's Pettit College of Law.
Please register for this meeting
If you have any questions, please email Center4DEI@evansville.edu
Submitted by Abagail Christine Catania ac532@evansville.edu
Habitat for Humanity Barn Blitz!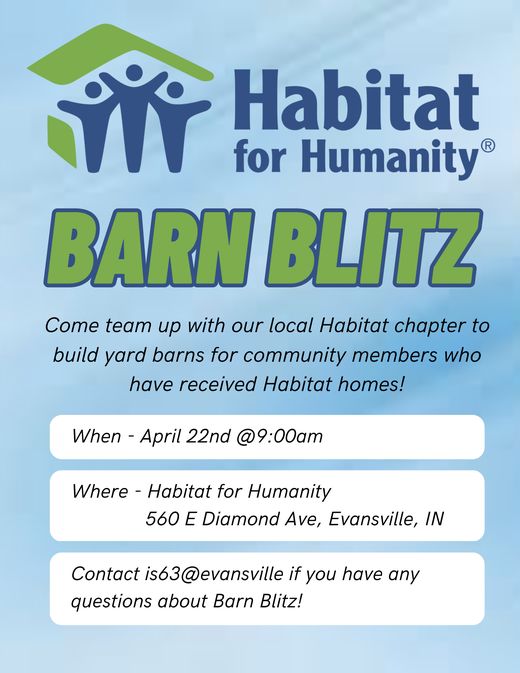 Barn Blitz is an event where UE students team up with the local Habitat chapter to build yard barns for community members who have received Habitat homes.
This year's Barn Blitz will take place on April 22nd at 9:00am in the parking lot behind the Evansville Habitat for Humanity (560 E Diamond Ave. Evansville, IN). Our goal is to have 20 teams, each made up of 6-8 people, so that we can build 20 barns.
Attached is the link to the signup genius for Barn Blitz teams. If you are part of an organization, it would be greatly appreciated if you could encourage them to create a Barn Blitz team!
https://www.signupgenius.com/go/10C0E4EADA62DA6F8C52-habitat1
Feel free to reach out to is63@evansville.edu with any questions.
Submitted by Isabelle Stapp is63@evansville.edu
SAA Book Club read for April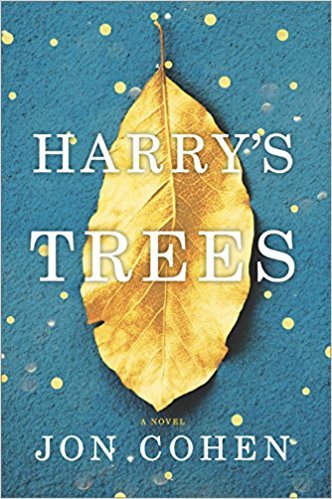 For the month of April the SAA Book Club is reading Harry's Trees by Jon Cohen
This is a fictional novel with magical realism.
"Thirty-four-year-old Harry Crane, lifelong lover of trees, works as an analyst in a treeless US Forest Service office. When his wife dies in a freak accident, devastated, he makes his way to the remote woods of northeastern Pennsylvania's Endless Mountains, intent on losing himself. But fate intervenes in the form of a fiercely determined young girl named Oriana. She, too, has lost someone—her father. And in the magical, willful world of her reckoning, Oriana believes that Harry is the key to finding her way back to him.
Harry's Trees is an uplifting tale about love, loss, friendship, and redemption. Fans of Fredrik Backman's A Man Called Ove and Gabrielle Zevin's The Storied Life of A.J. Fikry will find in its relentless good humor a much-needed remedy for these fraught times" -From Goodreads.com
We will meet on Thursday April 27th (Reading Study Day) at 12 noon in the University Advancment House on Rotherwood to discuss the book. Everyone is invited. If you would like to be added to the Book club email list please contact Kathy Taylor at ks6
Submitted by Katherine Taylor ks6@evansville.edu
LEAD Forward Accepting Applications 2023-24
The LEAD Forward program invites students to apply for the 2023-2024 LEAD Fellows cohort! LEAD Forward is an executive-style leadership skills development program. Students learn and grow through an intense retreat in August, monthly meetings with local community and business leaders, and one-on-one coaching. Students will receive an individualized leadership development plan that will guide their training throughout the program. We will also have lots of fun as we work as a team to improve our leadership, teamwork, and communication skills. We are looking for student leaders (current Freshmen, Sophomores, and Juniors) who are passionate about leadership! We welcome students of all majors as we believe leadership grows stronger through interdisciplinary ideas and fellowship. LEAD Forward is designed to be a year-long program, with participants committed to attend all scheduled meetings. However, we recognize that some of our top student leaders are also planning to study abroad, complete full-time internships, etc. and so we are happy to work with students to develop an individualized semester-long program or other alternative schedules. Please complete this application electronically and return via email to program director Megan Taylor (mt263@evansville.edu) by Friday, April 7 at 5pm.
Submitted by Megan Taylor mt263@evansville.edu
UE to host Innovate WIthIN Regional Pitching Competition
On April 10, ten student teams will be competing in the STARTedUP Foundation's Innovate WithIN program Region 1 competition hosted by the University of Evansville. Students will present their pitches in front of an audience comprising government officials, business leaders, educators, and family members. Not only will these students receive great exposure, but they are also competing for a first-place prize of $25,000 in venture capital funding. Each team will also have the opportunity to enter an exclusive alumni program, receive thousands of dollars in scholarships, and are invited to travel to Washington D.C. over the summer.
You are invited to attend this local competition and experience these impressive student pitches. Join in person in Eykamp Hall on April 10 from 8:00 a.m. - 1:00 p.m. CDT or attend virtually.
Submitted by Noah Alatza na122@evansville.edu
Employee - UE Mobile Mammography Services
Employees - Ascension St. Vincent is providing mobile mammography services for the University of Evansville. The mobile mammography bus will be located next to the Krannert Building on April 13th from 9:00AM - 2:00PM. Please click the link below to sign up for an appointment time! An Ascension Breast Center representative will call you prior to your appointment date to verify all necessary registration information.
Submitted by Haley Walker hw164@evansville.edu
Seeking financial Aid for summer courses?
UE students seeking financial aid or intending to use loan funds for summer courses at UE, please complete a Summer Financial Aid Application and return to the Office of Student Financial Services (Olmsted 105) however is most convenient. The application will allow our office to assess your financial aid and loan eligibility.
Work-Study:
On-campus jobs are available for continuing UE students during the summer. You do not need to be eligible for need-based Federal Work-Study during the academic year in order to apply. You may also apply regardless of your enrollment in summer courses. Applications will be available within the Student Employment area of WebAdvisor.
Submitted by Amy Sowders as560@evansville.edu
Outstanding Educators Award Recipients Announced
The Outstanding Educators of the Year award acknowledges the dedication and contributions of Vanderburgh County educators by recognizing four educators who excel within their profession. Every year, each educator receives a surprise announcement within their school as part of UE's 32nd annual presentation of awards.
The following awards were presented on Wednesday, April 5:
Outstanding Elementary Teacher of the Year: Briana Campbell, first grade teacher at Lodge Community School
Briana Campbell has been immersed in the education field for the last decade and spent the last two years working at Lodge Community School. She teaches reading, writing, math, and social emotional learning in a first-grade classroom.
In nominating Campbell for an Outstanding Educator Award, an individual said that "I cannot say enough wonderful things about Briana, nor can I think of a more deserving educator."
Outstanding Middle School Teacher of the Year: Jance Johnston, sixth grade teacher at Delaware Elementary School
Jance Johnston has been a teacher for 9 years, which is exactly how long he has worked at Delaware Elementary. His primary disciplines are English language arts, math, and science. In addition to his many middle school subjects, he has an array of additional school-related contributions including being an afterschool teacher, 6th-grade boys' basketball coach, inclusion teacher, and summer schoolteacher.
Outstanding High School Teacher of the Year: Timothy Wilhelmus, an eleventh and twelfth grade teacher at Central High School
Timothy Wilhelmus has been teaching for thirty-one years and has spent the last three years teaching at Central High School. Wilhelmus is also involved in numerous school-related responsibilities.
The nominations for Wilhelmus offer incredible words describing how he exceeds the expectations of his students.
One nomination stated that "he goes above and beyond to influence a positive class culture while still being able to finish lessons and allow students to develop an overall understanding of the materials."
Outstanding Building Principal of the Year: Chris Gibson, New Tech Institute
Chris Gibson has been an educator for twenty-four years, spending eight teaching science, six as a counselor, and ten in administration. He has been at New Tech Institute for the last ten years.
"The focus of my educational journey has been to ensure that all students have access to high-quality, rigorous instruction – and that they have the equivalent support to help them reach the expectations inherent in that challenging environment," said Gibson.
Submitted by Noah Alatza na122@evansville.edu
Plikuhn and Alumnae Publish Article in International Social Science Review
Associate Professor of Sociology, Dr. Mari Plikuhn, and 4 outstanding alumnae, Ayrlia Welch (SOC '19), Elizabeth Long (SOC/PSYC '15), Sarah Akins (SOC '14), and Chelsea Clifton (SOC '14) published their article "Bridging the Gap: Young Adults Perceptions of Aging" in the peer reviewed journal, International Social Science Review. This article used survey data from college students to analyze the perceptions of young adults on aging and older adults. In this study, participants perceived women as entering older adulthood before men, however, overall beliefs and stereotypes produced mostly positive conclusions about older adults. Further, despite the perceptions that young adults had of the aging population and process, college-age participants held a more positive association with their personal aging process.
The article can be found at: https://issr.ung.edu/articles/610
Submitted by Mari Plikuhn mp168@evansville.edu
Morgan Stankey '09
It is with great sadness that we announce the tragic passing of 2009 graduate Morgan Stankey. Morgan was an outstanding and beloved student at UE, majoring in History and Political Science. She is survived by her mother Michelle, her father Dr Michael Stankey, and her stepfather Dr Stuart Dorsey, as well as her sisters Gretchen and Rachael. There will be a memorial service at Aldersgate United Methodist Church, 5130 Lincoln Avenue, on April 6 at 11am, to which all her friends in the University community are invited.
Submitted by James MacLeod jm224@evansville.edu
Kate Petrova named MVC Women's Golfer of the Week
Fresh off a victory at the Indiana State Invitational, University of Evansville freshman Kate Petrova was named the Missouri Valley Conference Golfer of the Week.
Petrova opened the tournament with a 1-under 71 on Sunday before wrapping up Monday's second round with an even 72. Her total of 143 put her four strokes ahead of the competition.
Making her performance even more impressive was that she recorded the low score in both rounds. Her tournament showing helped the Purple Aces come home in second place in the team standings.
UE looks to build on its recent success as they begin preparations for the Missouri Valley Conference Championship. The tournament is set for April 16-18 in Waterloo, Ill.
Submitted by Athletics
11 UE Men's Swimmers Earn Academic All-MAC Honors
Eleven members of the University of Evansville men's swimming and diving team were honored on Wednesday by the Mid-America Conference, as they were named to the Men's Swimming & Diving Academic All-MAC Team.
The Academic All-MAC honor is for a student-athlete who excels in both the pool and in the classroom. To qualify, a student-athlete must have at least a 3.20 cumulative GPA and have participated in at least 50 percent of the contests during the course of the 2022-23 school year.
The 11 UE student-athletes who earned Academic All-MAC honors include:
Alon Baer, Junior, Athletic Training, 3.699
Jackson Caudill, Junior, Communication, 3.589
Max Dehen, Senior, Marketing, 3.408
Riccardo Di Domenico, Senior, Mechanical Engineering, 3.491
Griffin Hammett, Senior, Athletic Training, 3.682
Grant Kay, Junior, Actuarial Science & Spanish, 4.000
Sam Leatherwood, Senior, Statistics & Data Sciences, 3.262
Daniel Santos Lopez, Sophomore, Mechanical Engineering, 3.319
Carlos Souto Vilas, Sophomore, Marketing, 3.398
Patrik Vilbergsson, Sophomore, Finance, 3.361
Michael Whitehead, Senior, Finance, 3.523
Overall, UE ranked third in the MAC in terms of the number of honorees with 11 men earning Academic All-MAC status.
Submitted by Athletics
UE Secures $30 Million Grant to Create Evansville Promise Neighborhood
The University of Evansville (UE) has announced the receipt of a $30 million federal grant program through the United States Department of Education (DOE) that will establish the Evansville's Promise Neighborhood (EPN). UE is part of a new cohort funded in 2023. Only three Neighborhoods in the nation were awarded in 2023.
The aim of the funding is to assist children and youth who are growing up in Promise Neighborhoods, providing them with access to outstanding schools as well as robust family and community support systems. These resources will help prepare them to achieve academic excellence, make the transition to college, and, ultimately, embark on a successful career.
The University of Evansville, as lead applicant, submitted the 2022 grant application to the DOE for an Evansville Promise Neighborhood on October 7, 2022, with a total request of $30 million over five years. Twenty-three Evansville Promise Neighborhood partner agencies accounted for a match totaling $32,497,295.55, for a total of more than $62 million to be invested in the community. This figure comes from the cost invested in providing wraparound care services to the schools and neighborhoods designated as the Evansville Promise Neighborhood. The Promise Neighborhood includes six schools: Evans Elementary School, Delaware Elementary School, Lincoln School, Bosse High School, Lodge Community School, and Glenwood Leadership Academy. The major partners for the EPN are UE, EVSC, E-REP, and the Evansville Promise Zone.
See full press release online.
Submitted by Noah Alatza na122@evansville.edu
Contribute to AceNotes
To have content considered for inclusion in AceNotes, please submit a Marketing Request Form. Deadline for submission to AceNotes is 10:00 a.m. on the requested date of publication. Only articles concerning UE related/sponsored activities will be accepted. Articles submitted to AceNotes may be edited for length and clarity. Submitter contact information is at the end of each article.