| | |
| --- | --- |
| AceNotes Today | Monday, April 3, 2023 |
Take the UE Campus Survey
We want to hear from you! The UE Campus Survey is a tool to collect feedback from our campus community, including students, faculty, staff, and administration. Select the button below to complete the online survey, which takes about 15 minutes. The survey will be available from April 3-21, 2023.
Submitted by Holly Lee Smith hh98@evansville.edu
Koch Market Temporarily Closed
Due to terminal failure in the POS system at Koch Market, this location will be closed until we are able to locate and connect a replacement. We apologize for the inconvenience and appreciate your patience while we work to resolve this issue.
Submitted by Samantha Williams sw342@evansville.edu
Pep and Vim/Reunion Weekend
FREE Swag for Volunteers - Purple Flags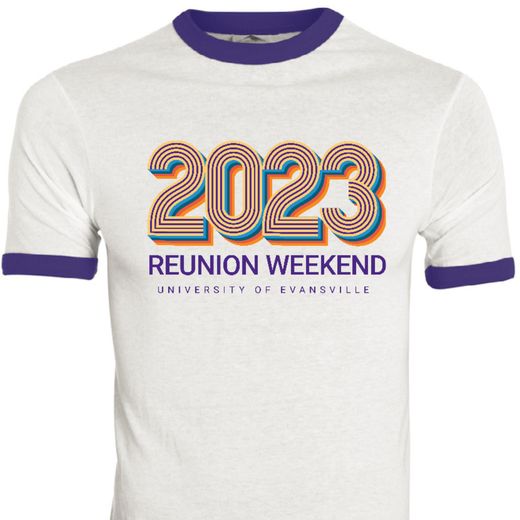 On Saturday, April 8, the Alumni and Engagement team will be placing purple flags around campus for Pep and Vim, the UE annual day of giving. One way we express gratitude for UE donors is by planting one flag for every person who has made a gift to the university over the past year. This allows everyone on campus to see the generosity of the UE family and to know there's an amazingly philanthropic community that continues to empower all Aces.
We need your help planting flags on April 8! We will begin at 10:00 a.m. and we should be finished by noon. Each volunteer will receive a FREE Reunion Weekend t-shirt, and one volunteer will be selected at random to win a premium prize! If you would like to volunteer, please contact alumni@evansville.edu.
Thank you and GO ACES!
Submitted by Jaime Wilder jw663@evansville.edu
Thank a Donor, Grab a Cookie!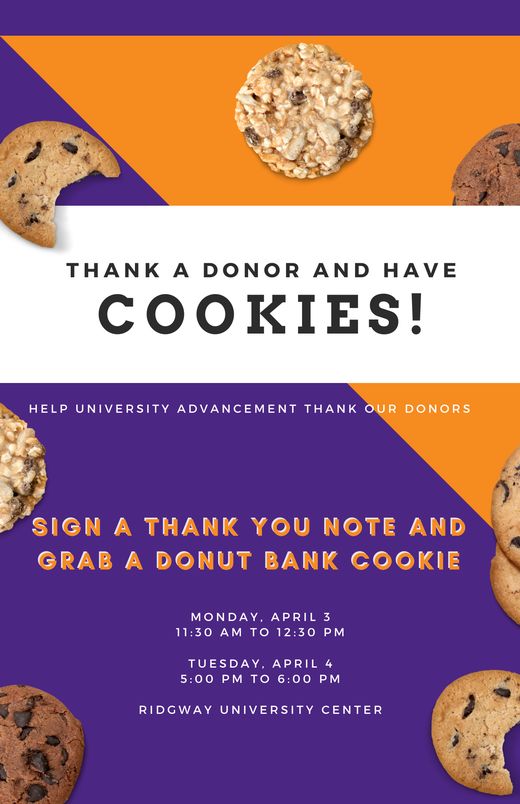 Help University Advancement thank our donors by signing thank you notes in Ridgway on April 3 from 11:30 a.m. - 12:30 p.m. and April 4 from 5:00 - 6:00 p.m. in Ridgway University Center! Everyone who signs a thank you card will receive a Donut Bank cookie!
Submitted by Jaime Wilder jw663@evansville.edu
SAA Volunteers Needed for Penny Wars
Penny Wars is coming, and we need your help to raise funds for the UESAA Scholarship. This scholarship is sponsored every year by the generosity of the campus community through the annual Penny Wars competition. SAA members are needed to help run the table during lunch from April 10-14. Sign up today!
Submitted by Jaime Wilder jw663@evansville.edu
Calling all Kickball Players for the Pep and Vim Kickball Tournament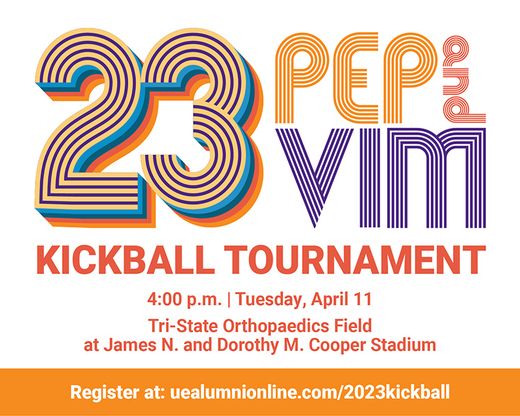 Help us KICK-off the Pep and Vim Spirit with a campus wide kickball tournament on Tuesday, April 11, at 4:00 p.m.! Students, Faculty, Staff, and Alumni are encouraged to register a team by visiting www.uealumnionline.com/2023kickball. The deadline to register is Monday, April 3 at 5:00 p.m. The tournament bracket will be released on Friday, April 7.
Whether you join us on the field or in the stands, bring all your school spirit to the James N. and Dorothy M. Cooper Stadium and enjoy a night of food, UE community, and some good ole campus competition!
Submitted by Jaime Wilder jw663@evansville.edu
Alumni Awards Dinner is Saturday, April 15, 2023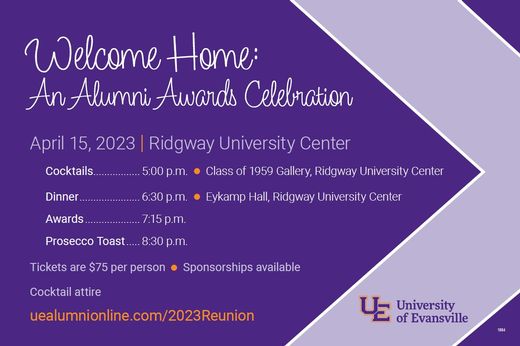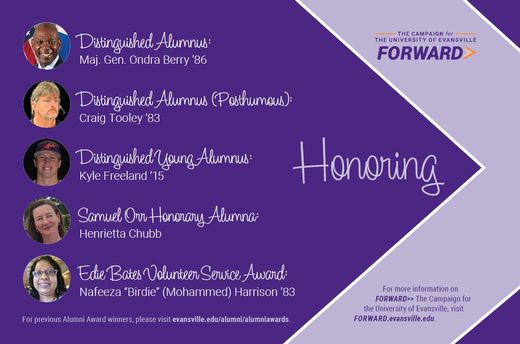 Welcome Home: An Alumni Awards Celebration
April 15, 2023 – Ridgway University Center
Cocktails 5:00 p.m. Class of 1959 Gallery, Ridgway University Center
Dinner 6:30 p.m. Eykamp Hall, Ridgway University Center
Awards 7:15 p.m.
Prosecco Toast 8:30 p.m.
Tickets are $75 per person.
Sponsorships available.
Cocktail Attire
Register here! (use link uealumnionline.com/2023Reunion)
Honoring:
Distinguished Alumnus Maj. Gen. Ondra L. Berry '86

Distinguished Alumnus (Posthumous)

Craig Tooley '83

Distinguished Young Alumnus Kyle Freeland '15

Samuel Orr Honorary Alumna

Henrietta Chubb

Edie Bates Volunteer Service Award Nafeeza "Birdie" (Mohammed) Harrison '03
Submitted by Jaime Wilder / jw663@evansville.edu
Pep and Vim Virtual 5K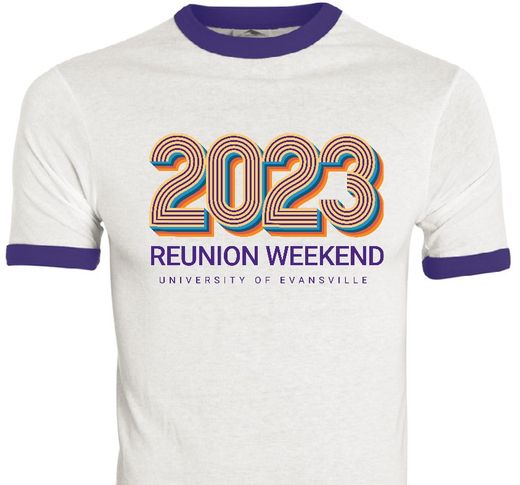 UE Alumni and Engagement is hosting a virtual 5K run/walk to promote a healthy lifestyle. By participating in our Day of Giving Virtual 5K, you'll also be giving back to our beloved university.
The 5K can be completed indoors or outdoors between April 1 and April 15. Participants will enter their times online. All participants will receive an exclusive Pep and Vim t-shirt if registered by March 31*. Register here!
The $35 race fee includes a gift to the UEvansville Fund and will also count towards the 2,023 gifts needed to unlock the Alumni Board's $20,000 Pep and Vim Challenge Gift!
On Friday, April 14, Day of Giving, post a video or picture wearing your Pep and Vim t-shirt on social media using #AcesGiveBack and #FORWARD to help spread the word.
Be sure to stay tuned – Pep and Vim is all about inspiring change, so we will be rolling out many different philanthropic opportunities that may ignite your UE passion. Together, with Day of Giving, we can make an impact on the lives of our students and the university.
If you have any questions, please contact alumni@evansville.edu.
Go Aces!
*Registrations will be accepted after March 31, but we cannot guarantee the arrival of the Pep and Vim t-shirt by April 14.
Submitted by Jaime Wilder / jw663@evansville.edu
Pep and Vim, the UE Annual Day of Giving, is April 14, 2023 – Click to learn more!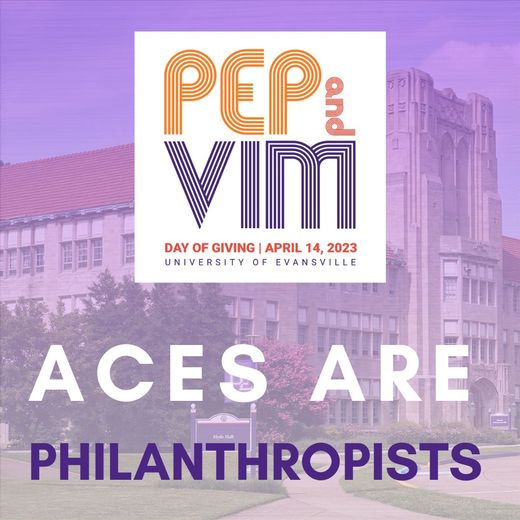 First created by a UE alumnus, "Pep and Vim," UE's Annual Day of Giving, was brought to life in 2012. We shouted our school spirit from the rooftops, and we were honored that the Aces community responded to our first Pep and Vim by making 250 philanthropic gifts that totaled over $5,000.

Flash forward to April 2022, Pep and Vim's 10-year anniversary, and you can see how UE's Day of Giving has grown over the last decade. Over 2,000 gifts were made to the university, totaling over $400,000. Gifts came in from 44 states, providing opportunities for growth within all 3 academic colleges on campus, as well as for Harlaxton College and UE Athletics.
Now it's time for Pep and Vim 2023, and with you by our side, we know we can up our game once more. The UE Alumni Board of Directors has issued a philanthropic challenge! If, as one Aces family, we make 2,023 gifts to any UE project, they will gift $20,000 to the UEvansville Fund!
Sometimes philanthropy can feel too big for us as individuals. But when we join together, we can change the lives of countless others. That's why, at UE, everyone can be a philanthropist. Whether you can give $5 or $5,000, your gift will move the University of Evansville FORWARD into a bright and hopeful future.

To make a gift and help unlock the Alumni Board's challenge, please visit www.evansville.edu/give
Thank you and GO ACES!
Submitted by Jaime Wilder jw663@evansville.edu
Reception for Michelle Braun
Stop by Distribution Services on Tuesday, April 4, from 3:00 p.m. - 4:15 p.m. to thank Michelle Braun for her dedicated and loyal service to UE over the past six years. Michelle will be leaving campus at the end of this week to pursue another job opportunity. Be sure to drop by Distribution Services and wish her well!!
Submitted by Kim Winsett kw83@evansville.edu
Vanderburgh County Tox-Away Day
UE's environmental, health and safety manager would like to let the UE Community know about the 2023 Tox Away Day planned for Saturday, April 8. The event is from 9:00 a.m.-1:00 p.m. at the Civic Center parking lot (Ninth and Walnut). This program is for Vanderburgh County households only. Help dispose of hazardous materials properly, so they don't end up entering local streams and rivers.
Items accepted include oil-based paint, solvents & thinners, pesticides, herbicides, household chemicals, motor oil, antifreeze, gasoline, auto batteries and fluids, smoke detectors, fluorescent tube lights, fire extinguishers and pharmaceuticals at this free disposal program.
For a complete list, and for items not accepted, see the Vanderburgh County website: https://www.evansvillegov.org/city/department/index.php?structureid=115
Submitted by Amber Elkins ae152@evansville.edu
Employee Benefits Open Enrollment
The annual open enrollment for benefits begins next week. The Office of Human Resources are holding information meetings during the following times:
Date Time Location
Wednesday, April 5 9:00 am to 10:00 am Eykamp Hall Room 253
Wednesday, April 5 10:30 am to 11:30 am Eykamp Hall Room 253
Wednesday, April 5 2:00 pm to 3:00 pm Eykamp Hall Room 253
Thursday, April 6 9:00 am to 10:00 am Eykamp Hall Room 253
Thursday, April 6 10:30 am to 11:30 pm Eykamp Hall Room 253
Thursday, April 6 2:00 pm to 3:00 pm Eykamp Hall Room 253
Submitted by Lori LeDuc ll138@evansville.edu
College of Business & Engineering Speaker Series: Community Engaged Scholarship
COLLEGE OF BUSINESS & ENGINEERING LECTURE SERIES
COMMUNITY ENGAGED SCHOLARSHIP
Making a Difference Through Research & Teaching: The Impact of Microlending
Tuesday, April 11th
Lunch & Learn
12:20 – 1:15 p.m.
SCHROEDER BUILDING, Room 170
Join us to learn about UE research and classes making a positive impact on society.
Both in person and zoom options will be provided. If you register to attend the event via zoom, the link will be provided to you 24 hours prior to the event. Please be sure to check your spam folder. If you do not receive the information, please contact Nick Bragin at nb197@evansville.edu
Reimagining Financial Inclusion in the Post COVID-19 World: The Case for Grameen America
Dr. Rania Mousa
Associate Professor of Accounting and Mead Johnson Nutrition Endowed Chair in Business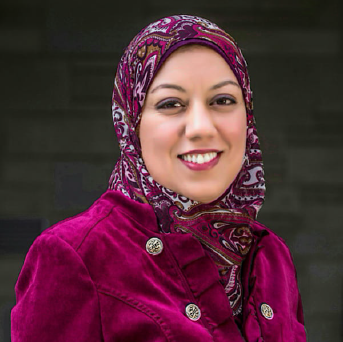 Dr. Mousa identified and analyzed the key initiatives implemented by Grameen America in alleviating the financial hardships of its underserved female members, thereby contributing to the attainment of the United Nations' Sustainable Development Goals. Her paper has been published in the International Journal of Ethics and Systems. Dr. Mousa, a recipient of the 2022-2023 Global Scholar Award, presented her research at the Sustainable and Socially Responsible Finance Conference held at the Yunus Social Business Center in the University of Bologna in Italy.
A Managerial Perspective on Underbanked Entrepreneurs: Barriers to Lending and Community Partnership Solutions
Dr. Beverly Brockman – Schroeder Family Dean, College of Business & Engineering
Dr. Chris Brockman – Professor of Finance, Director - Institute for Banking & Finance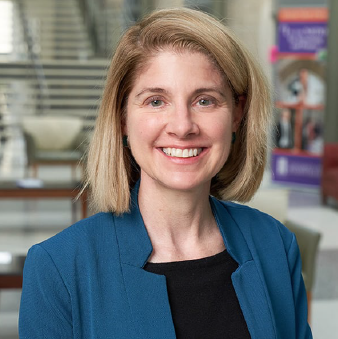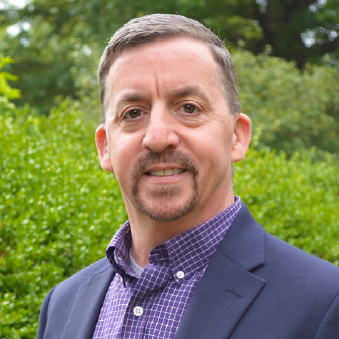 The unique barriers confronting entrepreneurs in low-income communities in obtaining debt capital in the United States remain unclear. The authors identify two sets of barriers to financial lending and present community-based partnership solutions to improve access to capital for underbanked entrepreneurs. Their research was published in the Journal of Economics and Finance Education.
Loan Opportunities through the UE Microloan Program
Dr. Chris Brockman – Professor of Finance, Director - Institute for Banking & Finance
The UE Microloan Program is an experiential student-run program administered by the Institute for Banking and Finance in the University of Evansville Schroeder School of Business. Funding for the microloan program was provided by Old National Bank. Advisors for the Southwest Indiana Small Business Development Center serve as executive mentors for microloan participants.
Submitted by Nick Bragin nb197@evansville.edu
Student Art Exhibition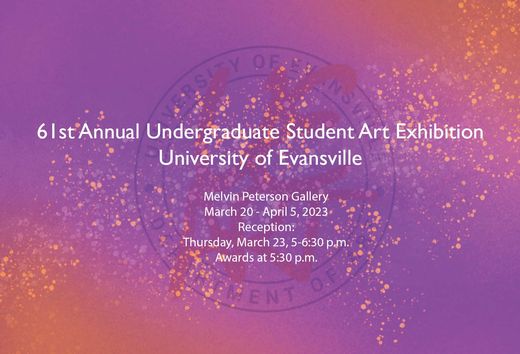 The 61st Annual Undergraduate Student Exhibition opens on March 20 through April 5, 2023 in the Melvin Peterson Gallery.
Please join us for the student awards reception on Thursday, March 23 in the Melvin Peterson Gallery from 5:00 pm - 6:30 pm.
Submitted by Carol McCraney cm177@evansville.edu
Habitat for Humanity Barn Blitz!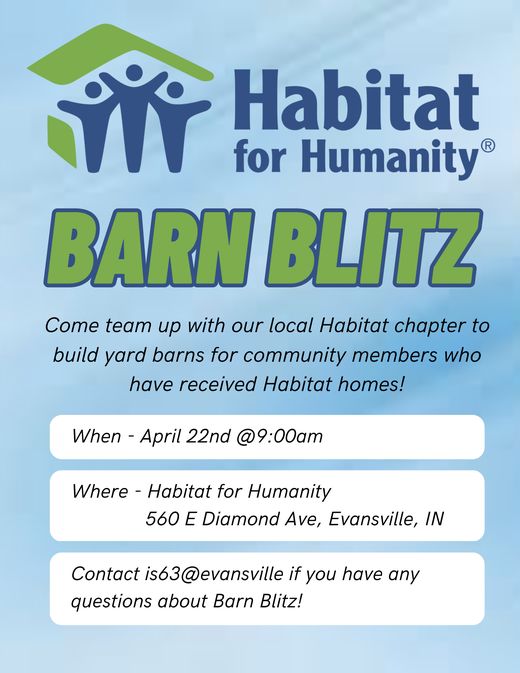 Barn Blitz is an event where UE students team up with the local Habitat chapter to build yard barns for community members who have received Habitat homes.
This year's Barn Blitz will take place on April 22nd at 9:00am in the parking lot behind the Evansville Habitat for Humanity (560 E Diamond Ave. Evansville, IN). Our goal is to have 20 teams, each made up of 6-8 people, so that we can build 20 barns.
Attached is the link to the signup genius for Barn Blitz teams. If you are part of an organization, it would be greatly appreciated if you could encourage them to create a Barn Blitz team!
https://www.signupgenius.com/go/10C0E4EADA62DA6F8C52-habitat1
Feel free to reach out to is63@evansville.edu with any questions.
Submitted by Isabelle Stapp is63@evansville.edu
ChangeLab STAT 300 - Data in the Real World
STAT 300 / ChangeLab 300 - Data Analysis in the Real World
Do you want to challenge yourself in data analytics ChangeLab by working on a real-world project?
If so, join us at the ChangeLab in Fall 2023. We will have enough tasks if you have elementary, intermediate, or
advanced data analytics skills. You will work on the project in a team supervised by a coach. Your project management,
teamwork, professional interaction, and presentation skills will be developed.
If you have any questions or want to know more about the ChangeLab, please contact Dr. Omid Khormali via email
ok16@evansville.edu.
Submitted by Stacey Beard / sb454@evansville.edu
SPAN-112 & SPAN-211 Online courses – Summer 2
SPAN-112 and SPAN-211 will be offered during Summer 2 as online, synchronous classes. Both are 3 credit hour courses that will run from June 19 to July 21, 2023. If you have any questions, please contact Dr. Cindy Crowe at cc109@evansville.edu
Submitted by Cindy Crowe cc109@evansville.edu
Tear down walls! Build bridges! Latino Community Outreach
If you would like to contribute to tearing down walls and building bridges, and if you have studied Spanish in high school or college or are a native speaker, please consider signing up for CHNG-310-S02 Latino Community Outreach. We run different projects within the ChangeLab to meet the needs of the Latino community as they arise. Our two areas of focus are healthcare and education. The common themes of all our projects are appreciation of diversity, inclusivity and respect, multicultural understanding, and the correction of stereotypes.
You can take the course for 0,1, 2, or 3 credit hours so that it works optimally in your schedule. If you would like more details on the Latino Community Outreach projects or have any questions, please contact Dr. Cindy Crowe at cc109@evansville.edu.
Submitted by Cindy Crowe cc109@evansville.edu
The Crescent Sports Report Episode 3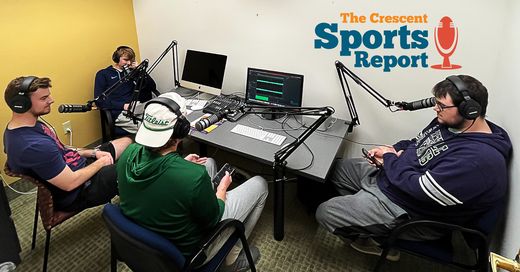 The Crescent Sports Report with Troy and Cole Schroeder, along with fellow UE students Evan Barr and Austin Hernandez. In this weeks episode the crew discusses Opening Day of Major League Baseball.
Submitted by Tommy J Housman th208@evansville.edu
Olmsted Pepsi Vending Machine
The glass front Pepsi vending machine is being replaced with a new glass front machine in a effort to eliminate ongoing vending issues. Please note that this process takes several days to complete. The current machine will be emptied and the new machine will be delivered today, Thursday, March 23. However, it will be next week before the new machine can be filled with product for use. Thank you for your patience.
Submitted by Kim Winsett kw83@evansville.edu
UE to host Innovate WIthIN Regional Pitching Competition
On April 10, ten student teams will be competing in the STARTedUP Foundation's Innovate WithIN program Region 1 competition hosted by the University of Evansville. Students will present their pitches in front of an audience comprising government officials, business leaders, educators, and family members. Not only will these students receive great exposure, but they are also competing for a first-place prize of $25,000 in venture capital funding. Each team will also have the opportunity to enter an exclusive alumni program, receive thousands of dollars in scholarships, and are invited to travel to Washington D.C. over the summer.
You are invited to attend this local competition and experience these impressive student pitches. Join in person in Eykamp Hall on April 10 from 8:00 a.m. - 1:00 p.m. CDT or attend virtually.
Submitted by Noah Alatza na122@evansville.edu
National Survey of Student Engagement (NSSE)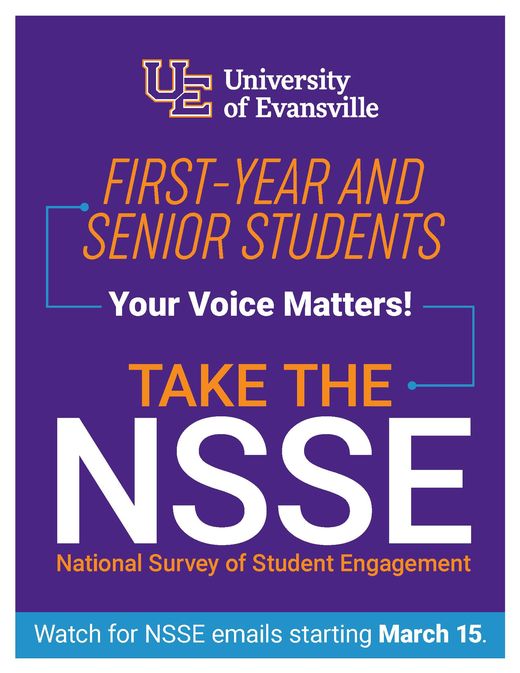 FIRST-YEAR AND SENIOR STUDENTS - Your Voice Matters! Take the National Survey of Student Engagement (NSSE). Watch for NSSE emails starting March 15.
In appreciation for participating, all students who complete the survey by April 14 will be entered into a drawing for one of two Apple Watches (each valued at approximately $280.00) and one of four sets of JBuds Air earbuds (each valued at approximately $70.00). One first-year student and one senior-year student will be selected for the Apple Watches. Two first-year students and two senior-year students will be selected for the earbuds. Students may receive only one item. Your chances of winning depend on how many complete the survey; 965 students were invited to participate.
Submitted by Paula Heldt ph28@evansville.edu
Employee - UE Mobile Mammography Services
Employees - Ascension St. Vincent is providing mobile mammography services for the University of Evansville. The mobile mammography bus will be located next to the Krannert Building on April 13th from 9:00AM - 2:00PM. Please click the link below to sign up for an appointment time! An Ascension Breast Center representative will call you prior to your appointment date to verify all necessary registration information.
Submitted by Haley Walker hw164@evansville.edu
Seeking financial Aid for summer courses?
UE students seeking financial aid or intending to use loan funds for summer courses at UE, please complete a Summer Financial Aid Application and return to the Office of Student Financial Services (Olmsted 105) however is most convenient. The application will allow our office to assess your financial aid and loan eligibility.
Work-Study:
On-campus jobs are available for continuing UE students during the summer. You do not need to be eligible for need-based Federal Work-Study during the academic year in order to apply. You may also apply regardless of your enrollment in summer courses. Applications will be available within the Student Employment area of WebAdvisor.
Submitted by Amy Sowders as560@evansville.edu
March Employee of the Month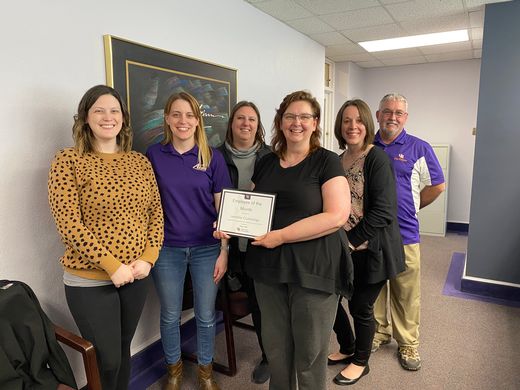 SAA Board recognized the March 2023 Employee of the Month on Wednesday. Recipients are Jennifer Cummings Receivables Clerk and Kenton Hargis Senior Director of Admission. Thank you for all you do!
Submitted by Stephanie Stoll ss810@evansville.edu
Morgan Stankey '09
It is with great sadness that we announce the tragic passing of 2009 graduate Morgan Stankey. Morgan was an outstanding and beloved student at UE, majoring in History and Political Science. She is survived by her mother Michelle, her father Dr Michael Stankey, and her stepfather Dr Stuart Dorsey, as well as her sisters Gretchen and Rachael. There will be a memorial service at Aldersgate United Methodist Church, 5130 Lincoln Avenue, on April 6 at 11am, to which all her friends in the University community are invited.
Submitted by James MacLeod jm224@evansville.edu
Belmont Sweeps Sunday Baseball Doubleheader From UE
The visiting Belmont Bruins launched four more home runs on Sunday, including a game-winning two-run shot in the top of the 13th inning of game two, to sweep a doubleheader from the University of Evansville baseball team at German American Bank Field at Charles H. Braun Stadium in Evansville by scores of 9-2 and 7-5.
"This was a rare tough weekend at home for our ballclub," said UE head coach Wes Carroll. "Credit Belmont, though, because they really played extremely well and earned the sweep.
"We just couldn't put together the big inning offensively all weekend long. We can't hang our heads though, as we have a quick turnaround with a game on the road Tuesday at Purdue."
In the opener, the Bruins used five extra-base hits, including two home runs, to take control of the contest and cruise to a 9-2 win. Back-to-back two-out doubles in the first inning gave Belmont a 1-0 lead, and a grand slam by catcher Blake Barton in the third inning off UE starter Donovan Schultz (4-2) would break things open and give Belmont all of the offense it would need.
Belmont would build a 6-0 lead on a solo home run by outfielder Ethan Harden in the fourth inning, before UE would answer back with single tallies in the fourth and sixth innings on a bases-loaded walk and an RBI double by senior third baseman Brent Widder to cut the deficit to 6-2. Evansville would threaten in the eighth inning, putting two men on with two outs, but Harden would come on in relief to get out of the jam and then pitched a scoreless ninth inning buoyed by three insurance runs in the top half of the frame to record his fifth save of the year.
In the nightcap, UE would strike first on an opposite field home run by fifth-year outfielder Eric Roberts leading off the bottom of the first inning to grab a 1-0 lead. Belmont would respond with a two-run home run by first baseman Brodey Heaton in the fourth inning to grab a 2-1 lead, but UE would answer back to tie the game at 2-2 on an RBI double by junior catcher Brendan Hord in the home-half of the fourth inning.
The game would remain tied at 2-2 until the seventh, when Belmont centerfielder Jeff Clarke launched an RBI double to left-center field to give the Bruins a 3-2 lead. Clarke would add an insurance run on an RBI ground out in the ninth inning to push the lead to 4-2, but Evansville would not go quietly in the ninth inning.
UE junior shortstop Simon Scherry would lead off the ninth with a single, and Widder would follow with a double down the left-field line to put two men in scoring position. Fifth-year outfielder Danny Borgstrom then followed with a sacrifice fly and Hord delivered an RBI single to tie the game at 4-4 and force extra-innings.
The game would stay 4-4 until the 12th inning, when Belmont outfielder Drew Lowry came through with a two-out RBI single to grab a 5-4 lead. Evansville would answer right back, though, as Roberts would crush his second home run of the game and 12th home run of the season to dead center field with two outs to send the game tied at 5-5 to the 13th inning. In the 13th, Clarke would play the hero for the Bruins, as he launched a long home run to right-center field to provide Belmont the final margin of victory, 7-5.
Offensively, Barton had five hits and five RBI in the two games to help lead the Bruins. Scherry had four hits – all in game two of the doubleheader – to lead UE offensively, while Roberts went 2-for-6 with two home runs and Hord went 3-for-5 with two RBI and two doubles in the nightcap. Scherry also broke the UE single-game record for defensive assists in the nightcap with 11 helpers. It finished just one assist shy of the Missouri Valley Conference single-game record, and three assists shy of the NCAA single-game mark.
With the doubleheader sweep, Belmont improves to 17-12 overall and 5-1 in the MVC. Evansville, meanwhile, falls to 16-11 overall and 3-3 in the Valley. The Purple Aces will return to action on Tuesday evening with a 5 p.m. central contest at Purdue in West Lafayette, Indiana. The game can be seen live on Big Ten Network Plus and can be heard live in the Tri-State area on 107.1 FM-WJPS and the Old National Bank/Purple Aces Sports Network from Learfield.
Submitted by Athletics
UE's Lamond Breaks Another Track & Field School Record Sunday At Indiana State
Another day, another school record for University of Evansville graduate student Antonia Lamond (Nutley, N.J./Paramus Catholic), as she broke the Purple Aces' school record in the women's shot put on Sunday to lead a strong showing by UE at Indiana State's Pacesetter Sports Invitational in Terre Haute, Indiana.
Lamond broke her own school record in the shot put with a throw of 10.23 meters (33' 6.75"). It marked the second-straight meet in which Lamond has broken the shot put school record, and it comes on the heels of her breaking the school record in the hammer throw yesterday in the first day of action at the Pacesetter Sports Invitational.
Senior thrower Zach Dove (Princeton, Ind./Princeton Community) nearly broke his own school record in the discus on Sunday, as he placed fourth overall with a throw of 48.26 meters (158' 4"). It fell just under a half-meter shy of his school-record toss, set last year. Dove also placed fifth in the men's shot put event with a throw of 14.57 meters.
On the track, Evansville had a trio of top-five finishes from senior sprinter Giovanni Purser (Port Maria, Jamaica) and sophomore Adam Oulgout (St. Paul, Minn./Central). Running with a good tailwind, Purser turned a time of 10.90 in the 100-meter dash to place fifth overall. Meanwhile, Oulgout placed fourth in the 800-meters with a time of 1:56.44, while placing fifth in the 1,500-meters with a personal-best time of 4:01.20, despite the windy conditions.
Freshman Joey Taylor (Grove City, Ohio/Central Crossing) was not far behind Oulgout in the 800-meters, crossing the finish line with a season-best time of 2:01.45. Sophomore Justin Nichols (Lewis Center, Ohio/Olentangy Orange) also posted an eighth-place finish in the 5,000-meters with a time of 17:32.68.
Jumps-wise, sophomore Denzel Lasam (St. Louis, Mo./De Smet Jesuit) placed sixth in the men's triple jump with a leap of 13.55 meters (44' 5.5")
Overall, Evansville placed ninth out of ten teams on the men's side, beating Butler. While, on the women's side, UE placed 10th out of 11 teams, knocking off IUPUI.
Submitted by Athletics
Belmont Takes Series Opener Over UE, 8-1
The visiting Belmont Bruins' baseball team combined solid pitching with three home runs on Saturday to take the Missouri Valley Conference series-opener over the University of Evansville Purple Aces by a final score of 8-1 at German American Bank Field at Charles H. Braun Stadium in Evansville.
"You have to credit their starter, as he really competed against our lineup today," said UE head coach Wes Carroll. "It is going to be a dog fight tomorrow to win the series. We need to come to the park ready to compete for 18 innings tomorrow."
Current MVC Pitcher of the Week Andy Bean (3-3) of Belmont held Evansville at bay for six solid innings of work to earn the victory. His only mistake was a long solo home run by UE fifth-year first baseman Chase Hug in the bottom of the third inning. Outside of that, he held Evansville to just a single run on five hits while striking out seven in 6.0 innings of work. Reliever Jett Thielke worked around two hits and a walk in three innings of work to record his second save of the year on the mound.
Offensively, Belmont gave Bean all of the runs he would need in the top of the third inning, thanks to a two-run opposite-field home run by first baseman Brody Heaton, as he took advantage of a 20-mile-per-hour wind blowing out to right field to just clear the fence for his second home run of the year.
Hug's long home run to right-center field in the bottom of the frame cut the Belmont lead to 2-1. UE would put two more men on in the frame, but with two outs, Bean struck out UE senior third baseman Brent Widder to get out of the jam.
Belmont catcher Blake Barton would then launch a solo shot of his own to right-center field in the fifth inning to push the lead to 3-1. BU centerfielder Jeff Clarke would then put the game out of reach with a grand slam in the sixth inning to move the advantage to 7-1. Belmont would tack on a run on a run-scoring wild pitch in the eighth inning to provide the final margin of victory.
Heaton and second baseman Jack Rando would lead Belmont offensively with two-hit efforts. Hug paced UE with a 2-for-4 effort to go along with his sixth home run of the year.
The two teams will conclude the series on Sunday at 12 p.m. with a doubleheader. UE is expected to send junior RHP Shane Harris (2-1, 5.00 ERA) and junior LHP Donovan Schultz (4-1, 2.81 ERA) to the mound on Sunday. Sunday's first game can be seen live on ESPN+, with the nightcap available on ESPN3. Both games of the twinbill can be heard in Evansville on 107.1 FM-WJPS and the Old National Bank/Purple Aces Sports Network from Learfield.
Submitted by Athletics
UE's Lamond, Dove Break Hammer Throw Records At Indiana State Saturday
University of Evansville graduate student Antonia Lamond (Nutley, N.J./Paramus Catholic) and senior Zach Dove (Princeton, Ind./Princeton Community) broke both the women's and men's hammer throw school records on Saturday, as the Purple Aces opened competition at the Pacesetter Sports Invitational hosted by Indiana State University in Terre Haute, Indiana.
Lamond topped her own school record for the third-straight meet Saturday with a throw of 38.04 meters (124' 10") in the hammer throw to place sixth overall. Dove broke his own school record, set last year, with a mark of 49.78 meters (163' 4") in the men's hammer throw to place seventh overall.
Only three events were competed in on Saturday, as the hammer throw, javelin, and one 100-meter dash race took place. In the javelin, sophomore Preston Riggs (Ft. Branch, Ind./Gibson South) posted UE's best finish with a ninth-place finish in the men's division with a toss of 33.70 meters (110' 7"). On the women's side, sophomore Kaitlyn Sansone (Fairfield, Ohio/Mercy McAuley) led UE with a throw of 24.18 meters (79' 4") to place 11th overall. On the track, freshman Destynie Sheridan (Fort Branch, Ind./North) posted UE's top time with a mark of 16.03 in the 100-meters.
The Pacesetter Sports Invitational will continue on Sunday with a full slate of activity. Field events are scheduled to begin at 11 a.m. central time, with track events beginning at noon central time. Notre Dame currently leads the nine-team meet with a combined score of 59 points. UE currently sits in sixth place entering Sunday's action.
Submitted by Athletics
WIU Intercollegiate set for Monday and Tuesday
Up next for the University of Evansville men's golf team is a trip to Silvis, Illinois for the WIU Intercollegiate.
Set for Monday and Tuesday, a total of 54 holes will be played with 36 on day one and the final 18 on day two at TPC at Deere Run. A shotgun start at 8:30 a.m. opens the action each day.
Teams set to participate include Northern Iowa, North Dakota, South Dakota, Omaha, St. Thomas, Evansville, St. Ambrose, UW-Parkside, Detroit Mercy, and host Western Illinois.
Carson Parker recorded a 3-over 75 in the final round of the Golfweek/AGT Intercollegiate to record the top finish of the tournament for the Purple Aces last week.
Parker's effort saw him wrap up the 3-round event with a 223 at True Blue Golf Club. He tied for 47th in the final standings. Isaac Rohleder and Masatoyo Kato tied for the second-best UE finish in the standings.
Both Purple Aces players wrapped up play with scores of 227 to tie for 68th. Rohleder matched his second-round total as he carded a 75 in round three. Kato recorded a 77. His 71 in Monday's opening round was the lowest score of the trip to the men.
Submitted by Athletics
Kate Petrova leads the field at Indiana State
University of Evansville freshman Kate Petrova holds the lead with the first of two rounds complete at the Indiana State Invitational.
With a 1-under 71 in the first 18 holes at the Country Club of Terre Haute, Petrova has a 2-stroke lead with just one round remaining. She was the only player in the event to finish under par in Sunday's action. Dasa Urbankova of UIC is in second place with a 73 while her teammate Brooke Beyer is third with a 74.
Petrova's efforts have the Purple Aces in third place with a score of 311. Green Bay holds the team lead with a 304 while UIC is in second with a 307. Monday will feature a final round of 18 holes to complete the tournament.
Second on the UE squad is Allison Enchelmayer. Her 5-over 77 has her in ninth place. Mallory Russell's score of 80 has her inside the top 20, currently in 18th.
Alyssa McMinn and Caitlin O'Donnell carded rounds of 83 and are tied for the 24th spot. Carly Frazier and Destynie Sheridan competed as individuals. Frazier is tied for 14th with a 79 while Sheridan is in a tie for 31st with an 85.
Submitted by Athletics
Softball clinches series with win in series finale
Jenna Nink hit solo home runs in both games of Sunday's doubleheader as the University of Evansville softball team clinched the series with a victory over Belmont in the finale. The Bruins opened the day with a 6-5 win before the Purple Aces responded with a 3-1 triumph in the second game.
Game 1 – Belmont 6, UE 5
With the game tied at 5-5 heading into the 7th, a solo home run by Belmont gave them a 6-5 victory over the Purple Aces in the day's first contest.
Evansville struck first with a pair of runs in the bottom half of the first. Alexa Davis singled and stole second before Sydney Kalonihea and Zoe Frossard drew walks to load the bases. Taylor Howe singled to center field to put the Aces up 2-0.
After allowing just one hit over the first three innings, UE starter Mikayla Jolly ran into trouble in the fourth as the Bruins tagged her for two hits and two walks. Erin Kleffman took over in the circle, but the Bruins would score five times to take the lead.
Jenna Nink cut into the deficit as she sent the first pitch of the fifth over the wall in left center. After Karlee Frobeter reached on a single, Marah Wood hit a home run to deep right field to tie the game at 5-5. Belmont responded in the top of the seventh when Emily Cockrill hit a solo home run that hit the left field foul pole to put them back in front.
Nink and Davis each recorded a hit in the bottom of the 7th but a close play at the plate ended the game and gave the Bruins the win. UE had seven hits in the game with Davis and Nink recording two apiece. Jolly threw the first 3 1/3 innings and allowed four earned runs. Erin Kleffman tossed 3 1/3 frames with two runs, one earned, crossing the plate. She suffered the loss. Megan Brenton recorded the final out in the top of the 7th.
Game 2 – UE 3, Belmont 1
Jess Willsey hit a 1-out RBI single in the bottom of the fourth, which proved to be the game winner in game three of the series against the Bruins.
Belmont quickly took a 1-0 lead in the top of the first in game two before Evansville matched it with Jenna Nink's second solo home run of the doubleheader in the bottom of the third.
Zoe Frossard hit a leadoff double in the fourth while advancing to third on a sacrifice bunt by Taylor Howe. Jess Willsey followed with a single to shallow right field to bring in Frossard and give UE its first lead of the contest.
Evansville scored for the third consecutive inning when Alexa Davis crossed the plate to extend the advantage to 3-1. Davis hit a 2-out double before Sydney Kalonihea reached on an error. Heads up base running by Davis made the difference in securing the important insurance run.
With the Aces continuing to hold the 2-run lead in the top of the 7th, Davis contributed on the defensive side. Her diving catch for the first out of the inning set the tone for a 1-2-3 inning as the Aces finished off the win.
Sydney Weatherford was credited with the win. In four innings of work, she allowed one run on five hits. Megan Brenton earned her third save of the season, giving up just one hit in three scoreless innings. Five different UE players had hits in the game.
On Tuesday, the Aces travel to Indiana State for a single game at 3 p.m. CT.
Submitted by Athletics
Frossard delivers game-winning hit in 11th inning
With two outs in the bottom of the 11th inning, Zoe Frossard singled to left field to bring in Marah Wood for the game-winning run as the Purple Aces defeated Belmont by a 3-2 final inside Tri-State Orthopaedics Field at James and Dorothy Cooper Stadium on Saturday.
Wood went 3-4 with two RBI and a walk in the contest while Frossard and Jenna Nink each recorded hits. Tossing six scoreless innings of relief, Megan Brenton earned her fifth victory of the season. In six frames, she gave up just three hits while striking out nine batters. Sydney Weatherford made the start and gave up two runs, one earned, in five innings.
After both teams picked up a hit in the first, the Bruins broke through with a run in the second on a Kailey Brown triple. A wild pitch with the bases loaded in the third saw them double their lead. Sydney Weatherford got out of the jam without any further damage. In the top of the fifth, Zoe Frossard made an excellent defensive play, making a catch against the left field wall with a runner on base.
Their efforts paid off as the offense found its groove in the bottom of the fifth. Sydney Kalonihea reached on an error to lead off and Jenna Nink followed with a double to left field. With one out, Marah Wood approached the plate and delivered her third hit of the afternoon – a double to the center field wall – to tie the game at 2-2.
Belmont opened the 10th inning by placing their leadoff batters on second and third but Brenton did a masterful job of getting through unscathed. In the 11th, Wood reached with a walk before advancing to second on a sacrifice bunt by Taylor Howe. With two outs, Frossard's hit to left field sealed the 3-2 victory.
Tomorrow, the Aces and Bruins meet up for a doubleheader starting at 12 p.m.
Submitted by Athletics
Aces welcome Belmont for 3-game series
Another home Missouri Valley Conference series is on the docket for the University of Evansville softball team this weekend when the Purple Aces welcome Belmont to Tri-State Orthopaedics Field at James and Dorothy Cooper Stadium.
UE looks to put an end to a 7-game skid with four of those defeats coming by just a single run. The Aces put forth a strong effort in last weekend's road series at Missouri State, dropping the three games by a total of five runs.
Leading the way for the Purple Aces offense in the weekend trip to Missouri State was Hannah Hood. The senior registered four hits in nine at-bats, translating to a .444 batting average. She scored two runs while recording a double, steal and a sacrifice. Saturday's series opener saw Hood go 0-1 but pick up a sacrifice. Her top performance came in the second game of the weekend as she went 3-5 with two runs and a steal. She completed the weekend with a 1-for-3 showing on Sunday.

The outstanding pitching by Sydney Weatherford continued last weekend. Over the course of 9 2/3 innings, Weatherford recorded a 1.45 ERA while allowing three runs, two earned, on six hits. Weatherford made the start in the opener on Saturday, tossing 6 1/3 frames. She allowed one run on four hits. Over that time, she struck out three batters while walking just one. In 3 1/3 innings of relief on Sunday, she allowed two runs, one being earned, while striking out two batters.

Over the last nine games, the starting pitching for the Purple Aces has been outstanding. As a whole, the starters have tossed a total of 33 innings while allowing just eight earned runs over that time. That translates to a 1.70 ERA. No starting pitcher over that span has allowed more than three earned runs to score.

Belmont enters the series with an overall record of 17-12 while splitting their first six MVC games. Kristen Green leads the Bruins with a .350 batting average while adding three home runs and 14 RBI.
Submitted by Athletics
ISU Spring Invitational set for Sunday and Monday
In their final tune-up before the Missouri Valley Conference Championship, the University of Evansville women's golf team will take part in the ISU Spring Invitational this weekend.
Set for Sunday and Monday, the event will take at the Country Club of Terre Haute. The six-team field consists of Indiana State, Eastern Illinois, Green Bay, UIC, Valparaiso and the Purple Aces.
Day one opens with an 11 a.m. ET shotgun start before Monday's second round opens with a 10 a.m. ET shotgun start. Eighteen holes will be played each day with the par set for 72 and the yardage playing at 6,041.
Evansville is coming off a 13th-place finish at the Golfweek/AGT Intercollegiate in Pawley's Island, South Carolina. Pacing the team was Kate Petrova, who earned a tie for 19th with a score of 222. She posted the low round of the event in Tuesday's second round, shooting an even 71.
Magdalena Borisova was the second-highest finisher for UE. Highlighted by an opening-round total of 74, Borisova tied for 39th with a 230. Mallory Russell finished the tournament two strokes behind her, notching a 232 to tie for 46th.
Submitted by Athletics
UE, Belmont Meet For First Time As Valley Baseball Foes This Weekend
Two of the hottest teams in the Missouri Valley Conference will square off this weekend trying to bounce back from their first loss in a while, as the University of Evansville Purple Aces will host the Belmont Bruins in a three-game Valley series at German American Bank Field at Charles H. Braun Stadium in Evansville.
The three-game series will begin on Saturday afternoon at 1 p.m. with a single game, before a noon Sunday doubleheader will conclude the series. The first two games of the series can be seen live on ESPN+, with the second game on Sunday being available on ESPN3. All three games of the series can be heard live in Evansville on 107.1 FM-WJPS and the Old National Bank/Purple Aces Sports Network from Learfield.
Both Evansville and Belmont will be looking to bounce back from a loss in their last trip to the diamond, as both teams saw long winning streaks snapped last time out. Evansville will bring a 16-8 overall record and 3-0 MVC mark into Saturday's opener after seeing its nine-game winning streak broken on Wednesday against Southeast Missouri State. Belmont, meanwhile, will enter the weekend set at 14-12 overall and 2-1 in the Valley after seeing a seven-game winning streak snapped in its last game against Illinois State last weekend.
Evansville will enter the weekend series leading the Valley in scoring, with 175 runs in 24 contests. Fifth-year outfielder Eric Roberts is the current MVC Player of the Week, and he will enter this weekend's action as the only player in NCAA Division I baseball to lead his league in home runs, RBI and stolen bases. Roberts hit his league-leading 10th home run of the year and collected his MVC-best 33rd RBI on Wednesday night against Southeast Missouri State. Roberts also leads the Valley with 10 stolen bases, and he is one of just two Division I players currently with double-digit totals in both home runs and stolen bases (North Carolina's Mac Horvath is the other).
Belmont will counter UE's offense with a pitching staff which currently leads the MVC with a 4.66 ERA. Saturday's starter, Andy Bean, is the current MVC Pitcher of the Week after tossing a complete-game shutout in the Bruins' 2-0 series-opening win over Illinois State. Bean will bring a 2-3 overall record and 3.26 ERA into Saturday's contest, and he has not allowed a run in his last two starts. The Bruins' pitching staff is led by former UE pitching coach A.J. Gaura, who is in his second season in Nashville.
This weekend will mark the first-ever Valley series between UE and Belmont. The two teams first met in 2010, and have met every year outside of two (2011 and 2021) since. The Bruins lead the all-time series, 15-4, and won a pair of mid-week games over Evansville last year by scores of 7-4 and 8-2. Saturday's opener will be just the seventh all-time meeting in Evansville, however, as 13 of the previous 19 meetings have taken place in Nashville.
Evansville will send senior LHP Tyler Denu to the mound in Saturday's opener. Denu is 2-0 with a 3.37 ERA and is coming off a career-best outing in which he struck out a career-high 10 men in a collegiate-best 7.0 innings of work in UE's 7-3 victory at Missouri State last Saturday.
Submitted by Athletics
UE Secures $30 Million Grant to Create Evansville Promise Neighborhood
The University of Evansville (UE) has announced the receipt of a $30 million federal grant program through the United States Department of Education (DOE) that will establish the Evansville's Promise Neighborhood (EPN). UE is part of a new cohort funded in 2023. Only three Neighborhoods in the nation were awarded in 2023.
The aim of the funding is to assist children and youth who are growing up in Promise Neighborhoods, providing them with access to outstanding schools as well as robust family and community support systems. These resources will help prepare them to achieve academic excellence, make the transition to college, and, ultimately, embark on a successful career.
The University of Evansville, as lead applicant, submitted the 2022 grant application to the DOE for an Evansville Promise Neighborhood on October 7, 2022, with a total request of $30 million over five years. Twenty-three Evansville Promise Neighborhood partner agencies accounted for a match totaling $32,497,295.55, for a total of more than $62 million to be invested in the community. This figure comes from the cost invested in providing wraparound care services to the schools and neighborhoods designated as the Evansville Promise Neighborhood. The Promise Neighborhood includes six schools: Evans Elementary School, Delaware Elementary School, Lincoln School, Bosse High School, Lodge Community School, and Glenwood Leadership Academy. The major partners for the EPN are UE, EVSC, E-REP, and the Evansville Promise Zone.
See full press release online.
Submitted by Noah Alatza na122@evansville.edu
Contribute to AceNotes
To have content considered for inclusion in AceNotes, please submit a Marketing Request Form. Deadline for submission to AceNotes is 10:00 a.m. on the requested date of publication. Only articles concerning UE related/sponsored activities will be accepted. Articles submitted to AceNotes may be edited for length and clarity. Submitter contact information is at the end of each article.