| | |
| --- | --- |
| AceNotes Today | Friday, March 31, 2023 |
Koch Market Temporarily Closed
Due to terminal failure in the POS system at Koch Market, this location will be closed until we are able to locate and connect a replacement. We apologize for the inconvenience and appreciate your patience while we work to resolve this issue.
Submitted by Samantha Williams sw342@evansville.edu
Pep and Vim/Reunion Weekend
FREE Swag for Volunteers - Purple Flags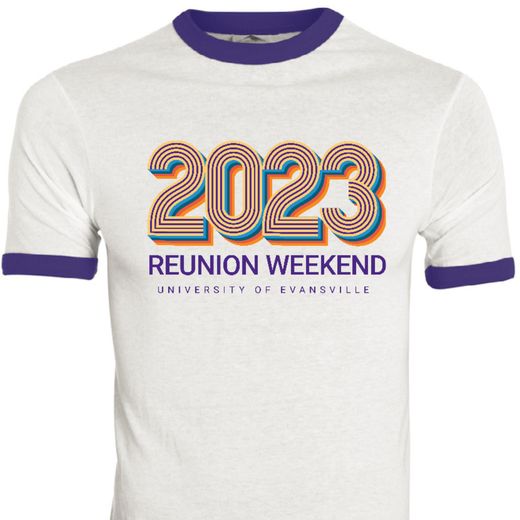 On Saturday, April 8, the Alumni and Engagement team will be placing purple flags around campus for Pep and Vim, the UE annual day of giving. One way we express gratitude for UE donors is by planting one flag for every person who has made a gift to the university over the past year. This allows everyone on campus to see the generosity of the UE family and to know there's an amazingly philanthropic community that continues to empower all Aces.
We need your help planting flags on April 8! We will begin at 10:00 a.m. and we should be finished by noon. Each volunteer will receive a FREE Reunion Weekend t-shirt, and one volunteer will be selected at random to win a premium prize! If you would like to volunteer, please contact alumni@evansville.edu.
Thank you and GO ACES!
Submitted by Jaime Wilder jw663@evansville.edu
Thank a Donor, Grab a Cookie!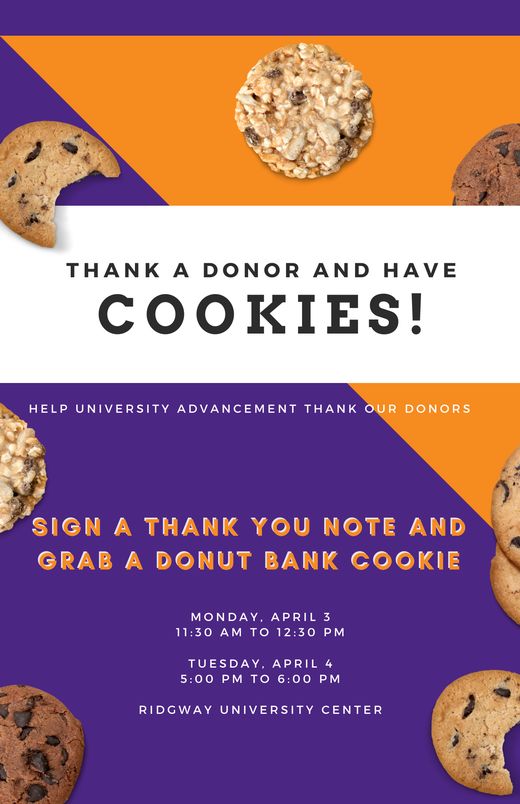 Help University Advancement thank our donors by signing thank you notes in Ridgway on April 3 from 11:30 a.m. - 12:30 p.m. and April 4 from 5:00 - 6:00 p.m. in Ridgway University Center! Everyone who signs a thank you card will receive a Donut Bank cookie!
Submitted by Jaime Wilder jw663@evansville.edu
SAA Volunteers Needed for Penny Wars
Penny Wars is coming, and we need your help to raise funds for the UESAA Scholarship. This scholarship is sponsored every year by the generosity of the campus community through the annual Penny Wars competition. SAA members are needed to help run the table during lunch from April 10-14. Sign up today!
Submitted by Jaime Wilder jw663@evansville.edu
Calling all Kickball Players for the Pep and Vim Kickball Tournament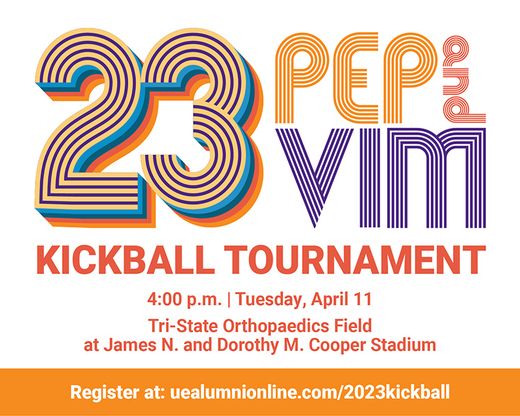 Help us KICK-off the Pep and Vim Spirit with a campus wide kickball tournament on Tuesday, April 11, at 4:00 p.m.! Students, Faculty, Staff, and Alumni are encouraged to register a team by visiting www.uealumnionline.com/2023kickball. The deadline to register is Monday, April 3 at 5:00 p.m. The tournament bracket will be released on Friday, April 7.
Whether you join us on the field or in the stands, bring all your school spirit to the James N. and Dorothy M. Cooper Stadium and enjoy a night of food, UE community, and some good ole campus competition!
Submitted by Jaime Wilder jw663@evansville.edu
Alumni Awards Dinner is Saturday, April 15, 2023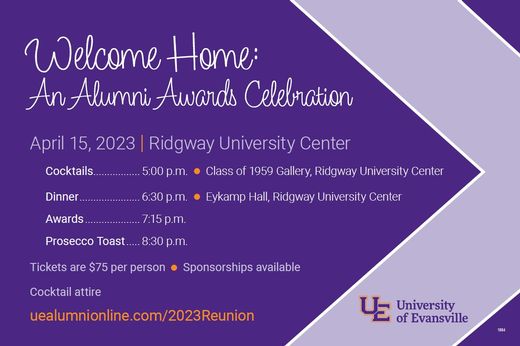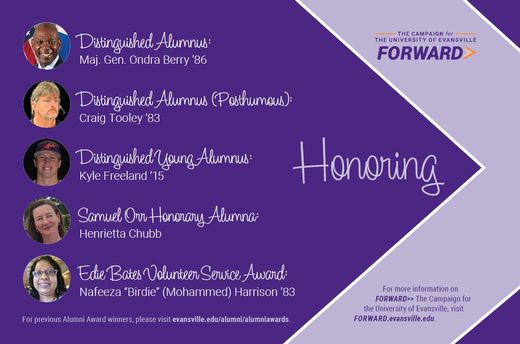 Welcome Home: An Alumni Awards Celebration
April 15, 2023 – Ridgway University Center
Cocktails 5:00 p.m. Class of 1959 Gallery, Ridgway University Center
Dinner 6:30 p.m. Eykamp Hall, Ridgway University Center
Awards 7:15 p.m.
Prosecco Toast 8:30 p.m.
Tickets are $75 per person.
Sponsorships available.
Cocktail Attire
Register here! (use link uealumnionline.com/2023Reunion)
Honoring:
Distinguished Alumnus Maj. Gen. Ondra L. Berry '86

Distinguished Alumnus (Posthumous)

Craig Tooley '83

Distinguished Young Alumnus Kyle Freeland '15

Samuel Orr Honorary Alumna

Henrietta Chubb

Edie Bates Volunteer Service Award Nafeeza "Birdie" (Mohammed) Harrison '03
Submitted by Jaime Wilder / jw663@evansville.edu
Pep and Vim Virtual 5K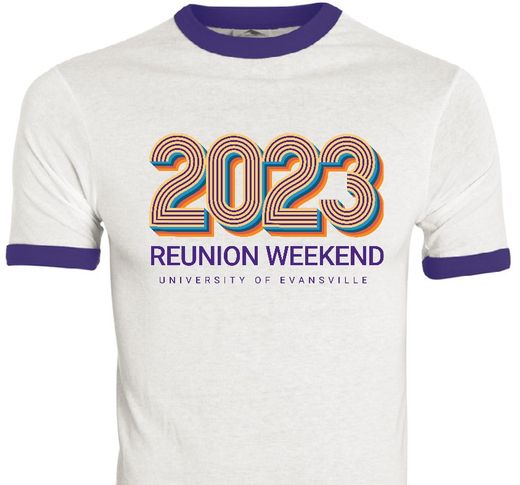 UE Alumni and Engagement is hosting a virtual 5K run/walk to promote a healthy lifestyle. By participating in our Day of Giving Virtual 5K, you'll also be giving back to our beloved university.
The 5K can be completed indoors or outdoors between April 1 and April 15. Participants will enter their times online. All participants will receive an exclusive Pep and Vim t-shirt if registered by March 31*. Register here!
The $35 race fee includes a gift to the UEvansville Fund and will also count towards the 2,023 gifts needed to unlock the Alumni Board's $20,000 Pep and Vim Challenge Gift!
On Friday, April 14, Day of Giving, post a video or picture wearing your Pep and Vim t-shirt on social media using #AcesGiveBack and #FORWARD to help spread the word.
Be sure to stay tuned – Pep and Vim is all about inspiring change, so we will be rolling out many different philanthropic opportunities that may ignite your UE passion. Together, with Day of Giving, we can make an impact on the lives of our students and the university.
If you have any questions, please contact alumni@evansville.edu.
Go Aces!
*Registrations will be accepted after March 31, but we cannot guarantee the arrival of the Pep and Vim t-shirt by April 14.
Submitted by Jaime Wilder / jw663@evansville.edu
Pep and Vim, the UE Annual Day of Giving, is April 14, 2023 – Click to learn more!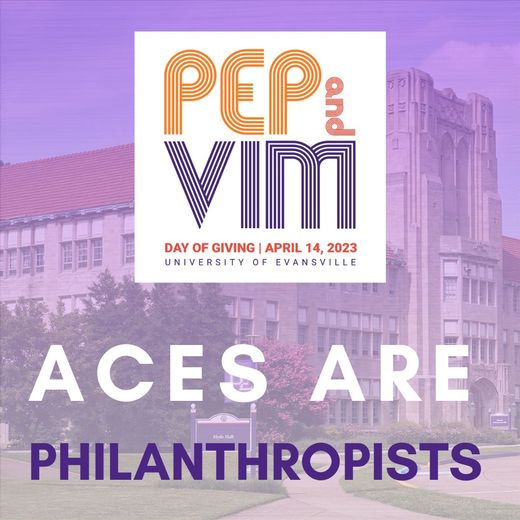 First created by a UE alumnus, "Pep and Vim," UE's Annual Day of Giving, was brought to life in 2012. We shouted our school spirit from the rooftops, and we were honored that the Aces community responded to our first Pep and Vim by making 250 philanthropic gifts that totaled over $5,000.

Flash forward to April 2022, Pep and Vim's 10-year anniversary, and you can see how UE's Day of Giving has grown over the last decade. Over 2,000 gifts were made to the university, totaling over $400,000. Gifts came in from 44 states, providing opportunities for growth within all 3 academic colleges on campus, as well as for Harlaxton College and UE Athletics.
Now it's time for Pep and Vim 2023, and with you by our side, we know we can up our game once more. The UE Alumni Board of Directors has issued a philanthropic challenge! If, as one Aces family, we make 2,023 gifts to any UE project, they will gift $20,000 to the UEvansville Fund!
Sometimes philanthropy can feel too big for us as individuals. But when we join together, we can change the lives of countless others. That's why, at UE, everyone can be a philanthropist. Whether you can give $5 or $5,000, your gift will move the University of Evansville FORWARD into a bright and hopeful future.

To make a gift and help unlock the Alumni Board's challenge, please visit www.evansville.edu/give
Thank you and GO ACES!
Submitted by Jaime Wilder jw663@evansville.edu
Vanderburgh Electronics Spring Recycling Event
Did you know that during the "Spring 2023 Recycling Event," a variety of electronic materials will be accepted for recycling at no charge. Accepted items include, but are not limited to TVs, computers, monitors, printers, hard drives, laptops, fax/scanners, cell phones, DVD players, digital cameras, and cables/cords.

Copy machines and appliances, including microwaves, will NOT be accepted.

This program is for Vanderburgh County households only. Items from businesses will not be accepted."
Spring Event: April 1, 2023, 8:00 am - 12:00 pm, Civic Center parking lot (9th & Walnut Streets)
For more information, please call the Vanderburgh County Solid Waste District at 812-436-7800.
Submitted by Amber Elkins ae152@evansville.edu
Employee Benefits Open Enrollment
The annual open enrollment for benefits begins next week. The Office of Human Resources are holding information meetings during the following times:
Date Time Location
Wednesday, April 5 9:00 am to 10:00 am Eykamp Hall Room 253
Wednesday, April 5 10:30 am to 11:30 am Eykamp Hall Room 253
Wednesday, April 5 2:00 pm to 3:00 pm Eykamp Hall Room 253
Thursday, April 6 9:00 am to 10:00 am Eykamp Hall Room 253
Thursday, April 6 10:30 am to 11:30 pm Eykamp Hall Room 253
Thursday, April 6 2:00 pm to 3:00 pm Eykamp Hall Room 253
Submitted by Lori LeDuc ll138@evansville.edu
Let's Talk About Race (Administrators, Faculty, Staff)
The racial issues that have continued to plague our campus have revealed that having meaningful conversations about race is essential to combatting racism. Silence, after all, simply reinforces the status quo. However, we never learn how to talk about race in school or in our homes. If anything, we have learned not to talk about it.
Because talking about race is hard but necessary, CDEI is hosting Talking about Race discussion sessions for UE employees. The purpose of these 90-minute structured sessions is to practice talking about race and racism and to develop skills and understanding that will help participants foster a culture of inclusion on campus.
These conversations will be conducted in small groups, so space is limited. To join a conversation or for more information, please email Dr. Valerie Stein at vs9. Dates (in April) and times will be determined based on participant schedules.
Submitted by Valerie Stein vs9@evansville.edu
The Menstrual Equity Club presents Jampon on April 2, 2023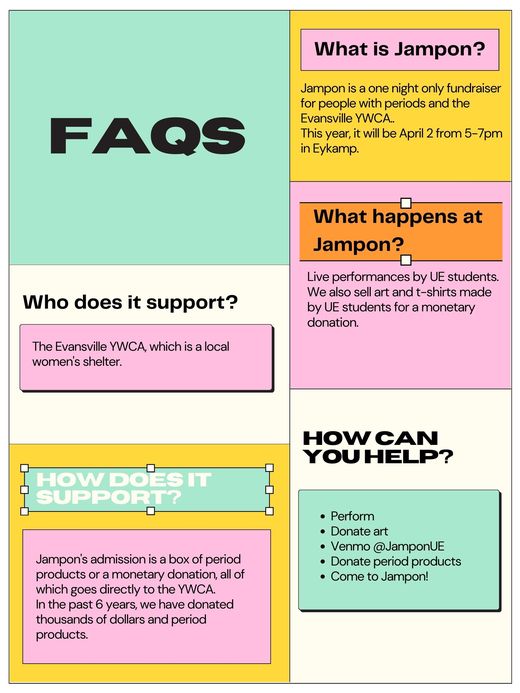 The Menstrual Equity Club will present Jampon- a Jam for Pads and Tampons at the University of Evansville campus on April 2, 2023. Jampon is a one-night-only fundraiser, cabaret, and presentation of art created by UE students that benefits the Evansville YWCA, a domestic violence shelter and outreach program.
Each year, Jampon collects donations of menstrual products and monetary donations for the YWCA through admission to the event. The event also seeks to normalize menstruation and raise awareness about period poverty, or, the inability to afford period products. UE students perform music, comedy routines, dance pieces, and other forms of performance art. Art made and donated by students is also available for purchase, with all proceeds going directly to the YWCA.
Jampon will be held in Eykamp Hall at 5 p.m. and will go on until 7 p.m. The cost of admission is one box of period products (ie. pads or tampons), or a monetary donation to the organization via either cash or Venmo. Art and t-shirts made by UE students will be available for purchase, and performances will occur for the entire duration. The performance lineup for this year includes a variety of musical performances as well as standup comedy. For those who cannot attend in person, a livestream will be available through Jampon's Instagram account, @JamponUE.
Submitted by Sophie Greenway sg231@evansville.edu
Student Masquerade Ball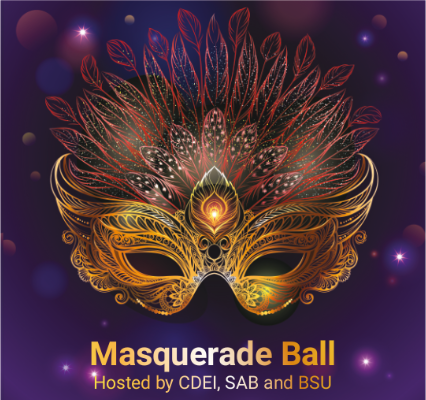 Save the date and buy the fits! CDEI, BSU and SAB are bringing you Masquerade Ball 2023! Let's dance the night away and end the semester with a boom!
April 1st, 8pm
Masquerade Ball: Eykamp Hall- Free
After Party: SkyZone Evansville- $5.00 or 1 bag of feminine hygiene products
*there will be a shuttle to take people from UE to Skyzone!
Theme: Black, Gold, and Red
Attire: Semi-formal
UE, UE Guests, USI and Ivy Tech students are invited!
UE Guests must be registered via UEngage and Eventbrite
USI and Ivy Tech students must be registered via Eventbrite
As it is Wom_n's History Month, we will be hosting a feminine hygiene product drive in exchange for free after party tickets. Bring a full bag to the Ball or get your ticket ahead of time during tabling hours during the week!
All donations will be donated to a local charity
Submitted by Abagail Christine Catania ac532@evansville.edu
Solo Exhibition for Professor Todd Matteson at Thyen-Clark Cultural Center, Jasper, Indiana

The Thyen-Clark Cultural Center in Jasper, Indiana, hosts Professor Todd Matteson's solo exhibition, Life's Adventures. The exhibition runs for three months with a gallery talk every first Thursday in March and April. Professor Matteson will also be doing demonstrations to the public and local schools during his exhibition. Please come enjoy his ceramics and catch a glimpse at his new creations.
Submitted by Todd Matteson tm8@evansville.edu
ChangeLab STAT 300 - Data in the Real World
STAT 300 / ChangeLab 300 - Data Analysis in the Real World
Do you want to challenge yourself in data analytics ChangeLab by working on a real-world project?
If so, join us at the ChangeLab in Fall 2023. We will have enough tasks if you have elementary, intermediate, or
advanced data analytics skills. You will work on the project in a team supervised by a coach. Your project management,
teamwork, professional interaction, and presentation skills will be developed.
If you have any questions or want to know more about the ChangeLab, please contact Dr. Omid Khormali via email
ok16@evansville.edu.
Submitted by Stacey Beard / sb454@evansville.edu
CHNG 310-02: Civil Disobedience, Creative Protest Project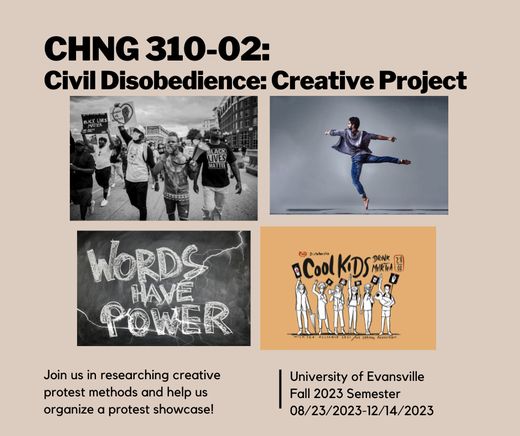 Hey Aces! Are you wanting a creative outlet when it comes to social problems? This is the Change Lab for you!
Civil Disobedience will explore different ways protesters have used art (music, theatre, storytelling, dance, etc) to make their voices known and heard in regard to social injustice. In direct connection with creating an Inclusive Community (UE Core Value) and Living meaningfully in a changing world (UE Mission) students will organize an end of semester showcase to exhibit their artform connected to a social problem they identify with or feel connected to.
Get ready to research different creative protest methods and formulate a working plan to organize the end of semester showcase!
Don't miss out on the opportunity to create and showcase your protest. Plan CHNG 310-02 for the Fall 2023 semester now, seats are limited!
Submitted by Jade S Shelby js818@evansville.edu
Music Therapy Students Attend Regional Conference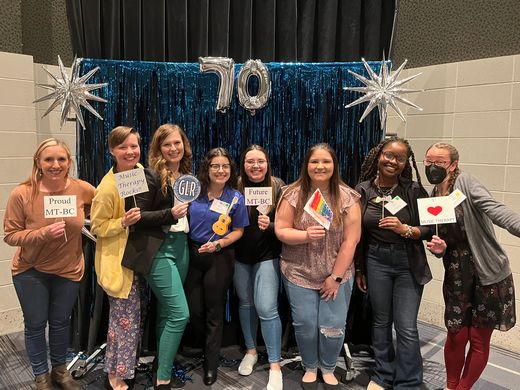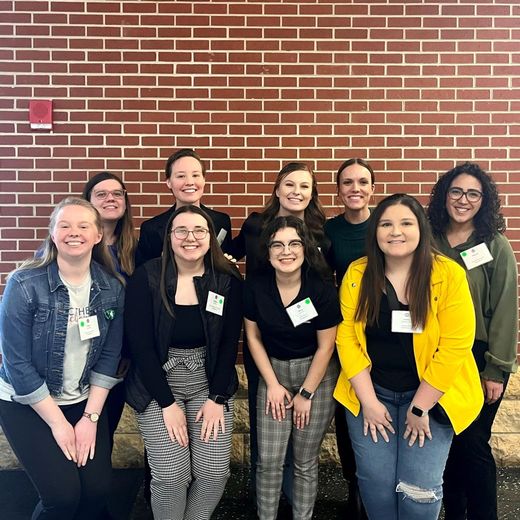 Students and faculty from the Music Therapy Department attended the 70th Annual Conference of the Great Lakes Region of the American Music Therapy Association in Fort Wayne, IN, on March 16-18. Students connected with fellow students, UE alumni, and music therapists from Indiana, Ohio, Michigan, Wisconsin, Illinois, and Minnesota and attended sessions and events about music therapy techniques, current topics in the profession, and research.
Submitted by Melissa Heffner mh602@evansville.edu
The Crescent Sports Report Episode 3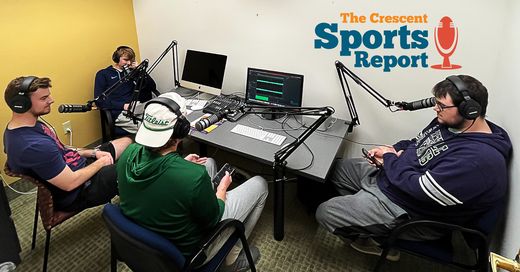 The Crescent Sports Report with Troy and Cole Schroeder, along with fellow UE students Evan Barr and Austin Hernandez. In this weeks episode the crew discusses Opening Day of Major League Baseball.
Submitted by Tommy J Housman th208@evansville.edu
PSYC 229 Offered During Summer Session 1
PSYC 229 (Social Psychology) will be offered during Summer Session 1 as an online, asynchronous class. If you have questions about this 3 credit hour course, which will run from May 15-June 16, please contact Prof McCracken via email – em157@evansville.edu.
Submitted by Evan McCracken em157@evansville.edu
PSYC 121 Offered During Summer Session 2
PSYC 121 (Introduction to Psychology) will be offered during Summer Session 2 as an online, asynchronous class. If you have questions about this 3 credit hour course, which will run from June 19-July 21, please contact Prof McCracken via email – em157@evansville.edu.
Submitted by Evan McCracken em157@evansville.edu
LEAD Forward 2023-2024
The LEAD Forward program invites students to apply for the 2023-2024 LEAD Fellows cohort! LEAD Forward is an executive-style leadership skills development program. Students learn and grow through an intense retreat in August, monthly meetings with local community and business leaders, and one-on-one coaching. Students will receive an individualized leadership development plan that will guide their training throughout the program. We will also have lots of fun as we work as a team to improve our leadership, teamwork, and communication skills. We are looking for student leaders (current Freshmen, Sophomores, and Juniors) who are passionate about leadership! We welcome students of all majors as we believe leadership grows stronger through interdisciplinary ideas and fellowship. LEAD Forward is designed to be a year-long program, with participants committed to attend all scheduled meetings. However, we recognize that some of our top student leaders are also planning to study abroad, complete full-time internships, etc. and so we are happy to work with students to develop an individualized semester-long program or other alternative schedules. Please complete this application electronically and return via email to program director Megan Taylor (mt263@evansville.edu) by Friday, April 7 at 5pm.
Submitted by Megan Taylor mt263@evansville.edu
English prof. serves as host of The Norton Library Podcast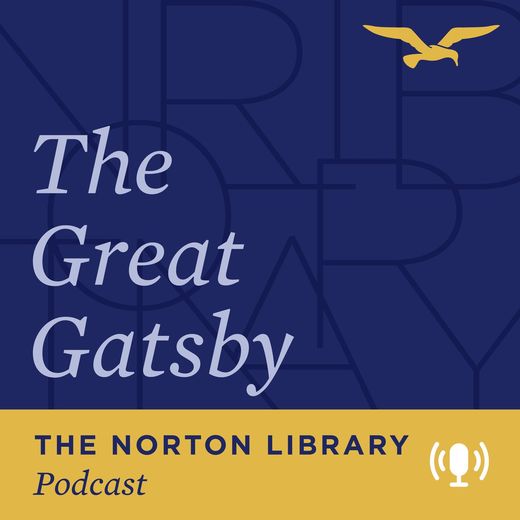 Mark Cirino is the host of The Norton Library Podcast, a new show that explores influential works of literature and philosophy with the leading scholars and teachers behind Norton's newest series of classics. In each episode, featuring a Norton Library editor, The Norton Library Podcast reveals new and surprising things about these classic works—why they endure, and what it means to read them today. The first show explores F. Scott Fitzgerald's 1925 novel The Great Gatsby with its Norton Library editor, Anne Margaret Daniel. This and future episodes are available wherever you get your podcasts, including: https://seagull.wwnorton.com/nlpodcast.
Cirino, Melvin M. Peterson Endowed Chair in English, also hosts the Hemingway Society's popular show, One True Podcast.
Submitted by Michelle Lehman ml281@evansville.edu
Olmsted Pepsi Vending Machine
The glass front Pepsi vending machine is being replaced with a new glass front machine in a effort to eliminate ongoing vending issues. Please note that this process takes several days to complete. The current machine will be emptied and the new machine will be delivered today, Thursday, March 23. However, it will be next week before the new machine can be filled with product for use. Thank you for your patience.
Submitted by Kim Winsett kw83@evansville.edu
Submit Your Favorite Photos for UE's Photography Exhibit
The 2023 UE Photography Exhibition is scheduled for April 10-May 5, and the Department of Art is seeking entries for submission! Photography will be on display in the Krannert Gallery. Active and retired employees of UE as well as trustees are invited to present their work.
The photography requirements are as follows:
• Items should be matted, framed, and suitable for hanging in the Krannert Gallery.
• Photos may be no larger than 16x20".
• On the back of each submission you must provide your name, current/former department, email address, and a title for your image (date and location if appropriate).
• Work not previously submitted can be accepted.
Items will be accepted between April 3-6 in the Department of Art office (FA 212).
A reception will be held on Wednesday, April 12, from 4:30 p.m. – 6:00 p.m. in the Krannert Gallery, and the campus community is encouraged to attend. This special event will honor Professor Emeritus Hanns Pieper, PhD, the UE Photography Exhibition's founder.
Please join us in celebrating this tradition of displaying meaningful work created by our own campus community!
If you have questions. Please contact Carol McCraney, Administrative Assistant for the Department of Art, at cm177@evansville.edu.
Submitted by Carol McCraney cm177@evansville.edu
Chartwells Focus Group: Earn $25 AceBucks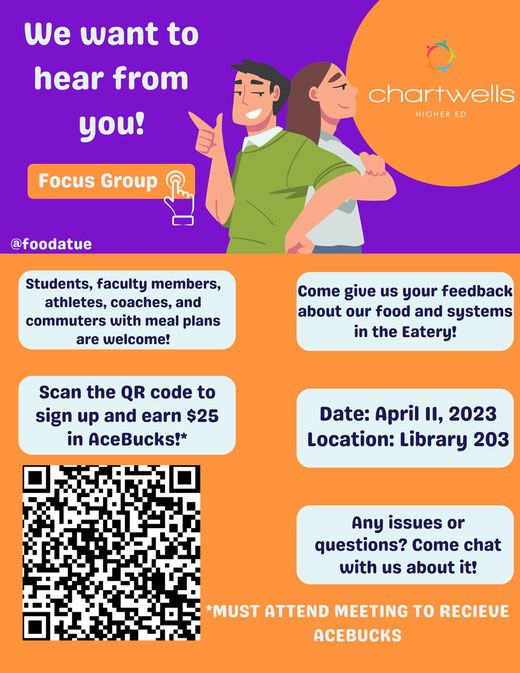 Earn free $25 Ace Bucks by signing up for our feedback focus group! Coaches, Staff, Students, and Commuters are welcome. Join us in the Library, Room 203, on April 11 to give us your feedback and questions about the dining services and food on campus! (Must attend the meeting to earn AceBucks)
Submitted by Ka'Bria Carr kc403@evansville.edu
UE to host Innovate WIthIN Regional Pitching Competition
On April 10, ten student teams will be competing in the STARTedUP Foundation's Innovate WithIN program Region 1 competition hosted by the University of Evansville. Students will present their pitches in front of an audience comprising government officials, business leaders, educators, and family members. Not only will these students receive great exposure, but they are also competing for a first-place prize of $25,000 in venture capital funding. Each team will also have the opportunity to enter an exclusive alumni program, receive thousands of dollars in scholarships, and are invited to travel to Washington D.C. over the summer.
You are invited to attend this local competition and experience these impressive student pitches. Join in person in Eykamp Hall on April 10 from 8:00 a.m. - 1:00 p.m. CDT or attend virtually.
Submitted by Noah Alatza na122@evansville.edu
Student Leaders Needed
College Mentors for Kids is a great organization on UE's campus that matches UE student volunteers with a student from a local elementary school. Elementary students travel to UE one day a week to meet with their UE student mentor, participate in a community service activity, learn about careers and professions by visiting areas on campus, and receive ongoing encouragement and inspiration from a UE student about the importance of education and giving back to their community. We're looking for student leaders to organize and lead this program for the 2023-2024 academic year. If you are interested, please contact Dr. Lisa Hale at lh241@evansville.edu or Carly Cox at ccox@collegementors.org for more information. Make a difference, volunteer to mentor!
Submitted by Lisa Marie Hale lh241@evansville.edu
Seeking financial Aid for summer courses?
UE students seeking financial aid or intending to use loan funds for summer courses at UE, please complete a Summer Financial Aid Application and return to the Office of Student Financial Services (Olmsted 105) however is most convenient. The application will allow our office to assess your financial aid and loan eligibility.
Work-Study:
On-campus jobs are available for continuing UE students during the summer. You do not need to be eligible for need-based Federal Work-Study during the academic year in order to apply. You may also apply regardless of your enrollment in summer courses. Applications will be available within the Student Employment area of WebAdvisor.
Submitted by Amy Sowders as560@evansville.edu
Employer Tuition Reimbursement Program for Students
We are pleased to coordinate employer tuition reimbursement as a service to our students and our community. Employer Tuition Reimbursement Programs are offered by many companies to assist employees with full- or part-time tuition reimbursement benefits. Programs and eligibility vary by company, so check with your employer to see if you may be eligible. For more information regarding UE Employer Tuition Reimbursement please contact the Office of Student Financial Services at 812-488-2565:
Submitted by Melissa Baker mb527@evansville.edu
UE Summer Camps and Employee Discount
The Office of Youth Programs has opened registration for UE Summer Camps 2023! This summer, we are offering Dance Camp, the Wesley Shepard Music Camp, Exploring Art at UE (Grades 2-5 & Grades 6-8), STEM Camp, Clay Camp, Springboard, and Pride Camp. To find out more, please visit our website.
We are offering a 50% discount to UE Employees that would like to register their youth. To receive this discount, please email us at youthprograms@evansville.edu BEFORE registering. Please include your name, title, list youth(s)'s name and camp title. We will send you a discount code to apply at registration within two business days.
If you have any questions, please email youthprograms@evansville.edu.
Submitted by Rachel Roscoe rr209@evansville.edu
March Employee of the Month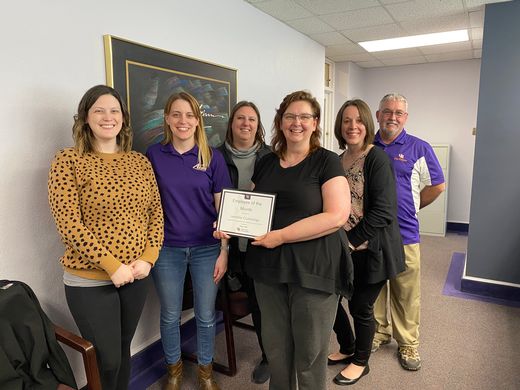 SAA Board recognized the March 2023 Employee of the Month on Wednesday. Recipients are Jennifer Cummings Receivables Clerk and Kenton Hargis Senior Director of Admission. Thank you for all you do!
Submitted by Stephanie Stoll ss810@evansville.edu
Morgan Stankey '09
It is with great sadness that we announce the tragic passing of 2009 graduate Morgan Stankey. Morgan was an outstanding and beloved student at UE, majoring in History and Political Science. She is survived by her mother Michelle, her father Dr Michael Stankey, and her stepfather Dr Stuart Dorsey, as well as her sisters Gretchen and Rachael. There will be a memorial service at Aldersgate United Methodist Church, 5130 Lincoln Avenue, on April 6 at 11am, to which all her friends in the University community are invited.
Submitted by James MacLeod jm224@evansville.edu
Weather Changes UE-Belmont Baseball Series Schedule Again
EVANSVILLE, Ind. – Due to the forecast for heavy rain and storms on Friday evening and heavy wind set for Saturday, the schedule for this weekend's University of Evansville-Belmont baseball series has been changed again.
The series will now begin on Saturday afternoon at 1 p.m. with a single game. The series will conclude now with a doubleheader scheduled for 12 p.m. on Sunday afternoon.
Evansville will enter the series with a 16-8 overall record and 3-0 Missouri Valley Conference mark after seeing its nine-game winning streak snapped on Wednesday night against Southeast Missouri State. Belmont opened its first season of MVC play last weekend by winning two out of three games against Illinois State at home, and the Bruins will bring a 14-12 overall record and 2-1 conference mark into this weekend's series. This weekend's series is slated to be streamed live on ESPN+ and ESPN3, with the entire series also available in the Tri-State area and on-line through 107.1 FM-WJPS and the Old National Bank/Purple Aces Sports Network.
Submitted by Athletics
WEATHER ADJUSTS UE TRACK & FIELD SCHEDULE THIS WEEKEND
EVANSVILLE, Ind. – With inclement weather expected in the Terre Haute, Indiana area on Friday, this weekend's Pacesetter Sports Invitational track meet has been pushed back one day. Now, the University of Evansville Track & Field teams will compete on both Saturday and Sunday in Terre Haute.
The two-day meet will now begin on Saturday at 2 p.m. central time with both the hammer throw and javelin events. Action on the track will begin at 5 p.m. central time with the men's 5,000-meter race. Only the hammer throw, javelin and 5,000-meter races of both genders will be contested on Saturday. The remainder of the meet will begin on Sunday at 11 a.m. central time with field events and 12 p.m. central time for track events.
UE is coming off of a strong showing at Murray State's Margaret Simmons Invitational. Senior thrower Zach Dove (Princeton, Ind./Princeton Community) won both the men's discus and hammer throw events, and sophomore Denzel Lasam (St. Louis, Mo./De Smet Jesuit) took home the individual title in the men's triple jump. Graduate student Antonia Lamond (Nutley, N.J./Paramus Catholic) also broke the school records in both the women's hammer throw (37.83 meters) and shot put (10.17 meters) events.
Overall, the UE men placed fourth out of 12 teams, while the UE women placed 13th out of 15 teams at the Margaret Simmons Invitational. The fourth-place showing was UE's best of the outdoor season.
Submitted by Athletics
Schedule change announced for weekend home series
EVANSVILLE, Ind. – With inclement weather in the forecast for Friday, the weekend schedule for the University of Evansville softball team has been altered.
This weekend's home series against Belmont is now set to open on Saturday with a single game at 1 p.m. Two games will be on the slate for Sunday with the doubleheader beginning at 12 p.m.
Submitted by Athletics
UE Secures $30 Million Grant to Create Evansville Promise Neighborhood
The University of Evansville (UE) has announced the receipt of a $30 million federal grant program through the United States Department of Education (DOE) that will establish the Evansville's Promise Neighborhood (EPN). UE is part of a new cohort funded in 2023. Only three Neighborhoods in the nation were awarded in 2023.
The aim of the funding is to assist children and youth who are growing up in Promise Neighborhoods, providing them with access to outstanding schools as well as robust family and community support systems. These resources will help prepare them to achieve academic excellence, make the transition to college, and, ultimately, embark on a successful career.
The University of Evansville, as lead applicant, submitted the 2022 grant application to the DOE for an Evansville Promise Neighborhood on October 7, 2022, with a total request of $30 million over five years. Twenty-three Evansville Promise Neighborhood partner agencies accounted for a match totaling $32,497,295.55, for a total of more than $62 million to be invested in the community. This figure comes from the cost invested in providing wraparound care services to the schools and neighborhoods designated as the Evansville Promise Neighborhood. The Promise Neighborhood includes six schools: Evans Elementary School, Delaware Elementary School, Lincoln School, Bosse High School, Lodge Community School, and Glenwood Leadership Academy. The major partners for the EPN are UE, EVSC, E-REP, and the Evansville Promise Zone.
See full press release online.
Submitted by Noah Alatza na122@evansville.edu
Contribute to AceNotes
To have content considered for inclusion in AceNotes, please submit a Marketing Request Form. Deadline for submission to AceNotes is 10:00 a.m. on the requested date of publication. Only articles concerning UE related/sponsored activities will be accepted. Articles submitted to AceNotes may be edited for length and clarity. Submitter contact information is at the end of each article.