| | |
| --- | --- |
| AceNotes Today | Thursday, March 30, 2023 |
Pep and Vim/Reunion Weekend
FREE Swag for Volunteers - Purple Flags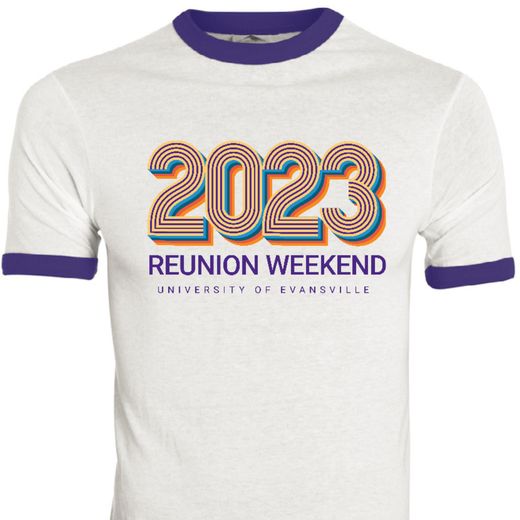 On Saturday, April 8, the Alumni and Engagement team will be placing purple flags around campus for Pep and Vim, the UE annual day of giving. One way we express gratitude for UE donors is by planting one flag for every person who has made a gift to the university over the past year. This allows everyone on campus to see the generosity of the UE family and to know there's an amazingly philanthropic community that continues to empower all Aces.
We need your help planting flags on April 8! We will begin at 10:00 a.m. and we should be finished by noon. Each volunteer will receive a FREE Reunion Weekend t-shirt, and one volunteer will be selected at random to win a premium prize! If you would like to volunteer, please contact alumni@evansville.edu.
Thank you and GO ACES!
Submitted by Jaime Wilder jw663@evansville.edu
Thank a Donor, Grab a Cookie!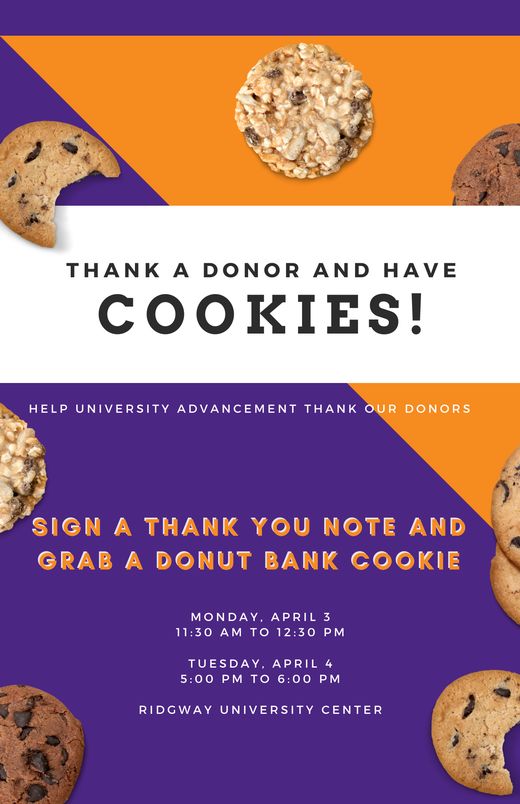 Help University Advancement thank our donors by signing thank you notes in Ridgway on April 3 from 11:30 a.m. - 12:30 p.m. and April 4 from 5:00 - 6:00 p.m. in Ridgway University Center! Everyone who signs a thank you card will receive a Donut Bank cookie!
Submitted by Jaime Wilder jw663@evansville.edu
SAA Volunteers Needed for Penny Wars
Penny Wars is coming, and we need your help to raise funds for the UESAA Scholarship. This scholarship is sponsored every year by the generosity of the campus community through the annual Penny Wars competition. SAA members are needed to help run the table during lunch from April 10-14. Sign up today!
Submitted by Jaime Wilder jw663@evansville.edu
Campus Community Invited to Thursday Press Conference
The University of Evansville is excited to host a press conference on Thursday, March 30, at noon in Eykamp Hall. President Christopher Pietruszkiewicz along with Regional Leaders including Mayor Lloyd Winnecke will make an announcement on a major economic development that impacts the City of Evansville. The campus community is invited to attend.
Submitted by Noah Alatza na122@evansville.edu
Vanderburgh Electronics Spring Recycling Event
Did you know that during the "Spring 2023 Recycling Event," a variety of electronic materials will be accepted for recycling at no charge. Accepted items include, but are not limited to TVs, computers, monitors, printers, hard drives, laptops, fax/scanners, cell phones, DVD players, digital cameras, and cables/cords.

Copy machines and appliances, including microwaves, will NOT be accepted.

This program is for Vanderburgh County households only. Items from businesses will not be accepted."
Spring Event: April 1, 2023, 8:00 am - 12:00 pm, Civic Center parking lot (9th & Walnut Streets)
For more information, please call the Vanderburgh County Solid Waste District at 812-436-7800.
Submitted by Amber Elkins ae152@evansville.edu
Employee Benefits Open Enrollment
The annual open enrollment for benefits begins next week. The Office of Human Resources are holding information meetings during the following times:
Date Time Location
Wednesday, April 5 9:00 am to 10:00 am Eykamp Hall Room 253
Wednesday, April 5 10:30 am to 11:30 am Eykamp Hall Room 253
Wednesday, April 5 2:00 pm to 3:00 pm Eykamp Hall Room 253
Thursday, April 6 9:00 am to 10:00 am Eykamp Hall Room 253
Thursday, April 6 10:30 am to 11:30 pm Eykamp Hall Room 253
Thursday, April 6 2:00 pm to 3:00 pm Eykamp Hall Room 253
Submitted by Lori LeDuc ll138@evansville.edu
Let's Talk About Race (Administrators, Faculty, Staff)
The racial issues that have continued to plague our campus have revealed that having meaningful conversations about race is essential to combatting racism. Silence, after all, simply reinforces the status quo. However, we never learn how to talk about race in school or in our homes. If anything, we have learned not to talk about it.
Because talking about race is hard but necessary, CDEI is hosting Talking about Race discussion sessions for UE employees. The purpose of these 90-minute structured sessions is to practice talking about race and racism and to develop skills and understanding that will help participants foster a culture of inclusion on campus.
These conversations will be conducted in small groups, so space is limited. To join a conversation or for more information, please email Dr. Valerie Stein at vs9. Dates (in April) and times will be determined based on participant schedules.
Submitted by Valerie Stein vs9@evansville.edu
College of Business & Engineering Speaker Series: Community Engaged Scholarship
COLLEGE OF BUSINESS & ENGINEERING LECTURE SERIES
COMMUNITY ENGAGED SCHOLARSHIP
Making a Difference Through Research & Teaching: The Impact of Microlending
Tuesday, April 11th
Lunch & Learn
12:20 – 1:15 p.m.
SCHROEDER BUILDING, Room 170
Join us to learn about UE research and classes making a positive impact on society.
Both in person and zoom options will be provided. If you register to attend the event via zoom, the link will be provided to you 24 hours prior to the event. Please be sure to check your spam folder. If you do not receive the information, please contact Nick Bragin at nb197@evansville.edu
Reimagining Financial Inclusion in the Post COVID-19 World: The Case for Grameen America
Dr. Rania Mousa
Associate Professor of Accounting and Mead Johnson Nutrition Endowed Chair in Business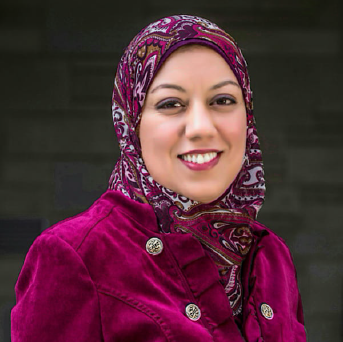 Dr. Mousa identified and analyzed the key initiatives implemented by Grameen America in alleviating the financial hardships of its underserved female members, thereby contributing to the attainment of the United Nations' Sustainable Development Goals. Her paper has been published in the International Journal of Ethics and Systems. Dr. Mousa, a recipient of the 2022-2023 Global Scholar Award, presented her research at the Sustainable and Socially Responsible Finance Conference held at the Yunus Social Business Center in the University of Bologna in Italy.
A Managerial Perspective on Underbanked Entrepreneurs: Barriers to Lending and Community Partnership Solutions
Dr. Beverly Brockman – Schroeder Family Dean, College of Business & Engineering
Dr. Chris Brockman – Professor of Finance, Director - Institute for Banking & Finance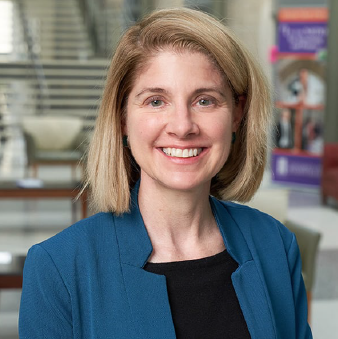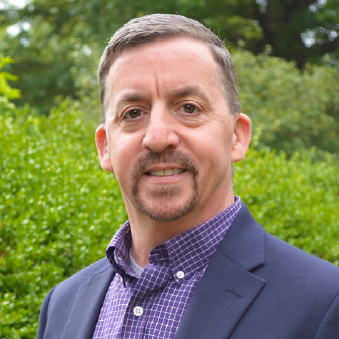 The unique barriers confronting entrepreneurs in low-income communities in obtaining debt capital in the United States remain unclear. The authors identify two sets of barriers to financial lending and present community-based partnership solutions to improve access to capital for underbanked entrepreneurs. Their research was published in the Journal of Economics and Finance Education.
Loan Opportunities through the UE Microloan Program
Dr. Chris Brockman – Professor of Finance, Director - Institute for Banking & Finance
The UE Microloan Program is an experiential student-run program administered by the Institute for Banking and Finance in the University of Evansville Schroeder School of Business. Funding for the microloan program was provided by Old National Bank. Advisors for the Southwest Indiana Small Business Development Center serve as executive mentors for microloan participants.
Submitted by Nick Bragin nb197@evansville.edu
The Menstrual Equity Club presents Jampon on April 2, 2023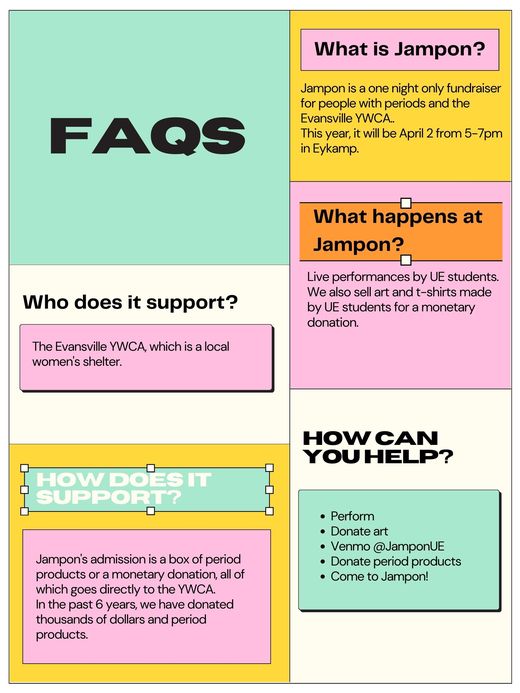 The Menstrual Equity Club will present Jampon- a Jam for Pads and Tampons at the University of Evansville campus on April 2, 2023. Jampon is a one-night-only fundraiser, cabaret, and presentation of art created by UE students that benefits the Evansville YWCA, a domestic violence shelter and outreach program.
Each year, Jampon collects donations of menstrual products and monetary donations for the YWCA through admission to the event. The event also seeks to normalize menstruation and raise awareness about period poverty, or, the inability to afford period products. UE students perform music, comedy routines, dance pieces, and other forms of performance art. Art made and donated by students is also available for purchase, with all proceeds going directly to the YWCA.
Jampon will be held in Eykamp Hall at 5 p.m. and will go on until 7 p.m. The cost of admission is one box of period products (ie. pads or tampons), or a monetary donation to the organization via either cash or Venmo. Art and t-shirts made by UE students will be available for purchase, and performances will occur for the entire duration. The performance lineup for this year includes a variety of musical performances as well as standup comedy. For those who cannot attend in person, a livestream will be available through Jampon's Instagram account, @JamponUE.
Submitted by Sophie Greenway sg231@evansville.edu
Student Art Exhibition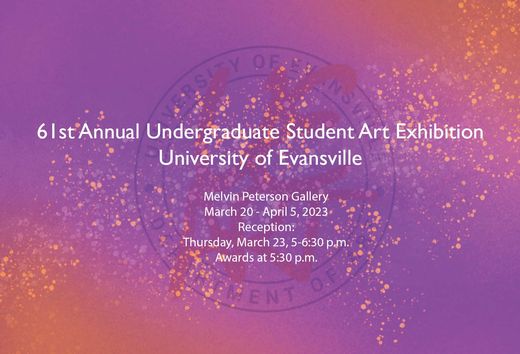 The 61st Annual Undergraduate Student Exhibition opens on March 20 through April 5, 2023 in the Melvin Peterson Gallery.
Please join us for the student awards reception on Thursday, March 23 in the Melvin Peterson Gallery from 5:00 pm - 6:30 pm.
Submitted by Carol McCraney cm177@evansville.edu
CDEI Upcoming Programming
CDEI has some amazing upcoming programs, and we hope to see you there! Head to UEngage or our Instagram @uediversity for more information as the date approaches!
4/5
6-7:30 pm Sexual Assault Awareness Month Panel
On Zoom
Panelist include individuals from the following organizations/ roles: Albion Fellows Bacon Center, Evansville Police Department, Indiana Tracking Victim Assistance Program, Vanderburgh County Deputy Prosecutor, Vanderburgh County Prosecutor, Sexual Assault Nurse Examiner
Please register for this meeting
4/10
12-1 pm Disability Awareness Month Keynote Speaker
On Zoom
Gregory S. Fehribach
Gregory S. Fehribach of Indianapolis, Indiana is principal of the Fehribach Group, a consulting firm specializing in accessibility, universal design, and compliance with the ADA that he founded in 1995. He is of counsel to the firm of Tuohy, Bailey, & Moore, LLP in Indianapolis and has practiced law for the past 30 years. Since 1988, Fehribach has served as a panel trustee for the U.S. Bankruptcy Court, Southern District of Indiana. In 2009, he was designated a Distinguished Fellow at Ball State University where he established The Disability Project, which was renamed the Gregory S. Fehribach Center on July 25th, 2019. Fehribach has served on the Ball State University Board of Trustees, the Indiana Governor's Planning Council for People with Disabilities, the Board of Directors of the Indianapolis Public Transportation Corporation, and the Marion County Health and Hospital Corporation Board of Trustees. He received a bachelor's degree and a master of arts degree from Ball State University and a law degree from Ohio Northern University's Pettit College of Law.
Please register for this meeting
If you have any questions, please email Center4DEI@evansville.edu
Submitted by Abagail Christine Catania ac532@evansville.edu
The Crescent Sports Report Episode 3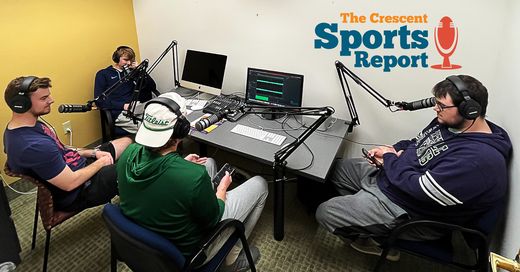 The Crescent Sports Report with Troy and Cole Schroeder, along with fellow UE students Evan Barr and Austin Hernandez. In this weeks episode the crew discusses Opening Day of Major League Baseball.
Submitted by Tommy J Housman th208@evansville.edu
PSYC 229 Offered During Summer Session 1
PSYC 229 (Social Psychology) will be offered during Summer Session 1 as an online, asynchronous class. If you have questions about this 3 credit hour course, which will run from May 15-June 16, please contact Prof McCracken via email – em157@evansville.edu.
Submitted by Evan McCracken em157@evansville.edu
PSYC 121 Offered During Summer Session 2
PSYC 121 (Introduction to Psychology) will be offered during Summer Session 2 as an online, asynchronous class. If you have questions about this 3 credit hour course, which will run from June 19-July 21, please contact Prof McCracken via email – em157@evansville.edu.
Submitted by Evan McCracken em157@evansville.edu
LEAD Forward 2023-2024
The LEAD Forward program invites students to apply for the 2023-2024 LEAD Fellows cohort! LEAD Forward is an executive-style leadership skills development program. Students learn and grow through an intense retreat in August, monthly meetings with local community and business leaders, and one-on-one coaching. Students will receive an individualized leadership development plan that will guide their training throughout the program. We will also have lots of fun as we work as a team to improve our leadership, teamwork, and communication skills. We are looking for student leaders (current Freshmen, Sophomores, and Juniors) who are passionate about leadership! We welcome students of all majors as we believe leadership grows stronger through interdisciplinary ideas and fellowship. LEAD Forward is designed to be a year-long program, with participants committed to attend all scheduled meetings. However, we recognize that some of our top student leaders are also planning to study abroad, complete full-time internships, etc. and so we are happy to work with students to develop an individualized semester-long program or other alternative schedules. Please complete this application electronically and return via email to program director Megan Taylor (mt263@evansville.edu) by Friday, April 7 at 5pm.
Submitted by Megan Taylor mt263@evansville.edu
2023-24 Dr. Marvin E. Hartig Scholarship
Family, friends and loved ones of the late Dr. Marvin E. Hartig are pleased to announce the application process for the Dr. Marvin E. Hartig Memorial Scholarship. This scholarship is dedicated to the loving memory of Dr. Hartig, Dean of Evansville College's Evening College in 1967, and administrator for the Center for Advanced Study, director of the Evansville chapter of the American Institute of Banking (AIB), and the international student advisor. In 1974, Dr. Hartig was appointed Dean of Academic Services. He retired in 1984 after serving his alma mater for thirty-five years and passed away in 2007.
This scholarship will be awarded annually to a deserving sophomore student. Preference will be given to a student working while being enrolled as a full-time student. International students are encouraged to apply.
Eligible students for the 2023-2024 Hartig Memorial Scholarship will be sophomores in the 2023-2024 academic year.
The application can be found online.
Deadline: Please return all materials to the Office of Student Financial Services by May 5, 2023. The decision will be announced by May 26, 2023.
Questions: Amber Chandler, Administrative Assistant to the Office of Student Financial Services, at ac547@evansville.edu or 812-488-2364.
Submitted by Amber Chandler ac547@evansville.edu
English prof. serves as host of The Norton Library Podcast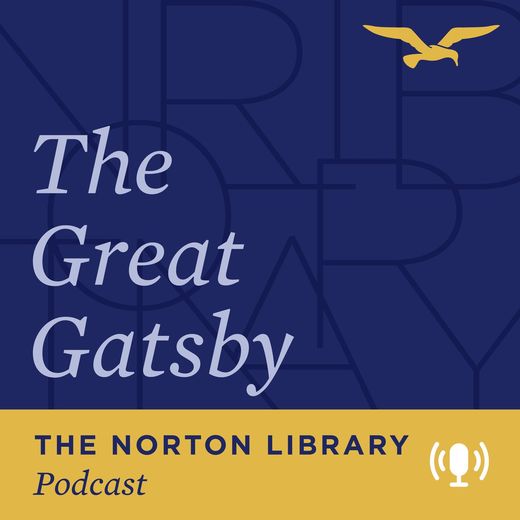 Mark Cirino is the host of The Norton Library Podcast, a new show that explores influential works of literature and philosophy with the leading scholars and teachers behind Norton's newest series of classics. In each episode, featuring a Norton Library editor, The Norton Library Podcast reveals new and surprising things about these classic works—why they endure, and what it means to read them today. The first show explores F. Scott Fitzgerald's 1925 novel The Great Gatsby with its Norton Library editor, Anne Margaret Daniel. This and future episodes are available wherever you get your podcasts, including: https://seagull.wwnorton.com/nlpodcast.
Cirino, Melvin M. Peterson Endowed Chair in English, also hosts the Hemingway Society's popular show, One True Podcast.
Submitted by Michelle Lehman ml281@evansville.edu
FIN 280 - Introduction to Personal Finance - Summer 2023
This class will introduce students to the basic concepts of Personal Finance, which should be of great interest to all students, whether you are just beginning your college life or will soon be out in the working world. Topics include: Money Management, Consumer Credit, Housing Decisions, Insurance, Investing, Retirement Planning, Estate Planning etc. No prerequisites are required.
This course will be offered in Summer I 2023. If you have any questions, please feel free to contact Dr. Chris Brockman at cb455@evansville.edu.
Submitted by Chris Brockman cb455@evansville.edu
Olmsted Pepsi Vending Machine
The glass front Pepsi vending machine is being replaced with a new glass front machine in a effort to eliminate ongoing vending issues. Please note that this process takes several days to complete. The current machine will be emptied and the new machine will be delivered today, Thursday, March 23. However, it will be next week before the new machine can be filled with product for use. Thank you for your patience.
Submitted by Kim Winsett kw83@evansville.edu
Chartwells Focus Group: Earn $25 AceBucks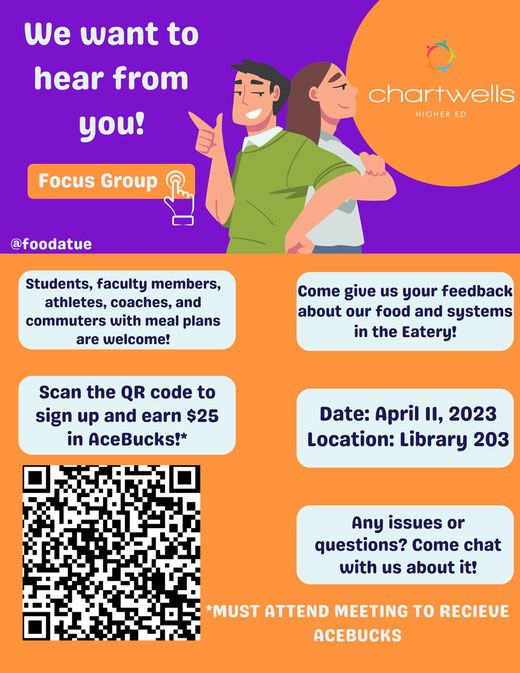 Earn free $25 Ace Bucks by signing up for our feedback focus group! Coaches, Staff, Students, and Commuters are welcome. Join us in the Library, Room 203, on April 11 to give us your feedback and questions about the dining services and food on campus! (Must attend the meeting to earn AceBucks)
Submitted by Ka'Bria Carr kc403@evansville.edu
Info You Should Know
SPAN 112 Offered During Summer Session 2
SPAN 211 Offered During Summer Session 2
Submitted by Cindy Crowe cc109@evansville.edu
Student Leaders Needed
College Mentors for Kids is a great organization on UE's campus that matches UE student volunteers with a student from a local elementary school. Elementary students travel to UE one day a week to meet with their UE student mentor, participate in a community service activity, learn about careers and professions by visiting areas on campus, and receive ongoing encouragement and inspiration from a UE student about the importance of education and giving back to their community. We're looking for student leaders to organize and lead this program for the 2023-2024 academic year. If you are interested, please contact Dr. Lisa Hale at lh241@evansville.edu or Carly Cox at ccox@collegementors.org for more information. Make a difference, volunteer to mentor!
Submitted by Lisa Marie Hale lh241@evansville.edu
National Survey of Student Engagement (NSSE)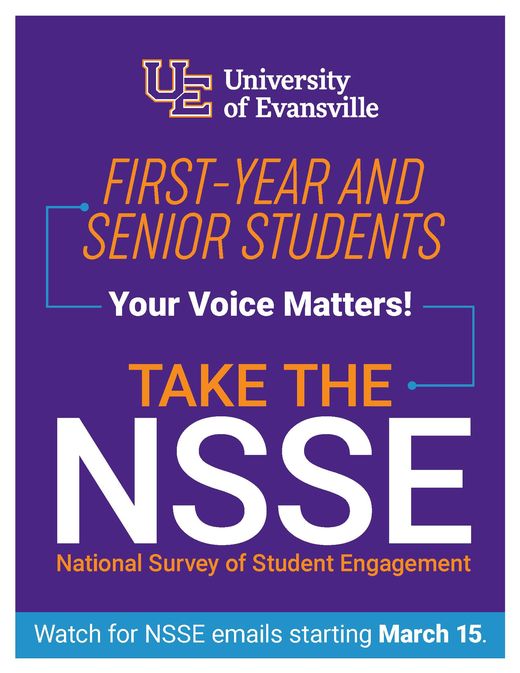 FIRST-YEAR AND SENIOR STUDENTS - Your Voice Matters! Take the National Survey of Student Engagement (NSSE). Watch for NSSE emails starting March 15.
In appreciation for participating, all students who complete the survey by April 14 will be entered into a drawing for one of two Apple Watches (each valued at approximately $280.00) and one of four sets of JBuds Air earbuds (each valued at approximately $70.00). One first-year student and one senior-year student will be selected for the Apple Watches. Two first-year students and two senior-year students will be selected for the earbuds. Students may receive only one item. Your chances of winning depend on how many complete the survey; 965 students were invited to participate.
Submitted by Paula Heldt ph28@evansville.edu
Employee - UE Mobile Mammography Services
Employees - Ascension St. Vincent is providing mobile mammography services for the University of Evansville. The mobile mammography bus will be located next to the Krannert Building on April 13th from 9:00AM - 2:00PM. Please click the link below to sign up for an appointment time! An Ascension Breast Center representative will call you prior to your appointment date to verify all necessary registration information.
Submitted by Haley Walker hw164@evansville.edu
Call for Nominations: Dean of Students Leadership Awards
Nominations are now being accepted for consideration of The Howard S. Rosenblatt "Dean of Students Leadership Awards." These awards will be presented at the 30th Annual Leadership Awards Reception scheduled for Thursday, April 20, 2023. Invitations will be prepared by the Center for Student Engagement.
Awards from the Dean of Students Office are presented in the following categories:
Student Organization Advisor of the Year
Student Organization of the Year
Student Leader of the Year
Over 80% of UE students participate in at least one student organization or program. These organizations are successful because of the commitment of the student leaders and the advisors who give freely of their time and support. The recipients of these awards are selected based on their commitment to the University of Evansville as well as the development and success of their efforts within their chosen student organization.
The deadline for nominations is March 30, 2023. Click on this link to submit your nomination:
https://forms.office.com/r/GPpKHhifAL
If you have any questions, please contact the Vice President for Student Affairs/Dean of Students office at 812-488-2500 or by e-mail via deanofstudents@evansville.edu.
Thank you in advance for celebrating the achievements of our campus leadership!
Submitted by Shelby Gardner sg293@evansville.edu
It's Time to Nominate a Deserving Senior for the Outstanding Senior Service Award
Do you know a senior deserving of the highest award given by UE? Ten finalists will be selected, and one student will be presented this award at Commencement. Selection is based on academic achievement, demonstrated leadership, and community and campus engagement.
Nominations for the Guthrie May and Mabel Dillingham Nenneker Outstanding Senior Service Award will be accepted March 1 – March 30, 2023.?Students who are nominated must accept their nomination by 4:00 p.m. on April 4, 2023.
You can nominate deserving seniors by completing the form below. Once you submit a nomination, students will receive an automatic email giving them the opportunity to accept the nomination by providing their responses to the award application questions.
https://form.jotform.com/220724520906046
Please contact Shelby Gardner (sg293@evansville.edu) with any questions.
Submitted by Shelby Gardner sg293@evansville.edu
SOUTHEAST MISSOURI STATE SNAPS UE BASEBALL WINNING STREAK, 10-4
EVANSVILLE, Ind. – The visiting Southeast Missouri State Redhawks scored five runs in the first inning on just three base hits, and never looked back Wednesday night, as the Redhawks snapped the University of Evansville baseball team's nine-game winning streak with a 10-4 win at German American Bank Field at Charles H. Braun Stadium in Evansville.

"It is tough to break our win streak at home, but we just didn't play well enough to win tonight," said UE head coach Wes Carroll. "We are looking forward to getting back at it this weekend at home with Valley play."

The Redhawks loaded the bases in the first inning on three pitches, as UE starter Willard Peterson (0-1) hit the first three batters he faced to open the game. SEMO third baseman Chance Resetich then followed with a flair single to center field to give the Redhawks a 1-0 lead.

A double to the gap in left-center field by SEMO centerfielder Brett Graber pushed the lead to 3-0, before an RBI ground out and another RBI single by second baseman Caleb Rodgers gave the Redhawks a 5-0 lead.
Evansville would quickly answer back to get one run back, as fifth-year outfielder Eric Roberts blasted the first pitch of the bottom of the first inning over the right-field wall to cut the deficit to 5-1. Evansville would put the next two men on base via walks, but SEMO starter Ethan Osborne (3-3) got a pop up on the infield and a double-play ground ball to end the threat.

The Redhawks would tack on two more runs on a two-run home run by shortstop Peyton Leeper in the third inning to push the lead to 7-1. The two teams would trade three runs each over the final three innings to provide the final margin of victory, 10-4, for SEMO.

Leeper led SEMO offensively by going 2-for-5 with a home run and three runs driven in. Resetich, Graber, and Rodgers all had two-hit evenings as well. Roberts was one of seven different UE players with hits, and he and junior second baseman Kip Fougerousse each had RBI. For Roberts, his first inning home run was his Missouri Valley Conference-leading 10th home run of the year.

With the victory, SEMO improves to 13-14 overall. Evansville, meanwhile, drops to 16-8 overall with the loss and sees its nine-game winning streak come to an end. The Purple Aces will return home this weekend to battle Missouri Valley Conference newcomer Belmont in a three-game series beginning on Saturday with a 1 p.m. doubleheader. Saturday's opener can be seen live on ESPN+ (with the nightcap available on ESPN3), and both games of the twinbill can be heard in the Tri-State area on 107.1 FM-WJPS and the Old National Bank/Purple Aces Sports Network from Learfield.
Submitted by Athletics
Women's golf completes Golfweek/AGT Intercollegiate
PAWLEY'S ISLAND, S.C. – For the second day in a row, Kate Petrova recorded the low score to lead the University of Evansville women's golf team at the Golfweek/AGT Intercollegiate.
Completing the third and final round at Caledonia Golf & Fish Club with a 4-over 75, Petrova wrapped up 54-hole event with a score of 222. She led the Purple Aces with a tie for the 19th position. Her even score of 71 on Tuesday was the low round of the tournament for the ladies.
Coming in second on the team was Magdalena Borisova. An 81 on the final day saw her complete the three rounds with a score of 230. She tied for 39th in the final standings. Next up was Mallory Russell. Carding a 79 in the final 18 holes, Russell tied for 46th place with a 232.
Allison Enchelmayer recorded an 81 in round three. Her final tally of 237 saw her tie for 63rd. Carly Frazier followed, posting an 85 on Wednesday to post a 254 for the duration of the tournament.
With a team score of 921, the Aces finished in 13th place. James Madison took the team championship with a score of 865. They finished 17 in front of UNC Greensboro. Top individual honors went to Sara Sarrion of Coastal Carolina. A 5-under 66 in the third round saw her take the win with a 208. Sarrion defeated her nearest competition by four strokes.
Just two more events remain for UE in the spring, starting on Sunday with the ISU Spring Invitational in Terre Haute.
Submitted by Athletics
Parker leads UE men in Golfweek/AGT Intercollegiate
PAWLEY'S ISLAND, S.C. – Carson Parker recorded a 3-over 75 in the final round of the Golfweek/AGT Intercollegiate to record the top finish of the tournament for the University of Evansville men's golf team.
Parker's effort saw him wrap up the 3-round event with a 223 at True Blue Golf Club. He tied for 47th in the final standings. Isaac Rohleder and Masatoyo Kato tied for the second-best UE finish in the standings. Both Purple Aces players wrapped up play with scores of 227 to tie for 68th. Rohleder matched his second-round total as he carded a 75 in round three. Kato recorded a 77. His 71 in Monday's opening round was the lowest score of the trip to the men.
Caleb Wassmer and Daniil Romashkin both tallied final scores of 229 to tie for the 79th spot. Wassmerb had a strong final day, recording a 2-over 74. Romashkin registered a 78 in the third round of 18. Also tying the duo was Henry Kiel. Playing as an individual, he improved in each of the three rounds, culminating in an even 72 on Wednesday. After opening with an 81, he shot a 76 on Tuesday before his final round of 72.
Evansville came home 17th in the final standings. Troy took top team honors as they wrapped up the tournament with an 840. Delaware and Connecticut tied for second with scores of 862. UConn's Jared nelson was the medalist, finishing at a 207. Jake Spring of Troy was second with a 208.
The guys will be back on course next week for the Western Illinois Invitational in Macomb, Ill.
Submitted by Athletics
WEATHER ALTERS WEEKEND SERIES SCHEDULE FOR UE-BELMONT BASEBALL SERIES
EVANSVILLE, Ind. – Due to the forecast for heavy rain and storms on Friday afternoon and evening in the Evansville area, the schedule for this weekend's University of Evansville-Belmont baseball series has been changed.

The series will now begin on Saturday afternoon at 1 p.m. with a doubleheader. The series will conclude with the regularly-scheduled 1 p.m. game on Sunday afternoon.

Evansville enters tonight's game against Southeast Missouri State with a 16-7 overall record and 3-0 Missouri Valley Conference mark after sweeping a three-game series at Missouri State over the weekend. Belmont opened its first season of MVC play last weekend by winning two out of three games against Illinois State at home, and the Bruins will bring a 14-12 overall record and 2-1 conference mark into this weekend's series. This weekend's series is slated to be streamed live on ESPN+ and ESPN3, with the entire series also available in the Tri-State area and on-line through 107.1 FM-WJPS and the Old National Bank/Purple Aces Sports Network.
Submitted by Athletics
Men's basketball to participate in 2023 Las Vegas Holiday Classic
EVANSVILLE, Ind. – Preparations for the 2023-24 University of Evansville men's basketball schedule are well under way and one of the most exciting pieces of the puzzle has fallen into place.
UE head coach David Ragland has announced that the Purple Aces are set to participate in the Las Vegas Holiday Classic. Hosted at Orleans Arena, the tournament will take place on November 24-25, 2023.
Evansville will play one game each day with the schedule and opponents being announced at a later date. Other information including tickets, hotel, travel and other items of interest will also be released in the coming months.
"This is an exciting opportunity for our program and one that I believe our supporters will embrace," Ragland said. "It is a chance for us to play two games against quality non-conference competition in a city that can really bring us some exposure. We look forward to having a large contingent of Aces fans who can make Orleans Arena a home environment for us."
Anyone who is interested in potentially making the trip to Las Vegas in November may contact Logan Belz at LB334@evansville.edu or 812-488-2623 to be placed on an email list when information becomes available.
Submitted by Athletics
Contribute to AceNotes
To have content considered for inclusion in AceNotes, please submit a Marketing Request Form. Deadline for submission to AceNotes is 10:00 a.m. on the requested date of publication. Only articles concerning UE related/sponsored activities will be accepted. Articles submitted to AceNotes may be edited for length and clarity. Submitter contact information is at the end of each article.