| | |
| --- | --- |
| AceNotes Today | Monday, March 27, 2023 |
Pep and Vim/Reunion Weekend
Calling all Kickball Players for the Pep and Vim Kickball Tournament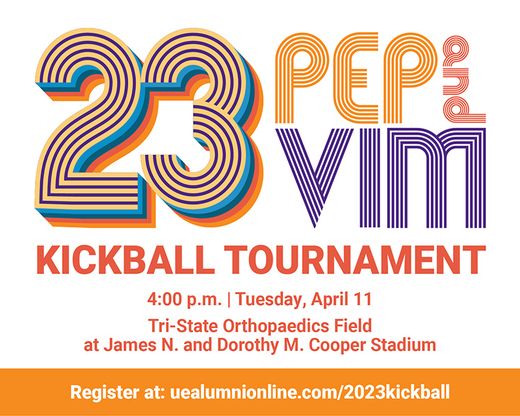 Help us KICK-off the Pep and Vim Spirit with a campus wide kickball tournament on Tuesday, April 11, at 4:00 p.m.! Students, Faculty, Staff, and Alumni are encouraged to register a team by visiting www.uealumnionline.com/2023kickball. The deadline to register is Monday, April 3 at 5:00 p.m. The tournament bracket will be released on Friday, April 7.
Whether you join us on the field or in the stands, bring all your school spirit to the James N. and Dorothy M. Cooper Stadium and enjoy a night of food, UE community, and some good ole campus competition!
Submitted by Jaime Wilder jw663@evansville.edu
Alumni Awards Dinner is Saturday, April 15, 2023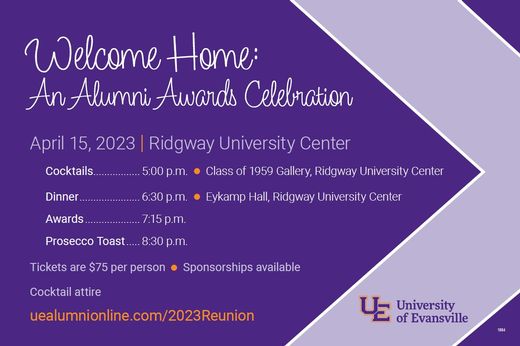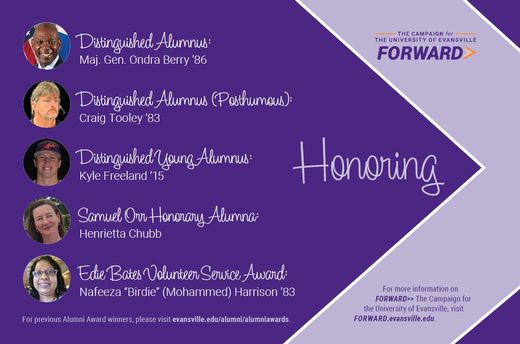 Welcome Home: An Alumni Awards Celebration
April 15, 2023 – Ridgway University Center
Cocktails 5:00 p.m. Class of 1959 Gallery, Ridgway University Center
Dinner 6:30 p.m. Eykamp Hall, Ridgway University Center
Awards 7:15 p.m.
Prosecco Toast 8:30 p.m.
Tickets are $75 per person.
Sponsorships available.
Cocktail Attire
Register here! (use link uealumnionline.com/2023Reunion)
Honoring:
Distinguished Alumnus Maj. Gen. Ondra L. Berry '86

Distinguished Alumnus (Posthumous)

Craig Tooley '83

Distinguished Young Alumnus Kyle Freeland '15

Samuel Orr Honorary Alumna

Henrietta Chubb

Edie Bates Volunteer Service Award Nafeeza "Birdie" (Mohammed) Harrison '03
Submitted by Jaime Wilder / jw663@evansville.edu
Penny Wars is Coming!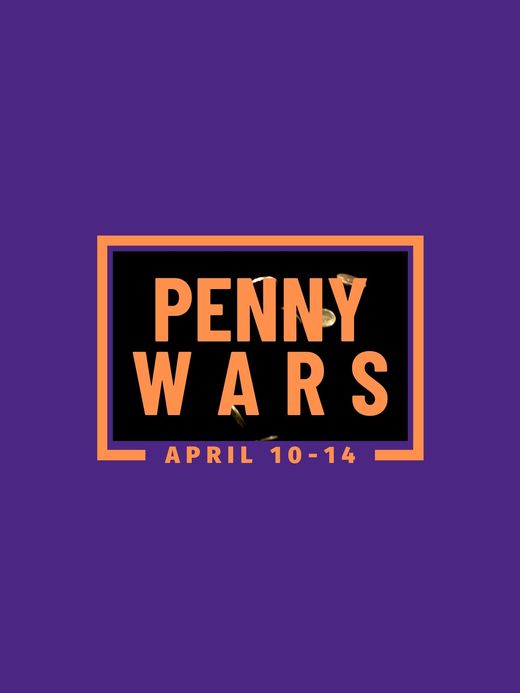 Start saving your loose change! Penny Wars is coming, and we need your help to raise funds for the UESAA Scholarship. This scholarship is sponsored every year by the generosity of the campus community through the annual Penny Wars competition. Of course, Penny Wars wouldn't be complete without a little competition. The College of Business and Engineering took Pep, the golden squirrel, home last year. Will Dr. Brockman be able to hold onto Pep this year?
Submitted by Jaime Wilder / jw663@evansville.edu
UEAAA Leadership Conference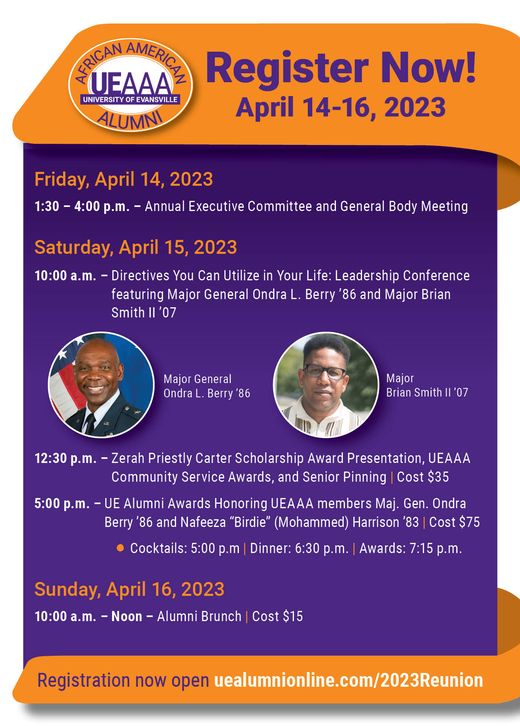 Friday, April 14, 2023
1:30 – 4:00 p.m. Annual Executive Committee and General Body Meeting
Saturday, April 15, 2023
10:00 a.m. Directives You Can Utilize in Your Life: Leadership Conference featuring Major General Ondra L. Berry '86 and Major Brian Smith II '07
12:30 p.m. Zerah Priestly Carter Scholarship Award Presentation, UEAAA Community Service Awards, and Senior Pinning Cost $35
5:00 p.m. UE Alumni Awards Honoring UEAAA members Maj. Gen. Ondra L. Berry '86 and Nafeeza "Birdie" (Mohammed) Harrison '83 Cost $75
• Cocktails; 5:00 p.m. Dinner; 6:30 p.m. Awards; 7:15 p.m.
Sunday, April 16, 2023
10:00 a..m. – Noon Reunion Brunch Cost $15
Register Now! (use link uealumnionline.com/2023Reunion)
Submitted by Jaime Wilder / jw663@evansville.edu
Pep and Vim Virtual 5K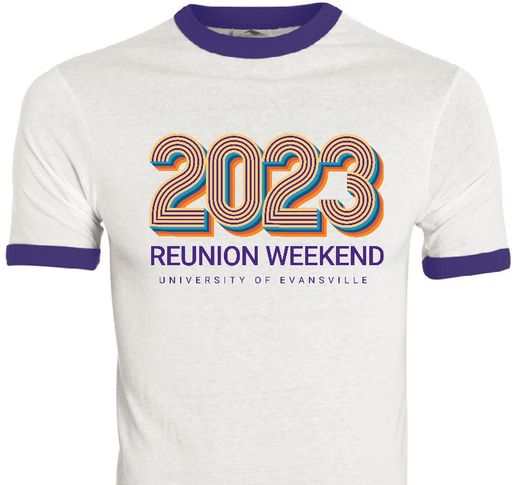 UE Alumni and Engagement is hosting a virtual 5K run/walk to promote a healthy lifestyle. By participating in our Day of Giving Virtual 5K, you'll also be giving back to our beloved university.
The 5K can be completed indoors or outdoors between April 1 and April 15. Participants will enter their times online. All participants will receive an exclusive Pep and Vim t-shirt if registered by March 31*. Register here!
The $35 race fee includes a gift to the UEvansville Fund and will also count towards the 2,023 gifts needed to unlock the Alumni Board's $20,000 Pep and Vim Challenge Gift!
On Friday, April 14, Day of Giving, post a video or picture wearing your Pep and Vim t-shirt on social media using #AcesGiveBack and #FORWARD to help spread the word.
Be sure to stay tuned – Pep and Vim is all about inspiring change, so we will be rolling out many different philanthropic opportunities that may ignite your UE passion. Together, with Day of Giving, we can make an impact on the lives of our students and the university.
If you have any questions, please contact alumni@evansville.edu.
Go Aces!
*Registrations will be accepted after March 31, but we cannot guarantee the arrival of the Pep and Vim t-shirt by April 14.
Submitted by Jaime Wilder jw663@evansville.edu
Pep and Vim, the UE Annual Day of Giving, is April 14, 2023 – Click to learn more!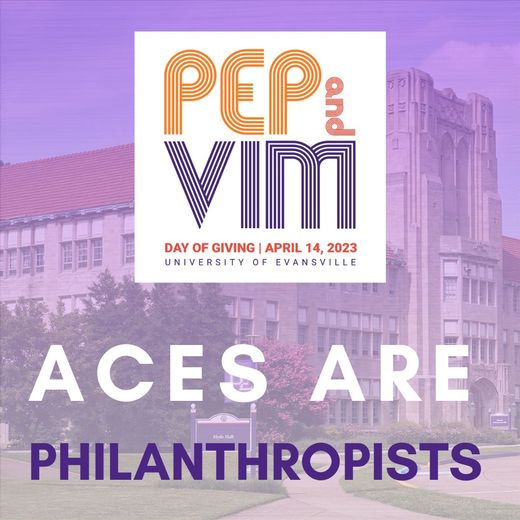 First created by a UE alumnus, "Pep and Vim," UE's Annual Day of Giving, was brought to life in 2012. We shouted our school spirit from the rooftops, and we were honored that the Aces community responded to our first Pep and Vim by making 250 philanthropic gifts that totaled over $5,000.

Flash forward to April 2022, Pep and Vim's 10-year anniversary, and you can see how UE's Day of Giving has grown over the last decade. Over 2,000 gifts were made to the university, totaling over $400,000. Gifts came in from 44 states, providing opportunities for growth within all 3 academic colleges on campus, as well as for Harlaxton College and UE Athletics.
Now it's time for Pep and Vim 2023, and with you by our side, we know we can up our game once more. The UE Alumni Board of Directors has issued a philanthropic challenge! If, as one Aces family, we make 2,023 gifts to any UE project, they will gift $20,000 to the UEvansville Fund!
Sometimes philanthropy can feel too big for us as individuals. But when we join together, we can change the lives of countless others. That's why, at UE, everyone can be a philanthropist. Whether you can give $5 or $5,000, your gift will move the University of Evansville FORWARD into a bright and hopeful future.

To make a gift and help unlock the Alumni Board's challenge, please visit www.evansville.edu/give
Thank you and GO ACES!
Submitted by Jaime Wilder jw663@evansville.edu
Eykamp String Quartet to Perform in Wheeler Concert Hall
The UE Music Conservatory presents the Eykamp String Quartet in performance on Tuesday, March 28 at 7:30 pm in Wheeler Concert Hall. The concert includes Quartet for Strings (In One Movement), op. 89 by Amy Beach; String Quartet no. 1, op. 25 by Tatiana Nikolayeva; and the String Quartet No. 2 in A Minor, Op. 13 by Felix Mendelssohn.
This will be the first performance by the Eykamp String Quartet in the newly renovated Wheeler Concert Hall. The concert is free and open to the public. Live stream is also available at: https://www.evansville.edu/majors/music/calendar.cfm
Submitted by Amy Esche ae128@evansville.edu
Latin American Dance Workshop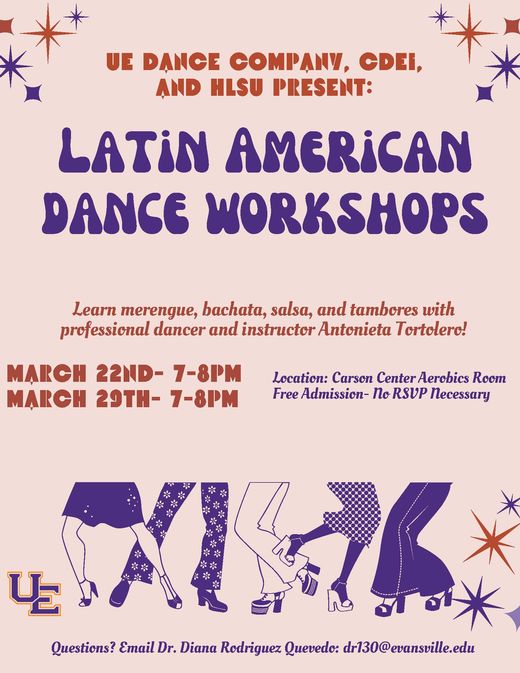 Have you been wanting to learn to dance bachata and salsa? Well, this is your chance! The UE Dance Company, the CDEI, and the Hispanic Latinx Student Organization (HLSU) invite students, staff, and faculty to learn some Latin American dances with professional dance instructor Antonieta Tortolero this Wednesday, March 29th from 7-8pm in the Aerobics Room at the Carson Center. Free admission. No need to RSVP. Put on your dance shoes and join us on the dance floor! Questions - Email: Dr. Diana Rodríguez Quevedo: dr130@evansville.edu
Submitted by Diana Rodriguez Quevedo dr130@evansville.edu
Health Career Forum- Wednesday
Don't miss the Health Careers Forum Wednesday night. We will offer a panel of health care professionals for a Q&A followed by time for networking. This is a great opportunity to talk to multiple professionals in a variety of health care fields.
Wednesday, March 29
6:00pm-8:00pm
Eykamp Hall, RUC
Register for this event in Handshake!
Questions? Contact the Center for Career Development at career@evansville.edu or 812-488-1083.
Submitted by Amanda Wood aw505@evansville.edu
Hiking and camping with the Crew April 1st and 2nd
Come see beautiful, panoramic views of the wilderness from incredible sandstone cliffs! Join us for a hike through Shawnees National Forest as we visit, Pounds Hollow, Rim Rock, Stoneface and Garden of the Gods Wilderness and get a chance to explore and watch the sun set over the famous rock formations!

We will be camping at the Garden of the God's campground where will play games around the campfire and have dinner.
The food! On Saturday night, we will make our own pizzas and calzones. Whether you like pepperoni, sausage, green pepper, onion, or mushroom...we've got you covered. And if you are vegetarian or halal, you should have plenty of options, as well. We will also make cinnamon rolls and cobblers in our Dutch ovens. Yum!!!
Sunday breakfast will be pancakes with all the fixen's your heart can desire: chocolate chips, blueberries, caramel, peanutbutter, and more!
Depending on time and interest on Sunday, we may canoe the Cache River State Natural Area where outstanding natural features are massive cypress trees whose flared bases, called buttresses, exceed 40 feet circumference. Many are more than 1,000 years old, including one that has earned the title of state champion bald cypress because of its huge trunk girth, towering height and heavily branched canopy.
The cost for this trip is only $15 and can be paid via cash, check or Venmo.

RSVP on the UEngagae site, fill out the safety waiver and then stop by the tables in Ridgway next Monday, Tuesday and Wednesday (3-27 thru 3-29) from 11am to 1pm to officially sign up.
Submitted by Fred Wilson fw2@evansville.edu
Senior Video Filming: Monday, March 27!
Class of 2023 graduates: do you want to be included in the senior video featured at Commencement? Don't miss your chance to be part of it!
Student Sarah Tuma, who is creating the 2023 senior video, will be set up outside Ridgway University Center on Monday, March 27, from noon until 2:00 p.m. She will be interviewing seniors with some basic questions (e.g., what will you miss most about UE?) that will then be featured in the video.
Make sure to stop by before or after your classes to be filmed!
Submitted by Julie Beer / jb855@evansville.edu
Blood Drive on March 27 in Eykamp
Give blood, help save lives!
UE Blood Drive
Monday, March 27
Eykamp Hall
UE's Center for Innovation & Change has partnered with the Red Cross and Alpha Phi Omega, our Co-Ed Service Fraternity, to help meet desperate need for blood in our community. Make plans now to donate blood on Monday, March 27, anytime between 7:00 a.m. and 6:00 p.m.!
To make your appointment, go to https://www.redcrossblood.org/ and type "UE" in the code or call 1-800-RED CROSS.
Submitted by Dina Willming / dw285@evansville.edu
Journey to Justice
Students, faculty, staff, and administrators are invited to participate in this year's Journey to Justice, a transformative 8 day Civil Rights bust tour of the south (June 10-17). Students have the option of earning course credit for Outcome 4: Engagement with fundamental beliefs about human identity, core values, and humankind's place in the world.. For more information, visit the Journey to Justice webpage or contact Dr. Valerie Stein at vs9@evansville.edu.
Submitted by Valerie Stein / vs9@evansville.edu
Student Masquerade Ball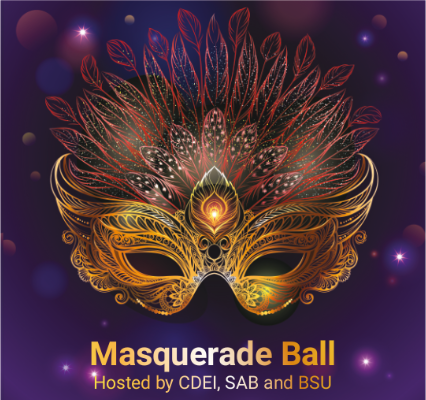 Save the date and buy the fits! CDEI, BSU and SAB are bringing you Masquerade Ball 2023! Let's dance the night away and end the semester with a boom!
April 1st, 8pm
Masquerade Ball: Eykamp Hall- Free
After Party: SkyZone Evansville- $5.00 or 1 bag of feminine hygiene products
*there will be a shuttle to take people from UE to Skyzone!
Theme: Black, Gold, and Red
Attire: Semi-formal
UE, UE Guests, USI and Ivy Tech students are invited!
UE Guests must be registered via UEngage and Eventbrite
USI and Ivy Tech students must be registered via Eventbrite
As it is Wom_n's History Month, we will be hosting a feminine hygiene product drive in exchange for free after party tickets. Bring a full bag to the Ball or get your ticket ahead of time during tabling hours during the week!
All donations will be donated to a local charity
Submitted by Abagail Christine Catania ac532@evansville.edu
Mixed-Media Marriage Exhibit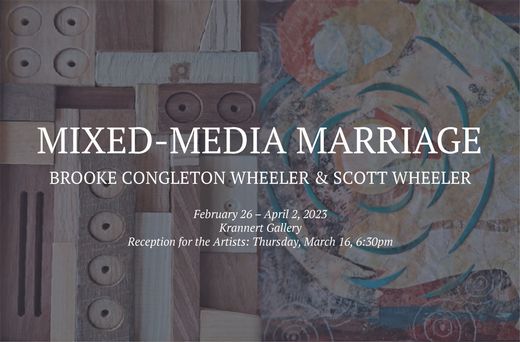 The Krannert Gallery will host the Mixed-Media Marriage exhibit by artists Brooke Congleton Wheeler & Scott Wheeler from February 26 - April 2, 2023. Please join us for the artists reception on Thursday, March 16 at 6:30 p.m. in the Krannert Gallery.
Submitted by Carol McCraney cm177@evansville.edu
ChangeLabs Programs Recognized during Leadership Everyone Awards
Several University of Evansville ChangeLabs won awards during the 28th annual Celebration of Leadership program by Leadership Everyone.
Celebration of Leadership is an annual event during which Leadership Everyone honors individuals, projects, programs, business, and organizations who make significant, collaborative contributions that improve and transform community in the Tri-State region.
"We are very proud of what our students and faculty accomplish through their work in ChangeLabs," said Erin Lewis, executive director of the Center for Innovation & Change, which facilitates ChangeLab at UE. "Every day we are inspired by the passion, talent, and ingenuity of our UE community and truly honored to empower them as they serve."
ChangeLab is a multi- and inter-disciplinary academic offering at the University of Evansville. Through this program, students and faculty can propose projects that make a positive difference in the community and around the world and then get to work on them while earning academic credit. ChangeLab courses are made up of individuals from nearly all areas of study and explore topics ranging from data analytics to housing and food insecurity to healthcare and educational topics and more.
"We are so proud of the students and faculty who were presented this evening with Leadership Everyone Awards," said UE President Christopher M. Pietruszkiewicz. "As a Changemaker Campus, UE is dedicated to empowering students and faculty as they work to make the world more equitable, sustainable, and inclusive. It is an honor to see work recognized in the community in this way."
Below is a list of the students and programs recognized with 28th Annual Celebration of Leadership Awards.
Annie Kim
UE United Sound
2023 Sam Featherstone Youth Award
Annie Kim is a sophomore biology major and concertmaster for the UE Symphony Orchestra. Over the past two semester, she has established and grown UE United Sound, a student club and ChangeLab course at UE based on the national group aimed at removing barriers and fostering social change through music. They train UE music students to teach younger students with disabilities how to play instruments, and give them exciting opportunities to perform, such as at the Victory Theatre for the Holiday Pops concert.
Jack Deig
Hydration Station
2023 Sam Featherstone Youth Award
As a high school student, Jack Deig saw a problem in our community—not everyone has access to filtered drinking water. He entered UE's High School Changemaker Challenge with his idea to provide clean drinking water to all through Hydration Stations. Continuing his work at UE Changelab, he has now installed a free drinking water machine at Patchwork Central, and more are being installed around Evansville's downtown, specifically targeting those experiencing homelessness.
Joshua Academy Music Instruction ChangeLab
Coach Fran Vile, UE Clinical Instructor of Music
2023 Arts Award for a Project or Program
Through this course led by Fran Vile of UE's Music Conservatory, music education students Will McDonner and Luke Robertson have established and grew an instrumental music program at Joshua Academy. Beginning with a closet full of forgotten, dusty, and broken instruments, they repaired or replaced the instruments and taught students to read and play music, finishing the year with a popular performance and partnering with the Academy's choir.
Data Analytics ChangeLab
Coach Omid Khormali, UE Assistant Professor of Mathematics
2023 Leader in Technology Award
UE's Data Analytics ChangeLab, led by Assistant Professor of Mathematics Omid Khormali, puts its students' talents to use for the community. They have served Deaconess, Justice Sandra Day O'Connor's iCivics, and COVID Between the Coasts, a partnership with WNIN. Last semester, their project took data received from the United States Forestry Service and created a tool for them to identify trends in invasive species and forest fires, and they have been asked to testify before Congress about the project.
Children's Mental Health ChangeLab
Coach Jennie Braun
2023 Project and Program Division Award
When children need mental health testing, it is often a year-long wait. The students at UE's Children's Mental Health ChangeLab worked with parents and doctors in our community to identify the root causes of this issue, and then developed an elegant, multi-tiered solution. They make it easy to view eligible doctors and wait times, and use UE's Doctor of Psychology program to help with the backlog of doctors and paperwork, increasing affordability and speed of testing for kids.
Submitted by Andrew Carter ac116@evansville.edu
ChangeLab STAT 300 - Data in the Real World
STAT 300 / ChangeLab 300 - Data Analysis in the Real World
Do you want to challenge yourself in data analytics ChangeLab by working on a real-world project?
If so, join us at the ChangeLab in Fall 2023. We will have enough tasks if you have elementary, intermediate, or
advanced data analytics skills. You will work on the project in a team supervised by a coach. Your project management,
teamwork, professional interaction, and presentation skills will be developed.
If you have any questions or want to know more about the ChangeLab, please contact Dr. Omid Khormali via email
ok16@evansville.edu.
Submitted by Stacey Beard / sb454@evansville.edu
CHNG 310-02: Civil Disobedience, Creative Protest Project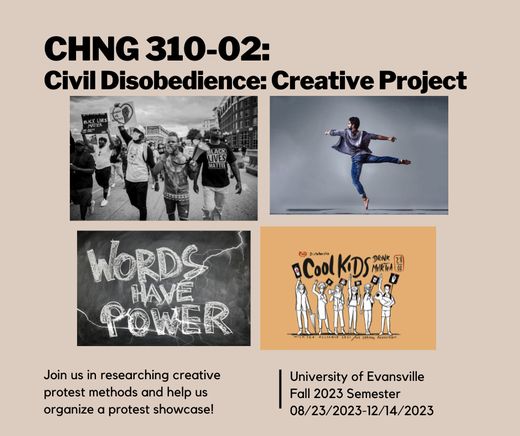 Hey Aces! Are you wanting a creative outlet when it comes to social problems? This is the Change Lab for you!
Civil Disobedience will explore different ways protesters have used art (music, theatre, storytelling, dance, etc) to make their voices known and heard in regard to social injustice. In direct connection with creating an Inclusive Community (UE Core Value) and Living meaningfully in a changing world (UE Mission) students will organize an end of semester showcase to exhibit their artform connected to a social problem they identify with or feel connected to.
Get ready to research different creative protest methods and formulate a working plan to organize the end of semester showcase!
Don't miss out on the opportunity to create and showcase your protest. Plan CHNG 310-02 for the Fall 2023 semester now, seats are limited!
Submitted by Jade S Shelby js818@evansville.edu
SPAN-111 Online course – Summer 1
SPAN-111: Elementary Spanish I will be offered during the Summer 1 session as an online, asynchronous class. This course counts towards Outcome 6. This is a 3 credit hour course, which will run from May 15 to June 16, 2023. If you have any questions, please contact Dr. Diana Rodríguez Quevedo via email – dr130@evansville.edu
Submitted by Diana Rodriguez Quevedo dr130@evansville.edu
Olmsted Pepsi Vending Machine
The glass front Pepsi vending machine is being replaced with a new glass front machine in a effort to eliminate ongoing vending issues. Please note that this process takes several days to complete. The current machine will be emptied and the new machine will be delivered today, Thursday, March 23. However, it will be next week before the new machine can be filled with product for use. Thank you for your patience.
Submitted by Kim Winsett kw83@evansville.edu
Submit Your Favorite Photos for UE's Photography Exhibit
The 2023 UE Photography Exhibition is scheduled for April 10-May 5, and the Department of Art is seeking entries for submission! Photography will be on display in the Krannert Gallery. Active and retired employees of UE as well as trustees are invited to present their work.
The photography requirements are as follows:
• Items should be matted, framed, and suitable for hanging in the Krannert Gallery.
• Photos may be no larger than 16x20".
• On the back of each submission you must provide your name, current/former department, email address, and a title for your image (date and location if appropriate).
• Work not previously submitted can be accepted.
Items will be accepted between April 3-6 in the Department of Art office (FA 212).
A reception will be held on Wednesday, April 12, from 4:30 p.m. – 6:00 p.m. in the Krannert Gallery, and the campus community is encouraged to attend. This special event will honor Professor Emeritus Hanns Pieper, PhD, the UE Photography Exhibition's founder.
Please join us in celebrating this tradition of displaying meaningful work created by our own campus community!
If you have questions. Please contact Carol McCraney, Administrative Assistant for the Department of Art, at cm177@evansville.edu.
Submitted by Carol McCraney cm177@evansville.edu
UE to host Innovate WIthIN Regional Pitching Competition
On April 10, ten student teams will be competing in the STARTedUP Foundation's Innovate WithIN program Region 1 competition hosted by the University of Evansville. Students will present their pitches in front of an audience comprising government officials, business leaders, educators, and family members. Not only will these students receive great exposure, but they are also competing for a first-place prize of $25,000 in venture capital funding. Each team will also have the opportunity to enter an exclusive alumni program, receive thousands of dollars in scholarships, and are invited to travel to Washington D.C. over the summer.
You are invited to attend this local competition and experience these impressive student pitches. Join in person in Eykamp Hall on April 10 from 8:00 a.m. - 1:00 p.m. CDT or attend virtually.
Submitted by Noah Alatza na122@evansville.edu
PowerFul: Bring Your Hero to the BBQ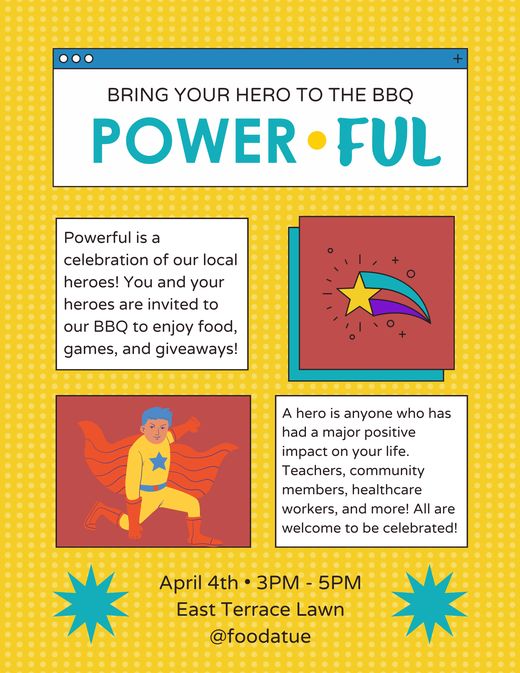 PowerFul is a celebration of our local heroes! You and your heroes are invited to our BBQ on April 4th to enjoy food, games, and giveaways! Be sure to keep an eye on our social media for more details and updates.
Submitted by Ka'Bria Carr kc403@evansville.edu
SPAN 313 Spanish for Heritage Speakers NEW COURSE
SPAN 313 focuses on the development of communicative competence, as well as on understanding Hispanic cultures and issues of identity of heritage speakers of Spanish in the United States. Students will also develop an awareness and understanding of Hispanic cultures, including language variation, customs, geography, history, and current events. Taught exclusively in Spanish, this course is designed for heritage or native speakers only. Prerequisites: SPAN 212, or placement exam score.
This course will be offered in the Fall 2023. If you have any questions, please feel free to email the chair of the department of Foreign Languages and Cultures, Dr. Lesley Pleasant (lp84@evansville.edu)
Submitted by Patricia Andueza pa55@evansville.edu
Exchange program with University of Malaga
The University of Evansville now has a student exchange agreement with the University of Malaga in Malaga, Spain. Each Spring semester, students will be able to attend the University of Malaga by paying only their regular tuition at the University of Evansville.
A few particulars:
UE students must have a B2 competence level of Spanish.
UE students should start the application process by May1st of the year prior to the year they plan to go abroad. This will allow them to select the courses that the student wants to take while abroad and determine how the credits will be transferred back to UE.
The application process should be finished by October 1st
UE students will take a maximum of 18 credits, with the option of taking an internship (6 credits) with the Department of Translation and Interpretation in the Department of English Studies at University of Malaga.
Students will finalize the registration process upon arrival at University of Malaga.
Students will pay tuition and fees to UE while paying room and board to University of Malaga. University of Malaga will help UE students find accommodations.
Students participating in this program shall be responsible for the cost of their travel to and from Malaga, Spain.
If you have any questions, please contact dr. Lorena Andueza (pa55@evansville.edu)
Submitted by Patricia Andueza pa55@evansville.edu
Seeking financial Aid for summer courses?
UE students seeking financial aid or intending to use loan funds for summer courses at UE, please complete a Summer Financial Aid Application and return to the Office of Student Financial Services (Olmsted 105) however is most convenient. The application will allow our office to assess your financial aid and loan eligibility.
Work-Study:
On-campus jobs are available for continuing UE students during the summer. You do not need to be eligible for need-based Federal Work-Study during the academic year in order to apply. You may also apply regardless of your enrollment in summer courses. Applications will be available within the Student Employment area of WebAdvisor.
Submitted by Amy Sowders as560@evansville.edu
Employer Tuition Reimbursement Program for Students
We are pleased to coordinate employer tuition reimbursement as a service to our students and our community. Employer Tuition Reimbursement Programs are offered by many companies to assist employees with full- or part-time tuition reimbursement benefits. Programs and eligibility vary by company, so check with your employer to see if you may be eligible. For more information regarding UE Employer Tuition Reimbursement please contact the Office of Student Financial Services at 812-488-2565:
Submitted by Melissa Baker mb527@evansville.edu
Call for Nominations: Dean of Students Leadership Awards
Nominations are now being accepted for consideration of The Howard S. Rosenblatt "Dean of Students Leadership Awards." These awards will be presented at the 30th Annual Leadership Awards Reception scheduled for Thursday, April 20, 2023. Invitations will be prepared by the Center for Student Engagement.
Awards from the Dean of Students Office are presented in the following categories:
Student Organization Advisor of the Year
Student Organization of the Year
Student Leader of the Year
Over 80% of UE students participate in at least one student organization or program. These organizations are successful because of the commitment of the student leaders and the advisors who give freely of their time and support. The recipients of these awards are selected based on their commitment to the University of Evansville as well as the development and success of their efforts within their chosen student organization.
The deadline for nominations is March 30, 2023. Click on this link to submit your nomination:
https://forms.office.com/r/GPpKHhifAL
If you have any questions, please contact the Vice President for Student Affairs/Dean of Students office at 812-488-2500 or by e-mail via deanofstudents@evansville.edu.
Thank you in advance for celebrating the achievements of our campus leadership!
Submitted by Shelby Gardner sg293@evansville.edu
It's Time to Nominate a Deserving Senior for the Outstanding Senior Service Award
Do you know a senior deserving of the highest award given by UE? Ten finalists will be selected, and one student will be presented this award at Commencement. Selection is based on academic achievement, demonstrated leadership, and community and campus engagement.
Nominations for the Guthrie May and Mabel Dillingham Nenneker Outstanding Senior Service Award will be accepted March 1 – March 30, 2023.?Students who are nominated must accept their nomination by 4:00 p.m. on April 4, 2023.
You can nominate deserving seniors by completing the form below. Once you submit a nomination, students will receive an automatic email giving them the opportunity to accept the nomination by providing their responses to the award application questions.
https://form.jotform.com/220724520906046
Please contact Shelby Gardner (sg293@evansville.edu) with any questions.
Submitted by Shelby Gardner sg293@evansville.edu
UE Summer Camps and Employee Discount
The Office of Youth Programs has opened registration for UE Summer Camps 2023! This summer, we are offering Dance Camp, the Wesley Shepard Music Camp, Exploring Art at UE (Grades 2-5 & Grades 6-8), STEM Camp, Clay Camp, Springboard, and Pride Camp. To find out more, please visit our website.
We are offering a 50% discount to UE Employees that would like to register their youth. To receive this discount, please email us at youthprograms@evansville.edu BEFORE registering. Please include your name, title, list youth(s)'s name and camp title. We will send you a discount code to apply at registration within two business days.
If you have any questions, please email youthprograms@evansville.edu.
Submitted by Rachel Roscoe rr209@evansville.edu
Exemplary Teacher Award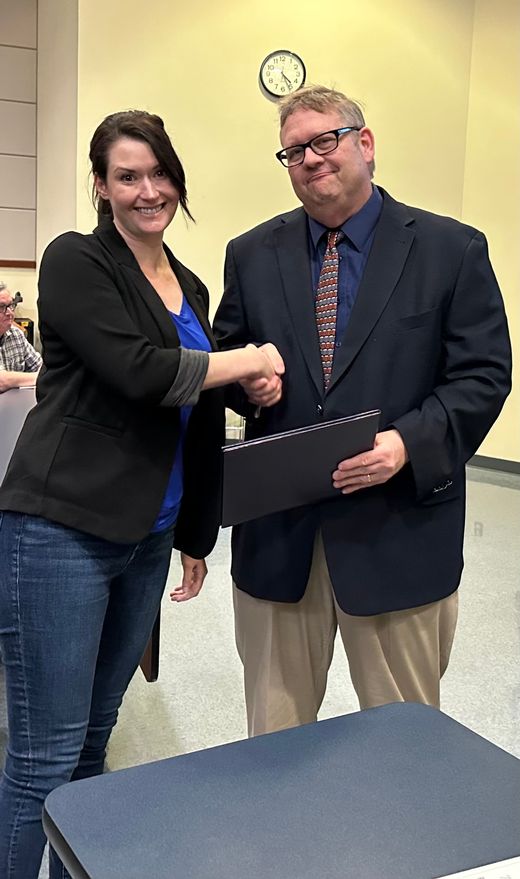 Dr. Heather Fenton, Associate Professor of Management, was presented the Exemplary Teacher Award at the Spring Faculty Meeting on Thursday, March 23. The award recognizes exceptional achievements in the classroom by creating distinctive opportunities and promoting intellectual, moral, social, and emotional growth of our students. Dr. Fenton exemplifies all of these traits throughout her teaching and student interaction. Congratulations Dr. Fenton!
Submitted by Tobi Audas oa51@evansville.edu
Class of 1961 Faculty Fellowship Awards
Congratulations to Dr. Omid Khormali, Assistant Professor of Mathematics, and Dr. Pallav Bera, Assistant Professor of Electrical Engineering, for receiving the Class of 1961 Faculty Fellowship Awards. The award was established with gifts and pledges from the members of the Class of 1961 for pre-tenured faculty to provide support for their research projects.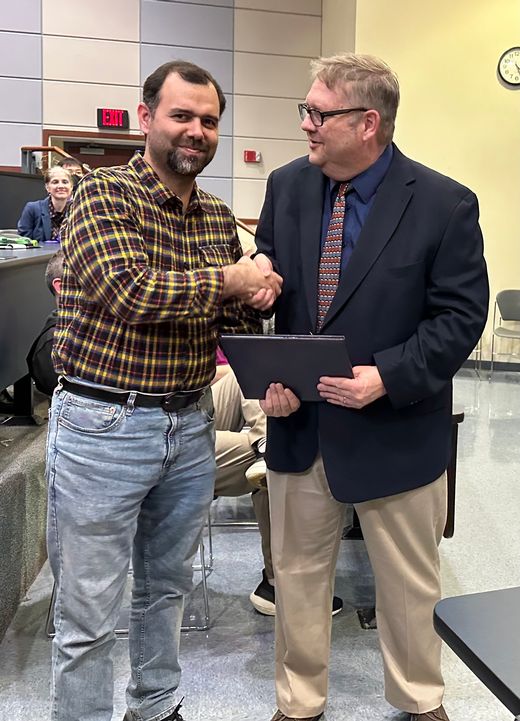 Dr. Omid Khormali
---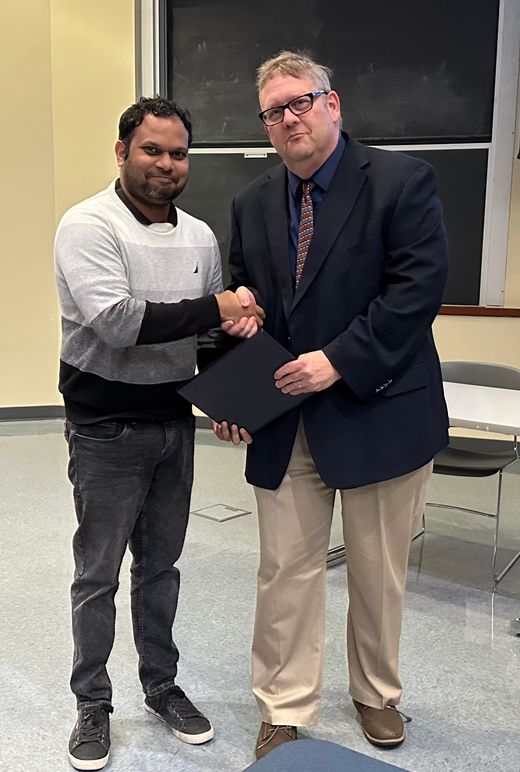 Dr. Pallav Bera
Submitted by Tobi Audas oa51@evansville.edu
Congratulations to the recipients of the 2023 Engineering Awards!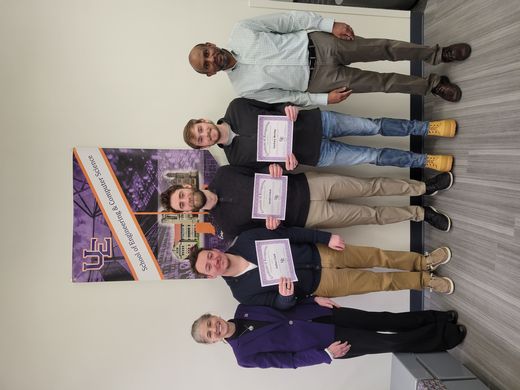 The James M Hall Jr Outstanding Engineering Student Award was presented to Zach Worley. Zach is a Junior level Civil Engineering student. This award recognizes Zach for scholastic achievement, participation in extra?curricular activities, character, responsibility, attitude, and potential for professional growth.
The Paul "PR" Brown Spirit Award was presented to Justin Fritch. Justin is a Senior level Mechanical Engineering student. This award recognizes Justin for good academic standing, being an encouragement to fellow students, and demonstrating leadership in fostering cooperation and camaraderie among Engineering students.
The Dick Blandford Memorial Award was presented to Dalton Clark. Dalton is a Senior level Electrical Engineering student. This award recognizes Dalton's excellence in scholarship, service, and leadership.
Congratulations to each of these students. You are well deserving of the honors being bestowed upon you!
Submitted by Rebecca Oates ro32@evansville.edu
Computer Science Students participate in the International Collegiate Programming Contest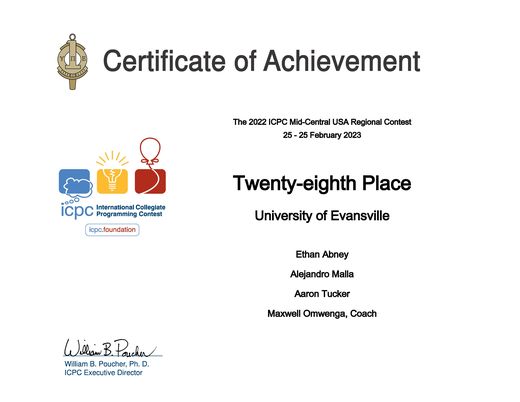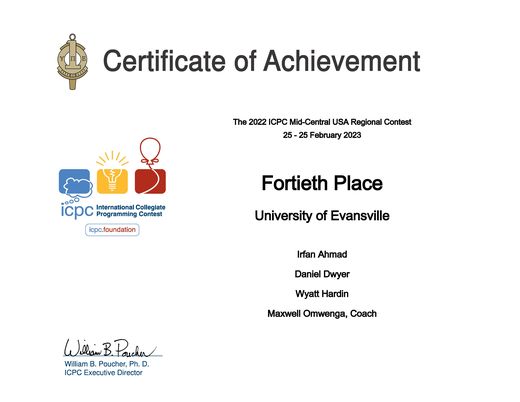 Two teams from the School of Engineering and Computer Science participated in the 2022 International collegiate Programming Contest (ICPC) Mid-Central USA Regional Contest on February 25. Six Computer Science students, Ethan Abney, Irfan Ahmad, Daniel Dwyer, Wyatt Hardin, Alejandro Malla, and Aaron Tucker formed the two teams. The teams placed 28th and 40th out of 100 teams competing. Congratulations to our students on their achievement!
Submitted by Tonya Albright ta58@evansville.edu
BASEBALL ACES COMPLETE SERIES SWEEP AT MISSOURI STATE WITH 7-4 WIN
SPRINGFIELD, Mo. – University of Evansville fifth-year outfielder Eric Roberts was a one-man wrecking crew on Sunday, as he launched two home runs and drove in five runs to help the Purple Aces complete a Missouri Valley Conference series sweep at Missouri State with a 7-4 victory.

"What a special weekend this weekend at the ballyard by our club," said UE head coach Wes Carroll. "To come on the road and sweep a very good ballclub in Missouri State is a great feather in the cap for our team, and a great way to start Missouri Valley Conference play.

"Today, it was fun to watch Eric Roberts hit, as he was really dialed in. But, like all weekend, we had different guys up and down the lineup come through in big spots today to pick up this win. It will be good to return home this week, and hopefully, we can keep this winning streak going."

Evansville (16-7 overall, 3-0 MVC) won its ninth-straight game behind the bat of Roberts, who homered in back-to-back at-bats in the fourth and sixth innings to help UE overcome an early 2-0 deficit.
The Bears grabbed a 2-0 lead in the second inning on a two-run home run by freshman outfielder Zack Stewart, his fifth home run of the year. UE would get a run back in the third inning on an RBI single by fifth-year first baseman Chase Hug. Then, Evansville would plate four runs in the fourth inning to take the lead for good.

Sophomore DH Ben Stuart tied the game at 2-2 with an RBI ground out. Then, after a more-than 10-pitch at-bat by sophomore outfielder Ty Rumsey led to a walk with two outs to put two men on base, Roberts crushed his first home run of the day onto the roof of the indoor facility in right-center field to give UE a 5-2 lead. Roberts would then launch another two-run home run in the sixth inning to help UE build a 7-2 cushion.

The Bears would score two runs in the eighth inning on a two-run double by Stewart to cut the lead to 7-4. UE closer Nate Hardman would get a strikeout against the potential tying run in the eighth inning, and induced a key double play in the ninth inning to earn his second save and make a winner of starter Donovan Schultz. Schultz (4-1) allowed just two runs on four hits in 5.0 innings of work, while striking out four.

Roberts finished the game going 2-for-3 with two home runs and five RBI. Hug also had a two-hit day for UE. Stewart went 3-for-4 with four RBI for Missouri State (11-11, 0-3 MVC).

Evansville will now return home to German American Bank Field at Charles H. Braun Stadium to host Southeast Missouri State on Wednesday evening at 6 p.m. The game can be heard live in the Tri-State area on the Old National Bank/Purple Aces Sports Network courtesy of 107.1 FM-WJPS.
Submitted by Athletics
Bears shut down Aces to take finale
SPRINGFIELD, Mo. – Scoring one run in the third and two more in the fifth, Missouri State finished up its series against the University of Evansville softball team with a 3-0 win on Sunday afternoon.
The Bears accumulated five hits with three coming from Tess Weakly. Four Purple Aces registered hits in the game. Mikayla Jolly made the start and went 2 2/3 innings and allowed one run on three hits. Sydney Weatherford threw the final 3 1/3 frames with two runs scoring, one of which was earned. Mackenzie Chacon picked up the win for MSU, scattering four hits in seven innings.
Evansville made a threat in the top of the first with Taylor Howe reaching on a walk before Alexa Davis got on base with a fielder's choice. In the third, Lacy Smith hit a leadoff single but both chances were halted by the Bears. Missouri State broke the scoreless tie with a run in the third.
UE picked up hits in the fourth and fifth innings, however, the Bears kept it at a 1-0 game before adding two insurance runs in the bottom of the fifth. Hannah Hood led the comeback attempt in the seventh, hitting a 1-out double before the Bears recorded the final two outs to complete the win.
Midweek action will see the Aces on the road at Lindenwood for a 4 p.m. doubleheader on Tuesday.
Submitted by Athletics
UE's Lamond Breaks Two Records, Track & Field Wins Three Events at Murray State
MURRAY, Ky. – University of Evansville graduate student Antonia Lamond (Nutley, N.J./Paramus Catholic) broke two school records on Saturday, and the UE Track & Field team won three individual events, as the Purple Aces had a strong showing at Murray State's Margaret Simmons Invitational.

Lamond broke the school records in both the hammer throw (37.83 meters) and shot put (10.17 meters) events. Lamond placed fifth overall in the hammer throw, while placing seventh in the shot put.

UE had a strong showing in the field events, as the Purple Aces also won three field events. Senior Zach Dove (Princeton, Ind./Princeton Community) won both the men's discus and hammer throw events with tosses of 46.84 meters (153' 8") and 49.13 meters (161' 2") respectively. Sophomore Denzel Lasam (St. Louis, Mo./De Smet Jesuit) also won the men's triple jump with a leap of 13.10 meters (42' 11.75").

Senior Jaden Hayes (Huntingburg, Ind./Southridge) also placed second in the shot put (14.42 meters) and third in the discus (44.83 meters), while sophomore Preston Riggs (Ft. Branch, Ind./Gibson Southern) also finished second in the javelin (40.55 meters). On the women's side, sophomore Kaitlyn Sansone (Fairfield, Ohio/Mercy McAuley) also placed fourth in the javelin with a throw of 25.03 meters.

On the track, senior Giovanni Purser (Port Maria, Jamaica) placed fifth in both the 100- and 200-meter races with times of 11.22 and 22.82. Freshman Jose Ocampo (Monterrey, Mexico) also placed fifth in the men's 400-meter race with a time of 53.36. Sophomore Adam Oulgout (St. Paul, Minn./Central) also finished second in the men's 800-meter race with a time of 1:58.93, while placing sixth in the 1,500-meters with a time of 4:04.67.

Team-wise, the UE men placed fourth out of 12 teams, while the UE women placed 13th out of 15 teams. The Purple Aces will return to the track next weekend at Indiana State's Pacesetter Sports Invitational.
Submitted by Athletics
Baseball Aces Win Eight-Straight with Doubleheader Sweep at Missouri State
SPRINGFIELD, Mo. – The University of Evansville baseball team launched eight home runs on Saturday, and the Purple Aces' pitching staff combined to strike out 25 men, as UE opened Missouri Valley Conference play with a doubleheader sweep of Missouri State at Hammons Field in Springfield, Missouri. With the two wins, Evansville has now won eight games in a row and 15 out of the last 17 overall.

"What a great day at the ballpark today!" said UE head coach Wes Carroll. "We had different guys up and down our lineup really step up offensively, and I thought that our pitchers did an outstanding job of keeping a very good Missouri State lineup off-balance today.

"Today was a great start to Valley play, but the job isn't done yet this weekend. We need to come to the park ready for a battle tomorrow."

Missouri State jumped out quickly in both games, scoring in the first inning of both contests. But, UE would take control of both contests with big innings in the second and third trips through the batting order to post 12-7 and 7-3 wins.

In the opener, Missouri State took a 3-0 lead into the fifth inning, before UE exploded for six runs in the fifth to grab a 6-3 lead. An RBI double by sophomore center-fielder Ty Rumsey and a bunt RBI single by fifth-year right-fielder Eric Roberts started the scoring and cut the MSU lead to 3-2. A sacrifice fly by junior catcher Brendan Hord would tie the game, before junior shortstop Simon Scherry launched a three-run home run into the Missouri State bullpen in left field to give UE a 6-3 lead.

Missouri State would quickly answer back with two runs to get within a run at 6-5, before fifth-year reliever Michael Parks (1-0) would get out of a two-on, one-out jam to keep UE in the lead. Roberts then delivered a three-run home run of his own to right-center field in the sixth inning to push the lead to 9-5.

The Bears would scratch across single runs in the sixth and seventh innings to cut UE's lead to 9-7, before Evansville unleashed three solo home runs to put the game out of reach. Rumsey launched his third home run of the year to right field in the eighth inning to push the lead to 10-7. Fifth-year left-fielder Danny Borgstrom and senior third baseman Brent Widder then hit back-to-back home runs in the ninth inning to provide the final margin of victory, 12-7. Scherry went 3-for-5 in the opener, finishing a triple shy of the cycle to lead UE's offense, while Parks earned his first win of the year with 4.2 innings of six-hit, two-run relief.

In the nightcap, Missouri State took a 1-0 lead into the third inning, when Evansville would get two-run home runs from fifth-year first baseman Chase Hug and Scherry to take control of the contest. Rumsey would launch another solo home run in the fourth inning, and Scherry added an RBI triple and scored on a wild pitch in the fifth inning to give UE a 7-1 lead. Scherry would finish a single shy of the cycle in game two, as he went 3-for-5 with two runs scored and three RBI. Hug, Widder, and junior second baseman Kip Fougerousse also had two-hit days in game two.

On the mound, senior starter Tyler Denu (3-0) went a career-high 7.0 innings, striking out a career-best 10 men while scattering three runs (two earned) on seven hits to earn the win. After giving up four hits through the first inning-plus, Denu allowed just three men to reach base the rest of the outing. Freshman reliever Max Hansmann also struck out five men in 2.0 scoreless innings of relief work.

"I thought our pitching, especially Michael Parks in game one and both Tyler Denu and Max Hansmann in game two, was outstanding today," said Carroll. "Parks really helped turn the tide of game one today with the way that he pitched, and it was great to see Denu pitch the way he did today. That's how he looked in the fall and in preseason, and for him to go out and strike out 10 men without a walk in seven innings against a lineup like Missouri State was great to see."

With the doubleheader sweep, Evansville improves to 15-7 overall and 2-0 in the MVC. Missouri State, meanwhile, falls to 11-10 and 0-2 in the Valley. The two teams will conclude the series on Sunday afternoon at 1 p.m., with UE expected to send junior LHP Donovan Schultz (3-1, 2.67 ERA) to the mound. Sunday's series finale can be seen live on ESPN+ and heard live in the Tri-State area and online through 107.1 FM-WJPS.
Submitted by Athletics
Softball falls in hard-fought doubleheader at MSU
SPRINGFIELD, Mo. – Two close contests saw the University of Evansville softball team battle to the finish but Missouri State had the timely hits that gave them a pair of walk-off victories over the Purple Aces. The Bears opened the day with a 1-0 win before scoring the winning run in the 10th of game two as they took a 3-2 win.
Game 1 – Missouri State 1, UE 0
Pitching was the story in the opening game with the two starting pitchers allowing a combined two hits through five innings. Sydney Weatherford was in the circle for UE while Gracie Johnston made the start for the Bears.
Zoe Frossard has Evansville's hit in the contest, leading off the second with a single to left. Abby Ford had the hit for MSU in the bottom of the fourth. After the Bears recorded their second hit of the game in the sixth, they were able to push the winning run across the plate in the seventh.
McKenzie Vaughan hit a 1-out single before pinch runner Chloe Merced would score on a double by Alex Boze. Weatherford struck out three batters while walking just one while Johnston fanned four Aces batters while walking one.
Game 2 – Missouri State 3, UE 2 (10 innings)
Another hard-fought battle saw the Purple Aces battle to the wire with the Bears before they saw the winning run cross the plate in the bottom of the 10th. Evansville out-hit Missouri State by an 8-4 margin with Hannah Hood recording three hits and two runs while Jenna Nink had two hits.
UE scored the first run of the game in the second inning as a single by Nink scored Hood, who reached on an error with one out. The Bears countered with a run in the bottom of the frame. The Aces jumped back in front in the fourth as Jess Willsey hit an RBI double to left center, bringing in Hood for the second run of the game.
Once again, the Bears had the answer as McKenzie Vaughan hit a leadoff home run to center. Things remained knotted at 2-2 as the contest entered extra innings. In the 8th and 9th, Evansville had two runners on with one out, but MSU got out of both jams unscathed. In the bottom of the 10th, the Bears broke the tie when Ellie McCoy reached on a bunt single to bring in the winning run.
Mikayla Jollyn and Erin Kleffman tossed three innings apiece. Jolly did not allow a hit while Kleffman allowed just one. Both saw just one run score. Megan Brenton threw the final 3 1/3 innings with one unearned run crossing the plate. Gracie Johnston recorded her second win of the day, throwing 4 1/3 scoreless innings of relief.
Sunday's series finale is set for a 12 p.m. start time.
Submitted by Athletics
Purple Aces golf teams travel to South Carolina
EVANSVILLE, Ind. – Both University of Evansville golf teams will be on the road to Pawleys Island, S.C. for the Golfweek/AGT Intercollegiate. The men and women are slated to take part in the event, which runs from Monday through Wednesday (March 27-29).
Impressive fields comprise both events with the men set to take on Jacksonville State, Valparaiso, High Point, Xavier, Austin Peay, Loyola, Central Arkansas, Northern Colorado and Western Illinois. An even larger field will be participating on the women's side including UNC Asheville, North Dakota State, Gardner-Webb, Morehead State, James Madison, St. Thomas, Florida Gulf Coast, East Carolina, UIC, Western Illinois, Ohio U. and Northern Colorado.
Earlier this week, the ladies enjoyed a strong performance at the Nevel Meade Collegiate in Prospect, Ky. Led by reigning Missouri Valley Conference Women's Golfer of the Week Mallory Russell, the Purple Aces came home in second place. Russell posted a 146 over the two rounds on her way to a runner-up spot on the individual side.
Allison Enchelmayer tied for fifth place with a score of 149 while Kate Petrova was two behind her with a 151 to take 8th place.
Two weeks ago, the men were in action at the Bobby Nichols Intercollegiate in Sevierville, Tenn. Carson Parker was the top finisher for UE, carding a 5-over 77 in the final round of the tournament to take 24th place with a 223.
Following him was the duo of Daniil Romashkin and Issac Rohleder. Both completed play with a 224 to tie for 26th.
Submitted by Athletics
UE softball travels to Missouri State
EVANSVILLE, Ind. – For the first time in Missouri Valley Conference play, the University of Evansville softball team takes to the road as the Purple Aces will be in Springfield to take on Missouri State. Saturday will feature a doubleheader starting at 2 p.m. before Sunday's finale begins with a 12 p.m. first pitch.
In the opening weekend of MVC action, junior Alexa Davis batted .444 with four hits in nine at-bats. She recorded three stolen bases, two walks, a run and RBI. In Friday's opener versus the Braves, Davis was 2-4 with a walk, steal and run. Game two of the Friday doubleheader saw her go 0-2, but she did draw a walk and steal. Davis completed the weekend with a 2-3 effort with another steal and double. Making Sunday's effort even more impressive was that she left the game in the middle innings after suffering a cut on a stolen base. She re-entered in the seventh to hit a double.

Sydney Weatherford had an effective pair of appearances to open the conference seasons. Weatherford tossed 1 2/3 innings on Friday against Bradley while giving up a walk and striking out one. She made the start on Sunday and went five innings and gave up an unearned run on just two hits while adding another strikeout. Following a March 11 game against Indiana, her ERA stood at 5.33 but two solid appearances against the Braves saw her ERA drop to 4.10.

Making her Missouri Valley Conference debut against Bradley over the weekend, UE freshman Taylor How batted .300 and reached base 41.7% of the time. Howe recorded a hit in each game, including a 1-4 game in Friday's doubleheader opener. She was also hit by a pitch in the contest. She went 1-3 in the second game before adding another 1-for-3 effort in Sunday's finale. Howe was hit by another pitch on Sunday to improve her on-base percentage.

Missouri State enters the weekend with a record of 13-15 and a 3-2 mark through their first five MVC outings. After falling in two games to Southern Illinois, the Bears have rebounded to win four in a row overall while sweeping Drake in a home series last weekend. MSU outscored the Bulldogs by a 24-1 tally.
Submitted by Athletics
Contribute to AceNotes
To have content considered for inclusion in AceNotes, please submit a Marketing Request Form. Deadline for submission to AceNotes is 10:00 a.m. on the requested date of publication. Only articles concerning UE related/sponsored activities will be accepted. Articles submitted to AceNotes may be edited for length and clarity. Submitter contact information is at the end of each article.