| | |
| --- | --- |
| AceNotes Today | Friday, March 24, 2023 |
Pep and Vim/Reunion Weekend
Calling all Kickball Players for the Pep and Vim Kickball Tournament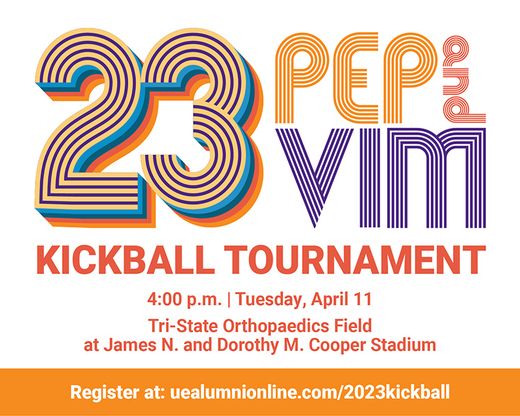 Help us KICK-off the Pep and Vim Spirit with a campus wide kickball tournament on Tuesday, April 11, at 4:00 p.m.! Students, Faculty, Staff, and Alumni are encouraged to register a team by visiting www.uealumnionline.com/2023kickball. The deadline to register is Monday, April 3 at 5:00 p.m. The tournament bracket will be released on Friday, April 7.
Whether you join us on the field or in the stands, bring all your school spirit to the James N. and Dorothy M. Cooper Stadium and enjoy a night of food, UE community, and some good ole campus competition!
Submitted by Jaime Wilder jw663@evansville.edu
Alumni Awards Dinner is Saturday, April 15, 2023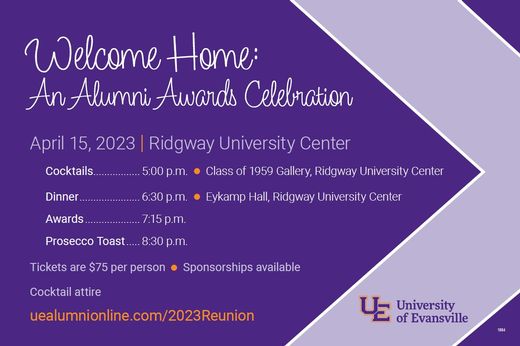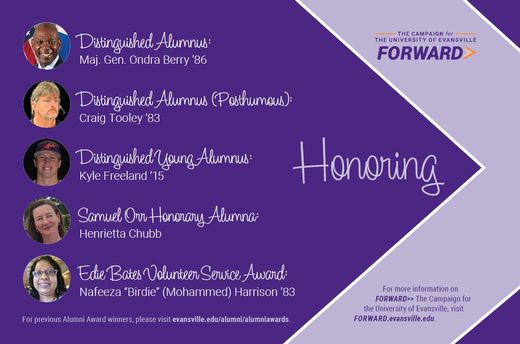 Welcome Home: An Alumni Awards Celebration
April 15, 2023 – Ridgway University Center
Cocktails 5:00 p.m. Class of 1959 Gallery, Ridgway University Center
Dinner 6:30 p.m. Eykamp Hall, Ridgway University Center
Awards 7:15 p.m.
Prosecco Toast 8:30 p.m.
Tickets are $75 per person.
Sponsorships available.
Cocktail Attire
Register here! (use link uealumnionline.com/2023Reunion)
Honoring:
Distinguished Alumnus Maj. Gen. Ondra L. Berry '86

Distinguished Alumnus (Posthumous)

Craig Tooley '83

Distinguished Young Alumnus Kyle Freeland '15

Samuel Orr Honorary Alumna

Henrietta Chubb

Edie Bates Volunteer Service Award Nafeeza "Birdie" (Mohammed) Harrison '03
Submitted by Jaime Wilder / jw663@evansville.edu
Penny Wars is Coming!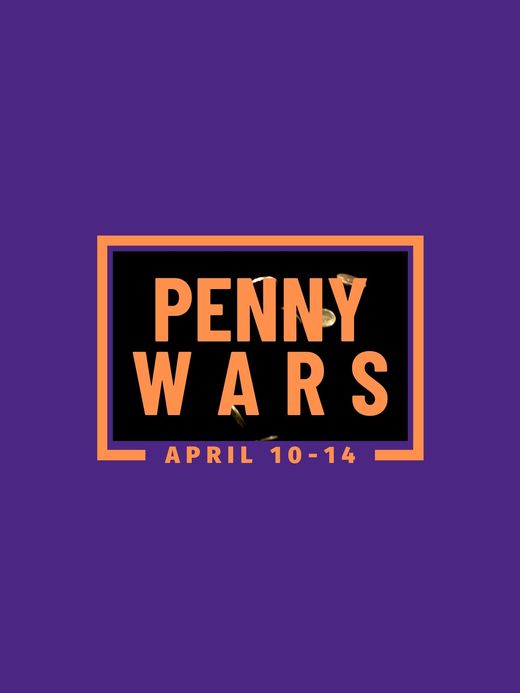 Start saving your loose change! Penny Wars is coming, and we need your help to raise funds for the UESAA Scholarship. This scholarship is sponsored every year by the generosity of the campus community through the annual Penny Wars competition. Of course, Penny Wars wouldn't be complete without a little competition. The College of Business and Engineering took Pep, the golden squirrel, home last year. Will Dr. Brockman be able to hold onto Pep this year?
Submitted by Jaime Wilder / jw663@evansville.edu
UEAAA Leadership Conference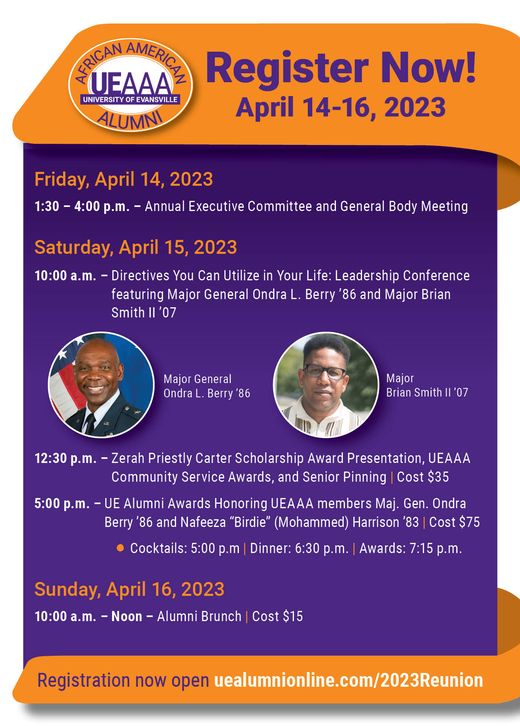 Friday, April 14, 2023
1:30 – 4:00 p.m. Annual Executive Committee and General Body Meeting
Saturday, April 15, 2023
10:00 a.m. Directives You Can Utilize in Your Life: Leadership Conference featuring Major General Ondra L. Berry '86 and Major Brian Smith II '07
12:30 p.m. Zerah Priestly Carter Scholarship Award Presentation, UEAAA Community Service Awards, and Senior Pinning Cost $35
5:00 p.m. UE Alumni Awards Honoring UEAAA members Maj. Gen. Ondra L. Berry '86 and Nafeeza "Birdie" (Mohammed) Harrison '83 Cost $75
• Cocktails; 5:00 p.m. Dinner; 6:30 p.m. Awards; 7:15 p.m.
Sunday, April 16, 2023
10:00 a..m. – Noon Reunion Brunch Cost $15
Register Now! (use link uealumnionline.com/2023Reunion)
Submitted by Jaime Wilder / jw663@evansville.edu
Pep and Vim Virtual 5K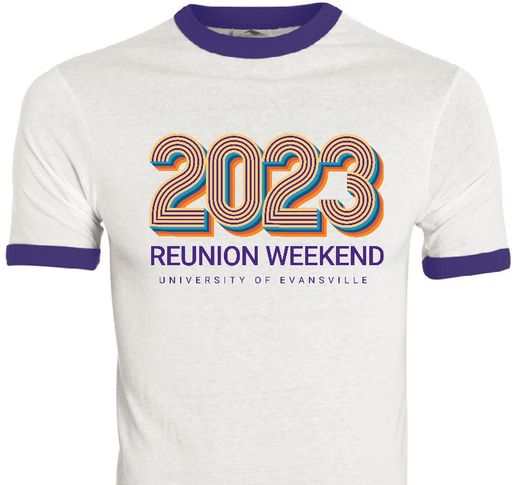 UE Alumni and Engagement is hosting a virtual 5K run/walk to promote a healthy lifestyle. By participating in our Day of Giving Virtual 5K, you'll also be giving back to our beloved university.
The 5K can be completed indoors or outdoors between April 1 and April 15. Participants will enter their times online. All participants will receive an exclusive Pep and Vim t-shirt if registered by March 31*. Register here!
The $35 race fee includes a gift to the UEvansville Fund and will also count towards the 2,023 gifts needed to unlock the Alumni Board's $20,000 Pep and Vim Challenge Gift!
On Friday, April 14, Day of Giving, post a video or picture wearing your Pep and Vim t-shirt on social media using #AcesGiveBack and #FORWARD to help spread the word.
Be sure to stay tuned – Pep and Vim is all about inspiring change, so we will be rolling out many different philanthropic opportunities that may ignite your UE passion. Together, with Day of Giving, we can make an impact on the lives of our students and the university.
If you have any questions, please contact alumni@evansville.edu.
Go Aces!
*Registrations will be accepted after March 31, but we cannot guarantee the arrival of the Pep and Vim t-shirt by April 14.
Submitted by Jaime Wilder jw663@evansville.edu
Pep and Vim, the UE Annual Day of Giving, is April 14, 2023 – Click to learn more!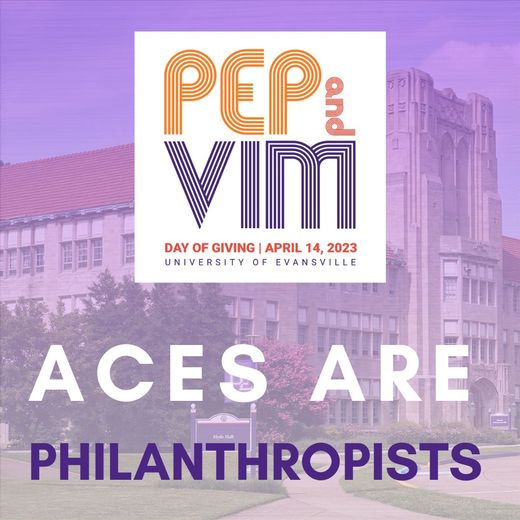 First created by a UE alumnus, "Pep and Vim," UE's Annual Day of Giving, was brought to life in 2012. We shouted our school spirit from the rooftops, and we were honored that the Aces community responded to our first Pep and Vim by making 250 philanthropic gifts that totaled over $5,000.

Flash forward to April 2022, Pep and Vim's 10-year anniversary, and you can see how UE's Day of Giving has grown over the last decade. Over 2,000 gifts were made to the university, totaling over $400,000. Gifts came in from 44 states, providing opportunities for growth within all 3 academic colleges on campus, as well as for Harlaxton College and UE Athletics.
Now it's time for Pep and Vim 2023, and with you by our side, we know we can up our game once more. The UE Alumni Board of Directors has issued a philanthropic challenge! If, as one Aces family, we make 2,023 gifts to any UE project, they will gift $20,000 to the UEvansville Fund!
Sometimes philanthropy can feel too big for us as individuals. But when we join together, we can change the lives of countless others. That's why, at UE, everyone can be a philanthropist. Whether you can give $5 or $5,000, your gift will move the University of Evansville FORWARD into a bright and hopeful future.

To make a gift and help unlock the Alumni Board's challenge, please visit www.evansville.edu/give
Thank you and GO ACES!
Submitted by Jaime Wilder jw663@evansville.edu
College of Business & Engineering Speaker Series: Community Engaged Scholarship
COLLEGE OF BUSINESS & ENGINEERING LECTURE SERIES
COMMUNITY ENGAGED SCHOLARSHIP
Making a Difference Through Research & Teaching: The Impact of Microlending
Tuesday, April 11th
Lunch & Learn
12:20 – 1:15 p.m.
SCHROEDER BUILDING, Room 170
Join us to learn about UE research and classes making a positive impact on society.
Both in person and zoom options will be provided. If you register to attend the event via zoom, the link will be provided to you 24 hours prior to the event. Please be sure to check your spam folder. If you do not receive the information, please contact Nick Bragin at nb197@evansville.edu
Reimagining Financial Inclusion in the Post COVID-19 World: The Case for Grameen America
Dr. Rania Mousa
Associate Professor of Accounting and Mead Johnson Nutrition Endowed Chair in Business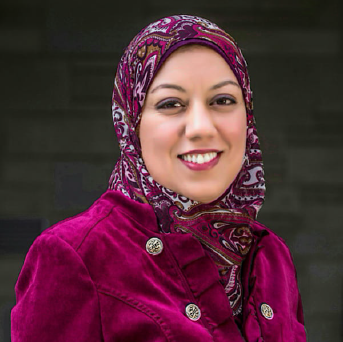 Dr. Mousa identified and analyzed the key initiatives implemented by Grameen America in alleviating the financial hardships of its underserved female members, thereby contributing to the attainment of the United Nations' Sustainable Development Goals. Her paper has been published in the International Journal of Ethics and Systems. Dr. Mousa, a recipient of the 2022-2023 Global Scholar Award, presented her research at the Sustainable and Socially Responsible Finance Conference held at the Yunus Social Business Center in the University of Bologna in Italy.
A Managerial Perspective on Underbanked Entrepreneurs: Barriers to Lending and Community Partnership Solutions
Dr. Beverly Brockman – Schroeder Family Dean, College of Business & Engineering
Dr. Chris Brockman – Professor of Finance, Director - Institute for Banking & Finance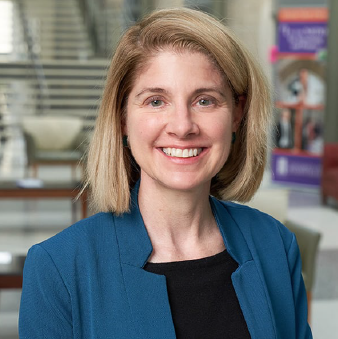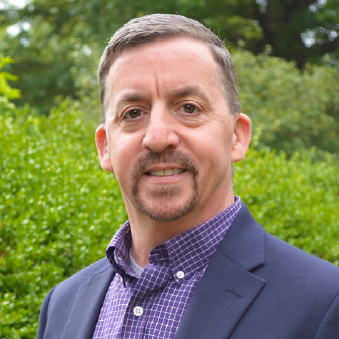 The unique barriers confronting entrepreneurs in low-income communities in obtaining debt capital in the United States remain unclear. The authors identify two sets of barriers to financial lending and present community-based partnership solutions to improve access to capital for underbanked entrepreneurs. Their research was published in the Journal of Economics and Finance Education.
Loan Opportunities through the UE Microloan Program
Dr. Chris Brockman – Professor of Finance, Director - Institute for Banking & Finance
The UE Microloan Program is an experiential student-run program administered by the Institute for Banking and Finance in the University of Evansville Schroeder School of Business. Funding for the microloan program was provided by Old National Bank. Advisors for the Southwest Indiana Small Business Development Center serve as executive mentors for microloan participants.
Submitted by Nick Bragin nb197@evansville.edu
Hiking and camping with the Crew April 1st and 2nd
Come see beautiful, panoramic views of the wilderness from incredible sandstone cliffs! Join us for a hike through Shawnees National Forest as we visit, Pounds Hollow, Rim Rock, Stoneface and Garden of the Gods Wilderness and get a chance to explore and watch the sun set over the famous rock formations!

We will be camping at the Garden of the God's campground where will play games around the campfire and have dinner.
The food! On Saturday night, we will make our own pizzas and calzones. Whether you like pepperoni, sausage, green pepper, onion, or mushroom...we've got you covered. And if you are vegetarian or halal, you should have plenty of options, as well. We will also make cinnamon rolls and cobblers in our Dutch ovens. Yum!!!
Sunday breakfast will be pancakes with all the fixen's your heart can desire: chocolate chips, blueberries, caramel, peanutbutter, and more!
Depending on time and interest on Sunday, we may canoe the Cache River State Natural Area where outstanding natural features are massive cypress trees whose flared bases, called buttresses, exceed 40 feet circumference. Many are more than 1,000 years old, including one that has earned the title of state champion bald cypress because of its huge trunk girth, towering height and heavily branched canopy.
The cost for this trip is only $15 and can be paid via cash, check or Venmo.

RSVP on the UEngagae site, fill out the safety waiver and then stop by the tables in Ridgway next Monday, Tuesday and Wednesday (3-27 thru 3-29) from 11am to 1pm to officially sign up.
Submitted by Fred Wilson fw2@evansville.edu
The Menstrual Equity Club presents Jampon on April 2, 2023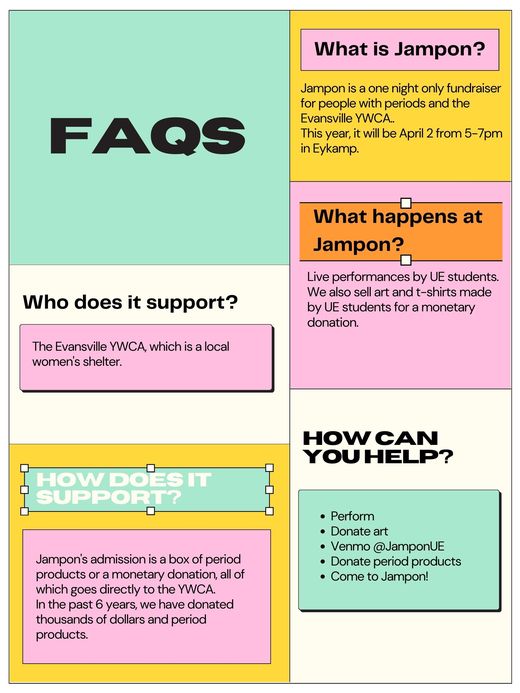 The Menstrual Equity Club will present Jampon- a Jam for Pads and Tampons at the University of Evansville campus on April 2, 2023. Jampon is a one-night-only fundraiser, cabaret, and presentation of art created by UE students that benefits the Evansville YWCA, a domestic violence shelter and outreach program.
Each year, Jampon collects donations of menstrual products and monetary donations for the YWCA through admission to the event. The event also seeks to normalize menstruation and raise awareness about period poverty, or, the inability to afford period products. UE students perform music, comedy routines, dance pieces, and other forms of performance art. Art made and donated by students is also available for purchase, with all proceeds going directly to the YWCA.
Jampon will be held in Eykamp Hall at 5 p.m. and will go on until 7 p.m. The cost of admission is one box of period products (ie. pads or tampons), or a monetary donation to the organization via either cash or Venmo. Art and t-shirts made by UE students will be available for purchase, and performances will occur for the entire duration. The performance lineup for this year includes a variety of musical performances as well as standup comedy. For those who cannot attend in person, a livestream will be available through Jampon's Instagram account, @JamponUE.
Submitted by Sophie Greenway sg231@evansville.edu
Student Art Exhibition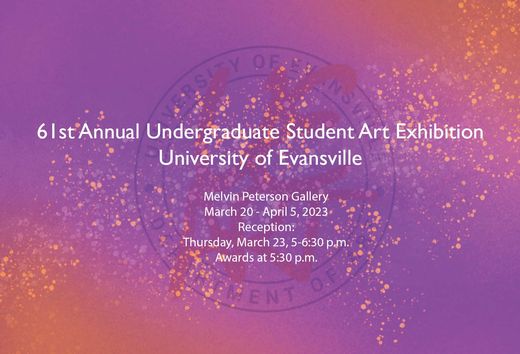 The 61st Annual Undergraduate Student Exhibition opens on March 20 through April 5, 2023 in the Melvin Peterson Gallery.
Please join us for the student awards reception on Thursday, March 23 in the Melvin Peterson Gallery from 5:00 pm - 6:30 pm.
Submitted by Carol McCraney cm177@evansville.edu
Senior Video Filming: Monday, March 27!
Class of 2023 graduates: do you want to be included in the senior video featured at Commencement? Don't miss your chance to be part of it!
Student Sarah Tuma, who is creating the 2023 senior video, will be set up outside Ridgway University Center on Monday, March 27, from noon until 2:00 p.m. She will be interviewing seniors with some basic questions (e.g., what will you miss most about UE?) that will then be featured in the video.
Make sure to stop by before or after your classes to be filmed!
Submitted by Julie Beer / jb855@evansville.edu
Blood Drive on March 27 in Eykamp
Give blood, help save lives!
UE Blood Drive
Monday, March 27
Eykamp Hall
UE's Center for Innovation & Change has partnered with the Red Cross and Alpha Phi Omega, our Co-Ed Service Fraternity, to help meet desperate need for blood in our community. Make plans now to donate blood on Monday, March 27, anytime between 7:00 a.m. and 6:00 p.m.!
To make your appointment, go to https://www.redcrossblood.org/ and type "UE" in the code or call 1-800-RED CROSS.
Submitted by Dina Willming / dw285@evansville.edu
Journey to Justice
Students, faculty, staff, and administrators are invited to participate in this year's Journey to Justice, a transformative 8 day Civil Rights bust tour of the south (June 10-17). Students have the option of earning course credit for Outcome 4: Engagement with fundamental beliefs about human identity, core values, and humankind's place in the world.. For more information, visit the Journey to Justice webpage or contact Dr. Valerie Stein at vs9@evansville.edu.
Submitted by Valerie Stein / vs9@evansville.edu
CDEI Upcoming Programming
CDEI has some amazing upcoming programs, and we hope to see you there! Head to UEngage or our Instagram @uediversity for more information as the date approaches!
4/5
6-7:30 pm Sexual Assault Awareness Month Panel
On Zoom
Panelist include individuals from the following organizations/ roles: Albion Fellows Bacon Center, Evansville Police Department, Indiana Tracking Victim Assistance Program, Vanderburgh County Deputy Prosecutor, Vanderburgh County Prosecutor, Sexual Assault Nurse Examiner
Please register for this meeting
4/10
12-1 pm Disability Awareness Month Keynote Speaker
On Zoom
Gregory S. Fehribach
Gregory S. Fehribach of Indianapolis, Indiana is principal of the Fehribach Group, a consulting firm specializing in accessibility, universal design, and compliance with the ADA that he founded in 1995. He is of counsel to the firm of Tuohy, Bailey, & Moore, LLP in Indianapolis and has practiced law for the past 30 years. Since 1988, Fehribach has served as a panel trustee for the U.S. Bankruptcy Court, Southern District of Indiana. In 2009, he was designated a Distinguished Fellow at Ball State University where he established The Disability Project, which was renamed the Gregory S. Fehribach Center on July 25th, 2019. Fehribach has served on the Ball State University Board of Trustees, the Indiana Governor's Planning Council for People with Disabilities, the Board of Directors of the Indianapolis Public Transportation Corporation, and the Marion County Health and Hospital Corporation Board of Trustees. He received a bachelor's degree and a master of arts degree from Ball State University and a law degree from Ohio Northern University's Pettit College of Law.
Please register for this meeting
If you have any questions, please email Center4DEI@evansville.edu
Submitted by Abagail Christine Catania ac532@evansville.edu
ChangeLab STAT 300 - Data in the Real World
STAT 300 / ChangeLab 300 - Data Analysis in the Real World
Do you want to challenge yourself in data analytics ChangeLab by working on a real-world project?
If so, join us at the ChangeLab in Fall 2023. We will have enough tasks if you have elementary, intermediate, or
advanced data analytics skills. You will work on the project in a team supervised by a coach. Your project management,
teamwork, professional interaction, and presentation skills will be developed.
If you have any questions or want to know more about the ChangeLab, please contact Dr. Omid Khormali via email
ok16@evansville.edu.
Submitted by Stacey Beard / sb454@evansville.edu
Olmsted Pepsi Vending Machine
The glass front Pepsi vending machine is being replaced with a new glass front machine in a effort to eliminate ongoing vending issues. Please note that this process takes several days to complete. The current machine will be emptied and the new machine will be delivered today, Thursday, March 23. However, it will be next week before the new machine can be filled with product for use. Thank you for your patience.
Submitted by Kim Winsett kw83@evansville.edu
Submit Your Favorite Photos for UE's Photography Exhibit
The 2023 UE Photography Exhibition is scheduled for April 10-May 5, and the Department of Art is seeking entries for submission! Photography will be on display in the Krannert Gallery. Active and retired employees of UE as well as trustees are invited to present their work.
The photography requirements are as follows:
• Items should be matted, framed, and suitable for hanging in the Krannert Gallery.
• Photos may be no larger than 16x20".
• On the back of each submission you must provide your name, current/former department, email address, and a title for your image (date and location if appropriate).
• Work not previously submitted can be accepted.
Items will be accepted between April 3-6 in the Department of Art office (FA 212).
A reception will be held on Wednesday, April 12, from 4:30 p.m. – 6:00 p.m. in the Krannert Gallery, and the campus community is encouraged to attend. This special event will honor Professor Emeritus Hanns Pieper, PhD, the UE Photography Exhibition's founder.
Please join us in celebrating this tradition of displaying meaningful work created by our own campus community!
If you have questions. Please contact Carol McCraney, Administrative Assistant for the Department of Art, at cm177@evansville.edu.
Submitted by Carol McCraney cm177@evansville.edu
Health Careers Forum- Register TODAY
Join us next week for the Health Careers Forum, presented to you by The Center for Career Development and the UE Exercise Sciences Club. We will offer a panel of health care professionals for a Q&A followed by time for networking. This is a great opportunity to talk to multiple professionals in a variety of health care fields.
Wednesday, March 29
6:00pm-8:00pm
Eykamp Hall, RUC
Register for this event in Handshake!
Questions? Contact the Center for Career Development at career@evansville.edu or 812-488-1083.
Submitted by Amanda Wood aw505@evansville.edu
Chartwells Focus Group: Earn $25 AceBucks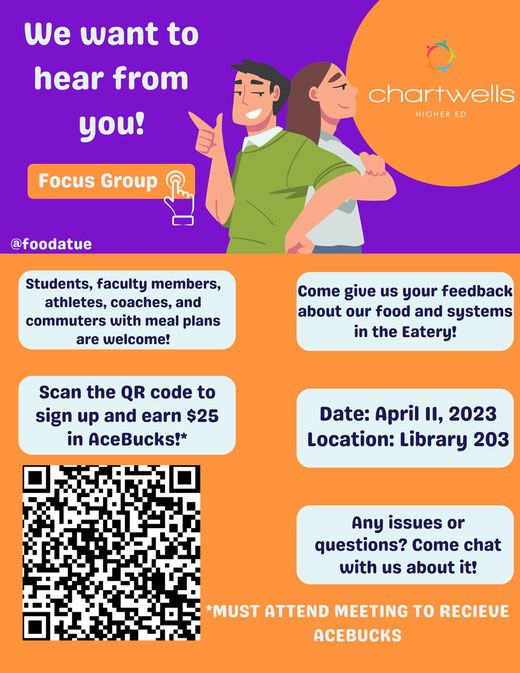 Earn free $25 Ace Bucks by signing up for our feedback focus group! Coaches, Staff, Students, and Commuters are welcome. Join us in the Library, Room 203, on April 11 to give us your feedback and questions about the dining services and food on campus! (Must attend the meeting to earn AceBucks)
Submitted by Ka'Bria Carr kc403@evansville.edu
ETH 201 and REL 120 Summer Online Course (Outcome 4)
ETH 201 Comparative Religious Ethics (Outcome 4) and REL 120 Religion in America (Outcome 4 AND Writing Across the Curriculum) will be offered asynchronously online for the second summer session (June 19-July 21). For information contact Dr. Valerie Stein (vs9).
Submitted by Valerie Stein / vs9@evansville.edu
BIOL 107 (GEN ED Lab Science) Offered Summer 1
Biology 107 (4 cr) will be offered asynchronous online this summer session 1. The lab component will be online as well utilizing web-based simulations. This course satisfies lab science General Education credit (Outcome 8). All majors are welcome! If you have any questions, please contact Dr. Gordon at ng62@evansville.edu.
Submitted by Noah Gordon / ng62@evansville.edu
Evansville Water & Sewer Conducting Cleaning in the Area
Sewer Cleaning Notice: Campus Wide
Questions or Concerns Regarding this Work:
Contact Facilities Management, 812-488-2775
Affected Dates:
March 20 through April 11
Description of Work:
Evansville Water & Sewer Utility previously announced plans to conduct sewer cleaning in the university area. The exact time frame for beginning the work was unspecified. Facilities has been informed that yellow work signs have been placed near campus. The preventative cleaning and maintenance are supposed to take a few weeks to complete. During the process, a nozzle will be inserted in the sewer lines to internally pressure-wash the system. Look for yellow cleaning construction signs to be placed in locations where cleaning is to be done approximately two to four days in advance.
Impacts for Campus:
The washing of the lines can occasionally create "burping" sounds as air is attempting to escape the system during the process. You may notice an odor from the sewer, and in rare cases some water may splash out of drains.
Action(s) Required:
• Please use caution near cleaning crews, equipment, and activity.
• Please be aware of any posted signage and do not enter any barricaded areas.
Thank you for your patience as work is done to maintain our beautiful campus.
To report a facilities emergency, call (812) 488-2775.
Submitted by Karen McDonald km598@evansville.edu
Student Leaders Needed
College Mentors for Kids is a great organization on UE's campus that matches UE student volunteers with a student from a local elementary school. Elementary students travel to UE one day a week to meet with their UE student mentor, participate in a community service activity, learn about careers and professions by visiting areas on campus, and receive ongoing encouragement and inspiration from a UE student about the importance of education and giving back to their community. We're looking for student leaders to organize and lead this program for the 2023-2024 academic year. If you are interested, please contact Dr. Lisa Hale at lh241@evansville.edu or Carly Cox at ccox@collegementors.org for more information. Make a difference, volunteer to mentor!
Submitted by Lisa Marie Hale lh241@evansville.edu
ES 103 Offered During Summer Session 2
ES 103 (Fundamentals of Environmental Science), which fulfills the non-lab science General Education credit (Outcome 8), will be offered during Summer Session 2 as an online, asynchronous class. If you have questions about this 3 credit hour course, which will run from June 19-July 21, please contact Dr. Aldred via email – ka59@evansville.edu
Submitted by Katie Aldred ka59@evansville.edu
BIOL 107 Offered During Summer Session 2
Biol 107 (General Biology), which fulfills the lab science General Education credit (Outcome 8), will be offered during Summer Session 2 as an online, asynchronous class. Although it is generally intended for those majoring in EXSS, public health, and similar areas, all majors are welcome! The lab portion of the course will be completed via Labster, an exciting virtual lab simulator! If you have questions about this 4 credit hour course, which will run from June 19-July 21, please contact Dr. Aldred via email – ka59@evansville.edu
Submitted by Katie Aldred ka59@evansville.edu
National Survey of Student Engagement (NSSE)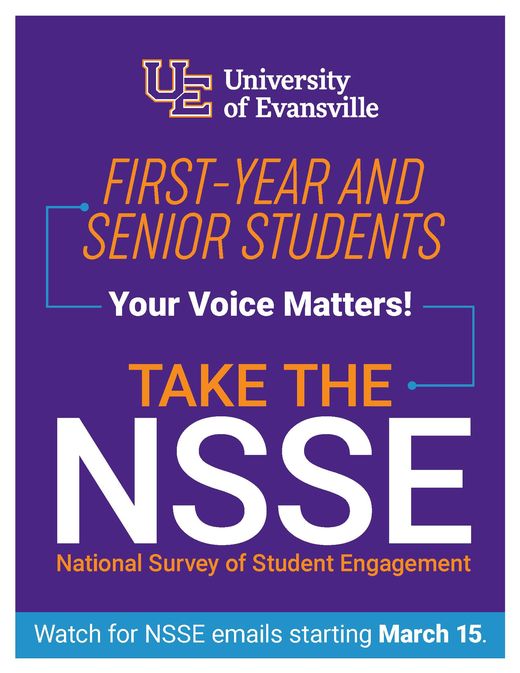 FIRST-YEAR AND SENIOR STUDENTS - Your Voice Matters! Take the National Survey of Student Engagement (NSSE). Watch for NSSE emails starting March 15.
In appreciation for participating, all students who complete the survey by April 14 will be entered into a drawing for one of two Apple Watches (each valued at approximately $280.00) and one of four sets of JBuds Air earbuds (each valued at approximately $70.00). One first-year student and one senior-year student will be selected for the Apple Watches. Two first-year students and two senior-year students will be selected for the earbuds. Students may receive only one item. Your chances of winning depend on how many complete the survey; 965 students were invited to participate.
Submitted by Paula Heldt ph28@evansville.edu
Employee - UE Mobile Mammography Services
Employees - Ascension St. Vincent is providing mobile mammography services for the University of Evansville. The mobile mammography bus will be located next to the Krannert Building on April 13th from 9:00AM - 2:00PM. Please click the link below to sign up for an appointment time! An Ascension Breast Center representative will call you prior to your appointment date to verify all necessary registration information.
Submitted by Haley Walker hw164@evansville.edu
Employee Volunteers Needed for CDEI Masquerade Ball 2023
It is that time of year again! The CDEI is welcoming back the second annual Prom, but this time it is a Masquerade Ball! Last year we welcomed over 150 students to Prom and this year we are hoping that number will grow!
In partnership with Student Activities Board and Black Student Union we will be hosting Masquerade Ball on Saturday, April 1st from 8:00pm- 11:30pm with the After Party taking place from 12:00am- 2:00am at SkyZone Evansville or the Family Entertainment Center in Newburgh!
We are seeking employee volunteers to help so that our students can focus on having a night of dancing and fun before the busy season!
If you are interested in signing-up to volunteer, please fill out this form: https://forms.microsoft.com/r/ZS54HG8KvD
If you have any questions, please reach out to Abagail Catania at ac532@evansville.edu
Submitted by Abagail Christine Catania ac532@evansville.edu
Seeking financial Aid for summer courses?
UE students seeking financial aid or intending to use loan funds for summer courses at UE, please complete a Summer Financial Aid Application and return to the Office of Student Financial Services (Olmsted 105) however is most convenient. The application will allow our office to assess your financial aid and loan eligibility.
Work-Study:
On-campus jobs are available for continuing UE students during the summer. You do not need to be eligible for need-based Federal Work-Study during the academic year in order to apply. You may also apply regardless of your enrollment in summer courses. Applications will be available within the Student Employment area of WebAdvisor.
Submitted by Amy Sowders as560@evansville.edu
Employer Tuition Reimbursement Program for Students
We are pleased to coordinate employer tuition reimbursement as a service to our students and our community. Employer Tuition Reimbursement Programs are offered by many companies to assist employees with full- or part-time tuition reimbursement benefits. Programs and eligibility vary by company, so check with your employer to see if you may be eligible. For more information regarding UE Employer Tuition Reimbursement please contact the Office of Student Financial Services at 812-488-2565:
Submitted by Melissa Baker mb527@evansville.edu
Call for Nominations: Dean of Students Leadership Awards
Nominations are now being accepted for consideration of The Howard S. Rosenblatt "Dean of Students Leadership Awards." These awards will be presented at the 30th Annual Leadership Awards Reception scheduled for Thursday, April 20, 2023. Invitations will be prepared by the Center for Student Engagement.
Awards from the Dean of Students Office are presented in the following categories:
Student Organization Advisor of the Year
Student Organization of the Year
Student Leader of the Year
Over 80% of UE students participate in at least one student organization or program. These organizations are successful because of the commitment of the student leaders and the advisors who give freely of their time and support. The recipients of these awards are selected based on their commitment to the University of Evansville as well as the development and success of their efforts within their chosen student organization.
The deadline for nominations is March 30, 2023. Click on this link to submit your nomination:
https://forms.office.com/r/GPpKHhifAL
If you have any questions, please contact the Vice President for Student Affairs/Dean of Students office at 812-488-2500 or by e-mail via deanofstudents@evansville.edu.
Thank you in advance for celebrating the achievements of our campus leadership!
Submitted by Shelby Gardner sg293@evansville.edu
Circle K Prom Volunteers Needed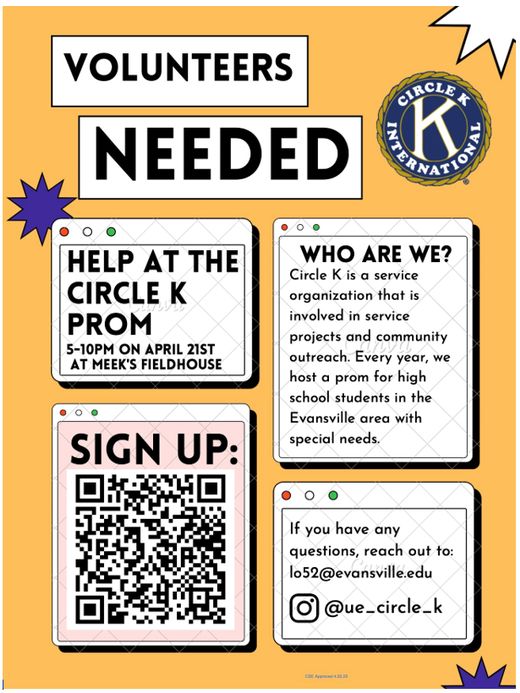 Circle K will be hosting a prom for the local high school students in the special education programs. You must have a completed background check and complete a short training on blackboard. It is on April 21st from 5-10pm and the deadline to sign up is March 24th. Fill out the google form if you are interested and we will provide you with all the information you need!
Submitted by Elizabeth McCook em310@evansville.edu
Exemplary Teacher Award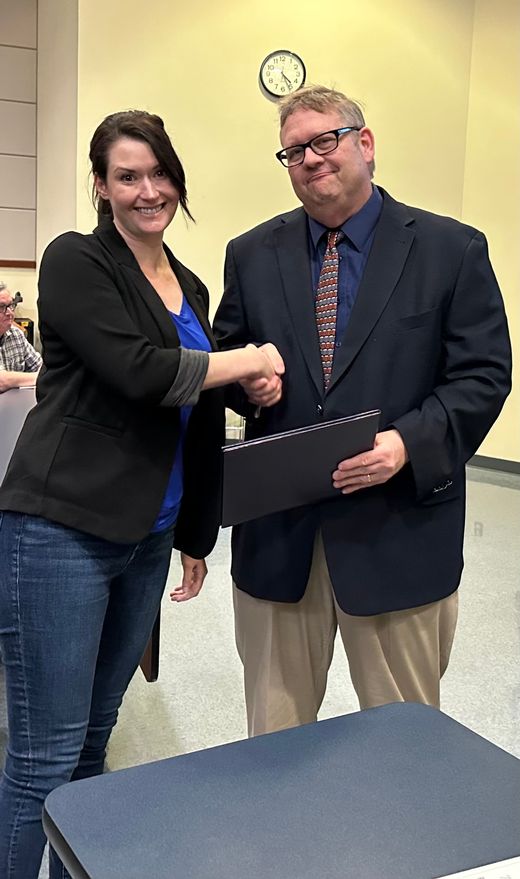 Dr. Heather Fenton, Associate Professor of Management, was presented the Exemplary Teacher Award at the Spring Faculty Meeting on Thursday, March 23. The award recognizes exceptional achievements in the classroom by creating distinctive opportunities and promoting intellectual, moral, social, and emotional growth of our students. Dr. Fenton exemplifies all of these traits throughout her teaching and student interaction. Congratulations Dr. Fenton!
Submitted by Tobi Audas oa51@evansville.edu
Class of 1961 Faculty Fellowship Awards
Congratulations to Dr. Omid Khormali, Assistant Professor of Mathematics, and Dr. Pallav Bera, Assistant Professor of Electrical Engineering, for receiving the Class of 1961 Faculty Fellowship Awards. The award was established with gifts and pledges from the members of the Class of 1961 for pre-tenured faculty to provide support for their research projects.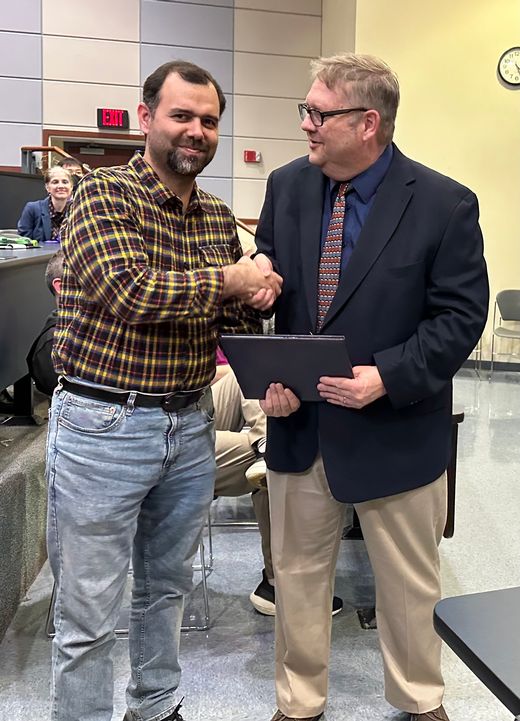 Dr. Omid Khormali
---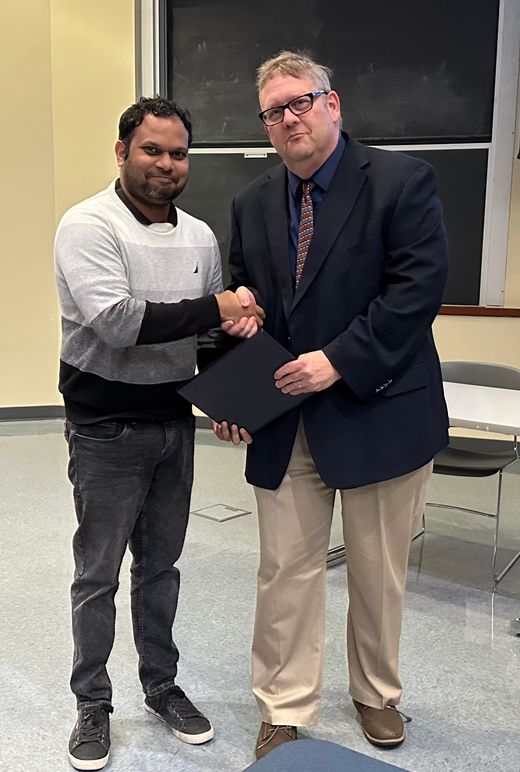 Dr. Pallav Bera
Submitted by Tobi Audas oa51@evansville.edu
Congratulations to the recipients of the 2023 Engineering Awards!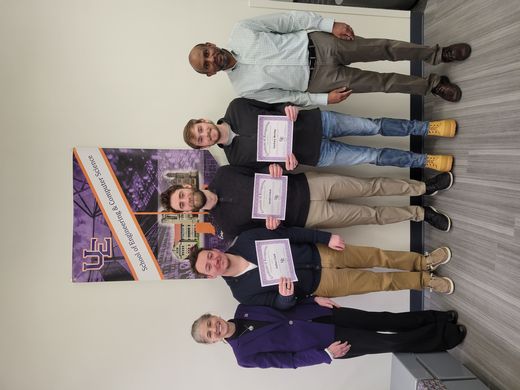 The James M Hall Jr Outstanding Engineering Student Award was presented to Zach Worley. Zach is a Junior level Civil Engineering student. This award recognizes Zach for scholastic achievement, participation in extra?curricular activities, character, responsibility, attitude, and potential for professional growth.
The Paul "PR" Brown Spirit Award was presented to Justin Fritch. Justin is a Senior level Mechanical Engineering student. This award recognizes Justin for good academic standing, being an encouragement to fellow students, and demonstrating leadership in fostering cooperation and camaraderie among Engineering students.
The Dick Blandford Memorial Award was presented to Dalton Clark. Dalton is a Senior level Electrical Engineering student. This award recognizes Dalton's excellence in scholarship, service, and leadership.
Congratulations to each of these students. You are well deserving of the honors being bestowed upon you!
Submitted by Rebecca Oates ro32@evansville.edu
Computer Science Students participate in the International Collegiate Programming Contest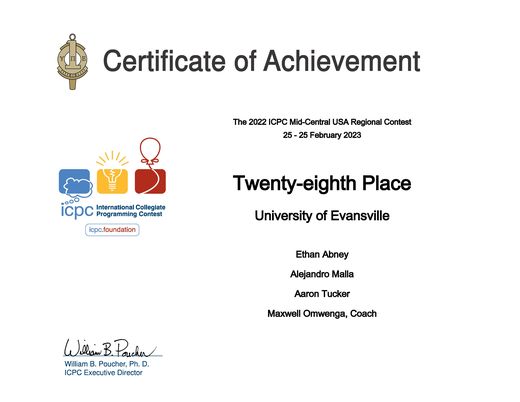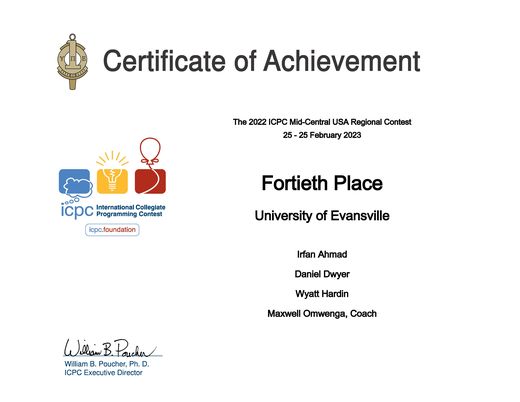 Two teams from the School of Engineering and Computer Science participated in the 2022 International collegiate Programming Contest (ICPC) Mid-Central USA Regional Contest on February 25. Six Computer Science students, Ethan Abney, Irfan Ahmad, Daniel Dwyer, Wyatt Hardin, Alejandro Malla, and Aaron Tucker formed the two teams. The teams placed 28th and 40th out of 100 teams competing. Congratulations to our students on their achievement!
Submitted by Tonya Albright ta58@evansville.edu
UE Track & Field Travels To Margaret Simmons Invitational Saturday
The University of Evansville track and field teams will return to action on Saturday, as the Purple Aces will travel south to Murray, Kentucky to take part in Murray State's annual Margaret Simmons Invitational. The meet was originally scheduled to be a two-day meet, but heavy rain in the Murray, Kentucky area forecasted for Friday has forced the meet into a single-day event beginning at 10 a.m.
Evansville competed in its first outdoor meet of 2023 last weekend at Bellarmine's Jim Vargo Invitational. Graduate student Antonia Lamond (Nutley, N.J./Paramus Catholic) broke the women's school record in the hammer throw, and senior Zach Dove (Princeton, Ind./Princeton Community) won the men's discus competition and finished second in both the shot put and hammer throw in UE's first outdoor meet of the year.
On the track, senior Giovanni Purser (Port Maria, Jamaica) placed fifth in a tightly-contested 100-meter dash with a time of 11.11. Third-place was just 11.09 in the various heats, with 24 men going below 12 seconds overall. Sophomore Adam Oulgout (St. Paul, Minn./Central) also continued his strong spring season with a 10th-place showing in the men's 800-meter race.
Saturday's meet will feature competitors from 16 different schools, including Division I members Austin Peay, Ball State, UE, UT Martin and Murray State. Field events will begin the day's activities at 10 a.m. with both the women's hammer throw and the men's discus events. Action on the track will begin at 11 a.m. with the 3,000-meter steeplechase.
Submitted by Athletics
Streaking Baseball Aces Open Valley Play At Missouri State Saturday
The red-hot University of Evansville baseball team will open up Missouri Valley Conference play this weekend in Springfield, Missouri with a key conference series against defending MVC Tournament champion Missouri State at Hammons Field. Due to heavy rain in the Springfield area on Friday, the series will be a two-day set, beginning on Saturday with a noon doubleheader and concluding on Sunday at 1 p.m.
Evansville will enter Saturday's series-opener having won six games in a row and 13 out of 15 overall. The Purple Aces will bring a 13-7 overall record into conference play. UE was predicted to finish third in the league's preseason poll, right behind Missouri State, which currently stands at 11-8 overall. RPI-wise, Evansville and Missouri State rank second and third in the league entering conference play, with UE ranking 47th and Missouri State 75th, respectively.
The Purple Aces won their sixth-straight game on Wednesday with an 11-7 win at SIU-Edwardsville. Junior catcher Brendan Hord hit home runs in back-to-back at-bats to spur four-run frames in both the third and fourth innings to help lead the way for UE. Fifth-year outfielder Eric Roberts and senior third baseman Brent Widder also homered in the game, as UE has launched 25 home runs already this year.
Offensively, Evansville is led by fifth-year first baseman Chase Hug, who will bring a .420 batting average into the weekend. Hug ranks third nationally with a .596 on-base percentage, and he loved hitting at Hammons Field last year, as he hit four of his 11 home runs in seven games at the park during both UE's regular-season series at Missouri State and in the MVC Tournament. In fact, he has homered in four of his last five games at Hammons Field.
Pitching-wise, UE will send traditional weekend starters Nick Smith (2-3, 5.16 ERA), Tyler Denu (1-0, 3.66 ERA) and Donovan Schultz (3-1, 2.67 ERA) to the mound in the three games. Schultz is the current MVC Pitcher of the Week, and UE's pitching staff has been a big part of UE's success of late. Wednesday night was the first time that UE had allowed more than four runs in a game since March 1, and overall, the Purple Aces have posted a 3.19 ERA in the month of March.
Missouri State will enter this weekend's series trying to bounce back from a three-game sweep at #10 East Carolina last weekend. The Bears once again boast one of the more potent lineups in the MVC entering league play, as Missouri State leads the Valley and ranks in the nation's top 35 in both doubles (47) and home runs (30). The Bears' pitching staff also ranks second in the league in ERA (behind Evansville) with a 4.62 staff ERA.
Saturday's doubleheader can be seen live on ESPN3 and can be heard in the Tri-State area and on-line through 107.1 FM-WJPS and the Old National Bank/Purple Aces Sports Properties Radio Network. Sunday's game can be seen live on ESPN+, with radio coverage once again available on 107.1 FM-WJPS.
Submitted by Athletics
Mallory Russell named MVC Women's Golfer of the Week
University of Evansville junior Mallory Russell was named the Missouri Valley Conference Women's Golfer of the Week on Thursday afternoon.
Russell was the top performer for the Purple Aces in this week's Nevel Meade Collegiate in Prospect, Ky. The Evansville native earned a second-place finish in the individual standings while leading UE to a runner-up finish on the team side.
Monday's opening round saw Russell finish with an even score of 72. She came back with another nice round on Tuesday, carding a 2-over 74. Her final tally of 146 came in just two strokes behind medalist Casilda Allendesalazar of Central Michigan.
Up next, the ladies travel to Pawley's Island, S.C. for the Golfweek/AGT Intercollegiate which opens on Monday.
Submitted by Athletics
UE Athletics adds to NIL presence for student-athletes
Providing name, image and likeness possibilities for University of Evansville student-athletes has been a priority for Director of Athletics Dr. Kenneth "Ziggy" Siegfried since joining the department in 2022. Today, the UE Athletics Department announced the launching of the Official NIL Marketplace of Purple Aces Athletics, which will be powered by Opendorse.
Evansville is among the first programs nationwide to provide a single marketplace platform to send supporters to access student-athletes and offer NIL opportunities. The marketplace gives Purple Aces fans, brands and sponsors the ability to browse, book, pitch and pay any Aces student-athletes for NIL activities in one compliant platform, built specifically for the athletes' needs.
UE's marketplace is in addition to the "TrUE & Loyal Collective", which was launched in the fall of 2022 as a way to provide name, image and likeness support for student-athletes.
"This is an exciting announcement for our athletics department. Being able to provide our student-athletes with the opportunity to maximize their NIL potential is extremely important to the future of college athletics," Siegfried exclaimed. "Our goal is to be at the forefront of NIL and we are at an excellent spot with what we have to offer our student-athletes."
Utilizing the Purple Aces Marketplace, each UE student-athlete will receive an Opendorse profile, which they can customize and promote to fans on their personal social media channels. When offered a NIL deal, athletes receive a notification through the Opendorse app, where they can choose to accept and complete the opportunity. Once completed, the student-athlete immediately receives compensation to their account and can automatically disclose their activity to UE Athletics.
The Opendorse marketplace is built on a decade of athlete marketing technology and experience. Opendorse has facilitated hundreds of thousands of NIL deals and endorsements with athletes at all levels of sports. The Opendorse marketplace is used by over 75,000 athletes to manage deals from pitch to payment, and even tax preparation.
About Opendorse
Opendorse, the NIL company, is the leading technology provider in the athlete endorsement industry. More than 75,000 athletes use Opendorse to understand, build, and monetize their name, image, and likeness (NIL) with support from thousands of brands, fans, sponsors, donors and partners including Team USA, PGA TOUR, NFLPA, MLBPA, WNBPA, LPGA, over 100 professional and collegiate sports teams.
Submitted by Athletics
Contribute to AceNotes
To have content considered for inclusion in AceNotes, please submit a Marketing Request Form. Deadline for submission to AceNotes is 10:00 a.m. on the requested date of publication. Only articles concerning UE related/sponsored activities will be accepted. Articles submitted to AceNotes may be edited for length and clarity. Submitter contact information is at the end of each article.