| | |
| --- | --- |
| AceNotes Today | Thursday, March 23, 2023 |
Pep and Vim/Reunion Weekend
Alumni Awards Dinner is Saturday, April 15, 2023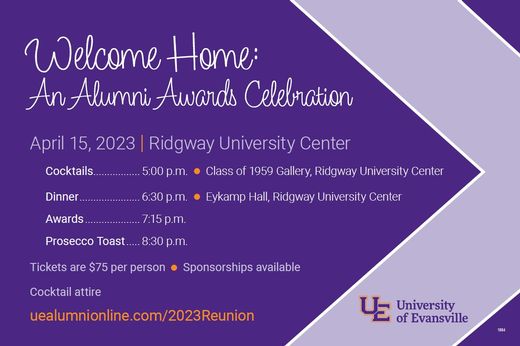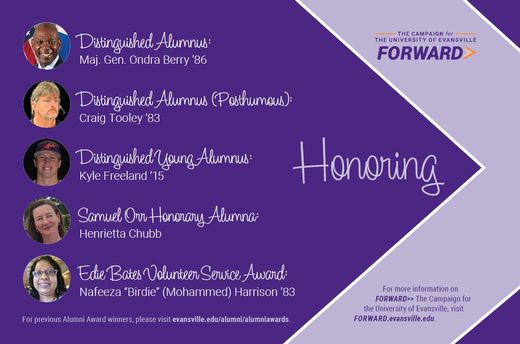 Welcome Home: An Alumni Awards Celebration
April 15, 2023 – Ridgway University Center
Cocktails 5:00 p.m. Class of 1959 Gallery, Ridgway University Center
Dinner 6:30 p.m. Eykamp Hall, Ridgway University Center
Awards 7:15 p.m.
Prosecco Toast 8:30 p.m.
Tickets are $75 per person.
Sponsorships available.
Cocktail Attire
Register here! (use link uealumnionline.com/2023Reunion)
Honoring:
Distinguished Alumnus Maj. Gen. Ondra L. Berry '86

Distinguished Alumnus (Posthumous)

Craig Tooley '83

Distinguished Young Alumnus Kyle Freeland '15

Samuel Orr Honorary Alumna

Henrietta Chubb

Edie Bates Volunteer Service Award Nafeeza "Birdie" (Mohammed) Harrison '03
Submitted by Jaime Wilder / jw663@evansville.edu
Penny Wars is Coming!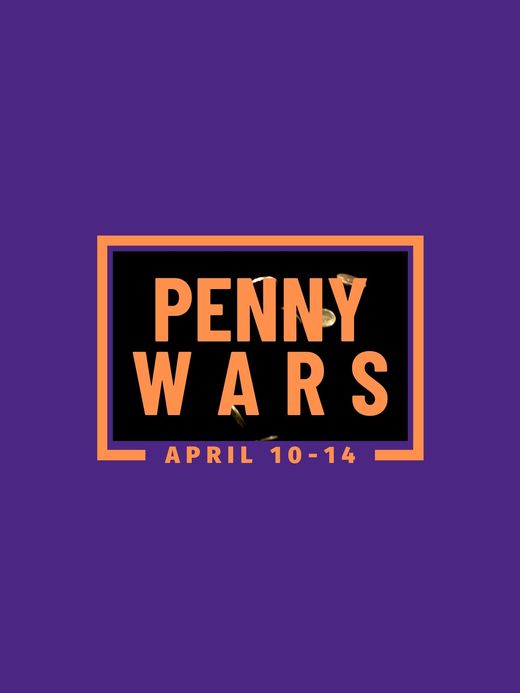 Start saving your loose change! Penny Wars is coming, and we need your help to raise funds for the UESAA Scholarship. This scholarship is sponsored every year by the generosity of the campus community through the annual Penny Wars competition. Of course, Penny Wars wouldn't be complete without a little competition. The College of Business and Engineering took Pep, the golden squirrel, home last year. Will Dr. Brockman be able to hold onto Pep this year?
Submitted by Jaime Wilder / jw663@evansville.edu
UEAAA Leadership Conference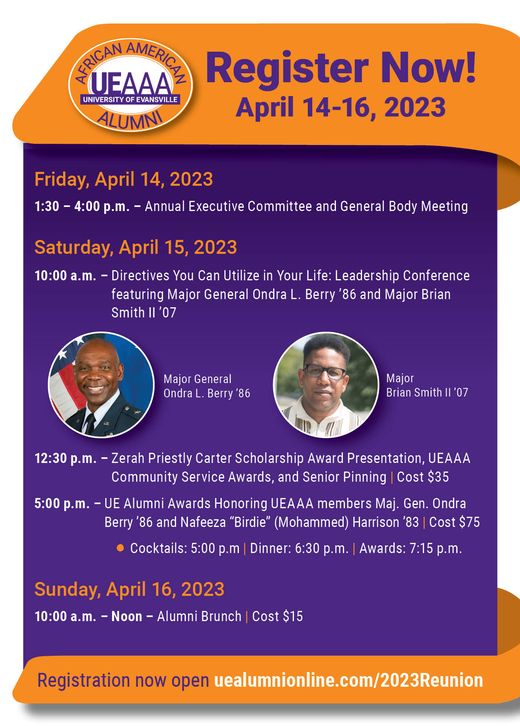 Friday, April 14, 2023
1:30 – 4:00 p.m. Annual Executive Committee and General Body Meeting
Saturday, April 15, 2023
10:00 a.m. Directives You Can Utilize in Your Life: Leadership Conference featuring Major General Ondra L. Berry '86 and Major Brian Smith II '07
12:30 p.m. Zerah Priestly Carter Scholarship Award Presentation, UEAAA Community Service Awards, and Senior Pinning Cost $35
5:00 p.m. UE Alumni Awards Honoring UEAAA members Maj. Gen. Ondra L. Berry '86 and Nafeeza "Birdie" (Mohammed) Harrison '83 Cost $75
• Cocktails; 5:00 p.m. Dinner; 6:30 p.m. Awards; 7:15 p.m.
Sunday, April 16, 2023
10:00 a..m. – Noon Reunion Brunch Cost $15
Register Now! (use link uealumnionline.com/2023Reunion)
Submitted by Jaime Wilder / jw663@evansville.edu
Pep and Vim Virtual 5K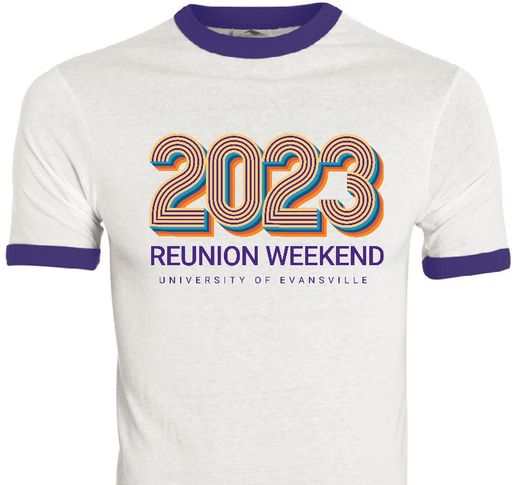 UE Alumni and Engagement is hosting a virtual 5K run/walk to promote a healthy lifestyle. By participating in our Day of Giving Virtual 5K, you'll also be giving back to our beloved university.
The 5K can be completed indoors or outdoors between April 1 and April 15. Participants will enter their times online. All participants will receive an exclusive Pep and Vim t-shirt if registered by March 31*. Register here!
The $35 race fee includes a gift to the UEvansville Fund and will also count towards the 2,023 gifts needed to unlock the Alumni Board's $20,000 Pep and Vim Challenge Gift!
On Friday, April 14, Day of Giving, post a video or picture wearing your Pep and Vim t-shirt on social media using #AcesGiveBack and #FORWARD to help spread the word.
Be sure to stay tuned – Pep and Vim is all about inspiring change, so we will be rolling out many different philanthropic opportunities that may ignite your UE passion. Together, with Day of Giving, we can make an impact on the lives of our students and the university.
If you have any questions, please contact alumni@evansville.edu.
Go Aces!
*Registrations will be accepted after March 31, but we cannot guarantee the arrival of the Pep and Vim t-shirt by April 14.
Submitted by Jaime Wilder jw663@evansville.edu
Hiking and camping with the Crew April 1st and 2nd
Come see beautiful, panoramic views of the wilderness from incredible sandstone cliffs! Join us for a hike through Shawnees National Forest as we visit, Pounds Hollow, Rim Rock, Stoneface and Garden of the Gods Wilderness and get a chance to explore and watch the sun set over the famous rock formations!

We will be camping at the Garden of the God's campground where will play games around the campfire and have dinner.
The food! On Saturday night, we will make our own pizzas and calzones. Whether you like pepperoni, sausage, green pepper, onion, or mushroom...we've got you covered. And if you are vegetarian or halal, you should have plenty of options, as well. We will also make cinnamon rolls and cobblers in our Dutch ovens. Yum!!!
Sunday breakfast will be pancakes with all the fixen's your heart can desire: chocolate chips, blueberries, caramel, peanutbutter, and more!
Depending on time and interest on Sunday, we may canoe the Cache River State Natural Area where outstanding natural features are massive cypress trees whose flared bases, called buttresses, exceed 40 feet circumference. Many are more than 1,000 years old, including one that has earned the title of state champion bald cypress because of its huge trunk girth, towering height and heavily branched canopy.
The cost for this trip is only $15 and can be paid via cash, check or Venmo.

RSVP on the UEngagae site, fill out the safety waiver and then stop by the tables in Ridgway next Monday, Tuesday and Wednesday (3-27 thru 3-29) from 11am to 1pm to officially sign up.
Submitted by Fred Wilson fw2@evansville.edu
Student Art Exhibition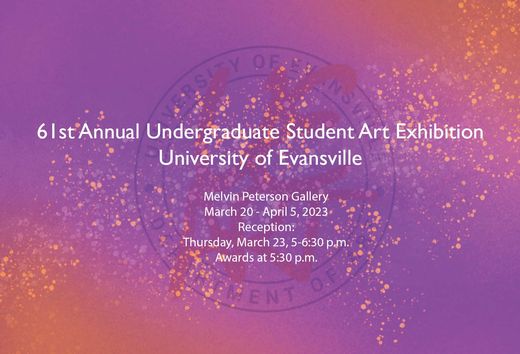 The 61st Annual Undergraduate Student Exhibition opens on March 20 through April 5, 2023 in the Melvin Peterson Gallery.
Please join us for the student awards reception on Thursday, March 23 in the Melvin Peterson Gallery from 5:00 pm - 6:30 pm.
Submitted by Carol McCraney cm177@evansville.edu
Senior Video Filming: Monday, March 27!
Class of 2023 graduates: do you want to be included in the senior video featured at Commencement? Don't miss your chance to be part of it!
Student Sarah Tuma, who is creating the 2023 senior video, will be set up outside Ridgway University Center on Monday, March 27, from noon until 2:00 p.m. She will be interviewing seniors with some basic questions (e.g., what will you miss most about UE?) that will then be featured in the video.
Make sure to stop by before or after your classes to be filmed!
Submitted by Julie Beer / jb855@evansville.edu
Blood Drive on March 27 in Eykamp
Give blood, help save lives!
UE Blood Drive
Monday, March 27
Eykamp Hall
UE's Center for Innovation & Change has partnered with the Red Cross and Alpha Phi Omega, our Co-Ed Service Fraternity, to help meet desperate need for blood in our community. Make plans now to donate blood on Monday, March 27, anytime between 7:00 a.m. and 6:00 p.m.!
To make your appointment, go to https://www.redcrossblood.org/ and type "UE" in the code or call 1-800-RED CROSS.
Submitted by Dina Willming / dw285@evansville.edu
Journey to Justice
Students, faculty, staff, and administrators are invited to participate in this year's Journey to Justice, a transformative 8 day Civil Rights bust tour of the south (June 10-17). Students have the option of earning course credit for Outcome 4: Engagement with fundamental beliefs about human identity, core values, and humankind's place in the world.. For more information, visit the Journey to Justice webpage or contact Dr. Valerie Stein at vs9@evansville.edu.
Submitted by Valerie Stein / vs9@evansville.edu
Hamilton Pointe- on campus recruiting!
Thursday, March 23
10:30 a.m. - 1:30 p.m.
Ridgway University Center
A representative from The Village at Hamilton Pointe will be on campus Thursday, March 23 recruiting for open RN, LPN, QMA and CAN positions. Stop by Ridgway and look for their table if interested!
Submitted by Amanda Wood / aw505@evansville.edu
Student Masquerade Ball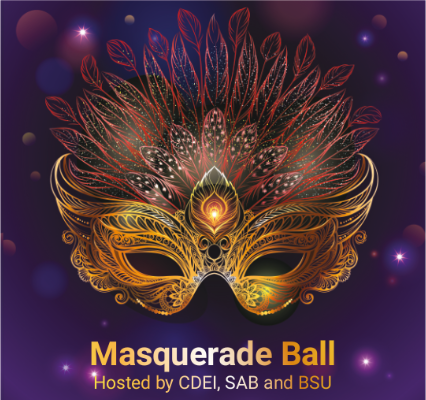 Save the date and buy the fits! CDEI, BSU and SAB are bringing you Masquerade Ball 2023! Let's dance the night away and end the semester with a boom!
April 1st, 8pm
Masquerade Ball: Eykamp Hall- Free
After Party: SkyZone Evansville- $5.00 or 1 bag of feminine hygiene products
*there will be a shuttle to take people from UE to Skyzone!
Theme: Black, Gold, and Red
Attire: Semi-formal
UE, UE Guests, USI and Ivy Tech students are invited!
UE Guests must be registered via UEngage and Eventbrite
USI and Ivy Tech students must be registered via Eventbrite
As it is Wom_n's History Month, we will be hosting a feminine hygiene product drive in exchange for free after party tickets. Bring a full bag to the Ball or get your ticket ahead of time during tabling hours during the week!
All donations will be donated to a local charity
Submitted by Abagail Christine Catania ac532@evansville.edu
Solo Exhibition for Professor Todd Matteson at Thyen-Clark Cultural Center, Jasper, Indiana

The Thyen-Clark Cultural Center in Jasper, Indiana, hosts Professor Todd Matteson's solo exhibition, Life's Adventures. The exhibition runs for three months with a gallery talk every first Thursday in March and April. Professor Matteson will also be doing demonstrations to the public and local schools during his exhibition. Please come enjoy his ceramics and catch a glimpse at his new creations.
Submitted by Todd Matteson tm8@evansville.edu
CHNG 310-02: Civil Disobedience, Creative Protest Project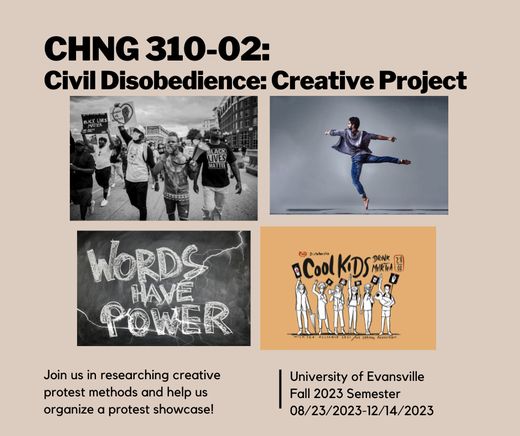 Hey Aces! Are you wanting a creative outlet when it comes to social problems? This is the Change Lab for you!
Civil Disobedience will explore different ways protesters have used art (music, theatre, storytelling, dance, etc) to make their voices known and heard in regard to social injustice. In direct connection with creating an Inclusive Community (UE Core Value) and Living meaningfully in a changing world (UE Mission) students will organize an end of semester showcase to exhibit their artform connected to a social problem they identify with or feel connected to.
Get ready to research different creative protest methods and formulate a working plan to organize the end of semester showcase!
Don't miss out on the opportunity to create and showcase your protest. Plan CHNG 310-02 for the Fall 2023 semester now, seats are limited!
Submitted by Jade S Shelby js818@evansville.edu
Olmsted Pepsi Vending Machine
The glass front Pepsi vending machine is being replaced with a new glass front machine in a effort to eliminate ongoing vending issues. Please note that this process takes several days to complete. The current machine will be emptied and the new machine will be delivered today, Thursday, March 23. However, it will be next week before the new machine can be filled with product for use. Thank you for your patience.
Submitted by Kim Winsett kw83@evansville.edu
Health Careers Forum- Register TODAY
Join us next week for the Health Careers Forum, presented to you by The Center for Career Development and the UE Exercise Sciences Club. We will offer a panel of health care professionals for a Q&A followed by time for networking. This is a great opportunity to talk to multiple professionals in a variety of health care fields.
Wednesday, March 29
6:00pm-8:00pm
Eykamp Hall, RUC
Register for this event in Handshake!
Questions? Contact the Center for Career Development at career@evansville.edu or 812-488-1083.
Submitted by Amanda Wood aw505@evansville.edu
Chartwells Focus Group: Earn $25 AceBucks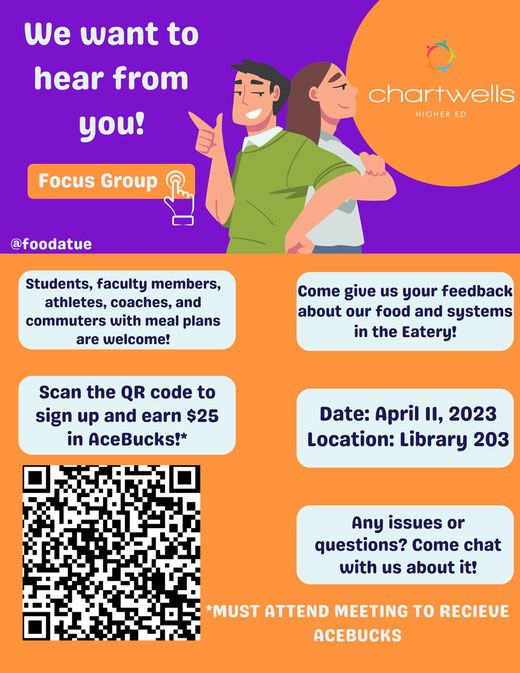 Earn free $25 Ace Bucks by signing up for our feedback focus group! Coaches, Staff, Students, and Commuters are welcome. Join us in the Library, Room 203, on April 11 to give us your feedback and questions about the dining services and food on campus! (Must attend the meeting to earn AceBucks)
Submitted by Ka'Bria Carr kc403@evansville.edu
ETH 201 and REL 120 Summer Online Course (Outcome 4)
ETH 201 Comparative Religious Ethics (Outcome 4) and REL 120 Religion in America (Outcome 4 AND Writing Across the Curriculum) will be offered asynchronously online for the second summer session (June 19-July 21). For information contact Dr. Valerie Stein (vs9).
Submitted by Valerie Stein / vs9@evansville.edu
BIOL 107 (GEN ED Lab Science) Offered Summer 1
Biology 107 (4 cr) will be offered asynchronous online this summer session 1. The lab component will be online as well utilizing web-based simulations. This course satisfies lab science General Education credit (Outcome 8). All majors are welcome! If you have any questions, please contact Dr. Gordon at ng62@evansville.edu.
Submitted by Noah Gordon / ng62@evansville.edu
PSYC 121 Offered During Summer Session 2
PSYC 121 (Introduction to Psychology) will be offered during Summer Session 2 as an online, asynchronous class. If you have questions about this 3 credit hour course, which will run from June 19-July 21, please contact Prof McCracken via email – em157@evansville.edu.
Submitted by Evan McCracken / em157@evansville.edu
PSYC 229 Offered During Summer Session 1
PSYC 229 (Social Psychology) will be offered during Summer Session 1 as an online, asynchronous class. If you have questions about this 3 credit hour course, which will run from May 15-June 16, please contact Prof McCracken via email – em157@evansville.edu.
Submitted by Evan McCracken / em157@evansville.edu
Evansville Water & Sewer Conducting Cleaning in the Area
Sewer Cleaning Notice: Campus Wide
Questions or Concerns Regarding this Work:
Contact Facilities Management, 812-488-2775
Affected Dates:
March 20 through April 11
Description of Work:
Evansville Water & Sewer Utility previously announced plans to conduct sewer cleaning in the university area. The exact time frame for beginning the work was unspecified. Facilities has been informed that yellow work signs have been placed near campus. The preventative cleaning and maintenance are supposed to take a few weeks to complete. During the process, a nozzle will be inserted in the sewer lines to internally pressure-wash the system. Look for yellow cleaning construction signs to be placed in locations where cleaning is to be done approximately two to four days in advance.
Impacts for Campus:
The washing of the lines can occasionally create "burping" sounds as air is attempting to escape the system during the process. You may notice an odor from the sewer, and in rare cases some water may splash out of drains.
Action(s) Required:
• Please use caution near cleaning crews, equipment, and activity.
• Please be aware of any posted signage and do not enter any barricaded areas.
Thank you for your patience as work is done to maintain our beautiful campus.
To report a facilities emergency, call (812) 488-2775.
Submitted by Karen McDonald km598@evansville.edu
PowerFul: Bring Your Hero to the BBQ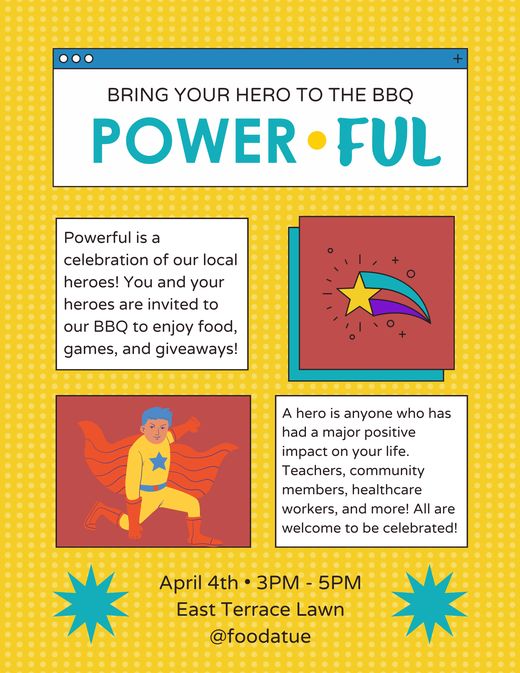 PowerFul is a celebration of our local heroes! You and your heroes are invited to our BBQ on April 4th to enjoy food, games, and giveaways! Be sure to keep an eye on our social media for more details and updates.
Submitted by Ka'Bria Carr kc403@evansville.edu
Info You Should Know
SPAN 112 Offered During Summer Session 2
SPAN 211 Offered During Summer Session 2
Submitted by Cindy Crowe cc109@evansville.edu
BIOL 107 Offered During Summer Session 2
Biol 107 (General Biology), which fulfills the lab science General Education credit (Outcome 8), will be offered during Summer Session 2 as an online, asynchronous class. Although it is generally intended for those majoring in EXSS, public health, and similar areas, all majors are welcome! The lab portion of the course will be completed via Labster, an exciting virtual lab simulator! If you have questions about this 4 credit hour course, which will run from June 19-July 21, please contact Dr. Aldred via email – ka59@evansville.edu
Submitted by Katie Aldred ka59@evansville.edu
SPAN 313 Spanish for Heritage Speakers NEW COURSE
SPAN 313 focuses on the development of communicative competence, as well as on understanding Hispanic cultures and issues of identity of heritage speakers of Spanish in the United States. Students will also develop an awareness and understanding of Hispanic cultures, including language variation, customs, geography, history, and current events. Taught exclusively in Spanish, this course is designed for heritage or native speakers only. Prerequisites: SPAN 212, or placement exam score.
This course will be offered in the Fall 2023. If you have any questions, please feel free to email the chair of the department of Foreign Languages and Cultures, Dr. Lesley Pleasant (lp84@evansville.edu)
Submitted by Patricia Andueza pa55@evansville.edu
Exchange program with University of Malaga
The University of Evansville now has a student exchange agreement with the University of Malaga in Malaga, Spain. Each Spring semester, students will be able to attend the University of Malaga by paying only their regular tuition at the University of Evansville.
A few particulars:
UE students must have a B2 competence level of Spanish.
UE students should start the application process by May1st of the year prior to the year they plan to go abroad. This will allow them to select the courses that the student wants to take while abroad and determine how the credits will be transferred back to UE.
The application process should be finished by October 1st
UE students will take a maximum of 18 credits, with the option of taking an internship (6 credits) with the Department of Translation and Interpretation in the Department of English Studies at University of Malaga.
Students will finalize the registration process upon arrival at University of Malaga.
Students will pay tuition and fees to UE while paying room and board to University of Malaga. University of Malaga will help UE students find accommodations.
Students participating in this program shall be responsible for the cost of their travel to and from Malaga, Spain.
If you have any questions, please contact dr. Lorena Andueza (pa55@evansville.edu)
Submitted by Patricia Andueza pa55@evansville.edu
2023-24 Margery Florence Kahn Scholarship Application Now Available
It was the desire of the donor, Margery Florence Kahn, that her scholarship be awarded to "dedicated and conscientious students who exhibit a true passion for their chosen fields of study, and who, in the opinion of the members of the University of Evansville faculty, are likely to bring the same enthusiasm into the performance of their jobs or the practice of the professions which they will pursue following graduation."
All University of Evansville full-time undergraduate students who will be juniors or seniors in the 2023-24 academic year may apply. An essay of about 300 words must accompany the application along with two to five faculty recommendation letters.
Application and faculty recommendation information
Completed applications and recommendation letters should be returned to the Office of Student Financial Services by MAY 10, 2023.
Questions may be directed to the Office of Student Financial Services via email or by phone at (812) 488-2364.
Submitted by Amber Chandler ac547@evansville.edu
It's Time to Nominate a Deserving Senior for the Outstanding Senior Service Award
Do you know a senior deserving of the highest award given by UE? Ten finalists will be selected, and one student will be presented this award at Commencement. Selection is based on academic achievement, demonstrated leadership, and community and campus engagement.
Nominations for the Guthrie May and Mabel Dillingham Nenneker Outstanding Senior Service Award will be accepted March 1 – March 30, 2023.?Students who are nominated must accept their nomination by 4:00 p.m. on April 4, 2023.
You can nominate deserving seniors by completing the form below. Once you submit a nomination, students will receive an automatic email giving them the opportunity to accept the nomination by providing their responses to the award application questions.
https://form.jotform.com/220724520906046
Please contact Shelby Gardner (sg293@evansville.edu) with any questions.
Submitted by Shelby Gardner sg293@evansville.edu
UE Summer Camps and Employee Discount
The Office of Youth Programs has opened registration for UE Summer Camps 2023! This summer, we are offering Dance Camp, the Wesley Shepard Music Camp, Exploring Art at UE (Grades 2-5 & Grades 6-8), STEM Camp, Clay Camp, Springboard, and Pride Camp. To find out more, please visit our website.
We are offering a 50% discount to UE Employees that would like to register their youth. To receive this discount, please email us at youthprograms@evansville.edu BEFORE registering. Please include your name, title, list youth(s)'s name and camp title. We will send you a discount code to apply at registration within two business days.
If you have any questions, please email youthprograms@evansville.edu.
Submitted by Rachel Roscoe rr209@evansville.edu
Congratulations to the recipients of the 2023 Engineering Awards!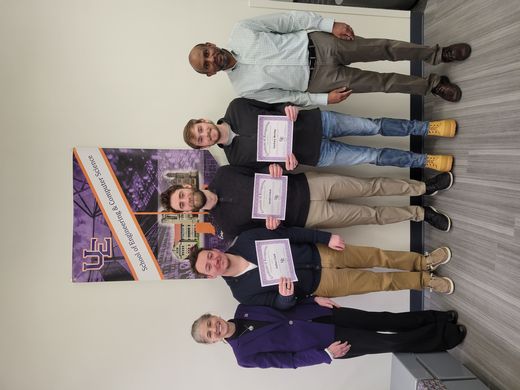 The James M Hall Jr Outstanding Engineering Student Award was presented to Zach Worley. Zach is a Junior level Civil Engineering student. This award recognizes Zach for scholastic achievement, participation in extra?curricular activities, character, responsibility, attitude, and potential for professional growth.
The Paul "PR" Brown Spirit Award was presented to Justin Fritch. Justin is a Senior level Mechanical Engineering student. This award recognizes Justin for good academic standing, being an encouragement to fellow students, and demonstrating leadership in fostering cooperation and camaraderie among Engineering students.
The Dick Blandford Memorial Award was presented to Dalton Clark. Dalton is a Senior level Electrical Engineering student. This award recognizes Dalton's excellence in scholarship, service, and leadership.
Congratulations to each of these students. You are well deserving of the honors being bestowed upon you!
Submitted by Rebecca Oates ro32@evansville.edu
Computer Science Students participate in the International Collegiate Programming Contest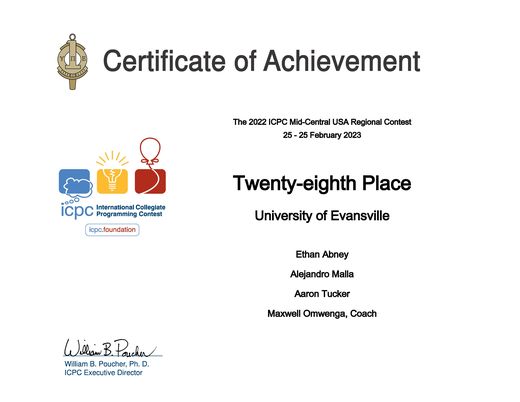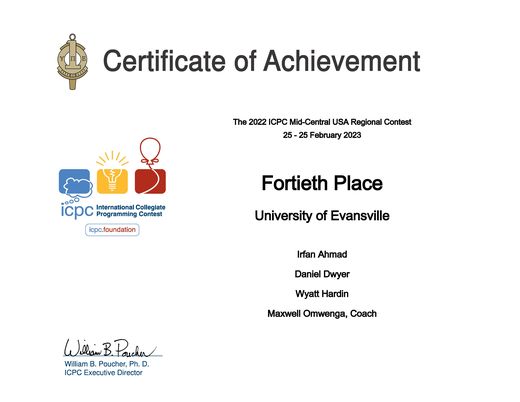 Two teams from the School of Engineering and Computer Science participated in the 2022 International collegiate Programming Contest (ICPC) Mid-Central USA Regional Contest on February 25. Six Computer Science students, Ethan Abney, Irfan Ahmad, Daniel Dwyer, Wyatt Hardin, Alejandro Malla, and Aaron Tucker formed the two teams. The teams placed 28th and 40th out of 100 teams competing. Congratulations to our students on their achievement!
Submitted by Tonya Albright ta58@evansville.edu
Psychology major, Emma Fergus, presents at the American Psychology-Law Society conference
Psychology major, Emma Fergus, recently presented a working law review titled, "Can't punish an object: [Meta]Dehumanization, corporal punishment, and International Human Rights" at the American Psychology-Law Society annual conference in Philadelphia, PA, with co-author Professor Evan McCracken.
Specifically, the law review details that despite overwhelming evidence suggesting corporal punishment leads to negative consequences for children (e.g., depression, anxiety) – its use is still legal within the United States. In this legal analysis, we focused on obligations State Parties have under existing international human rights treaties (e.g., the Convention on the Rights of the Child), and analyzed whether the international community is fulfilling these requirements. To support this analysis, we reviewed a psychological process allowing for the continuation of corporal punishment – [meta]dehumanization. This analysis argues to successfully end corporal punishment internationally, children must first be perceived as human.
Submitted by Evan McCracken em157@evansville.edu
BASEBALL ACES BLAST FOUR HOME RUNS IN 11-7 WIN AT SIUE
EDWARDSVILLE, Ill. – University of Evansville junior catcher Brendan Hord blasted two home runs, and fifth-year outfielder Eric Roberts and senior third baseman Brent Widder homered as well, as the Purple Aces' baseball team extended its winning streak to six games with an 11-7 win at Southern Illinois University-Edwardsville on Wednesday night.

"We were able to put together a couple of big innings tonight, led by Brendan Hord, who had a great game" said UE head coach Wes Carroll. "This is a great mid-week win on the road against a very good SIUE ballclub. Now, it's on to Valley play this weekend."

Hord pounded out four base hits, including home runs in back-to-back at-bats in the third and fourth innings to help fuel back-to-back four-run frames by UE. Roberts set the tone for the game with a home run deep to right field on the second pitch of the game, and Widder followed Hord's first home run of the game with a two-run home run of his own to help UE build a cushion it would never lose.

UE jumped out to a 5-0 lead thanks to the lead-off home run by Roberts, and the home runs by Hord and Widder as part of a four-run third inning. After SIUE responded with two runs of its own in the bottom of the third inning, Hord put the game out of reach with his second home run in as many at-bats with a three-run home run to left field. Widder added an RBI single in the four-run fourth inning to push UE's lead to 9-2.

SIUE would scratch across single runs in the fourth, fifth, and seventh innings to get back with four at 9-5. UE was able to get one run back on a sacrifice fly by junior shortstop Simon Scherry, but the Cougars countered with a two-run home run of its own to cut UE's lead to 10-7 in the eighth inning.

Evansville would not flinch though, as junior second baseman Kip Fougerousse came through with a two-out RBI single in the top of the ninth inning, and then junior reliever Nate Hardman worked around a lead-off double to strike out the side and give UE the 11-7 win.

All nine starters for UE reached base safely, with Hord going 4-for-6 with two runs scored and four RBI to pace UE's 10-hit attack. Widder also added two hits and three RBI. Graduate student Jarrett Blunt (3-0) picked up the victory in a scheduled short-start with 3.0 innings of work, allowing just two runs on three hits.

With the victory, Evansville improves to 13-7 overall and the Purple Aces have now won six games in a row and 13 of the last 15 games overall. SIUE, meanwhile, falls to 13-6 overall. The Purple Aces will remain on the road this weekend, as UE will travel to Springfield, Missouri to open up Missouri Valley Conference play against reigning MVC Tournament champion Missouri State. The series will begin now on Saturday with a noon doubleheader, as the forecast for rain has changed the series to a two-day battle. The series will conclude on Sunday at 1 p.m. All three games of the weekend series can be heard live on 107.1 FM-WJPS and the Old National Bank/Purple Aces Sports Network.
Submitted by Athletics
Contribute to AceNotes
To have content considered for inclusion in AceNotes, please submit a Marketing Request Form. Deadline for submission to AceNotes is 10:00 a.m. on the requested date of publication. Only articles concerning UE related/sponsored activities will be accepted. Articles submitted to AceNotes may be edited for length and clarity. Submitter contact information is at the end of each article.