| | |
| --- | --- |
| AceNotes Today | Wednesday, March 22, 2023 |
Pep and Vim/Reunion Weekend
Alumni Awards Dinner is Saturday, April 15, 2023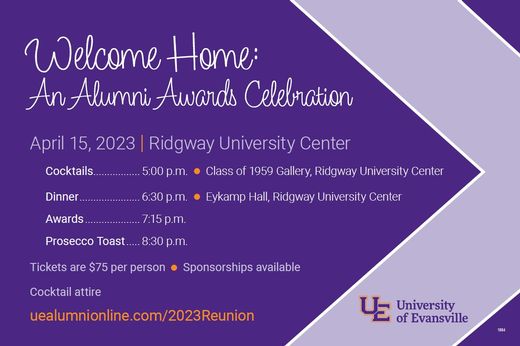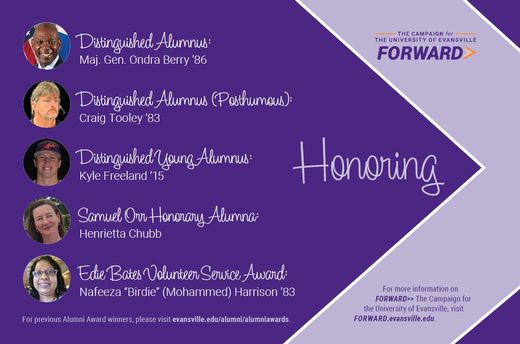 Welcome Home: An Alumni Awards Celebration
April 15, 2023 – Ridgway University Center
Cocktails 5:00 p.m. Class of 1959 Gallery, Ridgway University Center
Dinner 6:30 p.m. Eykamp Hall, Ridgway University Center
Awards 7:15 p.m.
Prosecco Toast 8:30 p.m.
Tickets are $75 per person.
Sponsorships available.
Cocktail Attire
Register here! (use link uealumnionline.com/2023Reunion)
Honoring:
Distinguished Alumnus Maj. Gen. Ondra L. Berry '86

Distinguished Alumnus (Posthumous)

Craig Tooley '83

Distinguished Young Alumnus Kyle Freeland '15

Samuel Orr Honorary Alumna

Henrietta Chubb

Edie Bates Volunteer Service Award Nafeeza "Birdie" (Mohammed) Harrison '03
Submitted by Jaime Wilder / jw663@evansville.edu
Penny Wars is Coming!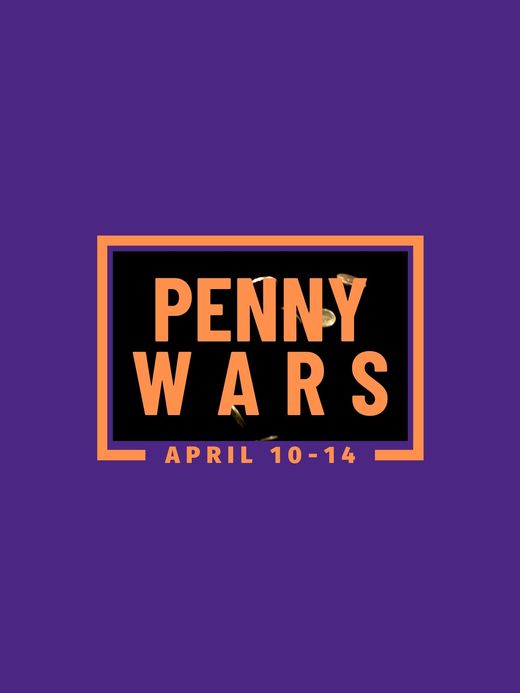 Start saving your loose change! Penny Wars is coming, and we need your help to raise funds for the UESAA Scholarship. This scholarship is sponsored every year by the generosity of the campus community through the annual Penny Wars competition. Of course, Penny Wars wouldn't be complete without a little competition. The College of Business and Engineering took Pep, the golden squirrel, home last year. Will Dr. Brockman be able to hold onto Pep this year?
Submitted by Jaime Wilder / jw663@evansville.edu
UEAAA Leadership Conference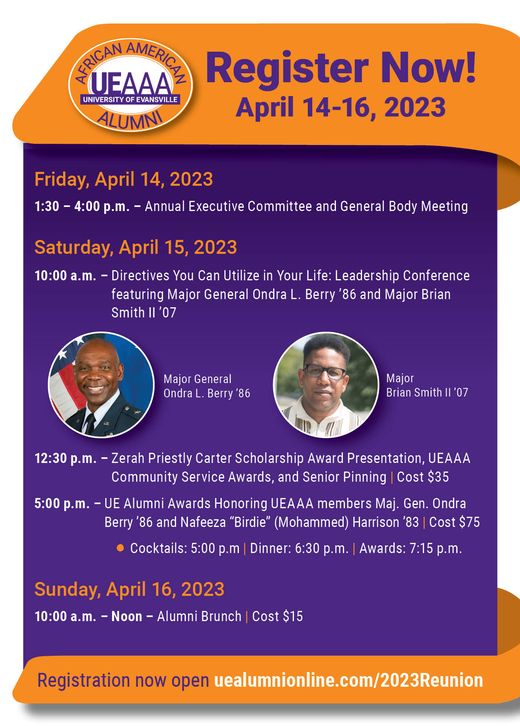 Friday, April 14, 2023
1:30 – 4:00 p.m. Annual Executive Committee and General Body Meeting
Saturday, April 15, 2023
10:00 a.m. Directives You Can Utilize in Your Life: Leadership Conference featuring Major General Ondra L. Berry '86 and Major Brian Smith II '07
12:30 p.m. Zerah Priestly Carter Scholarship Award Presentation, UEAAA Community Service Awards, and Senior Pinning Cost $35
5:00 p.m. UE Alumni Awards Honoring UEAAA members Maj. Gen. Ondra L. Berry '86 and Nafeeza "Birdie" (Mohammed) Harrison '83 Cost $75
• Cocktails; 5:00 p.m. Dinner; 6:30 p.m. Awards; 7:15 p.m.
Sunday, April 16, 2023
10:00 a..m. – Noon Reunion Brunch Cost $15
Register Now! (use link uealumnionline.com/2023Reunion)
Submitted by Jaime Wilder / jw663@evansville.edu
Pep and Vim Virtual 5K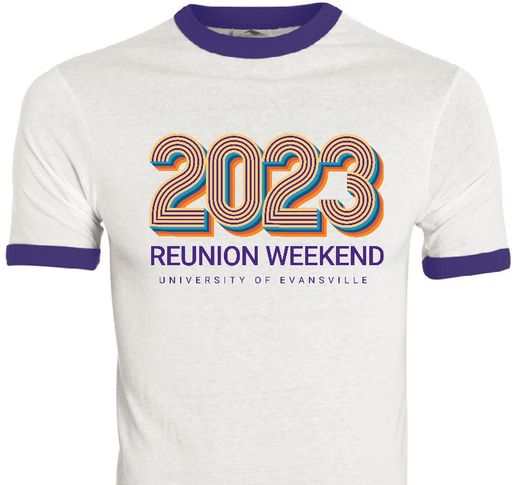 UE Alumni and Engagement is hosting a virtual 5K run/walk to promote a healthy lifestyle. By participating in our Day of Giving Virtual 5K, you'll also be giving back to our beloved university.
The 5K can be completed indoors or outdoors between April 1 and April 15. Participants will enter their times online. All participants will receive an exclusive Pep and Vim t-shirt if registered by March 31*. Register here!
The $35 race fee includes a gift to the UEvansville Fund and will also count towards the 2,023 gifts needed to unlock the Alumni Board's $20,000 Pep and Vim Challenge Gift!
On Friday, April 14, Day of Giving, post a video or picture wearing your Pep and Vim t-shirt on social media using #AcesGiveBack and #FORWARD to help spread the word.
Be sure to stay tuned – Pep and Vim is all about inspiring change, so we will be rolling out many different philanthropic opportunities that may ignite your UE passion. Together, with Day of Giving, we can make an impact on the lives of our students and the university.
If you have any questions, please contact alumni@evansville.edu.
Go Aces!
*Registrations will be accepted after March 31, but we cannot guarantee the arrival of the Pep and Vim t-shirt by April 14.
Submitted by Jaime Wilder jw663@evansville.edu
Pep and Vim, the UE Annual Day of Giving, is April 14, 2023 – Click to learn more!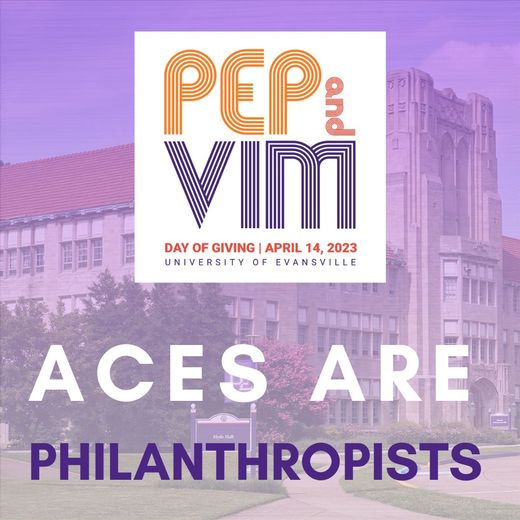 First created by a UE alumnus, "Pep and Vim," UE's Annual Day of Giving, was brought to life in 2012. We shouted our school spirit from the rooftops, and we were honored that the Aces community responded to our first Pep and Vim by making 250 philanthropic gifts that totaled over $5,000.

Flash forward to April 2022, Pep and Vim's 10-year anniversary, and you can see how UE's Day of Giving has grown over the last decade. Over 2,000 gifts were made to the university, totaling over $400,000. Gifts came in from 44 states, providing opportunities for growth within all 3 academic colleges on campus, as well as for Harlaxton College and UE Athletics.
Now it's time for Pep and Vim 2023, and with you by our side, we know we can up our game once more. The UE Alumni Board of Directors has issued a philanthropic challenge! If, as one Aces family, we make 2,023 gifts to any UE project, they will gift $20,000 to the UEvansville Fund!
Sometimes philanthropy can feel too big for us as individuals. But when we join together, we can change the lives of countless others. That's why, at UE, everyone can be a philanthropist. Whether you can give $5 or $5,000, your gift will move the University of Evansville FORWARD into a bright and hopeful future.

To make a gift and help unlock the Alumni Board's challenge, please visit www.evansville.edu/give
Thank you and GO ACES!
Submitted by Jaime Wilder jw663@evansville.edu
The Menstrual Equity Club presents Jampon on April 2, 2023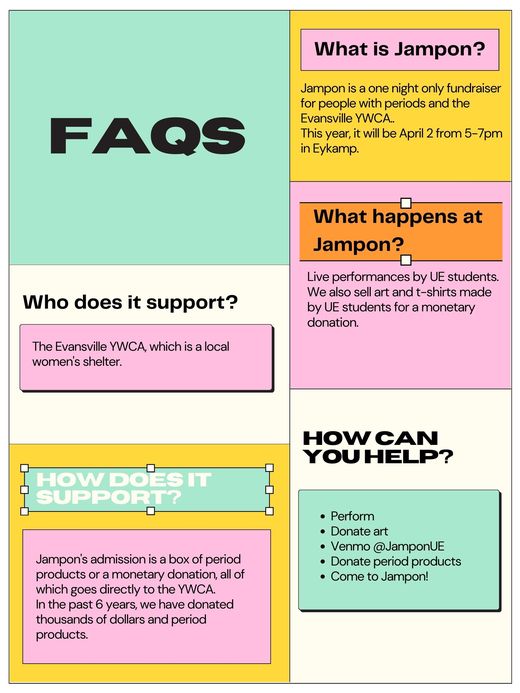 The Menstrual Equity Club will present Jampon- a Jam for Pads and Tampons at the University of Evansville campus on April 2, 2023. Jampon is a one-night-only fundraiser, cabaret, and presentation of art created by UE students that benefits the Evansville YWCA, a domestic violence shelter and outreach program.
Each year, Jampon collects donations of menstrual products and monetary donations for the YWCA through admission to the event. The event also seeks to normalize menstruation and raise awareness about period poverty, or, the inability to afford period products. UE students perform music, comedy routines, dance pieces, and other forms of performance art. Art made and donated by students is also available for purchase, with all proceeds going directly to the YWCA.
Jampon will be held in Eykamp Hall at 5 p.m. and will go on until 7 p.m. The cost of admission is one box of period products (ie. pads or tampons), or a monetary donation to the organization via either cash or Venmo. Art and t-shirts made by UE students will be available for purchase, and performances will occur for the entire duration. The performance lineup for this year includes a variety of musical performances as well as standup comedy. For those who cannot attend in person, a livestream will be available through Jampon's Instagram account, @JamponUE.
Submitted by Sophie Greenway sg231@evansville.edu
Student Art Exhibition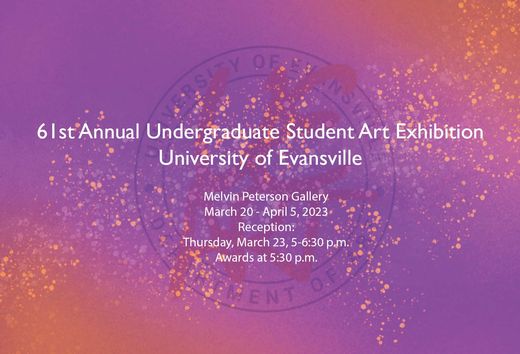 The 61st Annual Undergraduate Student Exhibition opens on March 20 through April 5, 2023 in the Melvin Peterson Gallery.
Please join us for the student awards reception on Thursday, March 23 in the Melvin Peterson Gallery from 5:00 pm - 6:30 pm.
Submitted by Carol McCraney cm177@evansville.edu
Senior Video Filming: Monday, March 27!
Class of 2023 graduates: do you want to be included in the senior video featured at Commencement? Don't miss your chance to be part of it!
Student Sarah Tuma, who is creating the 2023 senior video, will be set up outside Ridgway University Center on Monday, March 27, from noon until 2:00 p.m. She will be interviewing seniors with some basic questions (e.g., what will you miss most about UE?) that will then be featured in the video.
Make sure to stop by before or after your classes to be filmed!
Submitted by Julie Beer / jb855@evansville.edu
Blood Drive on March 27 in Eykamp
Give blood, help save lives!
UE Blood Drive
Monday, March 27
Eykamp Hall
UE's Center for Innovation & Change has partnered with the Red Cross and Alpha Phi Omega, our Co-Ed Service Fraternity, to help meet desperate need for blood in our community. Make plans now to donate blood on Monday, March 27, anytime between 7:00 a.m. and 6:00 p.m.!
To make your appointment, go to https://www.redcrossblood.org/ and type "UE" in the code or call 1-800-RED CROSS.
Submitted by Dina Willming / dw285@evansville.edu
Journey to Justice
Students, faculty, staff, and administrators are invited to participate in this year's Journey to Justice, a transformative 8 day Civil Rights bust tour of the south (June 10-17). Students have the option of earning course credit for Outcome 4: Engagement with fundamental beliefs about human identity, core values, and humankind's place in the world.. For more information, visit the Journey to Justice webpage or contact Dr. Valerie Stein at vs9@evansville.edu.
Submitted by Valerie Stein / vs9@evansville.edu
Solution Station Wednesday: Ready for Registration?
Registration is coming up! Are you all set? This week we'll have an Academic Advisor at the Solution Station this week to take your questions and help you make sure you're ready to go for registration. Thinking about changing a major or declaring a minor? We can help you get started on that! Do you need help with something and you're not sure who to go to on campus? Come by the Solution Station table in Ridgway this Wednesday from 11:00 AM to 1:00 PM and ask! If we don't know the answer, we'll know who does! We're here to help you find solutions to issues you're facing. Let us help.
Questions? Contact Chad Hart at ch299@evansville.edu.
Solution Station
Wednesday 3/22/2023
11:00 a.m. - 1:00 p.m.
Ridgway University Center
Submitted by Chad Hart / ch299@evansville.edu
Hamilton Pointe- on campus recruiting!
Thursday, March 23
10:30 a.m. - 1:30 p.m.
Ridgway University Center
A representative from The Village at Hamilton Pointe will be on campus Thursday, March 23 recruiting for open RN, LPN, QMA and CAN positions. Stop by Ridgway and look for their table if interested!
Submitted by Amanda Wood / aw505@evansville.edu
Latin American Dance Workshops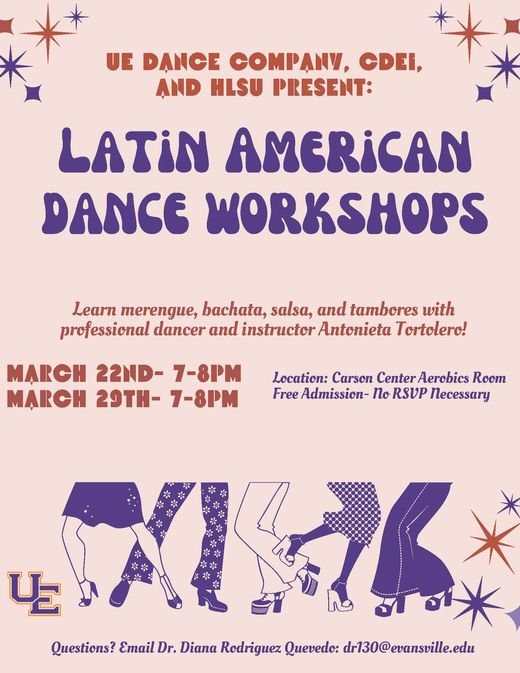 The UE Dance Company, the CDEI, and the Hispanic Latinx Student Organization (HLSU) invite students, staff, and faculty to learn to dance merengue, bachata, salsa, and tambores with professional dance instructor Antonieta Tortolero this Wednesday, March 22nd and next Wednesday, March 29th from 7-8pm in the aerobics room at the Carson Center. Free admission. No need to RSVP. Put on your dance shoes and join us on the dance floor! Questions - Email: Dr. Diana Rodríguez Quevedo: dr130@evansville.edu
Submitted by Diana Rodriguez Quevedo dr130@evansville.edu
Lunch Bunch
Faculty and staff, join us for chips and salsa at Lunch Bunch this Thursday, March 23rd from 12:00 p.m. to 1:00 p.m. in the Philips Alcove (Ridgway 2nd floor). No need to RSVP. Stay as little or as long as your schedule allows. There is no agenda or presentation for these gatherings. Lunch Bunch is a way to offer faculty and staff a common place to get together. We hope to see you this Thursday!
ECTE Team: Kyle, Stephanie & Diana
Submitted by Diana Rodriguez Quevedo dr130@evansville.edu
CDEI Upcoming Programming
CDEI has some amazing upcoming programs, and we hope to see you there! Head to UEngage or our Instagram @uediversity for more information as the date approaches!
4/5
6-7:30 pm Sexual Assault Awareness Month Panel
On Zoom
Panelist include individuals from the following organizations/ roles: Albion Fellows Bacon Center, Evansville Police Department, Indiana Tracking Victim Assistance Program, Vanderburgh County Deputy Prosecutor, Vanderburgh County Prosecutor, Sexual Assault Nurse Examiner
Please register for this meeting
4/10
12-1 pm Disability Awareness Month Keynote Speaker
On Zoom
Gregory S. Fehribach
Gregory S. Fehribach of Indianapolis, Indiana is principal of the Fehribach Group, a consulting firm specializing in accessibility, universal design, and compliance with the ADA that he founded in 1995. He is of counsel to the firm of Tuohy, Bailey, & Moore, LLP in Indianapolis and has practiced law for the past 30 years. Since 1988, Fehribach has served as a panel trustee for the U.S. Bankruptcy Court, Southern District of Indiana. In 2009, he was designated a Distinguished Fellow at Ball State University where he established The Disability Project, which was renamed the Gregory S. Fehribach Center on July 25th, 2019. Fehribach has served on the Ball State University Board of Trustees, the Indiana Governor's Planning Council for People with Disabilities, the Board of Directors of the Indianapolis Public Transportation Corporation, and the Marion County Health and Hospital Corporation Board of Trustees. He received a bachelor's degree and a master of arts degree from Ball State University and a law degree from Ohio Northern University's Pettit College of Law.
Please register for this meeting
If you have any questions, please email Center4DEI@evansville.edu
Submitted by Abagail Christine Catania ac532@evansville.edu
"Psychology and Investing": Video Conferencing by one of the most recognized scholars in finance during the last 50 years.
On March 29, 2023, H. Kent Baker, "University Professor" of Finance, American University, Washington DC, will be video conferencing with UE students in Smyth Hall at 4:00 p.m. The title of his presentation will be, "Psychology and Investing: Common Behavioral Biases of Investors." The Journal of Finance literature recognized him as among the top 1 % of the most prolific authors in finance during the past 50 years. Professor Baker has published over 210 peer-reviewed papers and authored 41 books. He has also provided consulting services to more than 100 organizations. Professor Baker is a professional musician who plays five instruments. He has taught, recorded, toured, and played in numerous rock, jazz, and other musical groups. The event is open to public.
Submitted by Walayet Khan wk3@evansville.edu
University of Evansville Andiron Lecture by Sara Petrosillo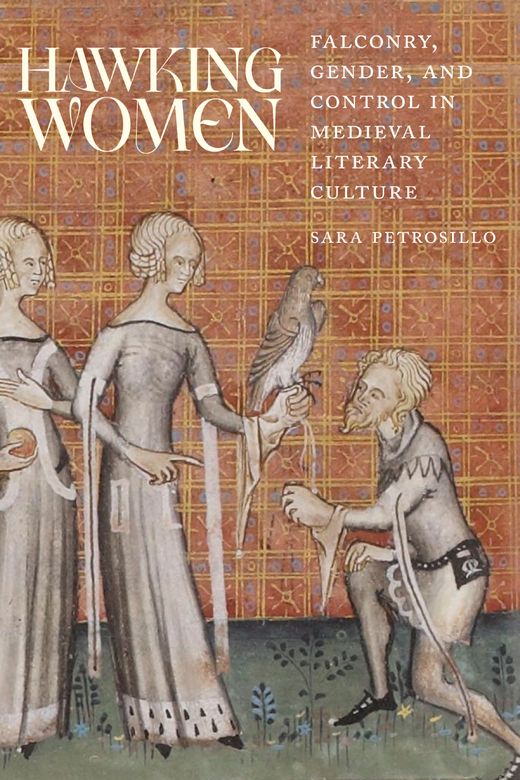 The next University of Evansville Andiron Lecture,
Hawking Women: Falconry, Gender, and Control in Medieval Literary Culture,
will take place Wednesday, March 22, 2023 at 5:00 p.m.
This will be at Room 162 (Harkness Hall) at the Schroeder Family School of Business Administration Building
Sara Petrosillo, PhD, is an Assistant Professor of English at the University of Evansville. She earned her PhD in Literature from the University of California, Davis and a Bachelor of Arts in English and Italian from Colby College. Her research and teaching interests include medieval and early modern literature, feminist theories, medieval manuscript studies, poetics, and critical animal studies. She has published essays in medieval, early modern, and theory journals and in a book on animals in medieval literature. Her book, Hawking Women: Falconry, Gender, and Control in Medieval Literary Culture, was published in 2023.
Women in the Middle Ages claimed the symbol of a hawking woman on their personal wax seals, trained and flew hawks, and wrote and read books featuring female falconers. In this talk debuting her book Hawking Women, Petrosillo demonstrates how cultural literacy in the medieval art of falconry challenged patriarchal control. In the avian hierarchy female hawks have always been the default and the dominant. What happens when women, who occupy a subordinate position in the human hierarchy, spend time with their hawk counterparts? In our current climate of mass discrimination against women, this interspecies medieval model contains lessons about how women resisted in a culture of training and control.
Submitted by Cheryl Emmons ce36@evansville.edu
Mixed-Media Marriage Exhibit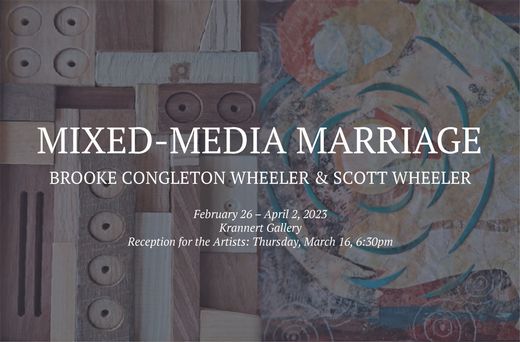 The Krannert Gallery will host the Mixed-Media Marriage exhibit by artists Brooke Congleton Wheeler & Scott Wheeler from February 26 - April 2, 2023. Please join us for the artists reception on Thursday, March 16 at 6:30 p.m. in the Krannert Gallery.
Submitted by Carol McCraney cm177@evansville.edu
ChangeLab STAT 300 - Data in the Real World
STAT 300 / ChangeLab 300 - Data Analysis in the Real World
Do you want to challenge yourself in data analytics ChangeLab by working on a real-world project?
If so, join us at the ChangeLab in Fall 2023. We will have enough tasks if you have elementary, intermediate, or
advanced data analytics skills. You will work on the project in a team supervised by a coach. Your project management,
teamwork, professional interaction, and presentation skills will be developed.
If you have any questions or want to know more about the ChangeLab, please contact Dr. Omid Khormali via email
ok16@evansville.edu.
Submitted by Stacey Beard / sb454@evansville.edu
Submit Your Favorite Photos for UE's Photography Exhibit
The 2023 UE Photography Exhibition is scheduled for April 10-May 5, and the Department of Art is seeking entries for submission! Photography will be on display in the Krannert Gallery. Active and retired employees of UE as well as trustees are invited to present their work.
The photography requirements are as follows:
• Items should be matted, framed, and suitable for hanging in the Krannert Gallery.
• Photos may be no larger than 16x20".
• On the back of each submission you must provide your name, current/former department, email address, and a title for your image (date and location if appropriate).
• Work not previously submitted can be accepted.
Items will be accepted between April 3-6 in the Department of Art office (FA 212).
A reception will be held on Wednesday, April 12, from 4:30 p.m. – 6:00 p.m. in the Krannert Gallery, and the campus community is encouraged to attend. This special event will honor Professor Emeritus Hanns Pieper, PhD, the UE Photography Exhibition's founder.
Please join us in celebrating this tradition of displaying meaningful work created by our own campus community!
If you have questions. Please contact Carol McCraney, Administrative Assistant for the Department of Art, at cm177@evansville.edu.
Submitted by Carol McCraney cm177@evansville.edu
Health Careers Forum- Register TODAY
Join us next week for the Health Careers Forum, presented to you by The Center for Career Development and the UE Exercise Sciences Club. We will offer a panel of health care professionals for a Q&A followed by time for networking. This is a great opportunity to talk to multiple professionals in a variety of health care fields.
Wednesday, March 29
6:00pm-8:00pm
Eykamp Hall, RUC
Register for this event in Handshake!
Questions? Contact the Center for Career Development at career@evansville.edu or 812-488-1083.
Submitted by Amanda Wood aw505@evansville.edu
Chartwells Focus Group: Earn $25 AceBucks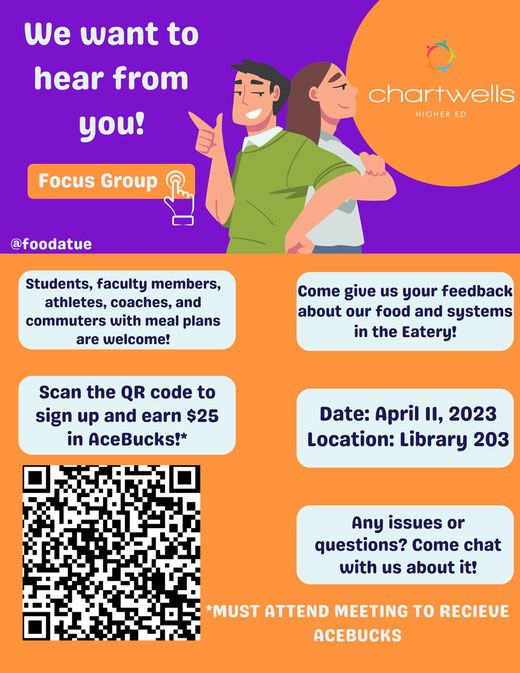 Earn free $25 Ace Bucks by signing up for our feedback focus group! Coaches, Staff, Students, and Commuters are welcome. Join us in the Library, Room 203, on April 11 to give us your feedback and questions about the dining services and food on campus! (Must attend the meeting to earn AceBucks)
Submitted by Ka'Bria Carr kc403@evansville.edu
ETH 201 and REL 120 Summer Online Course (Outcome 4)
ETH 201 Comparative Religious Ethics (Outcome 4) and REL 120 Religion in America (Outcome 4 AND Writing Across the Curriculum) will be offered asynchronously online for the second summer session (June 19-July 21). For information contact Dr. Valerie Stein (vs9).
Submitted by Valerie Stein / vs9@evansville.edu
BIOL 107 (GEN ED Lab Science) Offered Summer 1
Biology 107 (4 cr) will be offered asynchronous online this summer session 1. The lab component will be online as well utilizing web-based simulations. This course satisfies lab science General Education credit (Outcome 8). All majors are welcome! If you have any questions, please contact Dr. Gordon at ng62@evansville.edu.
Submitted by Noah Gordon / ng62@evansville.edu
PSYC 121 Offered During Summer Session 2
PSYC 121 (Introduction to Psychology) will be offered during Summer Session 2 as an online, asynchronous class. If you have questions about this 3 credit hour course, which will run from June 19-July 21, please contact Prof McCracken via email – em157@evansville.edu.
Submitted by Evan McCracken / em157@evansville.edu
PSYC 229 Offered During Summer Session 1
PSYC 229 (Social Psychology) will be offered during Summer Session 1 as an online, asynchronous class. If you have questions about this 3 credit hour course, which will run from May 15-June 16, please contact Prof McCracken via email – em157@evansville.edu.
Submitted by Evan McCracken / em157@evansville.edu
Evansville Water & Sewer Conducting Cleaning in the Area
Sewer Cleaning Notice: Campus Wide
Questions or Concerns Regarding this Work:
Contact Facilities Management, 812-488-2775
Affected Dates:
March 20 through April 11
Description of Work:
Evansville Water & Sewer Utility previously announced plans to conduct sewer cleaning in the university area. The exact time frame for beginning the work was unspecified. Facilities has been informed that yellow work signs have been placed near campus. The preventative cleaning and maintenance are supposed to take a few weeks to complete. During the process, a nozzle will be inserted in the sewer lines to internally pressure-wash the system. Look for yellow cleaning construction signs to be placed in locations where cleaning is to be done approximately two to four days in advance.
Impacts for Campus:
The washing of the lines can occasionally create "burping" sounds as air is attempting to escape the system during the process. You may notice an odor from the sewer, and in rare cases some water may splash out of drains.
Action(s) Required:
• Please use caution near cleaning crews, equipment, and activity.
• Please be aware of any posted signage and do not enter any barricaded areas.
Thank you for your patience as work is done to maintain our beautiful campus.
To report a facilities emergency, call (812) 488-2775.
Submitted by Karen McDonald km598@evansville.edu
New Employee Headshots
Are you a new employee in need of a headshot? There will be an opportunity for headshots on Thursday, March 23, at 3:45 p.m. If you are able to stop by at this time and would like to have your photo taken, please contact Julie Beer, Assistant Director of Marketing and Communications, at jb855@evansville.edu.
Submitted by Julie Beer / jb855@evansville.edu
ENGL 210: Approaches to Literature Summer Course
ENGL 210: Approaches to Literature fulfills two General Education requirements: Outcome 2 and Writing Across the Curriculum. This course engages students in the analytic reading and writing that characterize the field of literary studies. Students will read intensively in multiple literary genres (e.g. poetry, short fiction, the essay, drama, memoir, and the novel), and will develop writing skills appropriate to the discipline. Two sections of this course will be offered online asynchronously during Summer Session 1 (May 15-June 16). Sections tend to fill quickly, so consider signing up early.
Submitted by Sara Petrosillo sp220@evansville.edu
Habitat for Humanity Barn Blitz
Barn Blitz is an event where UE students team up with the local Habitat chapter to build yard barns for community members who have received Habitat homes.
This year's Barn Blitz will take place on April 22 at 9:00am in the parking lot behind the Evansville Habitat for Humanity (560 E Diamond Ave. Evansville, IN). Our goal is to have 20 teams, each made up of 6-8 people, so that we can build 20 barns.
Attached is the link to the signup genius for Barn Blitz teams. If you are part of an organization, it would be greatly appreciated if you could encourage them to create a Barn Blitz team!
https://www.signupgenius.com/go/10C0E4EADA62DA6F8C52-habitat1
There are still some Friday & Saturday workdays leading up to Barn Blitz that we need volunteers for too. These are being utilized as workdays to build components for the barns.
https://www.signupgenius.com/go/10c0e4eada62da6f8c52-habitat#/
We will be sending out more information closer to the date of Barn Blitz. Feel free to reach out to is63@evansville.edu with any questions.
Submitted by Izzy Stapp is63@evansville.edu
Student Leaders Needed
College Mentors for Kids is a great organization on UE's campus that matches UE student volunteers with a student from a local elementary school. Elementary students travel to UE one day a week to meet with their UE student mentor, participate in a community service activity, learn about careers and professions by visiting areas on campus, and receive ongoing encouragement and inspiration from a UE student about the importance of education and giving back to their community. We're looking for student leaders to organize and lead this program for the 2023-2024 academic year. If you are interested, please contact Dr. Lisa Hale at lh241@evansville.edu or Carly Cox at ccox@collegementors.org for more information. Make a difference, volunteer to mentor!
Submitted by Lisa Marie Hale lh241@evansville.edu
ES 103 Offered During Summer Session 2
ES 103 (Fundamentals of Environmental Science), which fulfills the non-lab science General Education credit (Outcome 8), will be offered during Summer Session 2 as an online, asynchronous class. If you have questions about this 3 credit hour course, which will run from June 19-July 21, please contact Dr. Aldred via email – ka59@evansville.edu
Submitted by Katie Aldred ka59@evansville.edu
National Survey of Student Engagement (NSSE)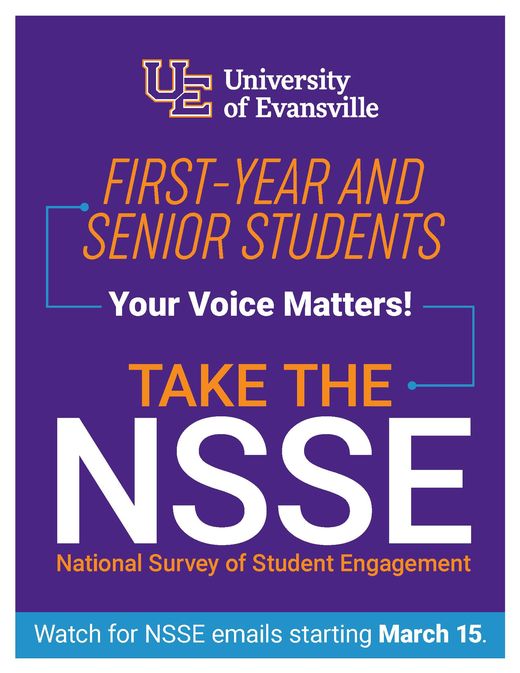 FIRST-YEAR AND SENIOR STUDENTS - Your Voice Matters! Take the National Survey of Student Engagement (NSSE). Watch for NSSE emails starting March 15.
In appreciation for participating, all students who complete the survey by April 14 will be entered into a drawing for one of two Apple Watches (each valued at approximately $280.00) and one of four sets of JBuds Air earbuds (each valued at approximately $70.00). One first-year student and one senior-year student will be selected for the Apple Watches. Two first-year students and two senior-year students will be selected for the earbuds. Students may receive only one item. Your chances of winning depend on how many complete the survey; 965 students were invited to participate.
Submitted by Paula Heldt ph28@evansville.edu
Employee - UE Mobile Mammography Services
Employees - Ascension St. Vincent is providing mobile mammography services for the University of Evansville. The mobile mammography bus will be located next to the Krannert Building on April 13th from 9:00AM - 2:00PM. Please click the link below to sign up for an appointment time! An Ascension Breast Center representative will call you prior to your appointment date to verify all necessary registration information.
Submitted by Haley Walker hw164@evansville.edu
Employee Volunteers Needed for CDEI Masquerade Ball 2023
It is that time of year again! The CDEI is welcoming back the second annual Prom, but this time it is a Masquerade Ball! Last year we welcomed over 150 students to Prom and this year we are hoping that number will grow!
In partnership with Student Activities Board and Black Student Union we will be hosting Masquerade Ball on Saturday, April 1st from 8:00pm- 11:30pm with the After Party taking place from 12:00am- 2:00am at SkyZone Evansville or the Family Entertainment Center in Newburgh!
We are seeking employee volunteers to help so that our students can focus on having a night of dancing and fun before the busy season!
If you are interested in signing-up to volunteer, please fill out this form: https://forms.microsoft.com/r/ZS54HG8KvD
If you have any questions, please reach out to Abagail Catania at ac532@evansville.edu
Submitted by Abagail Christine Catania ac532@evansville.edu
Seeking financial Aid for summer courses?
UE students seeking financial aid or intending to use loan funds for summer courses at UE, please complete a Summer Financial Aid Application and return to the Office of Student Financial Services (Olmsted 105) however is most convenient. The application will allow our office to assess your financial aid and loan eligibility.
Work-Study:
On-campus jobs are available for continuing UE students during the summer. You do not need to be eligible for need-based Federal Work-Study during the academic year in order to apply. You may also apply regardless of your enrollment in summer courses. Applications will be available within the Student Employment area of WebAdvisor.
Submitted by Amy Sowders as560@evansville.edu
Employer Tuition Reimbursement Program for Students
We are pleased to coordinate employer tuition reimbursement as a service to our students and our community. Employer Tuition Reimbursement Programs are offered by many companies to assist employees with full- or part-time tuition reimbursement benefits. Programs and eligibility vary by company, so check with your employer to see if you may be eligible. For more information regarding UE Employer Tuition Reimbursement please contact the Office of Student Financial Services at 812-488-2565:
Submitted by Melissa Baker mb527@evansville.edu
Advertise in the Crescent Magazine
CRESCENT MAGAZINE is committed to helping you bring your products and services to University of Evansville students and the UE campus community to meet your advertising needs.
CRESCENT MAGAZINE is published 4 to 6 times during the academic year, beginning in September 2023 and ending with the April 2024 issue. Printed issues circulation is 1,200, with distribution to 18 campus locations. 1 -3 print issues will be produced each semester. The number of print issues may vary. Every production has a digital issue hosted on the Crescent website. Crescent.evansville.edu In addition to your print ad, included with your purchase is a smaller version of your ad that is posted on Crescent Magazine's Facebook and Instagram page, and Twitter feed. Posts coincide with the month where you have placed advertising with the magazine. Your ad is cycled from the publication date until the next month's cycle of ads begins. For an additional charge your ad can be designed for web placed on our website in prominent positions with your website link in an appropriate call to action.
Submitted by Tommy Housman th208@evansville.edu
Circle K Prom Volunteers Needed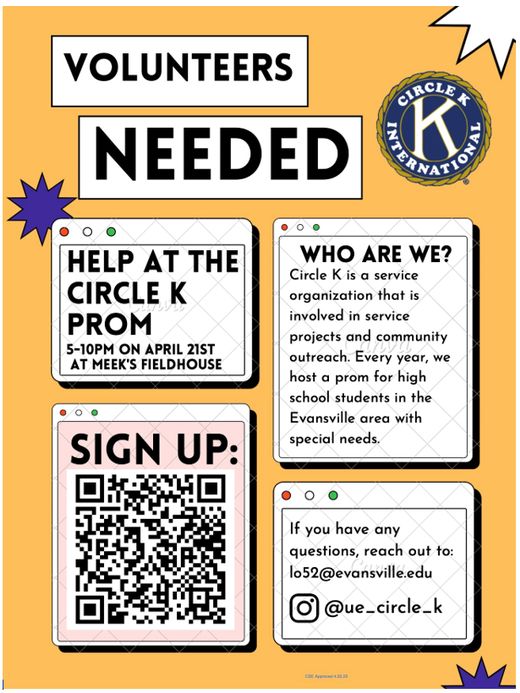 Circle K will be hosting a prom for the local high school students in the special education programs. You must have a completed background check and complete a short training on blackboard. It is on April 21st from 5-10pm and the deadline to sign up is March 24th. Fill out the google form if you are interested and we will provide you with all the information you need!
Submitted by Elizabeth McCook em310@evansville.edu
Computer Science Students participate in the International Collegiate Programming Contest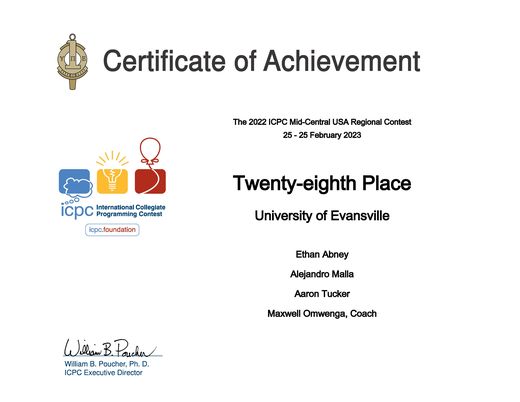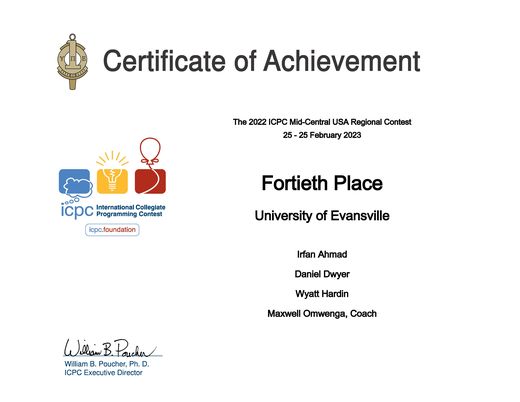 Two teams from the School of Engineering and Computer Science participated in the 2022 International collegiate Programming Contest (ICPC) Mid-Central USA Regional Contest on February 25. Six Computer Science students, Ethan Abney, Irfan Ahmad, Daniel Dwyer, Wyatt Hardin, Alejandro Malla, and Aaron Tucker formed the two teams. The teams placed 28th and 40th out of 100 teams competing. Congratulations to our students on their achievement!
Submitted by Tonya Albright ta58@evansville.edu
Diana Rodríguez Quevedo presents paper
Diana Rodríguez Quevedo, associate professor of Spanish, gave a paper at the XXXII Congreso Internacional de Literatura y Estudios Hispánicos on Friday, March 10th in Cartagena, Colombia. Her paper, titled "Antígona: protagonizando paz y memoria en Colombia," was an analysis of a play written and performed by women victims/witnesses/survivors of violence in Colombia. This paper was part of a panel that focused on the character Antigone in modern day Latin America.
Submitted by Diana Rodriguez Quevedo dr130@evansville.edu
Psychology major, Emma Fergus, presents at the American Psychology-Law Society conference
Psychology major, Emma Fergus, recently presented a working law review titled, "Can't punish an object: [Meta]Dehumanization, corporal punishment, and International Human Rights" at the American Psychology-Law Society annual conference in Philadelphia, PA, with co-author Professor Evan McCracken.
Specifically, the law review details that despite overwhelming evidence suggesting corporal punishment leads to negative consequences for children (e.g., depression, anxiety) – its use is still legal within the United States. In this legal analysis, we focused on obligations State Parties have under existing international human rights treaties (e.g., the Convention on the Rights of the Child), and analyzed whether the international community is fulfilling these requirements. To support this analysis, we reviewed a psychological process allowing for the continuation of corporal punishment – [meta]dehumanization. This analysis argues to successfully end corporal punishment internationally, children must first be perceived as human.
Submitted by Evan McCracken em157@evansville.edu
Biology students present research at international conference
Biology students Charlie Watts ('23) and Makayla Gomperts ('24) presented their research at the 64th Annual Drosophila Research Conference March 1-5, 2023 in Chicago, IL. Charlie's talk and poster presentation were titled "The creation of a null allele of Clipper and investigation of its role in Drosophila melanogaster oogenesis". Makayla's poster presentation was titled "Sar1, a GTPase involved in COPII vesicle trafficking, is critical for Drosophila oogenesis". Both projects are under the guidance of Dr. Julie Merkle in the Department of Biology.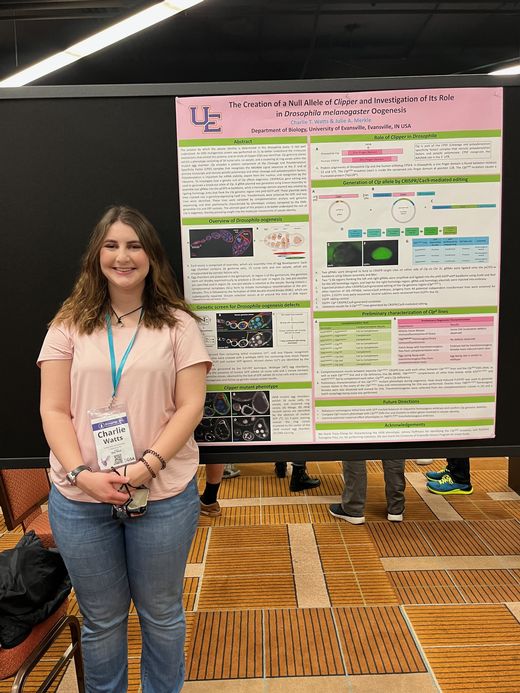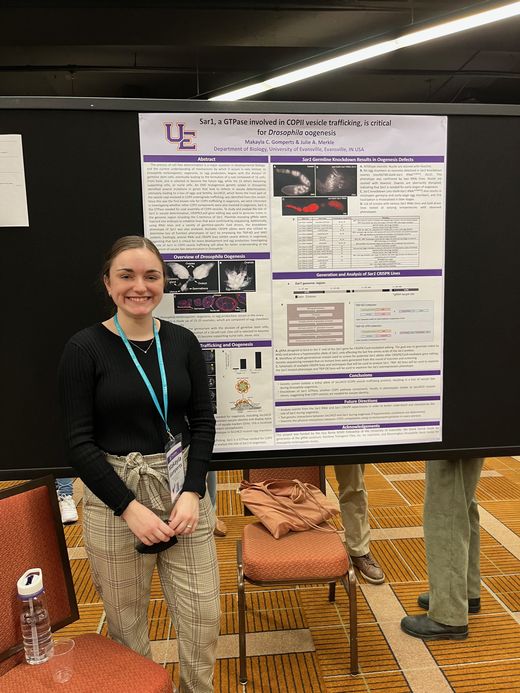 Submitted by Julie Merkle jm757@evansville.edu
Women's golf finishes second at Nevel Meade Collegiate
Helped by Mallory Russell's 2-over 74, the University of Evansville women's golf team finished in second place in the Nevel Meade Collegiate at Nevel Meade Golf Course.
As a team, the Purple Aces shot a 308 on Tuesday to finish the 36-hole event with a 609. Central Michigan took top honors with a 602. UE came in eight strokes ahead of third-place Dayton.
Leading the way for the Aces was Mallory Russell. A second-round score of 74, coupled with an even 72 in round one, gave her a 146 for the tournament. She came in second place, just two strokes behind medalist Casilda Allendesalazar of the Chippewas.
Allison Enchelmayer came home in a fifth-place tie. After posting a 72 on Monday, she carded a 77 in round two to finish with a 149. Also earning a top ten finish for UE was Kate Petrova. She opened play with a 76 before lowering her score by one in the second round, shooting a 3-over 75. Her 151 was tied for 8th place.
Alyssa McMinn was fourth on the squad. Her totals finished at 81 and 82. Her total of 163 was tied for 43rd. Magdalena Borisova checked in with rounds of 83 and 86 to complete the tournament with a 169. Caitlin O'Donnell followed up her opening day tally of 83 with a round of 85 on Tuesday. She wrapped up the weekend with a 168.
Next week, the ladies travel to Pawley's Island, S.C. for the Golfweek/AGT Intercollegiate.
Submitted by Athletics
Baseball Aces Head To SIUE Wednesday
The University of Evansville baseball team will put its five-game winning streak on the line on Wednesday night, as the Purple Aces will travel west to Edwardsville, Illinois to take on the SIUE Cougars at Roy E. Lee Field at Simmons Baseball Complex. First-pitch is set for 5 p.m. and the game can be heard on-line through SIUECougarNetwork.com.
Evansville will bring a 12-7 overall record into Wednesday night's contest. The Purple Aces have won five-straight and 12 of the last 14 games overall after sweeping a weather-shortened two-game series from Purdue over the weekend. Junior catcher Brendan Hord (Lexington, Ky./Paul L. Dunbar) led UE offensively over the weekend with a .556 average, as he went 5-for-9 with a pair of doubles and two RBI in the two contests against Boilermakers.
Overall, fifth-year first baseman Chase Hug (Indianapolis, Ind./Pike/Olney Central) continues to lead UE offensively with a .431 batting average and a .602 on-base percentage. Hug entered the week ranked second in NCAA Division I baseball in terms of on-base percentage, and he has reached base in all 19 games this year and 25-straight games overall dating back to last season.
Graduate student Jarrett Blunt (Ottumwa, Iowa/Univ. of Omaha) is expected to get the start on the mound for UE on Wednesday night. Blunt will be making his second start of the year, and will bring a 2-0 overall record and 2.00 ERA into Wednesday's game. He is expected to be opposed by SIUE grad student Taylor Bruninga (1-0, 4.76 ERA). Bruninga actually started his collegiate career as a basketball player at Illinois State, and averaged 4.3 points per game in four career games against Evansville for the Redbirds.
UE leads the all-time series over SIUE, 19-10. The Purple Aces have won two-straight in the series, including a 17-10 game played at UE's German American Bank Field at Charles H. Braun Stadium last May. Fifth-year outfielder Danny Borgstrom led UE by going 3-for-5 with a home run and three RBI in the contest last May, and Borgstrom has hit safely in his last nine career games against OVC competition.
Submitted by Athletics
Contribute to AceNotes
To have content considered for inclusion in AceNotes, please submit a Marketing Request Form. Deadline for submission to AceNotes is 10:00 a.m. on the requested date of publication. Only articles concerning UE related/sponsored activities will be accepted. Articles submitted to AceNotes may be edited for length and clarity. Submitter contact information is at the end of each article.