| | |
| --- | --- |
| AceNotes Today | Tuesday, March 21, 2023 |
Pep and Vim/Reunion Weekend
Alumni Awards Dinner is Saturday, April 15, 2023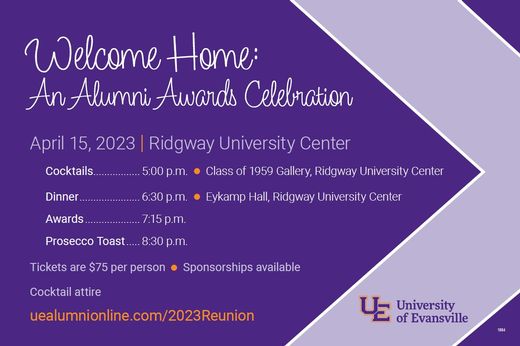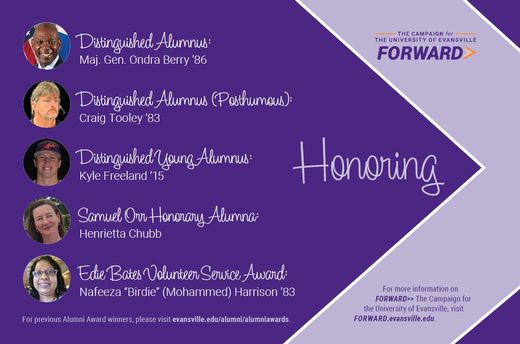 Welcome Home: An Alumni Awards Celebration
April 15, 2023 – Ridgway University Center
Cocktails 5:00 p.m. Class of 1959 Gallery, Ridgway University Center
Dinner 6:30 p.m. Eykamp Hall, Ridgway University Center
Awards 7:15 p.m.
Prosecco Toast 8:30 p.m.
Tickets are $75 per person.
Sponsorships available.
Cocktail Attire
Register here! (use link uealumnionline.com/2023Reunion)
Honoring:
Distinguished Alumnus Maj. Gen. Ondra L. Berry '86

Distinguished Alumnus (Posthumous)

Craig Tooley '83

Distinguished Young Alumnus Kyle Freeland '15

Samuel Orr Honorary Alumna

Henrietta Chubb

Edie Bates Volunteer Service Award Nafeeza "Birdie" (Mohammed) Harrison '03
Submitted by Jaime Wilder / jw663@evansville.edu
Penny Wars is Coming!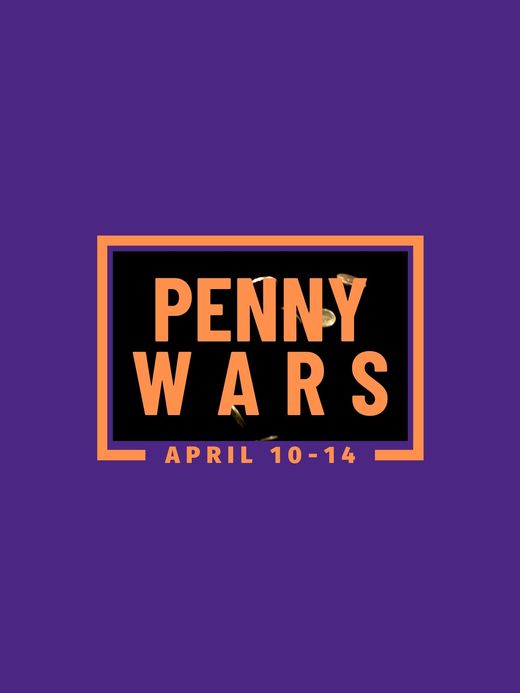 Start saving your loose change! Penny Wars is coming, and we need your help to raise funds for the UESAA Scholarship. This scholarship is sponsored every year by the generosity of the campus community through the annual Penny Wars competition. Of course, Penny Wars wouldn't be complete without a little competition. The College of Business and Engineering took Pep, the golden squirrel, home last year. Will Dr. Brockman be able to hold onto Pep this year?
Submitted by Jaime Wilder / jw663@evansville.edu
UEAAA Leadership Conference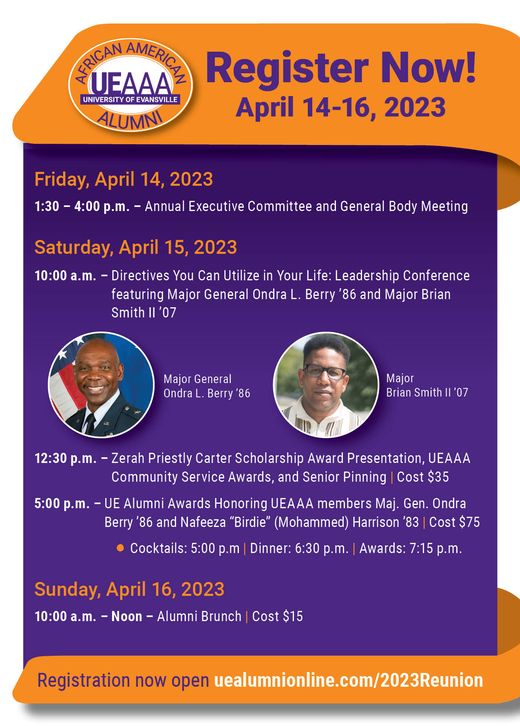 Friday, April 14, 2023
1:30 – 4:00 p.m. Annual Executive Committee and General Body Meeting
Saturday, April 15, 2023
10:00 a.m. Directives You Can Utilize in Your Life: Leadership Conference featuring Major General Ondra L. Berry '86 and Major Brian Smith II '07
12:30 p.m. Zerah Priestly Carter Scholarship Award Presentation, UEAAA Community Service Awards, and Senior Pinning Cost $35
5:00 p.m. UE Alumni Awards Honoring UEAAA members Maj. Gen. Ondra L. Berry '86 and Nafeeza "Birdie" (Mohammed) Harrison '83 Cost $75
• Cocktails; 5:00 p.m. Dinner; 6:30 p.m. Awards; 7:15 p.m.
Sunday, April 16, 2023
10:00 a..m. – Noon Reunion Brunch Cost $15
Register Now! (use link uealumnionline.com/2023Reunion)
Submitted by Jaime Wilder / jw663@evansville.edu
Pep and Vim Virtual 5K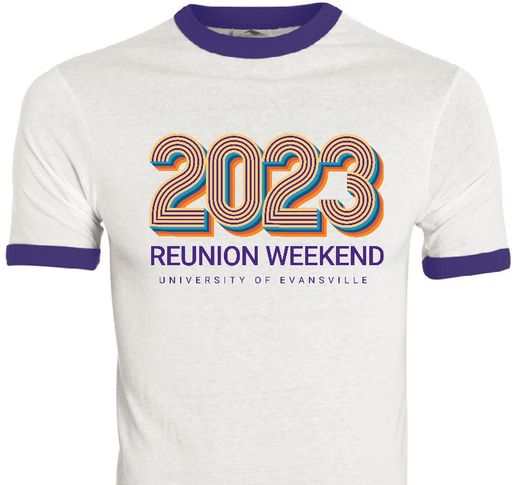 UE Alumni and Engagement is hosting a virtual 5K run/walk to promote a healthy lifestyle. By participating in our Day of Giving Virtual 5K, you'll also be giving back to our beloved university.
The 5K can be completed indoors or outdoors between April 1 and April 15. Participants will enter their times online. All participants will receive an exclusive Pep and Vim t-shirt if registered by March 31*. Register here!
The $35 race fee includes a gift to the UEvansville Fund and will also count towards the 2,023 gifts needed to unlock the Alumni Board's $20,000 Pep and Vim Challenge Gift!
On Friday, April 14, Day of Giving, post a video or picture wearing your Pep and Vim t-shirt on social media using #AcesGiveBack and #FORWARD to help spread the word.
Be sure to stay tuned – Pep and Vim is all about inspiring change, so we will be rolling out many different philanthropic opportunities that may ignite your UE passion. Together, with Day of Giving, we can make an impact on the lives of our students and the university.
If you have any questions, please contact alumni@evansville.edu.
Go Aces!
*Registrations will be accepted after March 31, but we cannot guarantee the arrival of the Pep and Vim t-shirt by April 14.
Submitted by Jaime Wilder jw663@evansville.edu
Pep and Vim, the UE Annual Day of Giving, is April 14, 2023 – Click to learn more!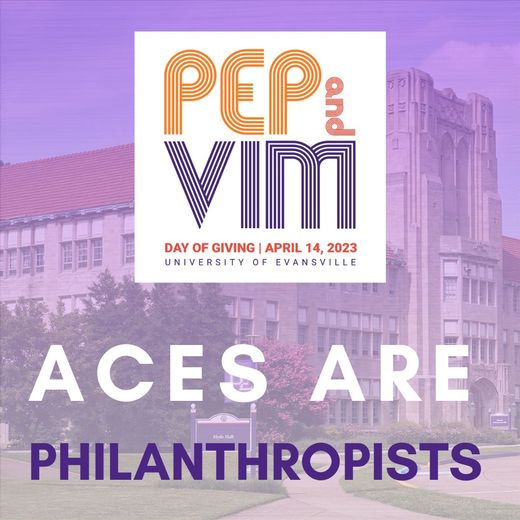 First created by a UE alumnus, "Pep and Vim," UE's Annual Day of Giving, was brought to life in 2012. We shouted our school spirit from the rooftops, and we were honored that the Aces community responded to our first Pep and Vim by making 250 philanthropic gifts that totaled over $5,000.

Flash forward to April 2022, Pep and Vim's 10-year anniversary, and you can see how UE's Day of Giving has grown over the last decade. Over 2,000 gifts were made to the university, totaling over $400,000. Gifts came in from 44 states, providing opportunities for growth within all 3 academic colleges on campus, as well as for Harlaxton College and UE Athletics.
Now it's time for Pep and Vim 2023, and with you by our side, we know we can up our game once more. The UE Alumni Board of Directors has issued a philanthropic challenge! If, as one Aces family, we make 2,023 gifts to any UE project, they will gift $20,000 to the UEvansville Fund!
Sometimes philanthropy can feel too big for us as individuals. But when we join together, we can change the lives of countless others. That's why, at UE, everyone can be a philanthropist. Whether you can give $5 or $5,000, your gift will move the University of Evansville FORWARD into a bright and hopeful future.

To make a gift and help unlock the Alumni Board's challenge, please visit www.evansville.edu/give
Thank you and GO ACES!
Submitted by Jaime Wilder jw663@evansville.edu
Blood Drive on March 27 in Eykamp
Give blood, help save lives!
UE Blood Drive
Monday, March 27
Eykamp Hall
UE's Center for Innovation & Change has partnered with the Red Cross and Alpha Phi Omega, our Co-Ed Service Fraternity, to help meet desperate need for blood in our community. Make plans now to donate blood on Monday, March 27, anytime between 7:00 a.m. and 6:00 p.m.!
To make your appointment, go to https://www.redcrossblood.org/ and type "UE" in the code or call 1-800-RED CROSS.
Submitted by Dina Willming / dw285@evansville.edu
Journey to Justice
Students, faculty, staff, and administrators are invited to participate in this year's Journey to Justice, a transformative 8 day Civil Rights bust tour of the south (June 10-17). Students have the option of earning course credit for Outcome 4: Engagement with fundamental beliefs about human identity, core values, and humankind's place in the world.. For more information, visit the Journey to Justice webpage or contact Dr. Valerie Stein at vs9@evansville.edu.
Submitted by Valerie Stein / vs9@evansville.edu
Solution Station Wednesday: Ready for Registration?
Registration is coming up! Are you all set? This week we'll have an Academic Advisor at the Solution Station this week to take your questions and help you make sure you're ready to go for registration. Thinking about changing a major or declaring a minor? We can help you get started on that! Do you need help with something and you're not sure who to go to on campus? Come by the Solution Station table in Ridgway this Wednesday from 11:00 AM to 1:00 PM and ask! If we don't know the answer, we'll know who does! We're here to help you find solutions to issues you're facing. Let us help.
Questions? Contact Chad Hart at ch299@evansville.edu.
Solution Station
Wednesday 3/22/2023
11:00 a.m. - 1:00 p.m.
Ridgway University Center
Submitted by Chad Hart / ch299@evansville.edu
Hamilton Pointe- on campus recruiting!
Thursday, March 23
10:30 a.m. - 1:30 p.m.
Ridgway University Center
A representative from The Village at Hamilton Pointe will be on campus Thursday, March 23 recruiting for open RN, LPN, QMA and CAN positions. Stop by Ridgway and look for their table if interested!
Submitted by Amanda Wood / aw505@evansville.edu
Last chance to register! Speed networking Event is TONIGHT!
Need to fine tune your interview skills? Graduating in May and still seeking full time employment? Looking for a summer job? This is the event for you! Interview with multiple employers in one night, many of them hiring for full time and/or summer positions.
Tuesday, March 21
6 p.m. - 8:30 p.m.
Eykamp Hall, Ridgway University Center
See a full list of participating employers in Handshake where you can also register for the event! Questions? Contact the Center for Career Development at career@evansville.edu or 812-488-1083.
Submitted by Amanda Wood / aw505@evansville.edu
Latin American Dance Workshops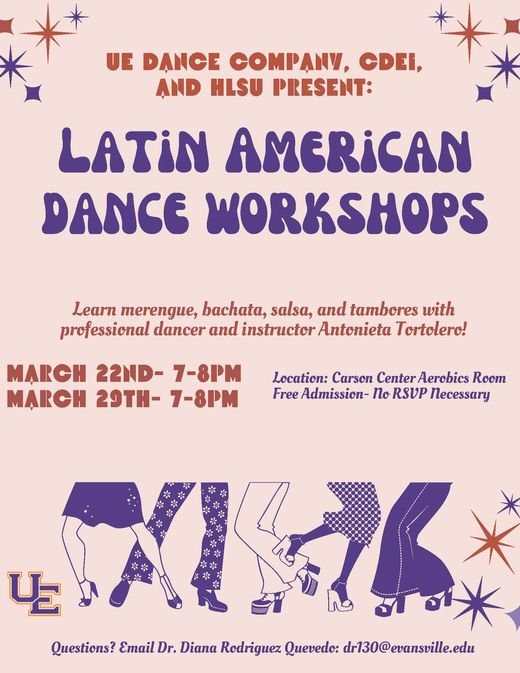 The UE Dance Company, the CDEI, and the Hispanic Latinx Student Organization (HLSU) invite students, staff, and faculty to learn to dance merengue, bachata, salsa, and tambores with professional dance instructor Antonieta Tortolero this Wednesday, March 22nd and next Wednesday, March 29th from 7-8pm in the aerobics room at the Carson Center. Free admission. No need to RSVP. Put on your dance shoes and join us on the dance floor! Questions - Email: Dr. Diana Rodríguez Quevedo: dr130@evansville.edu
Submitted by Diana Rodriguez Quevedo dr130@evansville.edu
Lunch Bunch
Faculty and staff, join us for chips and salsa at Lunch Bunch this Thursday, March 23rd from 12:00 p.m. to 1:00 p.m. in the Philips Alcove (Ridgway 2nd floor). No need to RSVP. Stay as little or as long as your schedule allows. There is no agenda or presentation for these gatherings. Lunch Bunch is a way to offer faculty and staff a common place to get together. We hope to see you this Thursday!
ECTE Team: Kyle, Stephanie & Diana
Submitted by Diana Rodriguez Quevedo dr130@evansville.edu
UE Music Presents Diversity Matters Concert
Music and Reflections with Tuba and Piano- Bet you didn't see that coming…! An Evening with UNM Professors Richard Antoine White and Pamela Viktoria Pyle, aka Diversity Matters

This unusual duo of tuba and piano presents diverse musical offerings and shares insights into what makes music the world's universal language.

Come share an emotional journey as they explore music from around the world with classical dances, lyrical romances, and Brazilian rhythms. Complemented by historical background on the music, as well as stories about life from the practice room to the stage. The evening promises to be heartfelt and uplifting.

The concert will be held Tuesday, March 21, at 7:30 p.m. in Wheeler Concert Hall.
Submitted by Amy Esche ae128@evansville.edu
Student Masquerade Ball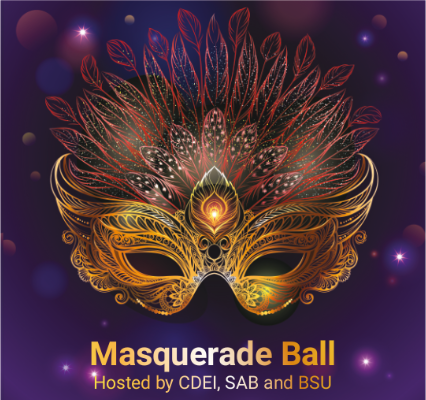 Save the date and buy the fits! CDEI, BSU and SAB are bringing you Masquerade Ball 2023! Let's dance the night away and end the semester with a boom!
April 1st, 8pm
Masquerade Ball: Eykamp Hall- Free
After Party: SkyZone Evansville- $5.00 or 1 bag of feminine hygiene products
*there will be a shuttle to take people from UE to Skyzone!
Theme: Black, Gold, and Red
Attire: Semi-formal
UE, UE Guests, USI and Ivy Tech students are invited!
UE Guests must be registered via UEngage and Eventbrite
USI and Ivy Tech students must be registered via Eventbrite
As it is Wom_n's History Month, we will be hosting a feminine hygiene product drive in exchange for free after party tickets. Bring a full bag to the Ball or get your ticket ahead of time during tabling hours during the week!
All donations will be donated to a local charity
Submitted by Abagail Christine Catania ac532@evansville.edu
University of Evansville Andiron Lecture by Sara Petrosillo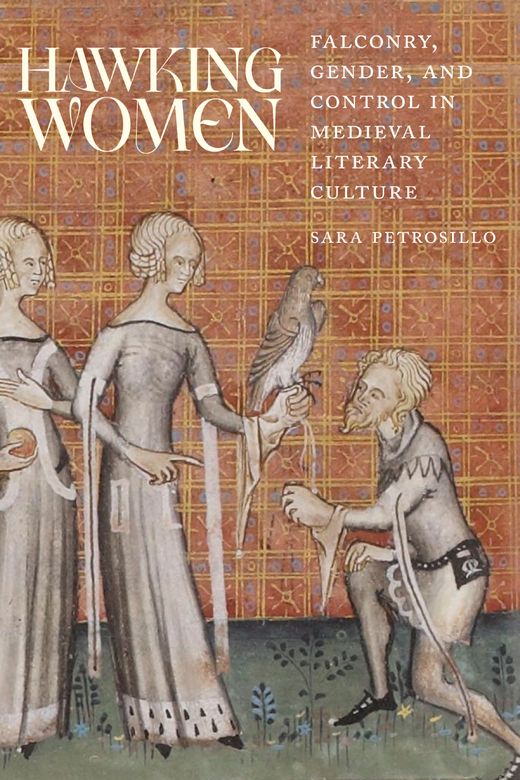 The next University of Evansville Andiron Lecture,
Hawking Women: Falconry, Gender, and Control in Medieval Literary Culture,
will take place Wednesday, March 22, 2023 at 5:00 p.m.
This will be at Room 162 (Harkness Hall) at the Schroeder Family School of Business Administration Building
Sara Petrosillo, PhD, is an Assistant Professor of English at the University of Evansville. She earned her PhD in Literature from the University of California, Davis and a Bachelor of Arts in English and Italian from Colby College. Her research and teaching interests include medieval and early modern literature, feminist theories, medieval manuscript studies, poetics, and critical animal studies. She has published essays in medieval, early modern, and theory journals and in a book on animals in medieval literature. Her book, Hawking Women: Falconry, Gender, and Control in Medieval Literary Culture, was published in 2023.
Women in the Middle Ages claimed the symbol of a hawking woman on their personal wax seals, trained and flew hawks, and wrote and read books featuring female falconers. In this talk debuting her book Hawking Women, Petrosillo demonstrates how cultural literacy in the medieval art of falconry challenged patriarchal control. In the avian hierarchy female hawks have always been the default and the dominant. What happens when women, who occupy a subordinate position in the human hierarchy, spend time with their hawk counterparts? In our current climate of mass discrimination against women, this interspecies medieval model contains lessons about how women resisted in a culture of training and control.
Submitted by Cheryl Emmons ce36@evansville.edu
Mixed-Media Marriage Exhibit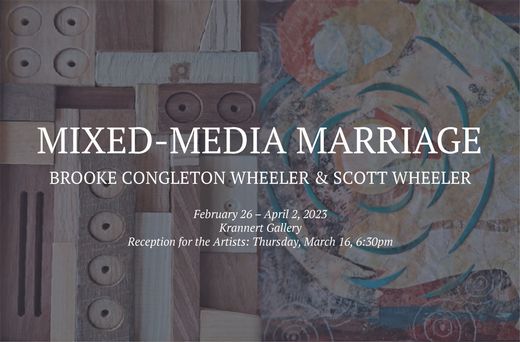 The Krannert Gallery will host the Mixed-Media Marriage exhibit by artists Brooke Congleton Wheeler & Scott Wheeler from February 26 - April 2, 2023. Please join us for the artists reception on Thursday, March 16 at 6:30 p.m. in the Krannert Gallery.
Submitted by Carol McCraney cm177@evansville.edu
ChangeLab STAT 300 - Data in the Real World
STAT 300 / ChangeLab 300 - Data Analysis in the Real World
Do you want to challenge yourself in data analytics ChangeLab by working on a real-world project?
If so, join us at the ChangeLab in Fall 2023. We will have enough tasks if you have elementary, intermediate, or
advanced data analytics skills. You will work on the project in a team supervised by a coach. Your project management,
teamwork, professional interaction, and presentation skills will be developed.
If you have any questions or want to know more about the ChangeLab, please contact Dr. Omid Khormali via email
ok16@evansville.edu.
Submitted by Stacey Beard / sb454@evansville.edu
Join a ChangeLab in Fall 2023
Join your friends and classmates in making the positive change in your community – while earning academic credit and beefing up your resume.
All ChangeLab students receive presentation coaching workshops, team building guided by expert coaches, and project management resume building skills!
There are more than 20 ChangeLabs to choose from, including Honors sections. Here are just a few that are available for Fall 2023!
CHNG 310 02 Civil Disobedience: Creative Protest Project: Explore different ways protesters have used art (music, theatre, storytelling, dance) to make their voices known and heard. Students in this course will organize an end-of-semester showcase to exhibit their artform connected to a social problem they identify or feel connected to.
CHNG 310-Y01 Go Vote! - Creating a Mechanism Allowing Students to Vote at Their College Campuses: This ChangeLab will endeavor to create a mechanism that will allow students at college campuses to vote at their college/university rather than having to request mail-in ballots or return back to their place of registration to vote.
CHNG 310-07 Equitable and Nourishing Food System- Students will collaborate with Urban Seeds, a not-for-profit organization advocating for a quality, equitable, and robust food system.
CHNG 310-Y02 The Future of UE's Archives – Work with the University Librarian to Help create plans for Archives and Special Collections at the UE Library!
A complete list can be found on Self-Service.
Submitted by Andrew Carter ac116@evansville.edu
CHNG 310-02: Civil Disobedience, Creative Protest Project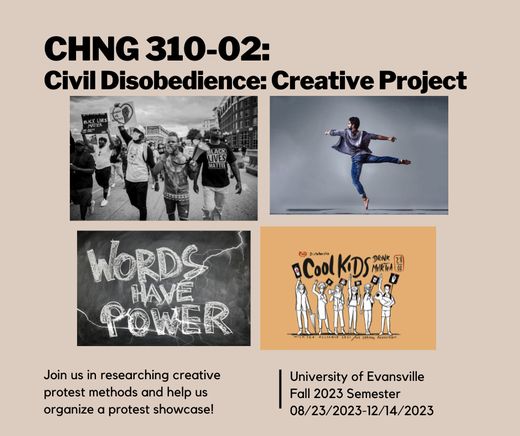 Hey Aces! Are you wanting a creative outlet when it comes to social problems? This is the Change Lab for you!
Civil Disobedience will explore different ways protesters have used art (music, theatre, storytelling, dance, etc) to make their voices known and heard in regard to social injustice. In direct connection with creating an Inclusive Community (UE Core Value) and Living meaningfully in a changing world (UE Mission) students will organize an end of semester showcase to exhibit their artform connected to a social problem they identify with or feel connected to.
Get ready to research different creative protest methods and formulate a working plan to organize the end of semester showcase!
Don't miss out on the opportunity to create and showcase your protest. Plan CHNG 310-02 for the Fall 2023 semester now, seats are limited!
Submitted by Jade S Shelby js818@evansville.edu
ETH 201 and REL 120 Summer Online Course (Outcome 4)
ETH 201 Comparative Religious Ethics (Outcome 4) and REL 120 Religion in America (Outcome 4 AND Writing Across the Curriculum) will be offered asynchronously online for the second summer session (June 19-July 21). For information contact Dr. Valerie Stein (vs9).
Submitted by Valerie Stein / vs9@evansville.edu
BIOL 107 (GEN ED Lab Science) Offered Summer 1
Biology 107 (4 cr) will be offered asynchronous online this summer session 1. The lab component will be online as well utilizing web-based simulations. This course satisfies lab science General Education credit (Outcome 8). All majors are welcome! If you have any questions, please contact Dr. Gordon at ng62@evansville.edu.
Submitted by Noah Gordon / ng62@evansville.edu
PSYC 121 Offered During Summer Session 2
PSYC 121 (Introduction to Psychology) will be offered during Summer Session 2 as an online, asynchronous class. If you have questions about this 3 credit hour course, which will run from June 19-July 21, please contact Prof McCracken via email – em157@evansville.edu.
Submitted by Evan McCracken / em157@evansville.edu
PSYC 229 Offered During Summer Session 1
PSYC 229 (Social Psychology) will be offered during Summer Session 1 as an online, asynchronous class. If you have questions about this 3 credit hour course, which will run from May 15-June 16, please contact Prof McCracken via email – em157@evansville.edu.
Submitted by Evan McCracken / em157@evansville.edu
Evansville Water & Sewer Conducting Cleaning in the Area
Sewer Cleaning Notice: Campus Wide
Questions or Concerns Regarding this Work:
Contact Facilities Management, 812-488-2775
Affected Dates:
March 20 through April 11
Description of Work:
Evansville Water & Sewer Utility previously announced plans to conduct sewer cleaning in the university area. The exact time frame for beginning the work was unspecified. Facilities has been informed that yellow work signs have been placed near campus. The preventative cleaning and maintenance are supposed to take a few weeks to complete. During the process, a nozzle will be inserted in the sewer lines to internally pressure-wash the system. Look for yellow cleaning construction signs to be placed in locations where cleaning is to be done approximately two to four days in advance.
Impacts for Campus:
The washing of the lines can occasionally create "burping" sounds as air is attempting to escape the system during the process. You may notice an odor from the sewer, and in rare cases some water may splash out of drains.
Action(s) Required:
• Please use caution near cleaning crews, equipment, and activity.
• Please be aware of any posted signage and do not enter any barricaded areas.
Thank you for your patience as work is done to maintain our beautiful campus.
To report a facilities emergency, call (812) 488-2775.
Submitted by Karen McDonald km598@evansville.edu
Registration Tips & Tricks Workshop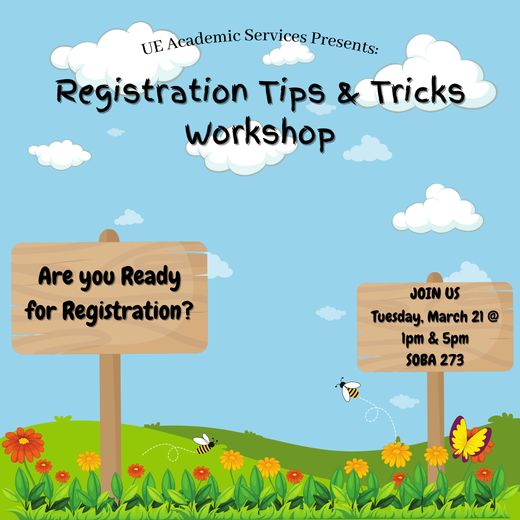 Are YOU ready for registration?
The Academic Advisors from UE's Office of Academic Services will be hosting two workshops to help answer students' biggest questions regarding advising and registration. Do you and your advisor have concerns about course prerequisites? Are you unsure of how to decide which course to take to complete your outcome requirement? Let us help!
Workshops will be held Tuesday, 3/21, at 1 PM and 5 PM in SOBA 273! Stop by and grab a treat!
If you have any questions, please visit Academic Services in Olmsted 116 or by contacting us at academicservices@evansville.edu. Remember that the office will be open until 7 PM every week day, now through 3/31.
Submitted by Laci Rowe lr152@evansville.edu
New Employee Headshots
Are you a new employee in need of a headshot? There will be an opportunity for headshots on Thursday, March 23, at 3:45 p.m. If you are able to stop by at this time and would like to have your photo taken, please contact Julie Beer, Assistant Director of Marketing and Communications, at jb855@evansville.edu.
Submitted by Julie Beer / jb855@evansville.edu
Abigail Perry Joins Department of Marketing
Abbie Perry joined the UE Department of Marketing on March 6 as the Marketing Content Specialist. In her role, she will assist with social media management, content development and proofreading, and more.
Abbie is a 2022 graduate of Murray State University, where she earned a Bachelor of Science in Public Relations with a minor in Advertising. She is a native of Henderson, Kentucky. Please join us in welcoming Abbie to the University of Evansville!
Submitted by Julie Beer / jb855@evansville.edu
ENGL 210: Approaches to Literature Summer Course
ENGL 210: Approaches to Literature fulfills two General Education requirements: Outcome 2 and Writing Across the Curriculum. This course engages students in the analytic reading and writing that characterize the field of literary studies. Students will read intensively in multiple literary genres (e.g. poetry, short fiction, the essay, drama, memoir, and the novel), and will develop writing skills appropriate to the discipline. Two sections of this course will be offered online asynchronously during Summer Session 1 (May 15-June 16). Sections tend to fill quickly, so consider signing up early.
Submitted by Sara Petrosillo sp220@evansville.edu
Habitat for Humanity Barn Blitz
Barn Blitz is an event where UE students team up with the local Habitat chapter to build yard barns for community members who have received Habitat homes.
This year's Barn Blitz will take place on April 22 at 9:00am in the parking lot behind the Evansville Habitat for Humanity (560 E Diamond Ave. Evansville, IN). Our goal is to have 20 teams, each made up of 6-8 people, so that we can build 20 barns.
Attached is the link to the signup genius for Barn Blitz teams. If you are part of an organization, it would be greatly appreciated if you could encourage them to create a Barn Blitz team!
https://www.signupgenius.com/go/10C0E4EADA62DA6F8C52-habitat1
There are still some Friday & Saturday workdays leading up to Barn Blitz that we need volunteers for too. These are being utilized as workdays to build components for the barns.
https://www.signupgenius.com/go/10c0e4eada62da6f8c52-habitat#/
We will be sending out more information closer to the date of Barn Blitz. Feel free to reach out to is63@evansville.edu with any questions.
Submitted by Izzy Stapp is63@evansville.edu
PowerFul: Bring Your Hero to the BBQ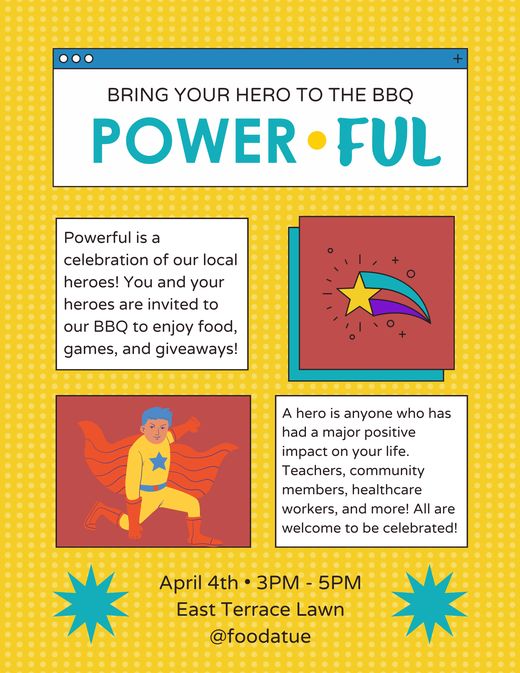 PowerFul is a celebration of our local heroes! You and your heroes are invited to our BBQ on April 4th to enjoy food, games, and giveaways! Be sure to keep an eye on our social media for more details and updates.
Submitted by Ka'Bria Carr kc403@evansville.edu
Info You Should Know
SPAN 112 Offered During Summer Session 2
SPAN 211 Offered During Summer Session 2
Submitted by Cindy Crowe cc109@evansville.edu
BIOL 107 Offered During Summer Session 2
Biol 107 (General Biology), which fulfills the lab science General Education credit (Outcome 8), will be offered during Summer Session 2 as an online, asynchronous class. Although it is generally intended for those majoring in EXSS, public health, and similar areas, all majors are welcome! The lab portion of the course will be completed via Labster, an exciting virtual lab simulator! If you have questions about this 4 credit hour course, which will run from June 19-July 21, please contact Dr. Aldred via email – ka59@evansville.edu
Submitted by Katie Aldred ka59@evansville.edu
SPAN 313 Spanish for Heritage Speakers NEW COURSE
SPAN 313 focuses on the development of communicative competence, as well as on understanding Hispanic cultures and issues of identity of heritage speakers of Spanish in the United States. Students will also develop an awareness and understanding of Hispanic cultures, including language variation, customs, geography, history, and current events. Taught exclusively in Spanish, this course is designed for heritage or native speakers only. Prerequisites: SPAN 212, or placement exam score.
This course will be offered in the Fall 2023. If you have any questions, please feel free to email the chair of the department of Foreign Languages and Cultures, Dr. Lesley Pleasant (lp84@evansville.edu)
Submitted by Patricia Andueza pa55@evansville.edu
Exchange program with University of Malaga
The University of Evansville now has a student exchange agreement with the University of Malaga in Malaga, Spain. Each Spring semester, students will be able to attend the University of Malaga by paying only their regular tuition at the University of Evansville.
A few particulars:
UE students must have a B2 competence level of Spanish.
UE students should start the application process by May1st of the year prior to the year they plan to go abroad. This will allow them to select the courses that the student wants to take while abroad and determine how the credits will be transferred back to UE.
The application process should be finished by October 1st
UE students will take a maximum of 18 credits, with the option of taking an internship (6 credits) with the Department of Translation and Interpretation in the Department of English Studies at University of Malaga.
Students will finalize the registration process upon arrival at University of Malaga.
Students will pay tuition and fees to UE while paying room and board to University of Malaga. University of Malaga will help UE students find accommodations.
Students participating in this program shall be responsible for the cost of their travel to and from Malaga, Spain.
If you have any questions, please contact dr. Lorena Andueza (pa55@evansville.edu)
Submitted by Patricia Andueza pa55@evansville.edu
2023-24 Margery Florence Kahn Scholarship Application Now Available
It was the desire of the donor, Margery Florence Kahn, that her scholarship be awarded to "dedicated and conscientious students who exhibit a true passion for their chosen fields of study, and who, in the opinion of the members of the University of Evansville faculty, are likely to bring the same enthusiasm into the performance of their jobs or the practice of the professions which they will pursue following graduation."
All University of Evansville full-time undergraduate students who will be juniors or seniors in the 2023-24 academic year may apply. An essay of about 300 words must accompany the application along with two to five faculty recommendation letters.
Application and faculty recommendation information
Completed applications and recommendation letters should be returned to the Office of Student Financial Services by MAY 10, 2023.
Questions may be directed to the Office of Student Financial Services via email or by phone at (812) 488-2364.
Submitted by Amber Chandler ac547@evansville.edu
BIOL 100 Summer Online Course
Are you interested in taking a non-majors biology course with a lab this summer to fulfill one of your scientific literacy general education requirements (Outcome 8 with a lab)? If so, then take BIOL-100-D01 – Fundamentals of Biology during Summer I (May 15 to June 16). Please contact Dale Edwards (de3) for more details.
Submitted by Dale Edwards de3@evansville.edu
Call for Nominations: Dean of Students Leadership Awards
Nominations are now being accepted for consideration of The Howard S. Rosenblatt "Dean of Students Leadership Awards." These awards will be presented at the 30th Annual Leadership Awards Reception scheduled for Thursday, April 20, 2023. Invitations will be prepared by the Center for Student Engagement.
Awards from the Dean of Students Office are presented in the following categories:
Student Organization Advisor of the Year
Student Organization of the Year
Student Leader of the Year
Over 80% of UE students participate in at least one student organization or program. These organizations are successful because of the commitment of the student leaders and the advisors who give freely of their time and support. The recipients of these awards are selected based on their commitment to the University of Evansville as well as the development and success of their efforts within their chosen student organization.
The deadline for nominations is March 30, 2023. Click on this link to submit your nomination:
https://forms.office.com/r/GPpKHhifAL
If you have any questions, please contact the Vice President for Student Affairs/Dean of Students office at 812-488-2500 or by e-mail via deanofstudents@evansville.edu.
Thank you in advance for celebrating the achievements of our campus leadership!
Submitted by Shelby Gardner sg293@evansville.edu
It's Time to Nominate a Deserving Senior for the Outstanding Senior Service Award
Do you know a senior deserving of the highest award given by UE? Ten finalists will be selected, and one student will be presented this award at Commencement. Selection is based on academic achievement, demonstrated leadership, and community and campus engagement.
Nominations for the Guthrie May and Mabel Dillingham Nenneker Outstanding Senior Service Award will be accepted March 1 – March 30, 2023.?Students who are nominated must accept their nomination by 4:00 p.m. on April 4, 2023.
You can nominate deserving seniors by completing the form below. Once you submit a nomination, students will receive an automatic email giving them the opportunity to accept the nomination by providing their responses to the award application questions.
https://form.jotform.com/220724520906046
Please contact Shelby Gardner (sg293@evansville.edu) with any questions.
Submitted by Shelby Gardner sg293@evansville.edu
UE Summer Camps and Employee Discount
The Office of Youth Programs has opened registration for UE Summer Camps 2023! This summer, we are offering Dance Camp, the Wesley Shepard Music Camp, Exploring Art at UE (Grades 2-5 & Grades 6-8), STEM Camp, Clay Camp, Springboard, and Pride Camp. To find out more, please visit our website.
We are offering a 50% discount to UE Employees that would like to register their youth. To receive this discount, please email us at youthprograms@evansville.edu BEFORE registering. Please include your name, title, list youth(s)'s name and camp title. We will send you a discount code to apply at registration within two business days.
If you have any questions, please email youthprograms@evansville.edu.
Submitted by Rachel Roscoe rr209@evansville.edu
Diana Rodríguez Quevedo presents paper
Diana Rodríguez Quevedo, associate professor of Spanish, gave a paper at the XXXII Congreso Internacional de Literatura y Estudios Hispánicos on Friday, March 10th in Cartagena, Colombia. Her paper, titled "Antígona: protagonizando paz y memoria en Colombia," was an analysis of a play written and performed by women victims/witnesses/survivors of violence in Colombia. This paper was part of a panel that focused on the character Antigone in modern day Latin America.
Submitted by Diana Rodriguez Quevedo dr130@evansville.edu
Psychology major, Emma Fergus, presents at the American Psychology-Law Society conference
Psychology major, Emma Fergus, recently presented a working law review titled, "Can't punish an object: [Meta]Dehumanization, corporal punishment, and International Human Rights" at the American Psychology-Law Society annual conference in Philadelphia, PA, with co-author Professor Evan McCracken.
Specifically, the law review details that despite overwhelming evidence suggesting corporal punishment leads to negative consequences for children (e.g., depression, anxiety) – its use is still legal within the United States. In this legal analysis, we focused on obligations State Parties have under existing international human rights treaties (e.g., the Convention on the Rights of the Child), and analyzed whether the international community is fulfilling these requirements. To support this analysis, we reviewed a psychological process allowing for the continuation of corporal punishment – [meta]dehumanization. This analysis argues to successfully end corporal punishment internationally, children must first be perceived as human.
Submitted by Evan McCracken em157@evansville.edu
Nerd Wars Champions Crowned
The Honors Activity Board wishes to thank everyone who participated in Nerd Wars on Tuesday, March 14. Twenty teams of students and faculty tested their trivia knowledge in a battle for the title of Nerd Wars Champions. Congratulations to the overall champions, the faculty team "Army Ants", consisting of team members Dr. Katie Aldred, Dr. Robert Baines, Dr. Kevin Gray, Dr. Julie Merkle, and Dr. Mari Plikuhn. Also, congratulations to the top-finishing student team, "Newton + Grace", with team members Bradan Bruce, Grace Hoening, Baylee Essert, Cara Hand, and Henry Hall.
In addition to providing a night of trivia and entertainment, Nerd Wars is also a philanthropic event to benefit HACER, the Honors Program's community service initiative. All proceeds from the event will support HACER.
Thanks to all for a fun evening, and we hope to see you again next year!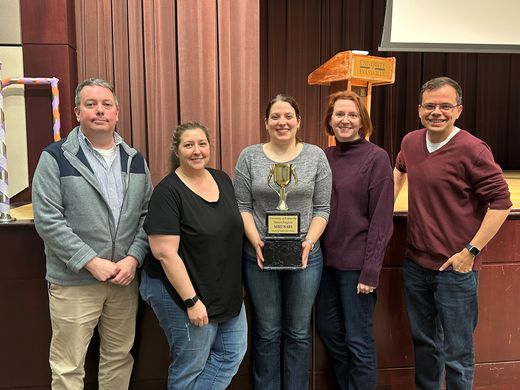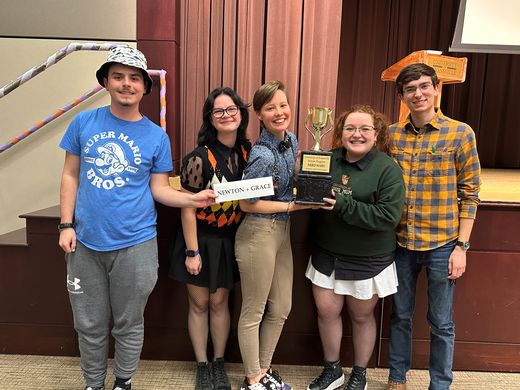 Submitted by Jayme Williams jw504@evansville.edu
Biology students present research at international conference
Biology students Charlie Watts ('23) and Makayla Gomperts ('24) presented their research at the 64th Annual Drosophila Research Conference March 1-5, 2023 in Chicago, IL. Charlie's talk and poster presentation were titled "The creation of a null allele of Clipper and investigation of its role in Drosophila melanogaster oogenesis". Makayla's poster presentation was titled "Sar1, a GTPase involved in COPII vesicle trafficking, is critical for Drosophila oogenesis". Both projects are under the guidance of Dr. Julie Merkle in the Department of Biology.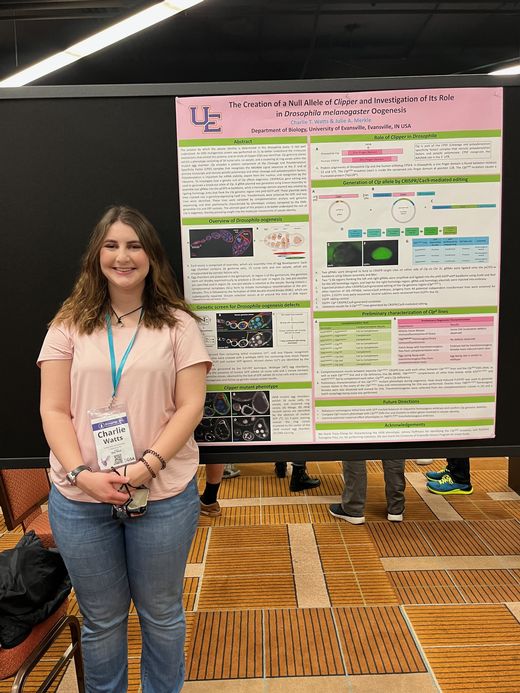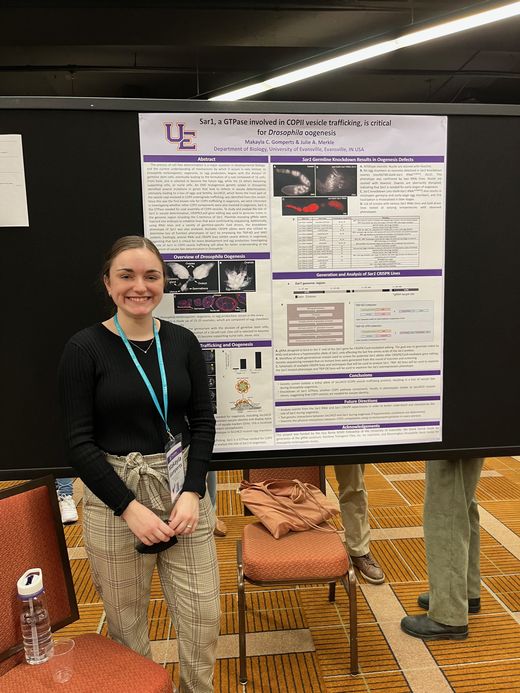 Submitted by Julie Merkle jm757@evansville.edu
Biology Professor Publishes Research
Dale Edwards, professor and chair of biology, coauthored a paper with his son Owen Edwards in the recent issue of the Journal of Parasitology. The paper, titled Range Expansion of Green Treefrogs (Hyla cinerea) in Southern Illinois: No Evidence of Parasite Release, is part of a larger study addressing the role of a loss in parasite diversity in contributing to the successful range expansion of green treefrogs in Kentucky, Illinois, and Indiana.
Submitted by Dale Edwards de3@evansville.edu
Enchelmayer and Russell tied for second after opening round
Allison Enchelmayer and Mallory Russell carded even rounds of 72 to pace the University of Evansville women's golf team in Monday's opening round of the Nevel Meade Collegiate at Nevel Meade Golf Course.
Both Enchelmayer and Russell's rounds put them in a tie for second place heading into Tuesday's final round of 18. Originally scheduled for a 54-hole tournament, weather forced the event to be shortened to a total of 36 holes. Evansville's duo is two strokes behind tournament leader Casilda Allendesalazar of Central Michigan.
Third for the Purple Aces and tied for 10th overall is Kate Petrova. Her score on Monday finished at a 4-over 76. Alyssa McMinn carded an 81 in the opening round to rank in a tie for 34th while Magdalena Borisova posted an 83. She is tied for 46th. Caitlin O'Donnell matched Borisova's score as an individual.
As a team, the Aces are in second place with a score of 301. They are just four strokes off the lead, which is currently held by Central Michigan with a 297. Bowling Green is two behind UE with a 303.
Tuesday's final 18 holes is set for an 11 a.m. ET start time.
Submitted by Athletics
UE's Schultz Named MVC Pitcher Of The Week; SIUE Game Moved To Wednesday
University of Evansville junior pitcher Donovan Schultz (Kimberly, Wis./Kimberly) has been named the Missouri Valley Conference Pitcher of the Week after a dominating performance in UE's 6-4 victory over Big Ten member Purdue on Sunday afternoon.
Schultz tossed six shutout innings on Sunday to earn his third victory in a row on the mound. He held a Purdue offense, which entered the weekend series ranked 31st in the country in scoring at 8.9 runs per game, to just four singles and five total base runners in the six-inning outing. Schultz did not allow a runner past second base on the afternoon, and allowed only three men to reach scoring position overall. He equaled a career-high with eight strikeouts, while only six balls left the infield against him on the afternoon.
Schultz also did not allow an earned run for his third-straight start, and he extended his scoreless inning streak to 14.1 IP overall. With the victory on Sunday, Schultz improved to 3-1 with a 2.67 ERA on the year for UE. He has held opposing teams to a .159 batting average against this year, and he ranks 29th nationally in fewest hits allowed per nine innings (4.67).
With Sunday's victory over Purdue, Evansville improved to 12-7 overall and the Purple Aces have won five games in a row and 12 out of 14 overall. UE will now hit the road this week for four games, starting on Wednesday at Southern Illinois-Edwardsville. First-pitch is set for 5 p.m.

- INFO: For all of the latest information on University of Evansville athletics, log on to the sport page on GoPurpleAces.com or follow the program on Twitter via @UEAthletics.
- SUPPORT: For information on giving to UE Athletics or its individual athletics programs, visit http://gopurpleaces.com/give.
- TICKETS: To purchase tickets for University of Evansville athletics events, log on to GoPurpleAces.com and click on the TICKETS tab on top of the page
Submitted by Athletics
Contribute to AceNotes
To have content considered for inclusion in AceNotes, please submit a Marketing Request Form. Deadline for submission to AceNotes is 10:00 a.m. on the requested date of publication. Only articles concerning UE related/sponsored activities will be accepted. Articles submitted to AceNotes may be edited for length and clarity. Submitter contact information is at the end of each article.