| | |
| --- | --- |
| AceNotes Today | Friday, March 17, 2023 |
UE Launching Creative Technologies Program
In 2023, UE will launch a four-year Bachelor of Science in Creative Technologies degree.

Combining elements from UE's Departments of Art, Communication, Theatre, and Music Conservatory, the BS in Creative Technologies aims to build students' technological skills in the creation of sound, video, lighting, graphic, and other technologies used for creative endeavors.

The new program combines multiple disciplines to engage students in the conception, development, and production of creative content. From the first draft to the final product, students in Creative Technologies will be challenged to develop their creative skills through immersion in fundamentals of art, design, music, communication and creative writing, and to bring their creations to life onstage, onscreen, or on-air through a variety of cutting-edge digital technologies. Joe Atkinson, MFA, Assistant Professor of Communication, will serve as the Program Director.

Applications for the Bachelor of Science in Creative Technologies are now available for Fall 2023.
Submitted by Julie Beer / jb855@evansville.edu
Pep and Vim/Reunion Weekend
Pep and Vim, the UE Annual Day of Giving, is April 14, 2023 – Click to learn more!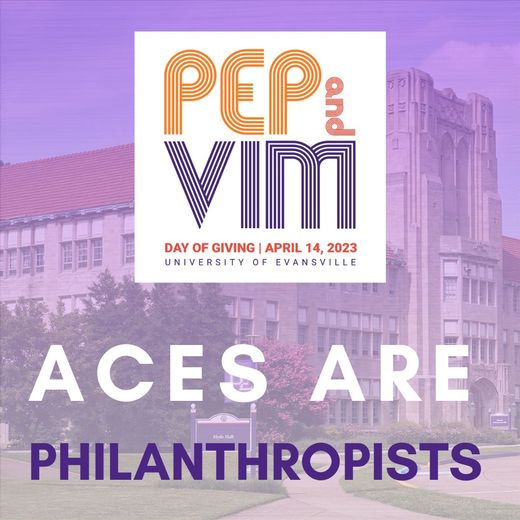 First created by a UE alumnus, "Pep and Vim," UE's Annual Day of Giving, was brought to life in 2012. We shouted our school spirit from the rooftops, and we were honored that the Aces community responded to our first Pep and Vim by making 250 philanthropic gifts that totaled over $5,000.

Flash forward to April 2022, Pep and Vim's 10-year anniversary, and you can see how UE's Day of Giving has grown over the last decade. Over 2,000 gifts were made to the university, totaling over $400,000. Gifts came in from 44 states, providing opportunities for growth within all 3 academic colleges on campus, as well as for Harlaxton College and UE Athletics.
Now it's time for Pep and Vim 2023, and with you by our side, we know we can up our game once more. The UE Alumni Board of Directors has issued a philanthropic challenge! If, as one Aces family, we make 2,023 gifts to any UE project, they will gift $20,000 to the UEvansville Fund!
Sometimes philanthropy can feel too big for us as individuals. But when we join together, we can change the lives of countless others. That's why, at UE, everyone can be a philanthropist. Whether you can give $5 or $5,000, your gift will move the University of Evansville FORWARD into a bright and hopeful future.

To make a gift and help unlock the Alumni Board's challenge, please visit www.evansville.edu/give
Thank you and GO ACES!
Submitted by Jaime Wilder jw663@evansville.edu
UE Music Presents Diversity Matters Concert
Music and Reflections with Tuba and Piano- Bet you didn't see that coming…! An Evening with UNM Professors Richard Antoine White and Pamela Viktoria Pyle, aka Diversity Matters

This unusual duo of tuba and piano presents diverse musical offerings and shares insights into what makes music the world's universal language.

Come share an emotional journey as they explore music from around the world with classical dances, lyrical romances, and Brazilian rhythms. Complemented by historical background on the music, as well as stories about life from the practice room to the stage. The evening promises to be heartfelt and uplifting.

The concert will be held Tuesday, March 21, at 7:30 p.m. in Wheeler Concert Hall.
Submitted by Amy Esche ae128@evansville.edu
Register TODAY for Speed Networking Event
Speed Networking Event
Tuesday, March 21st
6:00pm-8:30pm
Eykamp Hall, RUC
*Open to ALL students and ALL majors!
Don't miss this opportunity to meet face to face with employers! Whether you are looking for part time, full time, or summer employment, or simply want to improve your interviewing skills, this event is for you! Look in Handshake for a list of registered employers.
Space is limited, so register in Handshake today!
Questions? Contact the Center for Career Development at career@evansville.edu or 812-488-1083.
Submitted by Amanda Wood aw505@evansville.edu
University of Evansville Andiron Lecture by Sara Petrosillo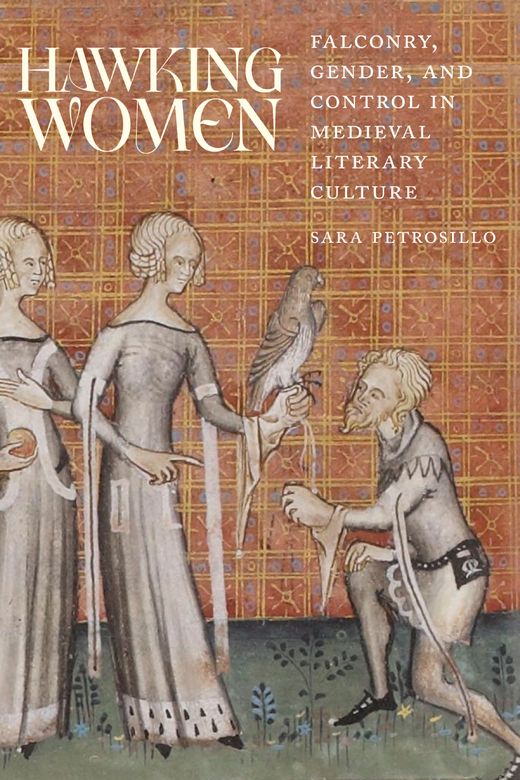 The next University of Evansville Andiron Lecture,
Hawking Women: Falconry, Gender, and Control in Medieval Literary Culture,
will take place Wednesday, March 22, 2023 at 5:00 p.m.
This will be at Room 162 (Harkness Hall) at the Schroeder Family School of Business Administration Building
Sara Petrosillo, PhD, is an Assistant Professor of English at the University of Evansville. She earned her PhD in Literature from the University of California, Davis and a Bachelor of Arts in English and Italian from Colby College. Her research and teaching interests include medieval and early modern literature, feminist theories, medieval manuscript studies, poetics, and critical animal studies. She has published essays in medieval, early modern, and theory journals and in a book on animals in medieval literature. Her book, Hawking Women: Falconry, Gender, and Control in Medieval Literary Culture, was published in 2023.
Women in the Middle Ages claimed the symbol of a hawking woman on their personal wax seals, trained and flew hawks, and wrote and read books featuring female falconers. In this talk debuting her book Hawking Women, Petrosillo demonstrates how cultural literacy in the medieval art of falconry challenged patriarchal control. In the avian hierarchy female hawks have always been the default and the dominant. What happens when women, who occupy a subordinate position in the human hierarchy, spend time with their hawk counterparts? In our current climate of mass discrimination against women, this interspecies medieval model contains lessons about how women resisted in a culture of training and control.
Submitted by Cheryl Emmons ce36@evansville.edu
Employee Spring Healthy Behavior Challenge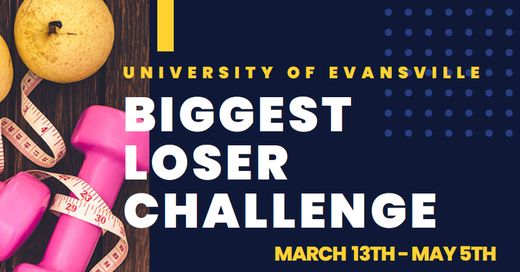 Spring is upon us! That means it's time for the Employee Spring Healthy Behavior Challenge. This year, we're doing the Biggest Loser Weight Loss Challenge! Earn a one-time $150 in HRA credits (if you did NOT participate in the Summer or Fall Healthy Behavior Challenges) for completing the challenge all the way through!
This challenge is designed to help motivate participants to take on healthier lifestyle choices and pursue health-driven weight loss. No extreme dieting is encouraged with this program. Have FUN, stay positive, and join your team members in making healthier lifestyle changes!
8-WEEK CHALLENGE
All employees & spouses are welcome to participate!
Teams must be between 4-8 individuals.
Entry fee is $5.00 (cash only please). Please submit your buy-in to Lori Leduc in HR.
Initial weigh-in must be completed the week of March 13th - 16th.
Only 1 missed weigh-in is allowed.
No extreme dieting or supplementing for drastic weight loss is permitted.
WEIGH-IN INFO
Weekly weigh-ins will take place at the clinic:Monday - Thursday from 8:00am - 12:00pm.
PRIZES
1st, 2nd & 3rd place (male & female)
1st place team
Sign up by clicking this link and filling out the required information: https://forms.gle/fdD5BA7wvDkP4nMX6
Have a question? Email Taylor at taylor.kollak@ascension.org!
Submitted by Taylor Kollak tk148@evansville.edu
Join a ChangeLab in Fall 2023
Join your friends and classmates in making the positive change in your community – while earning academic credit and beefing up your resume.
All ChangeLab students receive presentation coaching workshops, team building guided by expert coaches, and project management resume building skills!
There are more than 20 ChangeLabs to choose from, including Honors sections. Here are just a few that are available for Fall 2023!
CHNG 310 02 Civil Disobedience: Creative Protest Project: Explore different ways protesters have used art (music, theatre, storytelling, dance) to make their voices known and heard. Students in this course will organize an end-of-semester showcase to exhibit their artform connected to a social problem they identify or feel connected to.
CHNG 310-Y01 Go Vote! - Creating a Mechanism Allowing Students to Vote at Their College Campuses: This ChangeLab will endeavor to create a mechanism that will allow students at college campuses to vote at their college/university rather than having to request mail-in ballots or return back to their place of registration to vote.
CHNG 310-07 Equitable and Nourishing Food System- Students will collaborate with Urban Seeds, a not-for-profit organization advocating for a quality, equitable, and robust food system.
CHNG 310-Y02 The Future of UE's Archives – Work with the University Librarian to Help create plans for Archives and Special Collections at the UE Library!
A complete list can be found on Self-Service.
Submitted by Andrew Carter ac116@evansville.edu
Abigail Perry Joins Department of Marketing
Abbie Perry joined the UE Department of Marketing on March 6 as the Marketing Content Specialist. In her role, she will assist with social media management, content development and proofreading, and more.
Abbie is a 2022 graduate of Murray State University, where she earned a Bachelor of Science in Public Relations with a minor in Advertising. She is a native of Henderson, Kentucky. Please join us in welcoming Abbie to the University of Evansville!
Submitted by Julie Beer / jb855@evansville.edu
ENGL 210: Approaches to Literature Summer Course
ENGL 210: Approaches to Literature fulfills two General Education requirements: Outcome 2 and Writing Across the Curriculum. This course engages students in the analytic reading and writing that characterize the field of literary studies. Students will read intensively in multiple literary genres (e.g. poetry, short fiction, the essay, drama, memoir, and the novel), and will develop writing skills appropriate to the discipline. Two sections of this course will be offered online asynchronously during Summer Session 1 (May 15-June 16). Sections tend to fill quickly, so consider signing up early.
Submitted by Sara Petrosillo sp220@evansville.edu
PowerFul: Bring Your Hero to the BBQ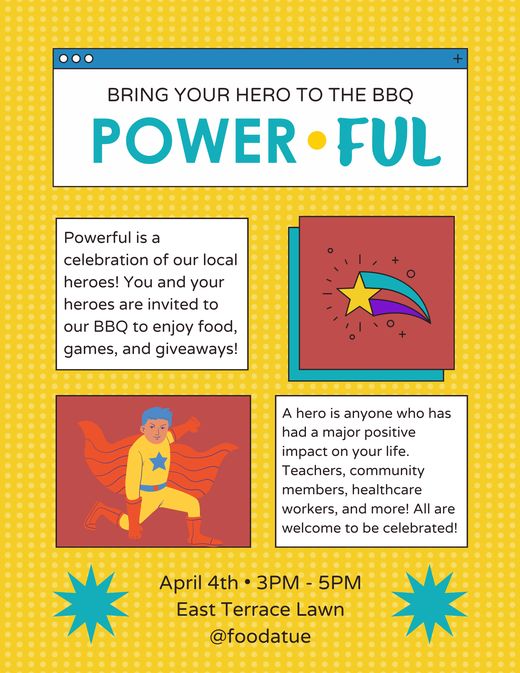 PowerFul is a celebration of our local heroes! You and your heroes are invited to our BBQ on April 4th to enjoy food, games, and giveaways! Be sure to keep an eye on our social media for more details and updates.
Submitted by Ka'Bria Carr kc403@evansville.edu
Global Scholars Application Now Open
The Center for Innovation & Change is happy to announce applications once again are open for the Global Scholars program. This will be the 17th cycle of funding for our incredibly innovative faculty, made possible by John H. Schroeder Global Scholar Endowed Fund. Details at https://www.evansville.edu/centerforinnovation/scholars.cfm.
Any faculty member can apply (cross-curricular collaborations are encouraged!) to receive funding for travel and research abroad. While all proposals are considered, priority is given to work that involves changemaking, the UN Sustainable Development Goals, or work that can be applied in a beneficial way for the world upon return. If someone wants to get feedback on a potential idea, they can contact Executive Director Erin Lewis (EL131@evansville.edu or ext. 5002, text is best at 812-449-1044) or Faculty Director Derek Jones (dj3@evansville.edu) directly to help develop proposals .
Deadline to submit a proposal is March 31. Awards will be notified shortly after that, and all details on proposal specifics are at https://www.evansville.edu/centerforinnovation/scholars.cfm. The page includes all past recipients if you would like to see the kinds of proposals that have been funded previously.
Submitted by Andrew Carter ac116@evansville.edu
Info You Should Know
SPAN 112 Offered During Summer Session 2
SPAN 211 Offered During Summer Session 2
Submitted by Cindy Crowe cc109@evansville.edu
BIOL 107 Offered During Summer Session 2
Biol 107 (General Biology), which fulfills the lab science General Education credit (Outcome 8), will be offered during Summer Session 2 as an online, asynchronous class. Although it is generally intended for those majoring in EXSS, public health, and similar areas, all majors are welcome! The lab portion of the course will be completed via Labster, an exciting virtual lab simulator! If you have questions about this 4 credit hour course, which will run from June 19-July 21, please contact Dr. Aldred via email – ka59@evansville.edu
Submitted by Katie Aldred ka59@evansville.edu
SPAN 313 Spanish for Heritage Speakers NEW COURSE
SPAN 313 focuses on the development of communicative competence, as well as on understanding Hispanic cultures and issues of identity of heritage speakers of Spanish in the United States. Students will also develop an awareness and understanding of Hispanic cultures, including language variation, customs, geography, history, and current events. Taught exclusively in Spanish, this course is designed for heritage or native speakers only. Prerequisites: SPAN 212, or placement exam score.
This course will be offered in the Fall 2023. If you have any questions, please feel free to email the chair of the department of Foreign Languages and Cultures, Dr. Lesley Pleasant (lp84@evansville.edu)
Submitted by Patricia Andueza pa55@evansville.edu
Exchange program with University of Malaga
The University of Evansville now has a student exchange agreement with the University of Malaga in Malaga, Spain. Each Spring semester, students will be able to attend the University of Malaga by paying only their regular tuition at the University of Evansville.
A few particulars:
UE students must have a B2 competence level of Spanish.
UE students should start the application process by May1st of the year prior to the year they plan to go abroad. This will allow them to select the courses that the student wants to take while abroad and determine how the credits will be transferred back to UE.
The application process should be finished by October 1st
UE students will take a maximum of 18 credits, with the option of taking an internship (6 credits) with the Department of Translation and Interpretation in the Department of English Studies at University of Malaga.
Students will finalize the registration process upon arrival at University of Malaga.
Students will pay tuition and fees to UE while paying room and board to University of Malaga. University of Malaga will help UE students find accommodations.
Students participating in this program shall be responsible for the cost of their travel to and from Malaga, Spain.
If you have any questions, please contact dr. Lorena Andueza (pa55@evansville.edu)
Submitted by Patricia Andueza pa55@evansville.edu
Central Receiving - In-house Office Supplies
Did you know the Central Receiving Department has 3-hole punch paper? If you would like to take a break from manually punching holes, order some 3-hole punch paper from Central Receiving. We have a limited supply and once it is gone, we will no longer carry it. The cost is $4.25/ream. It's easy to order, just fill out an In-House order form and mail it to Central Receiving through campus mail or email it to centralreceiving@evansville.edu.
If you have questions, please email centralreceiving@evansville.edu or contact Darren Miller in Central Receiving at ext. 2181, or Michelle Braun at ext. 1067.
Submitted by Michelle Braun mb485@evansville.edu
Employee Volunteers Needed for CDEI Masquerade Ball 2023
It is that time of year again! The CDEI is welcoming back the second annual Prom, but this time it is a Masquerade Ball! Last year we welcomed over 150 students to Prom and this year we are hoping that number will grow!
In partnership with Student Activities Board and Black Student Union we will be hosting Masquerade Ball on Saturday, April 1st from 8:00pm- 11:30pm with the After Party taking place from 12:00am- 2:00am at SkyZone Evansville or the Family Entertainment Center in Newburgh!
We are seeking employee volunteers to help so that our students can focus on having a night of dancing and fun before the busy season!
If you are interested in signing-up to volunteer, please fill out this form: https://forms.microsoft.com/r/ZS54HG8KvD
If you have any questions, please reach out to Abagail Catania at ac532@evansville.edu
Submitted by Abagail Christine Catania ac532@evansville.edu
BIOL 100 Summer Online Course
Are you interested in taking a non-majors biology course with a lab this summer to fulfill one of your scientific literacy general education requirements (Outcome 8 with a lab)? If so, then take BIOL-100-D01 – Fundamentals of Biology during Summer I (May 15 to June 16). Please contact Dale Edwards (de3) for more details.
Submitted by Dale Edwards de3@evansville.edu
Seeking financial Aid for summer courses?
UE students seeking financial aid or intending to use loan funds for summer courses at UE, please complete a Summer Financial Aid Application and return to the Office of Student Financial Services (Olmsted 105) however is most convenient. The application will allow our office to assess your financial aid and loan eligibility.
Work-Study:
On-campus jobs are available for continuing UE students during the summer. You do not need to be eligible for need-based Federal Work-Study during the academic year in order to apply. You may also apply regardless of your enrollment in summer courses. Applications will be available within the Student Employment area of WebAdvisor.
Submitted by Amy Sowders as560@evansville.edu
Employer Tuition Reimbursement Program for Students
We are pleased to coordinate employer tuition reimbursement as a service to our students and our community. Employer Tuition Reimbursement Programs are offered by many companies to assist employees with full- or part-time tuition reimbursement benefits. Programs and eligibility vary by company, so check with your employer to see if you may be eligible. For more information regarding UE Employer Tuition Reimbursement please contact the Office of Student Financial Services at 812-488-2565:
Submitted by Melissa Baker mb527@evansville.edu
Advertise in the Crescent Magazine
CRESCENT MAGAZINE is committed to helping you bring your products and services to University of Evansville students and the UE campus community to meet your advertising needs.
CRESCENT MAGAZINE is published 4 to 6 times during the academic year, beginning in September 2023 and ending with the April 2024 issue. Printed issues circulation is 1,200, with distribution to 18 campus locations. 1 -3 print issues will be produced each semester. The number of print issues may vary. Every production has a digital issue hosted on the Crescent website. Crescent.evansville.edu In addition to your print ad, included with your purchase is a smaller version of your ad that is posted on Crescent Magazine's Facebook and Instagram page, and Twitter feed. Posts coincide with the month where you have placed advertising with the magazine. Your ad is cycled from the publication date until the next month's cycle of ads begins. For an additional charge your ad can be designed for web placed on our website in prominent positions with your website link in an appropriate call to action.
Submitted by Tommy Housman th208@evansville.edu
Circle K Prom Volunteers Needed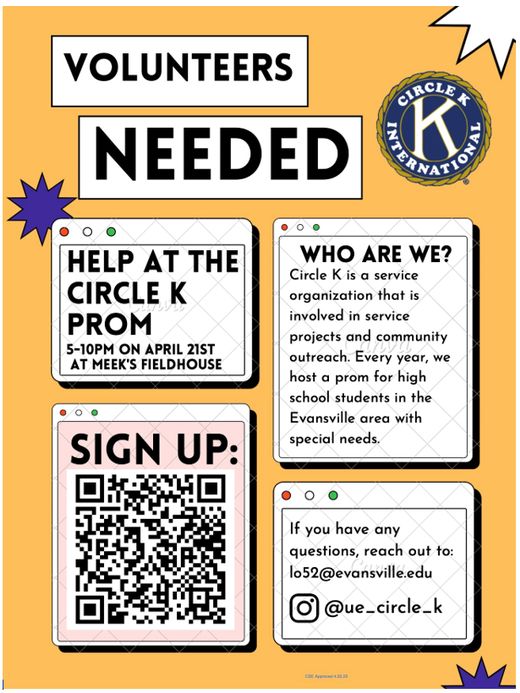 Circle K will be hosting a prom for the local high school students in the special education programs. You must have a completed background check and complete a short training on blackboard. It is on April 21st from 5-10pm and the deadline to sign up is March 24th. Fill out the google form if you are interested and we will provide you with all the information you need!
Submitted by Elizabeth McCook em310@evansville.edu
UE Summer Camps and Employee Discount
The Office of Youth Programs has opened registration for UE Summer Camps 2023! This summer, we are offering Dance Camp, the Wesley Shepard Music Camp, Exploring Art at UE (Grades 2-5 & Grades 6-8), STEM Camp, Clay Camp, Springboard, and Pride Camp. To find out more, please visit our website.
We are offering a 50% discount to UE Employees that would like to register their youth. To receive this discount, please email us at youthprograms@evansville.edu BEFORE registering. Please include your name, title, list youth(s)'s name and camp title. We will send you a discount code to apply at registration within two business days.
If you have any questions, please email youthprograms@evansville.edu.
Submitted by Rachel Roscoe rr209@evansville.edu
Nominations for Outstanding Teacher Award
Academic Affairs is pleased to announce the call for nominations for the 2023 Outstanding Teacher Award. The University bestows this award annually to honor a faculty member for extraordinary teaching effectiveness that inspires the intellectual development of students. Nominees must be a full-time faculty member who has taught at UE for two years or more and holds the rank of lecturer, instructor, assistant professor, associate professor, or professor. The winner is recognized at Commencement in May.
The following recipients from the past five years are not eligible: 2018 – Dr. Anthony Beavers; 2019 – Dr. Atefeh Yazdanparast Ardestani; 2020 – Dr. Mike Roscoe; 2021 – Dr. Julie Merkle; and 2022 – Dr. Katie Whetstone.
Access the link to submit a nomination.
https://www.evansville.edu/offices/academicaffairs/outstanding-teacher-form.cfm
Forward supplemental documentation to: Paula Heldt at ph28@evansville.edu. Please include the faculty member's name and OTA 2023 in the subject line.
The deadline to submit a nomination is Friday, March 17, 2023.
Submitted by Paula Heldt ph28@evansville.edu
Professor Emeritus Solves Classic Mechanics Problem
Professor emeritus, David J. Unger, of Mechanical and Civil Engineering, has solved mathematically a propagating crack problem for thin plates. The analogous problem for thick plates was solved nearly 50 years ago. The article has recently appeared as: Unger, D.J. Plane stress asymptotic solution for steady crack growth in an elastic/perfectly plastic solid for mode I crack propagation. Z. Angew. Math. Phys. 74, 77, pp. 1-21 (2023). https://doi.org/10.1007/s00033-022-01916-4
Submitted by David J Unger du2@evansville.edu
Biology Professor Publishes Research
Dale Edwards, professor and chair of biology, coauthored a paper with his son Owen Edwards in the recent issue of the Journal of Parasitology. The paper, titled Range Expansion of Green Treefrogs (Hyla cinerea) in Southern Illinois: No Evidence of Parasite Release, is part of a larger study addressing the role of a loss in parasite diversity in contributing to the successful range expansion of green treefrogs in Kentucky, Illinois, and Indiana.
Submitted by Dale Edwards de3@evansville.edu
Aces open Valley play against Bradley
Missouri Valley Conference play commences this weekend when the University of Evansville softball team welcomes Bradley for a 3-game series. Friday's action will feature a 2 p.m. doubleheader with the exact timing for game three to be announced. ESPN3 and ESPN+ will have coverage of the three games.
Looking at the Match-up
- Evansville has had the upper hand in the series over the last two years, winning five out of six games
- In 2021, the Purple Aces swept a home series versus the Braves before winning two out of three in Peoria last year
Last Time Out
- In its final non-conference tournament, UE was in Nashville, Tenn. for the Lady Bison Classic
- Friday's opening day of the event saw UE drop a close 3-1 game to Akron before falling 5-2 to Indiana
- The Aces faced both squads again on Saturday, losing by a 13-1 final to the Hoosiers and a 13-6 score to the Zips
- Sunday's game saw the Aces rebound with a 5-2 victory over Lipscomb
Offensive Force
- Junior Alexa Davis has established herself as a true offensive force in the Missouri Valley Conference
- Davis is ranked in the top 15 in nine categories with the highlights including a tie for third in home runs, total bases and walks, fifth in slugging percentage and a tie for sixth in runs scored
- She paces UE in batting average (.333), runs (16), hits (21), triples (3), home runs (4), total bases (43), slugging percentage (.683), walks (13) and on-base percentage (.447)
Best in the League
- With a season earned run average of 1.27, Megan Brenton has the lowest tally in the MVC
- Her two saves is tied for second in the conference while her four victories is tied for eighth
- In 22 innings of work in 2023, Brenton has allowed seven runs, just four of which have been earned
- Brenton has fanned 20 batters while walking 15
Clutch Hit
- With her team up by a 3-2 score against Lipscomb in the fourth inning, Zoe Frossard hit a 2-run single to add some insurance as the Aces halted an 8-game losing streak
- The reigning MVC Newcomer of the Year has started all 23 games this season and is tied for third in MVC with 13 walks and 84 total plate appearances
- Ranks in a tie for 4th in the MVC with 70 at-bats while tied for 6th with 14 runs batted in
- Frossard hit the first home run of career on 2/10 vs. Eastern Kentucky while setting career mark with four RBI
- Seven of her 14 RBI came in the first three games of the season
Picking up the W's
- Opening day starter Erin Kleffman has picked up five victories in 2023 which is tied for 6th in the league
- She earned wins in each of her first four appearances of the season
- Kleffman earned win #5 on March 12 at Lipscomb after tossing a scoreless 4 2/3 innings
- The performance was huge for Kleffman, who entered the game allowing 22 runs, 19 of them earned, in her previous 8 2/3 frames
Submitted by Athletics
UE Track & Field Starts Outdoor Season At Bellarmine's Jim Vargo Invitational Friday
The University of Evansville Track & Field team will begin its outdoor season on Friday, as the Purple Aces will travel east to Louisville, Kentucky to take part in Bellarmine's Jim Vargo Invitational. The meet will begin at 8 a.m. central time with the hammer throw event, with running events scheduled to get underway around 11:15 a.m. central.
The Jim Vargo Invitational will feature competitors from 13 teams, including UE, Bellarmine, Capital University, Cumberlands, Indiana East, Lawrence Tech, Midway, Morehead State, Seton Hill, Southern Indiana, Spalding, Tiffin, and Trevecca Nazarene.
Evansville last competed indoors at the Indiana State Open in Terre Haute on February 18. In that meet, graduate students Antonia Lamond (Nutley, N.J./Paramus Catholic) and Melanie Helder (Hudsonville, Mich./Hudsonville) both broke school records in the indoor shot put and 800-meter race respectively. The outdoor records in both events may be in jeopardy on Friday, as Lamond's toss of 10.14 meters would break the UE outdoor record in the shot put, while Helder's time of 2:19.34 would just be seconds off the outdoor 800-meter mark on the women's side at UE.
On the men's side, sophomore Adam Oulgout (St. Paul, Minn./Central) took home the 800-meter individual title at the Indiana State Open, while senior thrower Zach Dove (Princeton, Ind./Princeton Community) posted top-10 finishes in both the shot put and men's weight throw. Dove is the UE outdoor record-holder in both the discus and hammer throw, and should challenge both of those marks on Friday.
Live meet results can be found on the UE Track & Field schedule page of GoPurpleAces.com.
Submitted by Athletics
UE Baseball Hosts Purdue In Three-Game Series This Weekend
The red-hot University of Evansville baseball team will get a big test this weekend, as Big Ten member Purdue will come to town for a three-game series. The series will begin on Friday at 3 p.m. at UE's German American Bank Field at Charles H. Braun Stadium, and all three games can be heard live on the Old National Bank Radio Network and 107.1 F.M.-WJPS.
Evansville will bring a 10-7 overall record into Friday's series opener after exploding for a 14-2 victory at Bellarmine on Wednesday afternoon. The Purple Aces launched four home runs and exploded for six runs in the fifth inning and seven more in the sixth inning to win their third-straight. Overall, UE has won 10 of the last 12 games.
Fifth-year first baseman Chase Hug continues to lead the UE offense with a .433 batting average. He launched his fourth home run of the year in the ninth inning on Wednesday to cap UE's scoring, and is tied with teammates Eric Roberts and Kip Fougerousse for the team-lead with four home runs. Hug also sports a .595 on-base percentage this year, which ranks ninth-best in NCAA Division I baseball. He has reached base in all 17 games this year, and in 23 consecutive games dating back to last year.
On the mound, UE will turn to junior RHP Nick Smith (1-3, 5.70 ERA) to start Friday's series opener. Smith struck out a career-high 12 men in his last home start against Bowling Green on March 4. He is coming off a tough-luck loss in his last start last Friday, as he suffered the loss in UE's 2-0 loss at Middle Tennessee State. Pitching has helped power UE's recent surge, as the UE pitching staff has posted a 2.29 ERA over the last nine contests, while not allowing more than four runs since UE's 14-8 win at Southeast Missouri State to open the month of March.
The UE pitching staff will be challenged by a Purdue offense which ranks among the nation's best this year. The Boilermakers currently rank 31st in the nation in scoring at 8.9 runs per game. Purdue stands at 9-7 overall after a 14-5 victory over Northern Illinois on Wednesday. The Boilermakers hit .304 as a team, and they are led in hitting by fifth-year infielder Evan Albrecht, who will bring a .407 batting average into this weekend's series. Redshirt junior infielder Paul Toetz is not far behind with a .390 average, and he ranks 12th nationally in home runs this year with eight home runs in 16 games.
UE and Purdue have not met on the diamond since 2013, when the Boilermakers took two out of three games at Charles H. Braun Stadium. The two teams were supposed to meet originally in March, 2020, but the series was cancelled right at the start of the COVID-19 pandemic. The two teams were scheduled to play last year, but the game was rained out in West Lafayette.
The series is scheduled to continue on Saturday at 2 p.m. and conclude on Sunday at 1 p.m.
Submitted by Athletics
Contribute to AceNotes
To have content considered for inclusion in AceNotes, please submit a Marketing Request Form. Deadline for submission to AceNotes is 10:00 a.m. on the requested date of publication. Only articles concerning UE related/sponsored activities will be accepted. Articles submitted to AceNotes may be edited for length and clarity. Submitter contact information is at the end of each article.