| | |
| --- | --- |
| AceNotes Today | Thursday, March 16, 2023 |
UE Launching Creative Technologies Program
In 2023, UE will launch a four-year Bachelor of Science in Creative Technologies degree.

Combining elements from UE's Departments of Art, Communication, Theatre, and Music Conservatory, the BS in Creative Technologies aims to build students' technological skills in the creation of sound, video, lighting, graphic, and other technologies used for creative endeavors.

The new program combines multiple disciplines to engage students in the conception, development, and production of creative content. From the first draft to the final product, students in Creative Technologies will be challenged to develop their creative skills through immersion in fundamentals of art, design, music, communication and creative writing, and to bring their creations to life onstage, onscreen, or on-air through a variety of cutting-edge digital technologies. Joe Atkinson, MFA, Assistant Professor of Communication, will serve as the Program Director.

Applications for the Bachelor of Science in Creative Technologies are now available for Fall 2023.
Submitted by Julie Beer / jb855@evansville.edu
Pep and Vim/Reunion Weekend
Pep and Vim, the UE Annual Day of Giving, is April 14, 2023 – Click to learn more!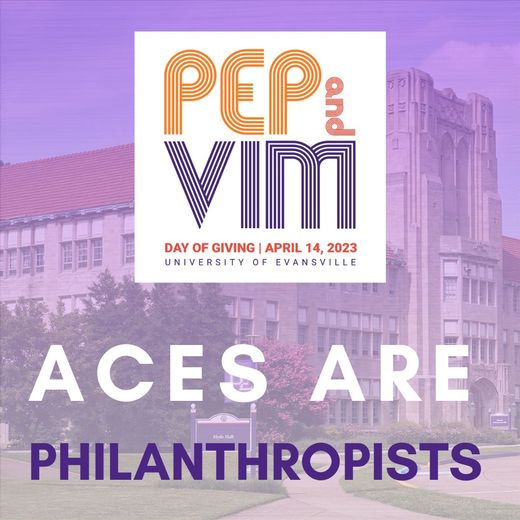 First created by a UE alumnus, "Pep and Vim," UE's Annual Day of Giving, was brought to life in 2012. We shouted our school spirit from the rooftops, and we were honored that the Aces community responded to our first Pep and Vim by making 250 philanthropic gifts that totaled over $5,000.

Flash forward to April 2022, Pep and Vim's 10-year anniversary, and you can see how UE's Day of Giving has grown over the last decade. Over 2,000 gifts were made to the university, totaling over $400,000. Gifts came in from 44 states, providing opportunities for growth within all 3 academic colleges on campus, as well as for Harlaxton College and UE Athletics.
Now it's time for Pep and Vim 2023, and with you by our side, we know we can up our game once more. The UE Alumni Board of Directors has issued a philanthropic challenge! If, as one Aces family, we make 2,023 gifts to any UE project, they will gift $20,000 to the UEvansville Fund!
Sometimes philanthropy can feel too big for us as individuals. But when we join together, we can change the lives of countless others. That's why, at UE, everyone can be a philanthropist. Whether you can give $5 or $5,000, your gift will move the University of Evansville FORWARD into a bright and hopeful future.

To make a gift and help unlock the Alumni Board's challenge, please visit www.evansville.edu/give
Thank you and GO ACES!
Submitted by Jaime Wilder jw663@evansville.edu
Register TODAY for Speed Networking Event
Speed Networking Event
Tuesday, March 21st
6:00pm-8:30pm
Eykamp Hall, RUC
*Open to ALL students and ALL majors!
Don't miss this opportunity to meet face to face with employers! Whether you are looking for part time, full time, or summer employment, or simply want to improve your interviewing skills, this event is for you! Look in Handshake for a list of registered employers.
Space is limited, so register in Handshake today!
Questions? Contact the Center for Career Development at career@evansville.edu or 812-488-1083.
Submitted by Amanda Wood aw505@evansville.edu
CDEI Upcoming Programming
CDEI has some amazing upcoming programs, and we hope to see you there! Head to UEngage or our Instagram @uediversity for more information as the date approaches!
4/5
6-7:30 pm Sexual Assault Awareness Month Panel
On Zoom
Panelist include individuals from the following organizations/ roles: Albion Fellows Bacon Center, Evansville Police Department, Indiana Tracking Victim Assistance Program, Vanderburgh County Deputy Prosecutor, Vanderburgh County Prosecutor, Sexual Assault Nurse Examiner
Please register for this meeting
4/10
12-1 pm Disability Awareness Month Keynote Speaker
On Zoom
Gregory S. Fehribach
Gregory S. Fehribach of Indianapolis, Indiana is principal of the Fehribach Group, a consulting firm specializing in accessibility, universal design, and compliance with the ADA that he founded in 1995. He is of counsel to the firm of Tuohy, Bailey, & Moore, LLP in Indianapolis and has practiced law for the past 30 years. Since 1988, Fehribach has served as a panel trustee for the U.S. Bankruptcy Court, Southern District of Indiana. In 2009, he was designated a Distinguished Fellow at Ball State University where he established The Disability Project, which was renamed the Gregory S. Fehribach Center on July 25th, 2019. Fehribach has served on the Ball State University Board of Trustees, the Indiana Governor's Planning Council for People with Disabilities, the Board of Directors of the Indianapolis Public Transportation Corporation, and the Marion County Health and Hospital Corporation Board of Trustees. He received a bachelor's degree and a master of arts degree from Ball State University and a law degree from Ohio Northern University's Pettit College of Law.
Please register for this meeting
If you have any questions, please email Center4DEI@evansville.edu
Submitted by Abagail Christine Catania ac532@evansville.edu
Student Masquerade Ball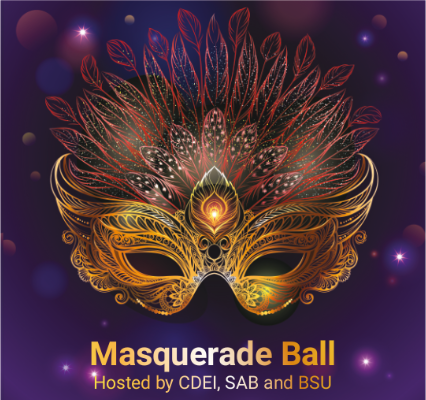 Save the date and buy the fits! CDEI, BSU and SAB are bringing you Masquerade Ball 2023! Let's dance the night away and end the semester with a boom!
April 1st, 8pm
Masquerade Ball: Eykamp Hall- Free
After Party: SkyZone Evansville- $5.00 or 1 bag of feminine hygiene products
*there will be a shuttle to take people from UE to Skyzone!
Theme: Black, Gold, and Red
Attire: Semi-formal
UE, UE Guests, USI and Ivy Tech students are invited!
UE Guests must be registered via UEngage and Eventbrite
USI and Ivy Tech students must be registered via Eventbrite
As it is Wom_n's History Month, we will be hosting a feminine hygiene product drive in exchange for free after party tickets. Bring a full bag to the Ball or get your ticket ahead of time during tabling hours during the week!
All donations will be donated to a local charity
Submitted by Abagail Christine Catania ac532@evansville.edu
History Spring Lecture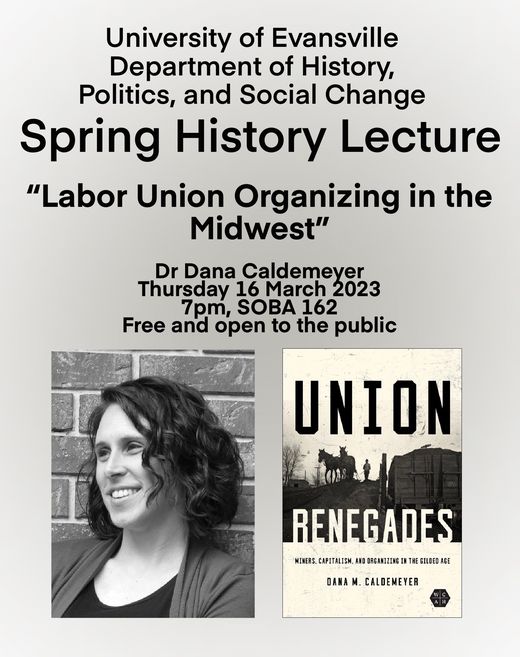 The Department of History, Political Science, and Social Change invite everyone to this year's Spring Lecture on Thursday March 16 at 7 PM in SOBA 162. This year's lecture is by UE alumnus Dr. Dana Caldemeyer, Assistant Professor of History at University of Alabama A&M. The title of the lecture is "Union Renegades: Labor Union Orgainizing in the 19th Century Midwest."
Submitted by Daniel Byrne db89@evansville.edu
Caribbean Medical School Information Session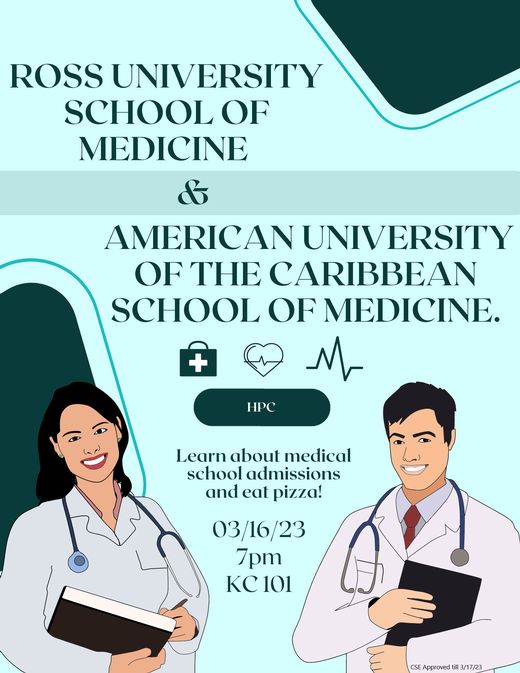 Attention Pre-Professional Health Students!
The Health Professions Club is hosting a Caribbean Medical School information session on March 16, 2023 @ 7:00pm! You will learn about two Caribbean medical schools, practice some mock interview questions and have pizza!
Register for this session. The representative needs to know how many students we will have.
Agenda
Student Introductions
Ross & AUC Info Sessions
Admissions Requirement, Process & Timeline
Our Holistic Approach (Average GPA & MCAT is 3.25 and 495)
Life on the islands. Which is a better fit for you? Ross or AUC?
Why should you start in May?
Enrolling in May gives you a head start toward your dream career.
Starting this upcoming May means that you could be ready for your residency as early as July 2027.
Our MD program, curriculum, campus, residency matching, and more
Submitted by Francie Renschler fr25@evansville.edu
Master of Science in Leadership Information Session – March 16
Join Dr. Tad Dickel and Cindy Felts online over lunch for a 30-minute informational webinar about the Master of Science in Leadership program on Thursday, March 16 at 12 noon. Come and learn more information about application requirements, program schedule, and course information. Former MSL student, Julie Beer, will also be available to share her experience as a student.
The MSL program provides a rich curriculum in a flexible environment that can be completed within 16 months. It also offers a customized approach with the opportunity to choose nine credit hours of selected electives in areas such as:
Innovation
Healthcare Leadership
Nonprofit Leadership
Public Health
Higher Education Leadership
All courses within the program emphasize the student's growth and development as a leader and how to leverage one's leadership strengths to create positive, organizational change.
Join us on Thursday to learn more!
MSL WEBINAR LINK:
Submitted by Cindy Felts cf128@evansville.edu
Statham Lecture in Sociology This Thursday
The 2nd Annual Statham Lecture in Sociology will be held this Thursday, March 16 at 5:30-6:30pm in Eykamp Hall (2nd floor of Ridgway) and will feature Dr. Jori Sechrist, Professor of Sociology at McMurry University in Texas. The title of her lecture is: "Navigating Institutions of Higher Education: Examining the Importance of (Female) Mentorship with a Sociological Imagination."
Established in 2021, the Bettye A. Statham Sociology Forum Lecture invites leading scholars in Sociology to the University of Evansville to enhance student, faculty, and community experiences through the exploration of sociological research. The series examines systems of inequality and social forces that shape our world, focusing on the intersections of social institutions and how they impact our lives. This lecture series is made possible through an endowment from the late Bettye A. Statham, a 1947 Sociology alumna of Evansville College.
Submitted by Sociology Programs mp168@evansville.edu
FREE WORKSHOP: Managing Conflict with Others
The Center for the Advancement of Learning invites all faculty, staff, and administrators to join us for the upcoming workshop "Managing Conflict with Others" presented by Kathleen Lapekas, President/Owner of Lapekas HR Consulting LLC. The workshop will take place on Wednesday, March 22, from 11:30 a.m. – 1:30 p.m. in Eykamp Hall, Room 252.
Attendees will learn how to respond assertively when conflict occurs and how to address difficult personalities who give inappropriate conflict reactions. This workshop is free for UE employees and lunch is available for $10. To register and pay for lunch, visit the link below by Thursday, March 16. REGISTER EARLY – SPACE IS LIMITED!
If you would like to attend the workshop and bring your own lunch, email cal@evansville.edu by Thursday, March 16.
About the presenter: Kathleen is a Professional HR Consultant with over 25 years of HR Management. Her expertise covers every aspect of HR including organizational development, Employee Relations, training, recruiting and administration through a vast knowledge base and a keen understanding of how to keep her clients compliant with Employment Law. Kathleen currently serves as an Adjunct Instructor at University of Evansville, as well as a regular instructor at the University of Southern Indiana, Western Kentucky University, and Henderson Community College teaching courses in leadership and Human Resources for local area businesses.
Submitted by Cindy Felts cf128@evansville.edu
"Psychology and Investing": Video Conferencing by one of the most recognized scholars in finance during the last 50 years.
On March 29, 2023, H. Kent Baker, "University Professor" of Finance, American University, Washington DC, will be video conferencing with UE students in Smyth Hall at 4:00 p.m. The title of his presentation will be, "Psychology and Investing: Common Behavioral Biases of Investors." The Journal of Finance literature recognized him as among the top 1 % of the most prolific authors in finance during the past 50 years. Professor Baker has published over 210 peer-reviewed papers and authored 41 books. He has also provided consulting services to more than 100 organizations. Professor Baker is a professional musician who plays five instruments. He has taught, recorded, toured, and played in numerous rock, jazz, and other musical groups. The event is open to public.
Submitted by Walayet Khan wk3@evansville.edu
University of Evansville Andiron Lecture by Sara Petrosillo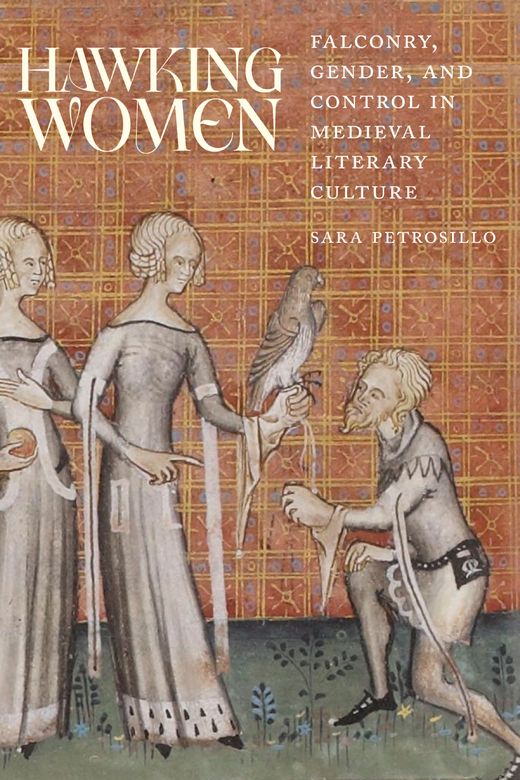 The next University of Evansville Andiron Lecture,
Hawking Women: Falconry, Gender, and Control in Medieval Literary Culture,
will take place Wednesday, March 22, 2023 at 5:00 p.m.
This will be at Room 162 (Harkness Hall) at the Schroeder Family School of Business Administration Building
Sara Petrosillo, PhD, is an Assistant Professor of English at the University of Evansville. She earned her PhD in Literature from the University of California, Davis and a Bachelor of Arts in English and Italian from Colby College. Her research and teaching interests include medieval and early modern literature, feminist theories, medieval manuscript studies, poetics, and critical animal studies. She has published essays in medieval, early modern, and theory journals and in a book on animals in medieval literature. Her book, Hawking Women: Falconry, Gender, and Control in Medieval Literary Culture, was published in 2023.
Women in the Middle Ages claimed the symbol of a hawking woman on their personal wax seals, trained and flew hawks, and wrote and read books featuring female falconers. In this talk debuting her book Hawking Women, Petrosillo demonstrates how cultural literacy in the medieval art of falconry challenged patriarchal control. In the avian hierarchy female hawks have always been the default and the dominant. What happens when women, who occupy a subordinate position in the human hierarchy, spend time with their hawk counterparts? In our current climate of mass discrimination against women, this interspecies medieval model contains lessons about how women resisted in a culture of training and control.
Submitted by Cheryl Emmons ce36@evansville.edu
Artist Reception Tonight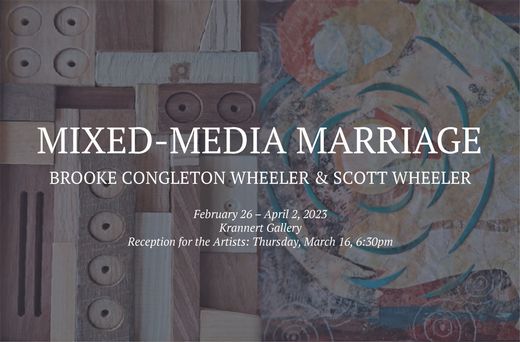 Please join us tonight for a reception in the Krannert Gallery at 6:30 p.m. We will celebrate the Mixed-Media Marriage exhibit by artists Brooke Congleton Wheeler & Scott Wheeler. Their exhibit is currently running in the Krannert Gallery until April 2, 2023.
Submitted by Carol McCraney cm177@evansville.edu
CHNG 310-02: Civil Disobedience, Creative Protest Project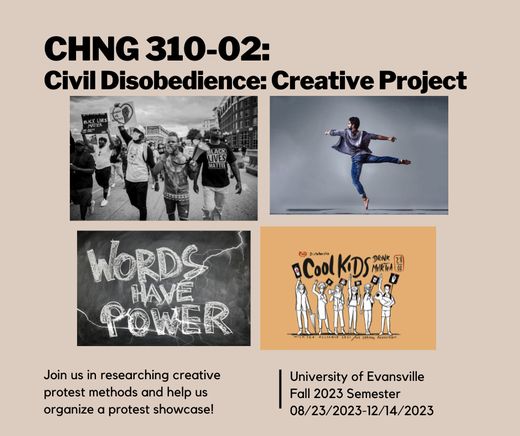 Hey Aces! Are you wanting a creative outlet when it comes to social problems? This is the Change Lab for you!
Civil Disobedience will explore different ways protesters have used art (music, theatre, storytelling, dance, etc) to make their voices known and heard in regard to social injustice. In direct connection with creating an Inclusive Community (UE Core Value) and Living meaningfully in a changing world (UE Mission) students will organize an end of semester showcase to exhibit their artform connected to a social problem they identify with or feel connected to.
Get ready to research different creative protest methods and formulate a working plan to organize the end of semester showcase!
Don't miss out on the opportunity to create and showcase your protest. Plan CHNG 310-02 for the Fall 2023 semester now, seats are limited!
Submitted by Jade S Shelby js818@evansville.edu
Global Scholars Application Now Open
The Center for Innovation & Change is happy to announce applications once again are open for the Global Scholars program. This will be the 17th cycle of funding for our incredibly innovative faculty, made possible by John H. Schroeder Global Scholar Endowed Fund. Details at https://www.evansville.edu/centerforinnovation/scholars.cfm.
Any faculty member can apply (cross-curricular collaborations are encouraged!) to receive funding for travel and research abroad. While all proposals are considered, priority is given to work that involves changemaking, the UN Sustainable Development Goals, or work that can be applied in a beneficial way for the world upon return. If someone wants to get feedback on a potential idea, they can contact Executive Director Erin Lewis (EL131@evansville.edu or ext. 5002, text is best at 812-449-1044) or Faculty Director Derek Jones (dj3@evansville.edu) directly to help develop proposals .
Deadline to submit a proposal is March 31. Awards will be notified shortly after that, and all details on proposal specifics are at https://www.evansville.edu/centerforinnovation/scholars.cfm. The page includes all past recipients if you would like to see the kinds of proposals that have been funded previously.
Submitted by Andrew Carter ac116@evansville.edu
Caribbean Medical School Information Session now Virtual
Students,
We have pivoted to the virtual platform for tomorrow's presentation. Everyone can log on from their home or meeting spot!
Learn more about this presentation.
Microsoft Teams meeting
Join on your computer, mobile app or room device
Click here to join the meeting
Meeting ID: 273 364 544 528
Passcode: TsziQb
Download Teams | Join on the web
Join with a video conferencing device
732013995@t.plcm.vc
Video Conference ID: 113 966 827 6
Alternate VTC instructions
Or call in (audio only)
+1 630-884-8635,,28468785# United States, Big Rock
Phone Conference ID: 284 687 85#
Find a local number | Reset PIN
Learn More | Help | Meeting options
Submitted by Francie Renschler fr25@evansville.edu
Info You Should Know
SPAN 112 Offered During Summer Session 2
SPAN 211 Offered During Summer Session 2
Submitted by Cindy Crowe cc109@evansville.edu
Student Leaders Needed
College Mentors for Kids is a great organization on UE's campus that matches UE student volunteers with a student from a local elementary school. Elementary students travel to UE one day a week to meet with their UE student mentor, participate in a community service activity, learn about careers and professions by visiting areas on campus, and receive ongoing encouragement and inspiration from a UE student about the importance of education and giving back to their community. We're looking for student leaders to organize and lead this program for the 2023-2024 academic year. If you are interested, please contact Dr. Lisa Hale at lh241@evansville.edu or Carly Cox at ccox@collegementors.org for more information. Make a difference, volunteer to mentor!
Submitted by Lisa Marie Hale lh241@evansville.edu
ES 103 Offered During Summer Session 2
ES 103 (Fundamentals of Environmental Science), which fulfills the non-lab science General Education credit (Outcome 8), will be offered during Summer Session 2 as an online, asynchronous class. If you have questions about this 3 credit hour course, which will run from June 19-July 21, please contact Dr. Aldred via email – ka59@evansville.edu
Submitted by Katie Aldred ka59@evansville.edu
Central Receiving - In-house Office Supplies
Did you know the Central Receiving Department has 3-hole punch paper? If you would like to take a break from manually punching holes, order some 3-hole punch paper from Central Receiving. We have a limited supply and once it is gone, we will no longer carry it. The cost is $4.25/ream. It's easy to order, just fill out an In-House order form and mail it to Central Receiving through campus mail or email it to centralreceiving@evansville.edu.
If you have questions, please email centralreceiving@evansville.edu or contact Darren Miller in Central Receiving at ext. 2181, or Michelle Braun at ext. 1067.
Submitted by Michelle Braun mb485@evansville.edu
National Survey of Student Engagement (NSSE)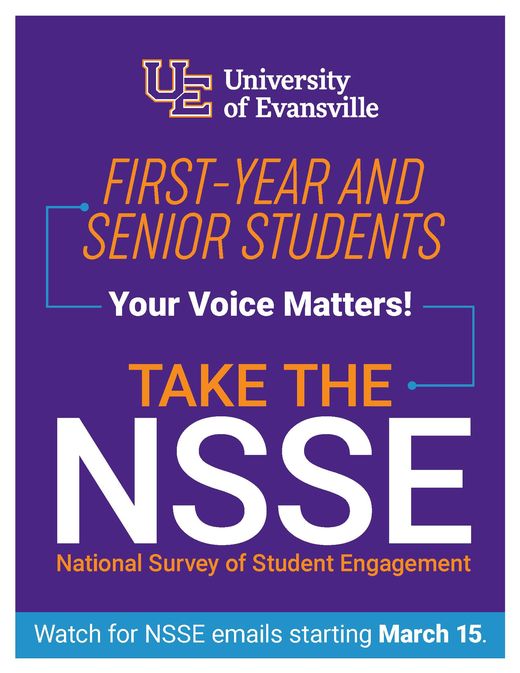 FIRST-YEAR AND SENIOR STUDENTS - Your Voice Matters! Take the National Survey of Student Engagement (NSSE). Watch for NSSE emails starting March 15.
In appreciation for participating, all students who complete the survey by April 14 will be entered into a drawing for one of two Apple Watches (each valued at approximately $280.00) and one of four sets of JBuds Air earbuds (each valued at approximately $70.00). One first-year student and one senior-year student will be selected for the Apple Watches. Two first-year students and two senior-year students will be selected for the earbuds. Students may receive only one item. Your chances of winning depend on how many complete the survey; 965 students were invited to participate.
Submitted by Paula Heldt ph28@evansville.edu
Employee - UE Mobile Mammography Services
Employees - Ascension St. Vincent is providing mobile mammography services for the University of Evansville. The mobile mammography bus will be located next to the Krannert Building on April 13th from 9:00AM - 2:00PM. Please click the link below to sign up for an appointment time! An Ascension Breast Center representative will call you prior to your appointment date to verify all necessary registration information.
Submitted by Haley Walker hw164@evansville.edu
2023-24 Margery Florence Kahn Scholarship Application Now Available
It was the desire of the donor, Margery Florence Kahn, that her scholarship be awarded to "dedicated and conscientious students who exhibit a true passion for their chosen fields of study, and who, in the opinion of the members of the University of Evansville faculty, are likely to bring the same enthusiasm into the performance of their jobs or the practice of the professions which they will pursue following graduation."
All University of Evansville full-time undergraduate students who will be juniors or seniors in the 2023-24 academic year may apply. An essay of about 300 words must accompany the application along with two to five faculty recommendation letters.
Application and faculty recommendation information
Completed applications and recommendation letters should be returned to the Office of Student Financial Services by MAY 10, 2023.
Questions may be directed to the Office of Student Financial Services via email or by phone at (812) 488-2364.
Submitted by Amber Chandler ac547@evansville.edu
BIOL 100 Summer Online Course
Are you interested in taking a non-majors biology course with a lab this summer to fulfill one of your scientific literacy general education requirements (Outcome 8 with a lab)? If so, then take BIOL-100-D01 – Fundamentals of Biology during Summer I (May 15 to June 16). Please contact Dale Edwards (de3) for more details.
Submitted by Dale Edwards de3@evansville.edu
Call for Nominations: Dean of Students Leadership Awards
Nominations are now being accepted for consideration of The Howard S. Rosenblatt "Dean of Students Leadership Awards." These awards will be presented at the 30th Annual Leadership Awards Reception scheduled for Thursday, April 20, 2023. Invitations will be prepared by the Center for Student Engagement.
Awards from the Dean of Students Office are presented in the following categories:
Student Organization Advisor of the Year
Student Organization of the Year
Student Leader of the Year
Over 80% of UE students participate in at least one student organization or program. These organizations are successful because of the commitment of the student leaders and the advisors who give freely of their time and support. The recipients of these awards are selected based on their commitment to the University of Evansville as well as the development and success of their efforts within their chosen student organization.
The deadline for nominations is March 30, 2023. Click on this link to submit your nomination:
https://forms.office.com/r/GPpKHhifAL
If you have any questions, please contact the Vice President for Student Affairs/Dean of Students office at 812-488-2500 or by e-mail via deanofstudents@evansville.edu.
Thank you in advance for celebrating the achievements of our campus leadership!
Submitted by Shelby Gardner sg293@evansville.edu
Professor Emeritus Solves Classic Mechanics Problem
Professor emeritus, David J. Unger, of Mechanical and Civil Engineering, has solved mathematically a propagating crack problem for thin plates. The analogous problem for thick plates was solved nearly 50 years ago. The article has recently appeared as: Unger, D.J. Plane stress asymptotic solution for steady crack growth in an elastic/perfectly plastic solid for mode I crack propagation. Z. Angew. Math. Phys. 74, 77, pp. 1-21 (2023). https://doi.org/10.1007/s00033-022-01916-4
Submitted by David J Unger du2@evansville.edu
Middle-Inning Explosion Powers UE Baseball Past Bellarmine, 14-2
The University of Evansville baseball team stayed red-hot on Wednesday, as the Purple Aces exploded for six runs in the fifth inning and seven more in the sixth to power past the host Bellarmine Knights, 14-2, at Knights Field in Louisville, Kentucky. With the win, Evansville has now won 10 of its last 12 contests.
"I thought that we did a great job today of staying focused in a mid-week game," said UE head coach Wes Carroll. "We grinded out some big innings offensively, and I thought that our pitching did well as well. I really thought that Willard Peterson did well in his first outing on the mound as an Ace as the starter."
Trailing 1-0 going into the top of the fifth inning, Evansville sent nine men to the plate and took advantage of some Bellarmine wildness to grab a lead it would never lose. The Purple Aces loaded the bases on three-straight walks to open the inning, before junior shortstop Simon Scherry tied the game at 1-1 with a sacrifice fly.
After another walk re-loaded the bases, fifth-year outfielder Danny Borgstrom roped a two-run double to right-center field to give UE a 3-1 lead. Senior third baseman Brent Widder then followed with a towering home run to left field to push UE's lead to 6-1.
Evansville would hit back-to-back home runs to open the sixth inning, as sophomore outfielder Ty Rumsey homered for his second-straight game, and fifth-year outfielder Eric Roberts followed with a home run to center field to move the lead to 8-1. It marked the first time since 2021 in which UE hit back-to-back home runs (Mark Shallenberger & Tanner Craig at Valparaiso on 5/15/21).
From there, the flood gates opened, as two Bellarmine errors and a walk quickly loaded the bases. A bases-loaded walk by Borgstrom and a sacrifice fly by Widder moved the lead to 10-1, before sophomore catcher Evan Waggoner roped an RBI double to give UE a 10-run lead. Redshirt freshman DH Kevin McCormick followed with an RBI single and Rumsey added another sacrifice fly to give UE a 13-1 advantage.
Bellarmine would respond with one of its two solo home runs of the day in the bottom of the sixth inning to make it a 13-2 game. It would remain that way until the ninth, when fifth-year first baseman Chase Hug launched a mammoth solo home run to right field over the highway beyond the outfield wall for his fourth home run of the year.
Evansville pounded out 13 base hits, with Roberts, Hug, Borgstrom, Waggoner and McCormick all recording two-hit afternoons. Widder also drove in four, while Borgstrom notched three RBI.
Seven different UE hurlers combined to limit Bellarmine to two runs on six hits. Junior reliever Shane Harris (2-1) earned the victory in relief. Freshman LHP Willard Peterson made his UE debut as the starter, and did not allow a run on only one hit in 3.0 innings of work. Fellow freshman LHP Jack Taczy also made his UE debut, tossing a scoreless inning of relief, while freshman RHP Max Hansmann, redshirt freshman RHP Ethan Bell, and senior LHP Jace Kressin all recorded scoreless innings on the mound as well.
With the victory, Evansville improves to 10-7 overall. Bellarmine, meanwhile, falls to 5-12. The Purple Aces will now return home to host Big 10 member Purdue in a three-game series beginning on Friday afternoon at 3 p.m. All three games of the Purdue series can be heard live on the Old National Bank Radio Network and 107.1 FM-WJPS, with the Voice of the Aces, Jevin Redman, providing play-by-play coverage.
Submitted by Athletics
Contribute to AceNotes
To have content considered for inclusion in AceNotes, please submit a Marketing Request Form. Deadline for submission to AceNotes is 10:00 a.m. on the requested date of publication. Only articles concerning UE related/sponsored activities will be accepted. Articles submitted to AceNotes may be edited for length and clarity. Submitter contact information is at the end of each article.