| | |
| --- | --- |
| AceNotes Today | Tuesday, March 14, 2023 |
UE Launching Creative Technologies Program
In 2023, UE will launch a four-year Bachelor of Science in Creative Technologies degree.

Combining elements from UE's Departments of Art, Communication, Theatre, and Music Conservatory, the BS in Creative Technologies aims to build students' technological skills in the creation of sound, video, lighting, graphic, and other technologies used for creative endeavors.

The new program combines multiple disciplines to engage students in the conception, development, and production of creative content. From the first draft to the final product, students in Creative Technologies will be challenged to develop their creative skills through immersion in fundamentals of art, design, music, communication and creative writing, and to bring their creations to life onstage, onscreen, or on-air through a variety of cutting-edge digital technologies. Joe Atkinson, MFA, Assistant Professor of Communication, will serve as the Program Director.

Applications for the Bachelor of Science in Creative Technologies are now available for Fall 2023.
Submitted by Julie Beer / jb855@evansville.edu
Pep and Vim/Reunion Weekend
Pep and Vim, the UE Annual Day of Giving, is April 14, 2023 – Click to learn more!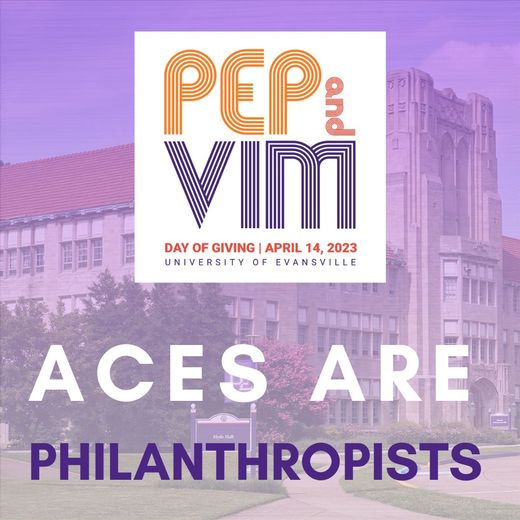 First created by a UE alumnus, "Pep and Vim," UE's Annual Day of Giving, was brought to life in 2012. We shouted our school spirit from the rooftops, and we were honored that the Aces community responded to our first Pep and Vim by making 250 philanthropic gifts that totaled over $5,000.

Flash forward to April 2022, Pep and Vim's 10-year anniversary, and you can see how UE's Day of Giving has grown over the last decade. Over 2,000 gifts were made to the university, totaling over $400,000. Gifts came in from 44 states, providing opportunities for growth within all 3 academic colleges on campus, as well as for Harlaxton College and UE Athletics.
Now it's time for Pep and Vim 2023, and with you by our side, we know we can up our game once more. The UE Alumni Board of Directors has issued a philanthropic challenge! If, as one Aces family, we make 2,023 gifts to any UE project, they will gift $20,000 to the UEvansville Fund!
Sometimes philanthropy can feel too big for us as individuals. But when we join together, we can change the lives of countless others. That's why, at UE, everyone can be a philanthropist. Whether you can give $5 or $5,000, your gift will move the University of Evansville FORWARD into a bright and hopeful future.

To make a gift and help unlock the Alumni Board's challenge, please visit www.evansville.edu/give
Thank you and GO ACES!
Submitted by Jaime Wilder jw663@evansville.edu
History Spring Lecture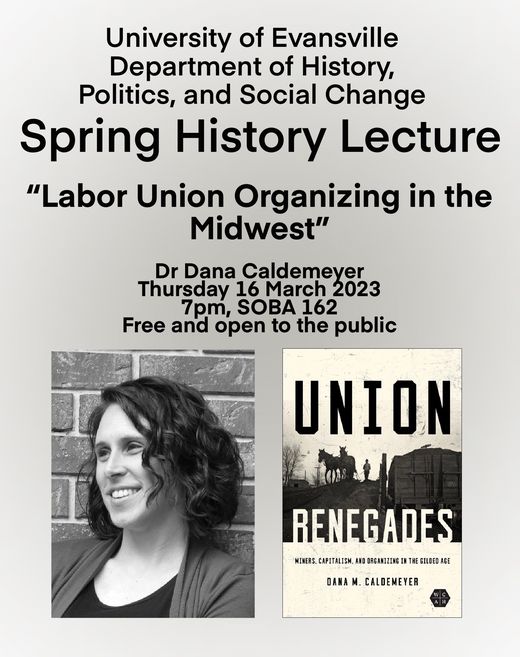 The Department of History, Political Science, and Social Change invite everyone to this year's Spring Lecture on Thursday March 16 at 7 PM in SOBA 162. This year's lecture is by UE alumnus Dr. Dana Caldemeyer, Assistant Professor of History at University of Alabama A&M. The title of the lecture is "Union Renegades: Labor Union Orgainizing in the 19th Century Midwest."
Submitted by Daniel Byrne db89@evansville.edu
Caribbean Medical School Information Session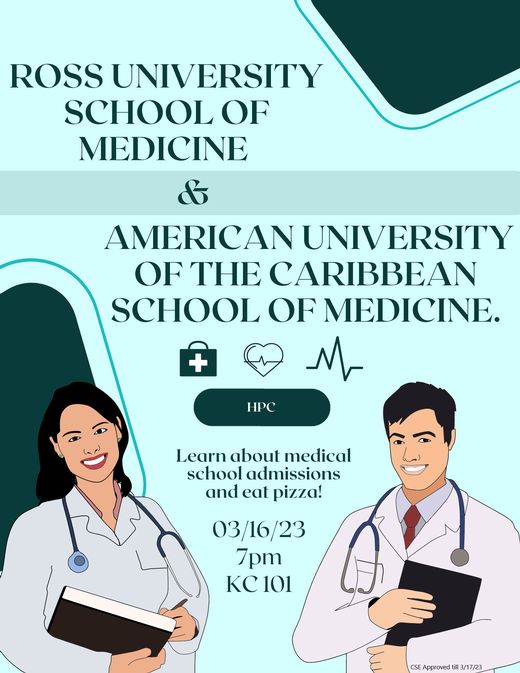 Attention Pre-Professional Health Students!
The Health Professions Club is hosting a Caribbean Medical School information session on March 16, 2023 @ 7:00pm! You will learn about two Caribbean medical schools, practice some mock interview questions and have pizza!
Register for this session. The representative needs to know how many students we will have.
Agenda
Student Introductions
Ross & AUC Info Sessions
Admissions Requirement, Process & Timeline
Our Holistic Approach (Average GPA & MCAT is 3.25 and 495)
Life on the islands. Which is a better fit for you? Ross or AUC?
Why should you start in May?
Enrolling in May gives you a head start toward your dream career.
Starting this upcoming May means that you could be ready for your residency as early as July 2027.
Our MD program, curriculum, campus, residency matching, and more
Submitted by Francie Renschler fr25@evansville.edu
Master of Science in Leadership Information Session – March 16
Join Dr. Tad Dickel and Cindy Felts online over lunch for a 30-minute informational webinar about the Master of Science in Leadership program on Thursday, March 16 at 12 noon. Come and learn more information about application requirements, program schedule, and course information. Former MSL student, Julie Beer, will also be available to share her experience as a student.
The MSL program provides a rich curriculum in a flexible environment that can be completed within 16 months. It also offers a customized approach with the opportunity to choose nine credit hours of selected electives in areas such as:
Innovation
Healthcare Leadership
Nonprofit Leadership
Public Health
Higher Education Leadership
All courses within the program emphasize the student's growth and development as a leader and how to leverage one's leadership strengths to create positive, organizational change.
Join us on Thursday to learn more!
MSL WEBINAR LINK:
Submitted by Cindy Felts cf128@evansville.edu
Statham Lecture in Sociology This Thursday
The 2nd Annual Statham Lecture in Sociology will be held this Thursday, March 16 at 5:30-6:30pm in Eykamp Hall (2nd floor of Ridgway) and will feature Dr. Jori Sechrist, Professor of Sociology at McMurry University in Texas. The title of her lecture is: "Navigating Institutions of Higher Education: Examining the Importance of (Female) Mentorship with a Sociological Imagination."
Established in 2021, the Bettye A. Statham Sociology Forum Lecture invites leading scholars in Sociology to the University of Evansville to enhance student, faculty, and community experiences through the exploration of sociological research. The series examines systems of inequality and social forces that shape our world, focusing on the intersections of social institutions and how they impact our lives. This lecture series is made possible through an endowment from the late Bettye A. Statham, a 1947 Sociology alumna of Evansville College.
Submitted by Sociology Programs mp168@evansville.edu
Speed Networking Event
In celebration of Disability Awareness Month we are hosting a Speed Networking Event.
Tuesday, March 21st
Eykamp Hall in RUC
6pm-8:30pm
*Open to all students and all majors!
Do you need to expand your professional network? Hone your interviewing skills? Improve your confidence and comfort level with recruiters? This event is for you and provides one on one attention from eager employers interested in helping you grow.
Participants will receive an interview with multiple employers, receive written feedback, and participate with a post interview reception to meet/greet all employers. See Handshake to register for this event and see the list of employers that will be in attendance.
Questions? Contact the Center for Career Development at career@evansville.edu or 812-488-1083.
Submitted by Amanda Wood aw505@evansville.edu
FREE WORKSHOP: Managing Conflict with Others
The Center for the Advancement of Learning invites all faculty, staff, and administrators to join us for the upcoming workshop "Managing Conflict with Others" presented by Kathleen Lapekas, President/Owner of Lapekas HR Consulting LLC. The workshop will take place on Wednesday, March 22, from 11:30 a.m. – 1:30 p.m. in Eykamp Hall, Room 252.
Attendees will learn how to respond assertively when conflict occurs and how to address difficult personalities who give inappropriate conflict reactions. This workshop is free for UE employees and lunch is available for $10. To register and pay for lunch, visit the link below by Thursday, March 16. REGISTER EARLY – SPACE IS LIMITED!
If you would like to attend the workshop and bring your own lunch, email cal@evansville.edu by Thursday, March 16.
About the presenter: Kathleen is a Professional HR Consultant with over 25 years of HR Management. Her expertise covers every aspect of HR including organizational development, Employee Relations, training, recruiting and administration through a vast knowledge base and a keen understanding of how to keep her clients compliant with Employment Law. Kathleen currently serves as an Adjunct Instructor at University of Evansville, as well as a regular instructor at the University of Southern Indiana, Western Kentucky University, and Henderson Community College teaching courses in leadership and Human Resources for local area businesses.
Submitted by Cindy Felts cf128@evansville.edu
Mixed-Media Marriage Exhibit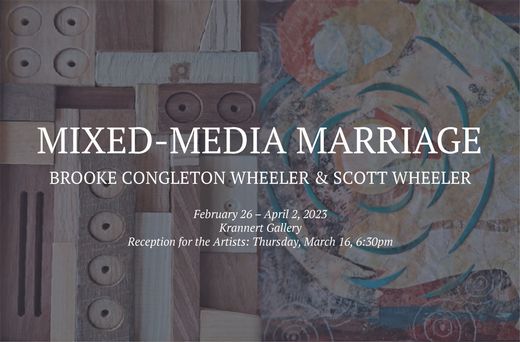 The Krannert Gallery will host the Mixed-Media Marriage exhibit by artists Brooke Congleton Wheeler & Scott Wheeler from February 26 - April 2, 2023. Please join us for the artists reception on Thursday, March 16 at 6:30 p.m. in the Krannert Gallery.
Submitted by Carol McCraney cm177@evansville.edu
Central Receiving - In-house Office Supplies
Did you know the Central Receiving Department has 3-hole punch paper? If you would like to take a break from manually punching holes, order some 3-hole punch paper from Central Receiving. We have a limited supply and once it is gone, we will no longer carry it. The cost is $4.25/ream. It's easy to order, just fill out an In-House order form and mail it to Central Receiving through campus mail or email it to centralreceiving@evansville.edu.
If you have questions, please email centralreceiving@evansville.edu or contact Darren Miller in Central Receiving at ext. 2181, or Michelle Braun at ext. 1067.
Submitted by Michelle Braun mb485@evansville.edu
National Survey of Student Engagement (NSSE)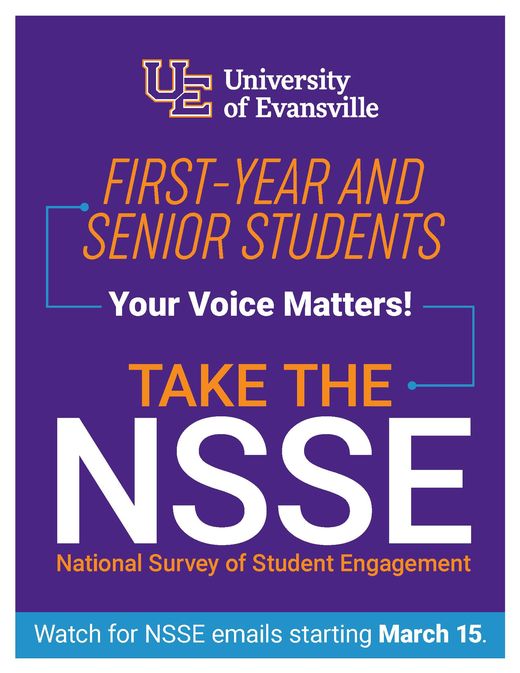 FIRST-YEAR AND SENIOR STUDENTS - Your Voice Matters! Take the National Survey of Student Engagement (NSSE). Watch for NSSE emails starting March 15.
In appreciation for participating, all students who complete the survey by April 14 will be entered into a drawing for one of two Apple Watches (each valued at approximately $280.00) and one of four sets of JBuds Air earbuds (each valued at approximately $70.00). One first-year student and one senior-year student will be selected for the Apple Watches. Two first-year students and two senior-year students will be selected for the earbuds. Students may receive only one item. Your chances of winning depend on how many complete the survey; 965 students were invited to participate.
Submitted by Paula Heldt ph28@evansville.edu
Employee - UE Mobile Mammography Services
Employees - Ascension St. Vincent is providing mobile mammography services for the University of Evansville. The mobile mammography bus will be located next to the Krannert Building on April 13th from 9:00AM - 2:00PM. Please click the link below to sign up for an appointment time! An Ascension Breast Center representative will call you prior to your appointment date to verify all necessary registration information.
Submitted by Haley Walker hw164@evansville.edu
2023-24 Margery Florence Kahn Scholarship Application Now Available
It was the desire of the donor, Margery Florence Kahn, that her scholarship be awarded to "dedicated and conscientious students who exhibit a true passion for their chosen fields of study, and who, in the opinion of the members of the University of Evansville faculty, are likely to bring the same enthusiasm into the performance of their jobs or the practice of the professions which they will pursue following graduation."
All University of Evansville full-time undergraduate students who will be juniors or seniors in the 2023-24 academic year may apply. An essay of about 300 words must accompany the application along with two to five faculty recommendation letters.
Application and faculty recommendation information
Completed applications and recommendation letters should be returned to the Office of Student Financial Services by MAY 10, 2023.
Questions may be directed to the Office of Student Financial Services via email or by phone at (812) 488-2364.
Submitted by Amber Chandler ac547@evansville.edu
Circle K Prom Volunteers Needed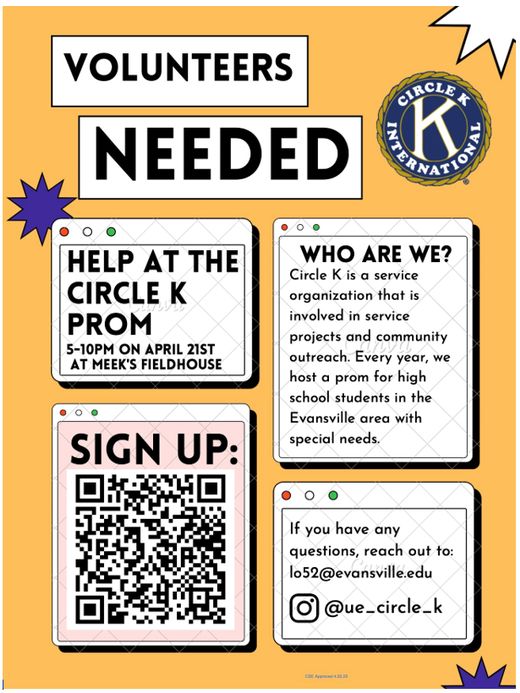 Circle K will be hosting a prom for the local high school students in the special education programs. You must have a completed background check and complete a short training on blackboard. It is on April 21st from 5-10pm and the deadline to sign up is March 24th. Fill out the google form if you are interested and we will provide you with all the information you need!
Submitted by Elizabeth McCook em310@evansville.edu
UE Baseball Game At Bellarmine Moved To Wednesday
Due to the expected weather in Louisville, Kentucky on Tuesday afternoon, Tuesday's baseball game between the University of Evansville and Bellarmine has been moved back a day to Wednesday, March 15. First-pitch will remain at 1 p.m. central time.
Evansville will bring a 9-7 overall record into Wednesday's contest, after winning two of three games at Middle Tennessee State over the weekend. UE has won nine of its last 11 games overall. Bellarmine, meanwhile, will counter with a 5-11 overall record. The Knights got swept in a four-game series over the weekend at Indiana, and are looking to snap a nine-game skid in what will be Bellarmine's 2023 home-opener.
Freshman LHP Willard Peterson (Evansville, Wis./Evansville) will earn the start for Evansville on Wednesday, and will be making his UE debut.
Submitted by Athletics
Romashkin shoots even par on day two
Freshman Daniil Romashkin shot an even 72 to pace the University of Evansville men's golf team in the second round of the Bobby Nichols Intercollegiate at Sevierville Golf Club.
Romashkin improved his opening round score by one stroke and sits in a tie for 15th entering Tuesday's final round of 18. Michael Ikejiani was second on the squad in round two. He matched his effort on Sunday, carding a 2-over 74. His score of 148 is tied for 31st.
Next for the Purple Aces was Nicholas Gushrowski. He registered a 79 in round two and goes into the third round with a 151. Gushrowski is tied for 48th. One behind him is Henry Kiel. Following a round of 72 on Sunday, Kiel recorded an 80 and is tied for 56th with a 152. Luke Schneider rounded out the team with an 84. His 2-round tally stands at 160.
Leading the individuals for UE is Carson Parker. After firing off a 70 in round one, Parker carded a 76 on the second day. His 146 is tied for 23rd. Isaac Rohleder enters the final 18 one behind Parker. His 74 on Monday has him in a tie for 23rd with a 147. Masatoyo Kato had an identical round of 74 on Monday following his effort on Sunday. His 148 is tied with Ikejiani for 31st.
Carson-Newman continues to pace the team standings with a 566. They are 13 ahead of North Georgia. Evansville is in 8th place with a 596. Individual Will Chambless of North Georgia leads the player standings. His 7-under 65, coupled with his opening round score of 68, has him in front with a 133. He is four strokes ahead of a second-place tie.
Submitted by Athletics
Contribute to AceNotes
To have content considered for inclusion in AceNotes, please submit a Marketing Request Form. Deadline for submission to AceNotes is 10:00 a.m. on the requested date of publication. Only articles concerning UE related/sponsored activities will be accepted. Articles submitted to AceNotes may be edited for length and clarity. Submitter contact information is at the end of each article.