| | |
| --- | --- |
| AceNotes Today | Friday, March 10, 2023 |
"Psychology and Investing": Video Conferencing by one of the most recognized scholars in finance during the last 50 years.
On March 29, 2023, H. Kent Baker, "University Professor" of Finance, American University, Washington DC, will be video conferencing with UE students in Smyth Hall at 4:00 p.m. The title of his presentation will be, "Psychology and Investing: Common Behavioral Biases of Investors." The Journal of Finance literature recognized him as among the top 1 % of the most prolific authors in finance during the past 50 years. Professor Baker has published over 210 peer-reviewed papers and authored 41 books. He has also provided consulting services to more than 100 organizations. Professor Baker is a professional musician who plays five instruments. He has taught, recorded, toured, and played in numerous rock, jazz, and other musical groups. The event is open to public.
Submitted by Walayet Khan wk3@evansville.edu
National Survey of Student Engagement (NSSE)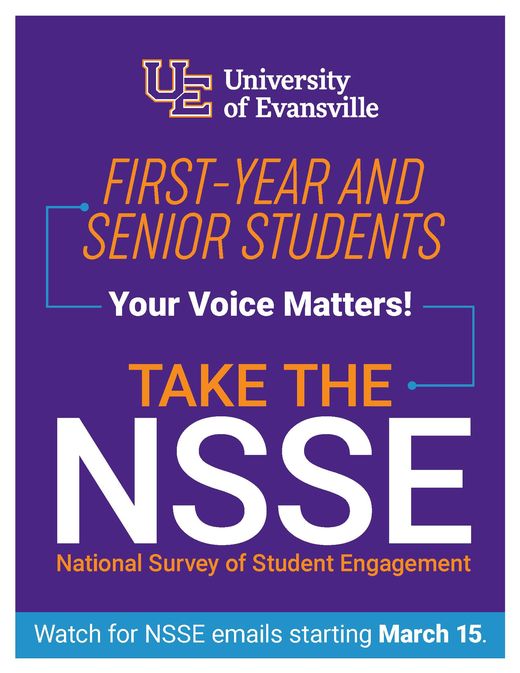 FIRST-YEAR AND SENIOR STUDENTS - Your Voice Matters! Take the National Survey of Student Engagement (NSSE). Watch for NSSE emails starting March 15.
In appreciation for participating, all students who complete the survey by April 14 will be entered into a drawing for one of two Apple Watches (each valued at approximately $280.00) and one of four sets of JBuds Air earbuds (each valued at approximately $70.00). One first-year student and one senior-year student will be selected for the Apple Watches. Two first-year students and two senior-year students will be selected for the earbuds. Students may receive only one item. Your chances of winning depend on how many complete the survey; 965 students were invited to participate.
Submitted by Paula Heldt ph28@evansville.edu
Employee - UE Mobile Mammography Services
Employees - Ascension St. Vincent is providing mobile mammography services for the University of Evansville. The mobile mammography bus will be located next to the Krannert Building on April 13th from 9:00AM - 2:00PM. Please click the link below to sign up for an appointment time! An Ascension Breast Center representative will call you prior to your appointment date to verify all necessary registration information.
Submitted by Haley Walker hw164@evansville.edu
Call for Nominations: Dean of Students Leadership Awards
Nominations are now being accepted for consideration of The Howard S. Rosenblatt "Dean of Students Leadership Awards." These awards will be presented at the 30th Annual Leadership Awards Reception scheduled for Thursday, April 20, 2023. Invitations will be prepared by the Center for Student Engagement.
Awards from the Dean of Students Office are presented in the following categories:
Student Organization Advisor of the Year
Student Organization of the Year
Student Leader of the Year
Over 80% of UE students participate in at least one student organization or program. These organizations are successful because of the commitment of the student leaders and the advisors who give freely of their time and support. The recipients of these awards are selected based on their commitment to the University of Evansville as well as the development and success of their efforts within their chosen student organization.
The deadline for nominations is March 30, 2023. Click on this link to submit your nomination:
https://forms.office.com/r/GPpKHhifAL
If you have any questions, please contact the Vice President for Student Affairs/Dean of Students office at 812-488-2500 or by e-mail via deanofstudents@evansville.edu.
Thank you in advance for celebrating the achievements of our campus leadership!
Submitted by Shelby Gardner sg293@evansville.edu
UE Summer Camps and Employee Discount
The Office of Youth Programs has opened registration for UE Summer Camps 2023! This summer, we are offering Dance Camp, the Wesley Shepard Music Camp, Exploring Art at UE (Grades 2-5 & Grades 6-8), STEM Camp, Clay Camp, Springboard, Pride Camp, and Journey to Justice. To find out more, please visit our website.
We are offering a 50% discount to UE Employees that would like to register their youth. To receive this discount, please email us at youthprograms@evansville.edu BEFORE registering. Please include your name, title, list youth(s)'s name and camp title. We will send you a discount code to apply at registration within two business days.
If you have any questions, please email youthprograms@evansville.edu.
Submitted by Rachel Roscoe rr209@evansville.edu
Eykamp Prize: Call for Nominations
The Eykamp Prize was established by Richard and Rita Eykamp in 2015 to honor Faculty Achievement at the University of Evansville. Recipients of the prize will receive a one-time award of $10,000 in recognition of extraordinary contributions to the University of Evansville as University Citizens. Examples of such contributions include deep and successful involvement in recruiting students; expanding the number, scope, and competitiveness of grant funding for their department; bringing positive public awareness to the University through scholarship, knowledge, and understanding of their discipline.
Nominations for the Eykamp Prize may come from any member of the University of Evansville community. Nominees should be tenured or tenure-track faculty members at the University of Evansville who have not received the award in the previous five years. Nominations can be submitted in writing or via e-mail to Michael Austin, Executive Vice President for Academic Affairs/Provost, at ma352@evansville.edu by March 10, 2023. Nominations should include the name of the faculty member and a brief statement of the reasons that he or she is being nominated.
Recipients of the Eykamp Prize will be selected by an Award Committee, appointed by the EVPAA/Provost that includes members of the faculty, staff, administrators, and a member of the Board of Trustees. The award will be announced and presented at the May Commencement Ceremony.
Recipients in the previous five years: 2018 – Dr. David Dwyer; 2019 – Dr. Kristy Miller; 2020 – Dr. Jerrilee LaMar; 2021 – Dr. Joyce Stamm; 2022 – Dr. Mari Plikuhn.
Submitted by Paula Heldt ph28@evansville.edu
Baseball Aces Hope To Bounce Back This Weekend At Middle Tennessee State
After dropping a heartbreaker in 17 innings on Wednesday night at #7 Vanderbilt, the University of Evansville baseball team will try to bounce back this weekend in a three-game series against the Middle Tennessee State Blue Raiders at Reese Smith Jr. Field in Murfreesboro, Tennessee. The series will begin Friday afternoon at 3 p.m. in a contest that can be seen live on ESPN+.
Wednesday's 2-1 loss in 17 innings snapped a seven-game winning streak for Evansville. It was the longest game at UE since another 17-inning game at Wichita State in May, 2017 (a game UE won, 8-7), and was just four innings shy of tying the school record for longest game, set in a 4-4, 21-inning tie against Memphis in 1999. Ironically, head coach Wes Carroll participated in all three contests, with the two 17-inning games coming as head coach, and the 21-inning game against Memphis coming as a player.
Friday will be a special day for the 15-year dugout boss of the Purple Aces, as it will be Carroll's 750th career game as head coach at his alma mater. Carroll ranks second all-time at UE with 359 career victories as head coach, and his Purple Aces will bring a 7-6 overall record into the series.
Evansville features an offense led by two-time Missouri Valley Conference Player of the Week Chase Hug, who will bring a .426 batting average and .578 on-base percentage into the series. His .578 on-base percentage ranks 25th-best in Division I baseball. Junior shortstop Simon Scherry (.365/0/7) and fifth-year outfielders Danny Borgstrom (.348/1/12) and Eric Roberts (.313/2/17) also boast batting averages above .300 entering the weekend.
On the mound, Evansville will turn to junior RHP Nick Smith (1-2, 7.02 ERA) to start Friday's opener. Smith is coming off of a complete-game win over Bowling Green last weekend in which he struck out a career-high 12 men. He will try to shut down a MTSU lineup which ranks among the nation's best with a team .310 batting average. The Blue Raiders (6-6) boast two regular starters with batting averages above .400 in senior infielder JT Mabry (.455/1/9) and graduate transfer catcher Jeremiah Boyd (.409/4/12).
After Friday's opener, the series will continue on both Saturday and Sunday with 1 p.m. contests. Senior LHP Tyler Denu (1-0, 3.45 ERA) and junior LHP Donovan Schultz (1-1, 5.14 ERA) are expected to start those contests for UE. All three games of the series can be seen live on ESPN+.
Submitted by Athletics
UE Posts Three Top-20 Finishes On First Day At National Invitational Championships
The University of Evansville swimming & diving program posted three Top 20 finishes on Thursday on the first day of action at the CSCAA National Invitational Championships at the Beacon Health Aquatic Center in Elkhart, Indiana.
"Overall, it was a solid first day," said UE head coach Stuart Wilson. "Obviously, with a meet of this size, there were some nerves, but we were able to get those out of the way, and I thought that there were some really good swims on both the men's and women's sides. Hopefully, we can build on this effort the next two days."
On the women's side, junior Iryna Tsesiul (Minsk, Belarus) finished second in the consolation final of the 50-Yard Backstroke to place 12th overall with a finals time of 25.54. It was a 0.17-second improvement from her preliminary round time of 25.71, as she placed 13th out of 93 competitors to advance to the consolation final.
The men's 400-Yard Medley Relay team of senior Riccardo Di Domenico (Johannesburg, South Africa), junior Alon Baer (Gesher HaZiv, Israel), and sophomores Patrik Vilbergsson (Kopavogur, Iceland) and Daniel Santos Lopez (Madrid, Spain) posted UE's best finish of the day, placing 11th out of 41 teams with a time of 3:15.23. Santos Lopez also advanced to the consolation final in the 80-competitor 50-Yard Freestyle with a prelims time of 20:49, before posting an identical finals time to place 17th overall.
UE narrowly missed a top-20 finish in the 200-Yard Freestyle, as the Purple Aces' quartet of Santos Lopez, Di Domenico, sophomore Jakob Grundbacher (Thalwil, Switzerland) and freshman Daniil Goncharuk (Kyiv, Ukraine) posted a time of 1:22.38 to place 23rd overall.
Baer also posted a 23rd-place finish in the men's 50-Yard Breaststroke with a time of 25.40. Goncharuk was not far behind, placing 35th with a time of 25.64, with sophomore Benjamin Hasanovic (Innsbruck, Austria – 26.08), senior Max Dehen (Ramsey, Minn./Anoka – 26.16) and sophomore Carlos Souto (A Coruna, Spain – 26.43) all coming in shortly thereafter.
Di Domenico placed 33rd overall in the prelims of the 50 Free with a time of 20.64, with Goncharuk right behind him with a time of 21.21. Vilbergsson also placed 34th in the men's 50-Yard Backstroke with a time of 23.21.
Santos Lopez placed 44th overall in the men's 50-Yard Butterfly with a time of 22.30. On the women's side, sophomore Sveva Brugnoli (Rome, Italy) posted a time of 25.76 in the women's 50 Fly, while also posting a time of 2:07.60 in the 200 IM. Junior Grant Kay (Ellicott City, Md./Hebron) also represented UE in the 500-Yard Freestyle, and posted a time of 4:43.67.
The National Invitational Championships will continue on Friday with preliminary rounds swims beginning at 8:30 a.m. central time, and the top 20 finishers from those races advancing to the finals at 5 p.m. central time. Friday's action will consist of action in the 400 IM, the 100-Yard Butterfly, the 200 Free, the 100-Yard Breaststroke, the 100 Back, the 800-Freestyle Relays, and the 200-Yard Medley Relay.
Submitted by Athletics
UE Women's Soccer Adds Helms, Warrick To Recruiting Class
University of Evansville women's soccer coach Chris Pfau continued to build his 2023 recruiting class on Thursday, as he announced the signing of Indiana all-state defender Brinli Helms (Indianapolis, Ind./North Central) and former 2020 club national champion A'Liyah Warrick (Mableton, Ga./Campbell).
"I am excited that both A'Liyah and Brinli have signed to be Purple Aces," said Pfau. "They both have high ceilings and will make our program better as soon as they arrive on campus in the fall. Not only are they great soccer players, but they are even better people. They both will not only represent our soccer program well, but also UE as well."
Helms earned third-team all-state honors this past season at North Central High School in Indianapolis. She was the V8 Defender of the Year, and excelled in the classroom, earning Academic All-State honors. Even though she was a defender, Helms broke her high school's record for fastest goal, as she scored from over 60 yards out less than six seconds from kick-off.
"Brinli is a center back that is athletic, smart and can create our attack," said Pfau. "She is a very intelligent player that reads the game very well. Brinli also has the ability to attack with the ball from the back and create for herself. She is very tough, and will be a great 1-v-1 defender for our program."
Warrick stars for the Concorde Fire ECNL side out of Atlanta. She helped her club team win the 2020 national championship, and in high school, has earned her team's Offensive Player of the Year award. With soccer being a spring sport in Georgia, her senior season has just begun, and she already has eight goals in four matches this season.
"A'Liyah is athletic, fast, and can attack defenders every time she touches the ball," said Pfau. "She is dynamic and loves the ball at her feet. A'Liyah plays wide now, but I believe that she can play anywhere in the attacking positions. Her ability, both with and without the ball, to put pressure on the back line will help create a lot of opportunities for the rest of the team and herself at the college level."
Helms and Warrick join a recruiting class which includes Indiana all-state selections Ella Hamner (Evansville, Ind./Memorial), Taylor Johnson (Evansville, Ind./Reitz) and Emily Karr (Mooresville, Ind./Center Grove), high-powered Utah attacking player Brooklyn Robinson (West Haven, Utah/Fremont), two-time U.S. National Team Camp goalkeeper invitee Elke Travis (Henderson, Nev./Faith Lutheran) and Georgia ECNL standout Ashlyn Koutsos (Cumming, Ga./West Forsyth).
Submitted by Athletics
Aces travel to Nashville for final non-conference tournament
Non-conference tournament action comes to a close this weekend when the University of Evansville softball team heads to Nashville, Tenn. for the Lady Bison Classic.
Hosted by Lipscomb, the event will see the Purple Aces face Akron and Indiana two times apiece before completing the weekend against Lipscomb. Last weekend, the Aces competed at the WKU Hilltopper Spring Fling.
Outfielder Alexa Davis batted .455 while recording a hit in all four games. She accumulated five hits in 11 trips to the plate while swiping two bases. Davis opened the week with a 2-3 effort along with a steal against Austin Peay. After going 1-for-2 with a steal against Western Kentucky, she added a pair of 1-3 games in Sunday's match-ups against Akron and Austin Peay.

In two appearances last weekend, pitcher Mikayla Jolly recorded an ERA of 2.62 over eight innings of work. Saturday's opener versus Austin Peay saw her go four innings while giving up two earned runs on six hits. She followed that up with another 4-inning effort against Akron on Sunday. She gave up two runs, one earned, along with six hits while striking out two batters.

Elle Jarrett made two appearances over the weekend for the Aces. In Saturday's game against Austin Peay, she tossed a scoreless 1 1/3 innings while allowing four hits. On Sunday, she returned to the circle against Akron and gave up three runs on five hits in three frames. Jarrett struck out two batters. She finished the weekend with a. 4.85 ERA in 4 1/3 innings.
Going 5-for-12 in the weekend trip to Bowling Green, Ky., Zoe Frossard improved her season batting average to .281. She recorded five hits over the weekend while drawing a walk and picking up a steal. Over the 4-game stint at the WKU Hilltopper Spring Fling, Frossard reached base 46.2% of the time.
Submitted by Athletics
Contribute to AceNotes
To have content considered for inclusion in AceNotes, please submit a Marketing Request Form. Deadline for submission to AceNotes is 10:00 a.m. on the requested date of publication. Only articles concerning UE related/sponsored activities will be accepted. Articles submitted to AceNotes may be edited for length and clarity. Submitter contact information is at the end of each article.