| | |
| --- | --- |
| AceNotes Today | Thursday, March 9, 2023 |
Employee Spring Healthy Behavior Challenge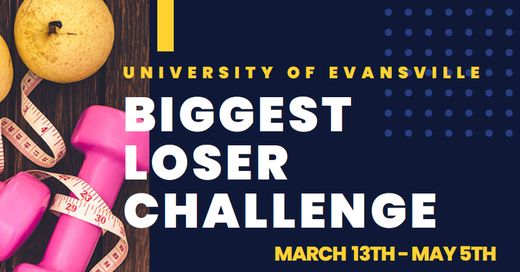 Spring is upon us! That means it's time for the Employee Spring Healthy Behavior Challenge. This year, we're doing the Biggest Loser Weight Loss Challenge! Earn a one-time $150 in HRA credits (if you did NOT participate in the Summer or Fall Healthy Behavior Challenges) for completing the challenge all the way through!
This challenge is designed to help motivate participants to take on healthier lifestyle choices and pursue health-driven weight loss. No extreme dieting is encouraged with this program. Have FUN, stay positive, and join your team members in making healthier lifestyle changes!
8-WEEK CHALLENGE
All employees & spouses are welcome to participate!
Teams must be between 4-8 individuals.
Entry fee is $5.00 (cash only please). Please submit your buy-in to Lori Leduc in HR.
Initial weigh-in must be completed the week of March 13th - 16th.
Only 1 missed weigh-in is allowed.
No extreme dieting or supplementing for drastic weight loss is permitted.
WEIGH-IN INFO
Weekly weigh-ins will take place at the clinic:Monday - Thursday from 8:00am - 12:00pm.
PRIZES
1st, 2nd & 3rd place (male & female)
1st place team
Sign up by clicking this link and filling out the required information: https://forms.gle/fdD5BA7wvDkP4nMX6
Have a question? Email Taylor at taylor.kollak@ascension.org!
Submitted by Taylor Kollak tk148@evansville.edu
2023-24 Margery Florence Kahn Scholarship Application Now Available
It was the desire of the donor, Margery Florence Kahn, that her scholarship be awarded to "dedicated and conscientious students who exhibit a true passion for their chosen fields of study, and who, in the opinion of the members of the University of Evansville faculty, are likely to bring the same enthusiasm into the performance of their jobs or the practice of the professions which they will pursue following graduation."
All University of Evansville full-time undergraduate students who will be juniors or seniors in the 2023-24 academic year may apply. An essay of about 300 words must accompany the application along with two to five faculty recommendation letters.
Application and faculty recommendation information
Completed applications and recommendation letters should be returned to the Office of Student Financial Services by MAY 10, 2023.
Questions may be directed to the Office of Student Financial Services via email or by phone at (812) 488-2364.
Submitted by Amber Chandler ac547@evansville.edu
2022 UE Graduates Achieve Strong Outcomes
After surveying the class of 2022 graduates, the University of Evansville (UE) is pleased to report that 98 percent of graduates were employed or pursuing further education within six months of graduation. The median salary of those employed full-time was $55,000.
The survey, conducted annually, is a collaborative effort between the University's Center for Career Development, Office of Institutional Effectiveness, and the Office of Alumni and Engagement. Data was gathered from surveys at the time of graduation, as well as alumni surveys, academic departments, the National Student Clearinghouse, and other methods. Approximately 93 percent of 2022 graduates provided career outcome information.
Outcomes improved over the previous year, as the nation's economy slightly recovered from the pandemic. The class of 2021 outcomes included 95 percent of graduates employed or pursuing further education within six months of graduating.
"From academics to ChangeLab, to research and internships, the University of Evansville provides a robust and comprehensive educational experience that incorporates a strong foundation of career readiness," said Dianna Cundiff, director of the Center for Career Development. "These essential competencies, including critical thinking, communication and leadership, along with support from our office, prepare students for success in their future endeavors."
For nearly a decade, the Center for Career Development has implemented an "end to end" approach to career success. When a prospective student visits campus, they meet with the Center to review career interests, take a free career assessment, and explore future job opportunities. As a student, the Center offers appointments to assist with resumes and cover letters, mock interviews, and career advising. Job fairs are held throughout the year to connect students with local and regional employers. After graduation, the Center continues its outreach to alums to ensure each individual's success.
Submitted by Noah Alatza na122@evansville.edu
Wheeler Concert Hall Renovations Progressing
The Wheeler Concert Hall is currently undergoing renovation work, which entails a comprehensive overhaul involving the installation of new seats and flooring, as well as new wall coverings and ceiling panels. Additionally, performance and room lighting have been upgraded to enhance the overall experience. UE anticipates that the facility will be open with limited availability for students and the music department by the middle of March. The full completion of these upgrades will occur this Fall.
Submitted by Noah Alatza na122@evansville.edu
Employee Volunteers needed for Bike Race
Volunteers are needed for Bike Race 2023 to help set up for the race, help serve food, clean up after the race, and crowd monitor/assistance during the race. If you have a preference in which role/area you want to assist with from the options above (set up, crowd monitor, lunch, or clean up), please note your preference in the form when indicated to do so. 2023 Bike Race Volunteer shirts and a complementary meal will be provided to all volunteers!
We will follow up before the event date with your assigned shift(s) and role(s) based on the information you provide below; thank you for completing this form! Please email Drew Hawkins (ah519@evansville.edu) for all Bike Race related questions.
Submitted by Shelby Gardner sg293@evansville.edu
It's Time to Nominate a Deserving Senior for the Outstanding Senior Service Award
Do you know a senior deserving of the highest award given by UE? Ten finalists will be selected, and one student will be presented this award at Commencement. Selection is based on academic achievement, demonstrated leadership, and community and campus engagement.
Nominations for the Guthrie May and Mabel Dillingham Nenneker Outstanding Senior Service Award will be accepted March 1 – March 30, 2023.?Students who are nominated must accept their nomination by 4:00 p.m. on April 4, 2023.
You can nominate deserving seniors by completing the form below. Once you submit a nomination, students will receive an automatic email giving them the opportunity to accept the nomination by providing their responses to the award application questions.
https://form.jotform.com/220724520906046
Please contact Shelby Gardner (sg293@evansville.edu) with any questions.
Submitted by Shelby Gardner sg293@evansville.edu
Advertise in the Crescent Magazine
CRESCENT MAGAZINE is committed to helping you bring your products and services to University of Evansville students and the UE campus community to meet your advertising needs.
CRESCENT MAGAZINE is published 4 to 6 times during the academic year, beginning in September 2023 and ending with the April 2024 issue. Printed issues circulation is 1,200, with distribution to 18 campus locations. 1 -3 print issues will be produced each semester. The number of print issues may vary. Every production has a digital issue hosted on the Crescent website. Crescent.evansville.edu In addition to your print ad, included with your purchase is a smaller version of your ad that is posted on Crescent Magazine's Facebook and Instagram page, and Twitter feed. Posts coincide with the month where you have placed advertising with the magazine. Your ad is cycled from the publication date until the next month's cycle of ads begins. For an additional charge your ad can be designed for web placed on our website in prominent positions with your website link in an appropriate call to action.
Submitted by Tommy Housman th208@evansville.edu
Circle K Prom Volunteers Needed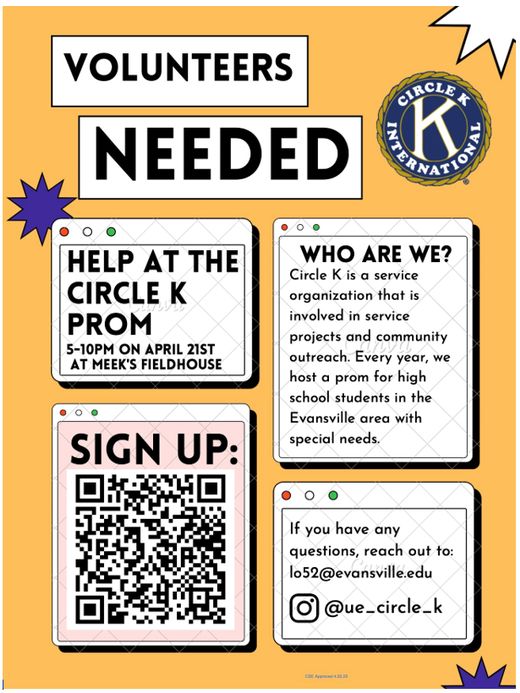 Circle K will be hosting a prom for the local high school students in the special education programs. You must have a completed background check and complete a short training on blackboard. It is on April 21st from 5-10pm and the deadline to sign up is March 24th. Fill out the google form if you are interested and we will provide you with all the information you need!
Submitted by Elizabeth McCook em310@evansville.edu
UE Summer Camps and Employee Discount
The Office of Youth Programs has opened registration for UE Summer Camps 2023! This summer, we are offering Dance Camp, the Wesley Shepard Music Camp, Exploring Art at UE (Grades 2-5 & Grades 6-8), STEM Camp, Clay Camp, Springboard, and Pride Camp. To find out more, please visit our website.
We are offering a 50% discount to UE Employees that would like to register their youth. To receive this discount, please email us at youthprograms@evansville.edu BEFORE registering. Please include your name, title, list youth(s)'s name and camp title. We will send you a discount code to apply at registration within two business days.
If you have any questions, please email youthprograms@evansville.edu.
Submitted by Rachel Roscoe rr209@evansville.edu
Nominations for Outstanding Teacher Award
Academic Affairs is pleased to announce the call for nominations for the 2023 Outstanding Teacher Award. The University bestows this award annually to honor a faculty member for extraordinary teaching effectiveness that inspires the intellectual development of students. Nominees must be a full-time faculty member who has taught at UE for two years or more and holds the rank of lecturer, instructor, assistant professor, associate professor, or professor. The winner is recognized at Commencement in May.
The following recipients from the past five years are not eligible: 2018 – Dr. Anthony Beavers; 2019 – Dr. Atefeh Yazdanparast Ardestani; 2020 – Dr. Mike Roscoe; 2021 – Dr. Julie Merkle; and 2022 – Dr. Katie Whetstone.
Access the link to submit a nomination.
https://www.evansville.edu/offices/academicaffairs/outstanding-teacher-form.cfm
Forward supplemental documentation to: Paula Heldt at ph28@evansville.edu. Please include the faculty member's name and OTA 2023 in the subject line.
The deadline to submit a nomination is Friday, March 17, 2023.
Submitted by Paula Heldt ph28@evansville.edu
#7 Vanderbilt Outlasts Evansville, 2-1, In 17-Inning Marathon
Vanderbilt first baseman Parker Noland snapped a 1-1 tie in the bottom of the 17th inning on Wednesday with a two-out RBI single to right-center field to help the seventh-ranked Commodores to a 2-1, 17-inning victory over the visiting University of Evansville Purple Aces at Hawkins Field in Nashville, Tennessee.
"What a gutsy performance tonight by our guys!" said UE head coach Wes Carroll. "Unfortunately, it just didn't go our way.
"Our pitching was outstanding, and we had some opportunities offensively, but we just didn't get that big hit that we needed. But, tonight was just a great baseball game to be a part of. Unfortunate that it didn't go our way!"
Vanderbilt outfielder R.J. Schreck led off the 17th with a double off the wall in left field. A bunt single by third baseman Davis Diaz followed, but UE reliever Nate Hardman (0-1) nearly got out of the jam. He was able to get back-to-back strikeouts of Jonathan Vastine and T.J. McKenzie, before Noland was able to spoil a 1-2 offering and deliver the game-winning hit.
Evansville actually scored first in the second inning, as fifth-year outfielder Eric Roberts led off with a bunt base hit, stole second, and scored on an RBI single by senior third baseman Brent Widder.
UE starter Shane Harris was sharp, as he allowed just one hit through the first four innings. Vanderbilt would score a run against Harris in the fifth inning on a sacrifice fly, but Harris set the tone for the afternoon for UE by allowing just the single run on two hits in 5.0 innings of work.
From there, both bullpens traded scoreless innings, as both teams worked in and out of trouble all afternoon long. UE's best scoring chance in regulation came in the ninth inning, when Roberts led off with a double, and was bunted to third by the next batter. But, Vanderbilt closer Nick Maldonado came on to get a fly out and a strike out to end the threat.
Evansville would load the bases with two outs in the 13th inning, but came up empty. Then, UE got out of a major jam in the bottom half of the frame, as Vanderbilt put the potential winning run on third base with one out, but junior catcher Brendan Hord was able to catch the pinch-runner McKenzie too far off third base for a big second out, before freshman reliever Max Hansmann struck out catcher Alan Espinal to end the frame.
Evansville nearly opened the 17th inning with a run, as fifth-year first baseman Chase Hug hit a towering fly ball to the gap in right-center field. But, the wind, which was blowing in a majority of the game, knocked down the ball, and it was caught just a foot from the 375 sign on the wall.
Offensively, Roberts and Widder had two-hit days for Evansville, with Hug and outfielder Danny Borgstrom coming up with the other two hits for UE. Diaz had three hits on the night for Vanderbilt.
With the victory, the Commodores improve to 10-4 overall, and Vanderbilt has won five of its last six contests. Meanwhile, Evansville (7-6) sees its seven-game winning streak come to an end. The Purple Aces will remain in Tennessee this weekend, as UE will take on Middle Tennessee State in Murfreesboro, Tennessee in a three-game series. The series begins Friday afternoon at 3 p.m. in a game that can be seen live on ESPN+.
Submitted by Athletics
UE Track & Field/Cross Country Announces 19-Member Recruiting Class
University of Evansville Director of Cross Country/Track & Field Brooks LeCompte announced the first part of his first official recruiting class as director of the UE running program on Wednesday, as he announced a loaded 19-member class.

Included in the recruiting class on the women's side are nine women, with backgrounds ranging from local stand-outs in cross country to the 2019 Norwegian U20 800-meter champion, the 2023 Austrian U20 Indoor 800-meter champion, and the 2022 Austrian cross country national runner-up. On the men's side, 10 men will join the UE program beginning in the fall of 2023, including the 2022 Spanish U18 National champion in the 800-meters, as well as a top sprinter from Texas, a person who finished fourth in Kentucky in the 400-meters, and a thrower from Illinois who placed sixth in the discus, among others.

"I am extremely humbled by what we as a staff were able to accomplish with this first recruiting class of my tenure," said LeCompte. "Not only do I believe this is the strongest Track & Field recruiting class in UE history, but also arguably one of the top recruiting classes in the MVC.

"The process wasn't easy we, as we put a lot of effort into finding the best athletes that fit into our vision for the new UE T&F team that will not only focus on success in the classroom, but also a focus on athletic achievement and being competitive within the MVC and nationally. We searched the globe for the best in many countries and found some exceptional talent that will re-write our record books and accomplish finishes as a team in cross country, indoor and outdoor track that we have never seen before here at UE.

"This is the just the beginning, and I, as Director, will never waiver my dedication to building a successful Cross Country/Track Program that the Evansville community and UE Track & Field Alumni will be proud of!"

Below are short bios on each new member of the UE program, with quotes from LeCompte. Both groups are listed in alphabetical order by last name.
Submitted by Athletics
Contribute to AceNotes
To have content considered for inclusion in AceNotes, please submit a Marketing Request Form. Deadline for submission to AceNotes is 10:00 a.m. on the requested date of publication. Only articles concerning UE related/sponsored activities will be accepted. Articles submitted to AceNotes may be edited for length and clarity. Submitter contact information is at the end of each article.