| | |
| --- | --- |
| AceNotes Today | Wednesday, March 8, 2023 |
Mixed-Media Marriage Exhibit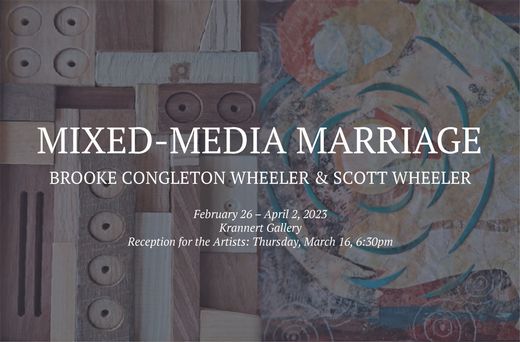 The Krannert Gallery will host the Mixed-Media Marriage exhibit by artists Brooke Congleton Wheeler & Scott Wheeler from February 26 - April 2, 2023. Please join us for the artists reception on Thursday, March 16 at 6:30 p.m. in the Krannert Gallery.
Submitted by Carol McCraney cm177@evansville.edu
National Survey of Student Engagement (NSSE)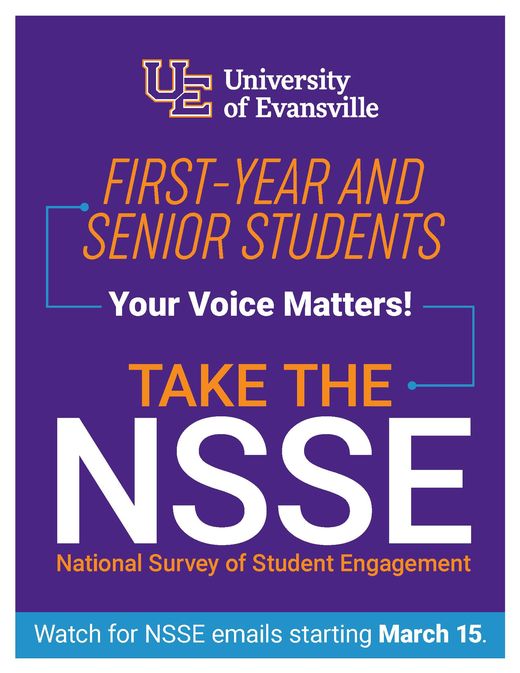 FIRST-YEAR AND SENIOR STUDENTS - Your Voice Matters! Take the National Survey of Student Engagement (NSSE). Watch for NSSE emails starting March 15.
In appreciation for participating, all students who complete the survey by April 14 will be entered into a drawing for one of two Apple Watches (each valued at approximately $280.00) and one of four sets of JBuds Air earbuds (each valued at approximately $70.00). One first-year student and one senior-year student will be selected for the Apple Watches. Two first-year students and two senior-year students will be selected for the earbuds. Students may receive only one item. Your chances of winning depend on how many complete the survey; 965 students were invited to participate.
Submitted by Paula Heldt ph28@evansville.edu
Employee - UE Mobile Mammography Services
Employees - Ascension St. Vincent is providing mobile mammography services for the University of Evansville. The mobile mammography bus will be located next to the Krannert Building on April 13th from 9:00AM - 2:00PM. Please click the link below to sign up for an appointment time! An Ascension Breast Center representative will call you prior to your appointment date to verify all necessary registration information.
Submitted by Haley Walker hw164@evansville.edu
2022 UE Graduates Achieve Strong Outcomes
After surveying the class of 2022 graduates, the University of Evansville (UE) is pleased to report that 98 percent of graduates were employed or pursuing further education within six months of graduation. The median salary of those employed full-time was $55,000.
The survey, conducted annually, is a collaborative effort between the University's Center for Career Development, Office of Institutional Effectiveness, and the Office of Alumni and Engagement. Data was gathered from surveys at the time of graduation, as well as alumni surveys, academic departments, the National Student Clearinghouse, and other methods. Approximately 93 percent of 2022 graduates provided career outcome information.
Outcomes improved over the previous year, as the nation's economy slightly recovered from the pandemic. The class of 2021 outcomes included 95 percent of graduates employed or pursuing further education within six months of graduating.
"From academics to ChangeLab, to research and internships, the University of Evansville provides a robust and comprehensive educational experience that incorporates a strong foundation of career readiness," said Dianna Cundiff, director of the Center for Career Development. "These essential competencies, including critical thinking, communication and leadership, along with support from our office, prepare students for success in their future endeavors."
For nearly a decade, the Center for Career Development has implemented an "end to end" approach to career success. When a prospective student visits campus, they meet with the Center to review career interests, take a free career assessment, and explore future job opportunities. As a student, the Center offers appointments to assist with resumes and cover letters, mock interviews, and career advising. Job fairs are held throughout the year to connect students with local and regional employers. After graduation, the Center continues its outreach to alums to ensure each individual's success.
Submitted by Noah Alatza na122@evansville.edu
SAA Book Club March Book Selection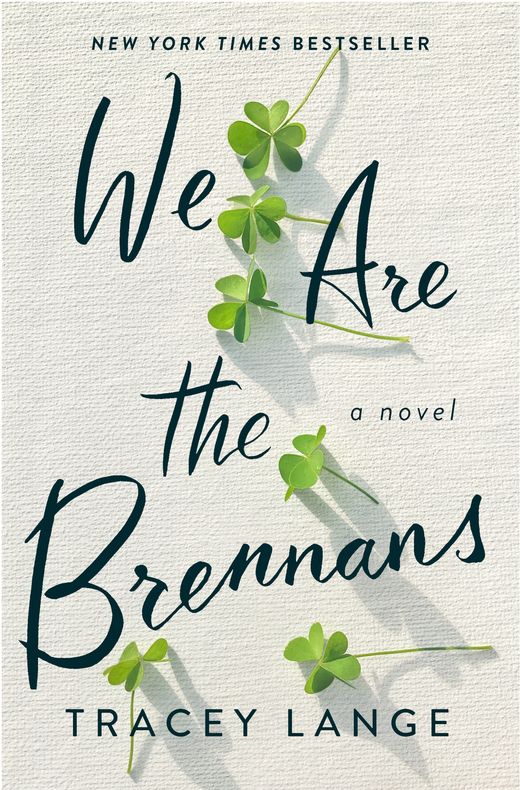 For the month of March the SAA Book Club is reading We are the Brennans by Tracey Lange.
This is a contemporary family drama centered around an American-Irish Brennan family. It was the Goodreads Choice Award and nominee for Best Fiction in 2021. In the vein of Mary Beth Keane's Ask Again, Yes and Cynthia D'Aprix Sweeney's The Nest, Tracey Lange's We
We will meet on Thursday March 23rd at 12 noon in the University Advancment House on Rotherwood to discuss the book. Everyone is invited. If you would like to be added to the Book club email list please contact Kathy Taylor at ks6
Submitted by Katherine Taylor ks6@evansville.edu
Wheeler Concert Hall Renovations Progressing
The Wheeler Concert Hall is currently undergoing renovation work, which entails a comprehensive overhaul involving the installation of new seats and flooring, as well as new wall coverings and ceiling panels. Additionally, performance and room lighting have been upgraded to enhance the overall experience. UE anticipates that the facility will be open with limited availability for students and the music department by the middle of March. The full completion of these upgrades will occur this Fall.
Submitted by Noah Alatza na122@evansville.edu
Employee Volunteers needed for Bike Race
Volunteers are needed for Bike Race 2023 to help set up for the race, help serve food, clean up after the race, and crowd monitor/assistance during the race. If you have a preference in which role/area you want to assist with from the options above (set up, crowd monitor, lunch, or clean up), please note your preference in the form when indicated to do so. 2023 Bike Race Volunteer shirts and a complementary meal will be provided to all volunteers!
We will follow up before the event date with your assigned shift(s) and role(s) based on the information you provide below; thank you for completing this form! Please email Drew Hawkins (ah519@evansville.edu) for all Bike Race related questions.
Submitted by Shelby Gardner sg293@evansville.edu
Cathy Huestis Retirement
Cathy Huestis is retiring! Join us in congratulating her on Wednesday, March 8th.
Please stop by the Accounting Department (Room 213 of Olmsted) between 2:00 – 4:00 on Wednesday to wish her well and to enjoy some refreshments with us.
Submitted by Dawn Bury db287@evansville.edu
UE Summer Camps and Employee Discount
The Office of Youth Programs has opened registration for UE Summer Camps 2023! This summer, we are offering Dance Camp, the Wesley Shepard Music Camp, Exploring Art at UE (Grades 2-5 & Grades 6-8), STEM Camp, Clay Camp, Springboard, Pride Camp, and Journey to Justice. To find out more, please visit our website.
We are offering a 50% discount to UE Employees that would like to register their youth. To receive this discount, please email us at youthprograms@evansville.edu BEFORE registering. Please include your name, title, list youth(s)'s name and camp title. We will send you a discount code to apply at registration within two business days.
If you have any questions, please email youthprograms@evansville.edu.
Submitted by Rachel Roscoe rr209@evansville.edu
Eykamp Prize: Call for Nominations
The Eykamp Prize was established by Richard and Rita Eykamp in 2015 to honor Faculty Achievement at the University of Evansville. Recipients of the prize will receive a one-time award of $10,000 in recognition of extraordinary contributions to the University of Evansville as University Citizens. Examples of such contributions include deep and successful involvement in recruiting students; expanding the number, scope, and competitiveness of grant funding for their department; bringing positive public awareness to the University through scholarship, knowledge, and understanding of their discipline.
Nominations for the Eykamp Prize may come from any member of the University of Evansville community. Nominees should be tenured or tenure-track faculty members at the University of Evansville who have not received the award in the previous five years. Nominations can be submitted in writing or via e-mail to Michael Austin, Executive Vice President for Academic Affairs/Provost, at ma352@evansville.edu by March 10, 2023. Nominations should include the name of the faculty member and a brief statement of the reasons that he or she is being nominated.
Recipients of the Eykamp Prize will be selected by an Award Committee, appointed by the EVPAA/Provost that includes members of the faculty, staff, administrators, and a member of the Board of Trustees. The award will be announced and presented at the May Commencement Ceremony.
Recipients in the previous five years: 2018 – Dr. David Dwyer; 2019 – Dr. Kristy Miller; 2020 – Dr. Jerrilee LaMar; 2021 – Dr. Joyce Stamm; 2022 – Dr. Mari Plikuhn.
Submitted by Paula Heldt ph28@evansville.edu
14 Swimming Aces Head To CSCAA National Invitational Championships Thursday
For the second-straight year, the University of Evansville swimming program will participate in the post-season, as 14 Purple Aces – 10 men and four women – will compete in the CSCAA National Invitational Championships in Elkhart, Indiana beginning on Thursday.
The NIC meet is college swimming's equivalent to basketball's NIT, and each of the 14 UE swimmers who are competing had to meet qualifying time standards or had to be an individual champion at the conference meet to qualify. It marks the second time in program history in which UE will send competitors to the National Invitational Championships.
"I am extremely proud of the hard work that all of our swimmers and divers put in this season," said UE head coach Stuart Wilson. "They have helped take this program to another level this year, and to be able to qualify 14 swimmers for the post-season meet is a tremendous accomplishment."
From the UE men's team, Mid-American Conference 200-Yard Breaststroke champion Alon Baer (Gesher HaZiv, Israel) headlines a group of 10 Purple Aces who qualified for the NIC meet. He is joined by seniors Max Dehen (Ramsey, Minn./Anoka) and Riccardo Di Domenico (Johannesburg, South Africa), junior Grant Kay (Ellicott City, Md./Hebron), sophomores Jakob Grundbacher (Thalwil, Switzerland), Benjamin Hasanovic (Innsbruck, Austria), Daniel Santos Lopez (Madrid, Spain), Carlos Souto (A Coruna, Spain) and Patrik Vilbergsson (Kopavogur, Iceland) and freshman Daniil Goncharuk (Kyiv, Ukraine) on the men's side. Baer led UE in scoring at last year's National Invitational Championships with 18 points, and he finished in the top 20 in both the 100- and 200-Yard Breaststroke events at last year's meet.
On the women's side, 100-Yard Backstroke school-record holder Iryna Tsesiul (Minsk, Belarus) will lead a pack of four Purple Aces at this year's NIC meet. She is joined by sophomores Sveva Brugnoli (Rome, Italy), Mari Müller (Zurich, Switzerland) and senior Allison McDonald (Cape Girardeau, Mo./Central) on the women's side. Three of the four UE women competing this week qualified for last year's NIC meet as well, with Tsesiul posting a top 20 finish in the 50-Yard Backstroke to lead the way last March.
The CSCAA National Invitational Championships will begin at 8:30 a.m. central time on Thursday with preliminary swims in the 50-Yard Backstroke, the 500-Yard Freestyle, the 50-Yard Butterfly, the 200 IM, the 50-Yard Breaststroke, the 50-Yard Freestyle, and the 400-Yard Medley Relay. Main event and consolation finals will begin Thursday night at 5 p.m. central time with all of the above events, as well as the competition in the 200-Yard Freestyle Relay. The CSCAA National Invitational Championships will continue on both Friday and Saturday as well.
Submitted by Athletics
Baseball Aces Put Win Streak On The Line Wednesday At #7 Vanderbilt (SEC Network+)
The University of Evansville baseball team will put its seven-game winning streak on the line on Wednesday afternoon, as the Purple Aces will travel to Nashville, Tennessee to take on the #7 Vanderbilt Commodores. First-pitch is set for 4:30 p.m. and Wednesday's game can be seen live on the SEC Network+ streaming platform, with former UE pitcher Alex Gould serving as the play-by-play talent.
Evansville has won seven-straight thanks in large part to an offense which has been on fire the last two weeks. After opening the year hitting just .227 through the first five games, Evansville has hit .377 as a team over the last seven contests, while averaging 9.9 runs per game. The Purple Aces will bring a 7-5 overall record into the contest after sweeping back-to-back doubleheaders from visiting Bowling Green over the weekend, in which the Purple Aces out-scored the Falcons, 41-10.
Fifth-year first baseman Chase Hug and junior shortstop Simon Scherry have been the main catalysts offensively for UE over the last seven games. Hug has hit an amazing .680 (17-for-25) over the last seven contests, while earning back-to-back Missouri Valley Conference Player of the Week awards. Scherry, meanwhile, has hit safely in all seven victories, while hitting .520 (13-for-25) and owning a .606 on-base percentage.
Vanderbilt will enter Wednesday's contest off of Tuesday night's game against Tennessee Tech. The seventh-ranked Commodores entered the week 8-4 overall, and are coming off of a 4-0, no-hit victory at Minnesota on Sunday night. Vanderbilt used four pitchers to post the club's fourth no-hitter in the past five seasons in the win. Sophomore infielder Jonathan Vastine and freshman utility player RJ Austin currently pace the Vanderbilt offense with .348 and .326 batting averages, respectively. The Commodores also boast a 3.98 team ERA, and have already struck out 137 batters in just 104 innings of work.
Junior RHP Shane Harris (1-1, 6.75 ERA) will get the start for Evansville on Wednesday. Harris will be making just his second start of the year for UE, but has tossed back-to-back scoreless relief appearances in his last two outings. Vanderbilt has not named a starter yet for Wednesday's match-up, based mainly on the fact that they play on Tuesday.
Gould pitched three seasons at Evansville, before graduating in 2016 and working for Evansville's Valley On ESPN announcing crew, before moving to Nashville last year. In 28 career appearances for Evansville, he posted a 2-2 overall record and 3.35 ERA in 37.2 innings of work.
Submitted by Athletics
Contribute to AceNotes
To have content considered for inclusion in AceNotes, please submit a Marketing Request Form. Deadline for submission to AceNotes is 10:00 a.m. on the requested date of publication. Only articles concerning UE related/sponsored activities will be accepted. Articles submitted to AceNotes may be edited for length and clarity. Submitter contact information is at the end of each article.