| | |
| --- | --- |
| AceNotes Today | Friday, March 3, 2023 |
UE Launching Creative Technologies Program
In 2023, UE will launch a four-year Bachelor of Science in Creative Technologies degree.

Combining elements from UE's Departments of Art, Communication, Theatre, and Music Conservatory, the BS in Creative Technologies aims to build students' technological skills in the creation of sound, video, lighting, graphic, and other technologies used for creative endeavors.

The new program combines multiple disciplines to engage students in the conception, development, and production of creative content. From the first draft to the final product, students in Creative Technologies will be challenged to develop their creative skills through immersion in fundamentals of art, design, music, communication and creative writing, and to bring their creations to life onstage, onscreen, or on-air through a variety of cutting-edge digital technologies. Joe Atkinson, MFA, Assistant Professor of Communication, will serve as the Program Director.

Applications for the Bachelor of Science in Creative Technologies are now available for Fall 2023.
Submitted by Julie Beer / jb855@evansville.edu
Employee Spring Healthy Behavior Challenge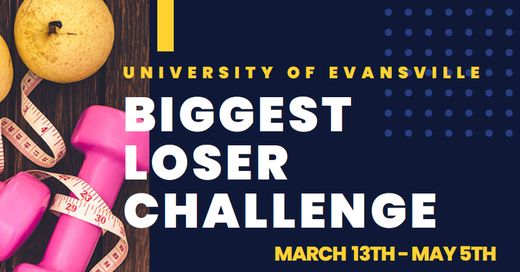 Spring is upon us! That means it's time for the Employee Spring Healthy Behavior Challenge. This year, we're doing the Biggest Loser Weight Loss Challenge! Earn a one-time $150 in HRA credits (if you did NOT participate in the Summer or Fall Healthy Behavior Challenges) for completing the challenge all the way through!
This challenge is designed to help motivate participants to take on healthier lifestyle choices and pursue health-driven weight loss. No extreme dieting is encouraged with this program. Have FUN, stay positive, and join your team members in making healthier lifestyle changes!
8-WEEK CHALLENGE
All employees & spouses are welcome to participate!
Teams must be between 4-8 individuals.
Entry fee is $5.00 (cash only please). Please submit your buy-in to Lori Leduc in HR.
Initial weigh-in must be completed the week of March 13th - 16th.
Only 1 missed weigh-in is allowed.
No extreme dieting or supplementing for drastic weight loss is permitted.
WEIGH-IN INFO
Weekly weigh-ins will take place at the clinic:Monday - Thursday from 8:00am - 12:00pm.
PRIZES
1st, 2nd & 3rd place (male & female)
1st place team
Sign up by clicking this link and filling out the required information: https://forms.gle/fdD5BA7wvDkP4nMX6
Have a question? Email Taylor at taylor.kollak@ascension.org!
Submitted by Taylor Kollak tk148@evansville.edu
Wheeler Concert Hall Renovations Progressing
The Wheeler Concert Hall is currently undergoing renovation work, which entails a comprehensive overhaul involving the installation of new seats and flooring, as well as new wall coverings and ceiling panels. Additionally, performance and room lighting have been upgraded to enhance the overall experience. UE anticipates that the facility will be open with limited availability for students and the music department by the middle of March. The full completion of these upgrades will occur this Fall.
Submitted by Noah Alatza na122@evansville.edu
Employee Volunteers needed for Bike Race
Volunteers are needed for Bike Race 2023 to help set up for the race, help serve food, clean up after the race, and crowd monitor/assistance during the race. If you have a preference in which role/area you want to assist with from the options above (set up, crowd monitor, lunch, or clean up), please note your preference in the form when indicated to do so. 2023 Bike Race Volunteer shirts and a complementary meal will be provided to all volunteers!
We will follow up before the event date with your assigned shift(s) and role(s) based on the information you provide below; thank you for completing this form! Please email Drew Hawkins (ah519@evansville.edu) for all Bike Race related questions.
Submitted by Shelby Gardner sg293@evansville.edu
Call for Nominations: Dean of Students Leadership Awards
Nominations are now being accepted for consideration of The Howard S. Rosenblatt "Dean of Students Leadership Awards." These awards will be presented at the 30th Annual Leadership Awards Reception scheduled for Thursday, April 20, 2023. Invitations will be prepared by the Center for Student Engagement.
Awards from the Dean of Students Office are presented in the following categories:
Student Organization Advisor of the Year
Student Organization of the Year
Student Leader of the Year
Over 80% of UE students participate in at least one student organization or program. These organizations are successful because of the commitment of the student leaders and the advisors who give freely of their time and support. The recipients of these awards are selected based on their commitment to the University of Evansville as well as the development and success of their efforts within their chosen student organization.
The deadline for nominations is March 30, 2023. Click on this link to submit your nomination:
https://forms.office.com/r/GPpKHhifAL
If you have any questions, please contact the Vice President for Student Affairs/Dean of Students office at 812-488-2500 or by e-mail via deanofstudents@evansville.edu.
Thank you in advance for celebrating the achievements of our campus leadership!
Submitted by Shelby Gardner sg293@evansville.edu
It's Time to Nominate a Deserving Senior for the Outstanding Senior Service Award
Do you know a senior deserving of the highest award given by UE? Ten finalists will be selected, and one student will be presented this award at Commencement. Selection is based on academic achievement, demonstrated leadership, and community and campus engagement.
Nominations for the Guthrie May and Mabel Dillingham Nenneker Outstanding Senior Service Award will be accepted March 1 – March 30, 2023.?Students who are nominated must accept their nomination by 4:00 p.m. on April 4, 2023.
You can nominate deserving seniors by completing the form below. Once you submit a nomination, students will receive an automatic email giving them the opportunity to accept the nomination by providing their responses to the award application questions.
https://form.jotform.com/220724520906046
Please contact Shelby Gardner (sg293@evansville.edu) with any questions.
Submitted by Shelby Gardner sg293@evansville.edu
Cathy Huestis Retirement
Cathy Huestis is retiring! Join us in congratulating her on Wednesday, March 8th.
Please stop by the Accounting Department (Room 213 of Olmsted) between 2:00 – 4:00 on Wednesday to wish her well and to enjoy some refreshments with us.
Submitted by Dawn Bury db287@evansville.edu
Science Direct Available for Research
The entire college edition of Science Direct is now available. From foundational science to new and novel research, SD offers a large collection of books and journals covering a range of disciplines, from the theoretical to the applied. The expanded content now covers medical subjects, Psychology, Sociology, Biology, Chemistry, and Cognitive Science. Access SD here: https://www.sciencedirect.com/ For assistance or additional information contact Danielle at dw56.
Submitted by Danielle Williams dw56@evansville.edu
Advertise in the Crescent Magazine
CRESCENT MAGAZINE is committed to helping you bring your products and services to University of Evansville students and the UE campus community to meet your advertising needs.
CRESCENT MAGAZINE is published 4 to 6 times during the academic year, beginning in September 2023 and ending with the April 2024 issue. Printed issues circulation is 1,200, with distribution to 18 campus locations. 1 -3 print issues will be produced each semester. The number of print issues may vary. Every production has a digital issue hosted on the Crescent website. Crescent.evansville.edu In addition to your print ad, included with your purchase is a smaller version of your ad that is posted on Crescent Magazine's Facebook and Instagram page, and Twitter feed. Posts coincide with the month where you have placed advertising with the magazine. Your ad is cycled from the publication date until the next month's cycle of ads begins. For an additional charge your ad can be designed for web placed on our website in prominent positions with your website link in an appropriate call to action.
Submitted by Tommy Housman th208@evansville.edu
UE Summer Camps and Employee Discount
The Office of Youth Programs has opened registration for UE Summer Camps 2023! This summer, we are offering Dance Camp, the Wesley Shepard Music Camp, Exploring Art at UE (Grades 2-5 & Grades 6-8), STEM Camp, Clay Camp, Springboard, Pride Camp, and Journey to Justice. To find out more, please visit our website.
We are offering a 50% discount to UE Employees that would like to register their youth. To receive this discount, please email us at youthprograms@evansville.edu BEFORE registering. Please include your name, title, list youth(s)'s name and camp title. We will send you a discount code to apply at registration within two business days.
If you have any questions, please email youthprograms@evansville.edu.
Submitted by Rachel Roscoe rr209@evansville.edu
Housing Requests for New Hall
Students interested in living in the New Hall for 2023-24 should pick up request cards in the Office of Residence Life.
New Hall is reserved freshman and sophomore level students. Rising sophomores interested in living in New Hall for next year can submit their request cards for 4 person or 6 person pods (sophomores will primarily be assigned to 4 person pods). Assignments will be made based on the combined credit hours, as of the end of Fall 2022, of each group applying Students/groups currently residing in New Hall will have priority over students/groups who do not currently reside in New Hall.
New Hall request cards are due back to the Office of Residence Life by 5:00 p.m., Friday, March 3.
More information on the housing assignments process can be found on the residence life section of the University website at https://www.evansville.edu/residencelife/housingapplyreturn/calendar.cfm
Submitted by Brian Conner bc32@evansville.edu
Village Request Cards Available
Students interested in living in the Villages for 2023-24 should pick up Village request cards in the Office of Residence Life.
The Villages are reserved primarily for students with 60 plus credit hours. In order to apply to live in the Villages, each person in your group must have at least 44 credit hours on file with the University by the end of the Fall 2022 semester.
Village request cards are due back to the Office of Residence Life by 5:00 p.m., Friday, March 3.
More information on the housing assignments process can be found on the residence life section of the University website at https://www.evansville.edu/residencelife/housingapplyreturn/calendar.cfm
Submitted by Brian Conner bc32@evansville.edu
Nominations for Outstanding Teacher Award
Academic Affairs is pleased to announce the call for nominations for the 2023 Outstanding Teacher Award. The University bestows this award annually to honor a faculty member for extraordinary teaching effectiveness that inspires the intellectual development of students. Nominees must be a full-time faculty member who has taught at UE for two years or more and holds the rank of lecturer, instructor, assistant professor, associate professor, or professor. The winner is recognized at Commencement in May.
The following recipients from the past five years are not eligible: 2018 – Dr. Anthony Beavers; 2019 – Dr. Atefeh Yazdanparast Ardestani; 2020 – Dr. Mike Roscoe; 2021 – Dr. Julie Merkle; and 2022 – Dr. Katie Whetstone.
Access the link to submit a nomination.
https://www.evansville.edu/offices/academicaffairs/outstanding-teacher-form.cfm
Forward supplemental documentation to: Paula Heldt at ph28@evansville.edu. Please include the faculty member's name and OTA 2023 in the subject line.
The deadline to submit a nomination is Friday, March 17, 2023.
Submitted by Paula Heldt ph28@evansville.edu
February Employees of the Month
Congratulations to the the February 2023 Employees of the Month! The recipients were recognized Tuesday by the Staff and Administrators Assembly (SAA).
Jake Oberhausen - Maintenance Trades Electrician for Facilities and Physical Plant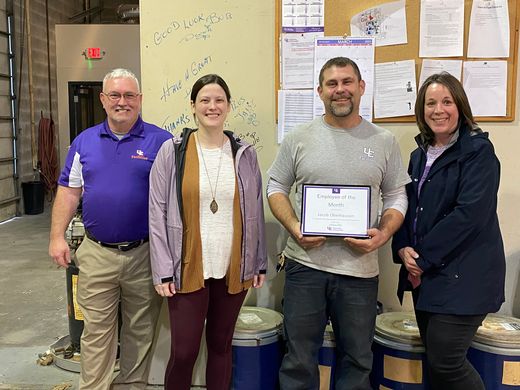 ---
Debbie Brenton - Coordinator of Disability Services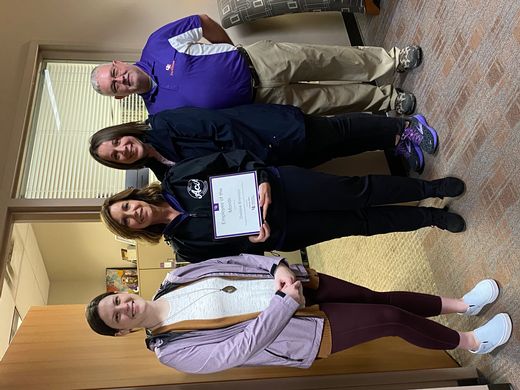 Submitted by Noah Alatza na122@evansville.edu
Swimming Aces Break UE Records Seven Times On Second Day At MAC Championships
The University of Evansville men's swimming team continued its assault on the UE record book on Thursday, as the Purple Aces broke or tied a school record seven different times in preliminary round and final round swims at the 2023 Mid-American Conference Championships in Oxford, Ohio.
"What a great team effort today!" said UE head coach Stuart Wilson. "We had a lot of personal-best times, and of course, breaking a school record seven different times, with two of those records going all the way back to 2001. It was another great day in the pool today!"
Sophomore Patrik Vilbergsson (Kopavogur, Iceland) started the day with a school record for UE in the day's first event – the 500-Yard Freestyle prelims. Vilbergsson tied the school record held by former teammate Oskar Menkhaus of 4:31.60 to advance to Thursday night's finals. He then lowered that mark again in the finals with a time of 4:31.22 to finish second in the consolation final and post the eighth-fastest time of Thursday night's action.
Junior Alon Baer (Gesher HaZiv, Israel) then followed Vilbergsson's preliminary round record Thursday morning with a new school-record time of 1:49.91 in the 200-Yard IM. Baer's time topped UE Hall of Fame swimmer Dave Nel's mark of 1:50.94, set in 2001.
Sophomore Daniel Santos Lopez (Madrid, Spain) then broke the third school record of the preliminary round on Thursday morning with a time of 20.32 in the 50 Free. It snapped a three-way tie for the record between Santos Lopez, Menkhaus and Nel. Santos Lopez then equaled that time of 20.32 in Thursday night's "A Final" to place seventh overall in a tightly-contested race, as just 0.87 seconds separated first from last in the 50 Free final.
Santos Lopez's record in the 50 Free would not last long though, as senior Riccardo Di Domenico (Johannesburg, South Africa) continued an amazing start to his MAC Championships by posting a time of 20.31 as the lead-leg of UE's 200-Yard Freestyle Relay team. Di Domenico teamed with Santos Lopez, freshman Daniil Goncharuk (Kyiv, Ukraine) and sophomore Benjamin Hasanovic (Innsbruck, Austria) to also break the 200 Free Relay record with a combined time of 1:21.29.
Overall, Evansville has broken a school record 10 different times through the first two days of the MAC Championships. Di Domenico has helped lead the charge, by being a part of two relay school records, as well as breaking two individual records in the 50 and 200 Freestyle events as the lead-off man on those relays.
Evansville also had juniors Jackson Caudill (Mt. Sterling, Ky./Montgomery County) and Grant Kay (Ellicott City, Md./Hebron) both make the consolation final in the 500 Free on Thursday. Caudill turned in a personal-best mark of 4:32.34 to place 12th overall, while Kay narrowly missed his personal-best time in the preliminary round with a season-best time of 4:36.21. Sophomore Carlos Souto (A Coruna, Spain) and senior Max Dehen (Ramsey, Minn./Anoka) both turned in personal-best times in the 200 IM, with marks of 1:51.75 and 1:55.95, respectively, in the preliminary round. UE also had multiple swimmers post personal-best marks in the 50 Free on Thursday.
The MAC Championships will continue on Friday, with action in the 100 Fly, the 400 IM, the 200 Free, 100 Breaststroke, 100 Back, 400 Medley Relay, and the three-meter diving competition scheduled to take place. Preliminary round swims will begin at 9:30 a.m. central time, with finals scheduled for 5 p.m.
Submitted by Athletics
Cold-shooting spells trip up Aces in loss to league-leading Redbirds
In a game that the Aces stayed in with tenacity and an unwillingness to quit, the University of Evansville women's basketball team was done in by cold-shooting spells in a 73-56 loss to Illinois State on Thursday evening inside Meeks Family Fieldhouse.
The Aces were led by a pair of double-figure scorers on the night with senior guard/forward Abby Feit tallying 14 points and sophomore guard Elly Morgan tying a season-best with 12 points. For the Redbirds, Paige Robinson (26 points) and Deanna Wilson combined for 49 points to help lead the visitors to the win.
Both sides struggled to get into a rhythm offensively in the opening period with the Redbirds shooting just 4-11 (36.4%) and Evansville hitting just 18.8% (3-16) from the field. The Aces owned a 5-4 lead with just over six minutes left in the first quarter, but the Redbirds responded with an 8-2 run over the rest of the frame to grab a 12-7 lead after 10 minutes of action.
A polar opposite second quarter saw both sides combine for 49 points in the period. Evansville scored four-straight points out of the quarter break to close within one of the visitors, but another answer from Illinois State gave the Redbirds a 10-point lead at the break.
The lead would balloon as large as 20 for Illinois State late in the third, but the Aces again showed their resiliency. A strong open to the fourth quarter saw Evansville chip its way within 13 at 62-49 on a pair of free throws from fifth-year guard A'Niah Griffin with less than three minutes into the final period. As was true much of the evening, Illinois State would again muster a response after Evansville's challenge holding its lead in double figures en route to the 73-56 win for the Redbirds.
In the game, Evansville was limited to just 29.2% shooting from the floor, while Illinois State hit 42.9% of its attempts from the field.
The Aces will close the regular season and celebrate Senior Day at 1 PM on Saturday afternoon as Evansville plays host to Bradley inside Meeks Family Fieldhouse. As part of Fan Appreciation Day, all tickets to Saturday's game are free.
Submitted by Athletics
Softball looks to build on impressive start
Receiving votes in the national poll for the first time in over 20 years, the University of Evansville continues its non-conference slate this weekend at the WKU Hilltopper Spring Fling.
Impending weather has modified the schedule with the most up-do-date information available on the Purple Aces softball schedule. Opening the season at 13-1, Evansville received two votes in the USA Today/NFCA Division I Top 25 Poll earlier this week.

Having a major impact on that start has been Taylor Howe, who earned her first MVC accolade.
Howe batted .389 with seven hits, six RBI, four runs and three doubles in a 5-0 weekend for the Aces. Howe reached base 45.0% of the time and picked up a steal in her lone attempt of the weekend and was recognized as the MVC Newcomer of the Week.
Megan Brenton made four appearances over the last week and was clutch in all four as she earned two wins and two saves. On Friday against Purdue Fort Wayne, she entered in the seventh inning and tossed a scoreless frame to pick up a save. It did not take long for save #2 to come as later that evening, she tossed another scoreless 7th inning. She added two victories as UE completed another perfect weekend of action.
Another clutch performer for UE has been Jenna Nink. She led the Purple Aces with a .545 batting average with a home run, six RBI and six walks in a 5-0 week for her team. Nink completed the weekend with a .706 on-base percentage while scoring four runs. Highlighting her week was hitting the game-winning home run in Saturday's win over Bowling Green. Her long ball in the 2nd frame was enough in a 2-0 UE win.
Submitted by Athletics
Weather Alters UE Baseball Weekend Schedule Against Bowling Green
Due to expected inclement weather in the Evansville area on Friday, the University of Evansville baseball series' schedule against Bowling Green State this weekend has been changed. The two teams will now play two doubleheaders on Saturday and Sunday to complete the scheduled four-game series.
The series will begin with the regularly-scheduled Saturday doubleheader at 12 p.m. central time at German American Bank Field at Charles H. Braun Stadium in Evansville. UE and Bowling Green will also play a doubleheader on Sunday, beginning at 11 a.m. central time. The first game of both doubleheaders will be seven-inning contests, with 45 minutes set for between games.
Evansville (3-5) will ride a three-game winning streak into Saturday's doubleheader, after posting a 14-8 victory at preseason Ohio Valley Conference favorite Southeast Missouri State on Wednesday. Bowling Green, meanwhile, will bring a 2-4 overall record into the series after winning one of three games at #5 Louisville last weekend.
Submitted by Athletics
Men's basketball season comes to an end in St. Louis
Freshman Chris Moncrief scored a career-high nine points and Kenny Strawbridge Jr. added 12 points in Thursday's Arch Madness opener against Indiana State. Highlighted by a 51-point second half, the Sycamores won by a final of 97-58 inside Enterprise Center.
"I thought we had a good gameplan. Give credit to Indiana State for how they played and how focused they were," UE head coach David Ragland said. "We played them a few times this season coming off losing streaks and that added some fuel for them. Indiana State fought to the end and our guys did too."
"Life is a journey and this is a chapter of it. I told our group to take their experiences from this year and learn from it. In order to succeed, you need to learn how to fail. We have good guys who got better every single day and really brought it."
Strawbridge led the Purple Aces with 12 points and five rebounds. Moncrief, Yacine Toumi and Gabe Spinelli added nine points apiece. For Moncrief, it was a career-high, surpassing his previous mark of six points.
Indiana State recorded the first seven points of the game with Toumi getting UE on the scoreboard with a free throw. The Sycamores extended the lead to 12-3 before Evansville got closer with a basket from Preston Phillips to make it a 14-7 contest. ISU responded with a 5-0 spurt to take a 19-7 advantage at the 13-minute mark.
Toumi hit another basket that made it a 19-9 score just over a minute later while ISU answered once again with eight points in a row to hold a 27-9 lead. The Sycamores led by as many as 19 points (44-25) in the opening period before a Chris Moncrief 3-pointer cut the halftime deficit to 46-28.
In the opening moments of the second half, ISU pushed the lead to 20 points while Preston Phillips converted a triple to get closer at 53-36. Up by a score of 58-40, Indiana State took control with a 31-10 run to go up 89-50. They picked up the victory by the same deficit. ISU shot 58.5% in the game with UE wrapping up the game at 33.3%.
Robbie Avila led the Sycamores with a game-high 21 points. Cooper Neese tallied 19.
Submitted by Athletics
Contribute to AceNotes
To have content considered for inclusion in AceNotes, please submit a Marketing Request Form. Deadline for submission to AceNotes is 10:00 a.m. on the requested date of publication. Only articles concerning UE related/sponsored activities will be accepted. Articles submitted to AceNotes may be edited for length and clarity. Submitter contact information is at the end of each article.