| | |
| --- | --- |
| AceNotes Today | Thursday, March 2, 2023 |
UE Launching Creative Technologies Program
In 2023, UE will launch a four-year Bachelor of Science in Creative Technologies degree.

Combining elements from UE's Departments of Art, Communication, Theatre, and Music Conservatory, the BS in Creative Technologies aims to build students' technological skills in the creation of sound, video, lighting, graphic, and other technologies used for creative endeavors.

The new program combines multiple disciplines to engage students in the conception, development, and production of creative content. From the first draft to the final product, students in Creative Technologies will be challenged to develop their creative skills through immersion in fundamentals of art, design, music, communication and creative writing, and to bring their creations to life onstage, onscreen, or on-air through a variety of cutting-edge digital technologies. Joe Atkinson, MFA, Assistant Professor of Communication, will serve as the Program Director.

Applications for the Bachelor of Science in Creative Technologies are now available for Fall 2023.
Submitted by Julie Beer / jb855@evansville.edu
International Badge Day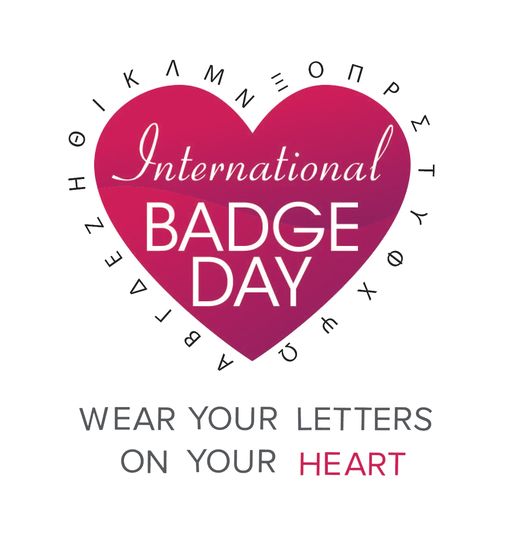 International Badge Day is March 6th, 2023. This event was established by the National Panhellenic Conference (NPC) to encourage sororities to wear their badges or Greek letters in celebration of sisterhood. I would invite all faculty, staff, and students who are Greek to wear their pins or letters to participate and show support for NPC.
Submitted by Kelsey Rowland kr286@evansville.edu
Wheeler Concert Hall Renovations Progressing
The Wheeler Concert Hall is currently undergoing renovation work, which entails a comprehensive overhaul involving the installation of new seats and flooring, as well as new wall coverings and ceiling panels. Additionally, performance and room lighting have been upgraded to enhance the overall experience. UE anticipates that the facility will be open with limited availability for students and the music department by the middle of March. The full completion of these upgrades will occur this Fall.
Submitted by Noah Alatza na122@evansville.edu
Cathy Huestis Retirement
Cathy Huestis is retiring! Join us in congratulating her on Wednesday, March 8th.
Please stop by the Accounting Department (Room 213 of Olmsted) between 2:00 – 4:00 on Wednesday to wish her well and to enjoy some refreshments with us.
Submitted by Dawn Bury db287@evansville.edu
Science Direct Available for Research
The entire college edition of Science Direct is now available. From foundational science to new and novel research, SD offers a large collection of books and journals covering a range of disciplines, from the theoretical to the applied. The expanded content now covers medical subjects, Psychology, Sociology, Biology, Chemistry, and Cognitive Science. Access SD here: https://www.sciencedirect.com/ For assistance or additional information contact Danielle at dw56.
Submitted by Danielle Williams dw56@evansville.edu
Circle K Prom Volunteers Needed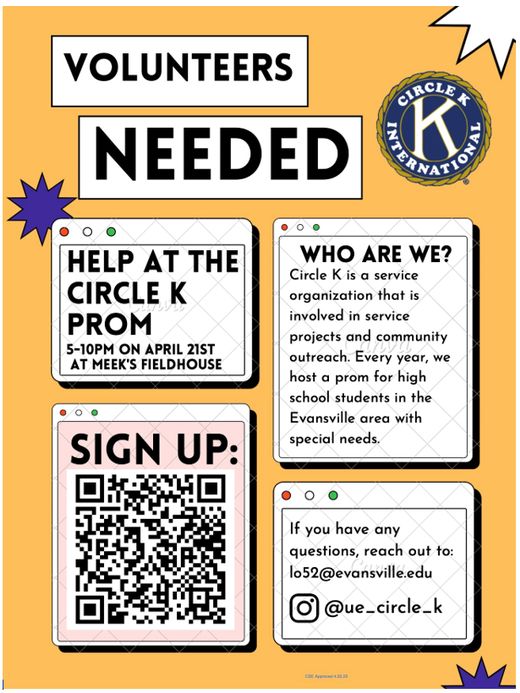 Circle K will be hosting a prom for the local high school students in the special education programs. You must have a completed background check and complete a short training on blackboard. It is on April 21st from 5-10pm and the deadline to sign up is March 24th. Fill out the google form if you are interested and we will provide you with all the information you need!
Submitted by Elizabeth McCook em310@evansville.edu
Housing Requests for New Hall
Students interested in living in the New Hall for 2023-24 should pick up request cards in the Office of Residence Life.
New Hall is reserved freshman and sophomore level students. Rising sophomores interested in living in New Hall for next year can submit their request cards for 4 person or 6 person pods (sophomores will primarily be assigned to 4 person pods). Assignments will be made based on the combined credit hours, as of the end of Fall 2022, of each group applying Students/groups currently residing in New Hall will have priority over students/groups who do not currently reside in New Hall.
New Hall request cards are due back to the Office of Residence Life by 5:00 p.m., Friday, March 3.
More information on the housing assignments process can be found on the residence life section of the University website at https://www.evansville.edu/residencelife/housingapplyreturn/calendar.cfm
Submitted by Brian Conner bc32@evansville.edu
Village Request Cards Available
Students interested in living in the Villages for 2023-24 should pick up Village request cards in the Office of Residence Life.
The Villages are reserved primarily for students with 60 plus credit hours. In order to apply to live in the Villages, each person in your group must have at least 44 credit hours on file with the University by the end of the Fall 2022 semester.
Village request cards are due back to the Office of Residence Life by 5:00 p.m., Friday, March 3.
More information on the housing assignments process can be found on the residence life section of the University website at https://www.evansville.edu/residencelife/housingapplyreturn/calendar.cfm
Submitted by Brian Conner bc32@evansville.edu
Eykamp Prize: Call for Nominations
The Eykamp Prize was established by Richard and Rita Eykamp in 2015 to honor Faculty Achievement at the University of Evansville. Recipients of the prize will receive a one-time award of $10,000 in recognition of extraordinary contributions to the University of Evansville as University Citizens. Examples of such contributions include deep and successful involvement in recruiting students; expanding the number, scope, and competitiveness of grant funding for their department; bringing positive public awareness to the University through scholarship, knowledge, and understanding of their discipline.
Nominations for the Eykamp Prize may come from any member of the University of Evansville community. Nominees should be tenured or tenure-track faculty members at the University of Evansville who have not received the award in the previous five years. Nominations can be submitted in writing or via e-mail to Michael Austin, Executive Vice President for Academic Affairs/Provost, at ma352@evansville.edu by March 10, 2023. Nominations should include the name of the faculty member and a brief statement of the reasons that he or she is being nominated.
Recipients of the Eykamp Prize will be selected by an Award Committee, appointed by the EVPAA/Provost that includes members of the faculty, staff, administrators, and a member of the Board of Trustees. The award will be announced and presented at the May Commencement Ceremony.
Recipients in the previous five years: 2018 – Dr. David Dwyer; 2019 – Dr. Kristy Miller; 2020 – Dr. Jerrilee LaMar; 2021 – Dr. Joyce Stamm; 2022 – Dr. Mari Plikuhn.
Submitted by Paula Heldt ph28@evansville.edu
February Employees of the Month
Congratulations to the the February 2023 Employees of the Month! The recipients were recognized Tuesday by the Staff and Administrators Assembly (SAA).
Jake Oberhausen - Maintenance Trades Electrician for Facilities and Physical Plant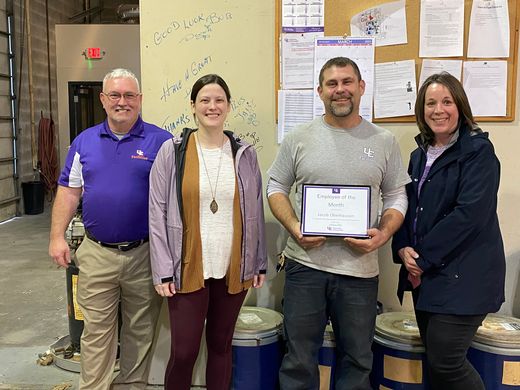 ---
Debbie Brenton - Coordinator of Disability Services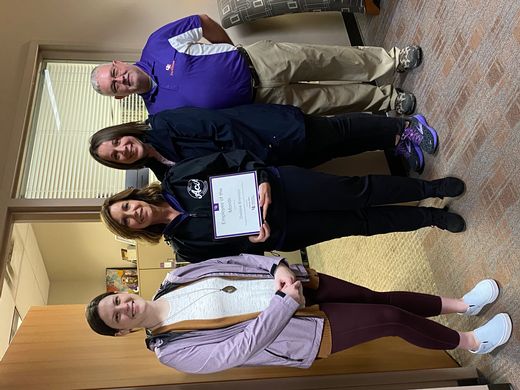 Submitted by Noah Alatza na122@evansville.edu
UE Student Named "Realizing the Dream" recipient
UE student Ashtyn Baxter was among twenty-nine first-generation Indiana college students who got a boost to their education funds this academic year and re-connected with influential educators who helped along the way after being named "Realizing the Dream" recipients by Independent Colleges of Indiana (ICI). These 29 scholarship recipients, one from each of Indiana's private, nonprofit colleges and universities, were celebrated at a banquet on February 25 at the Eiteljorg Museum.
Award recipients, videos, and photos are listed below. Made possible by a grant from Lilly Endowment Inc. The scholarship program annually recognizes first-generation college students from ICI colleges and universities.
Students are selected for the $4,000 award for outstanding achievement during their freshman year as they successfully advance toward completing their bachelor's degrees. To honor recipients, ICI created individual videos of each student describing what it means to them to be a first-generation college student and thanking the influential educator they have chosen to honor.
In addition to the students' scholarship awards, the influential educators also receive $1,000 in professional development grants.
Videos can be found at icindiana.org/rtd.
Submitted by Noah Alatza na122@evansville.edu
UE Men's Swimming Breaks Three School Records On First Day At MAC Championships
Only two relay races were competed in by the University of Evansville men's swimming team on Wednesday, but that didn't stop the Purple Aces from breaking three school records on the first day of the 2023 Mid-American Conference Swimming & Diving championships hosted by Miami University in Oxford, Ohio.
The 200-Yard Medley Relay team opened the meet by breaking the school record in the event for the second-straight year with a time of 1:28.41, while placing fourth overall. Then, in the 800 Freestyle Relay, UE lowered the school record with a time of 6:39.32, while senior Riccardo Di Domenico (Johannesburg, South Africa) absolutely destroyed the individual 200-Yard Freestyle record with a lead-split time of 1:36.59, which broke UE's previous record by over a full second.
"What a great start for the week!" said UE head coach Stuart Wilson. "We got the jitters out of the way early tonight, and the team knows that they are going to step up after tonight's swims."
In the 200 Medley Relay, sophomore Patrik Vilbergsson (Kopavogur, Iceland) opened with a 50-Back split time of 22.79. Junior Alon Baer (Gesher HaZiv, Israel) then turned a split of 24.40 in the Breaststroke, while sophomore Daniel Santos Lopez (Madrid, Spain) posted a time of 21.24 in the Butterfly. Freshman Daniil Goncharuk (Kyiv, Ukraine) then came home with an anchor-leg time of 19.98 in the 50-Free to help UE place fourth overall. Ball State's 200 Medley Relay team took home first place with a time of 1:26.35.
In the 800 Freestyle Relay, Di Domenico dominated the first 200 yards, as he had over a body length lead when he touched the wall with a time of 1:36.59. Because that time came from a standard start as the lead leg of the event, it was eligible for a school-record time, and it was easily over a second faster than UE Hall of Famer Nikola Kalabic's school-record time of 1:37.66, which was set in 2001. From there, sophomores Jakob Grundbacher (Thalwil, Switzerland) and Carlos Souto (A Coruna, Spain) and junior Grant Kay (Ellicott City, Md./Hebron) teamed up to post a time of 6:39.32 overall, which bettered the previous UE school record in the event set in 2020.
The two relay events were the only two events contested on Wednesday, and UE currently sits in fourth place in the league standings with 58 points. The MAC Championships will continue on Thursday with both preliminary-round and finals action in the 500-Yard Freestyle, the 200 IM, the 50-Yard Freestyle, and the one-meter diving competition. Thursday night's final will also feature the 200-Yard Freestyle Relay competition. Preliminary-round swims will begin at 9:30 a.m. central time, with the finals beginning at 5 p.m.
Submitted by Athletics
Kenny Strawbridge Jr. earns All-MVC Third team honor
One of the most consistent players for the University of Evansville men's basketball team throughout the 2022-23 season, Kenny Strawbridge Jr. was named to the All-Missouri Valley Conference Third Team on Wednesday evening.
Strawbridge scored an average of 14.5 points per game over the course of the season, finishing 9th in the league. He had eight 20-point efforts throughout the season including a season-high of 25 against Fairfield in November.
One of his most impressive efforts came against Bellarmine in December. After being held scoreless in the opening 20 minutes, Strawbridge erupted for 22 points in the second half to lift the Purple Aces to a victory.
He scored at least eight points in all but one contests in his first season at UE while attempting at least 10 shots in all but four games. His debut for UE came in the win at Miami Ohio where he led the way with 23 points in the season-opening win.
Submitted by Athletics
Hord, Borgstrom Homer As UE Baseball Bounces SEMO, 14-8
University of Evansville junior catcher Brendan Hord (Lexington, Ky./Paul Dunbar) and fifth-year outfielder Danny Borgstrom (Morris, Ill./Morris) both launched home runs on Wednesday, and UE used a six-run third inning and five-run eighth to blast past the host Southeast Missouri State Redhawks, 14-8, at Capaha Field in Cape Girardeau, Missouri.
"It was great to get a win on the road against a good SEMO club," said UE head coach Wes Carroll. "The offense was able to put up a couple of big innings, and our pitching staff did well enough to get the win.
"Top to bottom in our lineup, we had guys contribute and we got a couple of big blasts from (Brendan) Hord and (Danny) Borgstrom in some key spots. We also got an outstanding performance from Jakob Meyer in relief, which was great to see. Now, we have a big weekend ahead, with four games back at home."
It took Evansville just two batters to score the game's first run on a day where UE set season-highs for runs and hits. After junior second baseman Kip Fougerousse (Linton, Ind./Linton-Stockton) led off the game with a walk and advanced into scoring position due to an error, current Missouri Valley Conference Player of the Week Chase Hug drove him home with an RBI single to left field to give UE a 1-0 lead.
After the Redhawks answered back with a run of its own in the second inning, UE would explode for six runs in the third inning to grab a lead it would never lose. Hug led off the frame with a single and advanced to second on an error by the outfielder. Junior shortstop Simon Scherry (Santa Claus, Ind./Heritage Hills) would then follow with an RBI double down the right field line, and scored on a two-run home run by Hord, his third home run of the year.
After a pair of walks and another SEMO error put runners on second and third, sophomore DH Evan Waggoner (Bedford, Ind./Bedford North Lawrence) would drive in a run on an RBI ground-out to push the UE lead to 5-1. Sophomore outfielder Ty Rumsey (Evansville, Ind./North) then followed with an RBI single and a stolen base, and Fougerousse would drive in Rumsey with another RBI single to help UE build a 7-1 cushion.
SEMO would respond in the bottom of the third inning with a two-out grand slam by DH Carlos Aranda, who would drive in the first five runs of the day for the Redhawks, to cut the UE lead to 7-5. But, that would be as close as SEMO would get, as UE added single runs in the fourth and fifth innings on RBI base hits by fifth-year outfielder Eric Roberts (Hamilton, Ohio/Hamilton) and Waggoner, before Borgstrom would respond with a grand slam of his own in the eighth inning to help UE cruise to a 14-8 victory.
Borgstrom would go 2-for-4 with three runs scored and four RBI for UE, while Rumsey and Hug each had three hits to pace the UE offense. Waggoner, making his first career start, would go 2-for-5 with two RBI, while Hord added two RBI as well. Scherry and Roberts also had two-hit days for UE, which pounded out 16 hits.
Freshman RHP Max Hansmann (2-0) earned the win, allowing five runs on four hits in 3.0 innings of work in a scheduled short-start. Senior reliever Jakob Meyer and graduate reliever Jarrett Blunt combined to toss 4.0 scoreless innings of one-hit relief while striking out five to help aid the UE bullpen.
With the victory, Evansville (3-5) extends its winning streak to three games. Meanwhile, SEMO falls to 2-7 on the season with the loss. The Purple Aces will return home to German American Bank Field at Charles H. Braun Stadium this weekend for a four-game series against the Bowling Green State University Falcons (2-4). The series begins Friday afternoon at 3 p.m. and will continue with a Saturday noon doubleheader and a Sunday 1 p.m. contest.
Submitted by Athletics
Contribute to AceNotes
To have content considered for inclusion in AceNotes, please submit a Marketing Request Form. Deadline for submission to AceNotes is 10:00 a.m. on the requested date of publication. Only articles concerning UE related/sponsored activities will be accepted. Articles submitted to AceNotes may be edited for length and clarity. Submitter contact information is at the end of each article.