| | |
| --- | --- |
| AceNotes Today | Friday, February 24, 2023 |
Music Conservatory Vocalists to Perform for Road Trip
If you missed the Valentine's Day concert, the UE Music Conservatory will perform a special encore tonight in Neu Chapel at 7:30 p.m. As part of the Road Trip experience this weekend, our vocal students will present a showcase of musical theatre love songs for our visiting prospective students. The public is welcome to attend this free concert.
Submitted by Amy Esche ae128@evansville.edu
Venturing Crew Spring Break
Join us as we explore some of the region's most beautiful and picturesque waterfalls.
Sunday, March 5 2023 at 8:00 AM CST to
Wednesday, March 8 2023 at 8:00 PM CST
Follow the link below to learn more
https://uengage.evansville.edu/event/8831819
Table sign ups start Monday in Ridgway and you can find us there Monday, Tuesday and Wednesday 11am-1pm and 4pm to 6pm.
We will be at Road Trip in Ridgway this Saturday from 11-1 as well. Stop by, say hi, sign up and grab some candy.
The cost for the trip is $75. Payment can be cash, check Venmo
Submitted by Fred Wilson fw2@evansville.edu
Screening of film "She Said" with TalkBack Following: Feb. 24, 7pm in SOBA 162
Intersectional Feminist Alliance, PRIDE, and Gender, Women's and Sexuality Studies Program present A Film Screening of "She Said" and TalkBack on February 24 at 7pm in SOBA 162.
Based on the bombshell New York Times investigation, SHE SAID follows the remarkable true story of how reporters Megan Twohey and Jodi Kantor went from underdogs to inspirations by shattering the silence surrounding sexual assault in Hollywood. Determined to expose the truth many fear to tell, Megan and Jodi's partnership shakes up the system, empowering courageous women to retake their strength through stories of survival in this extraordinary film from Emmy®-winning director Maria Schrader ("Unorthodox"; I'm Your Man), featuring captivating performances by two-time Academy Award® nominee Carey Mulligan (Promising Young Woman, An Education) and Zoe Kazan (The Big Sick, The Plot Against America).
Certified Fresh on Rotten Tomatoes and featuring an impressive cast also including Patricia Clarkson (Pieces of April, "House of Cards"), Andre Braugher ("Brooklyn Nine-Nine", The Mist) and Ashley Judd (Double Jeopardy), SHE SAID is a "powerful and unnerving" (NPR) testament to the power of investigative journalism and its influence in reinvigorating the #MeToo movement.
SHE SAID is rated R by the MPAA for language and descriptions of sexual assault.
This event is open to UE students, faculty, and staff.
Submitted by Sara Petrosillo sp220@evansville.edu
University of Evansville Theatre presents THE MOORS
The University of Evansville Theatre continues its Spring 2023 season with Jen Silverman's THE MOORS, opening at 7:30 p.m., Thursday, Feb. 23, in the May Studio Theatre. Additional performances are at 7:30 p.m., Feb. 24 and 25, and at 2:00 p.m., Feb. 25 and 26. This brilliant, award-winning playwright weaves a complex tapestry of contemporary and classic genres in a whimsical satire that embraces the gothic musings of the Brontë sisters and examines love, romance, and the transformational power in the quest for intimacy.
THE MOORS is directed by Hannah Tarr, a senior theatre studies major, from Floyds Knobbs, Ind.; Keegan Macaluso, a senior design and technology major, from Georgetown, Texas, serves as the scenic designer; Kylee Hassell, a junior design and technology major, from Portland, Tenn., is the costume designer; Ethan Santiago, a first-year design and technology major, from Belton, Texas, is the lighting designer; Beverly Buchanan, a junior performance major, from Tomball, Texas, serves as the sound designer; Aibhlinn Rose, a senior performance major, from Clackamas, Ore., is the dramaturg; Morgan Bailey, a junior stage management major, from Keller, Texas, is the stage manager, and Lily Rehburg, a junior design and technology major, from Dalton, Ga., serves as the technical director.
The cast features Christina Tinde Jesenski, a junior performance major, from Rancho Santo Margarita, Calif., as Agatha; Madison G. Conway, a junior performance major, from Jeffersonville, Ind., as Huldey; Riley Katherine Miller, a senior performance major, from Crown Point, Ind., as Marjory; Tomi Akinwande, a first-year performance major, from Houston, Texas, as Emilie; James Scott, a first-year performance major, from Sugar Hill, Ga., as Mastiff, and Antonio Cortés Román, a first-year performance major, from Metepec, Estado de Mexico.
In following industry standards, masks are strongly encouraged, but not required.
Seating is limited, and all general admission tickets are $12. UE students may obtain one free student rush ticket beginning at noon on the day of the performance they wish to attend. Single tickets may be purchased online at theatre.evansville.edu or by calling the ticket office at 812.488.2031.
Submitted by Sharla Cowden sc75@evansville.edu
RSA Shark Week
Join RSA for Shark Week! A week full of fun events including:
Feb. 20: Shark Attack – First Floor of Ridgway – 5:00 p.m. – 7:00 p.m.
Feb. 21: Sharks & Minnows – Carson Center Small Gym – 6:00 p.m. – 8:00 p.m.
Feb. 22: Pool Party – Carson Center – 7:00 p.m. – 9:00 p.m.
Feb. 23: RSA General Assembly – SOBA 71 – 8:00 p.m. – 9:00 p.m.
Feb. 24: Bingo – Eykamp – 8:30 p.m. - 10:30 p.m.
Submitted by Lily A Renfro lr156@evansville.edu
College Taboos: Hangovers, Sex, and More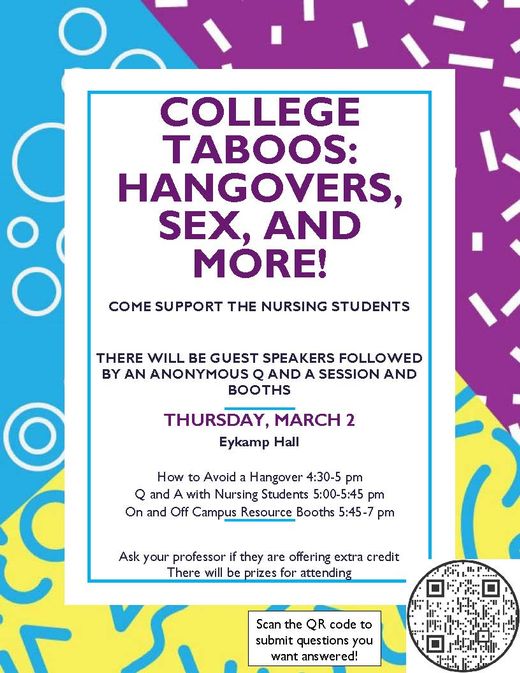 "College Taboos: Hangovers, Sex, and More!" is a campus-wide educational and interactive community fair put on by senior nursing students. The event will take place on Thursday, March 2nd in Eykamp from 4:30pm-7:00pm.
The schedule for the night is as follows:
How to Avoid a Hangover 4:30-5 pm
Q and A with Nursing Students 5:00-5:45 pm
On and Off Campus Resource Booths 5:45-7 pm
Anonymous questionnaire for students to ask questions on sex, alcohol, relationship violence, etc.: https://forms.gle/aar166LjY1jw1MSN7
Ask your professor if they are offering extra credit. There will be prizes for attending!
Submitted by Kalee Muth km492@evansville.edu
Circle K Prom Volunteers Needed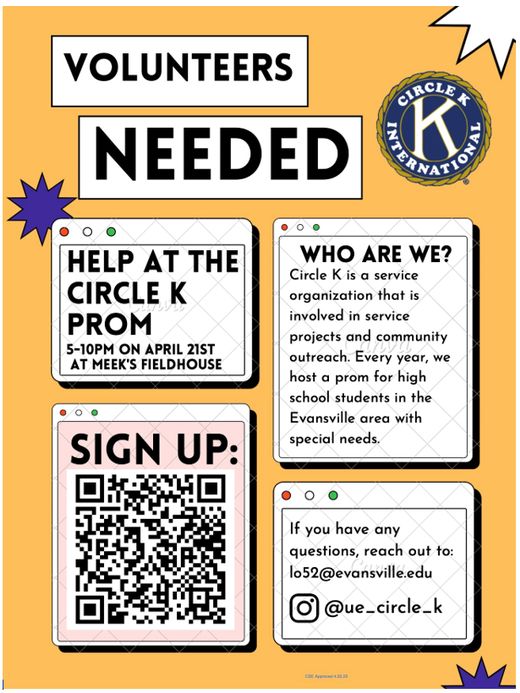 Circle K will be hosting a prom for the local high school students in the special education programs. You must have a completed background check and complete a short training on blackboard. It is on April 21st from 5-10pm and the deadline to sign up is March 24th. Fill out the google form if you are interested and we will provide you with all the information you need!
Submitted by Elizabeth McCook em310@evansville.edu
Sigma Tau Delta T-Shirt Fundraiser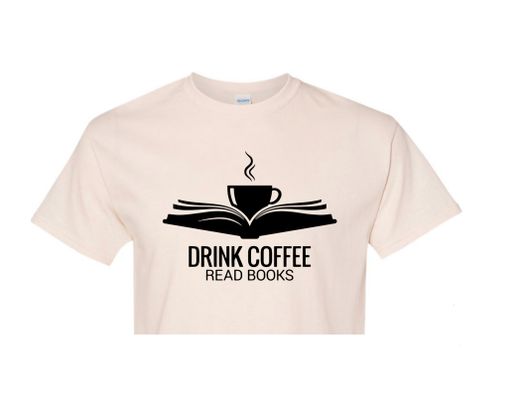 UE's chapter of Sigma Tau Delta*, International English Honor Society, is selling T-shirts for just $15!!
The shirts are unisex, sized S-M-L-2XL, and read: DRINK COFFEE READ BOOKS.
All proceeds support students who have been accepted to present their research at Sigma Tau Delta's annual literary convention this March in Denver, Colorado. Please help our students represent UE!!
ORDER ONLINE NOW
Use this Google Form to Order your shirt(s): https://forms.gle/9WPJGv7ctUThQ9GS6
(option to pay via Venmo, cash, or check)
PURCHASE IN-PERSON
Sigma Tau Delta will have a table on the 1st Floor of Ridgeway from 11am-1pm on Tuesday, February 28, 2023. You can purchase a shirt in-person!
Please consider supporting our classmates in this experience! At just $15 per shirt, this is an excellent chance to contribute to our classmates' academic pursuit!
*Sigma Tau Delta is an international organization dedicated to recognizing outstanding English students and helping them towards their educational and career goals. Our chapter attends a yearly international conference held across the country at which many of our students often present their own scholarly works. Sigma Tau Delta is also committed to raising interest in writing, literacy, and the arts in the Evansville community, using volunteering to do so. Additionally, members of Sigma Tau Delta participate in in-club efforts to join academic approaches to literature with community and fun.
Questions or concerns? Please contact Sigma Tau Delta chapter president, Michael Ikejiani at mi50@evansville.edu or faculty advisor Sara Petrosillo at sp220@evansville.edu
Submitted by Michael Ikejiani mi50@evansville.edu
Fifth Third Bank Provides Additional Investment to Embrace for Expanded Services Outside of The Jacobsville Advantage
Embrace, the University of Evansville (UE) student-run marketing and communications agency, and Fifth Third Bank have announced the renewal of a $15,000 grant that will expand its reach to include funding for nonprofits outside the Jacobsville community. In October 2021, The Jacobsville Advantage was initially launched to help fuel growth and development for businesses in their community. At the time, Fifth Third Bank provided an initial $25,000 grant to kickstart the endeavor, and they have recently invested an additional $15,000 to support ongoing services to help Jacobsville businesses meet their marketing needs at an affordable price.
To celebrate the grant renewal, Embrace and Fifth Third Bank is hosting a Marketing Panel and Creative Solutions event on February 25 at the Fifth Third Center. The event will provide an opportunity for additional local businesses to find affordable solutions to their marketing needs.
The event is open to any non-profit or for-profit business. Embrace will hold one-on-one meetings with their marketing and media experts to specifically address business needs and answer any questions. In addition, Embrace will offer website and social media set-up at the event.
Under the grant, Embrace completed projects for five Jacobsville businesses within the last year. Project highlights include designing a flyer for Gayla Cake and a map brochure for the Jacobsville Community Cooperative; launching a website for The Jacobsville Fine Art Association and Foster Care in the US; and creating a video advertisement for Zesto.
Irais Ibarra, Chief Executive Officer of Embrace, says the goal is to expand and cultivate community relationships by investing in small businesses and non-profits.
"What we really want as an agency is to grow alongside our clients by developing our own capabilities, and we believe this opportunity will provide the first steps in helping these organizations embrace their potential," says Ibarra.
"Fifth Third Bank has been a proud sponsor of the Jacobsville Advantage project and we are excited to see Embrace take it to the next level by expanding the project to include non-profits throughout our region. This key change in Embrace's strategy will enable even more well deserving organizations take advantage of the great services Embrace provides to our community." said Neely Pierce, Evansville City President, S.V.P.
Submitted by Noah Alatza na122@evansville.edu
UE Summer Camps and Employee Discount
The Office of Youth Programs has opened registration for UE Summer Camps 2023! This summer, we are offering Dance Camp, the Wesley Shepard Music Camp, Exploring Art at UE (Grades 2-5 & Grades 6-8), STEM Camp, Clay Camp, Springboard, and Pride Camp. To find out more, please visit our website.
We are offering a 50% discount to UE Employees that would like to register their youth. To receive this discount, please email us at youthprograms@evansville.edu BEFORE registering. Please include your name, title, list youth(s)'s name and camp title. We will send you a discount code to apply at registration within two business days.
If you have any questions, please email youthprograms@evansville.edu.
Submitted by Rachel Roscoe rr209@evansville.edu
Eykamp Prize: Call for Nominations
The Eykamp Prize was established by Richard and Rita Eykamp in 2015 to honor Faculty Achievement at the University of Evansville. Recipients of the prize will receive a one-time award of $10,000 in recognition of extraordinary contributions to the University of Evansville as University Citizens. Examples of such contributions include deep and successful involvement in recruiting students; expanding the number, scope, and competitiveness of grant funding for their department; bringing positive public awareness to the University through scholarship, knowledge, and understanding of their discipline.
Nominations for the Eykamp Prize may come from any member of the University of Evansville community. Nominees should be tenured or tenure-track faculty members at the University of Evansville who have not received the award in the previous five years. Nominations can be submitted in writing or via e-mail to Michael Austin, Executive Vice President for Academic Affairs/Provost, at ma352@evansville.edu by March 10, 2023. Nominations should include the name of the faculty member and a brief statement of the reasons that he or she is being nominated.
Recipients of the Eykamp Prize will be selected by an Award Committee, appointed by the EVPAA/Provost that includes members of the faculty, staff, administrators, and a member of the Board of Trustees. The award will be announced and presented at the May Commencement Ceremony.
Recipients in the previous five years: 2018 – Dr. David Dwyer; 2019 – Dr. Kristy Miller; 2020 – Dr. Jerrilee LaMar; 2021 – Dr. Joyce Stamm; 2022 – Dr. Mari Plikuhn.
Submitted by Paula Heldt ph28@evansville.edu
PT Faculty, Alumni and Sports Residents Conduct Testing of St. Louis Cardinals MLB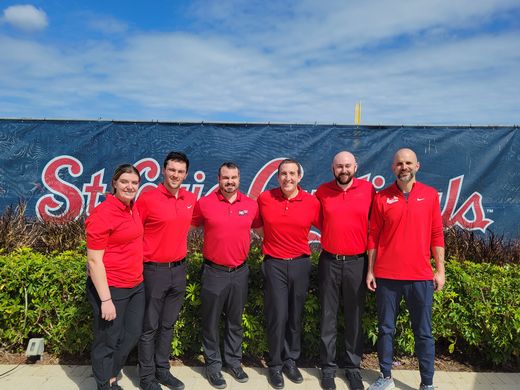 UE PT faculty, ProRehab and UE Sports Residency Program residents and alumni recently completed performance testing of the St. Louis Cardinals Minor League Baseball players in Jupiter, Florida.
The team was led by Dr. Phil Plisky '98, Associate Professor of Physical Therapy and Director of Residency Programs and Associate Professor of Physical Therapy and Director of the ProRehab/UE Sports Residency Program Dr. Kyle Matsel '11. The team also included current and former ProRehab/UE sports residents Jon Newbold, Stephanie Sherwood, and AJ Hermann '18. The goal of this testing is to guide the optimization of player health and performance.
Submitted by Jennifer Simon js698@evansville.edu
UE announces investiture of two faculty members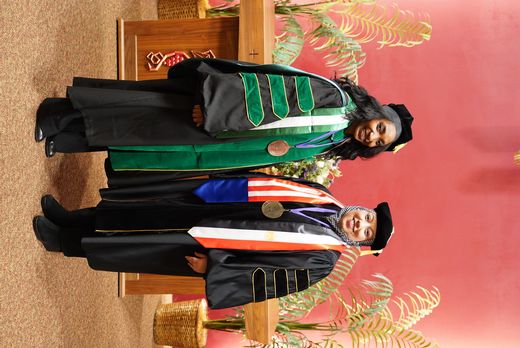 The University of Evansville's (UE) Schroeder Family School of Business Administration announced the investiture of two faculty members during a ceremony on Wednesday.
Rania Mousa, PhD was named the Mead Johnson Nutrition Endowed Chair in Business and Yolanda Obaze, PhD was named the Guthrie May Endowed Chair in Business.
Mead Johnson Nutrition
In 1993, the Mead Johnson Nutrition Endowed Chair in Business was established at the University of Evansville through a generous gift from Mead Johnson Nutrition and the Bristol-Myers Squib Foundation seeking to participate as responsible neighbors and members of the communities where its people live and work and where its facilities are located. The company understands its obligation to participate in and enhance the life of those communities. Originally known as the Bristol-Myers Squibb Chair, the Mead Johnson Nutrition Endowed Chair in Business is dedicated to building on the strengths of the University's business school. The goal is to give students the opportunity to study with an outstanding professor who will inspire them to achieve greater levels of excellence and make a life-transforming difference in their academic careers. This endowed chair honors Mead Johnson Nutrition's long-standing relationship with UE which began when the University moved to the City of Evansville in 1919. Throughout the years, representatives of the company have supported the UE as trustees, advisory board members, volunteers, and students. Mead Johnson has employed hundreds of University alumni.
Mead Johnson Nutrition Endowed Chair in Business Rania Mousa, PhD, Associate Professor of Accounting, holds a bachelor's degree in Accounting from the American University in Cairo, Egypt. She also holds a Master of Business Administration from Illinois Institute of Technology and a PhD in Accounting from the University of Birmingham in England. Mousa has been teaching at the University of Evansville since 2010. She teaches courses in Financial Accounting, Accounting Information Systems, Computer Accounting, and Forensic Accounting. Mousa's doctoral research centered on examining the implementation process of open standard reporting technologies in the United Kingdom's His Majesty's Revenue and Customs and Companies House. Her research has expanded to cover a wide range of areas, including accounting information systems, financial and non-financial reporting technologies, electronic government, financial inclusion, and pedagogical research in forensic accounting and accounting education. Over the last 13 years, Mousa has published 14 peer-reviewed publications, including 11 papers and three book chapters. During her tenure at UE, Mousa has received multiple awards, including the Schroeder Dean's Research Award in 2017 and Teaching Award in 2019. In August 2022, she received the American Accounting Association's Forensic Accounting Section's Best Teaching Innovation Award for a fraud case she created. This year she has received the 2022-2023 UE Global Scholar Award allowing her to present her paper on Grameen America's remarkable response to the COVID-19 pandemic at the University of Bologna in Italy.
Guthrie May Endowed Chair in Business - The Guthrie May Endowed Chair in the Schroeder Family School of Business Administration was established by the University of Evansville to honor Guthrie May for his long-standing devotion, effective leadership, and financial support to the University of Evansville, with the intent of promoting teaching excellence and community outreach by the Guthrie May Endowed Chair in the Schroeder Family School of Business Administration. Guthrie May graduated from Evansville College in 1931. Guthrie and his wife, Alice '34, were tremendous friends of their alma mater. This fact is best exhibited by the gift of their home, the May House, to UE to be used as the President's residence. To previous generations, the "American Dream" meant home ownership. Prior to World War II, the vast majority of Americans did not own their homes. More than anyone else, Guthrie May brought the "American Dream" of home ownership to Evansville. He built more than 7,000 homes in Evansville and in other communities across the country. He also was involved in the development and construction of shopping centers, business condominiums, and residential condominiums. Guthrie May's involvement with community leadership is clear from the many boards on which he served and activities in which he participated. He was a member of the University of Evansville Board of Trustees, the Evansville-Vanderburgh School Corporations Board of Directors, the Administrative Board of Trinity United Methodist Church, the Board of Directors of United Way of Southwestern Indiana, Evansville's Future Board of Directors, Metropolitan Evansville Chamber of Commerce Board of Directors, the Evansville Board of Realtors, the Evansville Rotary Club, Citizens National Bank Board of Directors, and many other boards. He was the recipient of many honors and awards from various charities and the local community.
Guthrie May Endowed Chair in Business Yolanda Obaze, PhD, is an Associate Professor of Supply Chain Management. She also serves as the Director Center for Logistics and Supply Chain Management. Obaze obtained both her MBA and PhD from the University of North Texas. Obaze was instrumental in the creation and implementation of the Logistics and Supply Chain Management (LSCM) program and continues to teach a significant portion of the curriculum. She ensures the efficient running of the Center through cross-industry collaborations. Obaze currently serves as the Academic Advisor for the LSCM student organization, Business Professional of America student chapter, and the Sigma Phi Epsilon fraternity at UE. In 2018, she received the Schroeder Dean's Service Award. She is passionate about her research in the humanitarian logistics field. Her doctoral research centered on the community-based context of humanitarian logistics and supply chain management. She continues her research by helping much of the community-based companies in the Evansville area. Obaze serves on the Board of Directors for both the Evansville Association of the Blind and the Potter's Wheel Ministries. Her research work also extends to Aces Haven, the on-campus food pantry that addresses food insecurity among students and the local community. Obaze received the Schroeder Dean's Research Award in 2019 and was a 2020 UE Global Scholar Award recipient. In 2019, she was awarded the Annual Decision Sciences Institute's Best Theoretical Paper Award for her work on social supply chain management.
Submitted by Noah Alatza na122@evansville.edu
Dr. Hannah Lamar selected for Parkinson Foundation PT Faculty Program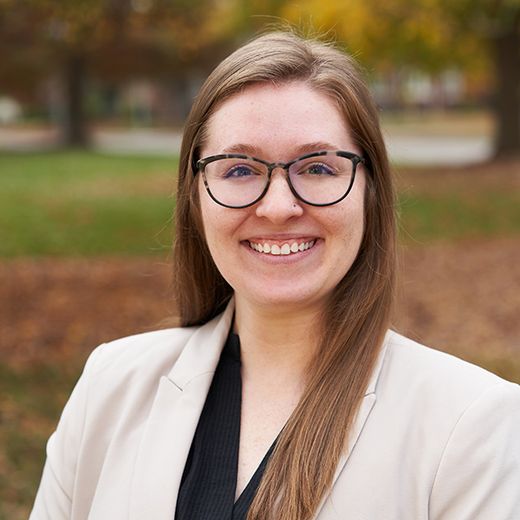 Congrats to Physical Therapy Clinical Assistant Professor Dr. Hannah Lamar '19 for being selected to join the Parkinson's Foundation PT Faculty Program! Dr. Lamar is one of six faculty accepted into the program at Washington University, which includes online and in-person training and mentorship with nationally recognized Parkinson's experts. All designed for PT faculty to enhance knowledge and prepare a curriculum based on the latest evidence-based Parkinson's research and care. Dr. Lamar teaches neurorehabilitation content at UE. She graduated from UE's AT program in 2016 and DPT '19. She became a Board-Certified Clinical Specialist in Neurologic PT in 2021, practicing inpatient rehabilitation at Ascension St. Vincent Evansville.
Submitted by Jennifer Simon js698@evansville.edu
UE Track & Field Travels To MVC Indoor Championships Beginning Sunday
The University of Evansville Track & Field teams will wrap up the indoor season this weekend, as the Purple Aces will take part in the Missouri Valley Conference Indoor Championships at the Dr. Conrad Worrill Track & Field Center at Gately Park in Chicago, Illinois. The two-day meet will begin Sunday morning at 9:30 a.m. with the multi-events and continue through Monday afternoon.
Evansville is coming off of last weekend's action at the Indiana State Open in which two UE school records fell on the women's side. Graduate student Melanie Helder (Hudsonville, Mich./Hudsonville) broke the UE school record in the 800-meters by over five seconds, as she continues to round into form after an early-season injury. Helder ranks in the MVC's top 20 this year in the 3,000-meter race and is expected to be one of UE's top finishers this weekend.
On the field side for the women, fellow graduate student Antonia Lamond (Nutley, N.J./Paramus Catholic) broke the UE women's record in the shot put event, and she will enter the Valley Championships owning both the indoor shot put and weight throw school records at UE.
On the men's side, senior thrower Zach Dove (Princeton, Ind./Princeton Community) and sophomore jumper Denzel Lasam (St. Louis, Mo./De Smet Jesuit) both rank among the Valley's top 20 entering the indoor championships. Dove ranks among the Valley's best so far this year in both the shot put (20th) and weight throw (13th), while Lasam currently ranks 11th in the conference in the triple jump with a season-best leap of 13.38 meters (43' 10.75") early this year.
The MVC Indoor Championships can be seen live on ESPN+. Live meet results are also available off of the stats link on GoPurpleAces.com.
Submitted by Athletics
Women's Basketball battles, but falls on the road at Missouri State
Hanging with the Lady Bears for much of the contest, the University of Evansville women's basketball team dropped a road contest at Missouri State, 63-51, on Thursday evening in Springfield, Mo.
It was a team effort for the Aces with seven different players scoring four-or-more points in the game. Redshirt junior center Barbora Tomancova led the way on the night for Evansville, finishing with 14 points and seven boards. Also reaching double figures in a return to the lineup was fifth-year guard Myia Clark, who tallied 11 points in a team-high 32 minutes of action. For the Lady Bears, Paige Rocca and Aniya Thomas both recorded 15 points, tying for the game high.
An early fast start for the Aces allowed Evansville to build a solid cushion in the first quarter. As UE's offense got going, Missouri State's sputtered in the early going as the Aces opened a 13-3 advantage with just under four minutes left in the opening period. The Lady Bears would get into a rhythm as the first quarter waned, closing within four at 13-7 going into the second quarter.
After going just 3-for-20 from the field in the opening quarter, Missouri State righted the ship offensively, hitting six of its 14 attempts in the second period. Evansville seemed to inherit the Lady Bears shooting woes in the second frame, shooting just 13.3% (2-15) from the field in the quarter. The Aces were able to keep themselves within striking distance despite the cold shooting, getting to the free-throw line six times and hitting five of its attempts to trail by just one at 23-22 at the break.
Both sides came out of the locker room with improved offenses in the third quarter as the two sides combined for 36 points in the period. After the Aces kept their deficit within four for much of the first five minutes of the second half, a late push from Missouri State helped the Lady Bears grab a nine-point lead with 10 minutes of regulation to play.
In the fourth, Evansville again proved its resilience that it has displayed all season. Despite trailing by double-digits in the final moments of the third, UE fought back within five points on multiple occasions, including an incredible series of plays late in the period. After Clark got to the basket and hit a layup, Evansville applied defensive pressure on the in-bounds play, forcing the ball to be thrown high, ricocheting off the backboard, which was then retrieved by Clark, who was fouled and went to the line to hit a pair of free throws. Although showing moxie to work back within five, Evansville could draw no closer as the Lady Bears captured the 63-51 win.
Evansville rounds-out its final road weekend of the season with a trip to battle Southern Illinois on Saturday afternoon at 2 PM in Carbondale, Ill.
Submitted by Athletics
Baseball Aces Open Home Season This Weekend Against Eastern Michigan
The University of Evansville baseball team will return home to German American Bank Field at Charles H. Braun Stadium this weekend to open up its home slate, as the Purple Aces will host Eastern Michigan in a three-game series. The series will begin Friday afternoon at 3 p.m. and continue on both Saturday (2 p.m.) and Sunday (1 p.m.) afternoon.
Evansville (0-4) will be looking for its first win of the 2023 campaign after dropping a three-game series at Troy and a 6-3 decision at Kentucky on Tuesday. Since German American Bank Field was constructed at Braun Stadium in February 2020, UE has posted a 38-23 overall record at GAB Field. UE went 17-9 a season ago at home, and the Purple Aces have lost only four of 16 series played at the renovated facility.
UE's middle infield combo of junior shortstop Simon Scherry (Santa Claus, Ind./Heritage Hills) and junior second baseman Kip Fougerousse (Linton, Ind./Linton-Stockton) currently lead the Purple Aces' offense. Scherry is hitting a team-best .375 (6-for-16) through four games, while also boasting a team-best .474 on-base percentage. Fougerousse, meanwhile, is second on the team in hitting at .350 (7-for-20) and he ranks eighth nationally in home runs with three. He enters this weekend's action just two home runs shy of the national lead.
Eastern Michigan will bring a 1-2 overall record to Evansville after a season-opening series against Northern Kentucky that was played in Hoover, Alabama. The Eagles rallied for five runs in the bottom of the eighth inning of the series finale to earn a 13-9 victory. Reigning Mid-American Conference Player of the Year Matt Kirk currently lead the EMU offense, as the fifth-year outfielder is hitting .500 (5-for-10) with a home run and two runs driven in. Fifth-year shortstop Taylor Hopkins (.400/1/8) and senior third baseman Glenn Miller (.364/0/0) also hit above .350 this year for the Eagles.
Evansville and Eastern Michigan have met only once on the baseball diamond – the 1999 UE Diamond Classic hosted at Evansville's old Carson Center Field. The Purple Aces picked up a 10-2 victory that day behind a 3-for-4 effort by then-sophomore and current head coach Wes Carroll. The next day, Eastern Michigan was supposed to face Dayton, but that EMU game never happened, as UE and Memphis played to a 4-4 tie in 21 innings that day, which is still the longest collegiate baseball game ever played in Indiana. The old Carson Center Field did not have lights, and EMU and Dayton were never able to take the field, as the game was called at 4 p.m. local time to allow Evansville to catch a flight to Florida to take part in the Rollins College Baseball Challenge.
Evansville will send junior RHP Nick Smith (0-1, 13.50 ERA) to the mound for Friday's opener looking for UE's first victory of the year. He will be opposed by EMU RHP Thomas House (0-1, 8.31 ERA). Friday's game can be seen live on ESPN+.
Submitted by Athletics
Softball back home for weekend tournament
Another home tournament is on the slate for this weekend as the University of Evansville softball team is back at Tri-State Orthopaedics Field at James & Dorothy Cooper Stadium. A total of 10 games will be played with the Purple Aces taking part in five contests.
Friday, February 24th
10 a.m. Bowling Green vs. Purdue Fort Wayne
12:30 p.m. Evansville vs. Purdue Fort Wayne
3 p.m. St. Thomas vs. Bowling Green
5:30 p.m. Evansville vs. St. Thomas
Saturday, February 25th
10 a.m. Purdue Fort Wayne vs. St. Thomas
12:30 p.m. Evansville vs. Bowling Green
3 p.m. Evansville vs. Purdue Fort Wayne
5:30 p.m. Bowling Green vs. St. Thomas
Sunday, February 26th
10 a.m. Purdue Fort Wayne vs. St. Thomas
12:30 p.m. Evansville vs. Bowling Green
UE enters the weekend with a record of 8-1 following a 4-0 performance last weekend. The Aces picked up victories over USI and Green Bay while defeating Kansas City in two contests. Hannah Hood is the reigning Missouri Valley Conference Player of the Week. Hood batted .571 with six runs, five walks, five RBI, four stolen bases and two home runs to lead the Purple Aces to a perfect 4-0 mark.
Megan Brenton did not allow a single earned run in six frames of work over the last week. Her first appearance came in Sunday's win over Kansas City. She gave up one hit while fanning three batters in two frames. Brenton's efforts against USI were pivotal in keeping her team in the game. Over four innings, she allowed an unearned run on three hits while striking out four.
Mikayla Jolly finished with a 1.50 ERA in six innings of work over the last week. On Sunday, she made the start against Kansas City and allowed two runs, one earned, in four innings. She allowed four hits while striking out three on her way to the win.
Submitted by Athletics
Contribute to AceNotes
To have content considered for inclusion in AceNotes, please submit a Marketing Request Form. Deadline for submission to AceNotes is 10:00 a.m. on the requested date of publication. Only articles concerning UE related/sponsored activities will be accepted. Articles submitted to AceNotes may be edited for length and clarity. Submitter contact information is at the end of each article.