| | |
| --- | --- |
| AceNotes Today | Thursday, February 23, 2023 |
Venturing Crew Spring Break
Join us as we explore some of the region's most beautiful and picturesque waterfalls.
Sunday, March 5 2023 at 8:00 AM CST to
Wednesday, March 8 2023 at 8:00 PM CST
Follow the link below to learn more
https://uengage.evansville.edu/event/8831819
Table sign ups start Monday in Ridgway and you can find us there Monday, Tuesday and Wednesday 11am-1pm and 4pm to 6pm.
We will be at Road Trip in Ridgway this Saturday from 11-1 as well. Stop by, say hi, sign up and grab some candy.
The cost for the trip is $75. Payment can be cash, check Venmo
Submitted by Fred Wilson fw2@evansville.edu
Screening of film "She Said" with TalkBack Following: Feb. 24, 7pm in SOBA 162
Intersectional Feminist Alliance, PRIDE, and Gender, Women's and Sexuality Studies Program present A Film Screening of "She Said" and TalkBack on February 24 at 7pm in SOBA 162.
Based on the bombshell New York Times investigation, SHE SAID follows the remarkable true story of how reporters Megan Twohey and Jodi Kantor went from underdogs to inspirations by shattering the silence surrounding sexual assault in Hollywood. Determined to expose the truth many fear to tell, Megan and Jodi's partnership shakes up the system, empowering courageous women to retake their strength through stories of survival in this extraordinary film from Emmy®-winning director Maria Schrader ("Unorthodox"; I'm Your Man), featuring captivating performances by two-time Academy Award® nominee Carey Mulligan (Promising Young Woman, An Education) and Zoe Kazan (The Big Sick, The Plot Against America).
Certified Fresh on Rotten Tomatoes and featuring an impressive cast also including Patricia Clarkson (Pieces of April, "House of Cards"), Andre Braugher ("Brooklyn Nine-Nine", The Mist) and Ashley Judd (Double Jeopardy), SHE SAID is a "powerful and unnerving" (NPR) testament to the power of investigative journalism and its influence in reinvigorating the #MeToo movement.
SHE SAID is rated R by the MPAA for language and descriptions of sexual assault.
This event is open to UE students, faculty, and staff.
Submitted by Sara Petrosillo sp220@evansville.edu
University of Evansville Theatre presents THE MOORS
The University of Evansville Theatre continues its Spring 2023 season with Jen Silverman's THE MOORS, opening at 7:30 p.m., Thursday, Feb. 23, in the May Studio Theatre. Additional performances are at 7:30 p.m., Feb. 24 and 25, and at 2:00 p.m., Feb. 25 and 26. This brilliant, award-winning playwright weaves a complex tapestry of contemporary and classic genres in a whimsical satire that embraces the gothic musings of the Brontë sisters and examines love, romance, and the transformational power in the quest for intimacy.
THE MOORS is directed by Hannah Tarr, a senior theatre studies major, from Floyds Knobbs, Ind.; Keegan Macaluso, a senior design and technology major, from Georgetown, Texas, serves as the scenic designer; Kylee Hassell, a junior design and technology major, from Portland, Tenn., is the costume designer; Ethan Santiago, a first-year design and technology major, from Belton, Texas, is the lighting designer; Beverly Buchanan, a junior performance major, from Tomball, Texas, serves as the sound designer; Aibhlinn Rose, a senior performance major, from Clackamas, Ore., is the dramaturg; Morgan Bailey, a junior stage management major, from Keller, Texas, is the stage manager, and Lily Rehburg, a junior design and technology major, from Dalton, Ga., serves as the technical director.
The cast features Christina Tinde Jesenski, a junior performance major, from Rancho Santo Margarita, Calif., as Agatha; Madison G. Conway, a junior performance major, from Jeffersonville, Ind., as Huldey; Riley Katherine Miller, a senior performance major, from Crown Point, Ind., as Marjory; Tomi Akinwande, a first-year performance major, from Houston, Texas, as Emilie; James Scott, a first-year performance major, from Sugar Hill, Ga., as Mastiff, and Antonio Cortés Román, a first-year performance major, from Metepec, Estado de Mexico.
In following industry standards, masks are strongly encouraged, but not required.
Seating is limited, and all general admission tickets are $12. UE students may obtain one free student rush ticket beginning at noon on the day of the performance they wish to attend. Single tickets may be purchased online at theatre.evansville.edu or by calling the ticket office at 812.488.2031.
Submitted by Sharla Cowden sc75@evansville.edu
RSA Shark Week
Join RSA for Shark Week! A week full of fun events including:
Feb. 20: Shark Attack – First Floor of Ridgway – 5:00 p.m. – 7:00 p.m.
Feb. 21: Sharks & Minnows – Carson Center Small Gym – 6:00 p.m. – 8:00 p.m.
Feb. 22: Pool Party – Carson Center – 7:00 p.m. – 9:00 p.m.
Feb. 23: RSA General Assembly – SOBA 71 – 8:00 p.m. – 9:00 p.m.
Feb. 24: Bingo – Eykamp – 8:30 p.m. - 10:30 p.m.
Submitted by Lily A Renfro lr156@evansville.edu
Randy Simmons Exhibit in Melvin Peterson Gallery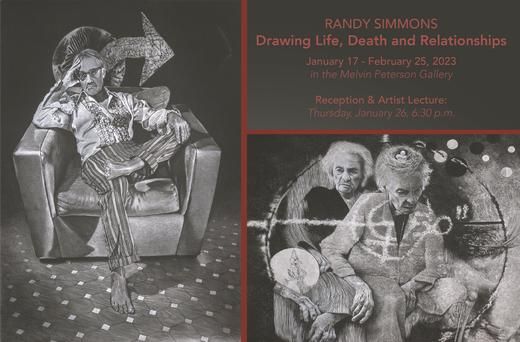 The Melvin Peterson Gallery will host the Drawing Life, Death and Relationships Exhibit by artist Randy Simmons from 01/17/2023 and through 02/25/2023. Gallery hours are Monday, Tuesday, Friday and Saturday from 12:00 p.m. - 3:00 p.m.; and Wednesday and Thursday from 12:00 p.m. - 6:00 p.m. Please join us for a reception and artist lecture on Thursday, January 26, 2023 at 6:30 p.m. in the Melvin Peterson Gallery.
Submitted by Carol McCraney cm177@evansville.edu
Fifth Third Bank Provides Additional Investment to Embrace for Expanded Services Outside of The Jacobsville Advantage
Embrace, the University of Evansville (UE) student-run marketing and communications agency, and Fifth Third Bank have announced the renewal of a $15,000 grant that will expand its reach to include funding for nonprofits outside the Jacobsville community. In October 2021, The Jacobsville Advantage was initially launched to help fuel growth and development for businesses in their community. At the time, Fifth Third Bank provided an initial $25,000 grant to kickstart the endeavor, and they have recently invested an additional $15,000 to support ongoing services to help Jacobsville businesses meet their marketing needs at an affordable price.
To celebrate the grant renewal, Embrace and Fifth Third Bank is hosting a Marketing Panel and Creative Solutions event on February 25 at the Fifth Third Center. The event will provide an opportunity for additional local businesses to find affordable solutions to their marketing needs.
The event is open to any non-profit or for-profit business. Embrace will hold one-on-one meetings with their marketing and media experts to specifically address business needs and answer any questions. In addition, Embrace will offer website and social media set-up at the event.
Under the grant, Embrace completed projects for five Jacobsville businesses within the last year. Project highlights include designing a flyer for Gayla Cake and a map brochure for the Jacobsville Community Cooperative; launching a website for The Jacobsville Fine Art Association and Foster Care in the US; and creating a video advertisement for Zesto.
Irais Ibarra, Chief Executive Officer of Embrace, says the goal is to expand and cultivate community relationships by investing in small businesses and non-profits.
"What we really want as an agency is to grow alongside our clients by developing our own capabilities, and we believe this opportunity will provide the first steps in helping these organizations embrace their potential," says Ibarra.
"Fifth Third Bank has been a proud sponsor of the Jacobsville Advantage project and we are excited to see Embrace take it to the next level by expanding the project to include non-profits throughout our region. This key change in Embrace's strategy will enable even more well deserving organizations take advantage of the great services Embrace provides to our community." said Neely Pierce, Evansville City President, S.V.P.
Submitted by Noah Alatza na122@evansville.edu
UE students will participate in the upcoming investment competition
The UE Purple Aces Investment research team will participate in the 2022/2023 CFA regional investment competition in Louisville on Thursday, February 23. The subject company is Tempur Sealy. The team consists of the following members: Mike Whitehead, Elayna Walters, Kourtney Hauk, Warda Alaisari. Professor Khan serves as the team mentor.
"The CFA Institute Research Challenge is an annual global competition that provides university students with hands-on mentoring and intensive training in financial analysis and professional ethics. Each student will be tested on their analytical, valuation, report writing, and presentation skills. They gain real-world experience as they assume the role of a research analyst."
Submitted by Walayet Khan wk3@evansville.edu
Nominations for Outstanding Teacher Award
Academic Affairs is pleased to announce the call for nominations for the 2023 Outstanding Teacher Award. The University bestows this award annually to honor a faculty member for extraordinary teaching effectiveness that inspires the intellectual development of students. Nominees must be a full-time faculty member who has taught at UE for two years or more and holds the rank of lecturer, instructor, assistant professor, associate professor, or professor. The winner is recognized at Commencement in May.
The following recipients from the past five years are not eligible: 2018 – Dr. Anthony Beavers; 2019 – Dr. Atefeh Yazdanparast Ardestani; 2020 – Dr. Mike Roscoe; 2021 – Dr. Julie Merkle; and 2022 – Dr. Katie Whetstone.
Access the link to submit a nomination.
https://www.evansville.edu/offices/academicaffairs/outstanding-teacher-form.cfm
Forward supplemental documentation to: Paula Heldt at ph28@evansville.edu. Please include the faculty member's name and OTA 2023 in the subject line.
The deadline to submit a nomination is Friday, March 17, 2023.
Submitted by Paula Heldt ph28@evansville.edu
Dr. Hannah Lamar selected for Parkinson Foundation PT Faculty Program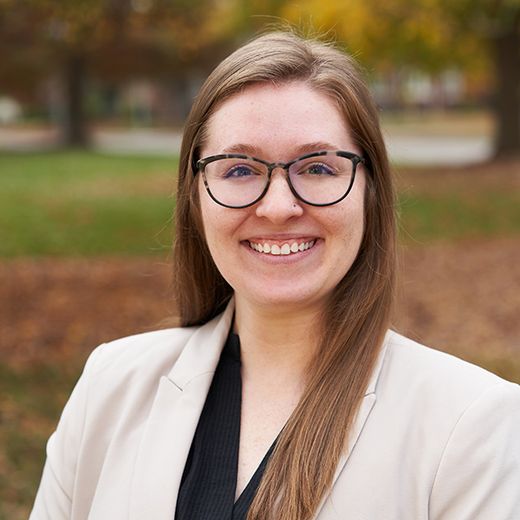 Congrats to Physical Therapy Clinical Assistant Professor Dr. Hannah Lamar '19 for being selected to join the Parkinson's Foundation PT Faculty Program! Dr. Lamar is one of six faculty accepted into the program at Washington University, which includes online and in-person training and mentorship with nationally recognized Parkinson's experts. All designed for PT faculty to enhance knowledge and prepare a curriculum based on the latest evidence-based Parkinson's research and care. Dr. Lamar teaches neurorehabilitation content at UE. She graduated from UE's AT program in 2016 and DPT '19. She became a Board-Certified Clinical Specialist in Neurologic PT in 2021, practicing inpatient rehabilitation at Ascension St. Vincent Evansville.
Submitted by Jennifer Simon js698@evansville.edu
Toumi records career-high in home finale
Yacine Toumi recorded a career-high 20 points in Wednesday's home finale inside the Ford Center that saw the University of Evansville men's basketball team fall to UIC by a final of 82-76.
Toumi was 9-for-18 from the field and tied for the game-high with eight rebounds. Kenny Strawbridge Jr. added 18 points with Gage Bobe and Marvin Coleman II finished with 12 and 11, respectively. Jace Carter led the Flames with 22 points and 8 rebounds. Tre Anderson completed the contest with 18 tallies.
Both teams shot well to open the game with UIC hitting their first four attempts to take a 9-4 lead while Evansville was 4-for-6 with a Gage Bobe triple tying the game at 9-9 less than four minutes in. After UIC went back in front at 14-12, the Purple Aces made their move, recording eight in a row.
Preston Phillips got things started with a score off a UIC turnover while Kenny Strawbridge Jr. converted a 3-point play and a triple to give UE a 20-14 lead at the 10:34 mark. The Flames countered with a 9-0 stretch over the next three minutes to retake the lead. They hit three field goals in a row along with two free throws. Evansville missed four shots and turned it over twice in that span.
Bobe connected on his second triple as the Aces knotted the score at 25-25 but the Flames continued to have the answer. Up 28-27, the Flames went on a 12-2 run to take a 40-29 advantage, their largest of the half. Marvin Coleman II hit a three to finish the half with UIC leading, 40-32.
After completing the first half on an offensive run, the Flames kept up the intensity as they opened the second stanza by scoring ten in a row. Facing the 50-32 deficit, the Aces responded with a 10-0 rally. Strawbridge had two 3-point plays and eight total points in the run to make it a single digit game at the 14-minute mark.
Two minutes later, Chris Moncrief knocked down his second shot to get his team within six before finding Phillips for a dunk to cut the deficit to five at the midway point of the half. With 8:15 remaining, the Aces made it a one-possession game when Toumi drove to the basket for his sixth make of the night. A 10-2 UIC run cemented a double-digit lead entering the final five minutes.
Evansville continued to battle in the final minute, getting as close as four points before the Flames wrapped up the 82-76 victory. UIC shot 50.9% on the night while tallying 35 rebounds. UE checked in at 45.5% and a total of 34 boards.
Regular season play comes to a conclusion on Sunday when the Aces visit Illinois State.
Submitted by Athletics
Contribute to AceNotes
To have content considered for inclusion in AceNotes, please submit a Marketing Request Form. Deadline for submission to AceNotes is 10:00 a.m. on the requested date of publication. Only articles concerning UE related/sponsored activities will be accepted. Articles submitted to AceNotes may be edited for length and clarity. Submitter contact information is at the end of each article.