| | |
| --- | --- |
| AceNotes Today | Wednesday, February 22, 2023 |
Venturing Crew Spring Break
Join us as we explore some of the region's most beautiful and picturesque waterfalls.
Sunday, March 5 2023 at 8:00 AM CST to
Wednesday, March 8 2023 at 8:00 PM CST
Follow the link below to learn more
https://uengage.evansville.edu/event/8831819
Table sign ups start Monday in Ridgway and you can find us there Monday, Tuesday and Wednesday 11am-1pm and 4pm to 6pm.
We will be at Road Trip in Ridgway this Saturday from 11-1 as well. Stop by, say hi, sign up and grab some candy.
The cost for the trip is $75. Payment can be cash, check Venmo
Submitted by Fred Wilson fw2@evansville.edu
Screening of film "She Said" with TalkBack Following: Feb. 24, 7pm in SOBA 162
Intersectional Feminist Alliance, PRIDE, and Gender, Women's and Sexuality Studies Program present A Film Screening of "She Said" and TalkBack on February 24 at 7pm in SOBA 162.
Based on the bombshell New York Times investigation, SHE SAID follows the remarkable true story of how reporters Megan Twohey and Jodi Kantor went from underdogs to inspirations by shattering the silence surrounding sexual assault in Hollywood. Determined to expose the truth many fear to tell, Megan and Jodi's partnership shakes up the system, empowering courageous women to retake their strength through stories of survival in this extraordinary film from Emmy®-winning director Maria Schrader ("Unorthodox"; I'm Your Man), featuring captivating performances by two-time Academy Award® nominee Carey Mulligan (Promising Young Woman, An Education) and Zoe Kazan (The Big Sick, The Plot Against America).
Certified Fresh on Rotten Tomatoes and featuring an impressive cast also including Patricia Clarkson (Pieces of April, "House of Cards"), Andre Braugher ("Brooklyn Nine-Nine", The Mist) and Ashley Judd (Double Jeopardy), SHE SAID is a "powerful and unnerving" (NPR) testament to the power of investigative journalism and its influence in reinvigorating the #MeToo movement.
SHE SAID is rated R by the MPAA for language and descriptions of sexual assault.
This event is open to UE students, faculty, and staff.
Submitted by Sara Petrosillo sp220@evansville.edu
Lunch Bunch
Faculty and staff, join us for some cobbler at Lunch Bunch this Thursday, February 23rd from 12:00 p.m. to 1:00 p.m. in the Philips Alcove (Ridgway 2nd floor).
No need to RSVP. Stay as little or as long as your schedule allows. There is no agenda or presentation for these gatherings. Lunch Bunch is a way to offer faculty and staff a common place to get together. We hope to see you this Thursday!
ECTE Team: Kyle, Stephanie & Diana
Submitted by Diana Rodriguez Quevedo dr130@evansville.edu
University of Evansville Theatre presents THE MOORS
The University of Evansville Theatre continues its Spring 2023 season with Jen Silverman's THE MOORS, opening at 7:30 p.m., Thursday, Feb. 23, in the May Studio Theatre. Additional performances are at 7:30 p.m., Feb. 24 and 25, and at 2:00 p.m., Feb. 25 and 26. This brilliant, award-winning playwright weaves a complex tapestry of contemporary and classic genres in a whimsical satire that embraces the gothic musings of the Brontë sisters and examines love, romance, and the transformational power in the quest for intimacy.
THE MOORS is directed by Hannah Tarr, a senior theatre studies major, from Floyds Knobbs, Ind.; Keegan Macaluso, a senior design and technology major, from Georgetown, Texas, serves as the scenic designer; Kylee Hassell, a junior design and technology major, from Portland, Tenn., is the costume designer; Ethan Santiago, a first-year design and technology major, from Belton, Texas, is the lighting designer; Beverly Buchanan, a junior performance major, from Tomball, Texas, serves as the sound designer; Aibhlinn Rose, a senior performance major, from Clackamas, Ore., is the dramaturg; Morgan Bailey, a junior stage management major, from Keller, Texas, is the stage manager, and Lily Rehburg, a junior design and technology major, from Dalton, Ga., serves as the technical director.
The cast features Christina Tinde Jesenski, a junior performance major, from Rancho Santo Margarita, Calif., as Agatha; Madison G. Conway, a junior performance major, from Jeffersonville, Ind., as Huldey; Riley Katherine Miller, a senior performance major, from Crown Point, Ind., as Marjory; Tomi Akinwande, a first-year performance major, from Houston, Texas, as Emilie; James Scott, a first-year performance major, from Sugar Hill, Ga., as Mastiff, and Antonio Cortés Román, a first-year performance major, from Metepec, Estado de Mexico.
In following industry standards, masks are strongly encouraged, but not required.
Seating is limited, and all general admission tickets are $12. UE students may obtain one free student rush ticket beginning at noon on the day of the performance they wish to attend. Single tickets may be purchased online at theatre.evansville.edu or by calling the ticket office at 812.488.2031.
Submitted by Sharla Cowden sc75@evansville.edu
FREE Workshop - Creative Thinking Bootcamp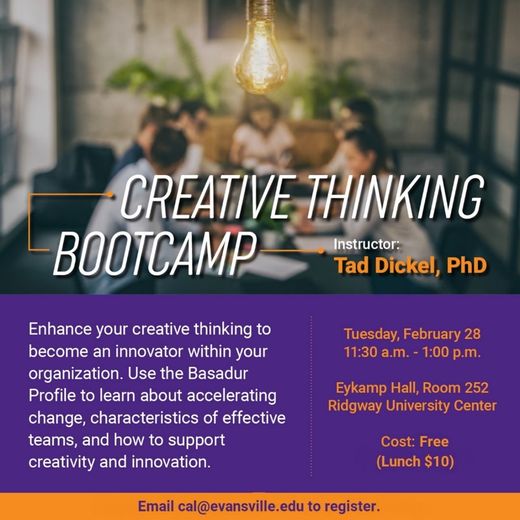 The Center for the Advancement of Learning invites all faculty, staff, and administrators to join us for the upcoming "Creative Thinking Bootcamp" presented by Dr. Tad Dickel, Interim Faculty Director of the MS in Leadership and Executive in Residence – Leadership at UE. The bootcamp will take place on Tuesday, February 28, from 11:30 a.m. – 1:00 p.m. in Eykamp Hall, Room 252.
Participants will use the Basadur Profile to learn about accelerating change, characteristics of effective teams, and how to support creativity and innovation. The workshop is free for UE employees and lunch is available for $10. To register and pay for lunch, visit the link below by Wednesday, February 22. REGISTER EARLY – SPACE IS LIMITED!
If you would like to attend the workshop and bring your own lunch, email cal@evansville.edu by Wednesday, February 22.
Submitted by Cindy Felts cf128@evansville.edu
BSU Presents: a Mental Health Conversation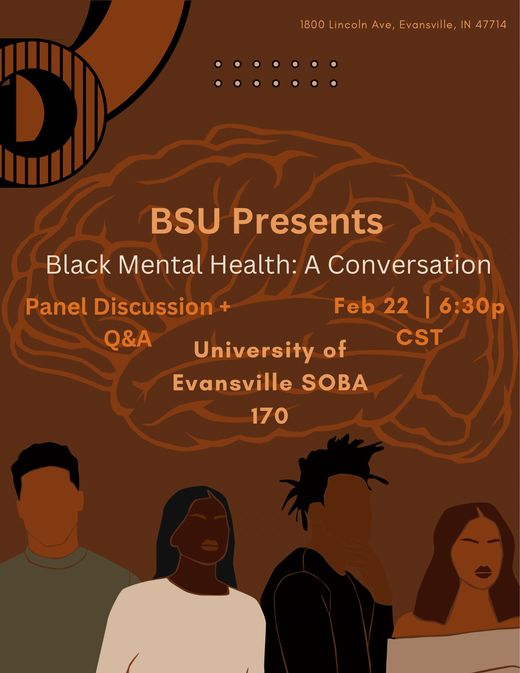 Black Student Union is hosting a Mental Health Panel with local psychologists on Wednesday, February 22nd at 6:30 pm in SOBA 170. We will discuss important issues in the mental health field and open up time for a Q&A afterward.
Submitted by Ashantea Rhea ag374@evansville.edu
LEAD Forward Leadership Panel
You are invited to attend a Leadership Panel hosted by LEAD Foward on Thursday, February 23 from 6:30-7:30pm in SOBA SB162. We have an excellent group of leaders who will share their backgrounds, approach to leadership, and how they have established and grown their organizations. Attendees will have an opportunity to ask questions. Speakers include: Courtney Johnson, Founder & Executive Director of Young & Established; Zac and Jessica Parsons, Co-Founders of Honey Moon Coffee; Wayne Ellis, Owner of BFit Gym + Fitness by Bob's.
Food will be served at 6:00pm and Business students can earn passport points for attendance! Please sign up at this link: https://evansville.joinhandshake.com/events/1241106/share_preview We hope to see you there!
Submitted by Kim Flener kf129@evansville.edu
RSA Shark Week
Join RSA for Shark Week! A week full of fun events including:
Feb. 20: Shark Attack – First Floor of Ridgway – 5:00 p.m. – 7:00 p.m.
Feb. 21: Sharks & Minnows – Carson Center Small Gym – 6:00 p.m. – 8:00 p.m.
Feb. 22: Pool Party – Carson Center – 7:00 p.m. – 9:00 p.m.
Feb. 23: RSA General Assembly – SOBA 71 – 8:00 p.m. – 9:00 p.m.
Feb. 24: Bingo – Eykamp – 8:30 p.m. - 10:30 p.m.
Submitted by Lily A Renfro lr156@evansville.edu
Randy Simmons Exhibit in Melvin Peterson Gallery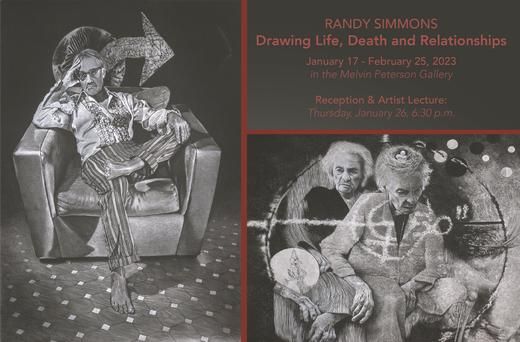 The Melvin Peterson Gallery will host the Drawing Life, Death and Relationships Exhibit by artist Randy Simmons from 01/17/2023 and through 02/25/2023. Gallery hours are Monday, Tuesday, Friday and Saturday from 12:00 p.m. - 3:00 p.m.; and Wednesday and Thursday from 12:00 p.m. - 6:00 p.m. Please join us for a reception and artist lecture on Thursday, January 26, 2023 at 6:30 p.m. in the Melvin Peterson Gallery.
Submitted by Carol McCraney cm177@evansville.edu
Solution Station Wednesday: Purple Posts?
Have you received a Purple Post this semester? Purple Posts are one way we support, encourage, and look out for students at UE. If you've been doing great in a class, you might have received a Purple Post! If you're struggling in a class, you might have received one, too. That's OK - someone is trying to look out for you!
If you've received a Purple Post for any reason this semester, come by the Solution Station in Ridgway from 11:00 a.m. - 1:00 p.m. on Wednesday and receive some free Purple Post-It Notes! We want to hear how you're doing.
Solution Station
Wednesday 2/22/2023
11:00 a.m. - 1:00 p.m.
Ridgway University Center
Haven't checked your Purple Posts lately? Use this link: https://purpleposts.evansville.edu/
As always, let us know if there's anything you need help with or if you have questions that you need the answer to. If we don't know the answer, we'll know who does! We're here to help you find solutions to the issues you're facing. Let us help.
Questions? Reach out to Chad Hart / ch299@evansville.edu / retention@evansville.edu
Submitted by Chad Hart ch299@evansville.edu
UE students will participate in the upcoming investment competition
The UE Purple Aces Investment research team will participate in the 2022/2023 CFA regional investment competition in Louisville on Thursday, February 23. The subject company is Tempur Sealy. The team consists of the following members: Mike Whitehead, Elayna Walters, Kourtney Hauk, Warda Alaisari. Professor Khan serves as the team mentor.
"The CFA Institute Research Challenge is an annual global competition that provides university students with hands-on mentoring and intensive training in financial analysis and professional ethics. Each student will be tested on their analytical, valuation, report writing, and presentation skills. They gain real-world experience as they assume the role of a research analyst."
Submitted by Walayet Khan wk3@evansville.edu
UE Summer Camps and Employee Discount
The Office of Youth Programs has opened registration for UE Summer Camps 2023! This summer, we are offering Dance Camp, the Wesley Shepard Music Camp, Exploring Art at UE (Grades 2-5 & Grades 6-8), STEM Camp, Clay Camp, Springboard, and Pride Camp. To find out more, please visit our website.
We are offering a 50% discount to UE Employees that would like to register their youth. To receive this discount, please email us at youthprograms@evansville.edu BEFORE registering. Please include your name, title, list youth(s)'s name and camp title. We will send you a discount code to apply at registration within two business days.
If you have any questions, please email youthprograms@evansville.edu.
Submitted by Rachel Roscoe rr209@evansville.edu
Eykamp Prize: Call for Nominations
The Eykamp Prize was established by Richard and Rita Eykamp in 2015 to honor Faculty Achievement at the University of Evansville. Recipients of the prize will receive a one-time award of $10,000 in recognition of extraordinary contributions to the University of Evansville as University Citizens. Examples of such contributions include deep and successful involvement in recruiting students; expanding the number, scope, and competitiveness of grant funding for their department; bringing positive public awareness to the University through scholarship, knowledge, and understanding of their discipline.
Nominations for the Eykamp Prize may come from any member of the University of Evansville community. Nominees should be tenured or tenure-track faculty members at the University of Evansville who have not received the award in the previous five years. Nominations can be submitted in writing or via e-mail to Michael Austin, Executive Vice President for Academic Affairs/Provost, at ma352@evansville.edu by March 10, 2023. Nominations should include the name of the faculty member and a brief statement of the reasons that he or she is being nominated.
Recipients of the Eykamp Prize will be selected by an Award Committee, appointed by the EVPAA/Provost that includes members of the faculty, staff, administrators, and a member of the Board of Trustees. The award will be announced and presented at the May Commencement Ceremony.
Recipients in the previous five years: 2018 – Dr. David Dwyer; 2019 – Dr. Kristy Miller; 2020 – Dr. Jerrilee LaMar; 2021 – Dr. Joyce Stamm; 2022 – Dr. Mari Plikuhn.
Submitted by Paula Heldt ph28@evansville.edu
Dr. Hannah Lamar selected for Parkinson Foundation PT Faculty Program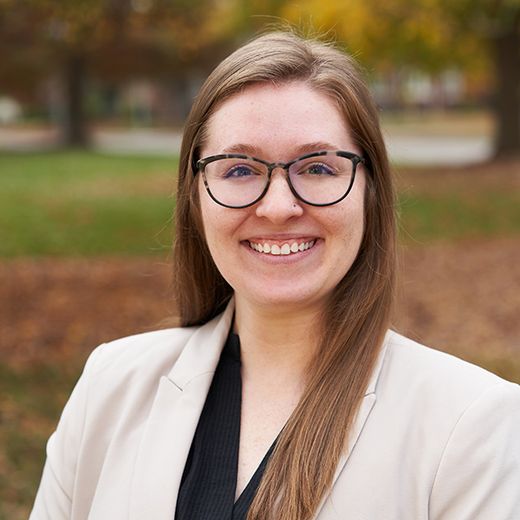 Congrats to Physical Therapy Clinical Assistant Professor Dr. Hannah Lamar '19 for being selected to join the Parkinson's Foundation PT Faculty Program! Dr. Lamar is one of six faculty accepted into the program at Washington University, which includes online and in-person training and mentorship with nationally recognized Parkinson's experts. All designed for PT faculty to enhance knowledge and prepare a curriculum based on the latest evidence-based Parkinson's research and care. Dr. Lamar teaches neurorehabilitation content at UE. She graduated from UE's AT program in 2016 and DPT '19. She became a Board-Certified Clinical Specialist in Neurologic PT in 2021, practicing inpatient rehabilitation at Ascension St. Vincent Evansville.
Submitted by Jennifer Simon js698@evansville.edu
Senior Day for men's basketball to take place Wednesday
In the final home game of the season, the University of Evansville men's basketball team welcomes UIC to the Ford Center on Wednesday evening. Tip is set for 7 p.m. CT with the Purple Aces Radio Network and ESPN+ having the coverage.
Setting the Scene
- Senior Day is set for Wednesday night with Marvin Coleman II and Kenny Strawbridge Jr. set to be recognized
- The teams met in Chicago on Feb. 4 with the Flames winning by a 70-61 final
- Strawbridge was the top scorer in the game, finishing with 20 while Coleman and Antoine Smith Jr. added 10 apiece
- Preston Phillips added 7 points and 7 rebounds
Last Time Out
- On Saturday, the Purple Aces and Racers swapped the lead 12 times before MSU pulled away late for a 74-58 win
- Marvin Coleman II scored a game-high 19 points while Yacine Toumi recorded 12
- Gabe Spinelli scored 11 in the game
Racking up the Minutes
- Playing 34 minutes or more in 18 of the last 19 games, Marvin Coleman II ranks 7th in the MVC with 34.9 per game
- His average of 35.6 minutes in MVC games is 5th-best in the league
- With 19 points at Murray State on Feb. 18, Coleman picked up his 16th double figure scoring effort in the last 19 games
- Hitting 9 of his 13 shots at Southern Illinois, Coleman reset his career scoring high with 25 points
- Over his last 19 games, Coleman is averaging 14.0 points while shooting 42.6%
Finding His Offense
- Entering the Feb. 18 game at Murray State, Gabe Spinelli was averaging 0.5 points in his prior four outings while going 1-of-9 from the field
- He got back on track against the Racers, hitting 5 of his 8 attempts to finish with 11 points, his third double figure game of the season
- In two games against the Racers, Spinelli averaged 11.5 PPG while shooting 60% (9-15)...in his other 25 games, Spinelli is averaging 3.7 points (93 total) while hitting 43.2% of his attempts (41-95)
Scouting the Opponent
- UIC stands at 11-18 overall and 3-15 in their first season in the Missouri Valley Conference
- The Flames earned a 74-73 home win over Valparaiso on Sunday and have the inside track to the #11 seed at Arch Madness
- Jace Carter continues to lead the Flames with 16.3 points per game while adding 6.8 boards
- Tre Anderson has an average of 12.7 points while Toby Okani checks in with 11.5 PPG and a team-high 6.9 rebounds
- Carter was the top player in the first meeting between the teams, finishing with 15 points and 12 boards
Submitted by Athletics
Hannah Hood named MVC Player of the Week
University of Evansville senior infielder Hannah Hood was named the Missouri Valley Conference Player of the Week on Tuesday.
Hood batted .571 with six runs, five walks, five RBI, four stolen bases and two home runs to lead the Purple Aces to a perfect 4-0 mark. In Saturday's game against Kansas City, Hood was 2-for-2 with three RBI, three runs, a home run, walk and steal.
She followed that up in Sunday's game against the Kangaroos with a 2-3 effort with another homer, two runs and two RBI. She also swiped two more bases. Hood recorded two walks, a steal and hit by pitch in Sunday's win over USI before wrapping up the week with two walks, a steal and run versus Green Bay.
Submitted by Athletics
Contribute to AceNotes
To have content considered for inclusion in AceNotes, please submit a Marketing Request Form. Deadline for submission to AceNotes is 10:00 a.m. on the requested date of publication. Only articles concerning UE related/sponsored activities will be accepted. Articles submitted to AceNotes may be edited for length and clarity. Submitter contact information is at the end of each article.