| | |
| --- | --- |
| AceNotes Today | Tuesday, February 21, 2023 |
Screening of film "She Said" with TalkBack Following: Feb. 24, 7pm in SOBA 162
Intersectional Feminist Alliance, PRIDE, and Gender, Women's and Sexuality Studies Program present A Film Screening of "She Said" and TalkBack on February 24 at 7pm in SOBA 162.
Based on the bombshell New York Times investigation, SHE SAID follows the remarkable true story of how reporters Megan Twohey and Jodi Kantor went from underdogs to inspirations by shattering the silence surrounding sexual assault in Hollywood. Determined to expose the truth many fear to tell, Megan and Jodi's partnership shakes up the system, empowering courageous women to retake their strength through stories of survival in this extraordinary film from Emmy®-winning director Maria Schrader ("Unorthodox"; I'm Your Man), featuring captivating performances by two-time Academy Award® nominee Carey Mulligan (Promising Young Woman, An Education) and Zoe Kazan (The Big Sick, The Plot Against America).
Certified Fresh on Rotten Tomatoes and featuring an impressive cast also including Patricia Clarkson (Pieces of April, "House of Cards"), Andre Braugher ("Brooklyn Nine-Nine", The Mist) and Ashley Judd (Double Jeopardy), SHE SAID is a "powerful and unnerving" (NPR) testament to the power of investigative journalism and its influence in reinvigorating the #MeToo movement.
SHE SAID is rated R by the MPAA for language and descriptions of sexual assault.
This event is open to UE students, faculty, and staff.
Submitted by Sara Petrosillo sp220@evansville.edu
Shepard Brass to Perform February 21
The UE Music Conservatory's Shepard Brass will perform in concert on Tuesday, February 21, at 7:30 p.m. in Neu Chapel. The performance includes works for brass by Strauss, Curnow, and Jobin, as well as pieces for organ and marimba.
The concert is free and open to the public or can be viewed on livestream at: https://www.evansville.edu/majors/music/calendar.cfm
Submitted by Amy Esche ae128@evansville.edu
Lunch Bunch
Faculty and staff, join us for some cobbler at Lunch Bunch this Thursday, February 23rd from 12:00 p.m. to 1:00 p.m. in the Philips Alcove (Ridgway 2nd floor).
No need to RSVP. Stay as little or as long as your schedule allows. There is no agenda or presentation for these gatherings. Lunch Bunch is a way to offer faculty and staff a common place to get together. We hope to see you this Thursday!
ECTE Team: Kyle, Stephanie & Diana
Submitted by Diana Rodriguez Quevedo dr130@evansville.edu
University of Evansville Theatre presents THE MOORS
The University of Evansville Theatre continues its Spring 2023 season with Jen Silverman's THE MOORS, opening at 7:30 p.m., Thursday, Feb. 23, in the May Studio Theatre. Additional performances are at 7:30 p.m., Feb. 24 and 25, and at 2:00 p.m., Feb. 25 and 26. This brilliant, award-winning playwright weaves a complex tapestry of contemporary and classic genres in a whimsical satire that embraces the gothic musings of the Brontë sisters and examines love, romance, and the transformational power in the quest for intimacy.
THE MOORS is directed by Hannah Tarr, a senior theatre studies major, from Floyds Knobbs, Ind.; Keegan Macaluso, a senior design and technology major, from Georgetown, Texas, serves as the scenic designer; Kylee Hassell, a junior design and technology major, from Portland, Tenn., is the costume designer; Ethan Santiago, a first-year design and technology major, from Belton, Texas, is the lighting designer; Beverly Buchanan, a junior performance major, from Tomball, Texas, serves as the sound designer; Aibhlinn Rose, a senior performance major, from Clackamas, Ore., is the dramaturg; Morgan Bailey, a junior stage management major, from Keller, Texas, is the stage manager, and Lily Rehburg, a junior design and technology major, from Dalton, Ga., serves as the technical director.
The cast features Christina Tinde Jesenski, a junior performance major, from Rancho Santo Margarita, Calif., as Agatha; Madison G. Conway, a junior performance major, from Jeffersonville, Ind., as Huldey; Riley Katherine Miller, a senior performance major, from Crown Point, Ind., as Marjory; Tomi Akinwande, a first-year performance major, from Houston, Texas, as Emilie; James Scott, a first-year performance major, from Sugar Hill, Ga., as Mastiff, and Antonio Cortés Román, a first-year performance major, from Metepec, Estado de Mexico.
In following industry standards, masks are strongly encouraged, but not required.
Seating is limited, and all general admission tickets are $12. UE students may obtain one free student rush ticket beginning at noon on the day of the performance they wish to attend. Single tickets may be purchased online at theatre.evansville.edu or by calling the ticket office at 812.488.2031.
Submitted by Sharla Cowden sc75@evansville.edu
FREE Workshop - Creative Thinking Bootcamp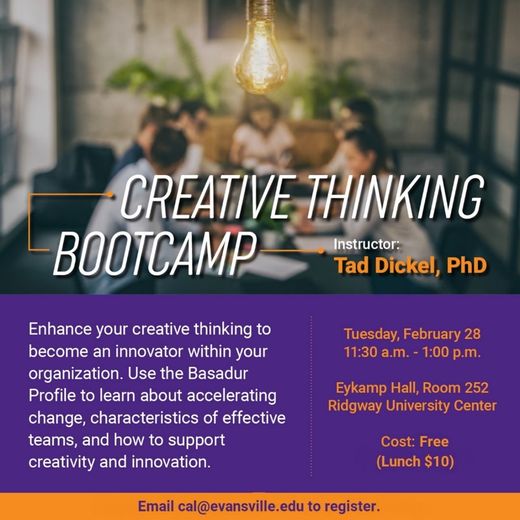 The Center for the Advancement of Learning invites all faculty, staff, and administrators to join us for the upcoming "Creative Thinking Bootcamp" presented by Dr. Tad Dickel, Interim Faculty Director of the MS in Leadership and Executive in Residence – Leadership at UE. The bootcamp will take place on Tuesday, February 28, from 11:30 a.m. – 1:00 p.m. in Eykamp Hall, Room 252.
Participants will use the Basadur Profile to learn about accelerating change, characteristics of effective teams, and how to support creativity and innovation. The workshop is free for UE employees and lunch is available for $10. To register and pay for lunch, visit the link below by Wednesday, February 22. REGISTER EARLY – SPACE IS LIMITED!
If you would like to attend the workshop and bring your own lunch, email cal@evansville.edu by Wednesday, February 22.
Submitted by Cindy Felts cf128@evansville.edu
Housing Selections Q & A Sessions
The room selection process for returning students will be starting shortly. Students can find details of various processes for Village housing, New Hall, and Residence Hall selections on the Residence Life website at - https://www.evansville.edu/residencelife/housingapplyreturn/calendar.cfm
The Office of Residence Life will be hosting two Q & A Sessions to review the processes and answer any questions. These sessions are on Tuesday, February 21, 2023 at 6:00pm and 9:00pm in SOBA 170. Specific questions can be emailed to Brian Conner at bc32.
Submitted by Brian Conner bc32@evansville.edu
LOVE THEM BOTH: Diaper Drive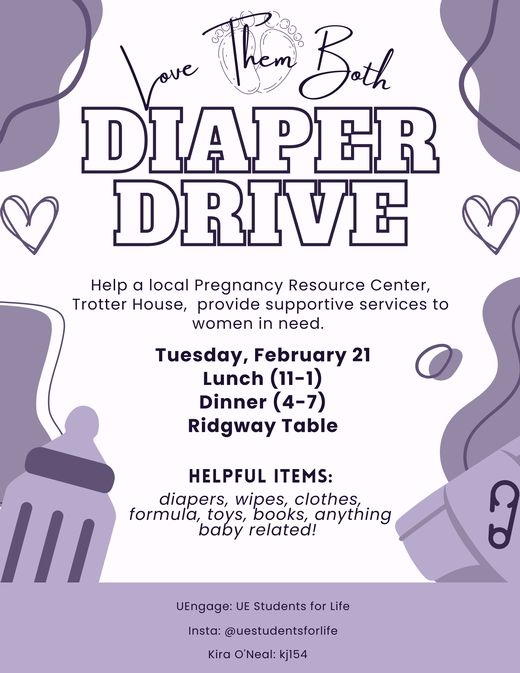 Continuing this month's theme of supporting women in need, we will host a diaper drive in Ridgway during lunch and dinner time! All donations will be given to a local Pregnancy Resource Center, Trotter House, and just about anything baby-related is helpful (onesies, formula, diapers, toys, books, etc)! As a bonus and incentive, we will have cookies for everyone who donates. Stop by, say hi, and help us provide resources and support for local women and families in need!
Tuesday, February 21, Lunch (11-1) and Dinner (4-7), Ridgway Table
Submitted by Kira O'Neal kj154@evansville.edu
BSU Presents: a Mental Health Conversation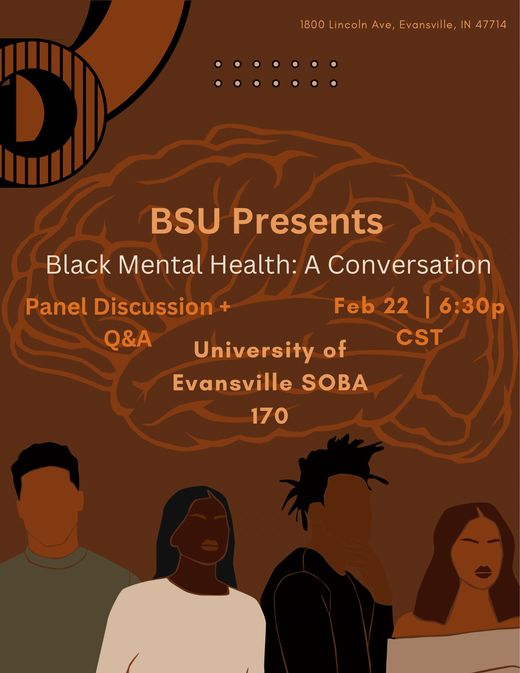 Black Student Union is hosting a Mental Health Panel with local psychologists on Wednesday, February 22nd at 6:30 pm in SOBA 170. We will discuss important issues in the mental health field and open up time for a Q&A afterward.
Submitted by Ashantea Rhea ag374@evansville.edu
LEAD Forward Leadership Panel
You are invited to attend a Leadership Panel hosted by LEAD Foward on Thursday, February 23 from 6:30-7:30pm in SOBA SB162. We have an excellent group of leaders who will share their backgrounds, approach to leadership, and how they have established and grown their organizations. Attendees will have an opportunity to ask questions. Speakers include: Courtney Johnson, Founder & Executive Director of Young & Established; Zac and Jessica Parsons, Co-Founders of Honey Moon Coffee; Wayne Ellis, Owner of BFit Gym + Fitness by Bob's.
Food will be served at 6:00pm and Business students can earn passport points for attendance! Please sign up at this link: https://evansville.joinhandshake.com/events/1241106/share_preview We hope to see you there!
Submitted by Kim Flener kf129@evansville.edu
RSA Shark Week
Join RSA for Shark Week! A week full of fun events including:
Feb. 20: Shark Attack – First Floor of Ridgway – 5:00 p.m. – 7:00 p.m.
Feb. 21: Sharks & Minnows – Carson Center Small Gym – 6:00 p.m. – 8:00 p.m.
Feb. 22: Pool Party – Carson Center – 7:00 p.m. – 9:00 p.m.
Feb. 23: RSA General Assembly – SOBA 71 – 8:00 p.m. – 9:00 p.m.
Feb. 24: Bingo – Eykamp – 8:30 p.m. - 10:30 p.m.
Submitted by Lily A Renfro lr156@evansville.edu
College Taboos: Hangovers, Sex, and More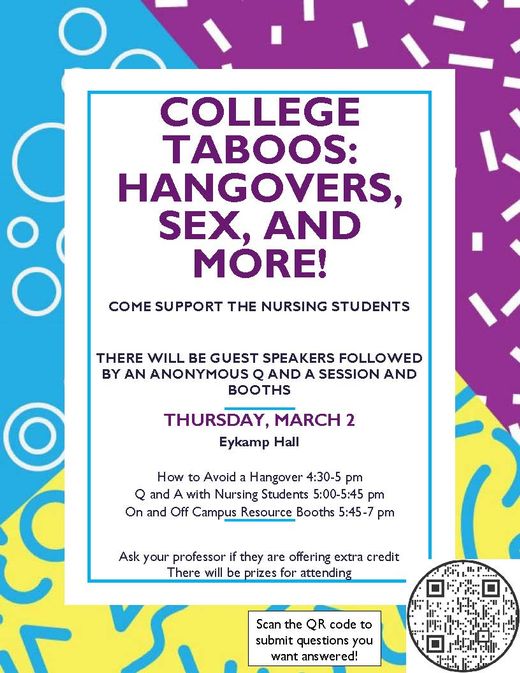 "College Taboos: Hangovers, Sex, and More!" is a campus-wide educational and interactive community fair put on by senior nursing students. The event will take place on Thursday, March 2nd in Eykamp from 4:30pm-7:00pm.
The schedule for the night is as follows:
How to Avoid a Hangover 4:30-5 pm
Q and A with Nursing Students 5:00-5:45 pm
On and Off Campus Resource Booths 5:45-7 pm
Anonymous questionnaire for students to ask questions on sex, alcohol, relationship violence, etc.: https://forms.gle/aar166LjY1jw1MSN7
Ask your professor if they are offering extra credit. There will be prizes for attending!
Submitted by Kalee Muth km492@evansville.edu
CBE Speaker Series: A Celebration of Engineer's Week with Paul Jones

University of Evansville - College of Business & Engineering Speaker Series
A Celebration of Engineers Week!
Paul W. Jones '71
February 21, 2023
Lunch & Learn
12:20-1:15 p.m.
Lunch served at 12:20 p.m.; Speaker Begins at 12:30 p.m.
Schroeder Building, Room 170
Making the Most of Your College and Career: Advice from an Engineer and CEO
Join us as we welcome engineering alumnus Paul W. Jones to hear his personal journey and lessons learned along the path from engineer to CEO.
Both in person and zoom options will be provided. If you register to attend the event via zoom, the link will be provided to you 24 hours prior to the event. Please be sure to check your spam folder. If you do not receive the information, please contact Nick Bragin at nb197@evansville.edu

Register for this event.
Submitted by Nick Bragin nb197@evansville.edu
Randy Simmons Exhibit in Melvin Peterson Gallery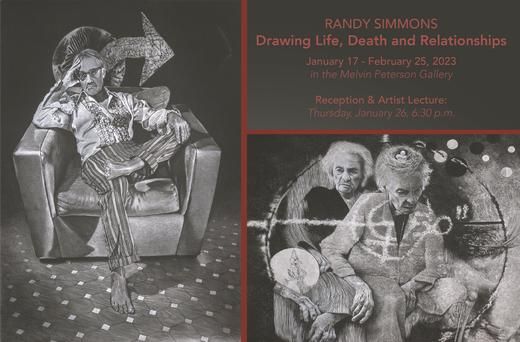 The Melvin Peterson Gallery will host the Drawing Life, Death and Relationships Exhibit by artist Randy Simmons from 01/17/2023 and through 02/25/2023. Gallery hours are Monday, Tuesday, Friday and Saturday from 12:00 p.m. - 3:00 p.m.; and Wednesday and Thursday from 12:00 p.m. - 6:00 p.m. Please join us for a reception and artist lecture on Thursday, January 26, 2023 at 6:30 p.m. in the Melvin Peterson Gallery.
Submitted by Carol McCraney cm177@evansville.edu
Solution Station Wednesday: Purple Posts?
Have you received a Purple Post this semester? Purple Posts are one way we support, encourage, and look out for students at UE. If you've been doing great in a class, you might have received a Purple Post! If you're struggling in a class, you might have received one, too. That's OK - someone is trying to look out for you!
If you've received a Purple Post for any reason this semester, come by the Solution Station in Ridgway from 11:00 a.m. - 1:00 p.m. on Wednesday and receive some free Purple Post-It Notes! We want to hear how you're doing.
Solution Station
Wednesday 2/22/2023
11:00 a.m. - 1:00 p.m.
Ridgway University Center
Haven't checked your Purple Posts lately? Use this link: https://purpleposts.evansville.edu/
As always, let us know if there's anything you need help with or if you have questions that you need the answer to. If we don't know the answer, we'll know who does! We're here to help you find solutions to the issues you're facing. Let us help.
Questions? Reach out to Chad Hart / ch299@evansville.edu / retention@evansville.edu
Submitted by Chad Hart ch299@evansville.edu
UE students will participate in the upcoming investment competition
The UE Purple Aces Investment research team will participate in the 2022/2023 CFA regional investment competition in Louisville on Thursday, February 23. The subject company is Tempur Sealy. The team consists of the following members: Mike Whitehead, Elayna Walters, Kourtney Hauk, Warda Alaisari. Professor Khan serves as the team mentor.
"The CFA Institute Research Challenge is an annual global competition that provides university students with hands-on mentoring and intensive training in financial analysis and professional ethics. Each student will be tested on their analytical, valuation, report writing, and presentation skills. They gain real-world experience as they assume the role of a research analyst."
Submitted by Walayet Khan wk3@evansville.edu
UE awarded state funds for new Multidisciplinary Mental Health and Wellness Clinic
The University of Evansville's (UE) Multidisciplinary Mental Health and Wellness Clinic has received a $750,000 state award for the development of their community-based clinic.
The funding is part of the Evansville region's READI Awards Initiative managed by the Southwest Indiana Regional Development Authority (RDA) in partnership with the Evansville Regional Economic Partnership (E-REP). Indiana's READI funds work toward improving the quality of place, quality of life, and quality of opportunity within their communities.
"This multidisciplinary clinic is part of the University's larger vision of community outreach that will increase the quality of life for our community members. Faculty and students from multiple health disciplines will work and learn together to improve how we deliver health care while also gaining valuable experience in their chosen field," said Mary Kessler, Dean of the College of Education and Health Sciences. "Our goal is to provide UE students with transformational educational and clinical experiences, which will improve their overall competency while also assisting the Evansville region with increasing and retaining needed health care providers in the local workforce."
In the fall of 2023, UE will admit its first cohort of graduate students for the newly developed Doctor of Clinical Psychology (PsyD) program. A key component of the PsyD program is the development of a community-based clinic where PsyD students and faculty provide psychotherapy and psychological testing to clients with mental health problems.
"The RDA continues to award READI funds to projects that align with our community's vision called Talent EVV," said Tara Barney, CEO of the E-REP. "Including this investment, over $8.7 million of READI funds have been awarded to projects within the health and life sciences cluster, which leverages nearly $77 million in total investment. The UE Multidisciplinary Mental Health and Wellness Clinic further supports our region's growing health and life sciences cluster while providing a valuable service to our community."
With the use of the READI funds, the PsyD program will grow its capacity to admit new students and ultimately increase the number of clinical psychologists and physician assistants who stay and work in the Evansville area upon graduation.
UE will be able to embed a physician assistant in the clinic to provide medication management for mental health conditions under the supervision of a licensed physician or psychiatrist. It will also increase opportunities for physician assistants and nursing students to apply what they are learning in class in actual practice.
The facility will be located directly across Lincoln Avenue at the site of Talbot Square, which was purchased by the University.
Approximately 5,000 square feet of the Old National Bank space will be renovated into the new clinic. The facility will incorporate office space, conference rooms, ten individual therapy rooms, and a larger space for group therapy.
Construction is expected to begin sometime in late April and continue through the summer months until an anticipated final completion date in August 2023.
Submitted by Mary Kessler mk43@evansville.edu
Nominations for Outstanding Teacher Award
Academic Affairs is pleased to announce the call for nominations for the 2023 Outstanding Teacher Award. The University bestows this award annually to honor a faculty member for extraordinary teaching effectiveness that inspires the intellectual development of students. Nominees must be a full-time faculty member who has taught at UE for two years or more and holds the rank of lecturer, instructor, assistant professor, associate professor, or professor. The winner is recognized at Commencement in May.
The following recipients from the past five years are not eligible: 2018 – Dr. Anthony Beavers; 2019 – Dr. Atefeh Yazdanparast Ardestani; 2020 – Dr. Mike Roscoe; 2021 – Dr. Julie Merkle; and 2022 – Dr. Katie Whetstone.
Access the link to submit a nomination.
https://www.evansville.edu/offices/academicaffairs/outstanding-teacher-form.cfm
Forward supplemental documentation to: Paula Heldt at ph28@evansville.edu. Please include the faculty member's name and OTA 2023 in the subject line.
The deadline to submit a nomination is Friday, March 17, 2023.
Submitted by Paula Heldt ph28@evansville.edu
Big start helps softball defeat Green Bay
Scoring three runs in the first inning, the University of Evansville softball team earned a 6-0 shutout win over Greem Bay to complete the opening weekend of Tri-State Orthopaedics Field at James & Dorothy Cooper Stadium with a perfect 4-0 mark.
Evansville had a big start, plating three runs in the top of the first. Taylor Howe and Zoe Frossard both reached to lead things off. With one out, Marah Wood got the Purple Aces on the board with a 2-run single. Alexa Davis followed with the third single of the frame to score Wood and make it a 3-0 game.
Pitching took over for both teams at that point as the game would remain 3-0 in favor of UE until the bottom of the sixth. Davis hit a leadoff home run to extend the advantage to 4-0 while Lacy Smith and Hannah Hood added unearned runs to complete the scoring.
Erin Kleffman improved to 3-0 as she tossed four shutout innings of one-hit ball. Mikayla Jolly gave up two hits in two innings while Paige McAllister pitched the seventh. The trio held the Phoenix to just three hits.
Frossard and Davis recorded two hits apiece while Wood and Davis had two RBI each.
UE continues its home slate on Friday with a 12:30 p.m. game against Purdue Fort Wayne.
Submitted by Athletics
Men's golf ties for second at ASU Spring Classic
Led by Michael Ikejiani's 8th place finish, the University of Evansville men's golf team tied for second place at the ASU Spring Classic on Monday at RTJ Golf Trail at Capitol Hill.
Scoring a 755 for the 2 ½ rounds, the Purple Aces completed the tournament tied with Alabama State for the second position. Arkansas-Pine Bluff took top honors with a 742. Michael Ikejiani was the top performer for UE, finishing round two with a 76 before carding a 40 in the final nine holes. He had a 188. His 72 in round one tied for the team's low score at the tournament.
Daniil Romashkin tied for the 9th spot with a 189. Following rounds of 74 and 76, he notched a 39 in the last nine holes. One behind him was the duo of Nicholas Gushrowski and Henry Kiel. Both scored a 190 to tie for 12th place. Gushrowski finished both full rounds with a 76 and was halfway there in the last nine, totaling a 38. Kiel had a 75 to open play before shooting an even 72 in the second round. His final nine holes finished at a 43.
Caleb Wassmer registered an 80 in round two and a 41 in the 9-hole finish.
Ignacio Puente of Alabama State was the medalist. His 179 bested the competition by one shot. Highlighting his weekend was a 1-under 71 in the second 18.
UE will have a few weeks off before returning to action in Sevierville, Tenn. for the Bobby Nichols Intercollegiate, which starts on March 12.
Submitted by Athletics
Contribute to AceNotes
To have content considered for inclusion in AceNotes, please submit a Marketing Request Form. Deadline for submission to AceNotes is 10:00 a.m. on the requested date of publication. Only articles concerning UE related/sponsored activities will be accepted. Articles submitted to AceNotes may be edited for length and clarity. Submitter contact information is at the end of each article.