| | |
| --- | --- |
| AceNotes Today | Monday, February 20, 2023 |
Screening of film "She Said" with TalkBack Following: Feb. 24, 7pm in SOBA 162
Intersectional Feminist Alliance, PRIDE, and Gender, Women's and Sexuality Studies Program present A Film Screening of "She Said" and TalkBack on February 24 at 7pm in SOBA 162.
Based on the bombshell New York Times investigation, SHE SAID follows the remarkable true story of how reporters Megan Twohey and Jodi Kantor went from underdogs to inspirations by shattering the silence surrounding sexual assault in Hollywood. Determined to expose the truth many fear to tell, Megan and Jodi's partnership shakes up the system, empowering courageous women to retake their strength through stories of survival in this extraordinary film from Emmy®-winning director Maria Schrader ("Unorthodox"; I'm Your Man), featuring captivating performances by two-time Academy Award® nominee Carey Mulligan (Promising Young Woman, An Education) and Zoe Kazan (The Big Sick, The Plot Against America).
Certified Fresh on Rotten Tomatoes and featuring an impressive cast also including Patricia Clarkson (Pieces of April, "House of Cards"), Andre Braugher ("Brooklyn Nine-Nine", The Mist) and Ashley Judd (Double Jeopardy), SHE SAID is a "powerful and unnerving" (NPR) testament to the power of investigative journalism and its influence in reinvigorating the #MeToo movement.
SHE SAID is rated R by the MPAA for language and descriptions of sexual assault.
This event is open to UE students, faculty, and staff.
Submitted by Sara Petrosillo sp220@evansville.edu
Shepard Brass to Perform February 21
The UE Music Conservatory's Shepard Brass will perform in concert on Tuesday, February 21, at 7:30 p.m. in Neu Chapel. The performance includes works for brass by Strauss, Curnow, and Jobin, as well as pieces for organ and marimba.
The concert is free and open to the public or can be viewed on livestream at: https://www.evansville.edu/majors/music/calendar.cfm
Submitted by Amy Esche ae128@evansville.edu
Lunch Bunch
Faculty and staff, join us for some cobbler at Lunch Bunch this Thursday, February 23rd from 12:00 p.m. to 1:00 p.m. in the Philips Alcove (Ridgway 2nd floor).
No need to RSVP. Stay as little or as long as your schedule allows. There is no agenda or presentation for these gatherings. Lunch Bunch is a way to offer faculty and staff a common place to get together. We hope to see you this Thursday!
ECTE Team: Kyle, Stephanie & Diana
Submitted by Diana Rodriguez Quevedo dr130@evansville.edu
University of Evansville Theatre presents THE MOORS
The University of Evansville Theatre continues its Spring 2023 season with Jen Silverman's THE MOORS, opening at 7:30 p.m., Thursday, Feb. 23, in the May Studio Theatre. Additional performances are at 7:30 p.m., Feb. 24 and 25, and at 2:00 p.m., Feb. 25 and 26. This brilliant, award-winning playwright weaves a complex tapestry of contemporary and classic genres in a whimsical satire that embraces the gothic musings of the Brontë sisters and examines love, romance, and the transformational power in the quest for intimacy.
THE MOORS is directed by Hannah Tarr, a senior theatre studies major, from Floyds Knobbs, Ind.; Keegan Macaluso, a senior design and technology major, from Georgetown, Texas, serves as the scenic designer; Kylee Hassell, a junior design and technology major, from Portland, Tenn., is the costume designer; Ethan Santiago, a first-year design and technology major, from Belton, Texas, is the lighting designer; Beverly Buchanan, a junior performance major, from Tomball, Texas, serves as the sound designer; Aibhlinn Rose, a senior performance major, from Clackamas, Ore., is the dramaturg; Morgan Bailey, a junior stage management major, from Keller, Texas, is the stage manager, and Lily Rehburg, a junior design and technology major, from Dalton, Ga., serves as the technical director.
The cast features Christina Tinde Jesenski, a junior performance major, from Rancho Santo Margarita, Calif., as Agatha; Madison G. Conway, a junior performance major, from Jeffersonville, Ind., as Huldey; Riley Katherine Miller, a senior performance major, from Crown Point, Ind., as Marjory; Tomi Akinwande, a first-year performance major, from Houston, Texas, as Emilie; James Scott, a first-year performance major, from Sugar Hill, Ga., as Mastiff, and Antonio Cortés Román, a first-year performance major, from Metepec, Estado de Mexico.
In following industry standards, masks are strongly encouraged, but not required.
Seating is limited, and all general admission tickets are $12. UE students may obtain one free student rush ticket beginning at noon on the day of the performance they wish to attend. Single tickets may be purchased online at theatre.evansville.edu or by calling the ticket office at 812.488.2031.
Submitted by Sharla Cowden sc75@evansville.edu
FREE Workshop - Creative Thinking Bootcamp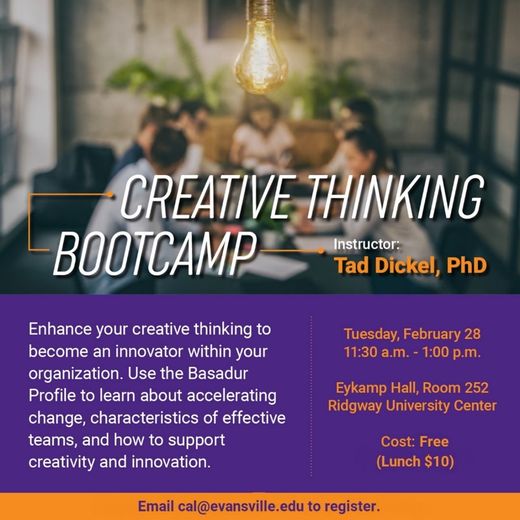 The Center for the Advancement of Learning invites all faculty, staff, and administrators to join us for the upcoming "Creative Thinking Bootcamp" presented by Dr. Tad Dickel, Interim Faculty Director of the MS in Leadership and Executive in Residence – Leadership at UE. The bootcamp will take place on Tuesday, February 28, from 11:30 a.m. – 1:00 p.m. in Eykamp Hall, Room 252.
Participants will use the Basadur Profile to learn about accelerating change, characteristics of effective teams, and how to support creativity and innovation. The workshop is free for UE employees and lunch is available for $10. To register and pay for lunch, visit the link below by Wednesday, February 22. REGISTER EARLY – SPACE IS LIMITED!
If you would like to attend the workshop and bring your own lunch, email cal@evansville.edu by Wednesday, February 22.
Submitted by Cindy Felts cf128@evansville.edu
Housing Selections Q & A Sessions
The room selection process for returning students will be starting shortly. Students can find details of various processes for Village housing, New Hall, and Residence Hall selections on the Residence Life website at - https://www.evansville.edu/residencelife/housingapplyreturn/calendar.cfm
The Office of Residence Life will be hosting two Q & A Sessions to review the processes and answer any questions. These sessions are on Tuesday, February 21, 2023 at 6:00pm and 9:00pm in SOBA 170. Specific questions can be emailed to Brian Conner at bc32.
Submitted by Brian Conner bc32@evansville.edu
LOVE THEM BOTH: Diaper Drive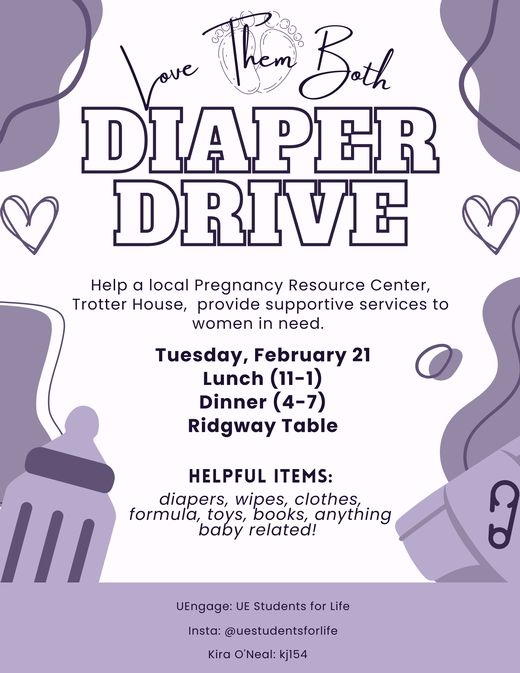 Continuing this month's theme of supporting women in need, we will host a diaper drive in Ridgway during lunch and dinner time! All donations will be given to a local Pregnancy Resource Center, Trotter House, and just about anything baby-related is helpful (onesies, formula, diapers, toys, books, etc)! As a bonus and incentive, we will have cookies for everyone who donates. Stop by, say hi, and help us provide resources and support for local women and families in need!
Tuesday, February 21, Lunch (11-1) and Dinner (4-7), Ridgway Table
Submitted by Kira O'Neal kj154@evansville.edu
BSU Presents: a Mental Health Conversation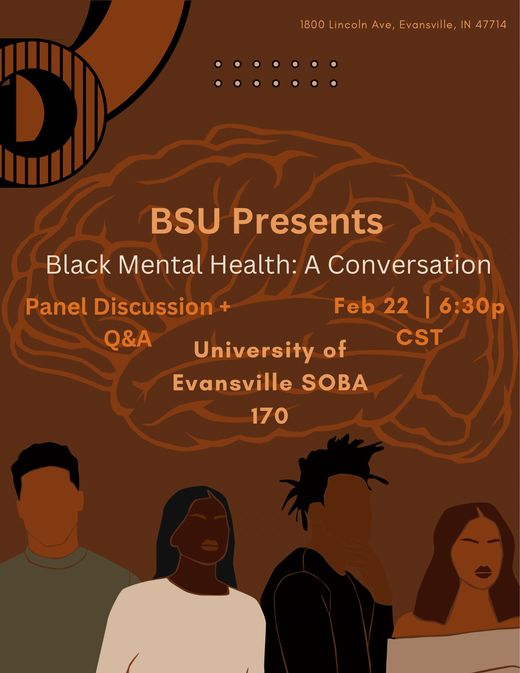 Black Student Union is hosting a Mental Health Panel with local psychologists on Wednesday, February 22nd at 6:30 pm in SOBA 170. We will discuss important issues in the mental health field and open up time for a Q&A afterward.
Submitted by Ashantea Rhea ag374@evansville.edu
LEAD Forward Leadership Panel
You are invited to attend a Leadership Panel hosted by LEAD Foward on Thursday, February 23 from 6:30-7:30pm in SOBA SB162. We have an excellent group of leaders who will share their backgrounds, approach to leadership, and how they have established and grown their organizations. Attendees will have an opportunity to ask questions. Speakers include: Courtney Johnson, Founder & Executive Director of Young & Established; Zac and Jessica Parsons, Co-Founders of Honey Moon Coffee; Wayne Ellis, Owner of BFit Gym + Fitness by Bob's.
Food will be served at 6:00pm and Business students can earn passport points for attendance! Please sign up at this link: https://evansville.joinhandshake.com/events/1241106/share_preview We hope to see you there!
Submitted by Kim Flener kf129@evansville.edu
RSA Shark Week
Join RSA for Shark Week! A week full of fun events including:
Feb. 20: Shark Attack – First Floor of Ridgway – 5:00 p.m. – 7:00 p.m.
Feb. 21: Sharks & Minnows – Carson Center Small Gym – 6:00 p.m. – 8:00 p.m.
Feb. 22: Pool Party – Carson Center – 7:00 p.m. – 9:00 p.m.
Feb. 23: RSA General Assembly – SOBA 71 – 8:00 p.m. – 9:00 p.m.
Feb. 24: Bingo – Eykamp – 8:30 p.m. - 10:30 p.m.
Submitted by Lily A Renfro lr156@evansville.edu
Solo Exhibition for Professor Todd Matteson at Thyen-Clark Cultural Center, Jasper, Indiana

The Thyen-Clark Cultural Center in Jasper, Indiana, hosts Professor Todd Matteson's solo exhibition, Life's Adventures. The exhibition runs for three months with a gallery talk every first Thursday in March and April. Professor Matteson will also be doing demonstrations to the public and local schools during his exhibition. Please come enjoy his ceramics and catch a glimpse at his new creations.
Submitted by Todd Matteson tm8@evansville.edu
UE students will participate in the upcoming investment competition
The UE Purple Aces Investment research team will participate in the 2022/2023 CFA regional investment competition in Louisville on Thursday, February 23. The subject company is Tempur Sealy. The team consists of the following members: Mike Whitehead, Elayna Walters, Kourtney Hauk, Warda Alaisari. Professor Khan serves as the team mentor.
"The CFA Institute Research Challenge is an annual global competition that provides university students with hands-on mentoring and intensive training in financial analysis and professional ethics. Each student will be tested on their analytical, valuation, report writing, and presentation skills. They gain real-world experience as they assume the role of a research analyst."
Submitted by Walayet Khan wk3@evansville.edu
UE awarded state funds for new Multidisciplinary Mental Health and Wellness Clinic
The University of Evansville's (UE) Multidisciplinary Mental Health and Wellness Clinic has received a $750,000 state award for the development of their community-based clinic.
The funding is part of the Evansville region's READI Awards Initiative managed by the Southwest Indiana Regional Development Authority (RDA) in partnership with the Evansville Regional Economic Partnership (E-REP). Indiana's READI funds work toward improving the quality of place, quality of life, and quality of opportunity within their communities.
"This multidisciplinary clinic is part of the University's larger vision of community outreach that will increase the quality of life for our community members. Faculty and students from multiple health disciplines will work and learn together to improve how we deliver health care while also gaining valuable experience in their chosen field," said Mary Kessler, Dean of the College of Education and Health Sciences. "Our goal is to provide UE students with transformational educational and clinical experiences, which will improve their overall competency while also assisting the Evansville region with increasing and retaining needed health care providers in the local workforce."
In the fall of 2023, UE will admit its first cohort of graduate students for the newly developed Doctor of Clinical Psychology (PsyD) program. A key component of the PsyD program is the development of a community-based clinic where PsyD students and faculty provide psychotherapy and psychological testing to clients with mental health problems.
"The RDA continues to award READI funds to projects that align with our community's vision called Talent EVV," said Tara Barney, CEO of the E-REP. "Including this investment, over $8.7 million of READI funds have been awarded to projects within the health and life sciences cluster, which leverages nearly $77 million in total investment. The UE Multidisciplinary Mental Health and Wellness Clinic further supports our region's growing health and life sciences cluster while providing a valuable service to our community."
With the use of the READI funds, the PsyD program will grow its capacity to admit new students and ultimately increase the number of clinical psychologists and physician assistants who stay and work in the Evansville area upon graduation.
UE will be able to embed a physician assistant in the clinic to provide medication management for mental health conditions under the supervision of a licensed physician or psychiatrist. It will also increase opportunities for physician assistants and nursing students to apply what they are learning in class in actual practice.
The facility will be located directly across Lincoln Avenue at the site of Talbot Square, which was purchased by the University.
Approximately 5,000 square feet of the Old National Bank space will be renovated into the new clinic. The facility will incorporate office space, conference rooms, ten individual therapy rooms, and a larger space for group therapy.
Construction is expected to begin sometime in late April and continue through the summer months until an anticipated final completion date in August 2023.
Submitted by Mary Kessler mk43@evansville.edu
UE Summer Camps and Employee Discount
The Office of Youth Programs has opened registration for UE Summer Camps 2023! This summer, we are offering Dance Camp, the Wesley Shepard Music Camp, Exploring Art at UE (Grades 2-5 & Grades 6-8), STEM Camp, Clay Camp, Springboard, and Pride Camp. To find out more, please visit our website.
We are offering a 50% discount to UE Employees that would like to register their youth. To receive this discount, please email us at youthprograms@evansville.edu BEFORE registering. Please include your name, title, list youth(s)'s name and camp title. We will send you a discount code to apply at registration within two business days.
If you have any questions, please email youthprograms@evansville.edu.
Submitted by Rachel Roscoe rr209@evansville.edu
Eykamp Prize: Call for Nominations
The Eykamp Prize was established by Richard and Rita Eykamp in 2015 to honor Faculty Achievement at the University of Evansville. Recipients of the prize will receive a one-time award of $10,000 in recognition of extraordinary contributions to the University of Evansville as University Citizens. Examples of such contributions include deep and successful involvement in recruiting students; expanding the number, scope, and competitiveness of grant funding for their department; bringing positive public awareness to the University through scholarship, knowledge, and understanding of their discipline.
Nominations for the Eykamp Prize may come from any member of the University of Evansville community. Nominees should be tenured or tenure-track faculty members at the University of Evansville who have not received the award in the previous five years. Nominations can be submitted in writing or via e-mail to Michael Austin, Executive Vice President for Academic Affairs/Provost, at ma352@evansville.edu by March 10, 2023. Nominations should include the name of the faculty member and a brief statement of the reasons that he or she is being nominated.
Recipients of the Eykamp Prize will be selected by an Award Committee, appointed by the EVPAA/Provost that includes members of the faculty, staff, administrators, and a member of the Board of Trustees. The award will be announced and presented at the May Commencement Ceremony.
Recipients in the previous five years: 2018 – Dr. David Dwyer; 2019 – Dr. Kristy Miller; 2020 – Dr. Jerrilee LaMar; 2021 – Dr. Joyce Stamm; 2022 – Dr. Mari Plikuhn.
Submitted by Paula Heldt ph28@evansville.edu
Softball picks up wins over USI and Kansas City
Sunday's action at Tri-State Orthopaedics Field at James & Dorothy Cooper Stadium saw the University of Evansville softball team pick up an 8-3 win over Kansas City before taking a 7-6 win over USI in nine innings.
Game 1 – UE 8, Kansas City 3
Hannah Hood was 2-3 with a home run, two RBI and two runs to pace the UE softball team to an 8-3 win over Kansas City in their first game of the day. Taylor Howe and Jenna Nink registered two hits apiece while Hood and Lacy Smith each scored twice.
Each team threatened in the first. Kansas City put runners on second and third with one out with Mikayla Jolly striking out the final two batters to get out of the inning. UE put its first two batters on base and would load the bases with two outs, but the Kangaroos recorded two strikeouts to keep the game scoreless.
Hits by Lacy Smith and Jenna Nink were followed by a Sydney Kalonihea walk to load the bases to open the second inning. Taylor Howe got the Aces on the board with two runs crossing the plate on a deep sacrifice fly to center field. Zoe Frossard added another sac fly to make it a 3-0 game.
Hannah Hood led the third with a double and scored on a double steal while Jenna Nink followed with an RBI single to extend the lead to 5-0. The Kangaroos plated two runs in the top of the fourth but a swing of the bat by Hood got those right back. With Alexa Davis on base, Hood homered to left center to make it a 7-2 game in the bottom of the 5th.
In the sixth, the Aces plated their final run as Marah Wood hit a sacrifice fly for the eighth run of the game. The Kangaroos scored one in the seventh but the Aces held on for the 8-3 win. Mikayla Jolly earned the win, tossing four innings. She gave up two runs on four hits, one earned. Megan Brenton threw two scoreless frames while Ariel Thomasson gave up one run in the 7th.
Game 2 – UE 7, USI 6 (9 innings)
Taylor Howe and Marah Wood each hit home runs to help the Purple Aces defeat USI by a 7-6 final on Sunday evening. The home runs accounted for two of UE's three hits. Sydney Weatherford gave up five earned runs with two being earned. Megan Brenton earned the win, giving up one unearned run in four innings.
USI had the first big scoring threat of the day in the top half of the second. A pair of hits led off the inning before the duo advanced to second and third with one out. Lacy Smith threw a laser from right field to tag out the runner on a sacrifice fly attempt to keep the game scoreless. In the third, the Screaming Eagles were first to get on the board on a 2-RBI double by Kennedy Nalley.
Evansville knotted the game in the bottom of the third when Taylor Howe belted the first home run of her career. The 2-run shot scored Sydney Kalonihea, who reached on a walk. An inning later, the Aces took their first lead when a 2-run standup double by Jenna Nink put UE in front at 4-2.
After loading up the bases with no outs to open the fifth, USI cashed in as they retook the lead. Two Evansville errors contributed to three runs by the Screaming Eagles. In the bottom of the frame, UE jumped right back in front. Marah Wood homered to center to plate Jess Willsey and give Evansville a 6-5 edge. In the top of the 6th, USI tied the game on the third UE error of the night. Things would remain that way until the bottom of the ninth. Pinch runner Dori Brown would score the game-winner on a Screaming Eagles error to finalize a 7-6 win.
UE faces Green Bay on Monday at 11 am.
Submitted by Athletics
UE's Jahns Breaks School Record, Places Third In 200 Back At MVC Championships
University of Evansville senior Sarah Jahns (Lilburn, Ga./Parkview) became the first female Purple Ace to break the two-minute barrier in the 200-Yard Backstroke on Saturday, while placing third overall to lead a strong final day in the pool for UE at the MVC Championships in Iowa City, Iowa.
After advancing to the main final with a preliminary time of 2:02.72, Jahns came back in the final and dropped over three seconds off of her time to place third overall with a time of 1:59.06. It topped her own previous school record in the event by over a second, and it allowed her to become the first female Purple Ace to break the two-minute barrier.
"I am so proud of Sarah, and really all of the swimmers, with how they competed today," said UE head coach Stuart Wilson. "They all gave it their all today, and finished on a high note. For Sarah, I know that beating two minutes in the 200 Back has been a goal of hers this year, and to see her do it, and also earn first team all-MVC honors was outstanding."
Jahns was one of six Purple Aces to advance to the Saturday night finals. Fellow senior Maya Cunningham (Yakima, Wash./Eisenhower) finished second in the consolation final of the 200-Yard Butterfly with a finals time of 2:04.31, which trails only her own school record in the event all-time at UE.
Sophomore Mari Müller (Zurich, Switzerland) moved into third place on UE's career chart for the 200-Yard Breaststroke, as she posted a time of 2:18.70 to place 13th overall. Seniors Sage Moore (Lexington, Ohio/Lexington) and Allison McDonald (Cape Girardeau, Mo./Central) finished back-to-back in the "C Final" of the 200 Breaststroke with times of 2:23.99 and 2:24.62, respectively. Junior Iryna Tsesiul (Minsk, Belarus) also posted a time of 2:07.83 in the "C Final" of the 200-Yard Backstroke.
Evansville wrapped up the MVC Championships by placing ninth in the 400-Yard Freestyle Relay event with a time of 3:31.91. Senior Sonsoles Aguayo (Jerez, Spain) led off the relay with one of her top 100-Yard Freestyle times as an Ace, with a split time of 52.93 as the lead leg. She teamed Jahns, Cunningham, and sophomore Sveva Brugnoli (Rome, Italy) for the relay event.
Overall, Evansville placed eighth as a team with a total of 350 points. Members of the UE women's team will next compete in the CSCAA National Invitational Championship on March 8-11 in Elkhart, Indiana. The UE men's swimming and diving team will next compete March 1-4 at the Mid-American Conference Championships in Oxford, Ohio.
Submitted by Athletics
Feit reaches 20-point mark as Aces fall to Valpo in weekend finale
In its weekend finale, the University of Evansville women's basketball team battled back to take a third-quarter lead before falling to Valparaiso, 74-68, on Sunday afternoon inside Meeks Family Fieldhouse.
The Aces were again led by senior guard/forward Abby Feit on the day, who tallied her sixth double-double of the season with a 20-point, 11-board performance. Three other Aces broke into double-figures with graduate guard Anna Newman (14 points), fifth-year guard A'Niah Griffin (13), and redshirt junior Barbora Tomancova (12) all reaching double digits. For the Beacons, Olivia Brown was Valpo's leading scorer, heading up a group of four double-figure scorers for the visitors.
A hot-shooting Valparaiso offense got off to a quick start in the first quarter, taking a 15-8 lead on a three from Ava Interrante. Evansville would battle back down the stretch of the first period, getting back within three on a triple by Griffin with just seven seconds left in the quarter that cut the Aces deficit to 20-17 going into the second.
Evansville showed an improved offense in the second and third quarters, out-scoring the Beacons, 38-33, during that stretch. Valpo's lead again reached six early in the second period, but the Aces would get within a pair at the break, trailing just 35-33, with Kynidi Mason Striverson providing another late three for Evansville with just 34 seconds left in the half to trim the deficit.
Out of the break, the Aces went on a 6-0 run, fueled by four points from Feit that gave UE a four-point lead early in the third period. The lead seven on two separate occasion for the Aces in the third, but each time an efficient Valpo offense answered, eventually trimming UE's lead back to just two heading into the fourth.
It was the Beacons who provided the run to open the fourth quarter, going on a seven-point spree to retake the lead and build it to 60-55. Evansville would put multiple challenges to the Beacon lead over the final five minutes of the game, but each time Valpo responded with a basket as the Beacons held on for a 74-68 win.
Evansville goes back on the road for the next two contests, traveling to take on Missouri State in Springfield, Mo. on Thursday before a matchup in Carbondale, Ill. with Southern Illinois on Saturday afternoon.
Submitted by Athletics
Late rally falls short for Aces at Troy
A furious late-inning rally came up one-run short on Sunday for the University of Evansville baseball team, as the Purple Aces dropped the series finale at Troy by an 11-10 score at Riddle-Pace Field in Troy, Alabama.
"I thought that it was a great effort fighting back from our offense today," said UE head coach Wes Carroll. "We just didn't pitch well enough at times to secure a win against a talented Troy team. We just have to bounce back Tuesday at UK."
Troy jumped out to an early 1-0 lead in the first inning on a solo home run by third baseman Caleb Bartolero. UE would respond in the third inning with a pair of runs on an RBI single by junior second baseman Kip Fougerousse and an RBI fielder's choice by senior third baseman Brent Widder to take a 2-1 lead.
The lead would not last long, though, as Troy exploded for two runs each in the third, fifth, and sixth innings, and three more in the fourth to build a 10-2 lead. UE would then take advantage of an inning-opening error in the eighth inning to claw back into the contest.
A Widder sacrifice fly opened the scoring in the eighth inning before the UE offense exploded five two-out runs. Fifth-year outfielder Danny Borgstrom scored junior shortstop Simon Scherry with a triple to left-center field to begin the onslaught. Junior catcher Brendan Hord then followed with an RBI double before fifth-year designated hitter Eric Roberts hit a long two-run home run to right field to cut the deficit to 10-7.
Sophomore outfielder Ty Rumsey would then reach on a wild pitch, advance to scoring position on another wild pitch, and score on an RBI single by Fougerousse. UE would eventually load the bases in the eighth inning, but could not score again as the Troy lead stood at 10-8. Troy then got a key solo home run in the bottom of the eighth inning to push the lead to 11-8.
In the ninth, Evansville would rally one final time. The first three UE batters reached base, before Roberts delivered an RBI ground out to cut the Troy lead to 11-9. Pinch-hitter Ben Stuart then delivered a sacrifice fly to center field to cut the deficit to 11-10 and put the game-tying run at third base. Troy closer Noah Manning was able to get Fougerousse to ground out to second base though to end the rally and the contest.
Fougerousse and Scherry both had three hits to lead UE offensively, with Fougerousse driving in two runs, and Scherry scoring a pair of runs. Rumsey also had a two-hit game, and Roberts drove in three.
Bartolero went 3-for-4 with a home run, two runs scored and two RBI to lead Troy. Four additional Trojan hitters had two-hit games as well.
Evansville (0-3) will continue on its season-opening four-game road trip on Tuesday, as the Purple Aces will travel to Lexington, Kentucky to take on the Kentucky Wildcats. First-pitch is set for 3 p.m. central time and Tuesday's game can be seen live on the SEC Network Plus.
Submitted by Athletics
UE men start strong in Alabama
With the completion of the first round of play at the ASU Spring Classic at RTJ Golf Trail at Capitol Hill, the University of Evansville men's golf team sits in a tie for third place.
Standing at a 297, the Purple Aces are tied with Arkansas-Pine Bluff for the third position. The duo is just one behind a first-place tie between Chicago State and Savannah State.
Michael Ikejiani led the team with an even round of 72. His effort is tied for 5th place. Two behind him was freshman Daniil Romashkin. His 74 puts him in a tie for 9th. Third for UE is Henry Kiel. Completing the day with a 75, he is tied for 15th.
Nicholas Gushrowski carded a 77 for UE. His opening-round score is tied for 20th. Caleb Wassmer rounded out the UE contingent with a 77. He is in a tie for 27th.
Round two opens on Monday morning.
Submitted by Athletics
Lamond, Helder Break UE Track & Field Records At Indiana State Open
University of Evansville graduate students Antonia Lamond (Nutley, N.J./Paramus Catholic) and Melanie Helder (Hudonsville, Mich./Hudsonville) both broke school records on Saturday, as the UE Track & Field team had a strong showing at the Indiana State Open in Terre Haute, Indiana.
Lamond opened the meet by becoming the first UE woman to break the 10-meter mark in the women's shot put, as she recorded back-to-back tosses of 10.14 meters (33' 3.25"). Helder then cut over five seconds off of UE's school record in the women's 800-meter race while winning the event in a time of 2:19.34. The previous mark was 2:24.85, set by Sienna Crews in 2018.
The 800-meter race wasn't the only race that Helder won, as she also won the women's mile with a time of 5:09.66. Lamond also placed fourth in the women's weight throw with a toss of 13.14 meters, while freshman Gwen Darrah (Cleveland, Ohio/Orange) placed sixth with a personal-best throw of 10.92 meters (35' 10").
On the men's side, sophomore Adam Oulgout (St. Paul, Minn./Central) took home the individual title in the 800-meter race, as he posted a personal-best indoor time of 1:57.24. It was just over a second off of Jim Bennett's 1983 school record time of 1:55.63. Freshman Joey Taylor (Grove City, Ohio/Central Crossing) also posted a personal-best time of 2:02.29 in the 800-meter race to place seventh.
In the men's field events, senior Zach Dove (Princeton, Ind./Princeton Community) posted a fifth-place finish in the men's shot put with a toss of 14.49 meters (47' 6.5"), while also placing seventh in the weight throw with a mark of 17.28 meters (56' 8.5"). Fellow senior Jaden Hayes also posted a personal-best mark in the shot put for the third-straight meet with a throw 14.40 meters (47' 3") to place seventh.
Overall, the UE women placed third, while the men finished sixth. Saturday's meet was the final meet for Evansville prior to the Missouri Valley Conference Indoor Championships, which will take place next Sunday and Monday, February 26-27, in Chicago, Illinois.
Submitted by Athletics
Men's basketball battles to the wire at Murray State
From start to finish, the University of Evansville men's basketball team battled Murray State in a game that featured 12 lead changes with the Racers pulling away late for a 74-58 victory.
Marvin Coleman II led the way for the Purple Aces with 19 points. He was 7-of-14 from the field while picking up three steals, three rebounds and two assists. Yacine Toumi added 12 points while Gabe Spinelli recorded 11. Preston Phillips tied for the game-high with eight rebounds. Four Racers recorded double figures with Jamari Smith and Brian Moore Jr. totaling 18 points apiece.
"Our game plan was good and we really did a good job executing in the first half," UE head coach David Ragland said. "I was happy with our response in the second half; in less than two minutes, we cut a 16-point deficit in half. There is still a lot of work to do, but we are making strides."
Murray State took a 6-1 lead to open the game With Marvin Coleman II hitting a triple to get the Aces closer. Trailing 8-4, it was the long ball playing a role once again with Kenny Strawbridge Jr. connecting to make it a 1-point game. Chris Moncrief hit a bucket as the 14:17 mark to give UE its first lead at 9-8.
Moncrief and Gabe Spinelli converted back-to-back shots to give the Aces a 13-10 edge at the halfway point of the period with the Racers countering with six in a row. The teams swapped the lead a total of 10 times in the half including four times in a span of under two minutes. Spinelli banked in a three from the corner to give UE a 22-20 edge at the 3:21 mark before Coleman hit his third shot of the afternoon to make it a 24-22 game less than a minute later.
It was the Racers who would complete the half with the momentum as they posted the final five points to hold a 27-24 halftime lead. Evansville held a 14-10 edge in points in the paint in the period along with a 7-2 advantage in fast break points. The Racers did their damage on the boards, totaling 23 to Evansville's 13.
After MSU hit the first shot of the half, Coleman picked up a 3-point play. With the Racers back up by four, Evansville put together a 5-0 stretch to take its first lead of the second half. Strawbridge drained a 3-pointer with the shot clock running down while Toumi finished at the basket to give UE a 34-33 lead with 16:57 remaining.
Once again, Murray State had the answer, reeling off seven on a row over the next three minutes. UE missed six consecutive shots while turning it over once. Spinelli ended the stretch with a layup but the Racers continued to roll. At the 11:42 mark, the extended the lead to double figures at 48-38 with the lead jumping to 15 points three minutes later.
With 7:14 remaining, the Racers matched their largest lead of 16 points (62-46) but UE continued to fight back. Toumi hit a jumper while Gage Bobe turned a turnover into a pair of free throws. On the ensuing possession, a miss by MSU gave the ball back to UE where Coleman drew a foul and hit both ends of the 1-and-1. Evansville took advantage of another Racer turnover as Coleman capped off an 8-0 stretch to make it a 62-54 game with 5:30 showing on the clock.
Over the final moments, the Racers regained control to finish with a 74-58 win. Shooting 57.1% in the second half, Murray State completed the game at 44.6% with the Aces shooting 41.1%. MSU outrebounded the Aces, 41-27. On Wednesday, UE wraps up the home schedule with a 7 p.m. game versus UIC.
Submitted by Athletics
Troy rallies past UE in extras, 8-7
The Troy University baseball team rallied for two runs in the bottom of the ninth inning and three more in the 10th to rally past the visiting University of Evansville Purple Aces, 8-7, at Riddle-Pace Field in Troy, Alabama.
"We had a couple of chances to close out the game today, but we couldn't get it done," said UE head coach Wes Carroll. "It's disappointing, because we had some great performances on the mound from (Tyler) Denu and (Jarrett) Blunt today that gave us a chance to win.
"Tomorrow is an important day to try and salvage the weekend."
Evansville jumped to an early 3-0 lead with two runs in the second and a tally in the fourth powered by a pair of run-scoring singles by fifth-year outfield Danny Borgstrom. Troy would answer back with a two-out, three-run home run by outfielder Shane Lewis in the bottom of the fourth inning to tie the game, but it would be the only blemish of the day against UE starter Tyler Denu. Denu allowed just the three runs on three hits in 4.2 innings of work, while striking out seven.
After a scoreless fifth inning, UE would use small ball to retake the lead, as a run-scoring sacrifice bunt by fifth-year outfielder Eric Roberts in the sixth inning gave UE a 4-3 lead. Junior second baseman Kip Fougerousse then launched his third home run of the series to right-center field in the seventh inning, a solo shot, to push the lead to 5-3.
Graduate transfer reliever Jarrett Blunt took the two-run cushion to the ninth inning, before making his only mistake of the afternoon, giving up a solo home run to pinch-hitter Brooks Bryan with one out to trim the lead to 5-4. It was the only run allowed by Blunt, who gave up just three hits in 3.2 innings of relief work.
Evansville turned to senior closer Jakob Meyer to try and get the final two outs, but a two-out double by reserve outfielder Hudson Hartsfield plated the game-tying run to force extra innings.
UE was able to score two runs in the 10th inning on bases-loaded walks by Roberts and junior catcher Brendan Hord to take a 7-5 lead. Troy would respond though with back-to-back RBI base hits by Lewis and reserve third baseman Parker Sessions to tie the game at 7-7. Outfielder Kole Myers then plated the game-winning run on a fielder's choice to win the game 8-7.
Borgstrom led Evansville offensively by going 3-for-5 with two RBI. Fougerousse also had a two-hit game, while Roberts and Hord both drove in two runs. Lewis paced the Troy offense by going 2-for-5 with two runs scored and four RBI.
Evansville will try to salvage the final game of the three-game series on Sunday afternoon, as UE will send junior left-hander Donovan Schultz to the mound to face Troy RHP Grayson Stewart. First-pitch is set for 1 p.m. in a contest that can be seen live on ESPN+.
Submitted by Athletics
Trio of Aces leads Evansville to win over UIC in overtime thriller
Powered by the trio of Feit, Griffin, and Newman, the University of Evansville women's basketball team battled back in the fourth quarter to force overtime and eventually capture a 68-65 win over UIC on Friday evening inside Meeks Family Fieldhouse.
The Aces were led by three upperclassmen in senior guard/forward Abby Feit, fifth-year guard A'Niah Griffin, and graduate guard Anna Newman. The trio combined for 62 of Evansville's 68 points on the night with Feit leading the way with 26 points and eight boards, scoring 23 points in the second half and overtime. Griffin also reached the 20-point mark, adding a season-best seven rebounds, while Newman finished just one off tying a career-high with 16 points in her first game back after missing the previous three games due to an injury. While not scoring, redshirt junior Celine Dupont contributed to the win, grabbing eight boards and swatting three shots in her 27 minutes on the floor. The Flames were led by Sara Zabrecky, who finished with 17 points, knocking down five three-pointers.
Getting off to an efficient start, Evansville grabbed a 10-7 lead, fueled by five points from Griffin, before hitting the midway point of the opening quarter. UIC would lock-in defensively down the stretch of the first quarter, edging in front to take a 14-12 lead.
A defensively dominated second quarter saw an evenly played contest continue with each side scoring just 11 points in the second frame. Evansville was hampered much of the first half by foul trouble with Abby Feit, who picked-up two fouls in the opening half and played just nine minutes in the first two periods as the Aces went to the half trailing by just two at 25-23.
After a Feit layup tied the game at 25 just 11 seconds into the second half, UIC went on a run that would give the Flames a double-figure advantage. A 15-2 spree for UIC that concluded with 6:25 left in the third with the Flames owning a 40-27 lead and resulted in an Evansville timeout. The break seemed to make a difference for the Aces, who responded with a run of its own to chip back within six at 45-39 going into the fourth.
Evansville's furious battle back into the contest continued in the fourth quarter with three-straight triples pushing the Aces in front for the first time since the opening period at 53-51 with less than two minutes left in regulation. The Aces lead would grow as large as five with 1:46 left in the period, but UIC made a late run in return. Back-to-back banked-in threes from Zabrecky lifted UIC back in front at 58-57 with just 18 seconds remaining, but Newman was able to drive to the basket and get to the line, splitting a pair and tying the game at 58, sending the contest into overtime.
In overtime, Evansville quickly took control with triples from Griffiin and Feit that pushed UE back up by five in the first extra period. UIC was not within a final push, cutting to within three inside the final minute and forcing a held ball that gave the Flames back possession in the final seconds. Looking to repeat her performance from the end of regulation, Zabrecky had two looks from deep before the buzzer, but could not get either to fall as Evansville grabbed the 68-65 win.
Evansville closes the weekend with a matchup with Valparaiso in its Play4Kay game at 1 PM on Sunday afternoon inside Meeks Family Fieldhouse.
Submitted by Athletics
Men's golf begins spring season on Sunday
Sunday will mark the opening day of the spring season for the University of Evansville men's golf team with the Purple Aces taking part in the ASU Spring Classic.
Alabama State is the host of the 54-hole event at RTJ Golf Trail at Capitol Hill. The men are playing on the Senator course. Two rounds are set for Sunday with the final 18 being played on Monday. Par is 72 and the yardage is 6,941.
Included in the field are Alabama State, Arkansas-Pine Bluff, Chicago State, Alabama A&M, Texas Southern, Maryland Eastern Shore, Miles College and Savannah State.
Nicholas Gushrowski had the low scoring average while Michael Ikejiani finished strong for the Evansville men in the fall of 2022. Averaging 74.36 strokes, Gushrowski finished with a 75 or lower in eight of his 11 rounds. Ikejiani had one of the lowest rounds in school history at the Alabama A&M Fall Invite. In the second round, he shot a 5-under 67, which was the 4th-lowest score in program history.
Ikejiani earned MVC Golfer of the Week recognition to cap off the season.
The ASU Spring Classic also includes a women's tournament with Carly Frazier and Destynie Sheridan playing as individuals.
Submitted by Athletics
TROY TAKES SEASON-OPENER OVER UE, 12-7
The home-standing Troy University Trojans used a little two-out magic and the strength of four home runs to outlast the visiting University of Evansville baseball team, 12-7, at Riddle-Pace Field in Troy, Alabama in the season-opener for both squads.

"It was a tough start to the weekend, but you have to credit the Troy hitters," said UE head coach Wes Carroll. "They scored a lot of runs with two outs, as we could not get out of innings.

"I thought that our offense showed some good signs, especially getting their starting pitcher's pitch count up early to get him out of the contest. I am definitely looking forward to tomorrow, as we look to get back into the series."

Troy was able to plate nine of its 12 runs with two outs in an inning, on the strength of going 6-for-12 with runners in scoring position with six two-out RBI. The Trojans also got home runs from outfielders Kole Myers and Shane Lewis, as well as third-baseman Caleb Bartolero and catcher Clay Stearns to overcome a two home run debut by UE junior second baseman Kip Fougerousse (Linton, Ind./Indiana University).

Fougerousse took the first pitch he saw as a Purple Ace, and the first pitch of the season, deep to right field for his first home run of the day to give UE a 1-0 lead. He then capped the night's scoring in the eighth inning with a solo shot to center field, as he finished his first game as a Purple Ace going 2-for-5 with a pair of home runs.

After UE took a 1-0 lead in the first inning, the Trojans grabbed the lead for good in the second inning with a two-out, three-run home run by Lewis to left field off of UE Nick Smith (0-1). Bartolero would deliver a two-out RBI single in the third inning to push the lead to 4-1, before UE would bounce back with an RBI single by junior catcher Brendan Hord (Lexington, Ky./Univ. of Kentucky) in the top of the fourth inning.

Stearns would answer in the bottom of the fourth inning with a solo home run to left-center field, before the Trojans would break the game open in the fifth inning with four two-out runs. An error in center field opened the flood gates in the inning to allow three of the four runs to score unearned.

Troy would grow the lead to 12-4 through seven innings, before Hord would launch a two-run home run in the top of the eighth inning to cut the deficit to 12-6. Fougerousse would follow two batters later with his second home run of the night, but UE would get no closer.

Hord led UE offensively by going 3-for-4 with a home run and three runs driven in. First baseman William Sullivan and shortstop Tremayne Cobb Jr. both had three-hit days to pace the Trojans.

The two teams will continue the series on Saturday at 1 p.m. as UE senior left-hander Tyler Denu (Mount Horeb, Wis./Mount Horeb) will square off with Troy RHP Zach Fruit.
Submitted by Athletics
Road trip to Murray State next for UE men
Wrapping up a week on the road, the University of Evansville men's basketball team will be in Murray, Ky. on Saturday to face Murray State. Tip is set for 3 p.m. CT with the Purple Aces Radio Network and ESPN+ having the coverage.
Setting the Scene
- UE looks to avenge a 78-61 home loss to the Racers on New Year's Day
- MSU opened the game on a 23-1 run and would never relinquish the advantage over the duration of the contest
- Four Purple Aces reached double figures in the game, led by Marvin Coleman II's 14 tallies
- The last three games between the squads in Murray have been decided by an average of 2.7 points
Last Time Out
- Belmont scored the opening six points and never looked back, taking a 95-63 win over UE on Wednesday evening in Nashville
- Marvin Coleman II and Gage Bobe recorded 15 and 14 points, respectively
- The Bruins hauled in 51 boards, the most any team has had this season against UE
Two Out of Three Ain't Bad
- Preston Phillips reset his career scoring high with 11 points at Belmont on Feb. 16
- It marked the second double digit game of his UE career, both coming in the last three outings
- Going 5-for-8 from the floor in Nashville, Phillips scored 11 while adding 7 boards
- In a game that his teammates said was the best they saw him play, Phillips recorded 10 points on 4-for-4 shooting in the win over UNI while adding 3 steals, 3 rebounds and a pair of assists
Sharpshooter
- Hitting 10 of his last 19 attempts from long range, Gage Bobe is shooting 38.4% on the season but is even better in the MVC
- Bobe ranks second in conference games, shooting 44.9% from 3-point range
- For the fifth time this season, he reached double figures as he registered 14 at Belmont; four of those have come in the last nine games
- His top career game came at Valpo as he scored 22 points while draining six of his 11 3-point tries and seeing 36:49 of work
- Over the last six games, Bobe has knocked down 17 of his 37 3-point tries
- He is a 38.4% outside shooter on the season but after starting the season hitting 3 of his first 22 attempts (13.6%), he has knocked down 31 of the last 67 (46.03%) since Dec. 21
Scouting the Opponent
- Murray State halted a 3-game losing streak on Wednesday with a 76-75 road win at Illinois State
- The Racers are currently 14-13 overall and 9-8 in the Valley
- Rob Perry leads three double figure scorers for MSU with 14.8 points per game and has converted a team-best 51 triples this season
- Jamari Smith follows with 11.6 PPG while JaCobi Woods checks in at 10.8
- DJ Burns leads the Racers with 6.7 rebounds per contest
- Perry and Smith were the top performers for Murray State in the first meeting on New Year's Day, recording 14 points each
Submitted by Athletics
Final Tune-Up Before Conference Meet Up Next For UE Track & Field
The University of Evansville track and field team will return to action on Saturday, as the Purple Aces will travel north to Terre Haute to take part in the Indiana State Open. The meet will begin at 11 a.m. central time with the field events, with action on the track beginning at 11:40 a.m.
Saturday's meet will be the final tune-up for UE before the Missouri Valley Conference Indoor Championships next weekend. The meet will feature competitors from UE, Indiana State, Southern Indiana, Webster, Rose-Hulman and Vincennes University.
UE last competed as a full squad on February 3 as part of the PNC Bank Bellarmine Classic. Four Purple Aces also took part in last Friday's Hoosier Hills Invitational hosted by Indiana University, where senior throwers Zach Dove and Jaden Hayes both posted indoor personal-best marks, and sophomore Adam Oulgout posted one of the fastest indoor mile times on record at UE.
From a track perspective, Oulgout has been one of UE's biggest stories this season on the men's side, as he has closed to within just seven seconds of David Denny's school record in the indoor mile, and broke the school record in the 1,000-meter race earlier this year. Dove has consistently finished inside the top 10 in the throwing events this year for UE, while Hayes has emerged in his first season of collegiate competition, posting personal-best marks in back-to-back meets in the shot put.
On the women's side, graduate student Melanie Helder has been rounding into form in February, after being slowed by injury at the start of the indoor season. Helder advanced to the NCAA Regional Meet in outdoor track last season at Michigan State. Fellow graduate student Antonia Lamond has been a steady force for UE in the women's throwing events, breaking the school record in both the shot put and weight throw already this year.
Submitted by Athletics
Contribute to AceNotes
To have content considered for inclusion in AceNotes, please submit a Marketing Request Form. Deadline for submission to AceNotes is 10:00 a.m. on the requested date of publication. Only articles concerning UE related/sponsored activities will be accepted. Articles submitted to AceNotes may be edited for length and clarity. Submitter contact information is at the end of each article.