| | |
| --- | --- |
| AceNotes Today | Friday, February 17, 2023 |
Limited parking in Front Oval on Friday
Front Oval parking will be limited to the east side of the lot on Friday, February 17th. Parking spots on the west side of the Oval will be reserved for Board of Trustee members. Spots that are blocked off with cones are not to be used by anyone other than Trustees and approved guests. Parking spots reserved for the Office of Admissions will remain limited to approved visitors and guests.
Submitted by Jason Cullum jc647@evansville.edu
Evansville Women's Basketball's Diversity, Equity, and Inclusion Night is TONIGHT
Join the University of Evansville women's basketball team in supporting diversity, equity, and inclusion on our campus and in our community tonight when the Aces take on UIC at 6 PM inside Meeks Family Fieldhouse! We'll be honoring Black History Pioneers from the University of Evansville and recognizing University of Evansville student organizations. Students and faculty/staff get in FREE!
Submitted by Athletics
LOVE THEM BOTH: Diaper Drive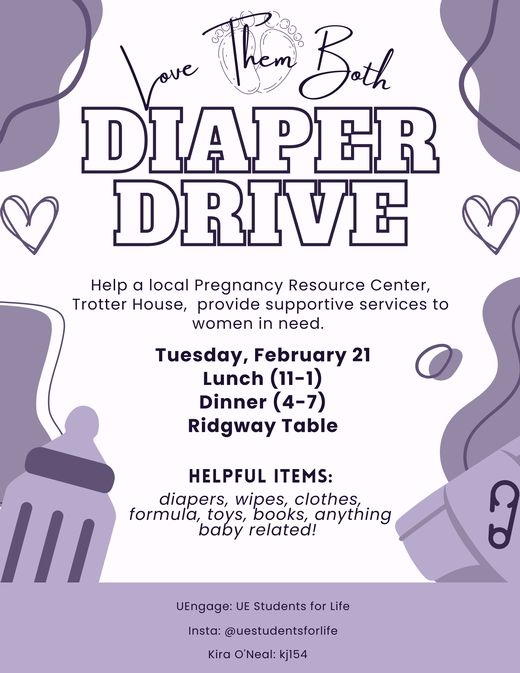 Continuing this month's theme of supporting women in need, we will host a diaper drive in Ridgway during lunch and dinner time! All donations will be given to a local Pregnancy Resource Center, Trotter House, and just about anything baby-related is helpful (onesies, formula, diapers, toys, books, etc)! As a bonus and incentive, we will have cookies for everyone who donates. Stop by, say hi, and help us provide resources and support for local women and families in need!
Tuesday, February 21, Lunch (11-1) and Dinner (4-7), Ridgway Table
Submitted by Kira O'Neal kj154@evansville.edu
BSU Presents: a Mental Health Conversation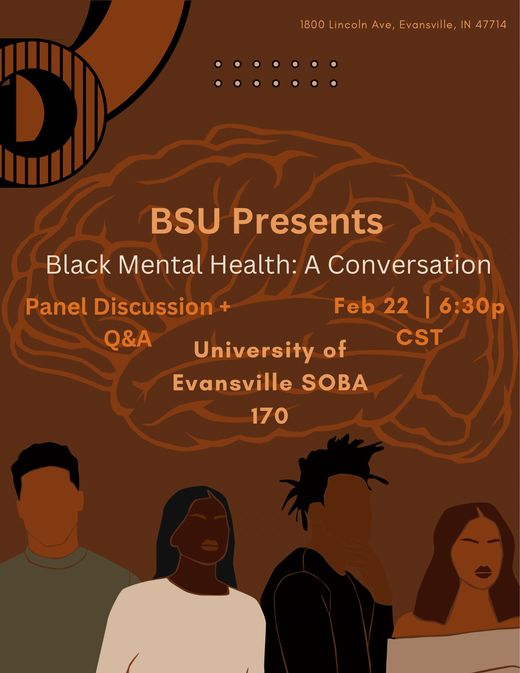 Black Student Union is hosting a Mental Health Panel with local psychologists on Wednesday, February 22nd at 6:30 pm in SOBA 170. We will discuss important issues in the mental health field and open up time for a Q&A afterward.
Submitted by Ashantea Rhea ag374@evansville.edu
Don't Miss Out on Nerd Wars - Registration Deadline Friday
Don't miss your chance to compete in this year's Nerd Wars trivia competition, scheduled for Tuesday, March 14 at 7:00pm in Eykamp Hall. The registration deadline is this Friday, February 17.
The Honors Program invites you to form your team of five competitors to battle in a competition of wits for prizes and bragging rights. Teams of students, faculty, administrators, and staff are welcome to register. Both spectators and competitors can enjoy pizza and snacks at the event, as well as the chance to receive giveaway prizes!
Register online now at this link: https://forms.gle/H8WVXxJYznPFSsTH8
Registration is free for the event. Those who are unable to compose a team of five may still register and will be matched to form a team. Be sure to register by Friday, February 17.
Please contact Hannah at ht80 with any questions.
Submitted by Jayme Williams jw504@evansville.edu
RSA Shark Week
Join RSA for Shark Week! A week full of fun events including:
Feb. 20: Shark Attack – First Floor of Ridgway – 5:00 p.m. – 7:00 p.m.
Feb. 21: Sharks & Minnows – Carson Center Small Gym – 6:00 p.m. – 8:00 p.m.
Feb. 22: Pool Party – Carson Center – 7:00 p.m. – 9:00 p.m.
Feb. 23: RSA General Assembly – SOBA 71 – 8:00 p.m. – 9:00 p.m.
Feb. 24: Bingo – Eykamp – 8:30 p.m. - 10:30 p.m.
Submitted by Lily A Renfro lr156@evansville.edu
CDEI Presents: Black History Month Keynote and Workshops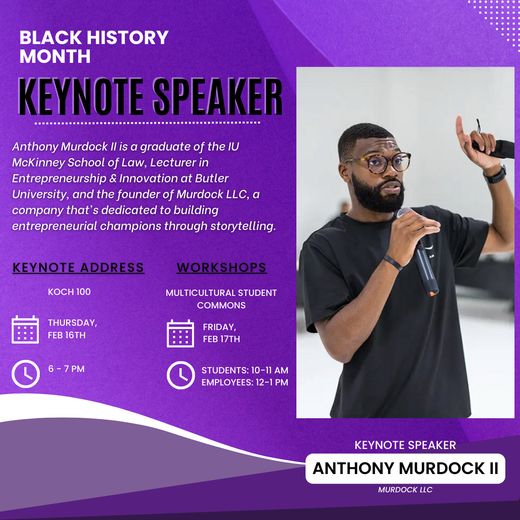 The CDEI invites you to the Black History Month Keynote Address with Anthony Murdock II as our keynote speaker. This event will take place on Thursday 16th February in Koch 100 from 6-7pm.
He will also lead Workshops the following day, 17th February, for both students and faculty. The student workshop will be from 10-11a, and the employee workshop from 12-1p.
Anthony Murdock II is a graduate of the IU McKinney School of Law, Lecturer in Entrepreneurship & Innovation at Butler University, and the founder of Murdock LLC, a company that's dedicated to building entrepreneurial champions through storytelling.
Submitted by Abagail Catania ac532@evansville.edu
We're revealing the time capsule on February 17!
Join us for our upcoming Founders Day celebration!
Friday, February 17
4:00 p.m.
Bernhardt Atrium (Schroeder Family School of Business Administration)
During demolition of Hughes Hall late last year, a time capsule was located near the entrance of the building. This time capsule is over 60 years old and is filled with several items yet to be opened. We can't wait to share them with you!
Special guest Rita P. Eykamp '59, life member of the Board of Trustees, will assist in revealing the contents of the time capsule. Cupcakes and refreshments will be served afterwards.
Submitted by Julie Beer / jb855@evansville.edu
Delightful Week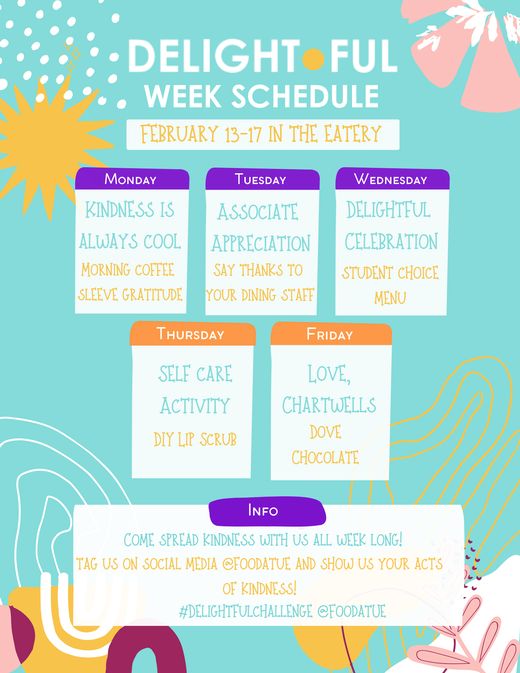 Delightful Week will be February 13-17! This week of kindness will feature a student choice menu and many opportunities to express gratitude and joy! Don't forget to follow @foodateue on social media and tag us with your acts of kindness and use #DelightfulChallenge to be entered into an awesome giveaway!
Submitted by Ka'Bria Carr kc403@evansville.edu
Take 6 Concert: Free and Open to the Public!
The Patricia H. Snyder Concert and Lecture Series was created in 1997 and, to this day, continues to bring nationally-renowned performers and speakers to the Evansville. Events are free and open to both the campus community and public.
The Snyder Concert and Lecture Series Committee presents: Take 6. The six-member vocal group will perform on Friday, February 17, at 7:30 p.m. The concert will take place at the Victory Theatre at 600 Main Street in downtown Evansville.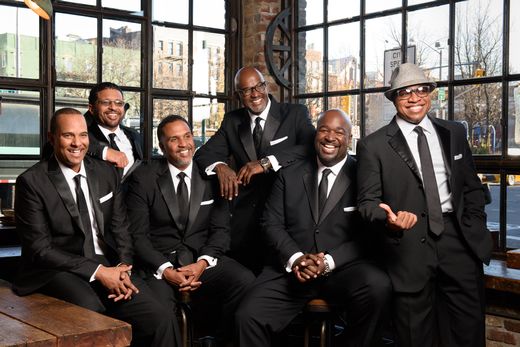 Take 6 is comprised of members Claude McKnight, Mark Kibble, Joel Kibble, Dave Thomas, Alvin Chea, and Khristian Dentley. The world-renowned group formed in 1980 and has since received 10 Grammy awards, 10 Dove awards, and a Soul Train Award. They are the most awarded a capella group in history.
No tickets necessary! Seating will be a first-come, first-served basis.
Submitted by Julie Beer / jb855@evansville.edu
CBE Speaker Series: A Celebration of Engineer's Week with Paul Jones

University of Evansville - College of Business & Engineering Speaker Series
A Celebration of Engineers Week!
Paul W. Jones '71
February 21, 2023
Lunch & Learn
12:20-1:15 p.m.
Lunch served at 12:20 p.m.; Speaker Begins at 12:30 p.m.
Schroeder Building, Room 170
Making the Most of Your College and Career: Advice from an Engineer and CEO
Join us as we welcome engineering alumnus Paul W. Jones to hear his personal journey and lessons learned along the path from engineer to CEO.
Both in person and zoom options will be provided. If you register to attend the event via zoom, the link will be provided to you 24 hours prior to the event. Please be sure to check your spam folder. If you do not receive the information, please contact Nick Bragin at nb197@evansville.edu

Register for this event.
Submitted by Nick Bragin nb197@evansville.edu
Student Showcase Exhibition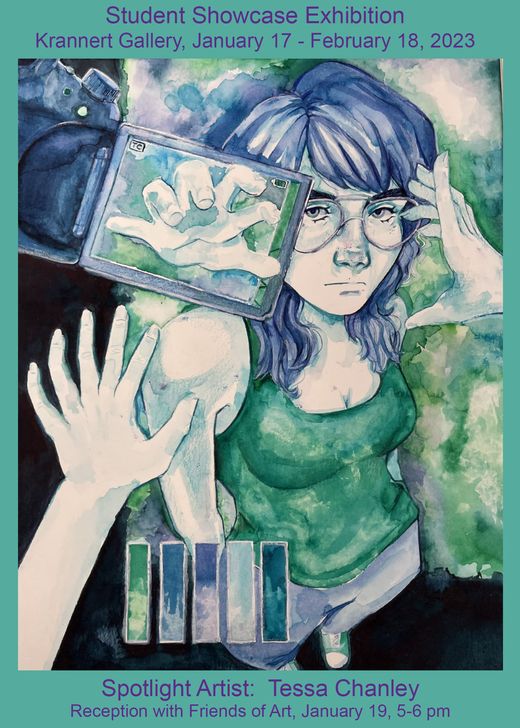 The STUDENT SHOWCASE 2023 exhibit in the Krannert Gallery includes Drawings, Designs, Paintings, and Ceramics which exemplify many of the concepts and techniques covered in specific Art courses. The Instructors/Professors selected the Art for this show as stellar examples of work completed in UE Art courses during the 1st Semester. The exhibit runs January 17 - February 18.
Also, in this exhibit is ART BY TESSA CHANLEY, class of 2024. Tessa received the Class of 2024 Outstanding Freshman Art Student Award. As part of this annual honor, the recipient is spotlighted in his/her Junior year, in the Student Showcase Exhibit.
Submitted by Carol McCraney cm177@evansville.edu
UE awarded state funds for new Multidisciplinary Mental Health and Wellness Clinic
The University of Evansville's (UE) Multidisciplinary Mental Health and Wellness Clinic has received a $750,000 state award for the development of their community-based clinic.
The funding is part of the Evansville region's READI Awards Initiative managed by the Southwest Indiana Regional Development Authority (RDA) in partnership with the Evansville Regional Economic Partnership (E-REP). Indiana's READI funds work toward improving the quality of place, quality of life, and quality of opportunity within their communities.
"This multidisciplinary clinic is part of the University's larger vision of community outreach that will increase the quality of life for our community members. Faculty and students from multiple health disciplines will work and learn together to improve how we deliver health care while also gaining valuable experience in their chosen field," said Mary Kessler, Dean of the College of Education and Health Sciences. "Our goal is to provide UE students with transformational educational and clinical experiences, which will improve their overall competency while also assisting the Evansville region with increasing and retaining needed health care providers in the local workforce."
In the fall of 2023, UE will admit its first cohort of graduate students for the newly developed Doctor of Clinical Psychology (PsyD) program. A key component of the PsyD program is the development of a community-based clinic where PsyD students and faculty provide psychotherapy and psychological testing to clients with mental health problems.
"The RDA continues to award READI funds to projects that align with our community's vision called Talent EVV," said Tara Barney, CEO of the E-REP. "Including this investment, over $8.7 million of READI funds have been awarded to projects within the health and life sciences cluster, which leverages nearly $77 million in total investment. The UE Multidisciplinary Mental Health and Wellness Clinic further supports our region's growing health and life sciences cluster while providing a valuable service to our community."
With the use of the READI funds, the PsyD program will grow its capacity to admit new students and ultimately increase the number of clinical psychologists and physician assistants who stay and work in the Evansville area upon graduation.
UE will be able to embed a physician assistant in the clinic to provide medication management for mental health conditions under the supervision of a licensed physician or psychiatrist. It will also increase opportunities for physician assistants and nursing students to apply what they are learning in class in actual practice.
The facility will be located directly across Lincoln Avenue at the site of Talbot Square, which was purchased by the University.
Approximately 5,000 square feet of the Old National Bank space will be renovated into the new clinic. The facility will incorporate office space, conference rooms, ten individual therapy rooms, and a larger space for group therapy.
Construction is expected to begin sometime in late April and continue through the summer months until an anticipated final completion date in August 2023.
Submitted by Mary Kessler mk43@evansville.edu
UE Summer Camps and Employee Discount
The Office of Youth Programs has opened registration for UE Summer Camps 2023! This summer, we are offering Dance Camp, the Wesley Shepard Music Camp, Exploring Art at UE (Grades 2-5 & Grades 6-8), STEM Camp, Clay Camp, Springboard, and Pride Camp. To find out more, please visit our website.
We are offering a 50% discount to UE Employees that would like to register their youth. To receive this discount, please email us at youthprograms@evansville.edu BEFORE registering. Please include your name, title, list youth(s)'s name and camp title. We will send you a discount code to apply at registration within two business days.
If you have any questions, please email youthprograms@evansville.edu.
Submitted by Rachel Roscoe rr209@evansville.edu
Health Professions Army Recruiter Visiting Campus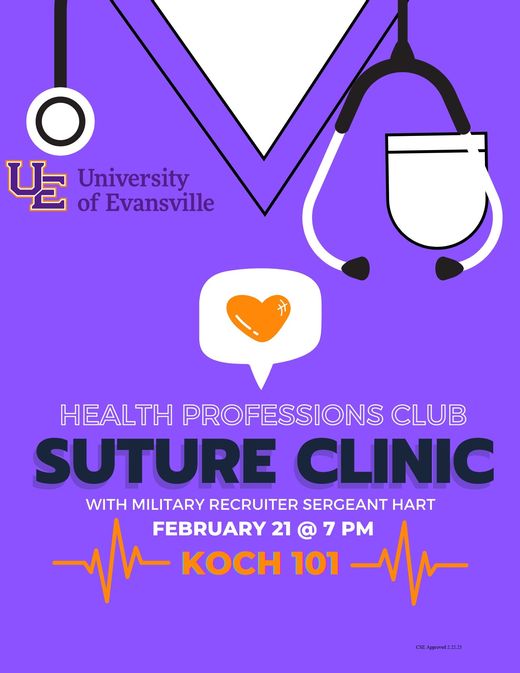 Health Professions Club is hosting a suture clinic with Health Professions Army Recruiter, Sergeant Hart. A presentation including how the military can supplement medical, dental or physician assistant tuition and expenses is included. Join us 7-8 PM Tuesday, February 21 in Koch 101. Please contact Dalton Lampert with questions (dl141@evansville.edu).
Submitted by Francie Renschler fr25@evansville.edu
Rademacher's Coffee Crawl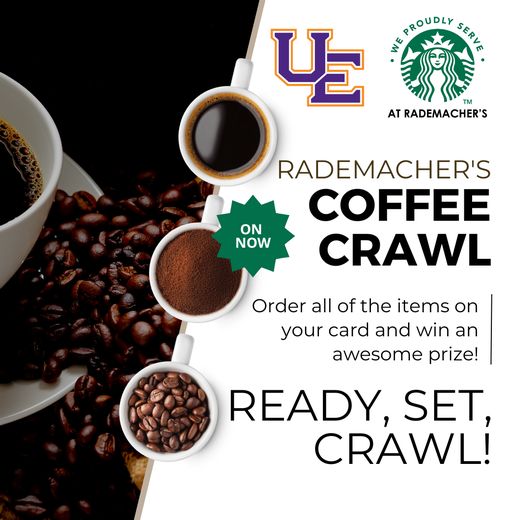 Ready, set, CRAWL! Starting today, Rademacher's is hosting a coffee crawl! Come to Rademacher's and ask for a punch card, order every item, and win an awesome prize! Starting today!
Submitted by Ka'Bria Carr kc403@evansville.edu
Nominations for Outstanding Teacher Award
Academic Affairs is pleased to announce the call for nominations for the 2023 Outstanding Teacher Award. The University bestows this award annually to honor a faculty member for extraordinary teaching effectiveness that inspires the intellectual development of students. Nominees must be a full-time faculty member who has taught at UE for two years or more and holds the rank of lecturer, instructor, assistant professor, associate professor, or professor. The winner is recognized at Commencement in May.
The following recipients from the past five years are not eligible: 2018 – Dr. Anthony Beavers; 2019 – Dr. Atefeh Yazdanparast Ardestani; 2020 – Dr. Mike Roscoe; 2021 – Dr. Julie Merkle; and 2022 – Dr. Katie Whetstone.
Access the link to submit a nomination.
https://www.evansville.edu/offices/academicaffairs/outstanding-teacher-form.cfm
Forward supplemental documentation to: Paula Heldt at ph28@evansville.edu. Please include the faculty member's name and OTA 2023 in the subject line.
The deadline to submit a nomination is Friday, March 17, 2023.
Submitted by Paula Heldt ph28@evansville.edu
SECS Hosted MATHCOUNTS at UE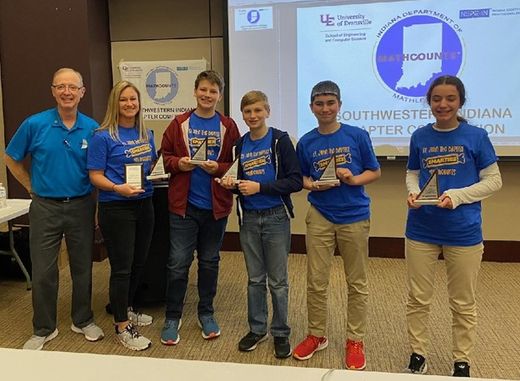 The School of Engineering and Computer Science hosted MATHCOUNTS Southwestern Indiana Chapter Competition on Saturday, February 11 in Eykamp Center. 29 students from 6 schools participated in the competition. The participants also participated in a campus tour and spent time learning about the Engineering and Computer Science opportunities available at UE.
We would like to congratulate the winning team from St. John the Baptist School (photo) and the individuals who qualified for the State competition:
• Jungchul Lee, Castle South
• Eleni Scordalakes, St. John the Baptist
• Jonathan Davis. Homeschool
• Thomas Pope, St. John the Baptist
• Abigail Bullington, Evansville Christian School
We want to thank everyone who helped support this event, including our student volunteers. We could not have done this without your support!
Submitted by Tonya Albright ta58@evansville.edu
Biology Professor and Alumni Publish Research Article
Dr. Katie Aldred ('09), associate professor of biology, was recently invited to submit a manuscript for a special issue of International Journal of Molecular Sciences. The paper, titled "Role of the Water-Metal Ion Bridge in Quinolone Interactions with Escherichia coli Gyrase," was coauthored by UE Biology alumni Hannah Carter ('17) and Baylee Wildman ('17, '21), as well as Dr. Robert Kerns and Heidi Schwanz from the University of Iowa College of Pharmacy. This work, which is available online as an open-access article, was primarily completed in 2016 and 2017 with funding through UExplore.
Submitted by Katie Aldred ka59@evansville.edu
UE softball to open home season Saturday
At long last Tri-State Orthopaedics Field at James & Dorothy Cooper Stadium will see its first official game with the University of Evansville softball team set to open the facility on Saturday.
In a 3-day tournament, a total of 10 games will be played with the full schedule below. Live stats will be available for all games.
Saturday February 18th
10:00am - Green Bay vs USI
12:30pm – Kansas City vs UE
3:00pm – UT Martin vs Green Bay
5:30pm - UT Martin vs Kansas City
Sunday February 19th
9:00am - USI vs Green Bay
11:30am - Kansas City vs UT Martin
2:00pm - Kansas City vs UE
4:30pm - Green Bay vs UT Martin
7:00pm - USI vs UE

Monday, February 20th
11:00am - Green Bay vs UE
The Purple Aces opened the season at the DePaul Dome Classic and won four of its five games with the only setback being a 2-1 loss to DePaul in extra innings. Mikayla Jolly opened her Purple Aces career with 12 scoreless innings of work. She fanned 17 batters while holding the opposition to a .103 batting average. Taylor Howe and Alexa Davis each batted .357 in the opening weekend with five hits in 14 at-bats. Both also scored four times apiece.

Lacy Smith and Hannah Hood wrapped up the first weekend batting .333 and .308, respectively. Jess Willsey led UE with two home runs while Zoe Frossard recorded seven RBI in the first five games.
Submitted by Athletics
Three Aces Make Consolation Finals On Day Two Of MVC Swimming & Diving Championships
University of Evansville junior diver Madison Rollett (Evansville, Ind./Reitz), senior swimmer Maya Cunningham (Yakima, Wash./Eisenhower) and sophomore swimmer Sveva Brugnoli (Rome, Italy) all advanced to the consolation finals of their events on Thursday, as the Purple Aces continued competition at the 2023 Missouri Valley Conference Women's Swimming & Diving Championships in Iowa City, Iowa.
Rollett posted UE's best individual finish of the day by placing fourth in the consolation final of the one-meter diving competition with a score of 227.85. Overall, Rollett placed 12th in the 31-diver competition.
Brugnoli and Cunningham both advanced to the consolation final of the women's 200-Yard IM event, as they placed 13th and 14th in the preliminary round with times of 2:04.96 and 2:05.11, respectively. Brugnoli's time is the fourth-fastest time in UE history in the 200 IM, with the sophomore owning all four of the top times. Evansville also received personal-best performances from senior Allison McDonald (Cape Girardeau, Mo./Central) and junior Abigail Groenewold (Lombard, Ill./Timothy Christian) in the 50-Yard Freestyle preliminary round with times of 24.38 and 25.72, respectively.
In Thursday night's 200 IM consolation final, Cunningham posted UE's top time of 2:05.36 to place 13th overall. Brugnoli was not far behind, as she placed 16th overall with a time of 2:06.85.
UE's 200-Yard Freestyle Relay squad finished Thursday's action with a seventh-place finish with a time of 1:36.70. The relay team featured McDonald, Brugnoli, Cunningham and senior Sonsoles Aguayo (Jerez, Spain).
The MVC Championships will continue on Friday with preliminary swims in the 100-Yard Butterfly, the 400 IM, the 200-Yard Freestyle, the 100-Yard Breaststroke, the 100-Yard Backstroke, and the three-meter diving competition taking place beginning at 10:30 a.m. central time. Event finals for those swimming events, as well as the 400-Yard Medley Relay competition and the consolation finals for the three-meter diving competition will take place on Friday night beginning at 6 p.m. Fans can watch the action live at www.youtube.com/@UNIAthleticsPanthers/streams, while also following along on the Meet Mobile App for live results.
Submitted by Athletics
Women's Basketball back home to support two important causes
After playing four of its last five games on the road, the University of Evansville women's basketball team is back home in the River City for a pair of Missouri Valley Conference contests on Friday and Sunday inside Meeks Family Fieldhouse.
The Aces will be supporting two important causes during their home weekend. Friday night is Diversity, Equity, and Inclusion Night and Evansville's Black History Celebration as the Aces will be wearing all black to support the initiative. Sunday against Valparaiso is Evansville's Play4Kay game supporting breast cancer awareness. All fans are encouraged to wear pink on Sunday and the first 500 fans will receive an Aces foam pink spirit stick!
Evansville and UIC meet for the 16th time in series history when the two sides clash on Friday night inside Meeks Family Fieldhouse. The Aces own a 9-6 advantage in the all-time series, but its the Flames who come into this week's matchup having won three-straight in the series, including the meeting in the Windy City earlier this season, 57-53.
UIC comes into Friday's contest with a 14-11 overall record and a 6-8 record in MVC play, just one game ahead of the Aces in the conference standings. The Flames are fresh off an impressive 64-52 win over Drake on Sunday afternoon. UIC is led by Josie Filer and Jaida McCloud, who both average better than 11 points per game and over six boards per contest.
On Sunday, Evansville and Valparaiso renew their series for the 25th time with the Beacons owning a 14-10 advantage in the all-time series. The Aces captured this season's first matchup between the two sides, 57-45, on Jan. 5 in Valparaiso, Ind. The Beacons enter the weekend with a 4-19 overall record and a 2-12 mark in MVC play, having lost four-straight in conference play dating back to a 78-71 win over Bradley on Jan. 29. Valpo is powered by three double-figure scorers in Olivia Brown, Leah Earnest, and Ali Saunders.
The Aces are looking to stop what is a season-long four-game losing streak and are back in a place that has been kind to them this season. Evansville is 5-5 inside Meeks Family Fieldhouse and is shooting nearly 43% from the field at home. In a little over a season and a half under head coach Robyn Scherr-Wells, the Aces have won 11 of their 18 games inside Meeks.
Submitted by Athletics
Highly anticipated 2023 campaign begins for Aces at Troy
Coming off of a resurgent campaign a season ago, the University of Evansville baseball team begins its 2023 season this weekend against the Troy Trojans in Troy, Ala.
Coming off of its best season in nearly a decade, Evansville returns much of its roster that helped it finish second in the MVC a year ago. The Aces bring back five MVC all-conference selections from 2022, including Valley Pitcher of the Year Nick Smith and first-teamers Brent Widder and Mark Shallenberger. Of Evansville's 404 runs scored last season, players responsible for 302 are back for another run, including Shallenberger, who finished the year in the top 15 in The Valley in 12 statistical categories.
Along with its returning core, head coach Wes Carroll utilized his openings by adding impact newcomers. Transferring from Indiana, junior Kip Fougerousse looks to add a powerful bat to the Aces lineup. A pair of graduate students, Jarrett Blunt and John MacCauley bring nearly 150 innings of NCAA Division I experience to an already deep Evansville pitching staff. The Aces also bring seven freshmen into the fold who will look to make an impact as they begin their collegiate careers.
The Trojans are coming off a 2022 season that saw Troy finish with an identical 32-24 record as the Aces, finishing sixth in a strong Sun Belt Conference. Troy returns two of its top three hitters from a season ago in junior outfielder Kyle Mock and senior catcher Caleb Bartolero, as well as their top starting pitcher in junior right-hander Garret Gainous.
This weekend's series represent the first ever meetings between the Aces and Trojans. First pitch of the season for Evansville is at 4 PM on Friday afternoon from Troy, Ala. with live coverage availabe on ESPN+.
Submitted by Athletics
Contribute to AceNotes
To have content considered for inclusion in AceNotes, please submit a Marketing Request Form. Deadline for submission to AceNotes is 10:00 a.m. on the requested date of publication. Only articles concerning UE related/sponsored activities will be accepted. Articles submitted to AceNotes may be edited for length and clarity. Submitter contact information is at the end of each article.