| | |
| --- | --- |
| AceNotes Today | Thursday, February 16, 2023 |
Limited parking in Front Oval on Friday
Front Oval parking will be limited to the east side of the lot on Friday, February 17th. Parking spots on the west side of the Oval will be reserved for Board of Trustee members. Spots that are blocked off with cones are not to be used by anyone other than Trustees and approved guests. Parking spots reserved for the Office of Admissions will remain limited to approved visitors and guests.
Submitted by Jason Cullum jc647@evansville.edu
Don't Miss Out on Nerd Wars - Registration Deadline Friday
Don't miss your chance to compete in this year's Nerd Wars trivia competition, scheduled for Tuesday, March 14 at 7:00pm in Eykamp Hall. The registration deadline is this Friday, February 17.
The Honors Program invites you to form your team of five competitors to battle in a competition of wits for prizes and bragging rights. Teams of students, faculty, administrators, and staff are welcome to register. Both spectators and competitors can enjoy pizza and snacks at the event, as well as the chance to receive giveaway prizes!
Register online now at this link: https://forms.gle/H8WVXxJYznPFSsTH8
Registration is free for the event. Those who are unable to compose a team of five may still register and will be matched to form a team. Be sure to register by Friday, February 17.
Please contact Hannah at ht80 with any questions.
Submitted by Jayme Williams jw504@evansville.edu
RSA Shark Week
Join RSA for Shark Week! A week full of fun events including:
Feb. 20: Shark Attack – First Floor of Ridgway – 5:00 p.m. – 7:00 p.m.
Feb. 21: Sharks & Minnows – Carson Center Small Gym – 6:00 p.m. – 8:00 p.m.
Feb. 22: Pool Party – Carson Center – 7:00 p.m. – 9:00 p.m.
Feb. 23: RSA General Assembly – SOBA 71 – 8:00 p.m. – 9:00 p.m.
Feb. 24: Bingo – Eykamp – 8:30 p.m. - 10:30 p.m.
Submitted by Lily A Renfro lr156@evansville.edu
CDEI Presents: Black History Month Keynote and Workshops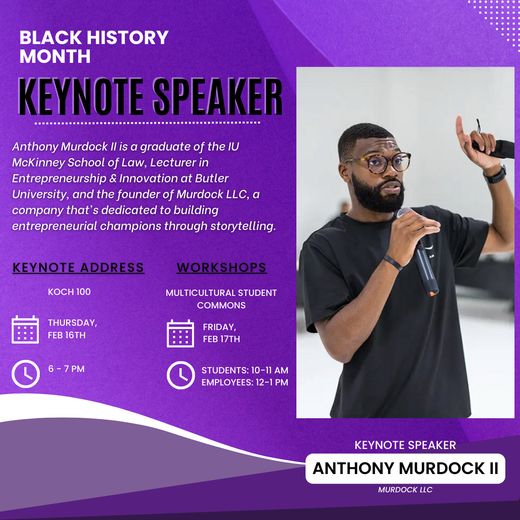 The CDEI invites you to the Black History Month Keynote Address with Anthony Murdock II as our keynote speaker. This event will take place on Thursday 16th February in Koch 100 from 6-7pm.
He will also lead Workshops the following day, 17th February, for both students and faculty. The student workshop will be from 10-11a, and the employee workshop from 12-1p.
Anthony Murdock II is a graduate of the IU McKinney School of Law, Lecturer in Entrepreneurship & Innovation at Butler University, and the founder of Murdock LLC, a company that's dedicated to building entrepreneurial champions through storytelling.
Submitted by Abagail Catania ac532@evansville.edu
Sewer Cleaning Notice: Campus Wide
Questions or Concerns Regarding this Work:
Contact Facilities Management, 812-488-2775
Affected Dates:
February 14 through March 1
Description of Work:
Evansville Water & Sewer Utility will be in the area completing preventative cleaning and maintenance. During this process, a nozzle will be inserted in the sewer lines to internally pressure-wash the system. Yellow cleaning construction signs will be placed in strategic locations two to four days in advance of the cleaning.
Impacts for Campus:
The washing of the lines can occasionally create "burping" sounds as air is attempting to escape the system during the process. You may notice an odor from the sewer, and in rare cases some water may splash out of drains.
Action(s) Required:
• Please use caution near cleaning crews, equipment, and activity.
• Please be aware of any posted signage and do not enter any barricaded areas.
Thank you for your patience as work is done to maintain our beautiful campus.
To report a facilities emergency, call (812) 488-2775.
Submitted by Karen McDonald km598@evansville.edu
We're revealing the time capsule on February 17!
Join us for our upcoming Founders Day celebration!
Friday, February 17
4:00 p.m.
Bernhardt Atrium (Schroeder Family School of Business Administration)
During demolition of Hughes Hall late last year, a time capsule was located near the entrance of the building. This time capsule is over 60 years old and is filled with several items yet to be opened. We can't wait to share them with you!
Special guest Rita P. Eykamp '59, life member of the Board of Trustees, will assist in revealing the contents of the time capsule. Cupcakes and refreshments will be served afterwards.
Submitted by Julie Beer / jb855@evansville.edu
Delightful Week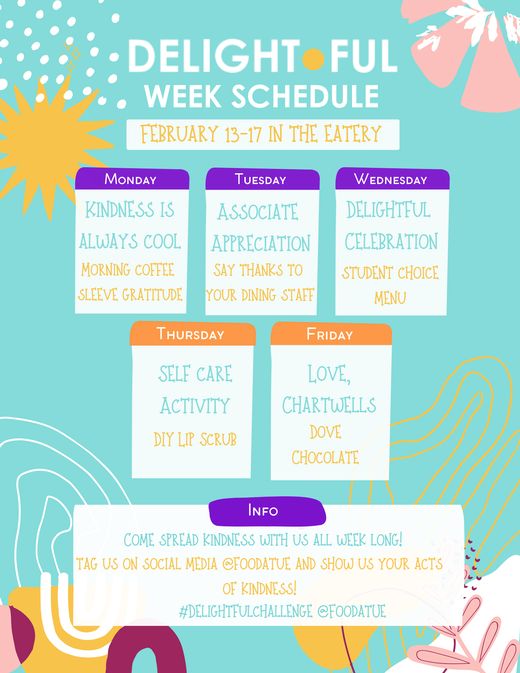 Delightful Week will be February 13-17! This week of kindness will feature a student choice menu and many opportunities to express gratitude and joy! Don't forget to follow @foodateue on social media and tag us with your acts of kindness and use #DelightfulChallenge to be entered into an awesome giveaway!
Submitted by Ka'Bria Carr kc403@evansville.edu
College Taboos: Hangovers, Sex, and More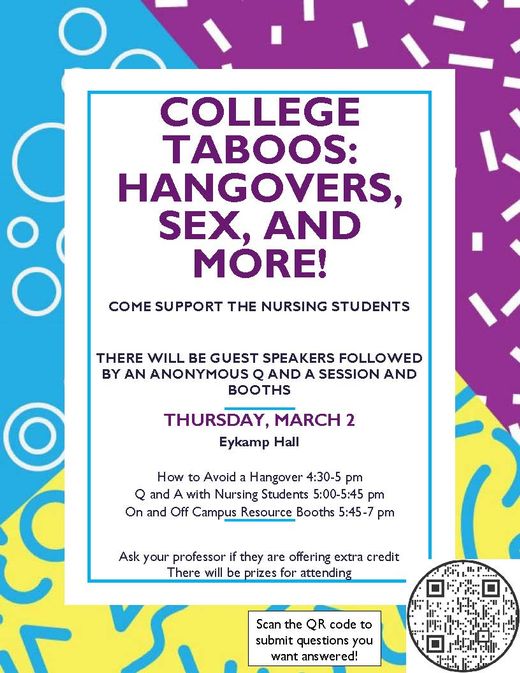 "College Taboos: Hangovers, Sex, and More!" is a campus-wide educational and interactive community fair put on by senior nursing students. The event will take place on Thursday, March 2nd in Eykamp from 4:30pm-7:00pm.
The schedule for the night is as follows:
How to Avoid a Hangover 4:30-5 pm
Q and A with Nursing Students 5:00-5:45 pm
On and Off Campus Resource Booths 5:45-7 pm
Anonymous questionnaire for students to ask questions on sex, alcohol, relationship violence, etc.: https://forms.gle/aar166LjY1jw1MSN7
Ask your professor if they are offering extra credit. There will be prizes for attending!
Submitted by Kalee Muth km492@evansville.edu
Solo Exhibition for Professor Todd Matteson at Thyen-Clark Cultural Center, Jasper, Indiana

The Thyen-Clark Cultural Center in Jasper, Indiana, hosts Professor Todd Matteson's solo exhibition, Life's Adventures. The exhibition runs for three months with a gallery talk every first Thursday in March and April. Professor Matteson will also be doing demonstrations to the public and local schools during his exhibition. Please come enjoy his ceramics and catch a glimpse at his new creations.
Submitted by Todd Matteson tm8@evansville.edu
Take 6 Concert: Free and Open to the Public!
The Patricia H. Snyder Concert and Lecture Series was created in 1997 and, to this day, continues to bring nationally-renowned performers and speakers to the Evansville. Events are free and open to both the campus community and public.
The Snyder Concert and Lecture Series Committee presents: Take 6. The six-member vocal group will perform on Friday, February 17, at 7:30 p.m. The concert will take place at the Victory Theatre at 600 Main Street in downtown Evansville.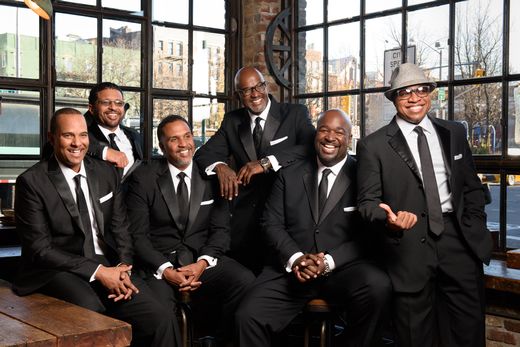 Take 6 is comprised of members Claude McKnight, Mark Kibble, Joel Kibble, Dave Thomas, Alvin Chea, and Khristian Dentley. The world-renowned group formed in 1980 and has since received 10 Grammy awards, 10 Dove awards, and a Soul Train Award. They are the most awarded a capella group in history.
No tickets necessary! Seating will be a first-come, first-served basis.
Submitted by Julie Beer / jb855@evansville.edu
Student Showcase Exhibition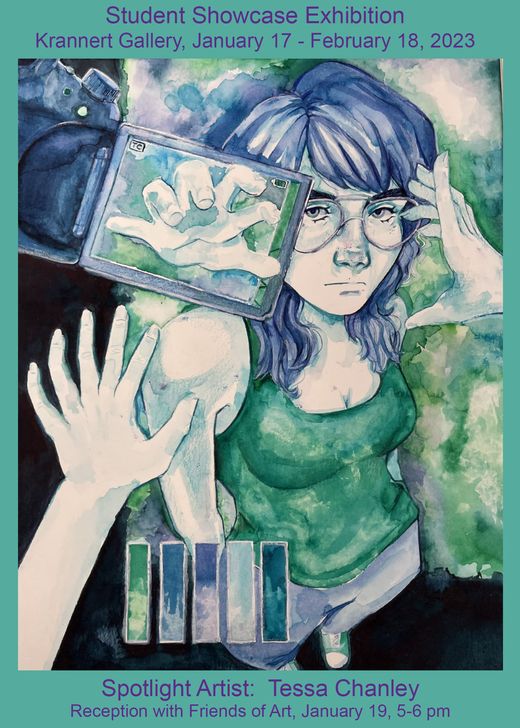 The STUDENT SHOWCASE 2023 exhibit in the Krannert Gallery includes Drawings, Designs, Paintings, and Ceramics which exemplify many of the concepts and techniques covered in specific Art courses. The Instructors/Professors selected the Art for this show as stellar examples of work completed in UE Art courses during the 1st Semester. The exhibit runs January 17 - February 18.
Also, in this exhibit is ART BY TESSA CHANLEY, class of 2024. Tessa received the Class of 2024 Outstanding Freshman Art Student Award. As part of this annual honor, the recipient is spotlighted in his/her Junior year, in the Student Showcase Exhibit.
Submitted by Carol McCraney cm177@evansville.edu
Randy Simmons Exhibit in Melvin Peterson Gallery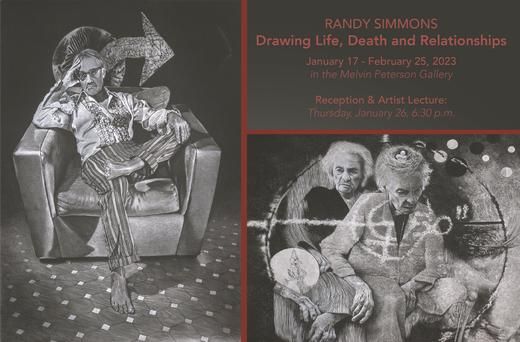 The Melvin Peterson Gallery will host the Drawing Life, Death and Relationships Exhibit by artist Randy Simmons from 01/17/2023 and through 02/25/2023. Gallery hours are Monday, Tuesday, Friday and Saturday from 12:00 p.m. - 3:00 p.m.; and Wednesday and Thursday from 12:00 p.m. - 6:00 p.m. Please join us for a reception and artist lecture on Thursday, January 26, 2023 at 6:30 p.m. in the Melvin Peterson Gallery.
Submitted by Carol McCraney cm177@evansville.edu
UE Summer Camps and Employee Discount
The Office of Youth Programs has opened registration for UE Summer Camps 2023! This summer, we are offering Dance Camp, the Wesley Shepard Music Camp, Exploring Art at UE (Grades 2-5 & Grades 6-8), STEM Camp, Clay Camp, Springboard, and Pride Camp. To find out more, please visit our website.
We are offering a 50% discount to UE Employees that would like to register their youth. To receive this discount, please email us at youthprograms@evansville.edu BEFORE registering. Please include your name, title, list youth(s)'s name and camp title. We will send you a discount code to apply at registration within two business days.
If you have any questions, please email youthprograms@evansville.edu.
Submitted by Rachel Roscoe rr209@evansville.edu
Health Professions Army Recruiter Visiting Campus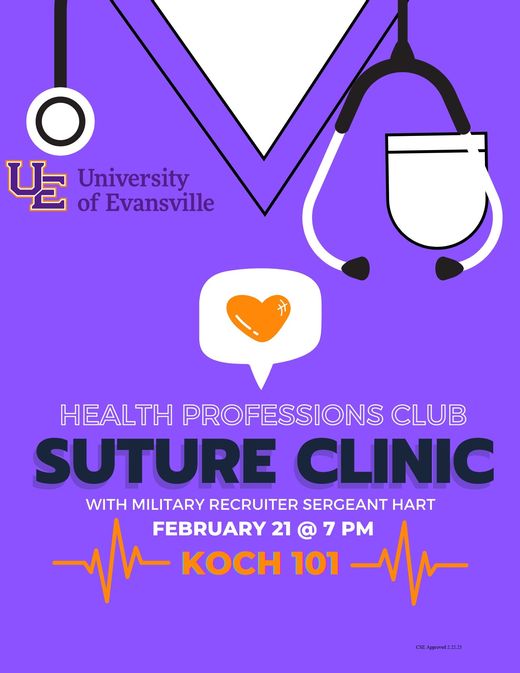 Health Professions Club is hosting a suture clinic with Health Professions Army Recruiter, Sergeant Hart. A presentation including how the military can supplement medical, dental or physician assistant tuition and expenses is included. Join us 7-8 PM Tuesday, February 21 in Koch 101. Please contact Dalton Lampert with questions (dl141@evansville.edu).
Submitted by Francie Renschler fr25@evansville.edu
Rademacher's Coffee Crawl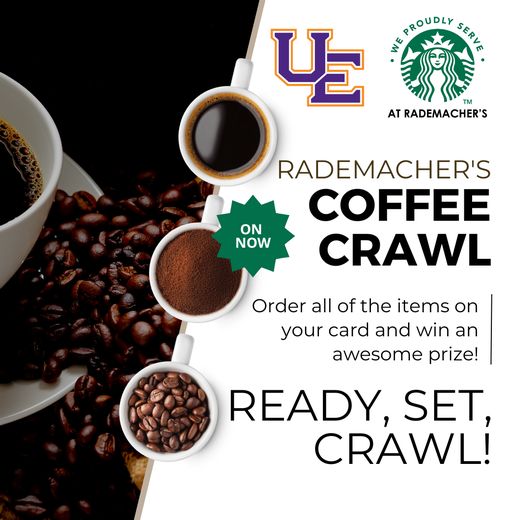 Ready, set, CRAWL! Starting today, Rademacher's is hosting a coffee crawl! Come to Rademacher's and ask for a punch card, order every item, and win an awesome prize! Starting today!
Submitted by Ka'Bria Carr kc403@evansville.edu
We Are All Aces Shirts Available for Purchase Now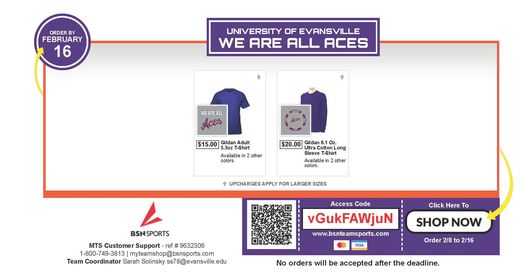 Attention, All Aces!
As President of the Student-Athlete Advisory Committee (SAAC), it's my privilege to announce the first-ever UE community-wide sale of ACES shirts! Have you ever noticed student-athletes gray long-sleeve shirt that writes "We are all Aces" across the front? Now you can get your own in a variety of colors!
To provide a little background, UE's SAAC promotes well-being and provides a voice for student-athletes who wish to impact at the university, conference, and national levels. Over this academic year and last, SAAC has been developing an initiative for Diversity, Equity, and Inclusion titled: ACES - Advocating Change Every Second.
The premise of the initiative rests on the fact that We Are All Aces. Whether we are students, faculty, staff, alums, or UE community members, we are all people and Aces.
The ACES acronym pinpoints our very nature as people through our desire to better ourselves and not settle for complacency. When we declare that we will Advocate Change Every Second, we are saying: all the time. We wish to raise the bar at all opportunities to support a more Diverse, Equitable, and Inclusive campus.
The ACES initiative may stem from the student-athlete body, but it is designed to grow and expand beyond athletics. Our hope, as SAAC, is that this initiative is embraced by the rest of campus so that all may come to recognize their identity as Aces who Advocate Change Every Second.
Are you ready to start Advocating Change Every Second? Get your shirt now! And be on the lookout for upcoming ACES-backed events to see how your fellow Aces are making an effort to impact positive change across campus!
Submitted by Caitlin MI O'Donnell co68@evansville.edu
Eykamp Prize: Call for Nominations
The Eykamp Prize was established by Richard and Rita Eykamp in 2015 to honor Faculty Achievement at the University of Evansville. Recipients of the prize will receive a one-time award of $10,000 in recognition of extraordinary contributions to the University of Evansville as University Citizens. Examples of such contributions include deep and successful involvement in recruiting students; expanding the number, scope, and competitiveness of grant funding for their department; bringing positive public awareness to the University through scholarship, knowledge, and understanding of their discipline.
Nominations for the Eykamp Prize may come from any member of the University of Evansville community. Nominees should be tenured or tenure-track faculty members at the University of Evansville who have not received the award in the previous five years. Nominations can be submitted in writing or via e-mail to Michael Austin, Executive Vice President for Academic Affairs/Provost, at ma352@evansville.edu by March 10, 2023. Nominations should include the name of the faculty member and a brief statement of the reasons that he or she is being nominated.
Recipients of the Eykamp Prize will be selected by an Award Committee, appointed by the EVPAA/Provost that includes members of the faculty, staff, administrators, and a member of the Board of Trustees. The award will be announced and presented at the May Commencement Ceremony.
Recipients in the previous five years: 2018 – Dr. David Dwyer; 2019 – Dr. Kristy Miller; 2020 – Dr. Jerrilee LaMar; 2021 – Dr. Joyce Stamm; 2022 – Dr. Mari Plikuhn.
Submitted by Paula Heldt ph28@evansville.edu
SECS Hosted MATHCOUNTS at UE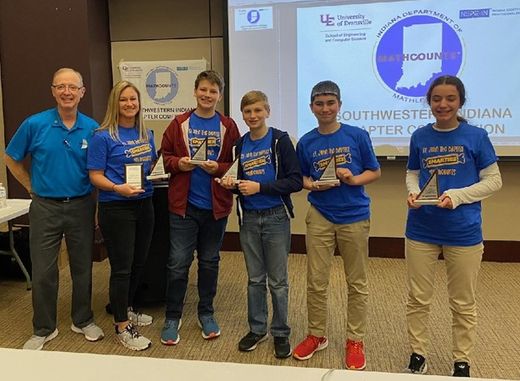 The School of Engineering and Computer Science hosted MATHCOUNTS Southwestern Indiana Chapter Competition on Saturday, February 11 in Eykamp Center. 29 students from 6 schools participated in the competition. The participants also participated in a campus tour and spent time learning about the Engineering and Computer Science opportunities available at UE.
We would like to congratulate the winning team from St. John the Baptist School (photo) and the individuals who qualified for the State competition:
• Jungchul Lee, Castle South
• Eleni Scordalakes, St. John the Baptist
• Jonathan Davis. Homeschool
• Thomas Pope, St. John the Baptist
• Abigail Bullington, Evansville Christian School
We want to thank everyone who helped support this event, including our student volunteers. We could not have done this without your support!
Submitted by Tonya Albright ta58@evansville.edu
Biology Professor and Alumni Publish Research Article
Dr. Katie Aldred ('09), associate professor of biology, was recently invited to submit a manuscript for a special issue of International Journal of Molecular Sciences. The paper, titled "Role of the Water-Metal Ion Bridge in Quinolone Interactions with Escherichia coli Gyrase," was coauthored by UE Biology alumni Hannah Carter ('17) and Baylee Wildman ('17, '21), as well as Dr. Robert Kerns and Heidi Schwanz from the University of Iowa College of Pharmacy. This work, which is available online as an open-access article, was primarily completed in 2016 and 2017 with funding through UExplore.
Submitted by Katie Aldred ka59@evansville.edu
Civil Engineering Graduates Achieve High Passing Rates on PE Exam
Congratulations to Civil Engineering graduates who participated in the (PE) Principles and Practice of Engineering (PE) Exam in fall of 2022.
These individuals achieved an 83% passing rate compared to 61% nationally. UE civil engineering graduates typically take the PE exam 4 years following graduation.
From 2005 – 2022, University of Evansville graduates have achieved a passing rate 15% higher than the national average.
The School of Engineering and Computer Science is incredibly proud of these professionals and their achievements. Congratulations!
Submitted by Rebecca Oates ro32@evansville.edu
UE Relays Have Strong Showing On First Day Of MVC Swimming & Diving Championships
The University of Evansville women's swimming team's relay squads had strong showings in the 200-Yard Medley Relay and 800-Yard Freestyle Relay on Wednesday in the first day of action at the 2023 Missouri Valley Conference Women's Swimming & Diving Championships in Iowa City, Iowa.
UE's 200 Medley Relay squad of junior Iryna Tsesiul (Minsk, Belarus), senior Sage Moore (Lexington, Ohio/Lexington), sophomore Sveva Brugnoli (Rome, Italy) and senior Allison McDonald (Cape Girardeau, Mo./Central) won their heat with a time of 1:43.70. The time was just over a second off of the UE school record of 1:42.62 set at last year's Valley Championships.
In the 800 Free Relay, the quartet of seniors Sarah Jahns (Lilburn, Ga./Parkview), Maya Cunningham (Yakima, Wash./Eisenhower) and Sonsoles Aguayo (Jerez, Spain) and sophomore Mari Müller (Zurich, Switzerland) teamed up to post a time of 7:38.14, which was over 15 seconds faster than UE's seed time for the meet. The 15.34 second improvement by UE was the largest of any of the 800 Free Relay teams at the Valley Championships.
"Overall, I thought it was a good start to the conference championships," said UE head coach Stuart Wilson. "We had some people post some good splits, and it was good to be able to get back to racing after a month of training. There were a lot of positives to take from tonight into the rest of the conference meet."
The MVC Championships will continue on Thursday with preliminary swims in the 500-Yard Freestyle, the 200 IM, the 50-Yard Freestyle, and the one-meter diving competition taking place beginning at 10:30 a.m. central time. Event finals for all of those events, as well as the 200-Yard Freestyle Relay competition will take place on Thursday night beginning at 6 p.m. Fans can watch the action live at www.youtube.com/@UNIAthleticsPanthers/streams, while also following along on the Meet Mobile App for live results.
Submitted by Athletics
Aces drop road contest to Bruins
Belmont scored the first six points of the game and would pull away to defeat the University of Evansville men's basketball team by a final score of 95-63 on Wednesday night inside Curb Event Center.
Marvin Coleman II led the Purple Aces with 15 points. He was 6-for-16 from the field and recorded five rebounds and four assists. Continuing his hot shooting from outside, Gage Bobe was 4-of-6 on his way to 14 points. Preston Phillips added a career-high 11 points to go with seven boards. Five Bruins reached double figures led by Ben Sheppard's 16 tallies.
Hitting their first two outside attempts, the Bruins took a 6-0 lead before recording the first nine points of the game. After opening the game 0-for-5 from the field with a turnover, Marvin Coleman II got the Aces on the board with a turnaround jumper.
Belmont took its first double digit lead at 14-3 with Gage Bobe countering with the first triple for UE to cut the gap back to eight. Five of the first nine outside tries found the bottom of the net as the lead grew to 20-8. With 6:18 remaining in the half, a free throw solidified a 33-15 advantage for the Bruins.
Over the next two minutes, Evansville made its move, scoring nine in a row. Antoine Smith Jr. connected on two free throws with the defense taking over on the next two possessions. Coleman and Yacine Toumi both turned a turnover into a made basket to get within 12. Smith completed the run with three free throws to get his squad within nine points (33-24) with 4:19 remaining in the half.
Finishing the period on a 13-4 run, the Bruins reestablished their 18-point lead as the game entered the break. Down the stretch, Belmont drained its final five attempts while Evansville missed its last six to make it a 46-28 score.
Evansville's shooting woes continued in the second half with the Aces missing their first seven attempts with Belmont tacking five more points to their lead. Kenny Strawbridge Jr. converted a 3-point play to temporarily halt the stretch before Belmont continued to add to the lead. Their advantage reached 76-40 with 9:08 left in the game with Evansville closing to within 29 inside of the 7-minute mark.
Things fluctuated from there with Belmont taking the contest by a final score of 95-63. The Bruins shot 56.9% while UE completed the game at 31.4%.
With the season entering its final weeks, UE remains on the road at Murray State on Saturday for a 3:30 p.m. contest.
Submitted by Athletics
Contribute to AceNotes
To have content considered for inclusion in AceNotes, please submit a Marketing Request Form. Deadline for submission to AceNotes is 10:00 a.m. on the requested date of publication. Only articles concerning UE related/sponsored activities will be accepted. Articles submitted to AceNotes may be edited for length and clarity. Submitter contact information is at the end of each article.