| | |
| --- | --- |
| AceNotes Today | Wednesday, February 15, 2023 |
RSA Shark Week
Join RSA for Shark Week! A week full of fun events including:
Feb. 20: Shark Attack – First Floor of Ridgway – 5:00 p.m. – 7:00 p.m.
Feb. 21: Sharks & Minnows – Carson Center Small Gym – 6:00 p.m. – 8:00 p.m.
Feb. 22: Pool Party – Carson Center – 7:00 p.m. – 9:00 p.m.
Feb. 23: RSA General Assembly – SOBA 71 – 8:00 p.m. – 9:00 p.m.
Feb. 24: Bingo – Eykamp – 8:30 p.m. - 10:30 p.m.
Submitted by Lily A Renfro lr156@evansville.edu
CDEI Presents: Black History Month Keynote and Workshops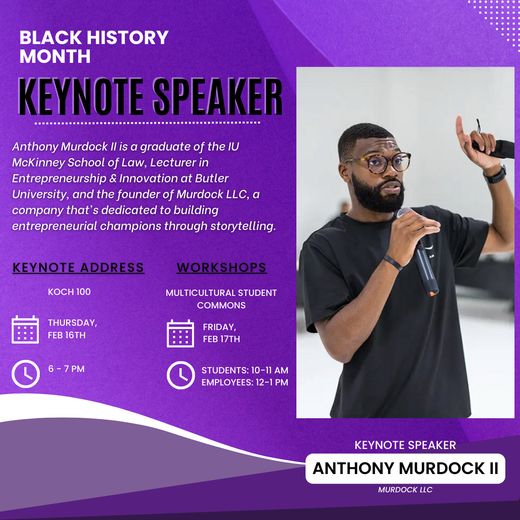 The CDEI invites you to the Black History Month Keynote Address with Anthony Murdock II as our keynote speaker. This event will take place on Thursday 16th February in Koch 100 from 6-7pm.
He will also lead Workshops the following day, 17th February, for both students and faculty. The student workshop will be from 10-11a, and the employee workshop from 12-1p.
Anthony Murdock II is a graduate of the IU McKinney School of Law, Lecturer in Entrepreneurship & Innovation at Butler University, and the founder of Murdock LLC, a company that's dedicated to building entrepreneurial champions through storytelling.
Submitted by Abagail Catania ac532@evansville.edu
LOVE THEM BOTH: Trotter House Info Session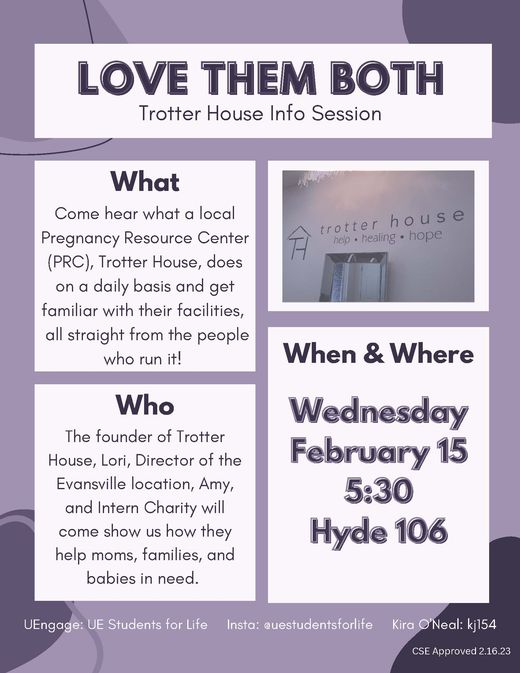 Wednesday, February 15, 5:30, Hyde 106
Come hear what a local Pregnancy Resource Center (PRC), Trotter House, does on a daily basis and get familiar with their facilities, all straight from the people who run it! The founder of Trotter House, Lori, Director of the Evansville location, Amy, and Intern Charity will come show us how they help moms, families, and babies in need.
Submitted by Kira O'Neal kj154@evansville.edu
Collegiate Career Expo- Register TODAY
Collegiate Career Expo 2023
Thursday, February 16, 2023
10:00am-2:00pm EST
Primo South, Indianapolis, IN
Looking for full time, summer, internship or Co-Op positions? More than 75 employers will be at this in person event held in Indianapolis, IN. The University of Evansville will provide FREE transportation ($10 refundable deposit required to reserve your seat). Please see attached list of registered employers.
Students must register for the event in Handshake.
Questions? Contact the Center for Career Development at career@evansville.edu or 812-488-1083.
+Kelley Program
Allied Solutions
Alro Steel
Alter Domus
Amazing Athletes | JumpBunch
American Senior Communities
Archdiocese of Cincinnati - Catholic Schools Office
Ascend Indiana
Aspire Indiana
Backhaul Direct
Booster
BPX Logistics
Caliber Smart
Carmel Clay Parks & Recreation
Center for Interfaith Cooperation
Chick-fil-A, Inc.
CLA
Co-Alliance Cooperative, Inc.
Corteva Agriscience
Crew Carwash
Crowe LLP
Dayton Freight Lines
Defense Finance and Accounting Service
DOZ
DUCHARME MCMILLEN ASSOCIATES
Equitable Advisors, LLC
Eskenazi Health
Eurofins
Fastenal Company
FDIC
Federal Home Loan Bank of Indianapolis
Firefly Children & Family Alliance
FORVIS
Franciscan Health
Go Electric Inc
Grace International School - Dhaka
Greenwalt CPAs
Hawthorne Community Center
Illinois State Police
Indianapolis Airport Authority
Indianapolis Neighborhood Resource Center
IOKDS
Kainos
Keep Indianapolis Beautiful
Kirby Risk
Kohl's, Inc
Labcorp
Legacy Professionals LLP
Lifeline Children's Services
Manchester University Fort Wayne
Marian University ABSN Program
Mennonite Central Committee- Great Lakes
Metronet
Modern Woodmen of America
NCW
Northwestern Mutual
OneAmerica Financial Partners, Inc
Online Transport
OnTarget CPA
Playworks
Pyoca Camp and Retreat Center
Ready-2-Xecute
Reid Health
Richard M. Fairbanks School of Public Health
Ronald Blue Trust
Scotlynn USA Division
Senior Home Companions
Somerset CPAs & Advisors
Southern Illinois Healthcare
TechPoint
The Heritage Group
Traders Point Christian Church
Triclinic Labs
United States Attorneys Office for the Southern District of Indiana
UnitedHealth Group
University of Indianapolis Graduate Business School
US NAVY NTAG HEARTLAND
Vector Marketing & CUTCO Cutlery
Submitted by Amanda Wood aw505@evansville.edu
Sewer Cleaning Notice: Campus Wide
Questions or Concerns Regarding this Work:
Contact Facilities Management, 812-488-2775
Affected Dates:
February 14 through March 1
Description of Work:
Evansville Water & Sewer Utility will be in the area completing preventative cleaning and maintenance. During this process, a nozzle will be inserted in the sewer lines to internally pressure-wash the system. Yellow cleaning construction signs will be placed in strategic locations two to four days in advance of the cleaning.
Impacts for Campus:
The washing of the lines can occasionally create "burping" sounds as air is attempting to escape the system during the process. You may notice an odor from the sewer, and in rare cases some water may splash out of drains.
Action(s) Required:
• Please use caution near cleaning crews, equipment, and activity.
• Please be aware of any posted signage and do not enter any barricaded areas.
Thank you for your patience as work is done to maintain our beautiful campus.
To report a facilities emergency, call (812) 488-2775.
Submitted by Karen McDonald km598@evansville.edu
We're revealing the time capsule on February 17!
Join us for our upcoming Founders Day celebration!
Friday, February 17
4:00 p.m.
Bernhardt Atrium (Schroeder Family School of Business Administration)
During demolition of Hughes Hall late last year, a time capsule was located near the entrance of the building. This time capsule is over 60 years old and is filled with several items yet to be opened. We can't wait to share them with you!
Special guest Rita P. Eykamp '59, life member of the Board of Trustees, will assist in revealing the contents of the time capsule. Cupcakes and refreshments will be served afterwards.
Submitted by Julie Beer / jb855@evansville.edu
Take 6 Concert: Free and Open to the Public!
The Patricia H. Snyder Concert and Lecture Series was created in 1997 and, to this day, continues to bring nationally-renowned performers and speakers to the Evansville. Events are free and open to both the campus community and public.
The Snyder Concert and Lecture Series Committee presents: Take 6. The six-member vocal group will perform on Friday, February 17, at 7:30 p.m. The concert will take place at the Victory Theatre at 600 Main Street in downtown Evansville.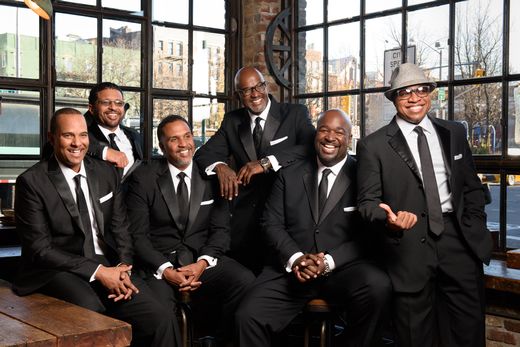 Take 6 is comprised of members Claude McKnight, Mark Kibble, Joel Kibble, Dave Thomas, Alvin Chea, and Khristian Dentley. The world-renowned group formed in 1980 and has since received 10 Grammy awards, 10 Dove awards, and a Soul Train Award. They are the most awarded a capella group in history.
No tickets necessary! Seating will be a first-come, first-served basis.
Submitted by Julie Beer / jb855@evansville.edu
CBE Speaker Series: A Celebration of Engineer's Week with Paul Jones

University of Evansville - College of Business & Engineering Speaker Series
A Celebration of Engineers Week!
Paul W. Jones '71
February 21, 2023
Lunch & Learn
12:20-1:15 p.m.
Lunch served at 12:20 p.m.; Speaker Begins at 12:30 p.m.
Schroeder Building, Room 170
Making the Most of Your College and Career: Advice from an Engineer and CEO
Join us as we welcome engineering alumnus Paul W. Jones to hear his personal journey and lessons learned along the path from engineer to CEO.
Both in person and zoom options will be provided. If you register to attend the event via zoom, the link will be provided to you 24 hours prior to the event. Please be sure to check your spam folder. If you do not receive the information, please contact Nick Bragin at nb197@evansville.edu

Register for this event.
Submitted by Nick Bragin nb197@evansville.edu
Student Showcase Exhibition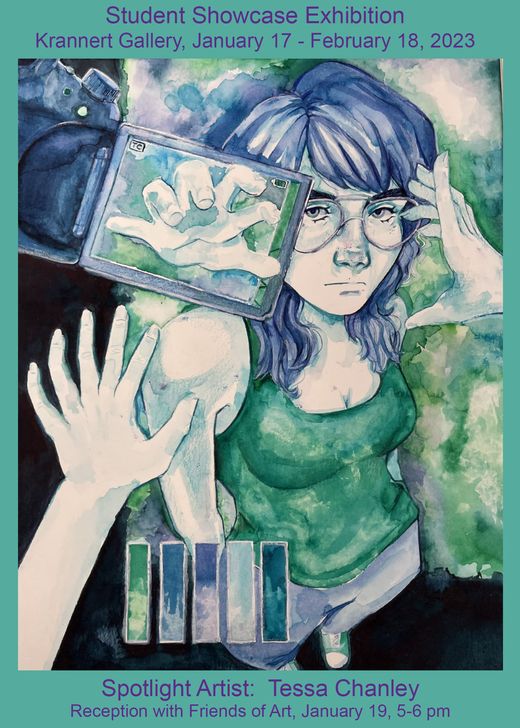 The STUDENT SHOWCASE 2023 exhibit in the Krannert Gallery includes Drawings, Designs, Paintings, and Ceramics which exemplify many of the concepts and techniques covered in specific Art courses. The Instructors/Professors selected the Art for this show as stellar examples of work completed in UE Art courses during the 1st Semester. The exhibit runs January 17 - February 18.
Also, in this exhibit is ART BY TESSA CHANLEY, class of 2024. Tessa received the Class of 2024 Outstanding Freshman Art Student Award. As part of this annual honor, the recipient is spotlighted in his/her Junior year, in the Student Showcase Exhibit.
Submitted by Carol McCraney cm177@evansville.edu
Randy Simmons Exhibit in Melvin Peterson Gallery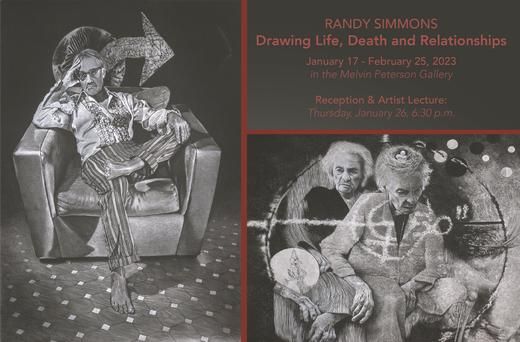 The Melvin Peterson Gallery will host the Drawing Life, Death and Relationships Exhibit by artist Randy Simmons from 01/17/2023 and through 02/25/2023. Gallery hours are Monday, Tuesday, Friday and Saturday from 12:00 p.m. - 3:00 p.m.; and Wednesday and Thursday from 12:00 p.m. - 6:00 p.m. Please join us for a reception and artist lecture on Thursday, January 26, 2023 at 6:30 p.m. in the Melvin Peterson Gallery.
Submitted by Carol McCraney cm177@evansville.edu
Solution Station Wednesday: Thinking About Graduation?
Your graduation might be here before you know it, so be ready! If you have questions about what happens next, make sure you come to the Solution Station table in Ridgway today. Juniors and seniors are encouraged to come by – staying on track for degree completion is important!
Assistant Registrar Kelsey Gordon will be available to answer questions and talk through your next steps. If you have questions about applying to graduate, unresolved degree deficiencies, substitutions, or what to expect as you approach this next part of your college journey, please come by! We don't want any surprises to get in the way of you getting your degree. Juniors - it's time to start thinking about this!
Solution Station
11:00 a.m. - 1:00 p.m.
Ridgway University Center
Can't make it? Make a Graduation/Degree Audit Consultation appointment or contact Kelsey Gordon directly at kg302@evansville.edu.
Submitted by Chad Hart ch299@evansville.edu
Health Professions Army Recruiter Visiting Campus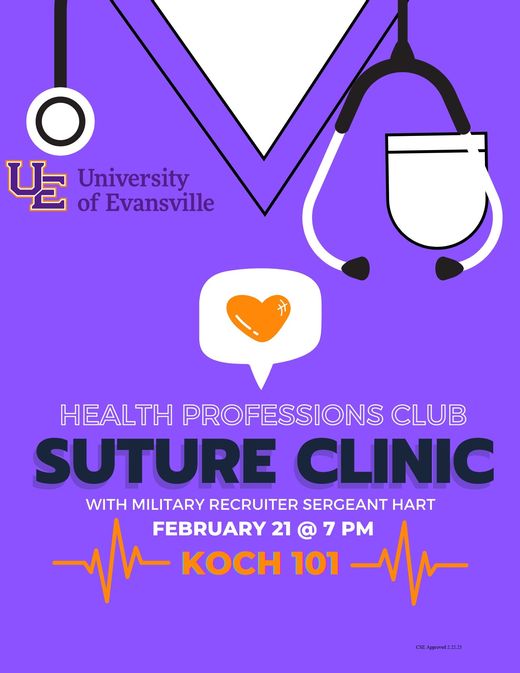 Health Professions Club is hosting a suture clinic with Health Professions Army Recruiter, Sergeant Hart. A presentation including how the military can supplement medical, dental or physician assistant tuition and expenses is included. Join us 7-8 PM Tuesday, February 21 in Koch 101. Please contact Dalton Lampert with questions (dl141@evansville.edu).
Submitted by Francie Renschler fr25@evansville.edu
Student Choice Menu Result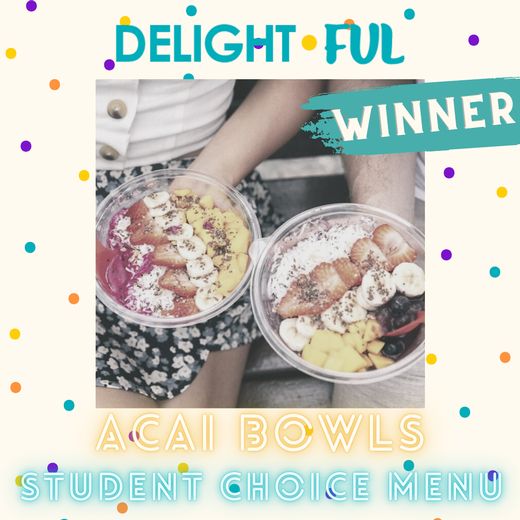 Aces! You voted and the results are in! We will be featuring Acai Bowls for lunch on Wednesday, February 15!
Submitted by Ka'Bria Carr kc403@evansville.edu
Rademacher's Coffee Crawl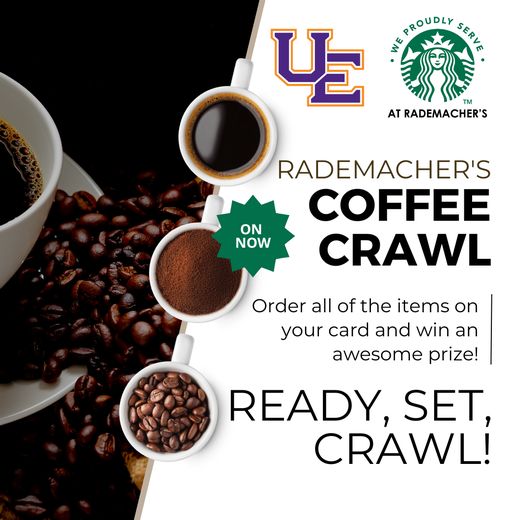 Ready, set, CRAWL! Starting today, Rademacher's is hosting a coffee crawl! Come to Rademacher's and ask for a punch card, order every item, and win an awesome prize! Starting today!
Submitted by Ka'Bria Carr kc403@evansville.edu
We Are All Aces Shirts Available for Purchase Now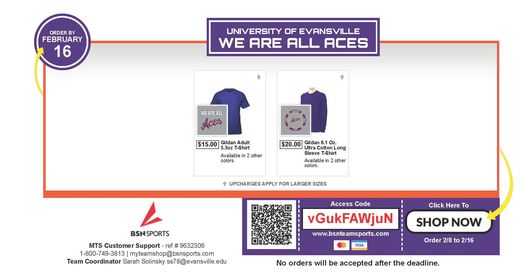 Attention, All Aces!
As President of the Student-Athlete Advisory Committee (SAAC), it's my privilege to announce the first-ever UE community-wide sale of ACES shirts! Have you ever noticed student-athletes gray long-sleeve shirt that writes "We are all Aces" across the front? Now you can get your own in a variety of colors!
To provide a little background, UE's SAAC promotes well-being and provides a voice for student-athletes who wish to impact at the university, conference, and national levels. Over this academic year and last, SAAC has been developing an initiative for Diversity, Equity, and Inclusion titled: ACES - Advocating Change Every Second.
The premise of the initiative rests on the fact that We Are All Aces. Whether we are students, faculty, staff, alums, or UE community members, we are all people and Aces.
The ACES acronym pinpoints our very nature as people through our desire to better ourselves and not settle for complacency. When we declare that we will Advocate Change Every Second, we are saying: all the time. We wish to raise the bar at all opportunities to support a more Diverse, Equitable, and Inclusive campus.
The ACES initiative may stem from the student-athlete body, but it is designed to grow and expand beyond athletics. Our hope, as SAAC, is that this initiative is embraced by the rest of campus so that all may come to recognize their identity as Aces who Advocate Change Every Second.
Are you ready to start Advocating Change Every Second? Get your shirt now! And be on the lookout for upcoming ACES-backed events to see how your fellow Aces are making an effort to impact positive change across campus!
Submitted by Caitlin MI O'Donnell co68@evansville.edu
Nominations for Outstanding Teacher Award
Academic Affairs is pleased to announce the call for nominations for the 2023 Outstanding Teacher Award. The University bestows this award annually to honor a faculty member for extraordinary teaching effectiveness that inspires the intellectual development of students. Nominees must be a full-time faculty member who has taught at UE for two years or more and holds the rank of lecturer, instructor, assistant professor, associate professor, or professor. The winner is recognized at Commencement in May.
The following recipients from the past five years are not eligible: 2018 – Dr. Anthony Beavers; 2019 – Dr. Atefeh Yazdanparast Ardestani; 2020 – Dr. Mike Roscoe; 2021 – Dr. Julie Merkle; and 2022 – Dr. Katie Whetstone.
Access the link to submit a nomination.
https://www.evansville.edu/offices/academicaffairs/outstanding-teacher-form.cfm
Forward supplemental documentation to: Paula Heldt at ph28@evansville.edu. Please include the faculty member's name and OTA 2023 in the subject line.
The deadline to submit a nomination is Friday, March 17, 2023.
Submitted by Paula Heldt ph28@evansville.edu
SECS Hosted MATHCOUNTS at UE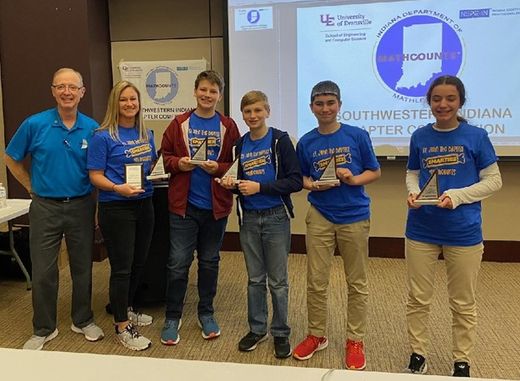 The School of Engineering and Computer Science hosted MATHCOUNTS Southwestern Indiana Chapter Competition on Saturday, February 11 in Eykamp Center. 29 students from 6 schools participated in the competition. The participants also participated in a campus tour and spent time learning about the Engineering and Computer Science opportunities available at UE.
We would like to congratulate the winning team from St. John the Baptist School (photo) and the individuals who qualified for the State competition:
• Jungchul Lee, Castle South
• Eleni Scordalakes, St. John the Baptist
• Jonathan Davis. Homeschool
• Thomas Pope, St. John the Baptist
• Abigail Bullington, Evansville Christian School
We want to thank everyone who helped support this event, including our student volunteers. We could not have done this without your support!
Submitted by Tonya Albright ta58@evansville.edu
Biology Professor and Alumni Publish Research Article
Dr. Katie Aldred ('09), associate professor of biology, was recently invited to submit a manuscript for a special issue of International Journal of Molecular Sciences. The paper, titled "Role of the Water-Metal Ion Bridge in Quinolone Interactions with Escherichia coli Gyrase," was coauthored by UE Biology alumni Hannah Carter ('17) and Baylee Wildman ('17, '21), as well as Dr. Robert Kerns and Heidi Schwanz from the University of Iowa College of Pharmacy. This work, which is available online as an open-access article, was primarily completed in 2016 and 2017 with funding through UExplore.
Submitted by Katie Aldred ka59@evansville.edu
Softball announces updated weekend schedule
The full updated schedule for the opening weekend at Tri-State Orthopaedics Field at James & Dorothy Cooper Stadium has been announced by the University of Evansville softball team.
In the home opener, the Purple Aces will face Green Bay on Saturday at 12:30 p.m. Just before the contest, a short recognition will take place to commemorate the first game at the renovated facility. The remainder of the schedule is below:
Saturday February 18th
10:00am - Green Bay vs USI
12:30pm – Kansas City vs UE
3:00pm – UT Martin vs Green Bay
5:30pm - UT Martin vs Kansas City
Sunday February 19th
9:00am - USI vs Green Bay
11:30am - Kansas City vs UT Martin
2:00pm - Kansas City vs UE
4:30pm - Green Bay vs UT Martin
7:00pm - USI vs UE

Monday, February 20th
11:00am - Green Bay vs UE
Submitted by Athletics
UE Home Softball Opener Moved To Saturday
Due to the impending weather forecast, the schedule for the opening weekend at Tri-State Orthopaedics Field at James & Dorothy Cooper Stadium has been modified.
There will be no games taking place on Friday, February 17. The official opening game for the University of Evansville softball team will take place Saturday at 12:30 p.m. against a to-be-determined opponent.
Opening ceremonies for the stadium will take place shortly before that game with representatives of Tri-State Orthopaedics, UE President Christopher M. Pietruszkiewicz and Director of Athletics Dr. Kenneth " Ziggy" Siegfried being on hand.
A full schedule for the tournament will be released as details are finalized.
Submitted by Athletics
UE opens the week at Belmont on Wednesday
Two games on the road make up the slate this week for the University of Evansville men's basketball team starting on Wednesday evening at Belmont. Tip is set for 6:30 p.m. CT with the Purple Aces Radio Network and ESPN+ having the coverage.
Setting the Scene
- Evansville's recent turnaround began in the first match-up versus the Bruins on Jan. 25 as the Aces kept it close in a 73-64 loss
- Ben Sheppard had a double-double in that game, posting 23 points and 10 rebounds
- Yacine Toumi and Marvin Coleman II led the Purple Aces with 15 points apiece
- The downward trend of the 2021-22 season started with the trip to Nashville on 11/13/21 as UE fell by a final of 81-43
Last Time Out
- Another solid game by UE saw them hold a lead in the final four minutes before three consecutive triples lifted Missouri State to the 66-60 win at the Ford Center
- Antoine Smith Jr. led UE with 16 points, tying his season mark
- Marvin Coleman and Kenny Strawbridge Jr. scored 14 and 10, respectively
Racking up the Minutes
- Playing 34 minutes or more in 16 of the last 17 games, Marvin Coleman II ranks 6th in the MVC with 34.8 per game
- His average of 35.5 minutes in MVC games is 5th-best in the league
- With 14 points against Missouri State on Feb. 12, Coleman picked up his 14th double figure scoring effort in the last 17 games
- Hitting 9 of his 13 shots at Southern Illinois, Coleman reset his career scoring high with 25 points
- Over his last 117 games, Coleman is averaging 13.6 points while shooting 42.2%
Scouting the Opposition
- With their first season as members of the MVC rounding the homestretch, Belmont is 18-9 and 11-5 in the Valley
- The Bruins are tied for third in the league standings, just one game out of first place
- Ben Sheppard continues to pace the Bruins in numerous statistical categories
- His 19.4 points per game, 5.1 rebounds per contest, 34.7 minutes and 40 steals are all team-highs
- In the first meeting against the Aces, Sheppard led the way with 23 points and 10 rebounds
- Cade Tyson and Drew Friberg average 13.5 and 11.7 points per game, respectively
Submitted by Athletics
Contribute to AceNotes
To have content considered for inclusion in AceNotes, please submit a Marketing Request Form. Deadline for submission to AceNotes is 10:00 a.m. on the requested date of publication. Only articles concerning UE related/sponsored activities will be accepted. Articles submitted to AceNotes may be edited for length and clarity. Submitter contact information is at the end of each article.