| | |
| --- | --- |
| AceNotes Today | Tuesday, February 14, 2023 |
CDEI Presents: Black History Month Keynote and Workshops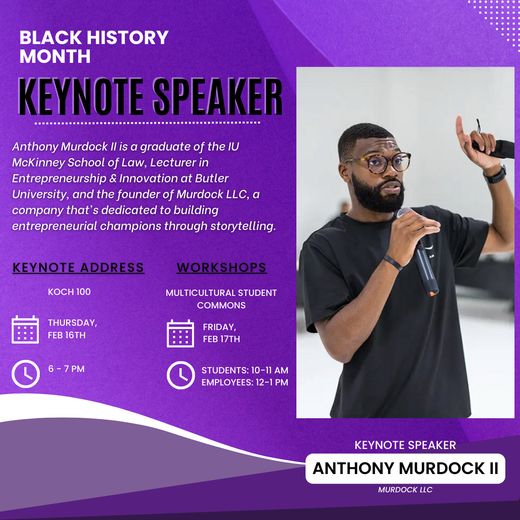 The CDEI invites you to the Black History Month Keynote Address with Anthony Murdock II as our keynote speaker. This event will take place on Thursday 16th February in Koch 100 from 6-7pm.
He will also lead Workshops the following day, 17th February, for both students and faculty. The student workshop will be from 10-11a, and the employee workshop from 12-1p.
Anthony Murdock II is a graduate of the IU McKinney School of Law, Lecturer in Entrepreneurship & Innovation at Butler University, and the founder of Murdock LLC, a company that's dedicated to building entrepreneurial champions through storytelling.
Submitted by Abagail Catania ac532@evansville.edu
Valentine's Day Concert for Lovers of Love Songs
Tired of trying to get into a crowded restaurant on Valentine's Day? Bored with the same old rom-coms? Not impressed with convenience store roses?
Then join us for a delightful evening of love songs performed by the voice students of the UE Music Conservatory. You will experience the ins and outs and ups and downs of romance, through a variety of songs from musical theatre.
The concert is on Valentine's Day, February 14, at 7:30 p.m. in the Ridgway Class of '59 Gallery. Refreshments will be served after the concert. We would "love" to see you there!
Submitted by Amy Esche ae128@evansville.edu
LOVE THEM BOTH: Trotter House Info Session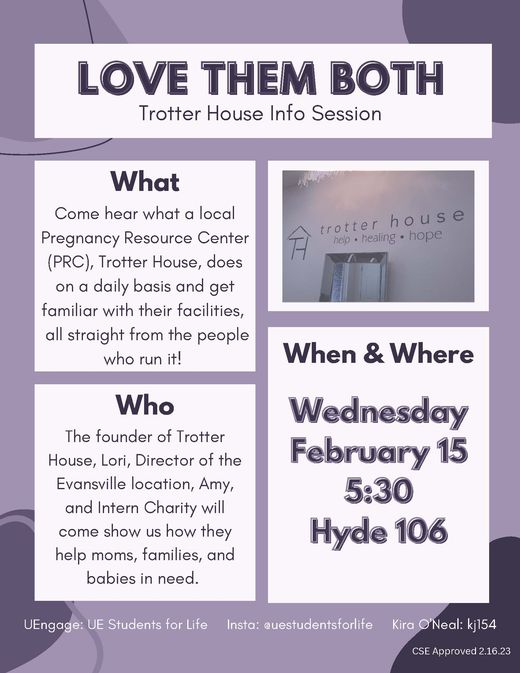 Wednesday, February 15, 5:30, Hyde 106
Come hear what a local Pregnancy Resource Center (PRC), Trotter House, does on a daily basis and get familiar with their facilities, all straight from the people who run it! The founder of Trotter House, Lori, Director of the Evansville location, Amy, and Intern Charity will come show us how they help moms, families, and babies in need.
Submitted by Kira O'Neal kj154@evansville.edu
Collegiate Career Expo- Register TODAY
Collegiate Career Expo 2023
Thursday, February 16, 2023
10:00am-2:00pm EST
Primo South, Indianapolis, IN
Looking for full time, summer, internship or Co-Op positions? More than 75 employers will be at this in person event held in Indianapolis, IN. The University of Evansville will provide FREE transportation ($10 refundable deposit required to reserve your seat). Please see attached list of registered employers.
Students must register for the event in Handshake.
Questions? Contact the Center for Career Development at career@evansville.edu or 812-488-1083.
+Kelley Program
Allied Solutions
Alro Steel
Alter Domus
Amazing Athletes | JumpBunch
American Senior Communities
Archdiocese of Cincinnati - Catholic Schools Office
Ascend Indiana
Aspire Indiana
Backhaul Direct
Booster
BPX Logistics
Caliber Smart
Carmel Clay Parks & Recreation
Center for Interfaith Cooperation
Chick-fil-A, Inc.
CLA
Co-Alliance Cooperative, Inc.
Corteva Agriscience
Crew Carwash
Crowe LLP
Dayton Freight Lines
Defense Finance and Accounting Service
DOZ
DUCHARME MCMILLEN ASSOCIATES
Equitable Advisors, LLC
Eskenazi Health
Eurofins
Fastenal Company
FDIC
Federal Home Loan Bank of Indianapolis
Firefly Children & Family Alliance
FORVIS
Franciscan Health
Go Electric Inc
Grace International School - Dhaka
Greenwalt CPAs
Hawthorne Community Center
Illinois State Police
Indianapolis Airport Authority
Indianapolis Neighborhood Resource Center
IOKDS
Kainos
Keep Indianapolis Beautiful
Kirby Risk
Kohl's, Inc
Labcorp
Legacy Professionals LLP
Lifeline Children's Services
Manchester University Fort Wayne
Marian University ABSN Program
Mennonite Central Committee- Great Lakes
Metronet
Modern Woodmen of America
NCW
Northwestern Mutual
OneAmerica Financial Partners, Inc
Online Transport
OnTarget CPA
Playworks
Pyoca Camp and Retreat Center
Ready-2-Xecute
Reid Health
Richard M. Fairbanks School of Public Health
Ronald Blue Trust
Scotlynn USA Division
Senior Home Companions
Somerset CPAs & Advisors
Southern Illinois Healthcare
TechPoint
The Heritage Group
Traders Point Christian Church
Triclinic Labs
United States Attorneys Office for the Southern District of Indiana
UnitedHealth Group
University of Indianapolis Graduate Business School
US NAVY NTAG HEARTLAND
Vector Marketing & CUTCO Cutlery
Submitted by Amanda Wood aw505@evansville.edu
Sewer Cleaning Notice: Campus Wide
Questions or Concerns Regarding this Work:
Contact Facilities Management, 812-488-2775
Affected Dates:
February 14 through March 1
Description of Work:
Evansville Water & Sewer Utility will be in the area completing preventative cleaning and maintenance. During this process, a nozzle will be inserted in the sewer lines to internally pressure-wash the system. Yellow cleaning construction signs will be placed in strategic locations two to four days in advance of the cleaning.
Impacts for Campus:
The washing of the lines can occasionally create "burping" sounds as air is attempting to escape the system during the process. You may notice an odor from the sewer, and in rare cases some water may splash out of drains.
Action(s) Required:
• Please use caution near cleaning crews, equipment, and activity.
• Please be aware of any posted signage and do not enter any barricaded areas.
Thank you for your patience as work is done to maintain our beautiful campus.
To report a facilities emergency, call (812) 488-2775.
Submitted by Karen McDonald km598@evansville.edu
We're revealing the time capsule on February 17!
Join us for our upcoming Founders Day celebration!
Friday, February 17
4:00 p.m.
Bernhardt Atrium (Schroeder Family School of Business Administration)
During demolition of Hughes Hall late last year, a time capsule was located near the entrance of the building. This time capsule is over 60 years old and is filled with several items yet to be opened. We can't wait to share them with you!
Special guest Rita P. Eykamp '59, life member of the Board of Trustees, will assist in revealing the contents of the time capsule. Cupcakes and refreshments will be served afterwards.
Submitted by Julie Beer / jb855@evansville.edu
Delightful Week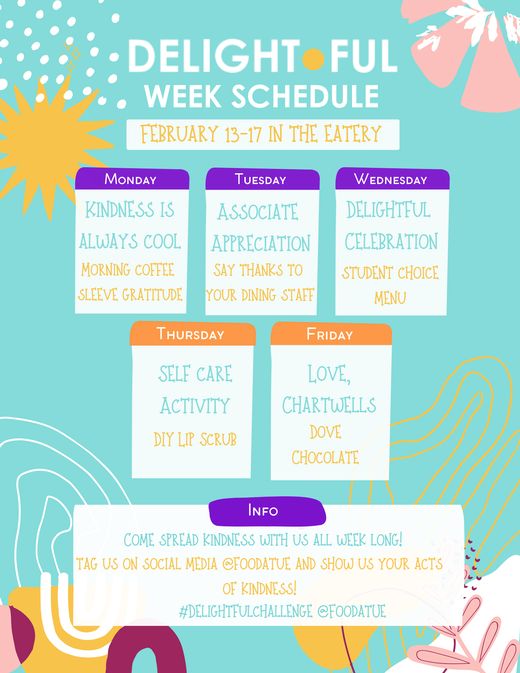 Delightful Week will be February 13-17! This week of kindness will feature a student choice menu and many opportunities to express gratitude and joy! Don't forget to follow @foodateue on social media and tag us with your acts of kindness and use #DelightfulChallenge to be entered into an awesome giveaway!
Submitted by Ka'Bria Carr kc403@evansville.edu
Solo Exhibition for Professor Todd Matteson at Thyen-Clark Cultural Center, Jasper, Indiana

The Thyen-Clark Cultural Center in Jasper, Indiana, hosts Professor Todd Matteson's solo exhibition, Life's Adventures. The exhibition runs for three months with a gallery talk every first Thursday in March and April. Professor Matteson will also be doing demonstrations to the public and local schools during his exhibition. Please come enjoy his ceramics and catch a glimpse at his new creations.
Submitted by Todd Matteson tm8@evansville.edu
Take 6 Concert: Free and Open to the Public!
The Patricia H. Snyder Concert and Lecture Series was created in 1997 and, to this day, continues to bring nationally-renowned performers and speakers to the Evansville. Events are free and open to both the campus community and public.
The Snyder Concert and Lecture Series Committee presents: Take 6. The six-member vocal group will perform on Friday, February 17, at 7:30 p.m. The concert will take place at the Victory Theatre at 600 Main Street in downtown Evansville.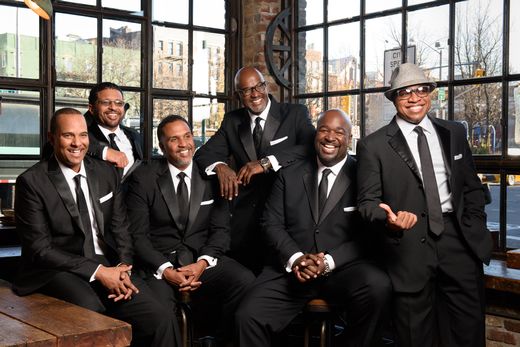 Take 6 is comprised of members Claude McKnight, Mark Kibble, Joel Kibble, Dave Thomas, Alvin Chea, and Khristian Dentley. The world-renowned group formed in 1980 and has since received 10 Grammy awards, 10 Dove awards, and a Soul Train Award. They are the most awarded a capella group in history.
No tickets necessary! Seating will be a first-come, first-served basis.
Submitted by Julie Beer / jb855@evansville.edu
Do you love Harlaxton? Wear your gear February 14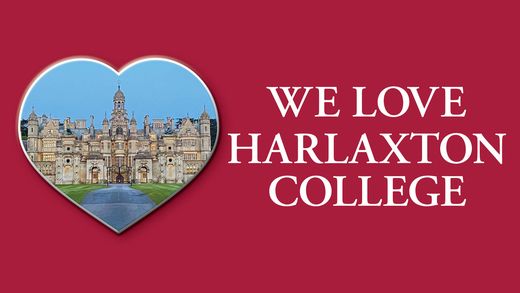 Do you love Harlaxton? Then join us for a wear your Harlaxton gear day on Valentine's Day. Donut Bank cookies will be given out (limited supply) to individuals wearing their Harlaxton gear on February 14.
Submitted by Logan Replogle lr189@evansville.edu
Randy Simmons Exhibit in Melvin Peterson Gallery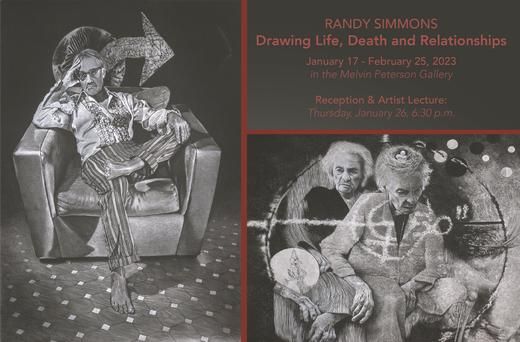 The Melvin Peterson Gallery will host the Drawing Life, Death and Relationships Exhibit by artist Randy Simmons from 01/17/2023 and through 02/25/2023. Gallery hours are Monday, Tuesday, Friday and Saturday from 12:00 p.m. - 3:00 p.m.; and Wednesday and Thursday from 12:00 p.m. - 6:00 p.m. Please join us for a reception and artist lecture on Thursday, January 26, 2023 at 6:30 p.m. in the Melvin Peterson Gallery.
Submitted by Carol McCraney cm177@evansville.edu
ONE DAY ONLY: Chocolate-Covered Strawberries in Ace's Place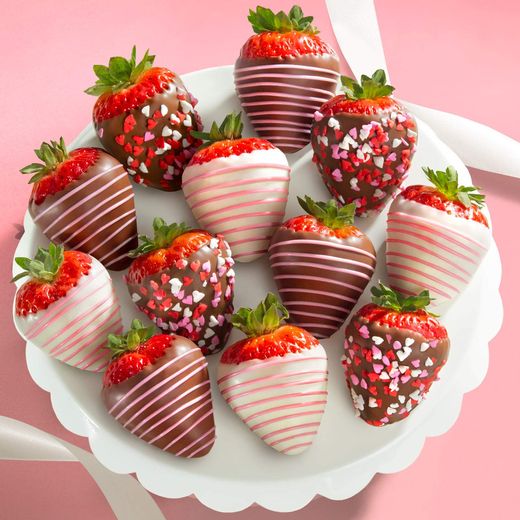 Happy Valentine's Day, Aces! Looking for a last-minute treat for your valentine? Whether you're looking for a friend, a partner, or yourself, come grab some chocolate-covered strawberries from Ace's Place! This is an EXCLUSIVE ONE-DAY ONLY offer! Hurry before these sweet treats disappear!
Submitted by Ka'Bria Carr kc403@evansville.edu
Eykamp Prize: Call for Nominations
The Eykamp Prize was established by Richard and Rita Eykamp in 2015 to honor Faculty Achievement at the University of Evansville. Recipients of the prize will receive a one-time award of $10,000 in recognition of extraordinary contributions to the University of Evansville as University Citizens. Examples of such contributions include deep and successful involvement in recruiting students; expanding the number, scope, and competitiveness of grant funding for their department; bringing positive public awareness to the University through scholarship, knowledge, and understanding of their discipline.
Nominations for the Eykamp Prize may come from any member of the University of Evansville community. Nominees should be tenured or tenure-track faculty members at the University of Evansville who have not received the award in the previous five years. Nominations can be submitted in writing or via e-mail to Michael Austin, Executive Vice President for Academic Affairs/Provost, at ma352@evansville.edu by March 10, 2023. Nominations should include the name of the faculty member and a brief statement of the reasons that he or she is being nominated.
Recipients of the Eykamp Prize will be selected by an Award Committee, appointed by the EVPAA/Provost that includes members of the faculty, staff, administrators, and a member of the Board of Trustees. The award will be announced and presented at the May Commencement Ceremony.
Recipients in the previous five years: 2018 – Dr. David Dwyer; 2019 – Dr. Kristy Miller; 2020 – Dr. Jerrilee LaMar; 2021 – Dr. Joyce Stamm; 2022 – Dr. Mari Plikuhn.
Submitted by Paula Heldt ph28@evansville.edu
SECS Hosted MATHCOUNTS at UE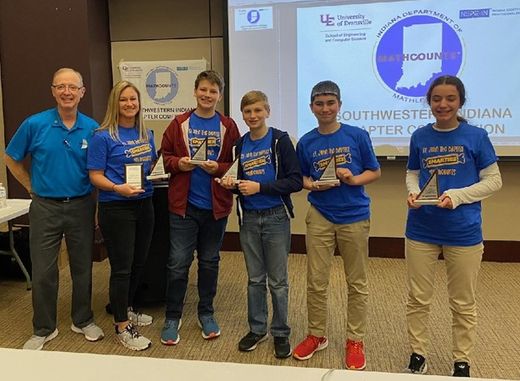 The School of Engineering and Computer Science hosted MATHCOUNTS Southwestern Indiana Chapter Competition on Saturday, February 11 in Eykamp Center. 29 students from 6 schools participated in the competition. The participants also participated in a campus tour and spent time learning about the Engineering and Computer Science opportunities available at UE.
We would like to congratulate the winning team from St. John the Baptist School (photo) and the individuals who qualified for the State competition:
• Jungchul Lee, Castle South
• Eleni Scordalakes, St. John the Baptist
• Jonathan Davis. Homeschool
• Thomas Pope, St. John the Baptist
• Abigail Bullington, Evansville Christian School
We want to thank everyone who helped support this event, including our student volunteers. We could not have done this without your support!
Submitted by Tonya Albright ta58@evansville.edu
Biology Professor and Alumni Publish Research Article
Dr. Katie Aldred ('09), associate professor of biology, was recently invited to submit a manuscript for a special issue of International Journal of Molecular Sciences. The paper, titled "Role of the Water-Metal Ion Bridge in Quinolone Interactions with Escherichia coli Gyrase," was coauthored by UE Biology alumni Hannah Carter ('17) and Baylee Wildman ('17, '21), as well as Dr. Robert Kerns and Heidi Schwanz from the University of Iowa College of Pharmacy. This work, which is available online as an open-access article, was primarily completed in 2016 and 2017 with funding through UExplore.
Submitted by Katie Aldred ka59@evansville.edu
Civil Engineering Graduates Achieve High Passing Rates on PE Exam
Congratulations to Civil Engineering graduates who participated in the (PE) Principles and Practice of Engineering (PE) Exam in fall of 2022.
These individuals achieved an 83% passing rate compared to 61% nationally. UE civil engineering graduates typically take the PE exam 4 years following graduation.
From 2005 – 2022, University of Evansville graduates have achieved a passing rate 15% higher than the national average.
The School of Engineering and Computer Science is incredibly proud of these professionals and their achievements. Congratulations!
Submitted by Rebecca Oates ro32@evansville.edu
UE softball picks up fourth win in Saturday split
Pitching was the story of the day for the University of Evansville softball team, who earned a 4-0 shutout win over Detroit Mercy before dropping a 2-1 game to DePaul to complete the season-opening DePaul Dome Classic on Saturday.
GAME 1 – UE 4, Detroit Mercy 0
Elle Jarrett and Erin Kleffman combined to throw a 5-hit shutout over Detroit Mercy. The Titans out-hit the Purple Aces by a 5-4 final but it was a 3-run top of the fourth that made the difference in the game.
Efficient baserunning by Taylor Howe got UE on the board. After drawing a leadoff walk, Howe stole second and advanced to third on a groundout by Zoe Frossard. She would break the scoreless tie when Marah Wood reached on an error. Wood picked up a steal of her own and pushed the lead to 2-0 on a single by Jess Willsey. Alexa Davis picked up the third run of the frame when she tripled before coming home on a wild pitch.
An insurance run was added in the 5th when Howe reached on a Titan error to plate Lacy Smith, who picked up a leadoff single. From there, Kleffman held Detroit Mercy to two hits as she clinched the victory,
GAME 2 – DePaul 2, UE 1
Evansville had its first scoring opportunity in the top half of the second when Hannah Hood belted a 1-out ground rule double. A wild pitch advanced her to third, but DePaul picked up the final two outs to keep the Aces scoreless. Sydney Kalonihea and Jess Willsey recorded hits in the 3rd and 4th innings, however, the Blue Demons continued to get the timely outs.
DePaul picked up its first two hits in the 5th and 6th frames with Mikayla Jolly getting out of both unscathed. Things remained scoreless as the game headed into extra innings. International tiebreaker rules saw each team have a runner placed on second base to open the inning. Kalonihea hit a sacrifice fly to right to score Dori Brown to give UE the lead. The Blue Demons limited the Aces to one run and would take advantage in the bottom of the 8th. Back-to-back singles tied the game before DePaul scored the game-winner on a fielder's choice.
Tri-State Orthopaedics Field at James & Dorothy Cooper Stadium officially opens on Friday when the Aces welcome Green Bay at 12:30 p.m. UE takes on Kansas City in Friday's second game before playing them on Saturday afternoon. The opening home weekend comes to a close on Sunday against USI.
Submitted by Athletics
UE puts up another strong performance against MSU
Antoine Smith Jr. tied his season scoring mark with 16 points on Sunday with the University of Evansville men's basketball team falling to Missouri State by a 66-60 final at the Ford Center.
Trailing by 10 in the second half, the Purple Aces rallied to take the lead in the final minutes before the Bears hit three consecutive triples to seal the win. Smith was 5-for-10 from the field and recorded a team-high six rebounds. Marvin Coleman II tallied 14 points and Kenny Strawbridge Jr. scored 10. Alston Mason led the Bears with 18 points with Donovan Clay posting 17. Jonathan Mogbo led all players with 10 boards.
"It was a hard-fought game and I am proud of our guys. We were hesitant early in the game and once we started adjusting to them (Missouri State), they adjusted to us," UE head coach David Ragland said. "Over the last 11-12 minutes, we adjusted to their presence in the paint and made them beat us in a different way."
Antoine Smith Jr. converted his first field goal of the afternoon to open the scoring while MSU got on the board with a triple. Kenny Strawbridge Jr. put UE back in front at 4-3 but it was the Bears who slowly stretched the lead. The teams combined to hit two of their first 12 field goal tries before Missouri State turned a 12-10 lead into a 21-10 advantage inside of the 8-minute mark.
Hitting four shots in a row, MSU forced an Evansville time out with their lead standing in double figures. After starting the game 1-for-7 from the field, the Bears hit 8 of their next 12 attempts. Evansville regrouped and took control on both sides of the floor over the remainder of the half. Antoine Smith Jr. and Yacine Toumi knocked down consecutive triples to cut into the deficit.
Strawbridge would later add his first triple of the game to continue what would be a 16-7 rally that turned the 21-10 deficit into a 28-27 game in the final minute. The Bears hit the final shot of the half but the Aces went to the break down by just three at 30-27. Defensively, UE forced 10 turnovers in the first half.
Smith hit the first basket of the second half to make it a 1-point game once again. Missouri State countered immediately and would push the lead back into double figures when a free throw with 12:36 remaining made it a 45-35 game.
Gage Bobe provided the response with his second triple of the game before the Bears retook the 10-point lead just past the midway point of the final half. Trailing 50-40, Evansville clamped down once again on both sides of the floor. Free throws by Coleman and Preston Phillips got things started while Smith followed with his fourth make of the day to force a time out by MSU with under eight minutes showing on the clock.
Coleman knocked down two more free throws before Strawbridge finished off a 3-point play to tie the game at 51-51 with 6:29 remaining. Two minutes later, it was Gage Bobe who put UE back in front with a jumper. Over the final minutes, it was the outside shooting of Chance Moore that gave the Bears a chance as he connected on three consecutive triples. His efforts were the difference in the 66-60 win. MSU shot 42.6% while holding the Aces to 39.1%. The Bears also completed the game with a 37-25 advantage on the boards.
On Wednesday, Evansville travels to Belmont for a 6:30 p.m. game.
Submitted by Athletics
Road trip comes to a close for Aces with loss at Murray State
Closing a stretch of four out of its last five games on the road, the University of Evansville women's basketball team dropped a Sunday contest with Murray State, 80-60, in MVC action in Murray, Ky.
Tallying a career-high 19 points, redshirt junior center Barbora Tomancova led the Aces on the afternoon, adding nine boards to finish just one away from her fifth double-double of the season. Also finishing in double-figures for Evansville was senior guard/forward Abby Feit with 11 points, along with four rebounds and three assists. Filling the role for the injured Anna Newman, freshman Kynidi Mason Striverson helped lead Evansville's offense with a team-high six assists on the day. For the Racers, Katelyn Young powered the home side, scoring a game-high 29 points, including a five-for-six performance from beyond the arc.
Evansville found itself in a similar predicament as it has in recent losses, falling behind early and having to fight itself back from an early deficit. The Aces shot 33% (4-12) in the opening frame, but Murray State hit nine of its 18 first-quarter shots including four triples to grab a 25-8 lead after the opening 10 minutes.
The Aces attack was improved in the second period, scoring 21 points and showing the ability to get to the line at a high rate. After not getting to the line at all in the first quarter, Evansville made nine trips to the charity stripe in the second period, hitting six free-throws. Despite Evansville's improved offense, Murray State turned their offense up another gear, shooting 73% from the field and taking a 50-29 lead into the half.
In the second half, Evansville did as it has done all season and that's never relent. The Aces kept pace with the Racers through the third quarter and out-scoring Murray State, 16-15, in the fourth to continue showing their resilience as Murray State secured the 80-60 win.
Evansville comes back home for a pair of important MVC contests on Friday, February 17th against UIC and Sunday, February 19th versus Valparaiso inside Meeks Family Fieldhouse.
Submitted by Athletics
UE Women's Swimming & Diving Heads To MVC Championships Beginning Wednesday
The conference championship season begins on Wednesday for the University of Evansville women's swimming & diving team, as the Purple Aces will travel west to Iowa City, Iowa to take part in the Missouri Valley Conference Championships, hosted by the University of Northern Iowa. The four-day meet will begin Wednesday night at 6 p.m. with the 200-Yard Medley Relay and 800-Yard Freestyle Relay events.
Evansville produced one first team all-MVC performer and eight honorable mention all-Valley performers at last year's conference championship meet. Of those nine all-Valley honorees, six return for this year's Valley championships, led by first-team all-Valley performer Maya Cunningham (Yakima, Wash./Eisenhower), who placed third in the Valley in the 400 IM last year.
Seniors Sage Moore (Lexington, Ohio/Lexington) and Sarah Jahns (Lilburn, Ga./Parkview) have earned three honorable mention all-Valley honors each over the last four years, while junior Iryna Tsesiul (Minsk, Belarus) is a two-time honorable mention all-Valley performer. Sophomore Sveva Brugnoli (Rome, Italy) captured honorable mention all-Valley honors as a freshman last year, while junior diver Madison Rollett (Evansville, Ind./Reitz) also earned honorable mention all-Valley honors while placing sixth in the conference in the one-meter competition.
"While we are small in numbers this year, we have a lot of quality up and down our lineup," said UE head swimming and diving coach Stuart Wilson. "The women have been performing very well in training of late, and I would not be surprised at all if some school records fell this weekend. It should be a fun week!"
The Valley Championships continue on Thursday, Friday and Saturday, with preliminary round competition beginning at 10:30 a.m. each day, with event finals scheduled to start at 6 p.m. each evening. Fans can watch the competition live on Youtube.com/@UNIAthleticsPanthers/Streams and can also follow along results-wise with the Meet Mobile App.
Submitted by Athletics
Men's basketball back home Sunday afternoon
Looking to build on its win over Northern Iowa, the University of Evansville men's basketball team is back at the Ford Center on Sunday afternoon to face Missouri State. Tip is set for 1 p.m. CT with the Purple Aces Radio Network and ESPN+ having the coverage.
Setting the Scene
- January's series opener saw the Bears defeat the Purple Aces by a final score of 85-62 in Springfield
- Marvin Coleman II was the bright spot for UE, recording 22 points and 8 rebounds
- Four MSU players reached double figures, led by Chance Moore's 19-point effort
- UE is 8-5 in the last 13 home games against the Bears dating back to February of 2011
Last Time Out
- Evansville ended a 12-game losing streak on Wednesday with a 71-59 win over UNI
- After jumping out to an 11-4 lead, the Aces led by as many as 19 points before taking the win by 12
- Four UE players reached double figures including Yacine Toumi (15), Kenny Strawbridge Jr. (14), Gage Bobe (12) and Preston Phillips, who finished with a career-high 10 points
So What Changed?
- Two statistics stand out when looking at UE's victory over UNI
- For the first time this season, the Aces shot 50% over the entirety of the game, hitting 28 out of 56 attempts
- Forcing 19 turnovers, UE turned them into 24 points on the other end while holding UNI to just 6 to finish at +18 in that category, another season-best
First in Double Figures
- In a game that his teammates said was the best they saw him play, Preston Phillips recorded 10 points on 4-for-4 shooting in the win over UNI while adding 3 steals, 3 rebounds and a pair of assists
- The scoring effort was the first double figure contest of his college career, surpassing his 9-point game at Saint Louis and Ball State
- Throughout the season, Phillips has been given the green light to shoot more and has delivered in the last two games, posting 8.5 points while hitting 6 of his 8 attempts
Continuing to Impress
- For the fourth time this season, Gage Bobe reached double figures as he tallied 12 in the win over UNI
- His top career game came at Valpo as he scored 22 points while draining six of his 11 3-point tries and seeing 36:49 of work
- Over the last four games, Bobe has knocked down 11 of his 25 3-point tries
- He is a 36.8% outside shooter on the season but after starting the season hitting 3 of his first 22 attempts (13.6%), he has knocked down 25 of the last 55 (45.5%) since Dec. 21
Scouting the Opponent
- Fresh off a 61-59 victory over Belmont, Missouri State comes into Sunday's game with a 13-12 record and a 9-6 Valley mark
- The Bears have won five of their last eight games but have struggled on the road as of late, dropping four of the last five
- Donovan Clay and Chance Moore lead MSU with 11.1 points per game
- Clay is a 47.6% shooter who has recorded a team-best 883 assists while Moore paces MSU with 39 triples
- Alston Mason is averaging 9.0 PPG while Jonathan Mogbo comes in with 8.5 PPG and a team-high 7.3 rebounds per game
Submitted by Athletics
Softball remains unbeaten with two Friday wins
Contributions continued to come from all parts of the lineup as the University of Evansville softball team improved to 3-0 with two more victories on Friday in the DePaul Dome Classic.
UE began the day with a 6-2 victory over St. Thomas before improving to 3-0 with a 10-5 triumph over Eastern Kentucky.
GAME 1 – UE 6, St. Thomas 2
Brooke McCorkle recorded two of the Purple Aces' seven hits in a 6-2 win over the Tommies. Mikayla Jolly scattered just two hits over a scoreless six innings of work with Elle Jarrett coming in for the 7th. UE scored six runs on seven hits with Zoe Frossard crossing the plate twice.
Wasting little time in getting on the board, Evansville plated four runs in the bottom of the first. Taylor Howe led with a walk while Frossard reached on a single. After Marah Wood walked to load the bases, Jess Willsey flew out to left to score Howe. Alexa Davis drew the second free pass of the inning and Hannah Hood was hit by a pitch to bring home the second run. Next up was Brooke McCorkle, who delivered a 2-run single to make it a 4-0 game.
Things remained that way until the bottom of the sixth when the Aces added two more to the tally. Frossard recorded her second RBI of the day when she grounded into a fielder's choice while a triple by Wood plated the sixth run of the game. St. Thomas scored twice in the seventh, but Evansville fended off the challenge to finish with the 6-2 decision.
GAME 2 – UE 10, Eastern Kentucky 5
It was Zoe Frossard coming through once again, going 2-for-3 with a home run, four RBI and a walk to help the Aces defeat the Colonels. Taylor Howe also picked up two hits. Jess Willsey and Alexa Davis scored two runs apiece. Sydney Weatherford made the start, allowing two runs in four innings. Paige McAllister pitched two innings to earn the win while Megan Brenton tossed a scoreless 7th frame.
Another nice start saw Evansville pick up two runs in the bottom of the first. Howe hit a leadoff double and would score on a home run by Willsey. After EKU scored twice in the top of the second, UE countered immediately.
Alexa Davis led the second off with a home run to right to put the Aces back in front. Hannah Hood doubled to bring up Sydney Kalonihea. Kalonihea doubled to left to bring in Hood before scoring a run of her own on a hit by Frossard. Evansville held a 5-2 lead until the top half of the fifth when the Colonels scored three runs to knot the score once again.
Just as they did earlier in the game, UE had the immediate response. Howe hit a leadoff single and was pinch run for by Dori Brown. Frossard came to the plate and put her team in front, hitting a homer to left. Alexa Davis added an RBI triple in the frame and would later cross the plate on a passed ball to solidify a 9-5 lead. Lacy Smith completed the scoring in the seventh with a solo shot.
On Saturday, the Aces complete the opening weekend with games against Detroit Mercy (2:30 p.m.) and DePaul (5 p.m.).
Submitted by Athletics
Oulgout Posts Fastest Indoor Mile At UE Since 1983 At Hoosier Hills Invitational
University of Evansville sophomore Adam Oulgout (St. Paul, Minn./Central) posted the fastest indoor mile time at UE since 1983 on Friday night, as he helped pace a pack of Purple Aces at the Hoosier Hills Invitational at Indiana University's Gladstein Fieldhouse in Bloomington.
Oulgout clocked in with a time of 4:21.49 to post the fastest indoor mile time since UE Hall of Famer David Denny set the school record with a time of 4:14.9 in 1983. Oulgout's time moved past UE Hall of Famer Nick Waninger's best time at Evansville (4:21.85) to rank as the second-fastest indoor mile time on record at UE. Overall, Oulgout placed 12th in the men's mile competition, but he was less than a second and a half from seventh place.
Senior thrower Zach Dove (Princeton, Ind./Princeton Community) posted UE's best individual finish of the day with a seventh-place finish in the men's weight throw. Dove broke the 17-meter mark for the fifth-straight meet with a toss of 17.26 meters (56' 7.5") to place seventh overall. He is the only UE male to break the 17-meter mark in the men's weight toss in school history.
Dove also posted a personal-best throw in the men's shot put with a toss of 14.76 meters (48' 5.25") to finish 12th overall. Fellow senior Jaden Hayes also turned in a personal-best throw of 14.31 meters (46' 11.5") in the shot put to finish four spots behind Dove.
On the women's side, graduate student Melanie Helder (Hudsonville, Mich./Hudsonville) finished 12th overall in the women's indoor mile with a time of 5:20.50.
Evansville will return to action next Saturday by taking part in the Indiana State Open in Terre Haute, Indiana.
Submitted by Athletics
Cold-shooting hampers Aces in road loss at Belmont
Down a starter and playing its fourth game in nine days, the University of Evansville women's basketball team struggled to overcome a cold-shooting performance and its turnovers in a 93-53 loss to Belmont on the road in Nashville, Tenn. on Friday night.
Leading Evansville on the evening was fifth-year guard Myia Clark notched her 14th double-figure scoring performance of the season with a team-best 14 points. Also finishing in double-digits for UE was freshman guard Kynidi Mason Striverson, who made her second consecutive start, recording 10 points in the contest. The Bruins were led by forward Madison Bartley, who tallied a game-high 26 points.
In what was a slow start for both squads offensively, Evansville grabbed a 6-4 lead on a jumper from fifth-year guard A'Niah Griffin just over three minutes into the game. Belmont's offense would heat up following UE's lead, mounting a 12-0 run that would help the home side own a 23-13 lead after the opening quarter.
Evansville's offense was much more efficient in the second period with the Aces shooting just shy of 50% (5-11) from the field in the frame, but this time, it was turnovers that limited their effectiveness. Nine total turnovers, combined with an 11-22 (50%) performance from the field in the quarter from Belmont, helped the Bruins secure a 49-27 advantage at the break.
Out of the break, Evansville kept pace with Belmont in the third quarter, but did not have enough offense to chip away at its deficit. In the fourth, Belmont continued to apply pressure to the Aces, scoring 28 points in the quarter as the home team grabbed a 93-53 win.
The Aces wrap-up the southern road trip on at 2 PM on Sunday with a trip to battle Murray State in Murray, Ky.
Submitted by Athletics
Contribute to AceNotes
To have content considered for inclusion in AceNotes, please submit a Marketing Request Form. Deadline for submission to AceNotes is 10:00 a.m. on the requested date of publication. Only articles concerning UE related/sponsored activities will be accepted. Articles submitted to AceNotes may be edited for length and clarity. Submitter contact information is at the end of each article.