| | |
| --- | --- |
| AceNotes Today | Thursday, February 9, 2023 |
Campus Wellness Day
Reminder, Monday is an opportunity for both students and employees to take a break from day-to-day responsibilities and focus on mental and physical health. We have made the decision to once again implement a Wellness Day during the semester, and it will take place on Monday, February 13.
Our academic departments and administrative offices will be closed, but dining services will operate with adjusted hours. Café Court will be open from 10:30 a.m. until 6:30 p.m., and Chick-fil-A will be open from noon until 8:00 p.m. The library will be closed on Wellness Day.
We recognize that this is just one day, and mental health is important each and every day. If you are a student in need of support, please connect with our Office of Counseling Services at counselingservices@evansville.edu or 812-488-2663. Employees may receive support through the University's Employee Assistance Program, which can be accessed by contacting 1-888-293-6948.
Whatever you plan for February 13 – whether it's sleeping in, reading a book, taking a walk, or catching up with friends and family– I hope you enjoy this day off to revitalize.
Submitted by Lori LeDuc ll138@evansville.edu
Just a few Purple Patrol spots left!
There are only a few spots left for Spring 2023 Purple Patrol! Remaining dates are in February and March. If any employees would like to help out with this, sign up at your earliest convenience through SignUpGenius. This is a fun way for our departments and offices to spread some positivity to the campus community each Friday!
Submitted by Julie Beer / jb855@evansville.edu
University of Evansville Board of Trustees | Front Oval Parking
The University of Evansville Board of Trustees will be on campus for February 2023 meetings on Friday, February 17, and Saturday, February 18. Parking in front of Olmsted Administration Hall and the Schroeder Family School of Business Administration will be reserved for University Trustees. Employee parking on the front oval will be limited on both days.
Submitted by Patti Lippert pl23@evansville.edu
ISTA Fundraiser: Pet Bandana
ISTA is going to be hosting a fundraiser this semester to help raise money for future trips and events! :)
We are going to be selling pet bandannas! They will come in the colors of purple or orange with a black font! There is a regular UE design, and there is also a School of Education design. There are also different sizes (Extra Small, Small, Medium, Large, and Extra Large) offered for all sized pets. The bandanas are made to where they will go through your pet's collar.
The order form is the Google Form link attached below!
They can pay through the ISTA Venmo which is: UE_ISTA-AE or they can pay cash. If you pay cash, please drop it off at the School of Ed Office in Graves by February 22nd.
The last day to fill out the order form is February 22nd. Please reach out with any questions that you have!
https://docs.google.com/forms/d/e/1FAIpQLScsPdoeRYTE0X7SwdRTcxuJur-o8J_fssWUfAidynQJcQV6rQ/viewform?usp=sf_link
Submitted by Akane Suzuki as972@evansville.edu
Delightful Week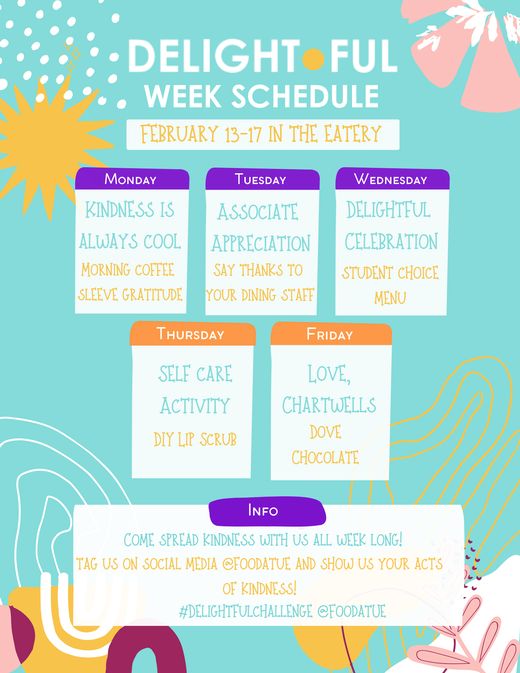 Delightful Week will be February 13-17! This week of kindness will feature a student choice menu and many opportunities to express gratitude and joy! Don't forget to follow @foodateue on social media and tag us with your acts of kindness and use #DelightfulChallenge to be entered into an awesome giveaway!
Submitted by Ka'Bria Carr kc403@evansville.edu
Lecture by Visiting Anthropologist: The Daily Experiences of Mountain Living: Ethnographic Reflections from Yautepec, Oaxaca, Mexico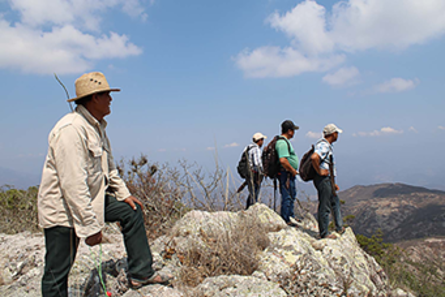 Despite steep elevations and often inaccessible locations, archaeologists frequently find monumental settlements – even cities – on the hilltops, ridgelines, and rugged mountain slopes of Oaxaca, Mexico. How did people in the past move around and thrive in such difficult terrain? In this presentation, I discuss ongoing research working with descendent communities still living in those same mountains, what we've learned so far and where we need to go next.
Thursday, February 9, 4:30 pm
Hyde Hall 14
Submitted by Alan Kaiser ak58@evansville.edu
CDEI Presents: Look Away Look Away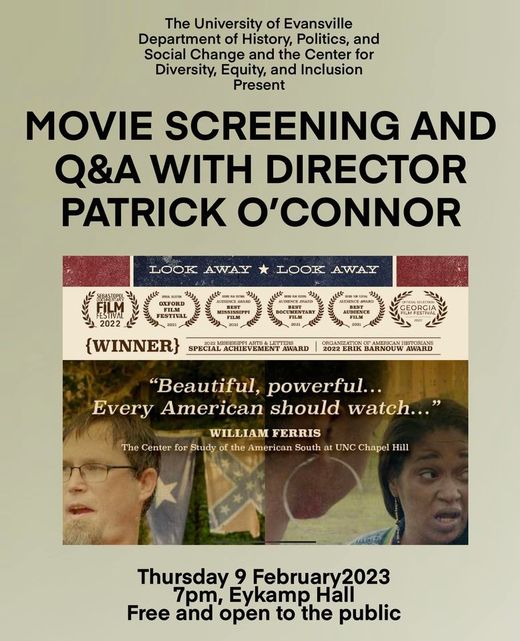 The CDEI invites you to a film screening of Look Away, Look Away followed by a Q&A with the director, Patrick O'Connor. The film Follows the murder of nine black church goers in 2015 South Carolina and the battle over the confederate states flag of Mississippi. This event will take place in Eykamp Hall on Thursday, 9th February.
Submitted by Abagail Catania ac532@evansville.edu
Take 6 Concert: Free and Open to the Public!
The Patricia H. Snyder Concert and Lecture Series was created in 1997 and, to this day, continues to bring nationally-renowned performers and speakers to the Evansville. Events are free and open to both the campus community and public.
The Snyder Concert and Lecture Series Committee presents: Take 6. The six-member vocal group will perform on Friday, February 17, at 7:30 p.m. The concert will take place at the Victory Theatre at 600 Main Street in downtown Evansville.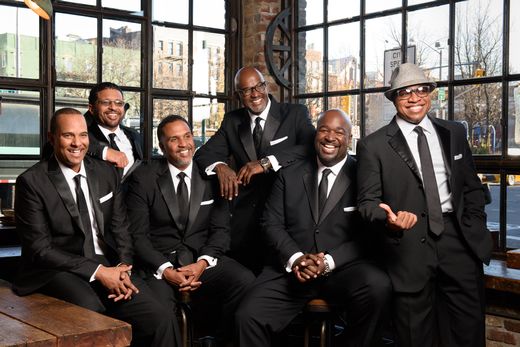 Take 6 is comprised of members Claude McKnight, Mark Kibble, Joel Kibble, Dave Thomas, Alvin Chea, and Khristian Dentley. The world-renowned group formed in 1980 and has since received 10 Grammy awards, 10 Dove awards, and a Soul Train Award. They are the most awarded a capella group in history.
No tickets necessary! Seating will be a first-come, first-served basis.
Submitted by Julie Beer / jb855@evansville.edu
CBE Speaker Series: A Celebration of Engineer's Week with Paul Jones

University of Evansville - College of Business & Engineering Speaker Series
A Celebration of Engineers Week!
Paul W. Jones '71
February 21, 2023
Lunch & Learn
12:20-1:15 p.m.
Lunch served at 12:20 p.m.; Speaker Begins at 12:30 p.m.
Schroeder Building, Room 170
Making the Most of Your College and Career: Advice from an Engineer and CEO
Join us as we welcome engineering alumnus Paul W. Jones to hear his personal journey and lessons learned along the path from engineer to CEO.
Both in person and zoom options will be provided. If you register to attend the event via zoom, the link will be provided to you 24 hours prior to the event. Please be sure to check your spam folder. If you do not receive the information, please contact Nick Bragin at nb197@evansville.edu

Register for this event.
Submitted by Nick Bragin nb197@evansville.edu
Randy Simmons Exhibit in Melvin Peterson Gallery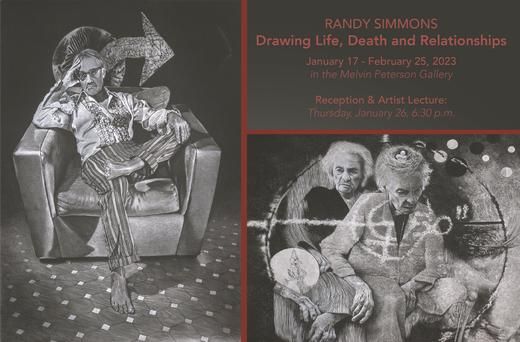 The Melvin Peterson Gallery will host the Drawing Life, Death and Relationships Exhibit by artist Randy Simmons from 01/17/2023 and through 02/25/2023. Gallery hours are Monday, Tuesday, Friday and Saturday from 12:00 p.m. - 3:00 p.m.; and Wednesday and Thursday from 12:00 p.m. - 6:00 p.m. Please join us for a reception and artist lecture on Thursday, January 26, 2023 at 6:30 p.m. in the Melvin Peterson Gallery.
Submitted by Carol McCraney cm177@evansville.edu
Zoom in and learn about the new Master's Degree in Innovative Leadership in Heritage in Management
Looking to pursue your Master's Degree? Have you ever wondered what it takes to lead a team of archaeologists, provide a fresh business vision for Stonehenge, manage Yosemite National Park's biodiversity, or assemble a collection of artifacts for the Smithsonian? If so, join us for a free informational session through Zoom about the Master of Arts in Innovative Leadership in Heritage Management.
Date/Time: February 9, 2023 | 12:00 p.m. CDT
Host: The session will be hosted by Emily Stammitti, PhD, Harlaxton College, British Faculty Member and MA Program Director.
Learn More and Register at www.evansville.edu/ILHM-InfoSession.
Submitted by Holly Smith hh98@evansville.edu
1098-Ts Have Been Processed
For those students who did not consent to receive the 1098-T form electronically, this informational tax document has been mailed to the student's permanent address. Students can still provide electronic consent to allow you to view/print now. To provide consent for electronic 1098-T, log into Self-Service, go to Tax Information, and select 1098 Information.
View the 1098-T webpage for more information about how to use this informational tax document.
Submitted by Amy Sowders as560@evansville.edu
Tuition Remission forms now available for 2023-2024
Tuition Remission forms for the 2023 - 2024 Academic year are now available on MyUE. The applications for Employees and the application for Dependents/Spouses can be found on the HR section of MyUE under Benefits, Tuition Remission.
Submitted by Lori LeDuc ll138@evansville.edu
Black History Month Menu Features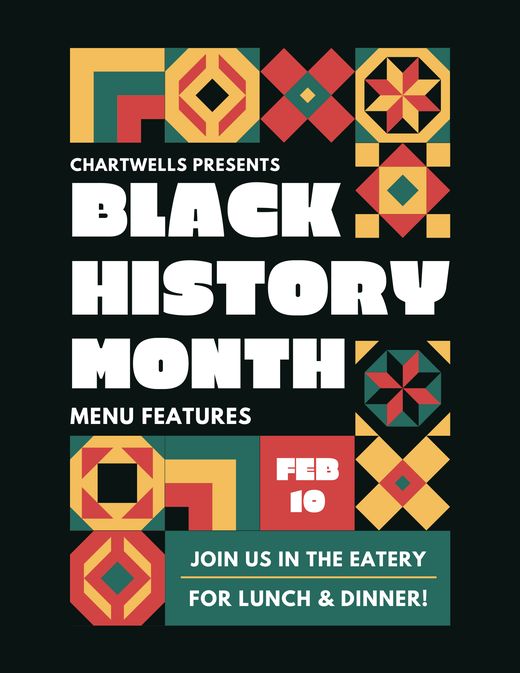 Come celebrate Black History Month with us on Friday, February 10! We'll have two menus featured at lunch and dinner. Hope to see you there!
Submitted by Ka'Bria Carr kc403@evansville.edu
Friday Night Live w/ Pastor JC
Please join Greater Hope Church this Friday at 6 p.m. for their Friday Night Live with Pastor JC on Zoom. This event is open to students, faculty, and staff!
Zoom information and link listed below:
Greater Hope Church is inviting you to a scheduled Zoom meeting.
Topic: Friday Night Live
Time: Feb 10, 2023 06:00 PM Central Time (US and Canada)
Join Zoom Meeting
https://us06web.zoom.us/j/7760117462?pwd=RWpLWnJ1aFMvelpYN1FXZXdXNitSZz09
Meeting ID: 776 011 7462
Passcode: Hope
One tap mobile
+16465588656,,7760117462#,,,,*964734# US (New York)
+16469313860,,7760117462#,,,,*964734# US
Dial by your location
+1 646 558 8656 US (New York)
+1 646 931 3860 US
+1 301 715 8592 US (Washington DC)
+1 305 224 1968 US
+1 309 205 3325 US
+1 312 626 6799 US (Chicago)
+1 346 248 7799 US (Houston)
+1 360 209 5623 US
+1 386 347 5053 US
+1 507 473 4847 US
+1 564 217 2000 US
+1 669 444 9171 US
+1 689 278 1000 US
+1 719 359 4580 US
+1 720 707 2699 US (Denver)
+1 253 205 0468 US
+1 253 215 8782 US (Tacoma)
Meeting ID: 776 011 7462
Passcode: 964734
Find your local number: https://us06web.zoom.us/u/kzFgkEMM7
Submitted by Rachel Roscoe rr209@evansville.edu
Nominations for Outstanding Teacher Award
Academic Affairs is pleased to announce the call for nominations for the 2023 Outstanding Teacher Award. The University bestows this award annually to honor a faculty member for extraordinary teaching effectiveness that inspires the intellectual development of students. Nominees must be a full-time faculty member who has taught at UE for two years or more and holds the rank of lecturer, instructor, assistant professor, associate professor, or professor. The winner is recognized at Commencement in May.
The following recipients from the past five years are not eligible: 2018 – Dr. Anthony Beavers; 2019 – Dr. Atefeh Yazdanparast Ardestani; 2020 – Dr. Mike Roscoe; 2021 – Dr. Julie Merkle; and 2022 – Dr. Katie Whetstone.
Access the link to submit a nomination.
https://www.evansville.edu/offices/academicaffairs/outstanding-teacher-form.cfm
Forward supplemental documentation to: Paula Heldt at ph28@evansville.edu. Please include the faculty member's name and OTA 2023 in the subject line.
The deadline to submit a nomination is Friday, March 17, 2023.
Submitted by Paula Heldt ph28@evansville.edu
Professor Khan presents papers in the 2022 annual meeting of the World Finance Conference
Walayet A. Khan, Professor of Finance, recently presented research papers at the 2022 annual World Finance Conference in Miami, Florida. The first paper, Diversification Benefits of Property Stocks and Residential Real Estate, examines the benefits of international diversification for an equity market portfolio when combined with property and residential real estate portfolios. Second paper, Impact of Volatility on Tech Stocks under Different Economic Conditions, explores the impact of macro variables, liquidity, and conditional volatility on tech-heavy ETF (Exchange Traded Fund) with the Ticker Symbol QQQ.
In addition, Khan chaired a session and served as a discussant on a paper titled Information Content when Real Estate Funds Deviate from Benchmarks.
Submitted by Walayet Khan wk3@evansville.edu
Civil Engineering Graduates Achieve High Passing Rates on PE Exam
Congratulations to Civil Engineering graduates who participated in the (PE) Principles and Practice of Engineering (PE) Exam in fall of 2022.
These individuals achieved an 83% passing rate compared to 61% nationally. UE civil engineering graduates typically take the PE exam 4 years following graduation.
From 2005 – 2022, University of Evansville graduates have achieved a passing rate 15% higher than the national average.
The School of Engineering and Computer Science is incredibly proud of these professionals and their achievements. Congratulations!
Submitted by Rebecca Oates ro32@evansville.edu
Dr. Huebner named to ICI Leadership Academy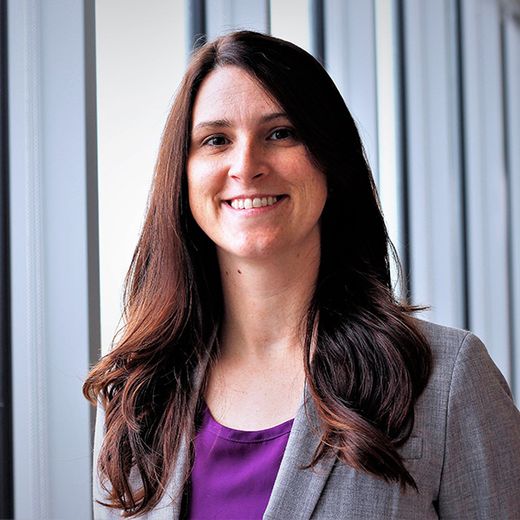 Dr. Bethany Huebner, Chair and Professor of Physical Therapy, has been named to the Leadership Academy of the Independent Colleges of Indiana. This year-long program focuses on transformational leadership and understanding the needs of private college campuses. ICI represents Indiana's 29 private, non-profit, regionally-accredited colleges and universities. See the complete list of the academy's third cohort participants at https://www.icindiana.org/ici-announces-third-cohort
Submitted by Jennifer Simon js698@evansville.edu
UE Women's Soccer Adds Two To Recruiting Class
University of Evansville women's soccer coach Chris Pfau added two new members to his incoming 2023 recruiting class on Wednesday, as he announced the signing of two-time U.S. National Team Camp goalkeeper participant Elke Travis (Henderson, Nev./Faith Lutheran) and Georgia ECNL standout Ashlyn Koutsos (Cumming, Ga./West Forsyth) to National Letters of Intent.
"I am excited to have both Elke and Ashlyn join our soccer team this fall," said Pfau. "Both come from great soccer clubs that compete at the highest level in the ECNL. They are both well-coached and very driven to improve our program, be great students and represent UE. Both will make a great impact on our program and UE right from the start."
Travis currently plays goalkeeper for the Heat FC ECNL 04/05 squad which was a 2019 Final Four participant. She was recently named the Max Preps Player of the Year for Faith Lutheran High School in Henderson, Nevada, after helping lead the Crusaders to the Nevada Class 5A state championship in the fall. Travis ranked among the ECNL's top 20 goalkeepers during the summer of 2021, according to the college soccer scouting and analytics program InStat.
"Elke has had a ton of experience and success at the club and high school levels," said Pfau. "She has a tremendous presence in goal, can make the huge save when she needs to, but what is great about her is that she understands the game so well and makes the game easy. A lot of that comes from playing for a great club team in the Heat ECNL program in Las Vegas."
Koutsos has been a mainstay in the midfield at the ECNL level for the United Futbol Academy (UFA) 04/05 ECNL program out of Georgia. Koutsos has been a three-year starter for UFA, and has helped the program rank second in the ECNL Southeast Conference, and eighth overall nationally in the ECNL. Koutsos is also a former two-time Region III ODP team member during her soccer career.
"Ashlyn comes from a great club program – UFA ECNL out of Georgia – and she has been able to both play against and compete with some of the best players in the U.S. while playing for UFA," said Pfau. "Ashlyn is a center mid that is very technical, smart and crafty. She can play anywhere on the field and sees the game very well, and she can not only generate assists, but she also has the ability to score goals."
Travis and Koutsos join a recruiting class which includes Indiana all-state selections Ella Hamner (Evansville, Ind./Memorial), Taylor Johnson (Evansville, Ind./Reitz) and Emily Karr (Mooresville, Ind./Center Grove) and high-powered Utah attacking player Brooklyn Robinson (West Haven, Utah/Fremont), who all signed with UE during the fall signing period.
Submitted by Athletics
Aces defeat Panthers to earn first MVC victory
Leading from start to finish, the University of Evansville men's basketball team put together its best performance of the season, defeating Northern Iowa by a final score of 71-59 on Wednesday at the Ford Center.
After jumping out to an 11-4 lead, the Purple Aces held a 43-26 advantage at halftime before taking the 12-point win. Four UE players finished in double figures led by Yacine Toumi, who had 15 points while adding a team-best nine rebounds. Kenny Strawbridge Jr. picked up 14 points while Gage Bobe and Preston Phillips added 12 and 10, respectively.
"I thought we did a good job coming out and being locked in on our defensive game plan. We caught them off guard and kept them on their heels and won with our defense," UE head coach David Ragland exclaimed following the victory. "We put together a complete game and got the job done. Over the last few games, we have been building towards this and I feel so good for the guys in the locker room and to see the smiles on their face."
Tytan Anderson and Landon Wolf paced the Panthers with 14 points apiece. Anderson recorded a game-high 12 caroms.
Evansville drained five of its first six shots to take an 11-4 lead just over three minutes in. The Panthers countered with four in a row as the Aces missed their next three attempts, but it was Yacine Toumi connecting on a triple to end the run.
Up by a 17-13 score, Marvin Coleman II connected from downtown to open a 7-0 stretch that pushed the lead into double figures at 24-13 at the 9:07 mark. Preston Phillips turned a steal into a field goal two minutes later to make it a 16-point game and with exactly one minute remaining in the half, Kenny Strawbridge Jr. turned another turnover into a make to take a game-high 19-point lead (43-24).
UE wrapped up the half with a 43-26 lead – its largest halftime lead of the season. The Aces shot 60% from the field and 50% from outside. Just as impressive was the defensive, who turned 11 UNI turnovers into 16 points while holding the Panthers to just two points off turnovers in the period. Toumi scored 13 in the period.
Northern Iowa took over on the defensive end to open the second half, forcing 11 missed shots as they cut the lead to just seven at 43-36. Chris Moncrief ended the stretch with a dunk to get his squad back on track. Fortunately for the Aces, the deficit would not get below nine for the remainder of the evening.
Holding a 47-38 advantage as the second half reached its midway point, Phillips hit a basket to push the lead back into double figures. His field goal began a 6-0 run that went back up to 15 with a Strawbridge triple. His outside shot made it a 55-40 game. Over the final minutes, the Panthers closed to within nine points but it was Evansville taking the win, 71-59.
For the first time this season, UE shot 50% from the field. The Aces finished right at the mark with 28 of their 56 attempts finding the bottom of the net. UNI shot 39.3% for the game. Coleman led the Aces with seven assists while grabbing eight boards. Phillips had a notable performance as he went 4-for-4 from the field while picking up three steals, three rebounds and two assists. On Sunday, the Aces are right back at the Ford Center for a 1 p.m. game against Missouri State.
Submitted by Athletics
Softball opens 2023 season on Thursday
The 2023 season opens on Thursday when the University of Evansville softball team travels to Rosemont, Ill. for the DePaul Dome Classic.
Saint Louis will mark the first opponent for the Purple Aces at 3:30 p.m. on Thursday. Friday includes a 10 a.m. game against the University of St. Thomas before a 3 p.m. contests versus Eastern Kentucky. Opening weekend wraps up on Saturday with a 2:30 p.m. game against Detroit Mercy and a 5 p.m. match-up versus DePaul.
Evansville softball is coming off a 24-27 campaign in 2022 that saw the Purple Aces go 9-18 in Valley play. On the offensive side of the ball, Marah Wood returns following a team-best eight home runs and 31 RBI a season ago. UE's looks to replace its offense at the top of the lineup with the graduation of its top two average from 2022 (Jessica Fehr-.300 and Mackenzie McFeron-.295).
In the circle, Evansville looks to replace one of the best starting pitchers in recent years – Izzy Vetter. As a freshman last year, Sydney Weatherford proved that she could get the job done at multiple positions. She posted a team-low 3.34 ERA in over 119 innings of work while accumulating 20 RBI on the offensive side.
Submitted by Athletics
Contribute to AceNotes
To have content considered for inclusion in AceNotes, please submit a Marketing Request Form. Deadline for submission to AceNotes is 10:00 a.m. on the requested date of publication. Only articles concerning UE related/sponsored activities will be accepted. Articles submitted to AceNotes may be edited for length and clarity. Submitter contact information is at the end of each article.