| | |
| --- | --- |
| AceNotes Today | Wednesday, February 8, 2023 |
Just a few Purple Patrol spots left!
There are only a few spots left for Spring 2023 Purple Patrol! Remaining dates are in February and March. If any employees would like to help out with this, sign up at your earliest convenience through SignUpGenius. This is a fun way for our departments and offices to spread some positivity to the campus community each Friday!
Submitted by Julie Beer / jb855@evansville.edu
College Taboos: Hangovers, Sex, and More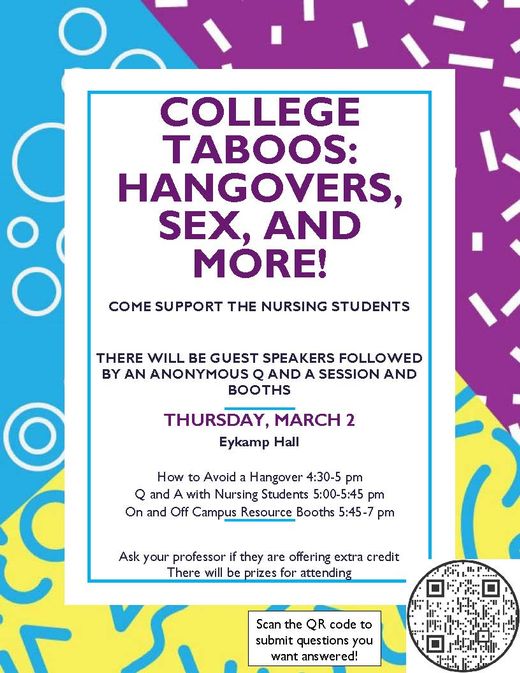 "College Taboos: Hangovers, Sex, and More!" is a campus-wide educational and interactive community fair put on by senior nursing students. The event will take place on Thursday, March 2nd in Eykamp from 4:30pm-7:00pm.
The schedule for the night is as follows:
How to Avoid a Hangover 4:30-5 pm
Q and A with Nursing Students 5:00-5:45 pm
On and Off Campus Resource Booths 5:45-7 pm
Anonymous questionnaire for students to ask questions on sex, alcohol, relationship violence, etc.: https://forms.gle/aar166LjY1jw1MSN7
Ask your professor if they are offering extra credit. There will be prizes for attending!
Submitted by Kalee Muth km492@evansville.edu
Lecture by Visiting Anthropologist: The Daily Experiences of Mountain Living: Ethnographic Reflections from Yautepec, Oaxaca, Mexico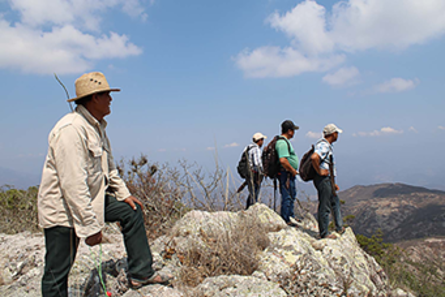 Despite steep elevations and often inaccessible locations, archaeologists frequently find monumental settlements – even cities – on the hilltops, ridgelines, and rugged mountain slopes of Oaxaca, Mexico. How did people in the past move around and thrive in such difficult terrain? In this presentation, I discuss ongoing research working with descendent communities still living in those same mountains, what we've learned so far and where we need to go next.
Thursday, February 9, 4:30 pm
Hyde Hall 14
Submitted by Alan Kaiser ak58@evansville.edu
Solo Exhibition for Professor Todd Matteson at Thyen-Clark Cultural Center, Jasper, Indiana

The Thyen-Clark Cultural Center in Jasper, Indiana, hosts Professor Todd Matteson's solo exhibition, Life's Adventures. The exhibition runs for three months with a gallery talk every first Thursday in March and April. Professor Matteson will also be doing demonstrations to the public and local schools during his exhibition. Please come enjoy his ceramics and catch a glimpse at his new creations.
Submitted by Todd Matteson tm8@evansville.edu
Test Your Trivia Skills at Nerd Wars
Team sign-ups are now open for this year's Nerd Wars trivia competition, scheduled for Tuesday, March 14 at 7:00pm in Eykamp Hall. The Honors Program invites you to form your team of five competitors to battle in a competition of wits for prizes and bragging rights. Teams of students, faculty, administrators, and staff are welcome to register.
Both spectators and competitors can enjoy pizza and snacks at the event, as well as the chance to receive giveaway prizes!
Register online now at this link: https://forms.gle/H8WVXxJYznPFSsTH8
Registration is free for the event. Those who are unable to compose a team of five may still register and will be matched to form a team. The registration deadline is Friday, February 17.
Please contact Hannah at ht80 with any questions.
Submitted by Jayme Williams jw504@evansville.edu
CDEI Presents: Look Away Look Away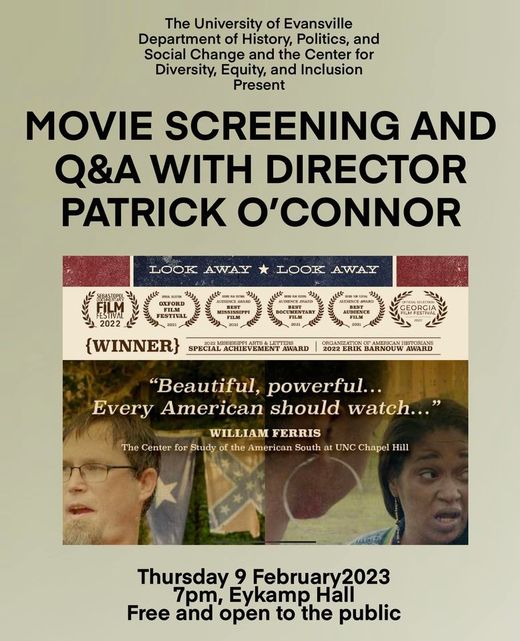 The CDEI invites you to a film screening of Look Away, Look Away followed by a Q&A with the director, Patrick O'Connor. The film Follows the murder of nine black church goers in 2015 South Carolina and the battle over the confederate states flag of Mississippi. This event will take place in Eykamp Hall on Thursday, 9th February.
Submitted by Abagail Catania ac532@evansville.edu
Build-A-Buddy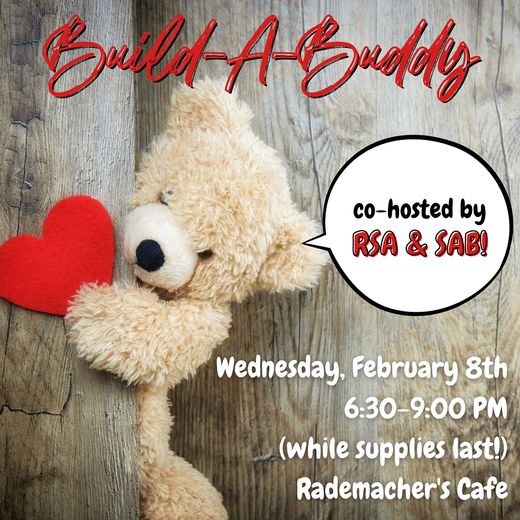 SAB & RSA are co-hosting Build-A-Buddy on Wednesday, February 8th starting at 6:30 pm until supplies are gone! Stop by and build your very own stuffed animal friend with us!
Submitted by Auberi Grubb ag334@evansville.edu
Spring Break 2023 Venturing Crew will be Chasing Waterfalls in beautiful Tennessee
Venturing Crew will be Chasing Waterfalls in beautiful Tennessee for Spring Break 2023. Join us as we explore some of the region's most beautiful and picturesque waterfalls.
We will be leaving campus on Sunday morning March 5th and drive to Burgess Falls which is noted for its natural beauty and four waterfalls that cascade down from over 250 feet. After which we will head to our cabin to prepare dinner and make room assignments. The cabin does have full bathrooms and an area where we can relax, get to know each other and play games.
Monday, we'll be heading to Fall Creek Falls, home to one of the tallest waterfalls in the Eastern United States and visiting the Betty Dunn nature center.
Next up is Cane Creek Cascades, Cane Creek Falls is the largest waterfall by volume at Fall Creek Falls State Park. Before we return to camp, we will climb on the cable trail to the base of Cane Creek Falls and Rock-house Falls.
Tuesday, we hike around Virgin Falls where an underground stream emerges from a cave and then plummets 110' over the side of a cliff before disappearing again into another cave at the bottom. Doesn't that sound like something you need to see for yourself?
Next, we'll be hiking to the overlook of Piney Falls, an 80-ft. falls and the area is home to an old-growth forest.
Wednesday, we pack everything up and head to Rock Island and visit Twin Falls, where water pours out of the walls of a gorge, instead of over the walls. This interesting and easy to visit waterfall was accidentally created when the Caney Fork River was dammed.
Our final water fall of the trip will be Cummings Falls and is Tennessee's eighth largest waterfall in terms of volume and is 75 feet high.
To wrap our adventure, we head to Nashville where we will have dinner at Hattie B's Hot Chicken which is famed for its emphasis on quality, flavor and true Southern hospitality, Nashville's family-owned and operated Hattie B's Hot Chicken showcases its first West Coast location at Block 16 Urban Food Hall, serving hot chicken, Southern sides and local brews in a casual, counter-service eatery.
We plan to return to campus around 8pm Wednesday evening (March 8th) and this whole trip is only $75 (excludes Hattie B's)
Look for our tables in Ridgway starting Feb 27th to sign up. Payment can be made in cash, check, Square or Venmo
Submitted by Fred Wilson fw2@evansville.edu
Student Showcase Exhibition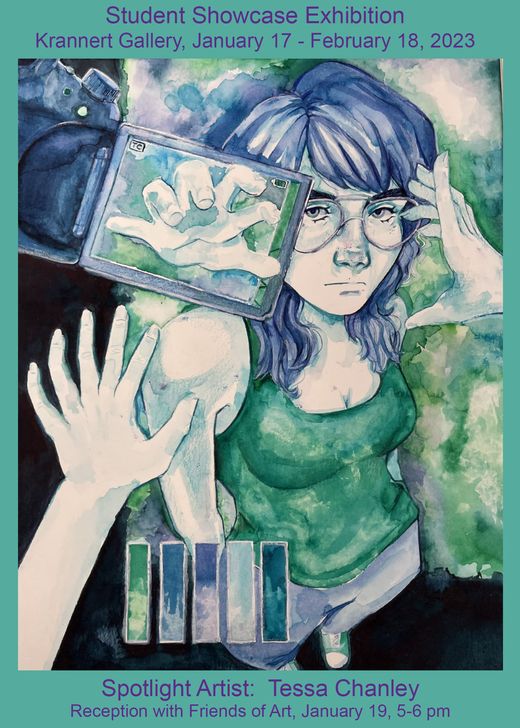 The STUDENT SHOWCASE 2023 exhibit in the Krannert Gallery includes Drawings, Designs, Paintings, and Ceramics which exemplify many of the concepts and techniques covered in specific Art courses. The Instructors/Professors selected the Art for this show as stellar examples of work completed in UE Art courses during the 1st Semester. The exhibit runs January 17 - February 18.
Also, in this exhibit is ART BY TESSA CHANLEY, class of 2024. Tessa received the Class of 2024 Outstanding Freshman Art Student Award. As part of this annual honor, the recipient is spotlighted in his/her Junior year, in the Student Showcase Exhibit.
Submitted by Carol McCraney cm177@evansville.edu
Randy Simmons Exhibit in Melvin Peterson Gallery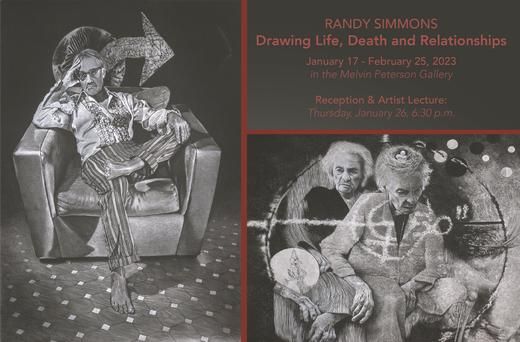 The Melvin Peterson Gallery will host the Drawing Life, Death and Relationships Exhibit by artist Randy Simmons from 01/17/2023 and through 02/25/2023. Gallery hours are Monday, Tuesday, Friday and Saturday from 12:00 p.m. - 3:00 p.m.; and Wednesday and Thursday from 12:00 p.m. - 6:00 p.m. Please join us for a reception and artist lecture on Thursday, January 26, 2023 at 6:30 p.m. in the Melvin Peterson Gallery.
Submitted by Carol McCraney cm177@evansville.edu
Zoom in and learn about the new Master's Degree in Innovative Leadership in Heritage in Management
Looking to pursue your Master's Degree? Have you ever wondered what it takes to lead a team of archaeologists, provide a fresh business vision for Stonehenge, manage Yosemite National Park's biodiversity, or assemble a collection of artifacts for the Smithsonian? If so, join us for a free informational session through Zoom about the Master of Arts in Innovative Leadership in Heritage Management.
Date/Time: February 9, 2023 | 12:00 p.m. CDT
Host: The session will be hosted by Emily Stammitti, PhD, Harlaxton College, British Faculty Member and MA Program Director.
Learn More and Register at www.evansville.edu/ILHM-InfoSession.
Submitted by Holly Smith hh98@evansville.edu
Solution Station Wednesday: Thinking About Studying Abroad?
Have you been thinking about studying abroad?
As the academic year moves forward, you might have questions about your future academic plans - including studying abroad. You might have heard about Harlaxton - but do you know how the process works and what it takes to get there?
If you have questions about how to incorporate studying abroad into your plans at UE or want to know more about the process, please come by the Solution Station! We don't want you to miss out because you didn't know who to ask or when to start planning! Harlaxton and Study Abroad Coordinator Kaylynn McCalister will be there to talk with you and get the study abroad conversation started.
Solution Station Wednesday
11:00 a.m. - 1:00 p.m.
Ridgway University Center
Can't make it? Contact Kaylynn McCalister directly at kc205@evansville.edu.
Submitted by Chad Hart ch299@evansville.edu
Tuition Remission forms now available for 2023-2024
Tuition Remission forms for the 2023 - 2024 Academic year are now available on MyUE. The applications for Employees and the application for Dependents/Spouses can be found on the HR section of MyUE under Benefits, Tuition Remission.
Submitted by Lori LeDuc ll138@evansville.edu
Black History Month Menu Features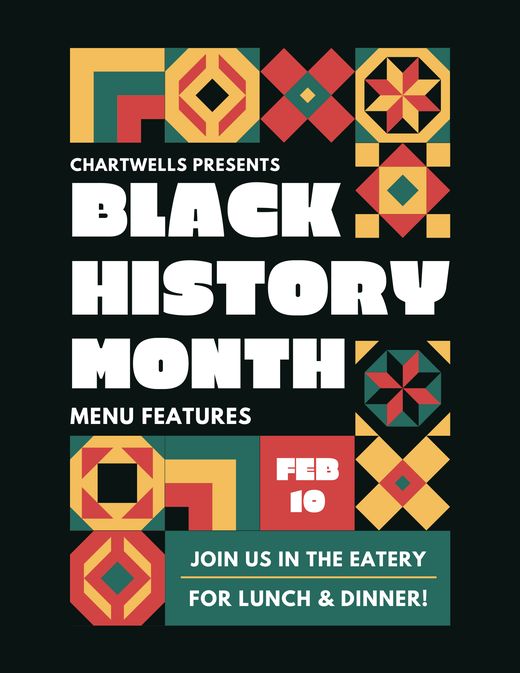 Come celebrate Black History Month with us on Friday, February 10! We'll have two menus featured at lunch and dinner. Hope to see you there!
Submitted by Ka'Bria Carr kc403@evansville.edu
Friday Night Live w/ Pastor JC
Please join Greater Hope Church this Friday at 6 p.m. for their Friday Night Live with Pastor JC on Zoom. This event is open to students, faculty, and staff!
Zoom information and link listed below:
Greater Hope Church is inviting you to a scheduled Zoom meeting.
Topic: Friday Night Live
Time: Feb 10, 2023 06:00 PM Central Time (US and Canada)
Join Zoom Meeting
https://us06web.zoom.us/j/7760117462?pwd=RWpLWnJ1aFMvelpYN1FXZXdXNitSZz09
Meeting ID: 776 011 7462
Passcode: Hope
One tap mobile
+16465588656,,7760117462#,,,,*964734# US (New York)
+16469313860,,7760117462#,,,,*964734# US
Dial by your location
+1 646 558 8656 US (New York)
+1 646 931 3860 US
+1 301 715 8592 US (Washington DC)
+1 305 224 1968 US
+1 309 205 3325 US
+1 312 626 6799 US (Chicago)
+1 346 248 7799 US (Houston)
+1 360 209 5623 US
+1 386 347 5053 US
+1 507 473 4847 US
+1 564 217 2000 US
+1 669 444 9171 US
+1 689 278 1000 US
+1 719 359 4580 US
+1 720 707 2699 US (Denver)
+1 253 205 0468 US
+1 253 215 8782 US (Tacoma)
Meeting ID: 776 011 7462
Passcode: 964734
Find your local number: https://us06web.zoom.us/u/kzFgkEMM7
Submitted by Rachel Roscoe rr209@evansville.edu
Eykamp Prize: Call for Nominations
The Eykamp Prize was established by Richard and Rita Eykamp in 2015 to honor Faculty Achievement at the University of Evansville. Recipients of the prize will receive a one-time award of $10,000 in recognition of extraordinary contributions to the University of Evansville as University Citizens. Examples of such contributions include deep and successful involvement in recruiting students; expanding the number, scope, and competitiveness of grant funding for their department; bringing positive public awareness to the University through scholarship, knowledge, and understanding of their discipline.
Nominations for the Eykamp Prize may come from any member of the University of Evansville community. Nominees should be tenured or tenure-track faculty members at the University of Evansville who have not received the award in the previous five years. Nominations can be submitted in writing or via e-mail to Michael Austin, Executive Vice President for Academic Affairs/Provost, at ma352@evansville.edu by March 10, 2023. Nominations should include the name of the faculty member and a brief statement of the reasons that he or she is being nominated.
Recipients of the Eykamp Prize will be selected by an Award Committee, appointed by the EVPAA/Provost that includes members of the faculty, staff, administrators, and a member of the Board of Trustees. The award will be announced and presented at the May Commencement Ceremony.
Recipients in the previous five years: 2018 – Dr. David Dwyer; 2019 – Dr. Kristy Miller; 2020 – Dr. Jerrilee LaMar; 2021 – Dr. Joyce Stamm; 2022 – Dr. Mari Plikuhn.
Submitted by Paula Heldt ph28@evansville.edu
Professor Khan presents papers in the 2022 annual meeting of the World Finance Conference
Walayet A. Khan, Professor of Finance, recently presented research papers at the 2022 annual World Finance Conference in Miami, Florida. The first paper, Diversification Benefits of Property Stocks and Residential Real Estate, examines the benefits of international diversification for an equity market portfolio when combined with property and residential real estate portfolios. Second paper, Impact of Volatility on Tech Stocks under Different Economic Conditions, explores the impact of macro variables, liquidity, and conditional volatility on tech-heavy ETF (Exchange Traded Fund) with the Ticker Symbol QQQ.
In addition, Khan chaired a session and served as a discussant on a paper titled Information Content when Real Estate Funds Deviate from Benchmarks.
Submitted by Walayet Khan wk3@evansville.edu
Dr. Huebner named to ICI Leadership Academy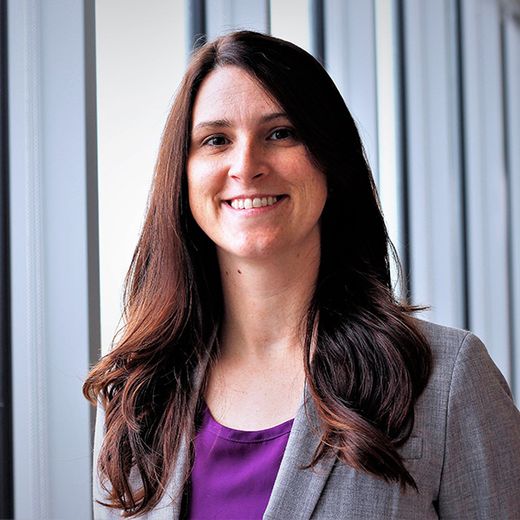 Dr. Bethany Huebner, Chair and Professor of Physical Therapy, has been named to the Leadership Academy of the Independent Colleges of Indiana. This year-long program focuses on transformational leadership and understanding the needs of private college campuses. ICI represents Indiana's 29 private, non-profit, regionally-accredited colleges and universities. See the complete list of the academy's third cohort participants at https://www.icindiana.org/ici-announces-third-cohort
Submitted by Jennifer Simon js698@evansville.edu
Enchelmayer finishes second at Motor City Classic
An outstanding day for the University of Evansville women's golf team saw Allison Enchelmayer come home in second place while the Purple Aces made the jump to third place in the final standings of the Motor City Classic.
Enchelmayer completed the third round at Rio Pinar Country Club with a 2-over 74. Combined with her other scores of 73 and 77, she tallied a 224. Enchelmayer came in just one stroke behind Creighton's Eleanor Hudepohl, who was the medalist.
Kate Petrova earned a top five finish of her own. Highlighted by scores of 74 in the first two rounds, Petrova carded a 79 on Tuesday to tie for 4th with a 227.
Taking third on the UE squad was Mallory Russell. Registering an 80 in round three, Russell posted a 238, which tied her for 18th place. Magdalena Borisova tied for 21st with a 3-round score of 240. Borisova had her top round of the weekend on Tuesday, shooting a 3-over 75.
Alyssa McMinn wrapped up the last round with an 84. Her final score checked in at 253 strokes. Caitlin O'Donnell placed 36th with a scored of 267.
UE combined for the lowest team score of the day with a 308. The Aces jumped into third place in the final standings with a 929. Oakland took top honors with a 917 while Creighton was seven strokes behind with a 924.
On February 25, the ladies will be back on the course for the Bright Creek Intercollegiate in Mill Springs, N.C.
Submitted by Athletics
Four named to preseason all-MVC team as Aces picked third in preseason poll
With just 10 days left until the start of the 2023 season, the Missouri Valley Conference has announced its preseason team and poll.
Four Aces were selected to the 13-member preseason all-MVC team, the most of any team in The Valley. Selected to the preseason team were junior pitcher Nick Smith, senior outfielder Mark Shallenberger, senior third baseman Brent Widder, and junior shortstop Simon Scherry.
Evansville was picked third in the MVC preseason coaches poll after finishing the 2022 regular season in second in the conference. SIU was selected as the favorite to repeat as champion, earning six first-place votes, while Missouri State was picked second and earned three first-place votes.
The Aces open the 2023 season on Friday, February 17th with a three-game slate against Troy in Troy, Alabama.
Submitted by Athletics
Men's basketball hosts UNI on Wednesday
Set to complete the regular season series, the University of Evansville men's basketball team welcomes Northern Iowa to the Ford Center on Wednesday evening. Tip is set for 7 p.m. CT with the Purple Aces Radio Network and ESPN+ having the coverage.
Setting the Scene
- On December 3, the teams opened the season series in Cedar Falls with the Panthers 72-55 victory
- After trailing by a 38-20 score at halftime, the Purple Aces outscored the Panthers by a 35-34 margin in the second half
- Kenny Strawbridge Jr. led the Aces with 17 points while UNI saw Bowen Born register 29 points
Last Time Out
- UE led by as many as 10 points in the first half before UIC rallied in the second half to take a 70-61 win on Saturday in Chicago
- In the first half, the Aces jumped out to a 26-16 lead before the Flames countered with a 48-18 stretch to put the game out of reach
- Trailing by 20 with 3:14 remaining, UE rallied to get within nine points
- Strawbridge paced UE with 20 points
Game High
- Kenny Strawbridge Jr. led all players with 20 points in Saturday's game at UIC
- It marked his first 20-point game since Dec. 21 versus Bellarmine and was his 8th such effort of the season
- Over his last two games, Strawbridge has shot 48.8% while tallying 15 PPG
- In the nine games before, he converted just 36.0% of his attempts (41/114)
- He was 7-for-10 from the field versus Indiana State and has chipped in at least 8 points in 24 out of 25 games
- He continues to lead the Aces while sitting 9th in the MVC with his season average of 15.1 points per game
Another Career Mark
- Hitting 8 out of 16 attempts in the home game against Indiana State, Yacine Toumi registered a career-high 19 points
- Toumi is averaging 13.2 points in his last five games while shooting 44.3% (27/61)
- His 19-point game passes his previous high of 18, which came twice this season (Campbell and Valpo)
- On the boards, Toumi is tied for 12th in the MVC with an average of 6.0 per game
- He has grabbed at least five rebounds in 12 of the last 13 contests while raising his season average from 5.1 to 6.0 per game
- His top tally of 11 came in the win over Bellarmine and had nine at UIC
Scouting the Opponent
- Falling in their last three games, Northern Iowa enters Wednesday's game with an overall record of 12-12 and a mark of 8-6 in the Valley
- Three Panthers are averaging double figures, led by Bowen Born's tally of 18.9 point per game
- Born paces the team with 67 assists and a total of 63 3-point makes
- In the first meeting on Dec. 3, Bron led all players with 29 points on 10-of-21 shooting
- Tytan Anderson checks in with 12.5 points and a team-best 9.2 rebounds
- Michael Daux comes into the game with a 10.1 PPG average
Submitted by Athletics
Contribute to AceNotes
To have content considered for inclusion in AceNotes, please submit a Marketing Request Form. Deadline for submission to AceNotes is 10:00 a.m. on the requested date of publication. Only articles concerning UE related/sponsored activities will be accepted. Articles submitted to AceNotes may be edited for length and clarity. Submitter contact information is at the end of each article.