| | |
| --- | --- |
| AceNotes Today | Tuesday, February 7, 2023 |
CBE Speaker Series: A Celebration of Engineer's Week with Paul Jones

University of Evansville - College of Business & Engineering Speaker Series
A Celebration of Engineers Week!
Paul W. Jones '71
February 21, 2023
Lunch & Learn
12:20-1:15 p.m.
Lunch served at 12:20 p.m.; Speaker Begins at 12:30 p.m.
Schroeder Building, Room 170
Making the Most of Your College and Career: Advice from an Engineer and CEO
Join us as we welcome engineering alumnus Paul W. Jones to hear his personal journey and lessons learned along the path from engineer to CEO.
Both in person and zoom options will be provided. If you register to attend the event via zoom, the link will be provided to you 24 hours prior to the event. Please be sure to check your spam folder. If you do not receive the information, please contact Nick Bragin at nb197@evansville.edu

Register for this event.
Submitted by Nick Bragin nb197@evansville.edu
Lecture by Visiting Anthropologist: The Daily Experiences of Mountain Living: Ethnographic Reflections from Yautepec, Oaxaca, Mexico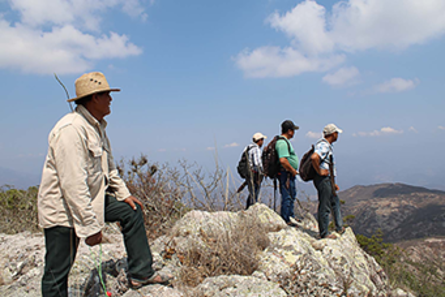 Despite steep elevations and often inaccessible locations, archaeologists frequently find monumental settlements – even cities – on the hilltops, ridgelines, and rugged mountain slopes of Oaxaca, Mexico. How did people in the past move around and thrive in such difficult terrain? In this presentation, I discuss ongoing research working with descendent communities still living in those same mountains, what we've learned so far and where we need to go next.
Thursday, February 9, 4:30 pm
Hyde Hall 14
Submitted by Alan Kaiser ak58@evansville.edu
Faculty Chamber Winds to Perform Tuesday Night
Join us for a delightful recital of lesser-known gems of the Romantic period. The program includes selections from 6 German Leider by Louis Spohr, featuring soprano Alanna Keenan; a trio for clarinet, horn, and piano by Gustav Jenner, who was the only formal composition student of Johannes Brahms; and concluding with Johann Valentin Hamm's Viergespräch for flute, oboe, clarinet, horn, and piano.
The concert will take place on Tuesday, February 7, at 7:30 p.m. in Neu Chapel. It is free and open to the public, or you can watch the livestream at: https://www.evansville.edu/majors/music/calendar.cfm
Submitted by Amy Esche ae128@evansville.edu
Visit MS in Leadership table at Career Day on February 7
All UE students and employees are invited to visit the Master of Science in Leadership table at the Career Day event taking place on Tuesday, February 7 in Eykamp Hall, from 1:00 to 3:30 p.m. Stop by to learn more about this innovative, online program that provides a rich curriculum in a flexible environment that can be completed within 16 months. All courses within the program emphasize the student's growth and development as a leader and how to leverage one's leadership strengths to create positive, organizational change. For more information, email Cindy Felts at cf128@evansville.edu.
Submitted by Cindy Felts cf128@evansville.edu
Test Your Trivia Skills at Nerd Wars
Team sign-ups are now open for this year's Nerd Wars trivia competition, scheduled for Tuesday, March 14 at 7:00pm in Eykamp Hall. The Honors Program invites you to form your team of five competitors to battle in a competition of wits for prizes and bragging rights. Teams of students, faculty, administrators, and staff are welcome to register.
Both spectators and competitors can enjoy pizza and snacks at the event, as well as the chance to receive giveaway prizes!
Register online now at this link: https://forms.gle/H8WVXxJYznPFSsTH8
Registration is free for the event. Those who are unable to compose a team of five may still register and will be matched to form a team. The registration deadline is Friday, February 17.
Please contact Hannah at ht80 with any questions.
Submitted by Jayme Williams jw504@evansville.edu
Take 6 Concert: Free and Open to the Public!
The Patricia H. Snyder Concert and Lecture Series was created in 1997 and, to this day, continues to bring nationally-renowned performers and speakers to the Evansville. Events are free and open to both the campus community and public.
The Snyder Concert and Lecture Series Committee presents: Take 6. The six-member vocal group will perform on Friday, February 17, at 7:30 p.m. The concert will take place at the Victory Theatre at 600 Main Street in downtown Evansville.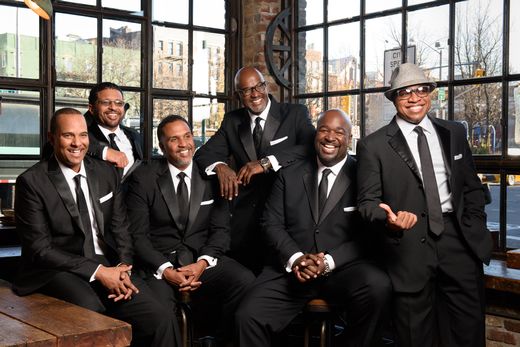 Take 6 is comprised of members Claude McKnight, Mark Kibble, Joel Kibble, Dave Thomas, Alvin Chea, and Khristian Dentley. The world-renowned group formed in 1980 and has since received 10 Grammy awards, 10 Dove awards, and a Soul Train Award. They are the most awarded a capella group in history.
No tickets necessary! Seating will be a first-come, first-served basis.
Submitted by Julie Beer / jb855@evansville.edu
Student Showcase Exhibition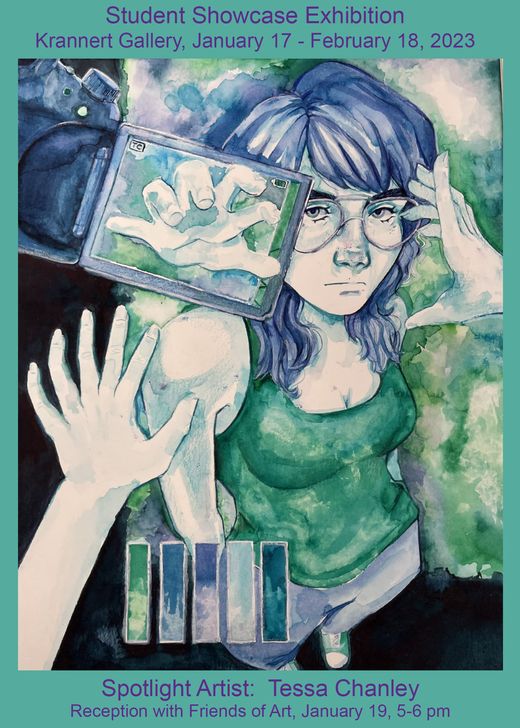 The STUDENT SHOWCASE 2023 exhibit in the Krannert Gallery includes Drawings, Designs, Paintings, and Ceramics which exemplify many of the concepts and techniques covered in specific Art courses. The Instructors/Professors selected the Art for this show as stellar examples of work completed in UE Art courses during the 1st Semester. The exhibit runs January 17 - February 18.
Also, in this exhibit is ART BY TESSA CHANLEY, class of 2024. Tessa received the Class of 2024 Outstanding Freshman Art Student Award. As part of this annual honor, the recipient is spotlighted in his/her Junior year, in the Student Showcase Exhibit.
Submitted by Carol McCraney cm177@evansville.edu
Randy Simmons Exhibit in Melvin Peterson Gallery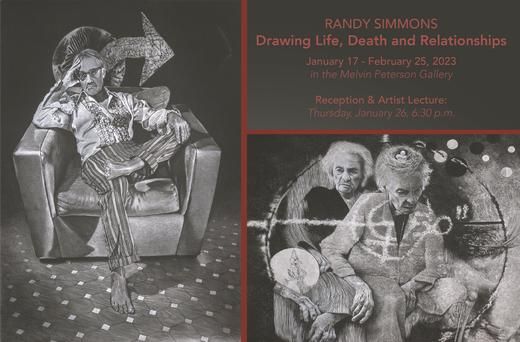 The Melvin Peterson Gallery will host the Drawing Life, Death and Relationships Exhibit by artist Randy Simmons from 01/17/2023 and through 02/25/2023. Gallery hours are Monday, Tuesday, Friday and Saturday from 12:00 p.m. - 3:00 p.m.; and Wednesday and Thursday from 12:00 p.m. - 6:00 p.m. Please join us for a reception and artist lecture on Thursday, January 26, 2023 at 6:30 p.m. in the Melvin Peterson Gallery.
Submitted by Carol McCraney cm177@evansville.edu
Zoom in and learn about the new Master's Degree in Innovative Leadership in Heritage in Management
Looking to pursue your Master's Degree? Have you ever wondered what it takes to lead a team of archaeologists, provide a fresh business vision for Stonehenge, manage Yosemite National Park's biodiversity, or assemble a collection of artifacts for the Smithsonian? If so, join us for a free informational session through Zoom about the Master of Arts in Innovative Leadership in Heritage Management.
Date/Time: February 9, 2023 | 12:00 p.m. CDT
Host: The session will be hosted by Emily Stammitti, PhD, Harlaxton College, British Faculty Member and MA Program Director.
Learn More and Register at www.evansville.edu/ILHM-InfoSession.
Submitted by Holly Smith hh98@evansville.edu
Nominations for Outstanding Teacher Award
Academic Affairs is pleased to announce the call for nominations for the 2023 Outstanding Teacher Award. The University bestows this award annually to honor a faculty member for extraordinary teaching effectiveness that inspires the intellectual development of students. Nominees must be a full-time faculty member who has taught at UE for two years or more and holds the rank of lecturer, instructor, assistant professor, associate professor, or professor. The winner is recognized at Commencement in May.
The following recipients from the past five years are not eligible: 2018 – Dr. Anthony Beavers; 2019 – Dr. Atefeh Yazdanparast Ardestani; 2020 – Dr. Mike Roscoe; 2021 – Dr. Julie Merkle; and 2022 – Dr. Katie Whetstone.
Access the link to submit a nomination.
https://www.evansville.edu/offices/academicaffairs/outstanding-teacher-form.cfm
Forward supplemental documentation to: Paula Heldt at ph28@evansville.edu. Please include the faculty member's name and OTA 2023 in the subject line.
The deadline to submit a nomination is Friday, March 17, 2023.
Submitted by Paula Heldt ph28@evansville.edu
Career Day 2023- Register TODAY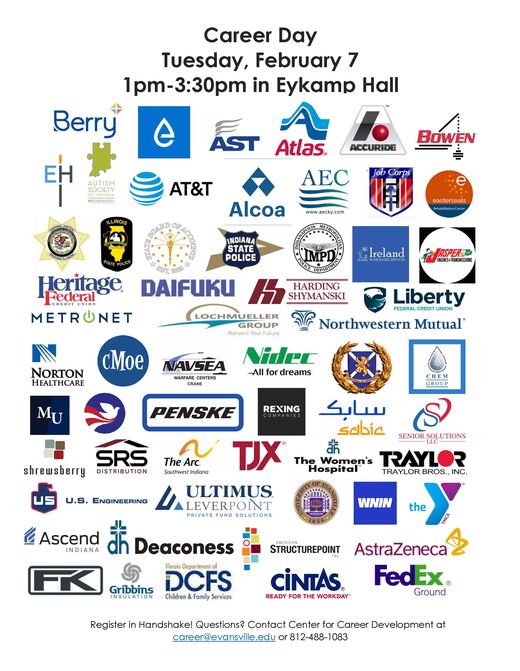 Career Day 2023
Tuesday, February 7, 2023
1pm-3:30pm,
Eykamp Hall, RUC
Looking for an internship? A full time position? A part time job? Don't miss this opportunity to network with more than 50 employers from the area recruiting for ALL majors! Register for this event in Handshake TODAY!
Come to the event dressed for success. We will offer free professional headshots, which you can use for your professional social media accounts. You are encouraged to bring an updated resume to share with employers. Need help updating yours? Contact the Center for Career Development to schedule an appointment.
Submitted by Amanda Wood aw505@evansville.edu
Mark your calendars for Career Day 2023
Mark your calendar and register in Handshake!!!
Career Day 2023
Tuesday, February 7, 2023
1pm-3:30pm,
Eykamp Hall, RUC
Looking for an internship? A full time position? A part time job? Don't miss this opportunity to network with more than 50 employers from the area recruiting for ALL majors! Look in Handshake to see a complete list of registered employers and to register to for this event.
Come to the event dressed for success. We will offer free professional headshots, which you can use for your professional social media accounts. You are encouraged to bring an updated resume to share with employers. Need help updating yours? Contact the Center for Career Development to schedule an appointment.
Submitted by Amanda Wood aw505@evansville.edu
SAA Book Club book for February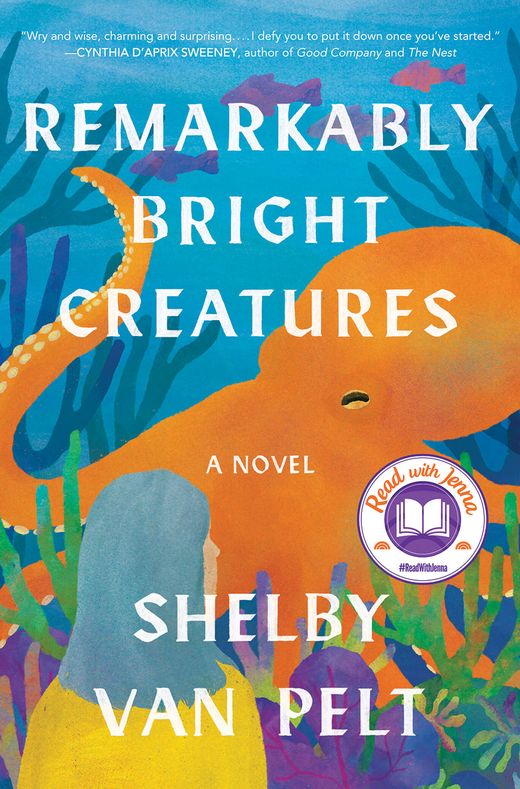 The SAA Book Club will be reading Remarkably Bright Creatures by Shelby Van Pelt for their February read. This was an instant New York Times Bestseller. Harper Collins describes it as 'a charming, witty and compulsively readable exploration of friendship, reckoning, and hope that traces a widow's unlikely connection with a giant Pacific octopus." (Yes, you read that correctly - a giant octopus!) They will be gathering on Thursday Feb 23 at 12pm in the University Advancement House on Rotherwood to discuss the book and play book bingo! Contact Kathy Taylor at ks6@evansville.edu for more information and to be added to the Book Club email list.
Submitted by Katherine Taylor ks6@evansville.edu
UE Professor Secures Grant Funding to Fight Food Insecurity and Obesity in Vanderburgh County
Dear Campus Community,
It is my pleasure to announce that Vanderburgh County and our community will receive nearly half a million dollars to fight food insecurity and obesity.
In November, the University of Evansville's Institute for Public Health submitted a grant application on behalf of the Evansville non-profit Young & Established. Founded by activist Courtney Johnson, Y&E works to better the community primarily through the inspiration and motivation of the youth via multiple programs.
The grant valued at $450,000 will provide two years' worth of funding for work related to food insecurity and obesity. With the funding, the goal is to accomplish three programs including expanding Y&E's backpack and food pantry program, the creation of a community garden and farmer's market, and enlarging the current cooking classes for children who are part of the Y&E mentorship program.
The University of Evansville's Institute for Public Health was proud to partner and assist Young & Established by submitting this grant. I am confident the funding will assist our community's youth in understanding the value of food nutrition while incorporating a robust program that combats food insecurity.
I'm looking forward to seeing these programs develop as we continue working together to achieve goals that not only benefit each other, but our community as one.
Regards,
Dr. Su Jin Jeong
University of Evansville Director of Institute for Public Health and Associate Professor
Submitted by Dr. Su Jin Jeong sj117@evansville.edu
Dr. Huebner named to ICI Leadership Academy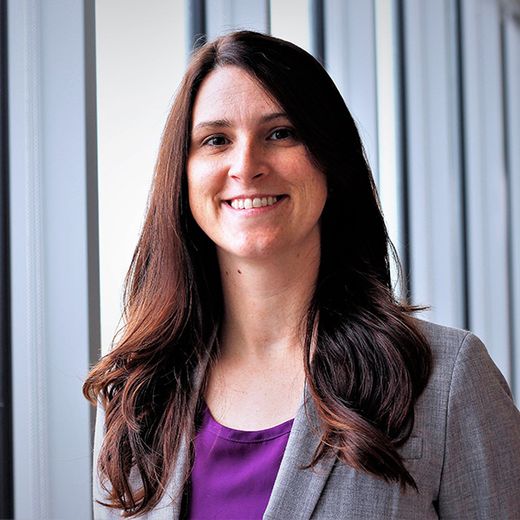 Dr. Bethany Huebner, Chair and Professor of Physical Therapy, has been named to the Leadership Academy of the Independent Colleges of Indiana. This year-long program focuses on transformational leadership and understanding the needs of private college campuses. ICI represents Indiana's 29 private, non-profit, regionally-accredited colleges and universities. See the complete list of the academy's third cohort participants at https://www.icindiana.org/ici-announces-third-cohort
Submitted by Jennifer Simon js698@evansville.edu
Feit reaches 1,500-point mark in Evansville's loss to UT Martin
Senior guard/forward Abby Feit became the fourth player in program history to reach 1,500 points, as the University of Evansville women's basketball team dropped an 80-60 non-conference matchup with UT Martin on Monday evening inside Meeks Family Fieldhouse in Evansville.
Feit finished tied for the game-high with freshman guard Kynidi Mason Striverson as both recorded 12 points. Also finishing in double-figures was redshirt junior center Barbora Tomancova with a double-double of 11 points and 10 boards and fifth-year guard Myia Clark with 10 points. For the Skyhawks, Sharnecce Currie-Jelks and Shae Littleford powered the visitors, combining for 49 points in UT Martin's win.
The Aces were able to keep pace with the Skyhawks in the early going, trading baskets for much of the opening quarter. UT Martin's advantage reached its peak in the first quarter on a made free-throw with under a minute left in the quarter, but got to the foul line before the buzzer, hitting two free-throws to get UE within three at 14-11.
In the second period, Evansville continued to keep it a one or two possession game for the first part of the quarter before the Skyhawks consistent offense helped UT Martin pull slightly away in the waning moments of the half. Inside the final minute, Currie-Jelks hit a layup that boosted UTM's lead to double-digits, but was immediately answered with a bucket from sophomore guard Elly Morgan. As the half dropped within the final 10 seconds, Littleford knocked-down a jumper to give the Skyhawks back an 11-point lead at the break.
Evansville's turnovers and poor shooting began to catch up with it midway through the third as UT Martin saw its lead boosted to 20 at 57-37 with 3:14 remaining in the frame. The Aces showed grit, battling back with a 10-2 run over the final three minutes to chip within 12 going into the fourth.
Down the stretch, Evansville's turnovers were too much to overcome in the fourth quarter as the Aces recorded seven turnovers in the fourth as UT Martin grabbed the 80-60 win.
Evansville goes back on the road this weekend with a southern road swing to Belmont on Friday, February 11th and Murray State on Sunday, February 12th.
Submitted by Athletics
Petrova tied for the lead entering final round
Freshman Kate Petrova is tied for the lead entering the final round of the Motor City Classic at Rio Pinar Country Club.
Petrova recorded a 2-over 74 on Monday, matching her score from Sunday's opening round. Her 148 is tied for the individual lead with Oakland's Paige Scott with 18 holes remaining.
Allison Enchelmayer is tied for the fifth position. After shooting a 73 on Sunday, Enchelmayer scored a 77 in round two and has a 150. Mallory Russell is the third Purple Aces player in the top 20. Russell lowered her opening round score by two, carding a 78 in the second round. Her 158 is tied for 17th.
Next up for UE is Magadelna Borisova. Her tally of 85 has her in 30th with a 165 while Alyssa McMinn is in the 33rd spot with a 169. Caitlin O'Donnell ranks 36th with a 177.
As a team, the Aces are in the fourth position with a 621. They trail 3rd-place St. Thomas by three strokes. Oakland extended their lead in the team standings as their 602 leads Creighton by 11.
Submitted by Athletics
UE Swimming & Diving Earns Scholar All-America Team Honors Again
For the fourth-straight year, the University of Evansville men's and women's swimming and diving teams have earned Scholar All-America Team honors from the College Swimming and Diving Coaches Association of America (CSCAA) for their work in the classroom during the fall 2022 semester.
The UE women were one of 188 Division I women's programs to earn CSCAA Scholar All-America Team honors while compiling a 3.61 team GPA during the fall. Meanwhile, the UE men were one of 121 Division I men's programs to garner the award after posting a 3.33 team GPA in the fall. Both UE programs have now earned Scholar All-America Team honors each semester over the last four years under the direction of fourth-year head coach Stuart Wilson.
"We take a lot of pride here at the University of Evansville in terms of succeeding both in the pool and in the classroom," said Wilson. "I am really proud of the effort that the student-athletes put in both in the pool and in the classroom this past fall. They really excelled in both areas this fall."
Evansville is a part of two different conferences which had 100 percent of their membership earn Scholar All-America team honors, as both the Missouri Valley Conference on the women's side and Mid-American Conference on the men's side achieved that mark.
The Purple Aces will return to action next at their conference championship meets, as the MVC Women's Swimming & Diving Championships will take place February 15-18 in Iowa City, Iowa, while the men's MAC Swimming & Diving Championships will take place March 1-4 in Oxford, Ohio.
Submitted by Athletics
Contribute to AceNotes
To have content considered for inclusion in AceNotes, please submit a Marketing Request Form. Deadline for submission to AceNotes is 10:00 a.m. on the requested date of publication. Only articles concerning UE related/sponsored activities will be accepted. Articles submitted to AceNotes may be edited for length and clarity. Submitter contact information is at the end of each article.