| | |
| --- | --- |
| AceNotes Today | Monday, February 6, 2023 |
Faculty Chamber Winds to Perform Tuesday Night
Join us for a delightful recital of lesser-known gems of the Romantic period. The program includes selections from 6 German Leider by Louis Spohr, featuring soprano Alanna Keenan; a trio for clarinet, horn, and piano by Gustav Jenner, who was the only formal composition student of Johannes Brahms; and concluding with Johann Valentin Hamm's Viergespräch for flute, oboe, clarinet, horn, and piano.
The concert will take place on Tuesday, February 7, at 7:30 p.m. in Neu Chapel. It is free and open to the public, or you can watch the livestream at: https://www.evansville.edu/majors/music/calendar.cfm
Submitted by Amy Esche ae128@evansville.edu
Visit MS in Leadership table at Career Day on February 7
All UE students and employees are invited to visit the Master of Science in Leadership table at the Career Day event taking place on Tuesday, February 7 in Eykamp Hall, from 1:00 to 3:30 p.m. Stop by to learn more about this innovative, online program that provides a rich curriculum in a flexible environment that can be completed within 16 months. All courses within the program emphasize the student's growth and development as a leader and how to leverage one's leadership strengths to create positive, organizational change. For more information, email Cindy Felts at cf128@evansville.edu.
Submitted by Cindy Felts cf128@evansville.edu
Solo Exhibition for Professor Todd Matteson at Thyen-Clark Cultural Center, Jasper, Indiana

The Thyen-Clark Cultural Center in Jasper, Indiana, hosts Professor Todd Matteson's solo exhibition, Life's Adventures. The exhibition runs for three months with a gallery talk every first Thursday in March and April. Professor Matteson will also be doing demonstrations to the public and local schools during his exhibition. Please come enjoy his ceramics and catch a glimpse at his new creations.
Submitted by Todd Matteson tm8@evansville.edu
Test Your Trivia Skills at Nerd Wars
Team sign-ups are now open for this year's Nerd Wars trivia competition, scheduled for Tuesday, March 14 at 7:00pm in Eykamp Hall. The Honors Program invites you to form your team of five competitors to battle in a competition of wits for prizes and bragging rights. Teams of students, faculty, administrators, and staff are welcome to register.
Both spectators and competitors can enjoy pizza and snacks at the event, as well as the chance to receive giveaway prizes!
Register online now at this link: https://forms.gle/H8WVXxJYznPFSsTH8
Registration is free for the event. Those who are unable to compose a team of five may still register and will be matched to form a team. The registration deadline is Friday, February 17.
Please contact Hannah at ht80 with any questions.
Submitted by Jayme Williams jw504@evansville.edu
Visting Anthropologist Lecture: Babies, Brains, and Biomechanics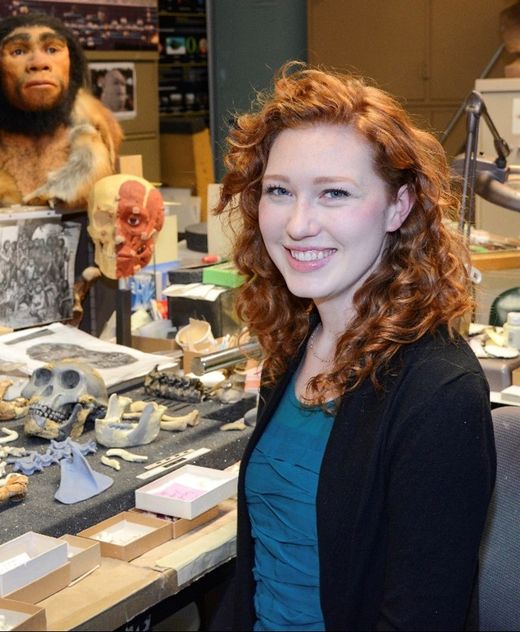 Join us for a Lecture by Visiting Anthropologist Dr. Anna Ragni
Babies, Brains, and Biomechanics: Explorations of Major Transitions in Human Evolution
Two major transitions in the human lineage help define modern humans today: big brains and upright walking. Dr. Ragni uses living primates and fossil remains to better understand how these evolutionary changes may have occurred. By analyzing bones through growth, biomechanically modeling locomotion, and digitally recreating an ancient brain, this research helps us better understand the evolutionary patterns and capabilities of 'transitional' species.
Monday, Feb. 6, 4:30 pm, Hyde Hall 14
Sponsored by the Department of Archaeology
Submitted by Alan Kaiser ak58@evansville.edu
CDEI Presents: Look Away Look Away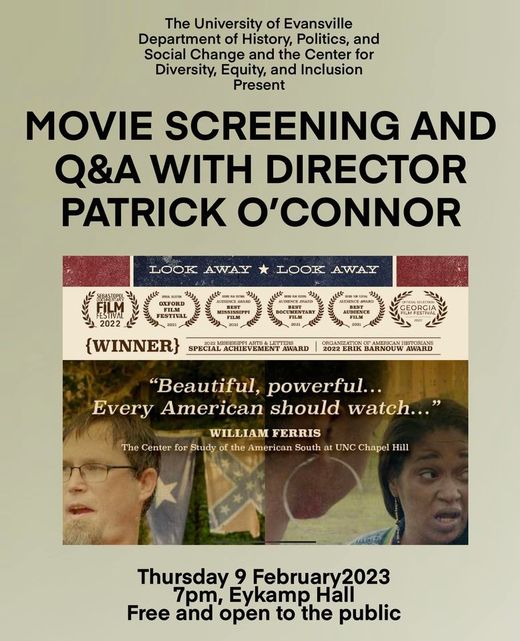 The CDEI invites you to a film screening of Look Away, Look Away followed by a Q&A with the director, Patrick O'Connor. The film Follows the murder of nine black church goers in 2015 South Carolina and the battle over the confederate states flag of Mississippi. This event will take place in Eykamp Hall on Thursday, 9th February.
Submitted by Abagail Catania ac532@evansville.edu
Build-A-Buddy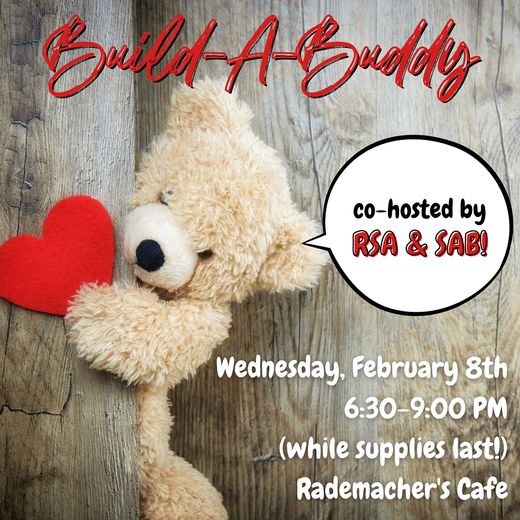 SAB & RSA are co-hosting Build-A-Buddy on Wednesday, February 8th starting at 6:30 pm until supplies are gone! Stop by and build your very own stuffed animal friend with us!
Submitted by Auberi Grubb ag334@evansville.edu
Spring Break 2023 Venturing Crew will be Chasing Waterfalls in beautiful Tennessee
Venturing Crew will be Chasing Waterfalls in beautiful Tennessee for Spring Break 2023. Join us as we explore some of the region's most beautiful and picturesque waterfalls.
We will be leaving campus on Sunday morning March 5th and drive to Burgess Falls which is noted for its natural beauty and four waterfalls that cascade down from over 250 feet. After which we will head to our cabin to prepare dinner and make room assignments. The cabin does have full bathrooms and an area where we can relax, get to know each other and play games.
Monday, we'll be heading to Fall Creek Falls, home to one of the tallest waterfalls in the Eastern United States and visiting the Betty Dunn nature center.
Next up is Cane Creek Cascades, Cane Creek Falls is the largest waterfall by volume at Fall Creek Falls State Park. Before we return to camp, we will climb on the cable trail to the base of Cane Creek Falls and Rock-house Falls.
Tuesday, we hike around Virgin Falls where an underground stream emerges from a cave and then plummets 110' over the side of a cliff before disappearing again into another cave at the bottom. Doesn't that sound like something you need to see for yourself?
Next, we'll be hiking to the overlook of Piney Falls, an 80-ft. falls and the area is home to an old-growth forest.
Wednesday, we pack everything up and head to Rock Island and visit Twin Falls, where water pours out of the walls of a gorge, instead of over the walls. This interesting and easy to visit waterfall was accidentally created when the Caney Fork River was dammed.
Our final water fall of the trip will be Cummings Falls and is Tennessee's eighth largest waterfall in terms of volume and is 75 feet high.
To wrap our adventure, we head to Nashville where we will have dinner at Hattie B's Hot Chicken which is famed for its emphasis on quality, flavor and true Southern hospitality, Nashville's family-owned and operated Hattie B's Hot Chicken showcases its first West Coast location at Block 16 Urban Food Hall, serving hot chicken, Southern sides and local brews in a casual, counter-service eatery.
We plan to return to campus around 8pm Wednesday evening (March 8th) and this whole trip is only $75 (excludes Hattie B's)
Look for our tables in Ridgway starting Feb 27th to sign up. Payment can be made in cash, check, Square or Venmo
Submitted by Fred Wilson fw2@evansville.edu
Student Showcase Exhibition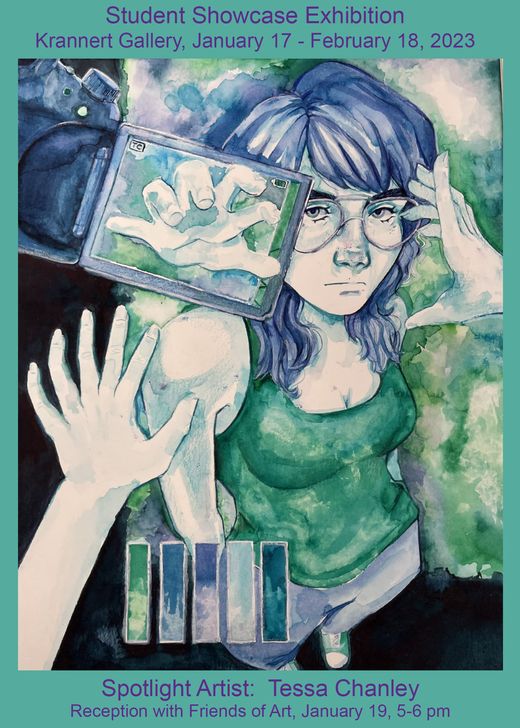 The STUDENT SHOWCASE 2023 exhibit in the Krannert Gallery includes Drawings, Designs, Paintings, and Ceramics which exemplify many of the concepts and techniques covered in specific Art courses. The Instructors/Professors selected the Art for this show as stellar examples of work completed in UE Art courses during the 1st Semester. The exhibit runs January 17 - February 18.
Also, in this exhibit is ART BY TESSA CHANLEY, class of 2024. Tessa received the Class of 2024 Outstanding Freshman Art Student Award. As part of this annual honor, the recipient is spotlighted in his/her Junior year, in the Student Showcase Exhibit.
Submitted by Carol McCraney cm177@evansville.edu
Pep and Vim Crowdfunding
Just a reminder, the deadline for Pep and Vim crowdfunding applications is Monday, February 6. You can click this link to begin your application: Pep and Vim Crowdfunding
Once the final projects are selected, the Office of Alumni & Engagement will follow up with every applicant, to review possible next steps.
Thank you and Go Aces!
Submitted by Jaime Wilder jw663@evansville.edu
Career Day 2023- Register TODAY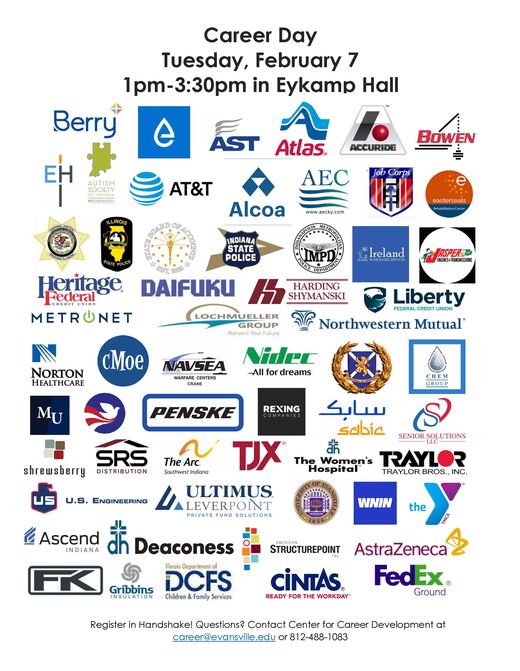 Career Day 2023
Tuesday, February 7, 2023
1pm-3:30pm,
Eykamp Hall, RUC
Looking for an internship? A full time position? A part time job? Don't miss this opportunity to network with more than 50 employers from the area recruiting for ALL majors! Register for this event in Handshake TODAY!
Come to the event dressed for success. We will offer free professional headshots, which you can use for your professional social media accounts. You are encouraged to bring an updated resume to share with employers. Need help updating yours? Contact the Center for Career Development to schedule an appointment.
Submitted by Amanda Wood aw505@evansville.edu
Mark your calendars for Career Day 2023
Mark your calendar and register in Handshake!!!
Career Day 2023
Tuesday, February 7, 2023
1pm-3:30pm,
Eykamp Hall, RUC
Looking for an internship? A full time position? A part time job? Don't miss this opportunity to network with more than 50 employers from the area recruiting for ALL majors! Look in Handshake to see a complete list of registered employers and to register to for this event.
Come to the event dressed for success. We will offer free professional headshots, which you can use for your professional social media accounts. You are encouraged to bring an updated resume to share with employers. Need help updating yours? Contact the Center for Career Development to schedule an appointment.
Submitted by Amanda Wood aw505@evansville.edu
SAA Book Club book for February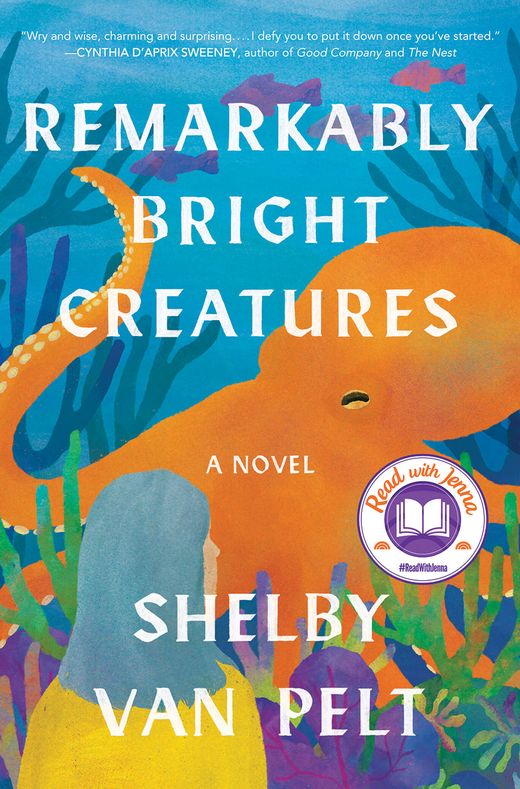 The SAA Book Club will be reading Remarkably Bright Creatures by Shelby Van Pelt for their February read. This was an instant New York Times Bestseller. Harper Collins describes it as 'a charming, witty and compulsively readable exploration of friendship, reckoning, and hope that traces a widow's unlikely connection with a giant Pacific octopus." (Yes, you read that correctly - a giant octopus!) They will be gathering on Thursday Feb 23 at 12pm in the University Advancement House on Rotherwood to discuss the book and play book bingo! Contact Kathy Taylor at ks6@evansville.edu for more information and to be added to the Book Club email list.
Submitted by Katherine Taylor ks6@evansville.edu
Meal Exchange on Transact Mobile Ordering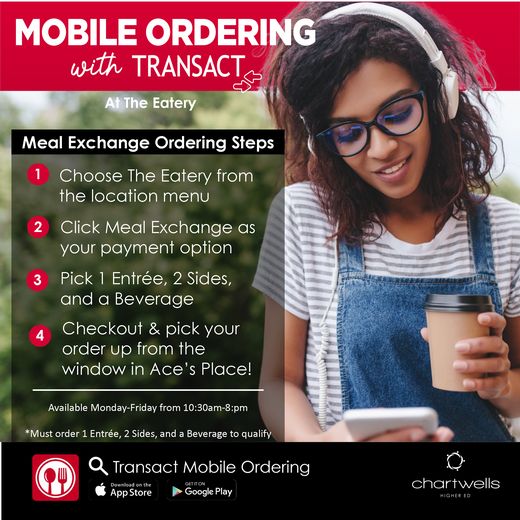 Mobile ordering with Transact At The Eatery
Meal Exchange Ordering Steps
Choose The Eatery from the location menu
Click Meal Exchange as your payment option
Pick 1 Entrée, 2 Sides, and a Beverage
Checkout & pick your order up from the window in Ace's Place!
Available Monday-Friday from 10:30am 8:00pm
*Must order 1 Entrée, 2 Sides, and a Beverage to qualify
Submitted by Samantha Williams sw342@evansville.edu
Eykamp Prize: Call for Nominations
The Eykamp Prize was established by Richard and Rita Eykamp in 2015 to honor Faculty Achievement at the University of Evansville. Recipients of the prize will receive a one-time award of $10,000 in recognition of extraordinary contributions to the University of Evansville as University Citizens. Examples of such contributions include deep and successful involvement in recruiting students; expanding the number, scope, and competitiveness of grant funding for their department; bringing positive public awareness to the University through scholarship, knowledge, and understanding of their discipline.
Nominations for the Eykamp Prize may come from any member of the University of Evansville community. Nominees should be tenured or tenure-track faculty members at the University of Evansville who have not received the award in the previous five years. Nominations can be submitted in writing or via e-mail to Michael Austin, Executive Vice President for Academic Affairs/Provost, at ma352@evansville.edu by March 10, 2023. Nominations should include the name of the faculty member and a brief statement of the reasons that he or she is being nominated.
Recipients of the Eykamp Prize will be selected by an Award Committee, appointed by the EVPAA/Provost that includes members of the faculty, staff, administrators, and a member of the Board of Trustees. The award will be announced and presented at the May Commencement Ceremony.
Recipients in the previous five years: 2018 – Dr. David Dwyer; 2019 – Dr. Kristy Miller; 2020 – Dr. Jerrilee LaMar; 2021 – Dr. Joyce Stamm; 2022 – Dr. Mari Plikuhn.
Submitted by Paula Heldt ph28@evansville.edu
Dr. Huebner named to ICI Leadership Academy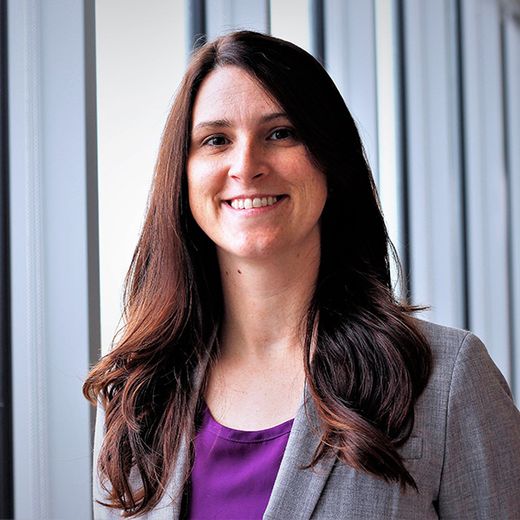 Dr. Bethany Huebner, Chair and Professor of Physical Therapy, has been named to the Leadership Academy of the Independent Colleges of Indiana. This year-long program focuses on transformational leadership and understanding the needs of private college campuses. ICI represents Indiana's 29 private, non-profit, regionally-accredited colleges and universities. See the complete list of the academy's third cohort participants at https://www.icindiana.org/ici-announces-third-cohort
Submitted by Jennifer Simon js698@evansville.edu
Aces fall to hot-shooting Drake on the road
Facing one of the top five teams in the MVC, the University of Evansville women's basketball team ran into a hot-shooting Drake Bulldogs squad, falling on the road on Saturday afternoon in Des Moines, Iowa.
Leading the way for Evansville, senior guard/forward Abby Feit notched her 77th career double-figure performances, scoring 13 points and adding six boards in 25 minutes of play. With her six rebounds, Feit moves into sole possession of second place in the Aces record book for career rebounds with 843. Off the bench, freshman guard Kynidi Mason Striverson tallied 11 points, hitting all five of her attempts at the free-throw line. Rounding-out UE's double-digit scorers was fifth-year guard A'Niah Griffin with 10 points on the day. Finishing with a game-high 23 points, Maggie Bair powered Drake, while Anna Miller scored nine points and grabbed 17 rebounds for the Bulldogs.
Evansville showed its ability early on to compete with some of the best teams in The Valley as the Aces battled with the Bulldogs in the opening minutes. After Drake grabbed an 11-4 lead, the Aces worked themselves back within a pair at 11-9 on a three-pointer from Feit. The Bulldogs would answer with a 17-4 run to close the quarter, earning the home side a 28-13 lead after 10 minutes.
Despite struggling to find its rhythm offensively in the game, Evansville's defense shined in the second quarter, helping the Aces to stay within striking distance. In the second period, UE recorded a pair of blocks and forced three Drake turnovers and won the rebounding battle 15-10, as the Aces went to the half trailing, 42-25.
The second half was nearly a repeat of the opening quarter as Drake's offense returned to form, nearly shooting 50% in the final 20 minutes of action. Evansville struggled to get its offense going in the third and fourth quarters, shooting just 6-31 (19.4%) in the second half as the home side pulled away for the 87-48 win.
In the midst of a busy schedule, Evansville returns home for a non-conference matchup with UT Martin inside Meeks Family Fieldhouse at 6 PM on Monday night in a rescheduled contest originally to be played back in December.
Submitted by Athletics
UE women complete first day of spring
Sitting just two strokes out of the lead, the University of Evansville women's golf team is in third place following the opening round of the Motor City Classic.
Completing the opening round at Rio Pinar Country Club with a team score of 307, the Purple Aces are one behind Creighton and two in back of Oakland.
Leading the way on Sunday was Allison Enchelmayer. Firing off a 1-over 73, Enchelmayer is tied for second on the individual leaderboard. She is just two strokes behind Creighton's Eleanor Hudepohl, who paces the field with a 1-under 71.
Kate Petrova is also in the top five. The freshman carded a 2-over 74 in the first round and is in fourth place. Mallory Russell and Magdalena Borisova posted scores of 80 on Sunday. They are tied for 20th while Alyssa McMinn ranks 31st with a score of 83. Caitlin O'Donnell recorded an 86 as an individual.
Monday will feature the second round with the final 18 holes set for Tuesday.
Submitted by Athletics
Kenny Strawbridge Jr. scores 20 against Flames
For the first time since scoring 21 points against Bellarmine on Dec. 21, Kenny Strawbridge Jr. reached the 20-point mark in Saturday's 70-61 loss to UIC inside Credit Union 1 Arena.
Strawbridge drained nine of his career-high 23 attempts in the game to score a game-high of 20 points. Antoine Smith Jr. and Marvin Coleman II registered 10 apiece. UIC was led by Steven Clay's 17 points. Jace Carter posted 15 points and 12 rebounds while Tre Anderson added 15 tallies.
"We had some good moments today but we need to sustain and build on it," UE head coach David Ragland said. "I thought we did a lot of good things in the first half and took UIC out of their rhythm. Even when things were not looking good in the second half, our guys continued to respond and fight back."
UIC opened the game with a 3-pointer but it was Evansville who would quickly take the lead and hold it for the majority of the period. Yacine Toumi posted six of the Purple Aces' first eight points of the game while Kenny Strawbridge Jr. took a steal the length of the floor for a layup that put UE up 8-5.
Triples from Marvin Coleman II and Strawbridge solidified a 14-9 edge and UE would continue to add to it. Antoine Smith Jr. converted Evansville's third triple of the game at the 6:17 mark to give his team a 26-16 lead. Unfortunately, the rest of the half belonged to the Flames, who outscored the Aces by a 13-4 margin to cut UE's lead to 30-29 at the half.
With 2:05 remaining in the half, Evansville held a 30-24 lead before UIC took advantage of a late turnover to complete the half on a 5-0 run to make it a 1-point game.
Two free throws on the first possession of the final period gave UIC its first lead since the opening minutes of the game. Smith wasted little time on the ensuing trip down the floor as his putback saw Evansville retake the advantage. Evansville went up by a 34-31 score with the Flames countering with six in a row.
As the game entered the final 13 minutes, a triple pushed the UIC lead to 44-37 while making it a double-digit game for the first time when a jumper by Christian Jones gave the Flames a 48-37 lead. Evansville had opportunities to get back within single digits but UIC slowly added to its lead, which held strong at 59-43 inside of four minutes remaining in the game.
After UE made a free throw to get within 15, UIC put the game out of reach with a 5-0 run that made it a 20-point game. Despite the deficit, the Aces continued to fight back, getting with 12 with just over a minute showing on the clock. Preston Phillips added a dunk in the final minute to cut the deficit to nine, but the run came up just short with the Flames taking the game by a 70-61 final.
In total, the Flames opened the second half on a 35-14 run to establish the 20-point advantage. They shot 43.5% for the game but excelled in the final stanza, shooting 53.8%. Evansville wrapped up the day at 33.9%.
UE returns home on Wednesday for a 7 p.m. game against UNI.
Submitted by Athletics
UE's Rollett, McKinney Post Personal-Best Marks At UIC Diving Invitational
University of Evansville junior diver Madison Rollett (Evansville, Ind./Reitz) set a new personal-best score on the three-meter boards on Saturday, and freshman Levi McKinney (Boonville, Ind./Boonville) posted a season-best mark in the one-meter competition, as the UE diving squad competed in its final tune-up before the conference championship season by participating in the UIC Diving Invitational in Chicago, Illinois.
Rollett recorded a personal-best score of 260.40 in the three-meter competition to place sixth out of 24 competitors on the women's side. That score eclipsed her previous three-meter high-score of 248.35, which she set in winning the title at the A3 Performance Invitational back in November.
McKinney, meanwhile, set his season-best mark in the men's one-meter competition with a score of 254.55 to place eighth out of 14 competitors. It topped his previous season-best score of 254.03 set in a diving dual meet against Southern Indiana back in October.
"Today was a good final tune-up before the conference meet season, as the competition level was very high, and that is the level of competition that we'll see at conference," said UE assistant coach for diving Dustin Bredemeier. "For both Madison and Levi to go out and post their best marks of the year today on the different boards is a good sign heading into the conference championships."
Rollett also posted a sixth-place finish in the one-meter competition with a score of 245.90, the fourth-best one-meter score of her UE career. McKinney, meanwhile, posted a score of 229.90 in the men's three-meter competition.
The UE divers will now prepare for the conference championship season upcoming. The women's Missouri Valley Conference Swimming & Diving Championships will take place in Iowa City, Iowa from February 15-18. Meanwhile, the men's Mid-American Conference Championships will take place in Oxford, Ohio from March 1-4.
Submitted by Athletics
Throwers, PRs Highlight UE Track & Field Performance At PNC Bank Bellarmine Classic
The University of Evansville Track & Field team received both top 10 finishes and personal-best performances from senior throwers Zach Dove and Jaden Hayes on Friday, and eight different Purple Aces posted personal-best marks overall to highlight UE's efforts at the PNC Bank Bellarmine Classic in Louisville, Kentucky.
Dove finished seventh overall in the shot put with an indoor personal-best mark of 14.52 meters (47' 7.75"), while Hayes placed two spots behind with a PR throw of 14.18 meters (46' 6.25") in the day's first event to set the tone for the day. Dove also placed sixth in a stacked field in the weight throw competition with a toss of 17.58 meters (57' 8.25"). Female throwers Kaitlyn Sansone (9.06 M in shot put) and Gwen Darrah (8.94 M in weight throw) also set new personal-best marks in the throwing disciplines for UE.
UE also received an eighth-place finish in the men's triple jump from sophomore Denzel Lasam, who just narrowly missed posting a "PR" mark with a jump of 13.37 meters (43' 10'5"). Lasam's personal-best triple jump is 13.38 meters, or just 0.25" further than his jump today.
On the track, sophomore Adam Oulgout bettered his personal-best time in the mile with a mark of 4:23.68 to post one of the fastest indoor mile times on record at UE. Freshman Joey Taylor set new season-best marks in both the 800-meters (2:02.60) and mile (4:49.14) races for UE, while junior Emma Denbo posted a personal-best time in the women's 400-meter race as well (1:13.09).
Overall, UE's men placed 13th overall and 12th out of collegiate teams at the 20-team meet. The UE women tied for 17th. Southeast Missouri State earned the men's team title, while Marshall took home the women's title.
Submitted by Athletics
Women's golf to open spring season
Spring action opens for the University of Evansville women's golf team this weekend with the Motor City Classic in Orlando, Fla.
Rio Pinar Country Club will play host to the Motor City Classic, which is operated by Oakland University. Joining Oakland and Evansville in the field at St. Thomas, Creighton, Cleveland State and Northern Kentucky.
Play will take place on Monday and Tuesday with par set for 72 and the yardage at 6,049.
Leading the Purple Aces in the fall season was the duo of Mallory Russell and Kate Petrova. Russell led the squad with a 78.00 stroke average with a low round of 73 coming at the Coyote Creek Classic. She picked up two top 15 finishes. Petrova completed the fall with a 78.69 average. Her top performance came at the Braun Intercollegiate where she rallied to finish in a tie for second place.
Allison Enchelmayer and Magdalena Borisova rounded out UE's top four in the opening part of the season. Enchelmayer average 80.21 strokes while earning a tie for 8th at the Braun Intercollegiate. Borisova completed the fall with a mark of 81.00 and tied Kate Petrova for the second position at the Braun Intercollegiate.
Submitted by Athletics
Women's Basketball looks to continue momentum on trip to Drake
Looking to continue to build onto its best season in over five years, the University of Evansville women's basketball team heads north to battle Drake at 2 PM on Saturday afternoon in Des Moines, Iowa.
Saturday's clash represents the 63rd all-time meeting between the two sides with Drake owning a 48-14 advantage in the all-time series. The last matchup between the Aces and Bulldogs was a thriller with Drake ultimately capturing the 80-71 win in overtime inside Meeks Family Fieldhouse on March 3, 2022.
Drake enters the matchup with a 12-7 overall mark and a 7-4 record in conference play, most recently falling to UNI, 49-47, on a buzzer-beater on Wednesday night. The Bulldogs have been hampered by injuries this season, most notably a season-ending injury to Mega Meyer. Leading Drake this season is forward Maggie Bair, who is averaging a team-best 16 points and eight boards per game.
Evansville has already reached its most wins both overall and in conference play since the 2016-17 season and its 10 wins so far have earned the Aces their 25th season in program history with 10-or-more wins. The Aces are fresh-off an important 68-66 road victory over Indiana State that saw the team's top two scorers do just that with fifth-yeard guard Myia Clark leading the way with 21 points and senior guard/forward Abby Feit recording another double-double with 18 points and 10 assists.
Submitted by Athletics
UE Diving Travels To UIC Invitational Saturday
The University of Evansville divers will travel north for one final tune-up before the conference championship season on Saturday, as the Purple Aces will take part in the UIC Diving Invitational in Chicago, Illinois. Warm-ups begin at 9:30 a.m. with the meet beginning at 11 a.m. at the UIC Flames Natatorium.
Saturday's meet will feature eight women's teams and seven men's squads, including UE, Illinois State (women only), UIC, the University of Chicago, Wisconsin-Green Bay, Wisconsin-Milwaukee, Wisconsin-Eau Claire and Wisconsin-Oshkosh. Evansville will be represented by junior Madison Rollett (Evansville, Ind./Reitz) on the women's side and freshman Levi McKinney (Boonville, Ind./Boonville) in the men's competition.
Rollett has been UE's most consistent diver this season, as she has finished in the top three in all six one-meter diving competitions this year. She has also finished in the top three in five of UE's six three-meter competitions this year, including winning the individual title at the A3 Performance Invitational in November.
McKinney, meanwhile, has won three three-meter diving competitions this year, including winning the individual three-meter championship at the A3 Performance Invitational in November. His highest three-meter score this year has been 303.90.
Saturday's meet will be the final diving meet for the Purple Aces before the conference championship season begins. The Missouri Valley Conference women's swimming & diving championships run from February 15-18 in Iowa City, Iowa, while the Mid-American Conference men's swimming & diving championships will take place March 1-4 in Oxford, Ohio.
Submitted by Athletics
Contribute to AceNotes
To have content considered for inclusion in AceNotes, please submit a Marketing Request Form. Deadline for submission to AceNotes is 10:00 a.m. on the requested date of publication. Only articles concerning UE related/sponsored activities will be accepted. Articles submitted to AceNotes may be edited for length and clarity. Submitter contact information is at the end of each article.