| | |
| --- | --- |
| AceNotes Today | Thursday, February 2, 2023 |
Build-A-Buddy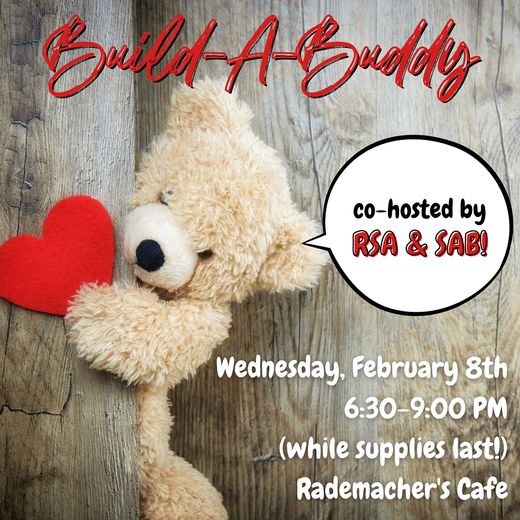 SAB & RSA are co-hosting Build-A-Buddy on Wednesday, February 8th starting at 6:30 pm until supplies are gone! Stop by and build your very own stuffed animal friend with us!
Submitted by Auberi Grubb ag334@evansville.edu
Spring Break 2023 Venturing Crew will be Chasing Waterfalls in beautiful Tennessee
Venturing Crew will be Chasing Waterfalls in beautiful Tennessee for Spring Break 2023. Join us as we explore some of the region's most beautiful and picturesque waterfalls.
We will be leaving campus on Sunday morning March 5th and drive to Burgess Falls which is noted for its natural beauty and four waterfalls that cascade down from over 250 feet. After which we will head to our cabin to prepare dinner and make room assignments. The cabin does have full bathrooms and an area where we can relax, get to know each other and play games.
Monday, we'll be heading to Fall Creek Falls, home to one of the tallest waterfalls in the Eastern United States and visiting the Betty Dunn nature center.
Next up is Cane Creek Cascades, Cane Creek Falls is the largest waterfall by volume at Fall Creek Falls State Park. Before we return to camp, we will climb on the cable trail to the base of Cane Creek Falls and Rock-house Falls.
Tuesday, we hike around Virgin Falls where an underground stream emerges from a cave and then plummets 110' over the side of a cliff before disappearing again into another cave at the bottom. Doesn't that sound like something you need to see for yourself?
Next, we'll be hiking to the overlook of Piney Falls, an 80-ft. falls and the area is home to an old-growth forest.
Wednesday, we pack everything up and head to Rock Island and visit Twin Falls, where water pours out of the walls of a gorge, instead of over the walls. This interesting and easy to visit waterfall was accidentally created when the Caney Fork River was dammed.
Our final water fall of the trip will be Cummings Falls and is Tennessee's eighth largest waterfall in terms of volume and is 75 feet high.
To wrap our adventure, we head to Nashville where we will have dinner at Hattie B's Hot Chicken which is famed for its emphasis on quality, flavor and true Southern hospitality, Nashville's family-owned and operated Hattie B's Hot Chicken showcases its first West Coast location at Block 16 Urban Food Hall, serving hot chicken, Southern sides and local brews in a casual, counter-service eatery.
We plan to return to campus around 8pm Wednesday evening (March 8th) and this whole trip is only $75 (excludes Hattie B's)
Look for our tables in Ridgway starting Feb 27th to sign up. Payment can be made in cash, check, Square or Venmo
Submitted by Fred Wilson fw2@evansville.edu
Faculty Recital Rescheduled
The recital by Alanna Keenan and Anne Fiedler has been rescheduled to Friday, February 3, at 7:30 p.m. in Neu Chapel. We hope to see you there.
Submitted by Amy Esche ae128@evansville.edu
University of Evansville Theatre presents CIRCLE MIRROR TRANSFORMATION
The University of Evansville Theatre commences its Spring 2023 season with Annie Baker's CIRCLE MIRROR TRANSFORMATION, which opens at 7:30 p.m., Thursday, February 2, in the May Studio Theatre. Additional performances are at 7:30 p.m., February 3 and 4, and at 2:00 p.m., February 4 and 5. Led by a charismatic instructor, a group of adults convene in a community center to seek connection through a creative drama class. Pulitzer Prize-winning playwright Annie Baker explores the pathos and comedy inherent in everyone's efforts to find joy in the journey towards transformation.
CIRCLE MIRROR TRANSFORMATION is directed by Jimmy Guest, a senior theatre studies major from Bettendorf, Iowa.; Zoe Paraskevopoulos, a senior stage management major from Flower Mound, Texas, serves as the scenic designer; Avery Finn, a junior theatre studies major from Terre Haute, Ind., is the costume designer; Jamey Pearson, a junior design and technology major from Moody, Texas, is the lighting designer; Blake Cooper, Assistant Technical Director/ Scene Shop Manager serves as the sound designer; Spencer Marfy , a junior performance major from Tallmadge, Ohio, is the dramaturg; Madison Wilson '22, a guest artist, is the stage manager, and Vi Lecklider, a senior design and technology major from Columbus, Ind., serves as the technical director.
The cast features Umbra Person, a first-year performance major from Jonesboro, Ga., as Marty; Nathan Viscaino, a senior performance major from Redmond, Ore., as James; Garrett Hale, a junior performance major from Haslet, Texas, as Schultz; Lillian Grace Carlson, a junior performance major from Minneapolis, Minn., as Theresa; Sophia McGuire, a first-year performance major from McKinney, Texas, as Lauren.
In following industry standards, masks are strongly encouraged, but not required. Seating is limited, and all general admission tickets are $12. UE students may obtain one free student rush ticket beginning at noon on the day of the performance they wish to attend. Single tickets may be purchased online at theatre.evansville.edu or by calling the ticket office at 812.488.2031.
Submitted by Sharla Cowden sc75@evansville.edu
CBE Speaker Series: A Celebration of Engineer's Week with Paul Jones

University of Evansville - College of Business & Engineering Speaker Series
A Celebration of Engineers Week!
Paul W. Jones '71
February 21, 2023
Lunch & Learn
12:20-1:15 p.m.
Lunch served at 12:20 p.m.; Speaker Begins at 12:30 p.m.
Schroeder Building, Room 170
Making the Most of Your College and Career: Advice from an Engineer and CEO
Join us as we welcome engineering alumnus Paul W. Jones to hear his personal journey and lessons learned along the path from engineer to CEO.
Both in person and zoom options will be provided. If you register to attend the event via zoom, the link will be provided to you 24 hours prior to the event. Please be sure to check your spam folder. If you do not receive the information, please contact Nick Bragin at nb197@evansville.edu

Register for this event.
Submitted by Nick Bragin nb197@evansville.edu
Do you love Harlaxton? Wear your gear February 14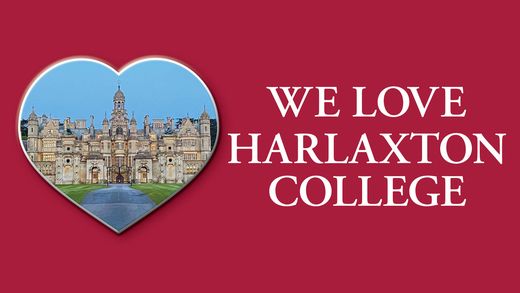 Do you love Harlaxton? Then join us for a wear your Harlaxton gear day on Valentine's Day. Donut Bank cookies will be given out (limited supply) to individuals wearing their Harlaxton gear on February 14.
Submitted by Logan Replogle lr189@evansville.edu
Randy Simmons Exhibit in Melvin Peterson Gallery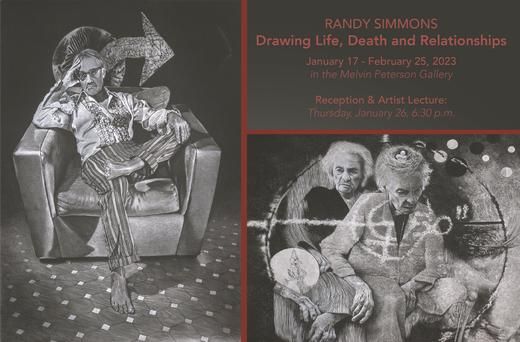 The Melvin Peterson Gallery will host the Drawing Life, Death and Relationships Exhibit by artist Randy Simmons from 01/17/2023 and through 02/25/2023. Gallery hours are Monday, Tuesday, Friday and Saturday from 12:00 p.m. - 3:00 p.m.; and Wednesday and Thursday from 12:00 p.m. - 6:00 p.m. Please join us for a reception and artist lecture on Thursday, January 26, 2023 at 6:30 p.m. in the Melvin Peterson Gallery.
Submitted by Carol McCraney cm177@evansville.edu
Mark your calendars for Career Day 2023
Mark your calendar and register in Handshake!!!
Career Day 2023
Tuesday, February 7, 2023
1pm-3:30pm,
Eykamp Hall, RUC
Looking for an internship? A full time position? A part time job? Don't miss this opportunity to network with more than 50 employers from the area recruiting for ALL majors! Look in Handshake to see a complete list of registered employers and to register to for this event.
Come to the event dressed for success. We will offer free professional headshots, which you can use for your professional social media accounts. You are encouraged to bring an updated resume to share with employers. Need help updating yours? Contact the Center for Career Development to schedule an appointment.
Submitted by Amanda Wood aw505@evansville.edu
Meal Exchange on Transact Mobile Ordering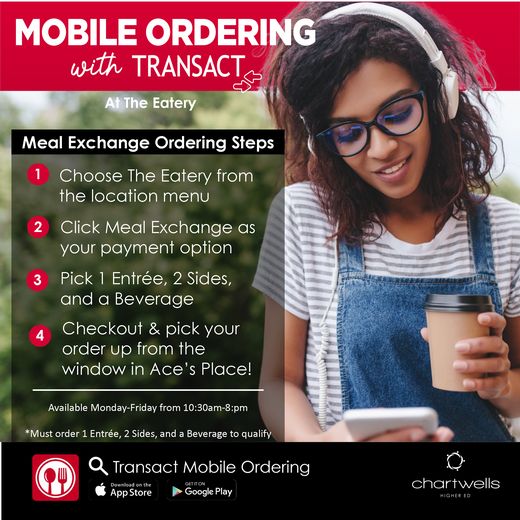 Mobile ordering with Transact At The Eatery
Meal Exchange Ordering Steps
Choose The Eatery from the location menu
Click Meal Exchange as your payment option
Pick 1 Entrée, 2 Sides, and a Beverage
Checkout & pick your order up from the window in Ace's Place!
Available Monday-Friday from 10:30am 8:00pm
*Must order 1 Entrée, 2 Sides, and a Beverage to qualify
Submitted by Samantha Williams sw342@evansville.edu
Eykamp Prize: Call for Nominations
The Eykamp Prize was established by Richard and Rita Eykamp in 2015 to honor Faculty Achievement at the University of Evansville. Recipients of the prize will receive a one-time award of $10,000 in recognition of extraordinary contributions to the University of Evansville as University Citizens. Examples of such contributions include deep and successful involvement in recruiting students; expanding the number, scope, and competitiveness of grant funding for their department; bringing positive public awareness to the University through scholarship, knowledge, and understanding of their discipline.
Nominations for the Eykamp Prize may come from any member of the University of Evansville community. Nominees should be tenured or tenure-track faculty members at the University of Evansville who have not received the award in the previous five years. Nominations can be submitted in writing or via e-mail to Michael Austin, Executive Vice President for Academic Affairs/Provost, at ma352@evansville.edu by March 10, 2023. Nominations should include the name of the faculty member and a brief statement of the reasons that he or she is being nominated.
Recipients of the Eykamp Prize will be selected by an Award Committee, appointed by the EVPAA/Provost that includes members of the faculty, staff, administrators, and a member of the Board of Trustees. The award will be announced and presented at the May Commencement Ceremony.
Recipients in the previous five years: 2018 – Dr. David Dwyer; 2019 – Dr. Kristy Miller; 2020 – Dr. Jerrilee LaMar; 2021 – Dr. Joyce Stamm; 2022 – Dr. Mari Plikuhn.
Submitted by Paula Heldt ph28@evansville.edu
UE Track & Field Heads To PNC Bank Bellarmine Classic Friday
For the second time in two weeks, the University of Evansville track and field team will return to the Norton Healthcare Sports & Learning Center in Louisville, Kentucky on Friday to take part in the 20-team PNC Bank Bellarmine Classic. Field events will begin the day at 9 a.m. central time with the men's shot put, with track events beginning at 10 a.m.
The 20-team field will include competitors from 18 Division I schools, as UE will be joined in the field by the likes of Bellarmine, Belmont, IUPUI, Jacksonville State, Lipscomb, Marshall, Miami (OH), Murray State, Northern Kentucky, Purdue Fort Wayne, Southeast Missouri State, SIU-Edwardsville, Southern Indiana, Tennessee State, UT Martin, Western Kentucky and Wright State on the Division I side. Competitors from Illinois Springfield and the University of the Cumberlands will also be in attendance.
Evansville last competed two weeks ago at the Bellarmine Open, which also took place at the Norton Healthcare Sports & Learning Center. At the meet, graduate student Antonia Lamond (Nutley, N.J./Paramus Catholic) broke her own school record in the weight throw with a toss of 13.28 meters. Senior Zach Dove (Princeton, Ind./Princeton Community) also posted a pair of top-five finishes in the shot put and weight throw on the men's side, while beating the previous Bellarmine Open meet record in the weight throw by over a meter and a half. Dove is currently seeded in the top 10 of both events in a stacked field, which includes two throwers who are currently ranked in the NCAA's top 40 this season.
On the track, junior Geordan Blades (Avon, Ind./Avon) is seeded fourth in the men's 200-meter race, while sophomore Adam Oulgout (St. Paul, Minn./Central) has a fifth-place seed time in the men's mile race. Oulgout has started the year out strong, breaking the school record in the 1,000-meters and posting one of the fastest indoor mile times in UE history already this year.
Live results from Friday's meet can be found on-line on a link from the GoPurpleAces.com website on the UE Track & Field schedule page.
Submitted by Athletics
Toumi sets career scoring mark against Sycamores
Yacine Toumi connected on eight of his 16 field goal attempts to finish with a career-best 19 points on Wednesday evening as the University of Evansville men's basketball team fell to Indiana State by a final score of 83-65 on Wednesday night at the Ford Center.
Toumi's performance eclipsed his previous scoring high of 18, which came against Campbell and Valparaiso. Kenny Strawbridge Jr. recorded 17 while Antoine Smith Jr. and Marvin Coleman II scored eight apiece. Indiana State was led by Cooper Neese's 19-point game with Courvoisier McCauley scoring 18 points and hauling in a game-high 11 rebounds.
"We had a much better start tonight. Indiana State is a great team and we knew they would respond. What I was really happy about is how we finished the first half to make it a 1-point game at halftime," Purple Aces head coach David Ragland said following the game. "In the second half, they were able to get out in transition, build a double-digit lead, and it was difficult to overcome."
An exciting first half featured big runs by both squads. Evansville connected on five shots in a row to take a 12-2 lead in the opening four minutes. After the Sycamores took a 2-0 lead, Yacine Toumi hit a jumper to tie it up. Antoine Smith Jr. followed with a triple before Gage Bobe and Kenny Strawbridge Jr. added buckets to push the lead to 9-2. Marvin Coleman II capped the run with a triple to force a time out by Indiana State.
Following the stoppage, Indiana State drained five baskets to go up 16-12 less than three minutes later. Three triples and a 3-point play opened the run as ISU went up 16-12. Toumi ended the Sycamore run but they kept the pressure on and pushed the lead to as many as 14 points – 37-23 – with 3:44 remaining in the period.
Evansville refused to back down, grabbing the momentum right back in the final minutes and it was Strawbridge leading the way in a 13-0 run. He opened the rally with a pair of free throws and knocked down three 2-point shots to make it a 37-33 game at the 1:17 mark. As the seconds ticked down, UE retook possession and Strawbridge drained a 3-pointer just before the buzzer to cut the Indiana State lead to 37-36 at the break. Evansville hit five of its final six attempts in the half while ISU's final six possessions included three missed shots and three turnovers.
Bobe opened the second half with a triple to tie the game at 39-39 but it was another ISU run that pushed the lead back into double figures. Up 42-41, ISU knocked down four field goals in a row to open a 52-41 edge. Antoine Smith Jr. ended the stretch with his second field goal of the night and would hit three free throws to get UE back within six at 52-46 with 14:19 left in the game.
Indiana State would not let the Aces get any closer. Another three by McCauley was the start of a 20-7 run that gave ISU its largest lead at 72-53 with 6:17 on the clock. Evansville closed the gap to as few as 12 points in the final minutes before the Sycamores took the game by a final score of 83-65.
Highlighted by a 57.7% shooting performance in the second half, ISU completed the game at 53.8%. UE shot 41.8%. The Sycamores wrapped up the night with a 35-27 advantage on the boards. Next up for the Aces is a road game on Saturday at UIC with tip set for 1 p.m.
Submitted by Athletics
Clark and Feit help Aces battle back to earn 10th win of the season
Powered by its two top scorers, the University of Evansville women's basketball team battled back from an early deficit to capture a 68-66 win over Indiana State on Wednesday evening in Terre Haute, Ind.
Reaching the 20-point mark for the fourth time this season, fifth-year guard Myia Clark poured-in a game-high 21 points on the night, while dishing-out five assists and grabbing four rebounds. Feit notched her fifth double-double of the year, finishing with 18 points and 10 boards, hitting three triples in the Aces win. Rounding-out Evansville's double-figure scorers, fifth-year guar A'Niah Griffin tallied 10 points, getting most of her scoring done at the charity stripe where she went a perfect 8-for-8 on the night. The Sycamores were led by guard Bella Finnegan, who recorded 17 points to pace the home side.
Despite leading by three in the opening minutes and even sitting tied at 7-7 just 3:30 in, Evansville quickly found itself in a hole to start the game. The Sycamores took control of the early portion of the game using an 11-0 run to jump out to an 18-7 lead. Indiana State's advantage would grow as large as 14 at 24-10 at the quarter break as the Sycamores limited Evansville to just three points over the final 6:30 of the first period.
As was true last Sunday following a slow start, Evansville responded in the second quarter and worked itself back within a workable margin. Straight out of the gate in the second frame, the Aces scored 10-straight points to cut the deficit to just four with over seven minutes left in the half. A string of seven-straight Aces points scored by Clark helped Evansville tie the game at 30 as the period waned before Indiana State hit a late shot to take a two-point, 32-30 lead to the break.
Opening the second half, Indiana State built a four-point lead on three separate occasions, but Evansville seemed to have an answer each time. The game-turning point came in the middle part of the third quarter as the Aces mounted an 11-4 run to not only take the lead, but build it to its highest point of the evening at 50-43 following a layup from redshirt junior center Barbora Tomancova.
After a game of runs in the first 30 minutes, the fourth quarter unfolded similarly as wild. Owning a seven-point lead at one point in the fourth, the Aces saw Indiana State roar back to take the lead just past the halfway point of the final quarter. A key jumper from Tomancova that followed the Sycamores' run helped regain UE's lead for good, but the win required resiliency down the stretch from the Aces. With two minutes left, a layup from Feit gave Evansville a five-point lead, but Indiana State answered with a triple to get back within a pair. When it looked like Evansville had secured the win up 67-63 following two made free-throws from graduate guard Anna Newman with 21 seconds left, the Sycamores came down the floor and hit another three with time running out to get within one. Feit was fouled and sent to the line with just 0.8 seconds remaining, splitting a pair to make it a two-point Aces lead. Advancing the ball with a timeout, Indiana State had one last chance, but Evansville defended the in-bounds well, forcing a deep three that rattled off the side of the rim as the Aces secured the 68-66 road win.
The victory marks Evansville's 10th win of the season and secures the Aces their 25th season in program history with double-digit wins.
Evansville will be back on the road to face Drake at 2 PM on Saturday afternoon in Des Moines, Iowa.
Submitted by Athletics
Women's Basketball begins busy upcoming slate with Wednesday trip to Indiana State
Looking ahead to a stretch of five games in 10 days, the University of Evansville women's basketball team makes a trip to take on Indiana State at 5 PM (CT) on Wednesday evening in Terre Haute, Ind.
Meeting for the fifth time in 379 days, Evansville and Indiana State clash for the 65th all-time meeting between the two sides with the Sycamores owning a 43-21 advantage in the series. Evansville captured the first leg of the season series with Indiana State, 65-54, on Jan. 11, 2023 inside Meeks Family Fieldhouse.
The Sycamores come into Wednesday's matchup with a 9-10 overall mark and are tied with UE in the MVC standings at 4-6 at the halfway point of The Valley season. Indiana State matched what the Aces did over the weekend, picking-up a victory over Murray State and dropping a matchup with Belmont. Guard Del'Janae Williams continues to pace Indiana State's offense, averaging 13.7 points per game.
Evansville enters the midweek matchup having alternated wins and losses over the last eight games. With its 75-67 win over Murray State on Friday, the Aces earned their most overall wins (9) since the 2016-17 season. Evansville has also surpassed its most conference wins (4) since the 2016-17 campaign.
The middle portion of the MVC standings is crowded with five teams coming into the week tied at 4-6 including the Sycamores and Aces. With a win, either side could jump as high as six in the standings.
Submitted by Athletics
UE men host Indiana State on Wednesday
Three of the next four games will take place inside the Ford Center with the University of Evansville men's basketball team opening the stretch on Wednesday against Indiana State. Tip is set for 7 p.m. CT with the Purple Aces Radio Network and ESPN+ having the coverage.
Setting the Scene
- In the first meeting of the season on Dec. 29 in Terre Haute, it was the Sycamores finishing with a 91-63 victory
- Julian Larry paced the Sycamores with 21 points as ISU led by as many as 34 points
- Tying for the game's scoring high was Kenny Strawbridge Jr., who posted 21 - since that time, Strawbridge has scored 18 or fewer in eight consecutive games
- The Sycamores have won 11 of the last 12 games in the series against UE
Last Time Out
- Jumping out to a 12-0 lead to open the game, Valparaiso fended off a late challenge to defeat the Purple Aces, 81-69, on Saturday evening inside The ARC
- Gage Bobe registered a career scoring high with 22 points
- Ben Krikke paced the Beacons with 30 points and 9 rebounds
Sharpshooter
- Continuing his rise from a walk-on to starter, Gage Bobe reset his career scoring high on Saturday with 22 points at Valpo
- Bobe drained six of his 11 tries from long range while playing his top total of 36:49
- It was his third double figure game of the season following 11 at Southern Illinois and 12 in the Dec. 21 win over Bellarmine
- He is a 37.0% outside shooter on the season but after starting the season hitting 3 of his first 22 attempts (13.6%), he has knocked down 20 of the last 41 (48.8%) since Dec. 21
Making the Adjustment
- Yacine Toumi has put together a nice 5-game streak that has seen him average 12.2 points per game
- Highlighting the stretch was an 18-point game at home versus Valparaiso, which tied his career mark
- On the boards, Toumi ranks 14th in the MVC with an average of 5.9 per game
- He has grabbed at least five rebounds in 10 of the last 11 contests while raising his season average from 5.1 to 5.9 per game
- His top tally of 11 came in the win over Bellarmine
- Over the last two games, Toumi has knocked down 3 of his 4 attempts from long range - prior to that, he converted just three of his previous 26 tries
Scouting the Opponent
- Indiana State ended a 5-game skid on Saturday with a 79-71 home victory over Northern Iowa
- Prior to that, the Sycamores dropped road games at Drake, Murray State and Missouri State along with home games against Bradley and Southern Illinois
- Courvoisier McCauley continues to lead ISU with 16.2 points per game
- McCauley is a 42.9% shooter from the field and has a team-best 66 makes from outside
- Cameron Henry comes into Wednesday's game with a 10.9 PPG average while Cooper Neese is recording 10.2 PPG
- Julian Larry was the top performer in the first meeting on Dec. 29 scoring a game-high 21 points
Submitted by Athletics
Contribute to AceNotes
To have content considered for inclusion in AceNotes, please submit a Marketing Request Form. Deadline for submission to AceNotes is 10:00 a.m. on the requested date of publication. Only articles concerning UE related/sponsored activities will be accepted. Articles submitted to AceNotes may be edited for length and clarity. Submitter contact information is at the end of each article.