| | |
| --- | --- |
| AceNotes Today | Monday, January 30, 2023 |
W-2s Have Been Processed
2022 W-2s Are Ready
W-2 forms have been processed for all employees and student workers. If you have provided consent for electronic W-2s, you can view/print your W-2 now. Simply log into Self-Service https://selfservice.evansville.edu and go to "Tax Information". Click the option "W-2 Information" and then click on "2022 W-2 Statement".
W-2s will be mailed for those employees and student workers who did not provide their consent to electronic W-2s.
If you have any questions, please contact Dawn Bury at ext. 2159 or db287@evansville.edu
Submitted by Dawn Bury db287@evansville.edu
1098-Ts Have Been Processed
1098-T forms have been processed for students. By providing consent for electronic 1098-T, you can view/print your 1098-T now.
Simply log into Self-Service, and go to Tax Information. Click the option, 1098 Information.
1098-Ts will be mailed to those students who do not provide their consent to electronic 1098-Ts.
View the 1098-T webpage for more information about how to use this informational tax document.
Submitted by Amy Sowders as560@evansville.edu
University of Evansville Theatre presents CIRCLE MIRROR TRANSFORMATION
The University of Evansville Theatre commences its Spring 2023 season with Annie Baker's CIRCLE MIRROR TRANSFORMATION, which opens at 7:30 p.m., Thursday, February 2, in the May Studio Theatre. Additional performances are at 7:30 p.m., February 3 and 4, and at 2:00 p.m., February 4 and 5. Led by a charismatic instructor, a group of adults convene in a community center to seek connection through a creative drama class. Pulitzer Prize-winning playwright Annie Baker explores the pathos and comedy inherent in everyone's efforts to find joy in the journey towards transformation.
CIRCLE MIRROR TRANSFORMATION is directed by Jimmy Guest, a senior theatre studies major from Bettendorf, Iowa.; Zoe Paraskevopoulos, a senior stage management major from Flower Mound, Texas, serves as the scenic designer; Avery Finn, a junior theatre studies major from Terre Haute, Ind., is the costume designer; Jamey Pearson, a junior design and technology major from Moody, Texas, is the lighting designer; Blake Cooper, Assistant Technical Director/ Scene Shop Manager serves as the sound designer; Spencer Marfy , a junior performance major from Tallmadge, Ohio, is the dramaturg; Madison Wilson '22, a guest artist, is the stage manager, and Vi Lecklider, a senior design and technology major from Columbus, Ind., serves as the technical director.
The cast features Umbra Person, a first-year performance major from Jonesboro, Ga., as Marty; Nathan Viscaino, a senior performance major from Redmond, Ore., as James; Garrett Hale, a junior performance major from Haslet, Texas, as Schultz; Lillian Grace Carlson, a junior performance major from Minneapolis, Minn., as Theresa; Sophia McGuire, a first-year performance major from McKinney, Texas, as Lauren.
In following industry standards, masks are strongly encouraged, but not required. Seating is limited, and all general admission tickets are $12. UE students may obtain one free student rush ticket beginning at noon on the day of the performance they wish to attend. Single tickets may be purchased online at theatre.evansville.edu or by calling the ticket office at 812.488.2031.
Submitted by Sharla Cowden sc75@evansville.edu
Nerd Wars Returns! Register Your Team Today
Team sign-ups are now open for this year's Nerd Wars trivia competition, scheduled for Tuesday, March 14 at 7:00pm in Eykamp Hall. The Honors Program invites you to form your team of five competitors to battle in a competition of wits for prizes and bragging rights. Teams of students, faculty, administrators, and staff are welcome to register.
Both spectators and competitors can enjoy pizza and snacks at the event, as well as the chance to receive giveaway prizes!
Register online now at this link: https://forms.gle/H8WVXxJYznPFSsTH8
Registration is free for the event. Those who are unable to compose a team of five may still register and will be matched to form a team. The registration deadline is Friday, February 17.
Please contact Hannah at ht80 with any questions.
Submitted by Jayme Williams jw504@evansville.edu
Take 6 Concert: Free and Open to the Public!
The Patricia H. Snyder Concert and Lecture Series was created in 1997 and, to this day, continues to bring nationally-renowned performers and speakers to the Evansville. Events are free and open to both the campus community and public.
The Snyder Concert and Lecture Series Committee presents: Take 6. The six-member vocal group will perform on Friday, February 17, at 7:30 p.m. The concert will take place at the Victory Theatre at 600 Main Street in downtown Evansville.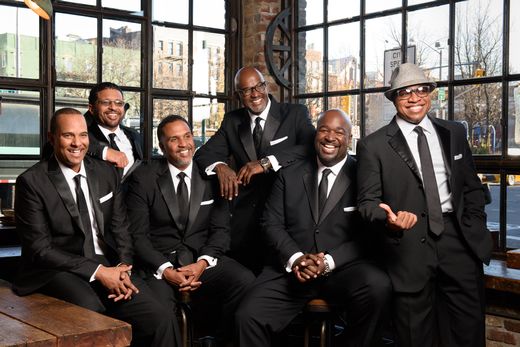 Take 6 is comprised of members Claude McKnight, Mark Kibble, Joel Kibble, Dave Thomas, Alvin Chea, and Khristian Dentley. The world-renowned group formed in 1980 and has since received 10 Grammy awards, 10 Dove awards, and a Soul Train Award. They are the most awarded a capella group in history.
No tickets necessary! Seating will be a first-come, first-served basis.
Submitted by Julie Beer / jb855@evansville.edu
Meal Exchange on Transact Mobile Ordering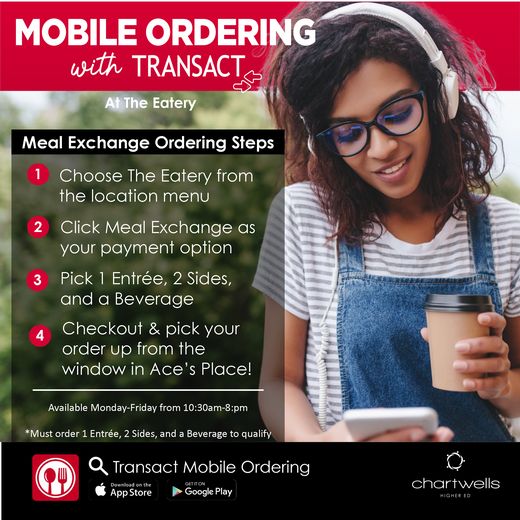 Mobile ordering with Transact At The Eatery
Meal Exchange Ordering Steps
Choose The Eatery from the location menu
Click Meal Exchange as your payment option
Pick 1 Entrée, 2 Sides, and a Beverage
Checkout & pick your order up from the window in Ace's Place!
Available Monday-Friday from 10:30am 8:00pm
*Must order 1 Entrée, 2 Sides, and a Beverage to qualify
Submitted by Samantha Williams sw342@evansville.edu
Bundle Office Depot Orders to $25 or more
Recently Office Depot has began to charge UE customers $5.95 for orders under $25. We have reached out to them to determine why this is happening.
In the interim, to avoid the $5.95 additional fee, please bundle your orders to $25 or more.
Submitted by Kim Winsett kw83@evansville.edu
Road Trip Hosts Needed
The Office of Admission needs current UE students who live in a residence hall or Jones Hall to host prospective high school seniors for Road Trip February 24-26. If you are available, you can apply to host online. Please contact Heather Cook (hw30@evansville.edu) or Jill Fisher (jf223@evansville.edu) if you have any questions. Deadline to sign up is Friday, February 10.
Submitted by Jill Fisher jf223@evansville.edu
January Employees of the Month
Congratulations to the January 2023 Employees of the Month! The recipients were recognized Monday morning by the Staff and Administrators Assembly (SAA).
Bob Szurgot - Director of Business Systems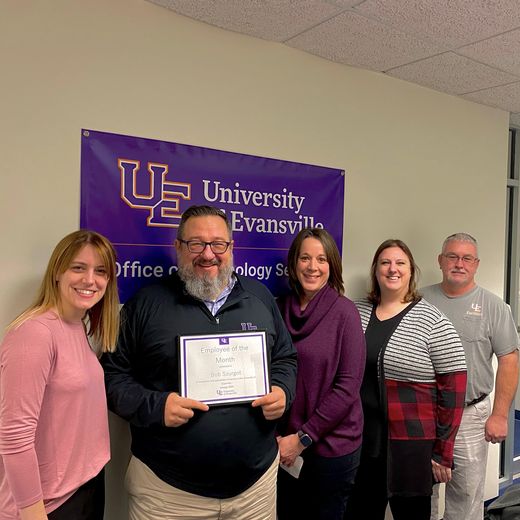 Amanda Wood - Administrative Assistant for the Center for Career Development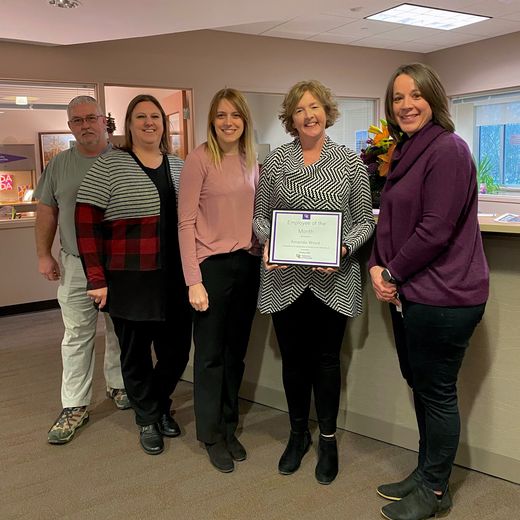 Submitted by Julie Beer / jb855@evansville.edu
Clark Kimberling has research article published
UE Mathematics Professor Clark Kimberling and engineer Peter Moses in England have an article published last Tuesday in Journal of Geometry. Entitled "Bivariate Coordinate Systems in Triangle Geometry," the article introduces several new geometric concepts, including even and odd central lines and a Steiner coordinate system. The Springer Nature Content Sharing Initiative enables you to view the article by clicking the following SharedIt link: https://rdcu.be/c36z9.
Submitted by Clark Kimberling ck6@evansville.edu
American Mathematical Society Appoints Professor Azarian as the Chair of the Human Rights of Mathematicians Committee
University of Evansville Professor of Mathematics, Mohammad K. Azarian, has been appointed by the American Mathematical Society (AMS) as the chair of the Human Rights of Mathematicians Committee. The AMS is committed to speaking whenever mathematicians (anywhere in the world) are deprived of the opportunity to practice their profession due to violations of the freedoms enumerated in the Universal Declaration of Human Rights and the Affirmation adopted by the U.S. National Academy of Sciences. This Committee will assist the Society in such matters by reviewing alleged violations of human rights of mathematicians and by recommending appropriate action to the AMS. Because of the global political instability at this time, the committee expect to receive a flood of cases from around the world this year. Dr. Azarian is grateful and honored to be asked by one of the world's most respected scientific organization to lead this global humanitarian effort.
Submitted by Mohammad K. Azarian ma3@evansville.edu
Bobe's career game not enough against Beacons
Continuing his inspiring journey from a walk-on to a starter, Gage Bobe paced the University of Evansville men's basketball team in Saturday evening's 81-69 loss to Valparaiso inside Athletics-Recreation Center.
Bobe recorded a career-high 22 points on 8-of-15 shooting versus the Beacons. He drained six of Evansville's nine 3-point makes in the game. Yacine Toumi finished with 12 points while Marvin Coleman II added 10. Ben Krikke paced Valpo with a game-high 30 points. He fell one rebound shy of a double-double completing the game with nine.
"We came off a game where we had a great start and hoped that would carry over to tonight. I felt like the way we prepared would give us a really good chance tonight," Purple Aces head coach David Ragland said. "They came out and punched us in the mouth and it is hard to come back from that."
Five of the first six attempts from the field found the bottom of the net to put Valparaiso up 12-0 in the opening three minutes of the contest. Kenny Strawbridge Jr. took a feed from Yacine Toumi to get Evansville's first basket at the 16:30 mark.
Up by a 15-8 score, the Beacons tacked on the next eight to push the lead to 23-8. Valpo's largest advantage of the half came with 7:26 remaining when a free throw by Kobe King made it a 31-12 game. Over the next four minutes, Evansville rallied with a 14-2 run to make it a 33-24 score. Bobe highlighted the stretch with a pair of 3-pointers.
Capping off the half with a basket at the buzzer, Valparaiso took a 43-28 lead into the break. The Beacons shot 51.7% in the half and connected on 10 of their 11 tries from the free throw line. Ben Krikke had 17 points in the opening 20 minutes.
Evansville cut into the deficit in the first six minutes of the final period with Bobe converting his third triple of the evening to cut the gap to 54-42 at the 14:07 mark. On the ensuing Valpo possession, Evansville's defense came close to forcing a turnover but the Beacons were able to call a time out. That play was the start of a 7-0 run that saw Valpo tie its largest lead at 19.
Playing the top game of his career, Bobe hit consecutive triples to chop six tallies off the Beacon lead. Preston Phillips hit both ends of a one-and-one to make it a 65-54 game as the Aces fought to get back within single digits. As the game went through its final minutes, UE could not get over the hump with the Beacons completing the night with the 81-69 triumph.
Both teams shot well with Valpo finishing at 50.9% and UE shooting 43.3%. The Beacons recorded a 38-28 advantage on the boards.
UE returns home on Wednesday to face Indiana State in a 7 p.m. game at the Ford Center.
Submitted by Athletics
Late Aces rally shows progress as Evansville falls to Belmont, 76-58
Producing a rally late in the fourth quarter, the University of Evansville women's basketball team battled to get itself back in the game before falling to Belmont, 76-58, on Sunday afternoon inside Meeks Family Fieldhouse in Evansville.
Recording her third 20-plus point performance of the season, fifth-year guard Myia Clark led Evansville on the afternoon, pouring-in 20 points, while adding four boards and a pair of assists. Also finishing in double-figures for the Aces was senior guard/forward Abby Feit, who tallied 14 points and six boards. THe Bruins were led by two players who finished with 18 points; Destinee Wells and Madison Bartley.
Evansville found itself in trouble early in the contest thanks to a consistent Belmont scoring attack and the fact that the Aces shots just would not fall. The Bruins built a 12-0 lead in the game's first four minutes, forcing an Evansville timeout. Out of the break, Belmont added to its advantage, scoring 17-straight points to begin the game before Clark made a layup just inside the final five minutes in the quarter. Evansville was haunted by poor shooting in the opening period, hitting just two of its first 20 field goals (10%) and trailing 23-5 after the first 10 minutes of action.
The Aces would do their best to dig out of that hole, shooting just shy of 50% from the field for the rest of the game. In the second quarter, Evansville would get as close as 16 on multiple occasions, but another spree to end the half from the Bruins gave the visitors a 41-20 lead at the break.
Belmont's advantage would grow as large as 27 in the third quarter, but again, it was Evansville who would not let the game get away. Over the final four minutes of the third frame, the Aces chipped away at the deficit, eventually getting a triple from Feit just before the quarter buzzer to get within 18 at 60-42 heading into the final 10 minutes.
Another triple from Feit and an and-one basket and freebie from Clark highlight Evansville's comeback attempt early in the fourth as Clark's aforementioned play trimmed the Belmont lead all the way to 11 with just under five minutes remaining. With a manageable deficit to work back from, the Aces looked poised to make another run at the Bruins, but down the stretch, Belmont knocked-down key shots to secure the 76-68 victory.
Evansville awaits a busy stretch of basketball ahead, beginning with a Wednesday matchup with Indiana State at 5 PM (CT) in Terre Haute, Ind.
Submitted by Athletics
Aces back on the road to face Valpo
Back on the road Saturday, the University of Evansville men's basketball team heads to Valparaiso to complete the season series against the Beacons. Tip is set for 6 p.m. CT with the Purple Aces Radio Network and ESPN+ having the coverage.
Setting the Scene
- Just two weeks ago, the teams met at the Ford Center with Valpo earning a 76-69 victory
- Yacine Toumi recorded 18 points and 7 rebounds in the game while Antoine Smith Jr. scored 16
- Four Beacons registered double figures, led by Kobe King's 20-point effort
- Evansville has dropped its last two trips to The ARC by an average of just 3.5 points per game
Last Time Out
- Playing some of its best stretches of the conference season, the Purple Aces held a 22-13 lead over Belmont before the Bruins fended off the challenge for a 73-64 win on Wednesday
- Marvin Coleman II and Yacine Toumi recorded 15 points apiece while Antoine Smith Jr. scored 14 while adding his top career total of 9 boards
- In its opening game run that resulted in a 9-point lead, UE recorded 7 assists against just one turnover
On a Roll
- Antoine Smith Jr. has been on a nice streak over the last four games, recording an average of 11.3 points while draining 11 of his 22 tries from outside
- On the boards, he has been equally impressive, averaging 5.5 per game while raising his season average to 3.2
- Smith grabbed a career-high 9 caroms against Belmont, which bested his prior total of 8 against Valparaiso on Jan. 14
- With his recent shooting efforts from long range, Smith has pushed his season percentage to 40.9%
- Smith scored a season-high 16 points against Valparaiso and had 14 last time out against Belmont...he checks in with a season scoring average of 8.1 PPG
Raising the Bar
- Yacine Toumi has hauled in at least five rebounds in nine of the last 10 contests while raising his season average from 5.1 to 5.9 per game
- His top tally of 11 came in the win over Bellarmine while he added 7 against Valpo to solidify his mark of 5.9/game, which is 14th in the Valley
- Toumi scored 18 against the Beacons, which tied his career-high while halting a streak that saw him average 5 points in the prior three games
- That effort helped him put together a nice streak over the last four games that has seen him score 12.3 per game
Scouting the Opponent
- Valparaiso has won three of their last four games to improve to 9-13 on the season and 3-8 in the MVC
- Following a win over the Aces on January 14, the Beacons picked up wins over UIC and Illinois State before falling by a 77-66 score in Wednesday's road game at UNI
- Ben Krikke continues to be the most consistent performer for VU
- He paces the team with 17.6 points and 6.0 rebounds per game while blocking a total of 14 shots
- Kobe King checks in with 16.9 points and 4.0 boards while Quinton Green is also averaging double figures with 11 points
Submitted by Athletics
Contribute to AceNotes
To have content considered for inclusion in AceNotes, please submit a Marketing Request Form. Deadline for submission to AceNotes is 10:00 a.m. on the requested date of publication. Only articles concerning UE related/sponsored activities will be accepted. Articles submitted to AceNotes may be edited for length and clarity. Submitter contact information is at the end of each article.