| | |
| --- | --- |
| AceNotes Today | Thursday, January 26, 2023 |
1098-Ts Have Been Processed
1098-T forms have been processed for students. By providing consent for electronic 1098-T, you can view/print your 1098-T now.
Simply log into Self-Service, and go to Tax Information. Click the option, 1098 Information.
1098-Ts will be mailed to those students who do not provide their consent to electronic 1098-Ts.
View the 1098-T webpage for more information about how to use this informational tax document.
Submitted by Amy Sowders as560@evansville.edu
Nerd Wars Returns! Register Your Team Today
Team sign-ups are now open for this year's Nerd Wars trivia competition, scheduled for Tuesday, March 14 at 7:00pm in Eykamp Hall. The Honors Program invites you to form your team of five competitors to battle in a competition of wits for prizes and bragging rights. Teams of students, faculty, administrators, and staff are welcome to register.
Both spectators and competitors can enjoy pizza and snacks at the event, as well as the chance to receive giveaway prizes!
Register online now at this link: https://forms.gle/H8WVXxJYznPFSsTH8
Registration is free for the event. Those who are unable to compose a team of five may still register and will be matched to form a team. The registration deadline is Friday, February 17.
Please contact Hannah at ht80 with any questions.
Submitted by Jayme Williams jw504@evansville.edu
Take 6 Concert: Free and Open to the Public!
The Patricia H. Snyder Concert and Lecture Series was created in 1997 and, to this day, continues to bring nationally-renowned performers and speakers to the Evansville. Events are free and open to both the campus community and public.
The Snyder Concert and Lecture Series Committee presents: Take 6. The six-member vocal group will perform on Friday, February 17, at 7:30 p.m. The concert will take place at the Victory Theatre at 600 Main Street in downtown Evansville.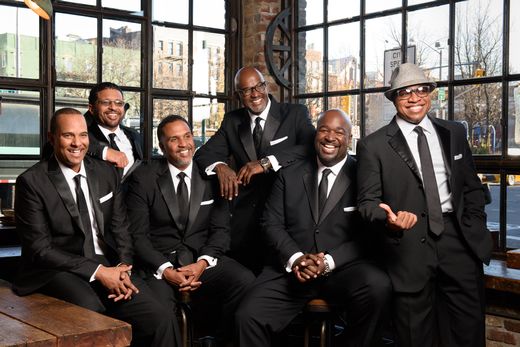 Take 6 is comprised of members Claude McKnight, Mark Kibble, Joel Kibble, Dave Thomas, Alvin Chea, and Khristian Dentley. The world-renowned group formed in 1980 and has since received 10 Grammy awards, 10 Dove awards, and a Soul Train Award. They are the most awarded a capella group in history.
No tickets necessary! Seating will be a first-come, first-served basis.
Submitted by Julie Beer / jb855@evansville.edu
Spring Tutoring is Here
Peer Group Tutoring is now available for Spring 2023!
Please review the full schedule on our webpage: https://www.evansville.edu/advising/academic-peer-tutoring.cfm.
Peer tutoring is a free service managed by Academic Services that is open to all current UE students. This is a great resource for if you have questions, want to refresh yourself on information, or even if you need a space that will help you focus on studying and other work. Whether you only have time to stop by for a few minutes or you need to attend the full session time, you are welcome to stop by.
If you have any questions in regards to tutoring, please direct them to Laci Rowe at lr152@evansville.edu / 812-488-5170 or by stopping into Academic Services (Olmsted 116)!
Submitted by Laci Rowe lr152@evansville.edu
Friday Night Live w/ Pastor JC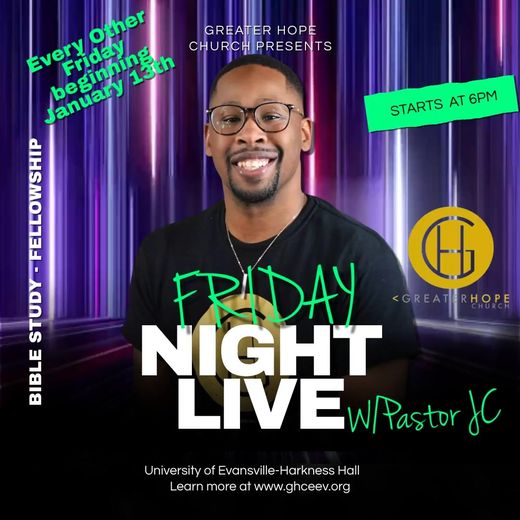 Please join Greater Hope Church this Friday at 6 p.m. for their Friday Night Live with Pastor JC in SOBA 162. This event is open to students, faculty, and staff!
Submitted by Rachel Roscoe rr209@evansville.edu
Post-Roe America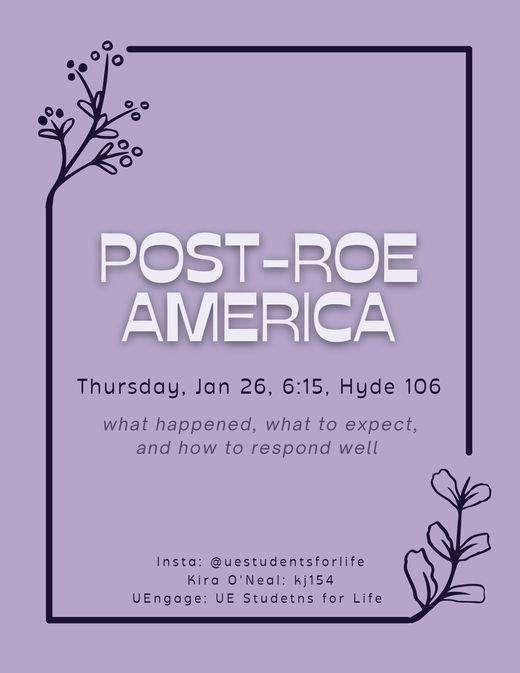 Hear from member Sydney Wilbur, a political science major, as she fills us in on key information regarding the Dobbs v. Jackson case. This is a great opportunity to learn what changed, what to expect, and how to respond well to a culture in shock.
Thursday, January 26, 6:15, Hyde 106
Submitted by Kira O'Neal kj154@evansville.edu
Sigma Alpha Iota Recruitment Week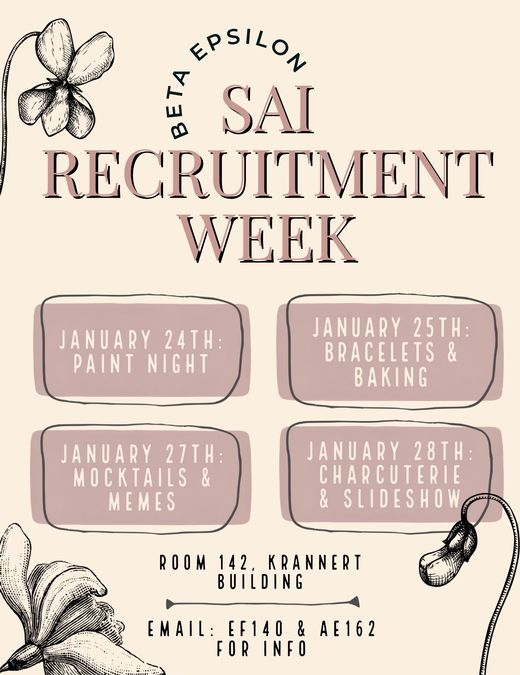 Sigma Alpha Iota, or SAI, is a music business fraternity that's mission is to encourage, nurture and support the art of music.
If you are interested in music, have taken a music credit at UE, or just want to make new friends, come by our informal recruitment this week!
*** Tuesday January 24 8:30PM in Krannert 142
*** Wednesday January 25 8:30PM in Krannert 142
*** Friday January 27 9:00PM in Krannert 142
*** Saturday January 28 1:00PM in Krannert 142
Our chapter is a fun and low commitment way to meet new people at UE, create lasting friendships, and make connections to help you in the future.
Please email ae162 (Allison) or ef140 (Emma) with any questions!!
Submitted by Allison Enchelmayer ae162@evansville.edu
Student Showcase Exhibition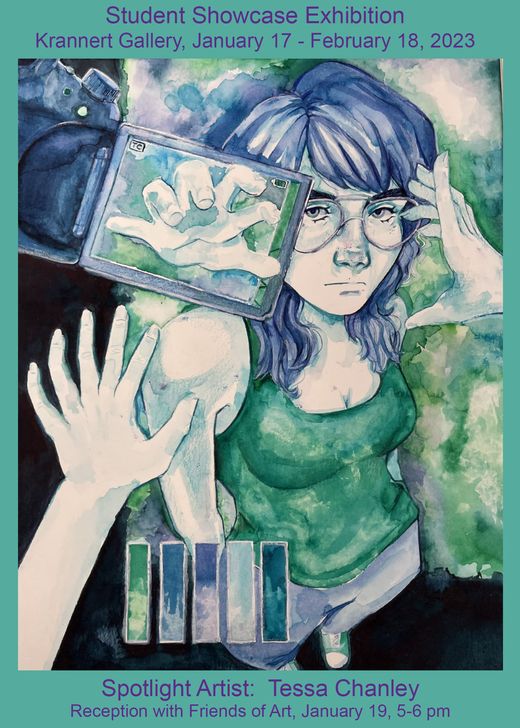 The STUDENT SHOWCASE 2023 exhibit in the Krannert Gallery includes Drawings, Designs, Paintings, and Ceramics which exemplify many of the concepts and techniques covered in specific Art courses. The Instructors/Professors selected the Art for this show as stellar examples of work completed in UE Art courses during the 1st Semester. The exhibit runs January 17 - February 18.
Also, in this exhibit is ART BY TESSA CHANLEY, class of 2024. Tessa received the Class of 2024 Outstanding Freshman Art Student Award. As part of this annual honor, the recipient is spotlighted in his/her Junior year, in the Student Showcase Exhibit.
Submitted by Carol McCraney cm177@evansville.edu
Randy Simmons Exhibit in Melvin Peterson Gallery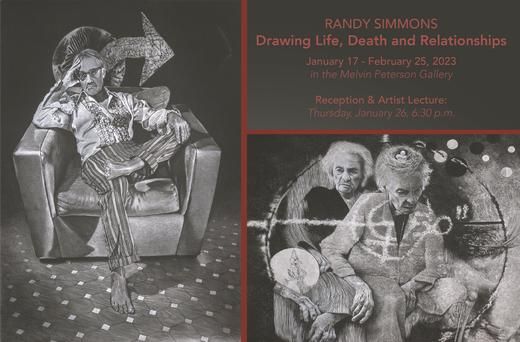 The Melvin Peterson Gallery will host the Drawing Life, Death and Relationships Exhibit by artist Randy Simmons from 01/17/2023 and through 02/25/2023. Gallery hours are Monday, Tuesday, Friday and Saturday from 12:00 p.m. - 3:00 p.m.; and Wednesday and Thursday from 12:00 p.m. - 6:00 p.m. Please join us for a reception and artist lecture on Thursday, January 26, 2023 at 6:30 p.m. in the Melvin Peterson Gallery.
Submitted by Carol McCraney cm177@evansville.edu
Children of Fallen Heroes Scholarship
On March 23, 2018, the President signed Public Law 115-141, the Consolidated Appropriations Act, 2018, which included an amendment to Section 473(b) of the Higher Education Act, authorizing the Children of Fallen Heroes Scholarship.
Under this scholarship, a Pell-eligible student whose parent or guardian died in the line of duty while performing as a public safety officer is eligible to receive a maximum Pell Grant for the award year for which the determination of eligibility is made.
Eligibility:
• Student must be Pell-eligible and have a Pell-eligible EFC
• Student must be less than 24 years of age or enrolled at an institution of higher education at the time of his or her parent's or guardian's death
• For purposes of the Children of Fallen Heroes Scholarship, a public safety officer is:
o As defined in section 1204 of title I of the Omnibus Crime Control and Safe Streets Act of 1968 (42 U.S.C. 3796b); or
o A firefighter or police officer, defined as an individual who is serving in accordance with State or local law as an officially recognized or designated member of a legally organized public safety agency and provides scene security or directs traffic in response to any fire drill, fire call, or other fire, rescue, or police emergency, or at a planned special event.
If you believe you are eligible for this, please contact the Office of Student Financial Services.
Submitted by Amy Sowders as560@evansville.edu
Come Chat with the OL's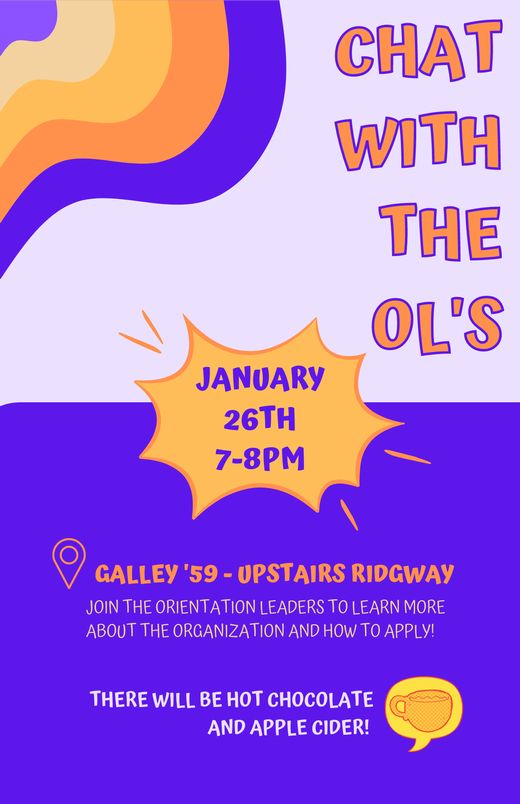 Join the Orientation Leaders at an informal meeting in Gallery '59 on Thursday, January 26th 7-8pm, to learn more about being an Orientation Leader and the application process! There will be hot chocolate and hot apple cider provided. We hope to see you there!
Submitted by Shelby Gardner sg293@evansville.edu
Get Your W-2 Earlier with Electronic Consent
The Office of Accounting/Payroll will be issuing W-2s for 2022 no later than January 31, 2023. You may choose 1 of 2 options to receive your W-2:
Electronic W-2 – If you provide your consent, you will be able to view/print in Self-Service as soon as they are ready. Notification will be sent through AceNotes.
Paper W-2 – If you prefer, you can continue to receive your W-2 in the mail.
An electronic W-2 will give you earlier access than a mailed copy. It is IRS compliant and can be submitted with your tax return as usual.
To give consent for the electronic W-2, log in to Self-Service https://selfservice.evansville.edu and go to "Tax Information". Select "Receive my W-2 only in electronic form" and save.
If you are eligible to participate in the university's health plans, you may give consent to receive your 1095-C form electronically here also. If you choose to withhold your consent to view/print your online W-2 and 1095-C, a paper copy will be mailed to your home address. Please make sure that your current address is on file.
If you have questions, please contact Dawn Bury at ext 2159 or db287@evansville.edu.
Submitted by Dawn Bury db287@evansville.edu
Road Trip Hosts Needed
The Office of Admission needs current UE students who live in a residence hall or Jones Hall to host prospective high school seniors for Road Trip February 24-26. If you are available, you can apply to host online. Please contact Heather Cook (hw30@evansville.edu) or Jill Fisher (jf223@evansville.edu) if you have any questions. Deadline to sign up is Friday, February 10.
Submitted by Jill Fisher jf223@evansville.edu
American Mathematical Society Appoints Professor Azarian as the Chair of the Human Rights of Mathematicians Committee
University of Evansville Professor of Mathematics, Mohammad K. Azarian, has been appointed by the American Mathematical Society (AMS) as the chair of the Human Rights of Mathematicians Committee. The AMS is committed to speaking whenever mathematicians (anywhere in the world) are deprived of the opportunity to practice their profession due to violations of the freedoms enumerated in the Universal Declaration of Human Rights and the Affirmation adopted by the U.S. National Academy of Sciences. This Committee will assist the Society in such matters by reviewing alleged violations of human rights of mathematicians and by recommending appropriate action to the AMS. Because of the global political instability at this time, the committee expect to receive a flood of cases from around the world this year. Dr. Azarian is grateful and honored to be asked by one of the world's most respected scientific organization to lead this global humanitarian effort.
Submitted by Mohammad K. Azarian ma3@evansville.edu
Congratulations to our High School Changemaker Challenge winners!
On Tuesday, January 24, the Center for Innovation & Change welcomed a total of 20 teams to campus for the ninth High School Changemaker Challenge, sponsored by Toyota Indiana. Several unique and innovative ideas were shared with the judges, who then narrowed 20 down to the Top 6. After a final round of presentations, the following students were awarded four-year scholarships:
1st place: Full tuition
Heroes Among Us: Tyler Myers (Evansville Day School)
Summary: Heroes Among Us is an interactive app that will equip schools with a curriculum that allows them to educate kids about sensory needs.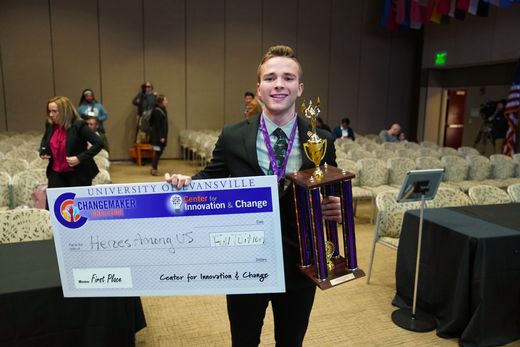 2nd place: $27,000 per year
Ticket to Health: Sophie Rodionova and Maryam Adeel (Signature School)
Summary: The language barrier should not mean the difference between the quality of life a patient has and could have. As Evansville grows and becomes diverse, we need to provide for the needs of a diverse community. Ticket to Health is a medical booklet that will contain questions specifically tailored to each doctor's needs. It will include the most common languages in Evansville: Spanish, Ukrainian, Russian, Urdu, and Mandarin. Different colors will represent various specialties, and each language will have a translation to English.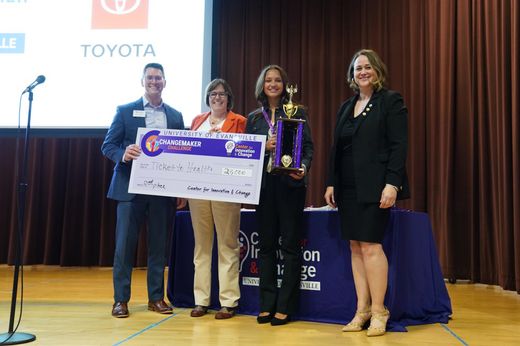 3rd place: $23,000 per year
QuickSports: Prab Jayachandran and Kaden Oberlander (Signature School)
Summary: An app that connects sports players and brings them to the best sports location near them. QuickSports is the go-to app for anyone looking to find friends and play sports in a large group as fast as possible.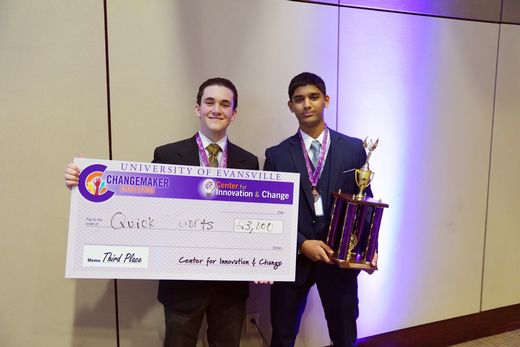 Submitted by Julie Beer / jb855@evansville.edu
Coleman and Toumi pace UE against Belmont
Giving one of the top teams in the Missouri Valley Conference everything it could handle, the University of Evansville men's basketball team put up a strong fight on Wednesday evening before dropping a 73-64 decision against Belmont inside the Ford Center.
Marvin Coleman II and Yacine Toumi recorded 15 points apiece. Both connected on six field goals with Toumi tying for the team lead with nine boards. Antoine Smith Jr. recorded 14 points while hauling in a career-best nine rebounds. Ben Sheppard paced Belmont with 23 points and 10 caroms, both game highs.
"Our staff has put an emphasis on getting off to a better start and we were able to do that tonight. Having seven assists and one turnover led to a 9-point lead," UE head coach David Ragland said. "One thing to work on is that 6-8 minute stretch where teams respond and punch back. We did a nice job of playing a good 32 minutes, but we need to make it 40 minutes. I think we gave ourselves a chance to win and a chance to teach."
Hitting their first three attempts, Belmont scored the first five points on their way to an 8-3 lead. Antoine Smith Jr. got the Aces on the board with a 3-point play. The early run by the Bruins saw them open the night 5-of-6 from the field and 3-for-3 from outside as they took a 13-8 lead.
Evansville countered in a big way as a pair of 3-pointers by Yacine Toumi highlighted a 14-0 run that saw the Purple Aces take a 22-13 lead. Smith finished the run with two triples of his own as UE connected on five field goals in a row. Trailing by a score of 24-16, the Bruins posted eight in a row to tie it up midway through the period. UE's offense missed nine shots in a row while turning it over three times over a span of 5:32.
Toumi and Marvin Coleman II converted baskets that put the Aces back in front at 28-24 but Belmont completed the period on a 12-4 run to hold a 36-32 advantage at halftime. Smith had 14 points and 6 rebounds in the first 20 minutes while Ben Sheppard paced Belmont with 16 points at the break.
Gage Bobe hit a jumper for the first points of the second half before Belmont scored the next seven to go up 43-34. The Aces remained within striking distance when a putback by Toumi made it a 58-51 as the game entered its final nine minutes. Belmont responded with consecutive triples that solidified a 64-51 lead.
Coleman kept the Aces in the thick of it, posting consecutive 3-point plays to keep the deficit around 10 points but the Bruins continued to hold strong and took the game by a final score of 73-64. Belmont finished the game shooting 49.1% while the Aces shot 39.7%. The Bruins outrebounded UE by a 38-33 tally.
On Saturday, the Aces return to the road for a 6 p.m. game at Valparaiso.
Submitted by Athletics
Contribute to AceNotes
To have content considered for inclusion in AceNotes, please submit a Marketing Request Form. Deadline for submission to AceNotes is 10:00 a.m. on the requested date of publication. Only articles concerning UE related/sponsored activities will be accepted. Articles submitted to AceNotes may be edited for length and clarity. Submitter contact information is at the end of each article.