| | |
| --- | --- |
| AceNotes Today | Wednesday, January 25, 2023 |
Take 6 Concert: Free and Open to the Public!
The Patricia H. Snyder Concert and Lecture Series was created in 1997 and, to this day, continues to bring nationally-renowned performers and speakers to the Evansville. Events are free and open to both the campus community and public.
The Snyder Concert and Lecture Series Committee presents: Take 6. The six-member vocal group will perform on Friday, February 17, at 7:30 p.m. The concert will take place at the Victory Theatre at 600 Main Street in downtown Evansville.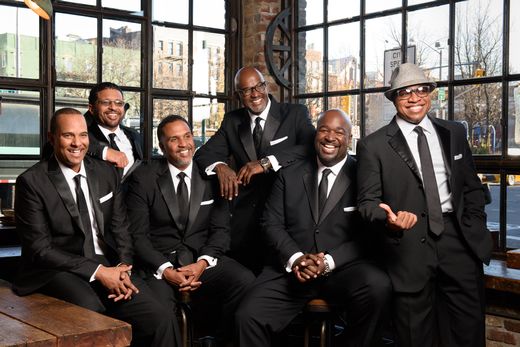 Take 6 is comprised of members Claude McKnight, Mark Kibble, Joel Kibble, Dave Thomas, Alvin Chea, and Khristian Dentley. The world-renowned group formed in 1980 and has since received 10 Grammy awards, 10 Dove awards, and a Soul Train Award. They are the most awarded a capella group in history.
No tickets necessary! Seating will be a first-come, first-served basis.
Submitted by Julie Beer / jb855@evansville.edu
Spring Tutoring is Here
Peer Group Tutoring is now available for Spring 2023!
Please review the full schedule on our webpage: https://www.evansville.edu/advising/academic-peer-tutoring.cfm.
Peer tutoring is a free service managed by Academic Services that is open to all current UE students. This is a great resource for if you have questions, want to refresh yourself on information, or even if you need a space that will help you focus on studying and other work. Whether you only have time to stop by for a few minutes or you need to attend the full session time, you are welcome to stop by.
If you have any questions in regards to tutoring, please direct them to Laci Rowe at lr152@evansville.edu / 812-488-5170 or by stopping into Academic Services (Olmsted 116)!
Submitted by Laci Rowe lr152@evansville.edu
Friday Night Live w/ Pastor JC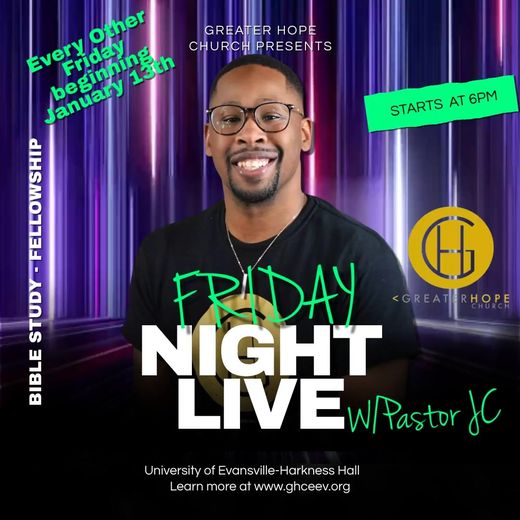 Please join Greater Hope Church this Friday at 6 p.m. for their Friday Night Live with Pastor JC in SOBA 162. This event is open to students, faculty, and staff!
Submitted by Rachel Roscoe rr209@evansville.edu
Post-Roe America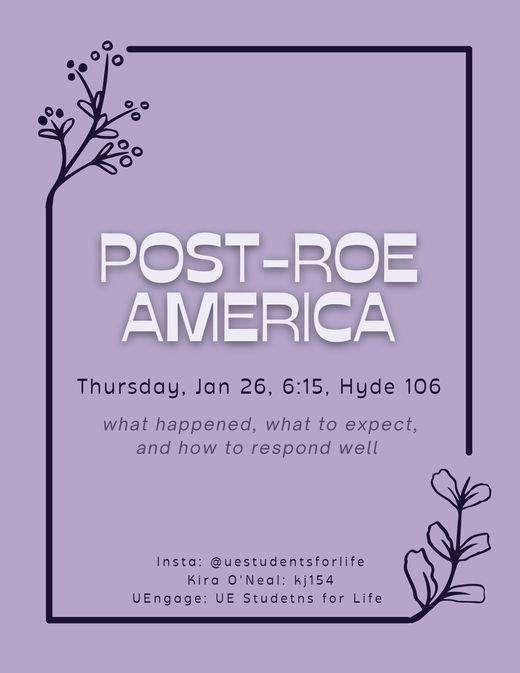 Hear from member Sydney Wilbur, a political science major, as she fills us in on key information regarding the Dobbs v. Jackson case. This is a great opportunity to learn what changed, what to expect, and how to respond well to a culture in shock.
Thursday, January 26, 6:15, Hyde 106
Submitted by Kira O'Neal kj154@evansville.edu
CBE Speaker Series: A Celebration of Engineer's Week with Paul Jones

University of Evansville - College of Business & Engineering Speaker Series
A Celebration of Engineers Week!
Paul W. Jones '71
February 21, 2023
Lunch & Learn
12:20-1:15 p.m.
Lunch served at 12:20 p.m.; Speaker Begins at 12:30 p.m.
Schroeder Building, Room 170
Making the Most of Your College and Career: Advice from an Engineer and CEO
Join us as we welcome engineering alumnus Paul W. Jones to hear his personal journey and lessons learned along the path from engineer to CEO.
Both in person and zoom options will be provided. If you register to attend the event via zoom, the link will be provided to you 24 hours prior to the event. Please be sure to check your spam folder. If you do not receive the information, please contact Nick Bragin at nb197@evansville.edu

Register for this event.
Submitted by Nick Bragin nb197@evansville.edu
Sigma Alpha Iota Recruitment Week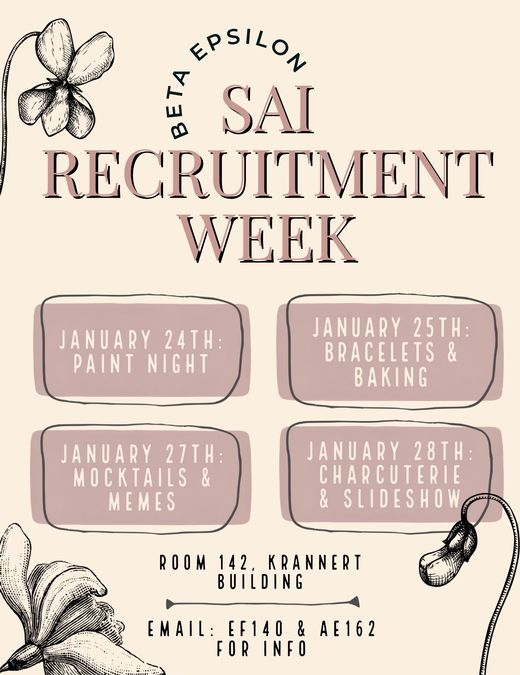 Sigma Alpha Iota, or SAI, is a music business fraternity that's mission is to encourage, nurture and support the art of music.
If you are interested in music, have taken a music credit at UE, or just want to make new friends, come by our informal recruitment this week!
*** Tuesday January 24 8:30PM in Krannert 142
*** Wednesday January 25 8:30PM in Krannert 142
*** Friday January 27 9:00PM in Krannert 142
*** Saturday January 28 1:00PM in Krannert 142
Our chapter is a fun and low commitment way to meet new people at UE, create lasting friendships, and make connections to help you in the future.
Please email ae162 (Allison) or ef140 (Emma) with any questions!!
Submitted by Allison Enchelmayer ae162@evansville.edu
TIAA Individual Employee Counseling Sessions
No matter where you are in life—just getting started or planning for retirement—a session with Mike Dooley can help
you create a plan for your goals. And, it's at no additional cost as a part of your retirement plan. You'll get answers to
these questions and more:
Am I invested in the right mix of investments to help meet my goals?
Am I saving enough to create the retirement income I need?
How do I take income from my retirement account once I stop working?
TIAA will be available these dates and times for one-on-one sessions.
Wednesday, January 25, 2023 9 a.m. - 5 p.m. CT University Library, Room 209
Wednesday, February 22, 2023 9 a.m. - 5 p.m. CT Eades Music Room 153, School of Business
Wednesday, March 22, 2023 9 a.m. - 5 p.m. CT Eades Music Room 153, School of Business
RSVP today, as space is limited. Register for sessions at www.TIAA.org/schedulenow or
by calling 800-732-8353, weekdays, 8 a.m. to 8 p.m. (ET). We look forward to working with
you.
Submitted by Lori LeDuc ll138@evansville.edu
Student Showcase Exhibition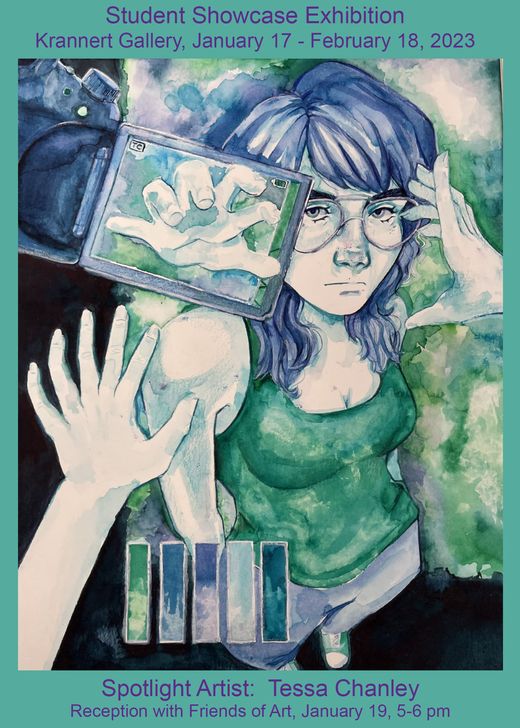 The STUDENT SHOWCASE 2023 exhibit in the Krannert Gallery includes Drawings, Designs, Paintings, and Ceramics which exemplify many of the concepts and techniques covered in specific Art courses. The Instructors/Professors selected the Art for this show as stellar examples of work completed in UE Art courses during the 1st Semester. The exhibit runs January 17 - February 18.
Also, in this exhibit is ART BY TESSA CHANLEY, class of 2024. Tessa received the Class of 2024 Outstanding Freshman Art Student Award. As part of this annual honor, the recipient is spotlighted in his/her Junior year, in the Student Showcase Exhibit.
Submitted by Carol McCraney cm177@evansville.edu
Randy Simmons Exhibit in Melvin Peterson Gallery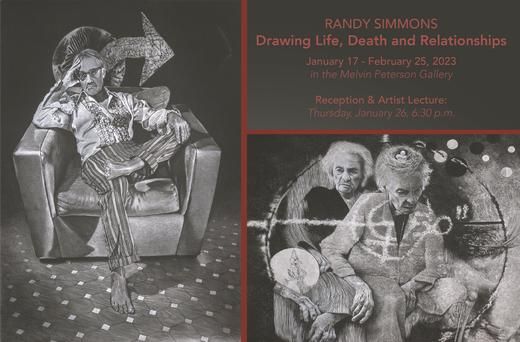 The Melvin Peterson Gallery will host the Drawing Life, Death and Relationships Exhibit by artist Randy Simmons from 01/17/2023 and through 02/25/2023. Gallery hours are Monday, Tuesday, Friday and Saturday from 12:00 p.m. - 3:00 p.m.; and Wednesday and Thursday from 12:00 p.m. - 6:00 p.m. Please join us for a reception and artist lecture on Thursday, January 26, 2023 at 6:30 p.m. in the Melvin Peterson Gallery.
Submitted by Carol McCraney cm177@evansville.edu
NBA Star Chris Herren visits Evansville
Reserve your ticket today for this inspiring FREE event! "Prevention starts with ALL: The Chris Herren Story" 7 Sisters is hosting a community speaking event on January 25th regarding addiction, recovery, education, and wellness. The speaker is Chris Herren, former NBA player and his story is a powerful one for every age to hear. Join us for this free event!
https://www.eventbrite.com/e/nba-star-chris-herren-visits-evansville-tickets-495180958577
Wednesday, January 25, 2023
7:00 PM
Reitz Memorial High School Auditorium
1500 Lincoln Ave.
Evansville, IN
Submitted by Tracy Gerth tg182@evansville.edu
Children of Fallen Heroes Scholarship
On March 23, 2018, the President signed Public Law 115-141, the Consolidated Appropriations Act, 2018, which included an amendment to Section 473(b) of the Higher Education Act, authorizing the Children of Fallen Heroes Scholarship.
Under this scholarship, a Pell-eligible student whose parent or guardian died in the line of duty while performing as a public safety officer is eligible to receive a maximum Pell Grant for the award year for which the determination of eligibility is made.
Eligibility:
• Student must be Pell-eligible and have a Pell-eligible EFC
• Student must be less than 24 years of age or enrolled at an institution of higher education at the time of his or her parent's or guardian's death
• For purposes of the Children of Fallen Heroes Scholarship, a public safety officer is:
o As defined in section 1204 of title I of the Omnibus Crime Control and Safe Streets Act of 1968 (42 U.S.C. 3796b); or
o A firefighter or police officer, defined as an individual who is serving in accordance with State or local law as an officially recognized or designated member of a legally organized public safety agency and provides scene security or directs traffic in response to any fire drill, fire call, or other fire, rescue, or police emergency, or at a planned special event.
If you believe you are eligible for this, please contact the Office of Student Financial Services.
Submitted by Amy Sowders as560@evansville.edu
UE Appoints Chief Communications Officer
UE has announced the appointment of Noah Alatza as Chief Communications Officer effective January 30. In this newly created position, Alatza will serve as the University's chief spokesperson and primary media contact. His work will help shape and guide UE's public affairs and strategic communications strategy that builds upon the institution's mission and core values.
Alatza is a former award-winning television news anchor and reporter with an extensive background in media and journalism. Most recently, he worked as an account manager and public relations specialist for Fishers, Indiana-based Coverdale Consulting. At Coverdale, Alatza worked on the development of marketing and public relations strategies for a diverse range of clients in a variety of industries, including architecture, accounting, and municipal government. From 2018 to 2021, Alatza served as both an on-air anchor and reporter for two of Evansville's television affiliates, 44News WEVV-TV and Eyewitness News WEHT/WTVW-TV.
Alatza has been honored for his work, including awards from the Society of Professional Journalists and the Indiana Association of School Broadcasters. His work has been featured in national publications including The Washington Post, Yahoo, The New York Times and Newsweek. Alatza graduated from University of Southern Indiana with degrees in both journalism and radio-television. He and his wife, Rachel, have one daughter, Norah. In his free time, he enjoys exercising and spending time with family and friends.
"I'm honored and deeply humbled to serve as the University's first Chief Communications Officer," Alatza said. "Ensuring that all members of our campus community and other stakeholders are receiving timely and effective communications is critical for building support and bringing innovative solutions to the University."
Submitted by Jill Griffin
Volunteers needed for MATHCOUNTS
MATHCOUNTS is a national math coaching and competition program for 6th, 7th, and 8th grade students. The program is run by the MATHCOUNTS Foundation, state and local chapters of the NSPE, and many, many volunteers. Participation in the program is through your school. MATHCOUNTS provides an opportunity for students to have fun while exploring areas of math that they may not see in their normal class curriculum. It also gives students a chance to be recognized for their achievements on both team and individual bases. The program targets this age group in order to influence their thinking about math, and to encourage them to continue challenging themselves in the subject as they select high school courses.
On February 11. 2023, the University of Evansville will be hosting the Southwestern Indiana Regional MATHCOUNTS Competition in Eykamp Hall. We are looking for Student/Faculty volunteers from the University of Evansville to help with the event, to serve as Proctors or Graders for the competition and to assist with signing in teams in the morning when they arrive.
If you are interested in assisting with this event, please Contact Tonya Albright (ta58@evansville.edu).
Submitted by Tonya Albright ta58@evansville.edu
Engineering Career Forum- Register TODAY
Engineering and Computer Science students, don't miss this opportunity to network with employers in your field!!
Wednesday, January 25th
6:30pm-8:30pm
Eykamp Hall, RUC
Register in Handshake! Questions? Contact the Center for Career Development at career@evansville.edu or 812-488-1083.
Submitted by Amanda Wood aw505@evansville.edu
Come Chat with the OL's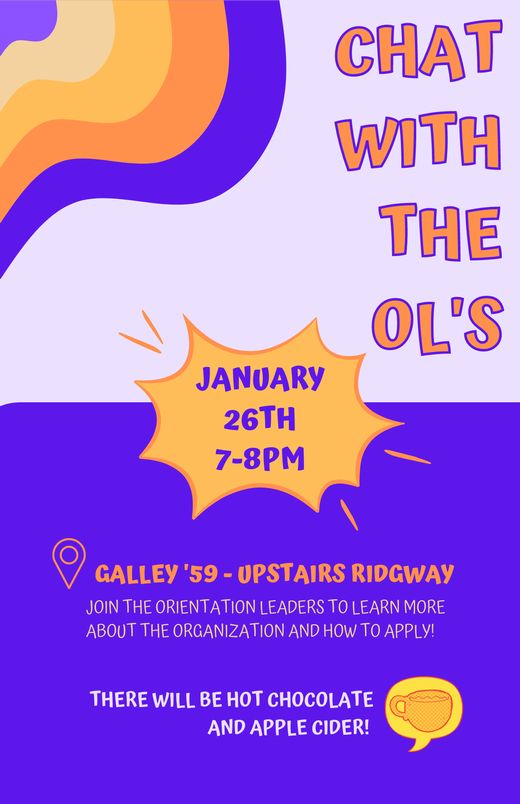 Join the Orientation Leaders at an informal meeting in Gallery '59 on Thursday, January 26th 7-8pm, to learn more about being an Orientation Leader and the application process! There will be hot chocolate and hot apple cider provided. We hope to see you there!
Submitted by Shelby Gardner sg293@evansville.edu
Seeking Outside Scholarship Opportunities?
The Office of Student Financial Services would like students to know if you would like to explore outside scholarship opportunities, you can find various scholarship resources listed on the UE website and within the MyUE Self-Service portal in the Student Financial Services area under Additional Scholarship Opportunities. Criteria and deadlines vary, so please refer to the scholarship links for more details.
Submitted by Amy Sowders as560@evansville.edu
Writing Center Open for Spring Semester
The Writing Center is open for the Spring 2023 semester! Please visit https://www.evansville.edu/writingcenter/ to make an appointment. Walk ins are welcome, but we may not have availability without an appointment. Remember, the Writing Center consultants are happy to help with invention, so it's never too early to visit.
Submitted by Kristina Groves kg76@evansville.edu
2023-24 Margaret Schriefer Scholarship Application now Available
The Margaret E. Schriefer Liberal Arts Scholarship has been established for the University of Evansville in loving memory of Margaret E. Schriefer. This scholarship will be awarded annually to a deserving student, covering "full-tuition, books, supplies, materials, and laboratory fees. To be considered for this scholarship, students must meet the following qualifications:
Must be enrolled at The University of Evansville and have a major of study in Literature, English, Music or Theatre.
Must be a natural born citizen of the United States of America with no prior criminal record, other than minor traffic violations.
Must be a free and accepted Mason in good standing in a local lodge under the authority of the Grand Lodge of its state, or be the descendant, sibling, or nephew/niece of a Master Mason in good standing in his respective lodge under the authority of the Grand Lodge of its respective state. If the related Mason shall not be living at the time of the student's consideration for this scholarship, a letter shall be obtained from the Lodge of the related Mason to the effect that the related Mason was in good standing at the time of his death.
Must have and maintain a "C" average.
If you meet the requirements for this scholarship, please complete the scholarship application and return to the Office of Student Financial Services by April 15, 2023.
Questions may be directed to the Office of Student Financial Services via email or by phone at (812) 488-2364.
Submitted by Heather Richards hr103@evansville.edu
Congratulations to our High School Changemaker Challenge winners!
On Tuesday, January 24, the Center for Innovation & Change welcomed a total of 20 teams to campus for the ninth High School Changemaker Challenge, sponsored by Toyota Indiana. Several unique and innovative ideas were shared with the judges, who then narrowed 20 down to the Top 6. After a final round of presentations, the following students were awarded four-year scholarships:
1st place: Full tuition
Heroes Among Us: Tyler Myers (Evansville Day School)
Summary: Heroes Among Us is an interactive app that will equip schools with a curriculum that allows them to educate kids about sensory needs.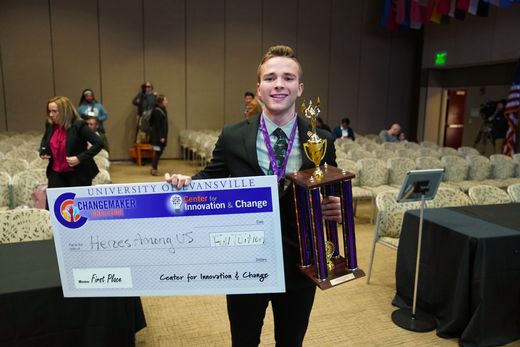 2nd place: $27,000 per year
Ticket to Health: Sophie Rodionova and Maryam Adeel (Signature School)
Summary: The language barrier should not mean the difference between the quality of life a patient has and could have. As Evansville grows and becomes diverse, we need to provide for the needs of a diverse community. Ticket to Health is a medical booklet that will contain questions specifically tailored to each doctor's needs. It will include the most common languages in Evansville: Spanish, Ukrainian, Russian, Urdu, and Mandarin. Different colors will represent various specialties, and each language will have a translation to English.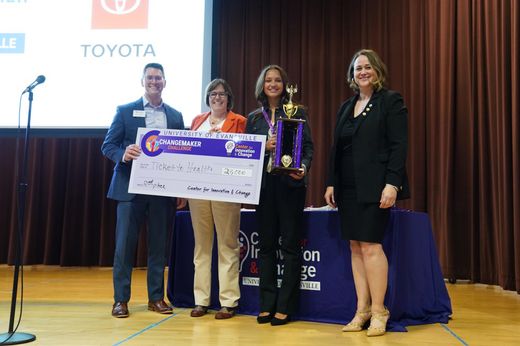 3rd place: $23,000 per year
QuickSports: Prab Jayachandran and Kaden Oberlander (Signature School)
Summary: An app that connects sports players and brings them to the best sports location near them. QuickSports is the go-to app for anyone looking to find friends and play sports in a large group as fast as possible.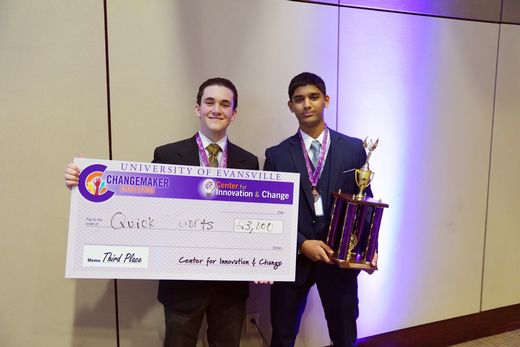 Submitted by Julie Beer / jb855@evansville.edu
UE-based Encyclopedia featured at AMSER
The UE-based Encyclopedia of Triangle Centers, created by UE math professor Clark Kimberling, has been selected for inclusion in the Applied Math and Science Education Repository (AMSER), funded by the National Science Foundation. Now in its 23rd year, the encyclopedia, often called ETC, is a one-of-a-kind registry of special points in the plane of an abstract triangle. At present, the 27-part encyclopedia includes more than 52,000 triangle centers, starting with the four ancient Greek points called incenter, centroid, circumcenter, and orthocenter. To visit ETC via AMSER, click https://amser.org/r5739/encyclopedia_of_triangle_centers.
Submitted by Clark Kimberling ck6@evansville.edu
Men's basketball hosts Belmont on Wednesday
Wrapping up a 2-game homestand, the University of Evansville is set to square off against Belmont on Wednesday evening at the Ford Center. Tip is set for 7 p.m. CT with the Purple Aces Radio Network and ESPN+ having the coverage.
Setting the Scene
- Evansville and Belmont have met on five previous occasions with the Bruins holding a 3-2 series lead
- This is the first meeting as fellow members of the MVC
- In two games played at the Ford Center, each team has recorded a victory
- The first meeting between the schools was in the 2009 CBI and was played on the campus of USI
Last Time Out
- Scoring 55 points in the first half while shooting 56.7% over the entirety of the game, Drake defeated UE by a 97-61 score on Saturday at the Ford Center
- The Bulldogs were credited with a Ford Center record 31 assists with Roman Penn totaling 18
- Four Purple Aces reached double figures with Kenny Strawbridge Jr. and Yacine Toumi scoring 12 while Antoine Smith Jr. and Marvin Coleman II scored 11 each
Raising the Bar
- Yacine Toumi has hauled in at least five rebounds in eight of the last nine contests while raising his season average from 5.1 to 5.7 per game
- His top tally of 11 came in the win over Bellarmine while he added 7 against Valpo to solidify his mark of 5.7/game, which is 15th in the Valley
- Toumi scored 18 against the Beacons, which tied his career-high
- It halted a streak that saw him average 5 points in the prior three games
- His scoring average over the last six games is 7.2 PPG
Another Career Best
- Hitting 9 of his 13 shots at Southern Illinois, Marvin Coleman II reset his career scoring high with 25 points
- Over his last 11 games, Coleman is averaging 15.3 points while shooting 48.4%
- Coleman had just one double figure scoring game in his first ten contests this season while averaging 5.4 points...since then, he has reached double digits in 10 out of 11 games
- Following the first 10 games, Coleman was shooting 22.5% (20/89) from the field and 9.1% (2/22) from outside...he has hit 61 of his last 126 attempts (48.4%) and 23 of his previous 45 outside tries
Scouting the Opponent
- Midway through their first season as members of the Missouri Valley Conference, Belmont is tied for first place with a 6-2 mark while sitting at 15-6 overall
- The Bruins have won six games in a row including a 78-76 decision at Bradley on Saturday
- Three Bruins average double figures led by Ben Sheppard
- Sheppard paces Belmont with 18.5 points, 5.0 rebounds per game and a season total of 72 assists
- Cade Tyson comes into Wednesday's game with 13.0 points per game while Drew Friberg is just behind with 12.9 PPG
Submitted by Athletics
Contribute to AceNotes
To have content considered for inclusion in AceNotes, please submit a Marketing Request Form. Deadline for submission to AceNotes is 10:00 a.m. on the requested date of publication. Only articles concerning UE related/sponsored activities will be accepted. Articles submitted to AceNotes may be edited for length and clarity. Submitter contact information is at the end of each article.