| | |
| --- | --- |
| AceNotes Today | Tuesday, January 24, 2023 |
Spring Tutoring is Here
Peer Group Tutoring is now available for Spring 2023!
Please review the full schedule on our webpage: https://www.evansville.edu/advising/academic-peer-tutoring.cfm.
Peer tutoring is a free service managed by Academic Services that is open to all current UE students. This is a great resource for if you have questions, want to refresh yourself on information, or even if you need a space that will help you focus on studying and other work. Whether you only have time to stop by for a few minutes or you need to attend the full session time, you are welcome to stop by.
If you have any questions in regards to tutoring, please direct them to Laci Rowe at lr152@evansville.edu / 812-488-5170 or by stopping into Academic Services (Olmsted 116)!
Submitted by Laci Rowe lr152@evansville.edu
Post-Roe America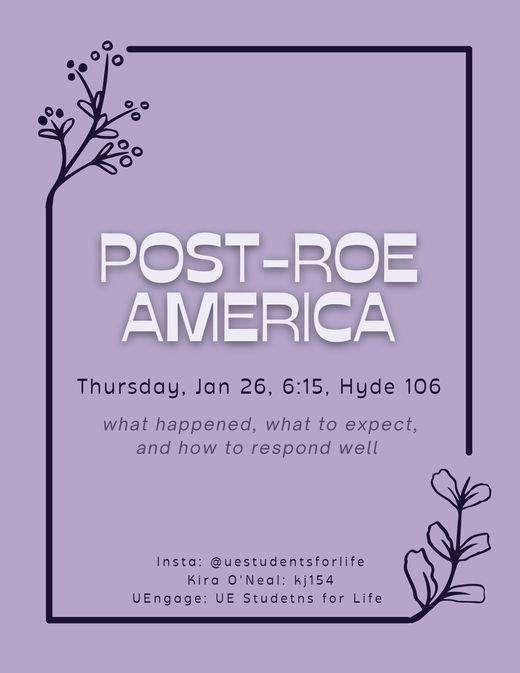 Hear from member Sydney Wilbur, a political science major, as she fills us in on key information regarding the Dobbs v. Jackson case. This is a great opportunity to learn what changed, what to expect, and how to respond well to a culture in shock.
Thursday, January 26, 6:15, Hyde 106
Submitted by Kira O'Neal kj154@evansville.edu
Sigma Alpha Iota Recruitment Week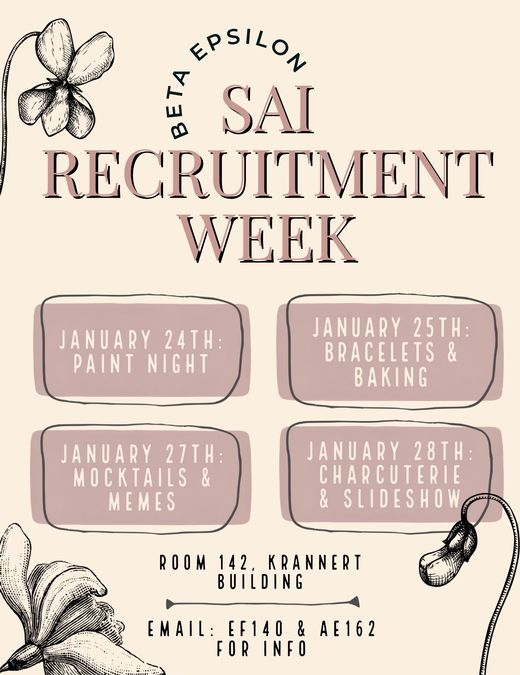 Sigma Alpha Iota, or SAI, is a music business fraternity that's mission is to encourage, nurture and support the art of music.
If you are interested in music, have taken a music credit at UE, or just want to make new friends, come by our informal recruitment this week!
*** Tuesday January 24 8:30PM in Krannert 142
*** Wednesday January 25 8:30PM in Krannert 142
*** Friday January 27 9:00PM in Krannert 142
*** Saturday January 28 1:00PM in Krannert 142
Our chapter is a fun and low commitment way to meet new people at UE, create lasting friendships, and make connections to help you in the future.
Please email ae162 (Allison) or ef140 (Emma) with any questions!!
Submitted by Allison Enchelmayer ae162@evansville.edu
TIAA Individual Employee Counseling Sessions
No matter where you are in life—just getting started or planning for retirement—a session with Mike Dooley can help
you create a plan for your goals. And, it's at no additional cost as a part of your retirement plan. You'll get answers to
these questions and more:
Am I invested in the right mix of investments to help meet my goals?
Am I saving enough to create the retirement income I need?
How do I take income from my retirement account once I stop working?
TIAA will be available these dates and times for one-on-one sessions.
Wednesday, January 25, 2023 9 a.m. - 5 p.m. CT University Library, Room 209
Wednesday, February 22, 2023 9 a.m. - 5 p.m. CT Eades Music Room 153, School of Business
Wednesday, March 22, 2023 9 a.m. - 5 p.m. CT Eades Music Room 153, School of Business
RSVP today, as space is limited. Register for sessions at www.TIAA.org/schedulenow or
by calling 800-732-8353, weekdays, 8 a.m. to 8 p.m. (ET). We look forward to working with
you.
Submitted by Lori LeDuc ll138@evansville.edu
Randy Simmons Exhibit in Melvin Peterson Gallery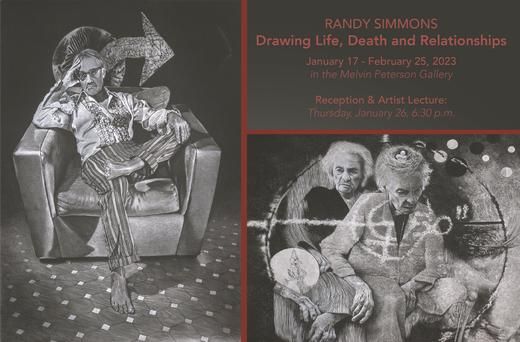 The Melvin Peterson Gallery will host the Drawing Life, Death and Relationships Exhibit by artist Randy Simmons from 01/17/2023 and through 02/25/2023. Gallery hours are Monday, Tuesday, Friday and Saturday from 12:00 p.m. - 3:00 p.m.; and Wednesday and Thursday from 12:00 p.m. - 6:00 p.m. Please join us for a reception and artist lecture on Thursday, January 26, 2023 at 6:30 p.m. in the Melvin Peterson Gallery.
Submitted by Carol McCraney cm177@evansville.edu
NBA Star Chris Herren visits Evansville
Reserve your ticket today for this inspiring FREE event! "Prevention starts with ALL: The Chris Herren Story" 7 Sisters is hosting a community speaking event on January 25th regarding addiction, recovery, education, and wellness. The speaker is Chris Herren, former NBA player and his story is a powerful one for every age to hear. Join us for this free event!
https://www.eventbrite.com/e/nba-star-chris-herren-visits-evansville-tickets-495180958577
Wednesday, January 25, 2023
7:00 PM
Reitz Memorial High School Auditorium
1500 Lincoln Ave.
Evansville, IN
Submitted by Tracy Gerth tg182@evansville.edu
UE Appoints Chief Communications Officer
UE has announced the appointment of Noah Alatza as Chief Communications Officer effective January 30. In this newly created position, Alatza will serve as the University's chief spokesperson and primary media contact. His work will help shape and guide UE's public affairs and strategic communications strategy that builds upon the institution's mission and core values.
Alatza is a former award-winning television news anchor and reporter with an extensive background in media and journalism. Most recently, he worked as an account manager and public relations specialist for Fishers, Indiana-based Coverdale Consulting. At Coverdale, Alatza worked on the development of marketing and public relations strategies for a diverse range of clients in a variety of industries, including architecture, accounting, and municipal government. From 2018 to 2021, Alatza served as both an on-air anchor and reporter for two of Evansville's television affiliates, 44News WEVV-TV and Eyewitness News WEHT/WTVW-TV.
Alatza has been honored for his work, including awards from the Society of Professional Journalists and the Indiana Association of School Broadcasters. His work has been featured in national publications including The Washington Post, Yahoo, The New York Times and Newsweek. Alatza graduated from University of Southern Indiana with degrees in both journalism and radio-television. He and his wife, Rachel, have one daughter, Norah. In his free time, he enjoys exercising and spending time with family and friends.
"I'm honored and deeply humbled to serve as the University's first Chief Communications Officer," Alatza said. "Ensuring that all members of our campus community and other stakeholders are receiving timely and effective communications is critical for building support and bringing innovative solutions to the University."
Submitted by Jill Griffin
Engineering Career Forum- Register TODAY
Engineering and Computer Science students, don't miss this opportunity to network with employers in your field!!
Wednesday, January 25th
6:30pm-8:30pm
Eykamp Hall, RUC
Register in Handshake! Questions? Contact the Center for Career Development at career@evansville.edu or 812-488-1083.
Submitted by Amanda Wood aw505@evansville.edu
Come Chat with the OL's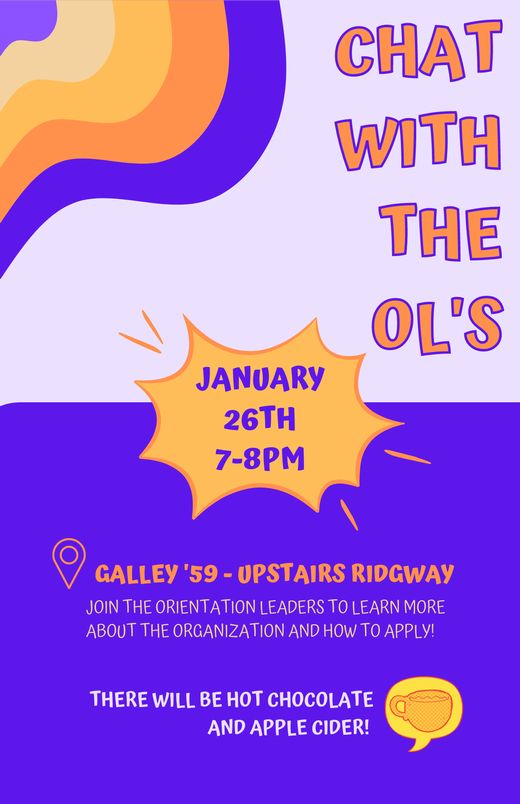 Join the Orientation Leaders at an informal meeting in Gallery '59 on Thursday, January 26th 7-8pm, to learn more about being an Orientation Leader and the application process! There will be hot chocolate and hot apple cider provided. We hope to see you there!
Submitted by Shelby Gardner sg293@evansville.edu
Get Your W-2 Earlier with Electronic Consent
The Office of Accounting/Payroll will be issuing W-2s for 2022 no later than January 31, 2023. You may choose 1 of 2 options to receive your W-2:
Electronic W-2 – If you provide your consent, you will be able to view/print in Self-Service as soon as they are ready. Notification will be sent through AceNotes.
Paper W-2 – If you prefer, you can continue to receive your W-2 in the mail.
An electronic W-2 will give you earlier access than a mailed copy. It is IRS compliant and can be submitted with your tax return as usual.
To give consent for the electronic W-2, log in to Self-Service https://selfservice.evansville.edu and go to "Tax Information". Select "Receive my W-2 only in electronic form" and save.
If you are eligible to participate in the university's health plans, you may give consent to receive your 1095-C form electronically here also. If you choose to withhold your consent to view/print your online W-2 and 1095-C, a paper copy will be mailed to your home address. Please make sure that your current address is on file.
If you have questions, please contact Dawn Bury at ext 2159 or db287@evansville.edu.
Submitted by Dawn Bury db287@evansville.edu
Road Trip Hosts Needed
The Office of Admission needs current UE students who live in a residence hall or Jones Hall to host prospective high school seniors for Road Trip February 24-26. If you are available, you can apply to host online. Please contact Heather Cook (hw30@evansville.edu) or Jill Fisher (jf223@evansville.edu) if you have any questions. Deadline to sign up is Friday, February 10.
Submitted by Jill Fisher jf223@evansville.edu
UE-based Encyclopedia featured at AMSER
The UE-based Encyclopedia of Triangle Centers, created by UE math professor Clark Kimberling, has been selected for inclusion in the Applied Math and Science Education Repository (AMSER), funded by the National Science Foundation. Now in its 23rd year, the encyclopedia, often called ETC, is a one-of-a-kind registry of special points in the plane of an abstract triangle. At present, the 27-part encyclopedia includes more than 52,000 triangle centers, starting with the four ancient Greek points called incenter, centroid, circumcenter, and orthocenter. To visit ETC via AMSER, click https://amser.org/r5739/encyclopedia_of_triangle_centers.
Submitted by Clark Kimberling ck6@evansville.edu
Contribute to AceNotes
To have content considered for inclusion in AceNotes, please submit a Marketing Request Form. Deadline for submission to AceNotes is 10:00 a.m. on the requested date of publication. Only articles concerning UE related/sponsored activities will be accepted. Articles submitted to AceNotes may be edited for length and clarity. Submitter contact information is at the end of each article.