| | |
| --- | --- |
| AceNotes Today | Monday, January 23, 2023 |
CBE Speaker Series: A Celebration of Engineer's Week with Paul Jones

University of Evansville - College of Business & Engineering Speaker Series
A Celebration of Engineers Week!
Paul W. Jones '71
February 21, 2023
Lunch & Learn
12:20-1:15 p.m.
Lunch served at 12:20 p.m.; Speaker Begins at 12:30 p.m.
Schroeder Building, Room 170
Making the Most of Your College and Career: Advice from an Engineer and CEO
Join us as we welcome engineering alumnus Paul W. Jones to hear his personal journey and lessons learned along the path from engineer to CEO.
Both in person and zoom options will be provided. If you register to attend the event via zoom, the link will be provided to you 24 hours prior to the event. Please be sure to check your spam folder. If you do not receive the information, please contact Nick Bragin at nb197@evansville.edu

Register for this event.
Submitted by Nick Bragin nb197@evansville.edu
TIAA Individual Employee Counseling Sessions
No matter where you are in life—just getting started or planning for retirement—a session with Mike Dooley can help
you create a plan for your goals. And, it's at no additional cost as a part of your retirement plan. You'll get answers to
these questions and more:
Am I invested in the right mix of investments to help meet my goals?
Am I saving enough to create the retirement income I need?
How do I take income from my retirement account once I stop working?
TIAA will be available these dates and times for one-on-one sessions.
Wednesday, January 25, 2023 9 a.m. - 5 p.m. CT University Library, Room 209
Wednesday, February 22, 2023 9 a.m. - 5 p.m. CT Eades Music Room 153, School of Business
Wednesday, March 22, 2023 9 a.m. - 5 p.m. CT Eades Music Room 153, School of Business
RSVP today, as space is limited. Register for sessions at www.TIAA.org/schedulenow or
by calling 800-732-8353, weekdays, 8 a.m. to 8 p.m. (ET). We look forward to working with
you.
Submitted by Lori LeDuc ll138@evansville.edu
SAA Soupalooza Sign Ups
Please mark your calendars for Tuesday, February 14, for the UESAA Soupalooza. The social committee is so excited to bring this fun event back after being sidelined by COVID restrictions over the last few years. This is a wonderful fundraiser for the SAA to do more for our campus community. Five dollars will get you a bowl and an entry ticket. You will be able to sample the various soups then place your entry ticket in the bucket for the soup YOU think is the best! We will announce a winner that afternoon. You can also buy extra votes for $1.
Date: 2/14/23
Time: 11 AM – 1 PM
Cost: $5 for bowl
Menu: Various soups, desserts and water bottles
Where: Eykamp 251 and 252
Now…who has a winning recipe?? Sign up through the link below and list the soup you plan to bring in the comment section under your name. If you are not a soup person, you can sign up to bring a dessert. It is always fun to see and taste a little friendly competition!
https://www.signupgenius.com/go/4090C4BA8AE28A2F94-saasoupalooza
Submitted by Lori LeDuc ll138@evansville.edu
Natural Sciences Research Symposium
The natural sciences at UE is organizing a research symposium to recognize some of the research accomplishments of its students. The symposium is scheduled for the afternoon of Friday, February 3, 2023. It will begin with a student poster session from 1-2:00 PM in the Koch Atrium. Following the poster session, there will be presentations in KC 100 (beginning around 2:00 PM) by two UE alumni: Bradley Richmond (Class of 2003) and Elizabeth Mendes (Class of 2017). Bradley Richmond (MD, PhD) is an Assistant Professor of Medicine, Division of Allergy, Pulmonary, and Critical Care Medicine at Vanderbilt University. Elizabeth Mendes is currently pursuing her PhD in Pharmacology and Cancer Biology at Duke University School of Medicine. In addition to talking about their respective careers, each speaker will discuss how a UE education and other experiences helped shape their career paths. The symposium will end with a panel discussion. Andrew Nunn (Class of 2017), a lab manager at AstraZeneca, will join the panel discussion. Everyone is cordially invited to attend this event. For more information, contact Dale Edwards (de3@evansville.edu)
Submitted by Dale Edwards de3@evansville.edu
Leadership Everyone Nominations: Joshua Academy Music Instruction ChangeLab
This year, nine ChangeLabs and UE Changemakers have been nominated for Leadership Everyone awards! We will be sharing those nominees and details about their projects over the next few weeks, beginning with Joshua Academy Music Instruction ChangeLab.
The Joshua Academy Music Instruction ChangeLab has been nominated for the Leadership Everyone's 28th Annual Celebration of Leadership, the annual event where servant leadership in our community is recognized and celebrated!
Instrumental Music Education students began the Joshua Academy band program in the fall of 2019. After a successful start, the program was forced to take a short hiatus during the COVID-19 pandemic.
Instrumental music education majors successfully restarted the Joshua Band Program in the fall of 2021. Since then, two students have been selected to provide beginning instrumental music instruction two days per week in this "real world, hands on" situation, experiencing the many responsibilities and challenges associated with an instrumental music program.
According to the Joshua Academy Administration, "This has been a great win-win opportunity for both our Joshua Academy Bright Ones AND the University of Evansville aspiring teachers!"
The Joshua Academy Music Instruction ChangeLab is coached by Fran Vile, faculty member of the UE Music Conservatory.
Submitted by Andrew Carter ac116@evansville.edu
Volunteers needed for MATHCOUNTS
MATHCOUNTS is a national math coaching and competition program for 6th, 7th, and 8th grade students. The program is run by the MATHCOUNTS Foundation, state and local chapters of the NSPE, and many, many volunteers. Participation in the program is through your school. MATHCOUNTS provides an opportunity for students to have fun while exploring areas of math that they may not see in their normal class curriculum. It also gives students a chance to be recognized for their achievements on both team and individual bases. The program targets this age group in order to influence their thinking about math, and to encourage them to continue challenging themselves in the subject as they select high school courses.
On February 11. 2023, the University of Evansville will be hosting the Southwestern Indiana Regional MATHCOUNTS Competition in Eykamp Hall. We are looking for Student/Faculty volunteers from the University of Evansville to help with the event, to serve as Proctors or Graders for the competition and to assist with signing in teams in the morning when they arrive.
If you are interested in assisting with this event, please Contact Tonya Albright (ta58@evansville.edu).
Submitted by Tonya Albright ta58@evansville.edu
Engineering Career Forum- Register TODAY
Engineering and Computer Science students, don't miss this opportunity to network with employers in your field!!
Wednesday, January 25th
6:30pm-8:30pm
Eykamp Hall, RUC
Register in Handshake! Questions? Contact the Center for Career Development at career@evansville.edu or 812-488-1083.
Submitted by Amanda Wood aw505@evansville.edu
Come Chat with the OL's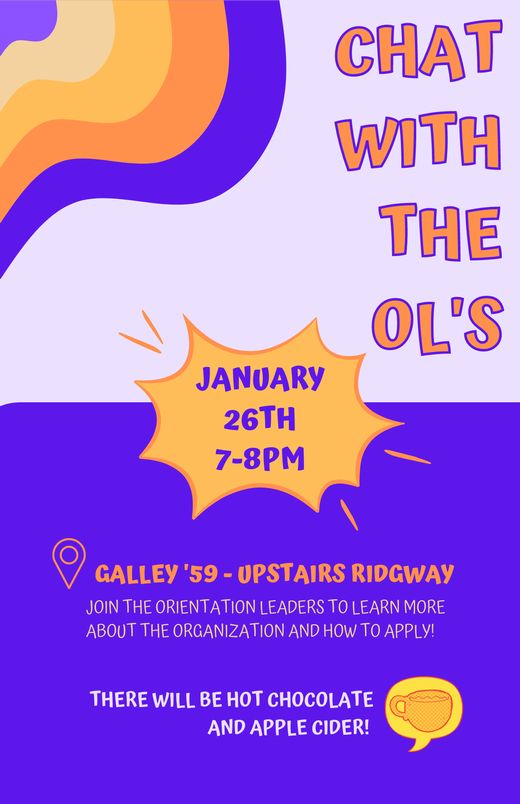 Join the Orientation Leaders at an informal meeting in Gallery '59 on Thursday, January 26th 7-8pm, to learn more about being an Orientation Leader and the application process! There will be hot chocolate and hot apple cider provided. We hope to see you there!
Submitted by Shelby Gardner sg293@evansville.edu
Seeking Outside Scholarship Opportunities?
The Office of Student Financial Services would like students to know if you would like to explore outside scholarship opportunities, you can find various scholarship resources listed on the UE website and within the MyUE Self-Service portal in the Student Financial Services area under Additional Scholarship Opportunities. Criteria and deadlines vary, so please refer to the scholarship links for more details.
Submitted by Amy Sowders as560@evansville.edu
Holiday World & Splashin' Safari recruiting on campus
Representatives from Holiday World & Splashin' Safari will be on campus recruiting for summer internships in a wide variety of majors as well as full time positions. Stop by for more information!
Monday, January 23
11am-1pm
1st floor, Ridgway University Center
Submitted by Amanda Wood aw505@evansville.edu
Mobile Food Ordering is now live at UE
Mobile Food Ordering is now live at Rademacher's Café, Chick Fil A, and The Eatery. You can download the Transact Mobile Ordering app to your Android or iPhone device, choose the University of Evansville as the locations, and sign on with your campus account. All meal plan and Ace Bucks information will already be loaded onto your mobile account. We take credit card and Ace Bucks at Rademacher's Café and Chick Fil A. The Eatery accepts credit card, Ace Bucks, AND your meal exchange! Available now, your meal exchange can be used to order specific menu items we serve from The Eatery. If you have any questions, please feel free to stop by the Dining Services Office directly to the right of Chick Fil A. Our team will be happy to help set you up!
Submitted by Samantha Williams sw342@evansville.edu
Writing Center Open for Spring Semester
The Writing Center is open for the Spring 2023 semester! Please visit https://www.evansville.edu/writingcenter/ to make an appointment. Walk ins are welcome, but we may not have availability without an appointment. Remember, the Writing Center consultants are happy to help with invention, so it's never too early to visit.
Submitted by Kristina Groves kg76@evansville.edu
2023-24 Margaret Schriefer Scholarship Application now Available
The Margaret E. Schriefer Liberal Arts Scholarship has been established for the University of Evansville in loving memory of Margaret E. Schriefer. This scholarship will be awarded annually to a deserving student, covering "full-tuition, books, supplies, materials, and laboratory fees. To be considered for this scholarship, students must meet the following qualifications:
Must be enrolled at The University of Evansville and have a major of study in Literature, English, Music or Theatre.
Must be a natural born citizen of the United States of America with no prior criminal record, other than minor traffic violations.
Must be a free and accepted Mason in good standing in a local lodge under the authority of the Grand Lodge of its state, or be the descendant, sibling, or nephew/niece of a Master Mason in good standing in his respective lodge under the authority of the Grand Lodge of its respective state. If the related Mason shall not be living at the time of the student's consideration for this scholarship, a letter shall be obtained from the Lodge of the related Mason to the effect that the related Mason was in good standing at the time of his death.
Must have and maintain a "C" average.
If you meet the requirements for this scholarship, please complete the scholarship application and return to the Office of Student Financial Services by April 15, 2023.
Questions may be directed to the Office of Student Financial Services via email or by phone at (812) 488-2364.
Submitted by Heather Richards hr103@evansville.edu
UE-based Encyclopedia featured at AMSER
The UE-based Encyclopedia of Triangle Centers, created by UE math professor Clark Kimberling, has been selected for inclusion in the Applied Math and Science Education Repository (AMSER), funded by the National Science Foundation. Now in its 23rd year, the encyclopedia, often called ETC, is a one-of-a-kind registry of special points in the plane of an abstract triangle. At present, the 27-part encyclopedia includes more than 52,000 triangle centers, starting with the four ancient Greek points called incenter, centroid, circumcenter, and orthocenter. To visit ETC via AMSER, click https://amser.org/r5739/encyclopedia_of_triangle_centers.
Submitted by Clark Kimberling ck6@evansville.edu
Feit pours-in 28 points as Aces glide past Bradley
Powered by a well-rounded team performance, the University of Evansville women's basketball team opened the weekend road trip with a 73-56 win over Bradley on Friday night in Peoria, Ill.
Back home in Central Illinois, senior guard/forward Abby Feit came up just one point shy of tying her career high, pouring-in a season-best 28 points and adding 12 rebounds in the win. From the field, Feit was incredibly efficient, shooting 11-14 (78.6%) and 4-7 (57.1%) from beyond the arc. Graduate guard Anna Newman was in vintage form, recording 10 assists and adding six points, three boards, and three steals. Also finishing in double-figures for Evansville was fifth-year guard A'Niah Griffin, who marked her second-straight game in double-digits with 13 points, knocking-down three triples. The Braves were led by Caroline Waite and Daija Powell who each finished with 12 points for Bradley.
The Aces wasted little time in taking control on Friday night, running out to a 14-2 advantage that was capped-off by a Feit three-pointer and forced a Bradley timeout with 3:30 left in the opening period. Out of the timeout, the Braves would answer with a run of their own to the tune of 11-2, closing within just three at 16-13 after the first.
Energized by its run to close the first quarter, Bradley kept pace with the Aces in the opening three minutes of the second frame, narrowing its deficit to one at 22-21. In response, Evansville again turned up the intensity, beginning with eight-straight points leading to an overall 16-6 spree to close the half as UE took a 38-27 lead into the locker room. Much of the run down the stretch of the second quarter was thanks to fifth-year guard Myia Clark, who tallied all eight of her points on the night in the second period.
What was the Myia Clark Show in the second quarter turned into the Abby Feit and A'Niah Griffin show out of the half. Of Evansville's 17 third-quarter points, Feit and Griffin combined to score all but two of them, a layup by reshirt junior Barbora Tomancova, as the Aces built onto their advantage. A jumper from Waite got the Braves back within single digits a little over a minute into the second half, but Evansville answered with nine unaswered points, giving UE an 18-point advantage as the third quarter waned.
The lead hovered between 13 and 18 points for much of the early portion of the final quarter before the Aces offense again got hot. With just over five minutes remaining in the game, Feit hit a jumper to give Evansville its largest lead of the night at 67-45 before Coach Scherr-Wells began to rotate starters out of the game down the stretch as UE secured the 73-56 win.
Evansville's 17-point margin in the win over Bradley is its largest against an MVC foe since an 81-50 victory at Loyola Chicago on March 2, 2017.
The Aces are back in action against first-place Illinois State at 2 PM on Sunday afternoon in Normal, Ill. to close out the road trip.
Submitted by Athletics
Drake pulls away to defeat UE men
Scoring 55 points in the first half, Drake pulled away in the final 20 minutes to defeat the University of Evansville men's basketball team by a score of 97-61 on Saturday afternoon inside the Ford Center.
After shooting 66.7% in the first half, the Bulldogs finished the game at 56.7%. Evansville had four players score in double figures with Kenny Strawbridge Jr. and Yacine Toumi recording 12 apiece while Antoine Smith Jr. and Marvin Coleman II each chipped in 11. Gabe Spinelli added 9 points and a team-high five rebounds. Tucker DeVries led all players with 23 points while Darnell Brodie added 17. Roman Penn had an unbelievable 18 assists while scoring 13.
"First and foremost, Drake is a very good team. They were able to get just about everything offensively that they got. If they play like that, it will be hard for anybody to beat them," UE head coach David Ragland stated. "We moved at a good pace offensively in the first half but we could not sustain it."
Drake reeled off the first seven points of the game to force a time out by Evansville. The Aces regrouped and went on a 14-2 run to take a 14-9 lead. Antoine Smith Jr. got his team on the board with a triple before hitting a runner to make it a 9-5 score. Three consecutive triples by Gabe Spinelli, Smith and Marvin Coleman II put UE in front as the team hit five out of six shots during the stretch.
With the Aces in front, the Bulldogs stormed back. Going on a 18-2 run, the Bulldogs retook the lead at 27-16 as they capped the run off scoring 11 in a row. With the half moving under 10 minutes remaining, Chris Moncrief and Yacine Toumi recorded field goals to trim the deficit back down to seven.
Shots continued to fall for the Bulldogs, who shot 66.7% in the opening stanza. Connecting on nine of their final ten attempts, Drake led by a 55-34 margin at halftime. Equally impressive in the opening 20 minutes was their 8-for-12 performance from long range. UE converted six of its 12 attempts from 3-point range in the period.
Evansville posted the first two baskets of the second half but it was Drake with the big run, scoring nine in a row and 12 of the next 14 to take a 67-40 advantage. Up 73-50, the Bulldogs scored the next nine to push their lead to 82-50. The final score of 97-61 matched their largest margin of the game.
Another home game is coming up Wednesday when the Aces welcome Belmont for a 7 p.m. tip.
Submitted by Athletics
Redbirds pull away in second half as cold-shooting trips up Aces
Despite a day in which it competed for much of the opening 25 minutes, the University of Evansville women's basketball team could not overcome its cold shooting in a 78-46 loss to Illinois State on Sunday afternoon.
For the second-straight game, senior guard/forward Abby Feit reached the 20-point mark and hit four three-pointers to lead the way for the Aces back in her hometown. Feit was the lone Ace in double-figures, but UE was boosted by a strong performance from redshirt junior Celine Dupont, who tallied nine points and five boards off the bench. The Redbirds were led by the duo of Paige Robinson and Deanna Wilson, who combined for 49 points on the afternoon.
A cold-shooting stretch to open the game caused Evansville to have to battle back from an early deficit as the Redbirds opened up a 13-3 lead over the Aces in the first quarter. A three from Feit, her first of the day, with under a minute left in the quarter helped keep the deficit manageable at 17-9 going into the second period.
The second quarter proved to be the bright spot on the day for Evansville as the Aces shot 42% (5-12) from the field in the period. The aforementioned Feit and Dupont powered Evansville in the opening half with the two combining for 22 of UE's 26 points in the first 20 minutes with Dupont scoring all nine of her points in the game in the second quarter. As was true in the first frame, a three-pointer from Abby Feit helped to narrow the lead late in the quarter, getting Evansville to within six at 32-26 before Wilson hit a layup in the final second to push the Redbirds lead back to eight at the break.
In the second half, Evansville showed the ability to rebound both offensively and defensively as UE was only out-rebounded 39-37 in the game. Evansville generated plenty of second-chance opportunities in the game by securing 15 offensive rebounds, but turned those chances into just 12 points. As was true early in the opening quarter, the Aces were doomed by shooting woes in the second half, hitting just five of their 34 attempts in the final 20 minutes as Illinois State pulled away for the 78-46 win.
Evansville returns home for a pair of important home contests inside Meeks Family Fieldhouse this upcoming weekend. On Friday, the Aces play host to Murray State at 6 PM with the first 100 students inside Meeks receiving a script Aces crossbody bag. Closing-out the weekend against Belmont on Sunday, Evansville celebrates National Girls & Women in Sports Day with a 1 PM tip-off against the Bruins back inside Meeks.
Submitted by Athletics
Lamond Breaks Another UE Throwing Record At Bellarmine Open
University of Evansville graduate student Antonia Lamond (Nutley, N.J./Paramus Catholic) broke her own school record in the women's weight throw event on Friday, as she placed fifth overall with a toss of 13.28 meters to help lead the Purple Aces' track & field teams at the Bellarmine Open.
Lamond's school-record throw came in the last event of the day for UE, and bettered her own previous record by over half a meter. It capped a strong day for the UE throwers, as senior Zach Dove (Princeton, Ind./Princeton Community) posted a pair of top five finishes and topped the previous Bellarmine Open record in the men's weight throw, while senior Jaden Hayes also posted a sixth-place finish in the men's shot put.
Dove placed third in the weight throw with a toss of 17.01 meters (55' 9.75"), as he finished just two feet shy of Western Kentucky's Brett Brannon for the individual title. Dove's throw topped the previous Bellarmine Open record by over a meter and a half. He also placed fourth in the shot put with a team-best throw of 14.25 meters (46' 9"), while Hayes finished two places back with a toss of 13.18 meters (43' 3").
On the track, sophomore Adam Oulgout (St. Paul, Minn./Central) continued his strong start to the indoor season with a tenth-place finish in the men's 800-meters with a time of 1:58.72. He also barely missed setting a new personal-best mark in the indoor mile, as he clocked in with a time of 4:25.74. Fifth-year runner Carson Kline (Terre Haute, Ind./South) was able to cut four seconds off of his personal-best mile time with a time of 4:46.38, while freshman Joey Taylor (Grove City, Ohio/Central Crossing) also cut 14 seconds off of his season-best mile time by clocking in with a time of 4:55.45.
In the sprints, junior Geordan Blades (Avon, Ind./Avon) placed 13th overall in the men's 60-meter dash with a time of 7.22, while placing 14th in the 200-meters with a time of 23.28. Freshmen Jude Nguyen (Farmington Hills, Mich./North Farmington) and Jose Ocampo (Monterrey, Mexico) were not far behind with times of 24.01 and 24.05, respectively.
On the women's side, freshman Kate Walke (Batesville, Ind./Oldenburg Academy) placed 13th in the women's 60-meter hurdles with a time of 10.21. Junior Emma Denbo (French Lick, Ind./Springs Valley) also lowered her personal-best mark in the 400-meters with a time of 1:13.22.
Overall, the UE men finished tenth as a team, while the UE women placed 14th. UE will now take two weeks off before returning to action on Friday, February 3 by returning to Louisville to take part in the PNC Bank Bellarmine Classic.
Submitted by Athletics
UE Softball releases 2023 schedule
Set to kick off the inaugural season at the newly-renovated Tri-State Orthopaedics Field at James & Dorothy Cooper Stadium, the University of Evansville softball team has announced its 2023 schedule.
"I think Aces fans are going to excited with our schedule. One of the things I am most proud to highlight with our schedule is our two home tournaments the 2nd and 3rd weekends of the season," UE head softball coach Mat Mundell exclaimed. "This was made possible with the tremendous renovation to Cooper Stadium. We hope to have the stands packed all season long."
Opening day is set for Thursday, February 9 with the start of the DePaul Dome Classic in Rosemont, Ill. Set to take place at the Rosemont Dome, the Purple Aces will take on Saint Louis, St. Thomas, Eastern Kentucky, Detroit Mercy and DePaul.
On Friday, Feb. 17, UE takes to its new field for the first time with the first of two home tournaments. From the 17th through the 19th, UE will combine with USI to host a tournament that also includes Green Mary, UT Martin and Kansas City. From Feb. 24-26, the second home tournament will include Bowling Green, Purdue Fort Wayne and St. Thomas.
March begins with a trip to the Hilltopper Spring Fling in Bowling Green, Ky. UE faces Austin Peay, Western Kentucky and Akron between March 3 and 5. WKU is coming off a 38-13 campaign in 2022. The final non-conference tournament will see the Aces travel to Nashville for the Lady Bison Classic, which goes from March 10-12. Evansville takes on Akron and Indiana twice apiece before facing host Lipscomb in the finale.
Missouri Valley Conference play opens at home on Friday, March 17 with a series against Bradley. In its first road series, UE treks to Springfield, Mo. from March 24-26 to face Missouri State. In 2022, MSU went 28-20 and finished second in the MVC. On the 28th, the Aces will play a doubleheader against Lindenwood in St. Louis. Lindenwood is in its first season at the Division I level and won 35 games while making the NCAA Division II Tournament last year.
UE welcomes Belmont for a series that will begin on March 31. The first-year members of the MVC won 33 games a season ago. On Tuesday April 4 and 11, Evansville will play single road games at Indiana State. In between, the Aces host a home series versus Southern Illinois from April 7-9.
Three of the final four weekend series of the season will be on the road, starting on April 14 at Murray State. The Racers are the defending Ohio Valley Conference Champions and won 40 games in 2022 on their way to a spot in the Tuscaloosa NCAA Regional. On April 18, Evansville welcomes SIU Edwardsville for a single game.
Road action continues with a series at UIC between April 21-23 before the Aces return to Cooper Stadium for their final four home contests. After facing Indiana State on April 25, UE plays host to Illinois State in a series that goes from April 28-30. The regular season will wrap up at Northern Iowa beginning on May 5. In 2022, the Panthers went 22-2 in the MVC.
Submitted by Athletics
Contribute to AceNotes
To have content considered for inclusion in AceNotes, please submit a Marketing Request Form. Deadline for submission to AceNotes is 10:00 a.m. on the requested date of publication. Only articles concerning UE related/sponsored activities will be accepted. Articles submitted to AceNotes may be edited for length and clarity. Submitter contact information is at the end of each article.