| | |
| --- | --- |
| AceNotes Today | Friday, January 20, 2023 |
Get Your W-2 Earlier with Electronic Consent
You can receive your 2022 W-2 either electronically or by mail.
Electronic W-2 – Just provide your consent in SelfService, and you will be able to view and print your W-2 as soon as it is ready. Notification will be sent through AceNotes.
Paper W-2 – If you do not wish to provide consent, a paper copy will be mailed to your home.
An electronic W-2 will give you earlier access than a mailed copy. It is IRS compliant and can be submitted with your tax return as usual.
To give consent for the electronic W-2, log in to Self-Service https://selfservice.evansville.edu and go to "Tax Information". Select "Receive my W-2 only in electronic form" and save.
If you are eligible to participate in the university's health plans, you may give consent to receive your 1095-C form electronically here also.
W-2s for 2022 will be issued no later than January 31, 2023.
If you have questions, please contact Dawn Bury at ext 2159 or db287@evansville.edu.
Submitted by Dawn Bury db287@evansville.edu
CBE Speaker Series: A Celebration of Engineer's Week with Paul Jones

University of Evansville - College of Business & Engineering Speaker Series
A Celebration of Engineers Week!
Paul W. Jones '71
February 21, 2023
Lunch & Learn
12:20-1:15 p.m.
Lunch served at 12:20 p.m.; Speaker Begins at 12:30 p.m.
Schroeder Building, Room 170
Making the Most of Your College and Career: Advice from an Engineer and CEO
Join us as we welcome engineering alumnus Paul W. Jones to hear his personal journey and lessons learned along the path from engineer to CEO.
Both in person and zoom options will be provided. If you register to attend the event via zoom, the link will be provided to you 24 hours prior to the event. Please be sure to check your spam folder. If you do not receive the information, please contact Nick Bragin at nb197@evansville.edu

Register for this event.
Submitted by Nick Bragin nb197@evansville.edu
TIAA Individual Employee Counseling Sessions
No matter where you are in life—just getting started or planning for retirement—a session with Mike Dooley can help
you create a plan for your goals. And, it's at no additional cost as a part of your retirement plan. You'll get answers to
these questions and more:
Am I invested in the right mix of investments to help meet my goals?
Am I saving enough to create the retirement income I need?
How do I take income from my retirement account once I stop working?
TIAA will be available these dates and times for one-on-one sessions.
Wednesday, January 25, 2023 9 a.m. - 5 p.m. CT University Library, Room 209
Wednesday, February 22, 2023 9 a.m. - 5 p.m. CT Eades Music Room 153, School of Business
Wednesday, March 22, 2023 9 a.m. - 5 p.m. CT Eades Music Room 153, School of Business
RSVP today, as space is limited. Register for sessions at www.TIAA.org/schedulenow or
by calling 800-732-8353, weekdays, 8 a.m. to 8 p.m. (ET). We look forward to working with
you.
Submitted by Lori LeDuc ll138@evansville.edu
Campus Community Invited to Q&A with Matt Williams '73 and David McFadzean '73, creators of HOME IMPROVEMENT
The University of Evansville Department of Theatre would like to invite the UE campus community to Shanklin Theatre this Friday, January 20, at 5:00 p.m. to welcome alumni Matt Williams '73 and David McFadzean '73 back to campus.
We are thrilled to have them joining us to speak about their careers and take questions. Matt has written a new memoir, GLIMPSES, and he will be doing an exclusive reading on Saturday, as a fundraiser for the new John David Lutz Theatre Lab. His college roommate and business partner, David McFadzean '73, and his wife, Liz McFadzean '73, are coming in from Los Angeles to be here for the event.
This is a free event to all those in the UE campus community, and doors will open at 4:45 p.m. If you have any questions, please call 812.488.2744 or stop by the Theatre Ticket Office located in Hyde Hall.
MATT WILLIAMS BIO
UE Theatre alumnus and an Evansville native, Matt is best known as the Creator and Executive Producer of the hit series ROSEANNE and the Co-Creator and Executive Producer of HOME IMPROVEMENT, one of the most successful programs in television history. Williams started his television career when he joined THE COSBY SHOW during its premiere season and worked as a Writer/Producer on the show for three subsequent seasons. He also Co-created the series A DIFFERENT WORLD. Matt's work was nominated for Emmy and Humanitas Awards and won a Peabody Award for Outstanding Achievement in Television Writing. In addition to his many credits, Matt is a founding board member of The New Harmony Project and the Cherry Lane Theatre. Matt is currently an Adjunct Associate Professor at Columbia University School of the Arts Theatre Program. He lives in New York with his wife, actress Angelina Fiordellisi, the Executive Director of the Cherry Lane Theatre.
DAVID MCFADZEAN BIO
David McFadzean is a founder and principal of Wind Dancer Films. Starting his career in theater, David McFadzean moved into television to work on Roseanne as Executive Story Editor in its premiere season. He went on to form Wind Dancer Production Group with Matt Williams and Carmen Finestra. Under the Wind Dancer banner, McFadzean co-created and executive produced several TV shows including, HOME IMPROVEMENT, CAROL & COMPANY, THUNDER ALLEY, and SOUL MAN, as well as the PBS animated children's series READY, JET, GO!, His film producer credits include BERNIE, starring Jack Black, Matthew McConaughey and Shirley MacLaine, WHAT WOMEN WANT, with Mel Gibson and Helen Hunt, WHERE THE HEART IS with Natalie Portman and Ashley Judd, FIRELIGHT, with Stephen Dillane and Sophie Marceau, WALKER PAYNE, with Jason Patric and Sam Shepherd and the Netflix film, GOOD SAM, with Tiya Sircar. McFadzean is a Founding Board Member of the New Harmony Writer's Conference and is currently on its Advisory Board. He's also on the Advisory Boards of the Heartland Film Festival, The Griffin Theatre Company in Chicago, and Reel Spirituality: An Institute for Moving Images.
Submitted by Sharla Cowden sc75@evansville.edu
Student Showcase Exhibition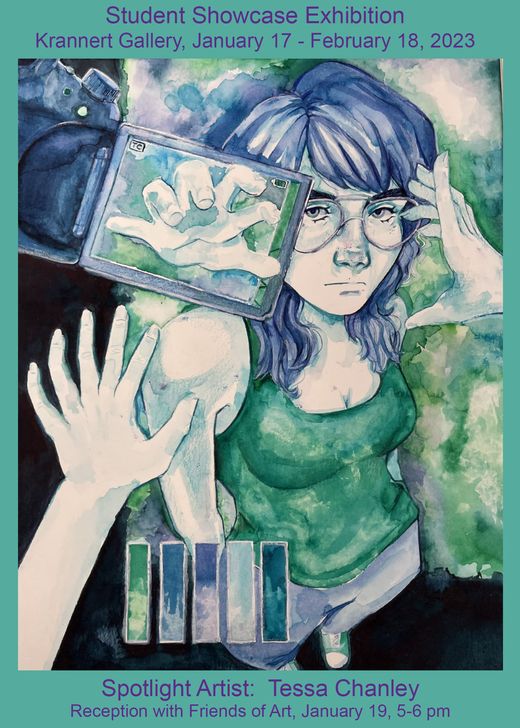 The STUDENT SHOWCASE 2023 exhibit in the Krannert Gallery includes Drawings, Designs, Paintings, and Ceramics which exemplify many of the concepts and techniques covered in specific Art courses. The Instructors/Professors selected the Art for this show as stellar examples of work completed in UE Art courses during the 1st Semester. The exhibit runs January 17 - February 18.
Also, in this exhibit is ART BY TESSA CHANLEY, class of 2024. Tessa received the Class of 2024 Outstanding Freshman Art Student Award. As part of this annual honor, the recipient is spotlighted in his/her Junior year, in the Student Showcase Exhibit.
The UE Friends of Art will be hosting a reception for UE Art Students in the Krannert Gallery on Thursday, January 19, 5-6pm.
Submitted by Carol McCraney cm177@evansville.edu
SAA Soupalooza Sign Ups
Please mark your calendars for Tuesday, February 14, for the UESAA Soupalooza. The social committee is so excited to bring this fun event back after being sidelined by COVID restrictions over the last few years. This is a wonderful fundraiser for the SAA to do more for our campus community. Five dollars will get you a bowl and an entry ticket. You will be able to sample the various soups then place your entry ticket in the bucket for the soup YOU think is the best! We will announce a winner that afternoon. You can also buy extra votes for $1.
Date: 2/14/23
Time: 11 AM – 1 PM
Cost: $5 for bowl
Menu: Various soups, desserts and water bottles
Where: Eykamp 251 and 252
Now…who has a winning recipe?? Sign up through the link below and list the soup you plan to bring in the comment section under your name. If you are not a soup person, you can sign up to bring a dessert. It is always fun to see and taste a little friendly competition!
https://www.signupgenius.com/go/4090C4BA8AE28A2F94-saasoupalooza
Submitted by Lori LeDuc ll138@evansville.edu
Natural Sciences Research Symposium
The natural sciences at UE is organizing a research symposium to recognize some of the research accomplishments of its students. The symposium is scheduled for the afternoon of Friday, February 3, 2023. It will begin with a student poster session from 1-2:00 PM in the Koch Atrium. Following the poster session, there will be presentations in KC 100 (beginning around 2:00 PM) by two UE alumni: Bradley Richmond (Class of 2003) and Elizabeth Mendes (Class of 2017). Bradley Richmond (MD, PhD) is an Assistant Professor of Medicine, Division of Allergy, Pulmonary, and Critical Care Medicine at Vanderbilt University. Elizabeth Mendes is currently pursuing her PhD in Pharmacology and Cancer Biology at Duke University School of Medicine. In addition to talking about their respective careers, each speaker will discuss how a UE education and other experiences helped shape their career paths. The symposium will end with a panel discussion. Andrew Nunn (Class of 2017), a lab manager at AstraZeneca, will join the panel discussion. Everyone is cordially invited to attend this event. For more information, contact Dale Edwards (de3@evansville.edu)
Submitted by Dale Edwards de3@evansville.edu
NBA Star Chris Herren visits Evansville
Reserve your ticket today for this inspiring FREE event! "Prevention starts with ALL: The Chris Herren Story" 7 Sisters is hosting a community speaking event on January 25th regarding addiction, recovery, education, and wellness. The speaker is Chris Herren, former NBA player and his story is a powerful one for every age to hear. Join us for this free event!
https://www.eventbrite.com/e/nba-star-chris-herren-visits-evansville-tickets-495180958577
Wednesday, January 25, 2023
7:00 PM
Reitz Memorial High School Auditorium
1500 Lincoln Ave.
Evansville, IN
Submitted by Tracy Gerth tg182@evansville.edu
Leadership Everyone Nominations: Joshua Academy Music Instruction ChangeLab
This year, nine ChangeLabs and UE Changemakers have been nominated for Leadership Everyone awards! We will be sharing those nominees and details about their projects over the next few weeks, beginning with Joshua Academy Music Instruction ChangeLab.
The Joshua Academy Music Instruction ChangeLab has been nominated for the Leadership Everyone's 28th Annual Celebration of Leadership, the annual event where servant leadership in our community is recognized and celebrated!
Instrumental Music Education students began the Joshua Academy band program in the fall of 2019. After a successful start, the program was forced to take a short hiatus during the COVID-19 pandemic.
Instrumental music education majors successfully restarted the Joshua Band Program in the fall of 2021. Since then, two students have been selected to provide beginning instrumental music instruction two days per week in this "real world, hands on" situation, experiencing the many responsibilities and challenges associated with an instrumental music program.
According to the Joshua Academy Administration, "This has been a great win-win opportunity for both our Joshua Academy Bright Ones AND the University of Evansville aspiring teachers!"
The Joshua Academy Music Instruction ChangeLab is coached by Fran Vile, faculty member of the UE Music Conservatory.
Submitted by Andrew Carter ac116@evansville.edu
Save a Life: Give Blood to the Red Cross 1/20 in Eykamp
UE's Center for Innovation & Change has partnered with the Red Cross and Alpha Phi Omega, our co-ed service fraternity, to help meet desperate need for blood in our community. Make plans now to donate blood on Friday, January 20 anytime between 7am and 6pm! To make your appointment, go to www.redcrossblood.org and type "UE" in the code, or stop by the Red Cross table in Ridgway.
All participating UE staff, students, faculty, athletes, and others will be entered into a drawing for a pizza party for their department / team. Please help us fill the slots and let's show up for the Red Cross! Big congrats to AOPi who won the contest during the last drive.
Thank you to all who have already signed up. We are nearly to our goal!
Submitted by Andrew Carter ac116@evansville.edu
Come Chat with the OL's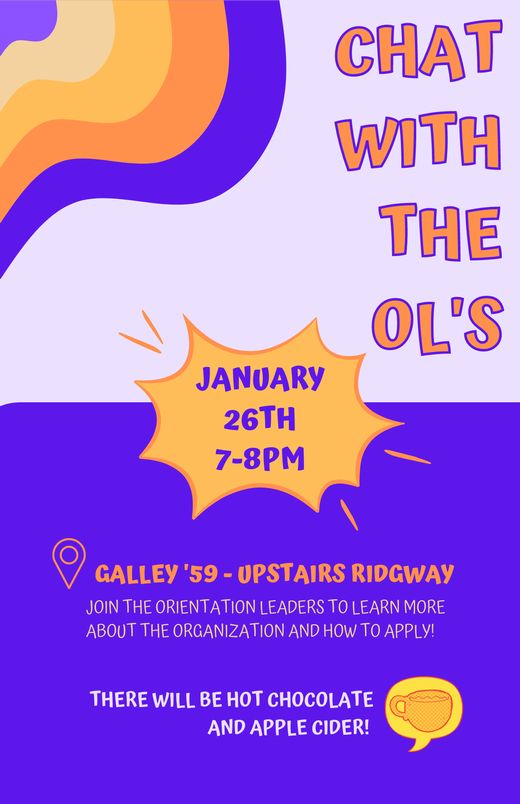 Join the Orientation Leaders at an informal meeting in Gallery '59 on Thursday, January 26th 7-8pm, to learn more about being an Orientation Leader and the application process! There will be hot chocolate and hot apple cider provided. We hope to see you there!
Submitted by Shelby Gardner sg293@evansville.edu
Seeking Outside Scholarship Opportunities?
The Office of Student Financial Services would like students to know if you would like to explore outside scholarship opportunities, you can find various scholarship resources listed on the UE website and within the MyUE Self-Service portal in the Student Financial Services area under Additional Scholarship Opportunities. Criteria and deadlines vary, so please refer to the scholarship links for more details.
Submitted by Amy Sowders as560@evansville.edu
Holiday World & Splashin' Safari recruiting on campus
Representatives from Holiday World & Splashin' Safari will be on campus recruiting for summer internships in a wide variety of majors as well as full time positions. Stop by for more information!
Monday, January 23
11am-1pm
1st floor, Ridgway University Center
Submitted by Amanda Wood aw505@evansville.edu
Snack Vending Updates
There will be two gentleman (Mike Reynolds and Stetson Brown) from Five Star Snack Vending on campus Thursday, January 19, and Friday, January 20, to update the credit card readers on the snack machines in various buildings on campus.
This update will include the ability on these vending machines to take Apple Pay.
For questions, please contact the Office of Administrative Services and Risk Management.
Submitted by Kim Winsett kw83@evansville.edu
Tutoring Begins 1/23
Peer Tutoring is slated to begin next week on Monday, January 23rd. The Spring 2023 tutoring schedule will be posted shortly and will be found here: https://www.evansville.edu/advising/academic-peer-tutoring.cfm.
Peer tutoring is a free service managed by Academic Services that is open to all current UE students. Each session is run by peer tutors—fellow students—who are familiar with the course material, having gone through it all themselves before. This is a great resource for if you have questions, want to refresh yourself on information, or even if you need a space that will help you focus on studying and other work.
If you have any questions in regards to tutoring, please direct them to Laci Rowe at lr152@evansville.edu / 812-488-5170 or by stopping into Academic Services (Olmsted 116)!
Submitted by Laci Rowe lr152@evansville.edu
Mobile Food Ordering is now live at UE
Mobile Food Ordering is now live at Rademacher's Café, Chick Fil A, and The Eatery. You can download the Transact Mobile Ordering app to your Android or iPhone device, choose the University of Evansville as the locations, and sign on with your campus account. All meal plan and Ace Bucks information will already be loaded onto your mobile account. We take credit card and Ace Bucks at Rademacher's Café and Chick Fil A. The Eatery accepts credit card, Ace Bucks, AND your meal exchange! Available now, your meal exchange can be used to order specific menu items we serve from The Eatery. If you have any questions, please feel free to stop by the Dining Services Office directly to the right of Chick Fil A. Our team will be happy to help set you up!
Submitted by Samantha Williams sw342@evansville.edu
Writing Center Open for Spring Semester
The Writing Center is open for the Spring 2023 semester! Please visit https://www.evansville.edu/writingcenter/ to make an appointment. Walk ins are welcome, but we may not have availability without an appointment. Remember, the Writing Center consultants are happy to help with invention, so it's never too early to visit.
Submitted by Kristina Groves kg76@evansville.edu
Ratchetdemic Book Club
Are you ready to discover what it means to be ratchetdemic? Are you ready to join a small group of sojourners to bridge ratchetness to academics? If so, we have a special opportunity for you.
The CDEI will facilitate two small groups of 5-7 people to read and discuss Dr. Christopher Emdin's book "Rachetdemic – Reimagining Academic Success.". There will be one student group and one Employee Resource Group (ERG).
Meeting times and locations will be determined once the groups are solidified. All interested individuals will receive free copies of Dr. Emdin's book.
Please contact the CDEI to express your interest.
Submitted by Rob Shelby rs262@evansville.edu
Employee of the month/year
The University of Evansville wishes to recognize monthly a non-faculty employee displaying records of achievement as a leader. Leadership may be demonstrated through Service to the University Community, Service to Students and/or Job Performance and Attitude. Please submit nominations by the 15th of each month for the SAA Executive Committee to review and President to approve.
Please click here to access the submittal form.
Questions that arise concerning any employee's status or eligibility will be determined by the SAA Executive Committee.
Award for the Employee of the Month
VIP Parking Space All Month
One extra Vacation Day
$100 in Ace Bucks on UE ID. Ace Bucks can be used at Chick Fila A, Rademacher's, Aces Place, and Chartwell's Dining.
Celebrating Fall Recipients as a One Group/Celebrating Spring Recipients as a One Group

Lunch with President Pietruszkiewicz – One per semester with a group of winners
UE Suite at Ford Center ($200 in food credit/gift certificate/Includes: admission, food and beverages for 20). – 2 nights, one for the fall group during the same fiscal year and one for the spring group in the next fiscal year.
A UE jacket with employee last name embroidered on the sleeve.
Award for Employee of the Year
$1,300 bonus check
2 Extra Vacation Days
Submitted by Fred Wilson fw2@evansville.edu
Get Your W-2 Earlier with Electronic Consent
The Office of Accounting/Payroll will be issuing W-2s for 2022 no later than January 31, 2023. You may choose 1 of 2 options to receive your W-2:
Electronic W-2 – If you provide your consent, you will be able to view/print in Self-Service as soon as they are ready. Notification will be sent through AceNotes.
Paper W-2 – If you prefer, you can continue to receive your W-2 in the mail.
An electronic W-2 will give you earlier access than a mailed copy. It is IRS compliant and can be submitted with your tax return as usual.
To give consent for the electronic W-2, log in to Self-Service https://selfservice.evansville.edu and go to "Tax Information". Select "Receive my W-2 only in electronic form" and save.
If you are eligible to participate in the university's health plans, you may give consent to receive your 1095-C form electronically here also. If you choose to withhold your consent to view/print your online W-2 and 1095-C, a paper copy will be mailed to your home address. Please make sure that your current address is on file.
If you have questions, please contact Dawn Bury at ext 2159 or db287@evansville.edu.
Submitted by Dawn Bury db287@evansville.edu
Road Trip Hosts Needed
The Office of Admission needs current UE students who live in a residence hall or Jones Hall to host prospective high school seniors for Road Trip February 24-26. If you are available, you can apply to host online. Please contact Heather Cook (hw30@evansville.edu) or Jill Fisher (jf223@evansville.edu) if you have any questions. Deadline to sign up is Friday, February 10.
Submitted by Jill Fisher jf223@evansville.edu
Over 650 Students Named to Fall 2022 Dean's List
Over 650 students were named to the University of Evansville Dean's List for the Fall 2022 semester. Congratulations to each and every one of you for all your hard work and dedication!
You can find your name on the Dean's List on our website.
Submitted by Julie Beer / jb855@evansville.edu
Men's basketball hosts Drake on Saturday
Opening a 2-game homestand, the University of Evansville men's basketball team welcomes Drake to the Ford Center on Saturday afternoon. Tip is set for 3 p.m. CT with the Purple Aces Radio Network and ESPN+ having the coverage.
Last Time Out
- Another late rally came up just short on Tuesday at Southern Illinois
- After trailing by as many as 20 points in the first half, the Purple Aces got within six points in the final minute before falling by a score of 77-70
- Resetting his career scoring high once again was Marvin Coleman II who hit 9 of his 13 attempts to finish with 25 points
- Chris Moncrief enjoyed the top game of his career as he tallied 6 points, 5 assists, 4 steals and 3 rebounds in 25:06 - all career-bests
- For the second time in his UE career, Gage Bobe reached double figures with 11 points
Another Career Best
- Hitting 9 of his 13 shots at Southern Illinois, Marvin Coleman II reset his career scoring high with 25 points
- Over his last 10 games, Coleman is averaging 15.7 points while shooting 50.9%
- Coleman had just one double figure scoring game in his first ten contests this season while averaging 5.4 points...since then, he has reached double digits in 9 of the last 10 games
- Following the first 10 games, Coleman was shooting 22.5% (20/89) from the field and 9.1% (2/22) from outside...he has hit 57 of his last 112 attempts (50.9%) and 20 of his previous 40 outside tries
- Before his 25-point game at SIU, Coleman had his first 20-point game at Missouri State, finishing with 22
Settling In
- In the road game at Southern Illinois, Chris Moncrief recorded career-bests in points (6), assists (5), steals (4), rebounds (3) and minutes (25:06)
- The game continued a recent trend that has seen the freshman become more comfortable with the college game
- Over his first 13 games, he did not play more than 17 minutes but over the last three, he has been on the floor for at least 23 minutes
- Moncrief recorded two blocks in games at Bradley and home versus Valparaiso
Another Double Digit Outing
- For the second time in his UE career, Gage Bobe reached double figures as he totaled 11 points at Southern Illinois
- Bobe hit 3 of his 6 outside attempts and is shooting 48.1% (13/27) from long range since Dec. 21
- His career game came on Dec. 21 against Bellarmine where he posted 12 points and was 4-for-7 from 3-point distance
Scouting the Opponent
- Drake heads to the Ford Center on Saturday with a 14-6 record and a 5-4 mark through their opening nine MVC contests
- The Bulldogs had a 3-game win streak halted on Wednesday when Missouri State picked up a 65-62 overtime win in Des Moines
- Prior to that, Drake defeated Murray State, Bradley and UIC
- Tucker DeVries has established himself as one of the top players in the Valley and comes into the game averaging 18.6 points per game along with 6.0 rebounds
- Roman Penn checks in with a 9.8 PPG mark
- Darnell Brodie is third with 8.8 points and leads the team with 7.4 rebounds
Submitted by Athletics
Women's Basketball opens weekend road trip at Bradley on Friday night
Looking to build off momentum from last week, the University of Evansville women's basketball team opens a two-game road swing at Bradley at 7 PM on Friday night in Peoria, Ill.
Friday's matchup between the Aces and Braves represents the 60th all-time meeting between the two sides with Bradley owning a 38-21 edge in the all-time series. Evansville and Bradley split last season's two matchups with the Aces capturing a 74-73 win at home and the Braves taking their home contest, 77-67.
Bradley comes into the Friday night matchup with a 3-14 overall mark and is seeking its first conference win of the season after starting MVC play 0-6. After a tremendous freshman season in 2021-22, guard Caroline Waite has continued to be the leader for the Braves, averaging a team-best 12.5 points per game this season.
Evansville is coming-off one of its best performances of the season, albeit in a loss. The Aces led by four inside the game's final five minutes against RPI top 70 squad UNI on Sunday before a late Panthers run spoiled an Aces upset and earned UNI a 73-68 win. The Aces have leaned on the scoring of a trio of upperclassmen this season. All three of Evansville's players averaging double-digits in scoring are either a senior or fifth-year seniors with guard Abby Feit leading the way with 14 points per game.
Submitted by Athletics
Contribute to AceNotes
To have content considered for inclusion in AceNotes, please submit a Marketing Request Form. Deadline for submission to AceNotes is 10:00 a.m. on the requested date of publication. Only articles concerning UE related/sponsored activities will be accepted. Articles submitted to AceNotes may be edited for length and clarity. Submitter contact information is at the end of each article.