| | |
| --- | --- |
| AceNotes Today | Thursday, January 19, 2023 |
Campus Community Invited to Q&A with Matt Williams '73 and David McFadzean '73, creators of HOME IMPROVEMENT
The University of Evansville Department of Theatre would like to invite the UE campus community to Shanklin Theatre this Friday, January 20, at 5:00 p.m. to welcome alumni Matt Williams '73 and David McFadzean '73 back to campus.
We are thrilled to have them joining us to speak about their careers and take questions. Matt has written a new memoir, GLIMPSES, and he will be doing an exclusive reading on Saturday, as a fundraiser for the new John David Lutz Theatre Lab. His college roommate and business partner, David McFadzean '73, and his wife, Liz McFadzean '73, are coming in from Los Angeles to be here for the event.
This is a free event to all those in the UE campus community, and doors will open at 4:45 p.m. If you have any questions, please call 812.488.2744 or stop by the Theatre Ticket Office located in Hyde Hall.
MATT WILLIAMS BIO
UE Theatre alumnus and an Evansville native, Matt is best known as the Creator and Executive Producer of the hit series ROSEANNE and the Co-Creator and Executive Producer of HOME IMPROVEMENT, one of the most successful programs in television history. Williams started his television career when he joined THE COSBY SHOW during its premiere season and worked as a Writer/Producer on the show for three subsequent seasons. He also Co-created the series A DIFFERENT WORLD. Matt's work was nominated for Emmy and Humanitas Awards and won a Peabody Award for Outstanding Achievement in Television Writing. In addition to his many credits, Matt is a founding board member of The New Harmony Project and the Cherry Lane Theatre. Matt is currently an Adjunct Associate Professor at Columbia University School of the Arts Theatre Program. He lives in New York with his wife, actress Angelina Fiordellisi, the Executive Director of the Cherry Lane Theatre.
DAVID MCFADZEAN BIO
David McFadzean is a founder and principal of Wind Dancer Films. Starting his career in theater, David McFadzean moved into television to work on Roseanne as Executive Story Editor in its premiere season. He went on to form Wind Dancer Production Group with Matt Williams and Carmen Finestra. Under the Wind Dancer banner, McFadzean co-created and executive produced several TV shows including, HOME IMPROVEMENT, CAROL & COMPANY, THUNDER ALLEY, and SOUL MAN, as well as the PBS animated children's series READY, JET, GO!, His film producer credits include BERNIE, starring Jack Black, Matthew McConaughey and Shirley MacLaine, WHAT WOMEN WANT, with Mel Gibson and Helen Hunt, WHERE THE HEART IS with Natalie Portman and Ashley Judd, FIRELIGHT, with Stephen Dillane and Sophie Marceau, WALKER PAYNE, with Jason Patric and Sam Shepherd and the Netflix film, GOOD SAM, with Tiya Sircar. McFadzean is a Founding Board Member of the New Harmony Writer's Conference and is currently on its Advisory Board. He's also on the Advisory Boards of the Heartland Film Festival, The Griffin Theatre Company in Chicago, and Reel Spirituality: An Institute for Moving Images.
Submitted by Sharla Cowden sc75@evansville.edu
Student Showcase Exhibition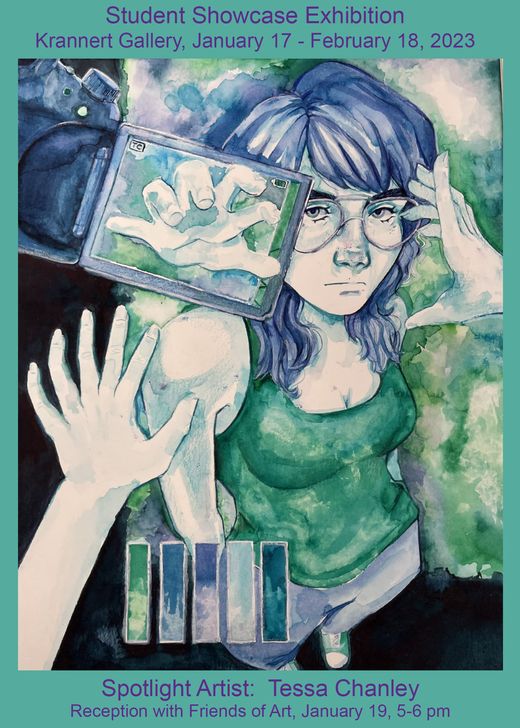 The STUDENT SHOWCASE 2023 exhibit in the Krannert Gallery includes Drawings, Designs, Paintings, and Ceramics which exemplify many of the concepts and techniques covered in specific Art courses. The Instructors/Professors selected the Art for this show as stellar examples of work completed in UE Art courses during the 1st Semester. The exhibit runs January 17 - February 18.
Also, in this exhibit is ART BY TESSA CHANLEY, class of 2024. Tessa received the Class of 2024 Outstanding Freshman Art Student Award. As part of this annual honor, the recipient is spotlighted in his/her Junior year, in the Student Showcase Exhibit.
The UE Friends of Art will be hosting a reception for UE Art Students in the Krannert Gallery on Thursday, January 19, 5-6pm.
Submitted by Carol McCraney cm177@evansville.edu
SAA Soupalooza Sign Ups
Please mark your calendars for Tuesday, February 14, for the UESAA Soupalooza. The social committee is so excited to bring this fun event back after being sidelined by COVID restrictions over the last few years. This is a wonderful fundraiser for the SAA to do more for our campus community. Five dollars will get you a bowl and an entry ticket. You will be able to sample the various soups then place your entry ticket in the bucket for the soup YOU think is the best! We will announce a winner that afternoon. You can also buy extra votes for $1.
Date: 2/14/23
Time: 11 AM – 1 PM
Cost: $5 for bowl
Menu: Various soups, desserts and water bottles
Where: Eykamp 251 and 252
Now…who has a winning recipe?? Sign up through the link below and list the soup you plan to bring in the comment section under your name. If you are not a soup person, you can sign up to bring a dessert. It is always fun to see and taste a little friendly competition!
https://www.signupgenius.com/go/4090C4BA8AE28A2F94-saasoupalooza
Submitted by Lori LeDuc ll138@evansville.edu
Intramural 3v3 Bball Tourmnament and 5v5 Bball Sign ups
The intramural 3v3 basketball tournament takes place Tuesday, January 17th at 7pm inside the fitness center. Teams are expected to show up at 6:45pm in the fitness center lobby and to have their teams and players signed up on imleagues.com.
Signups for 5v5 basketball close this Thursday at 6:30pm. Captains meeting for 5v5 Basketball is at 6:30, Thursday January 17th inside the fitness center lobby. Any questions should be referred to Drew @ah519
Submitted by Drew Hawkins ah519@evansville.edu
Natural Sciences Research Symposium
The natural sciences at UE is organizing a research symposium to recognize some of the research accomplishments of its students. The symposium is scheduled for the afternoon of Friday, February 3, 2023. It will begin with a student poster session from 1-2:00 PM in the Koch Atrium. Following the poster session, there will be presentations in KC 100 (beginning around 2:00 PM) by two UE alumni: Bradley Richmond (Class of 2003) and Elizabeth Mendes (Class of 2017). Bradley Richmond (MD, PhD) is an Assistant Professor of Medicine, Division of Allergy, Pulmonary, and Critical Care Medicine at Vanderbilt University. Elizabeth Mendes is currently pursuing her PhD in Pharmacology and Cancer Biology at Duke University School of Medicine. In addition to talking about their respective careers, each speaker will discuss how a UE education and other experiences helped shape their career paths. The symposium will end with a panel discussion. Andrew Nunn (Class of 2017), a lab manager at AstraZeneca, will join the panel discussion. Everyone is cordially invited to attend this event. For more information, contact Dale Edwards (de3@evansville.edu)
Submitted by Dale Edwards de3@evansville.edu
Randy Simmons Exhibit in Melvin Peterson Gallery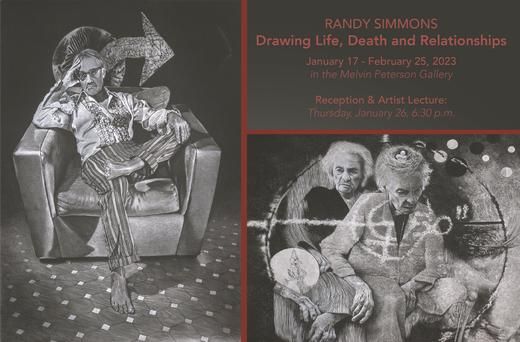 The Melvin Peterson Gallery will host the Drawing Life, Death and Relationships Exhibit by artist Randy Simmons from 01/17/2023 and through 02/25/2023. Gallery hours are Monday, Tuesday, Friday and Saturday from 12:00 p.m. - 3:00 p.m.; and Wednesday and Thursday from 12:00 p.m. - 6:00 p.m. Please join us for a reception and artist lecture on Thursday, January 26, 2023 at 6:30 p.m. in the Melvin Peterson Gallery.
Submitted by Carol McCraney cm177@evansville.edu
Zoom in and learn about the new Master's in Heritage in Management at UE
Looking to pursue your Master's Degree? Have you ever wondered what it takes to lead a team of archaeologists, provide a fresh business vision for Stonehenge, manage Yosemite National Park's biodiversity, or assemble a collection of artifacts for the Smithsonian? If so, join us for a free informational session through Zoom about the Master of Arts in Innovative Leadership in Heritage Management.
Date/Time: January 19, 2023 | 12:00 p.m. CDT
Host: The session will be hosted by Emily Stammitti, PhD, Harlaxton College, British Faculty Member and MA Program Director.
Learn More and Register at www.evansville.edu/ILHM-InfoSession.
Submitted by Holly Lee Smith hh98@evansville.edu
Leadership Everyone Nominations: Joshua Academy Music Instruction ChangeLab
This year, nine ChangeLabs and UE Changemakers have been nominated for Leadership Everyone awards! We will be sharing those nominees and details about their projects over the next few weeks, beginning with Joshua Academy Music Instruction ChangeLab.
The Joshua Academy Music Instruction ChangeLab has been nominated for the Leadership Everyone's 28th Annual Celebration of Leadership, the annual event where servant leadership in our community is recognized and celebrated!
Instrumental Music Education students began the Joshua Academy band program in the fall of 2019. After a successful start, the program was forced to take a short hiatus during the COVID-19 pandemic.
Instrumental music education majors successfully restarted the Joshua Band Program in the fall of 2021. Since then, two students have been selected to provide beginning instrumental music instruction two days per week in this "real world, hands on" situation, experiencing the many responsibilities and challenges associated with an instrumental music program.
According to the Joshua Academy Administration, "This has been a great win-win opportunity for both our Joshua Academy Bright Ones AND the University of Evansville aspiring teachers!"
The Joshua Academy Music Instruction ChangeLab is coached by Fran Vile, faculty member of the UE Music Conservatory.
Submitted by Andrew Carter ac116@evansville.edu
Save a Life: Give Blood to the Red Cross 1/20 in Eykamp
UE's Center for Innovation & Change has partnered with the Red Cross and Alpha Phi Omega, our co-ed service fraternity, to help meet desperate need for blood in our community. Make plans now to donate blood on Friday, January 20 anytime between 7am and 6pm! To make your appointment, go to www.redcrossblood.org and type "UE" in the code, or stop by the Red Cross table in Ridgway.
All participating UE staff, students, faculty, athletes, and others will be entered into a drawing for a pizza party for their department / team. Please help us fill the slots and let's show up for the Red Cross! Big congrats to AOPi who won the contest during the last drive.
Thank you to all who have already signed up. We are nearly to our goal!
Submitted by Andrew Carter ac116@evansville.edu
Holiday World & Splashin' Safari recruiting on campus
Representatives from Holiday World & Splashin' Safari will be on campus recruiting for summer internships in a wide variety of majors as well as full time positions. Stop by for more information!
Monday, January 23
11am-1pm
1st floor, Ridgway University Center
Submitted by Amanda Wood aw505@evansville.edu
Snack Vending Updates
There will be two gentleman (Mike Reynolds and Stetson Brown) from Five Star Snack Vending on campus Thursday, January 19, and Friday, January 20, to update the credit card readers on the snack machines in various buildings on campus.
This update will include the ability on these vending machines to take Apple Pay.
For questions, please contact the Office of Administrative Services and Risk Management.
Submitted by Kim Winsett kw83@evansville.edu
Tutoring Begins 1/23
Peer Tutoring is slated to begin next week on Monday, January 23rd. The Spring 2023 tutoring schedule will be posted shortly and will be found here: https://www.evansville.edu/advising/academic-peer-tutoring.cfm.
Peer tutoring is a free service managed by Academic Services that is open to all current UE students. Each session is run by peer tutors—fellow students—who are familiar with the course material, having gone through it all themselves before. This is a great resource for if you have questions, want to refresh yourself on information, or even if you need a space that will help you focus on studying and other work.
If you have any questions in regards to tutoring, please direct them to Laci Rowe at lr152@evansville.edu / 812-488-5170 or by stopping into Academic Services (Olmsted 116)!
Submitted by Laci Rowe lr152@evansville.edu
Mobile Food Ordering is now live at UE
Mobile Food Ordering is now live at Rademacher's Café, Chick Fil A, and The Eatery. You can download the Transact Mobile Ordering app to your Android or iPhone device, choose the University of Evansville as the locations, and sign on with your campus account. All meal plan and Ace Bucks information will already be loaded onto your mobile account. We take credit card and Ace Bucks at Rademacher's Café and Chick Fil A. The Eatery accepts credit card, Ace Bucks, AND your meal exchange! Available now, your meal exchange can be used to order specific menu items we serve from The Eatery. If you have any questions, please feel free to stop by the Dining Services Office directly to the right of Chick Fil A. Our team will be happy to help set you up!
Submitted by Samantha Williams sw342@evansville.edu
Ratchetdemic Book Club
Are you ready to discover what it means to be ratchetdemic? Are you ready to join a small group of sojourners to bridge ratchetness to academics? If so, we have a special opportunity for you.
The CDEI will facilitate two small groups of 5-7 people to read and discuss Dr. Christopher Emdin's book "Rachetdemic – Reimagining Academic Success.". There will be one student group and one Employee Resource Group (ERG).
Meeting times and locations will be determined once the groups are solidified. All interested individuals will receive free copies of Dr. Emdin's book.
Please contact the CDEI to express your interest.
Submitted by Rob Shelby rs262@evansville.edu
2023-24 Margaret Schriefer Scholarship Application now Available
The Margaret E. Schriefer Liberal Arts Scholarship has been established for the University of Evansville in loving memory of Margaret E. Schriefer. This scholarship will be awarded annually to a deserving student, covering "full-tuition, books, supplies, materials, and laboratory fees. To be considered for this scholarship, students must meet the following qualifications:
Must be enrolled at The University of Evansville and have a major of study in Literature, English, Music or Theatre.
Must be a natural born citizen of the United States of America with no prior criminal record, other than minor traffic violations.
Must be a free and accepted Mason in good standing in a local lodge under the authority of the Grand Lodge of its state, or be the descendant, sibling, or nephew/niece of a Master Mason in good standing in his respective lodge under the authority of the Grand Lodge of its respective state. If the related Mason shall not be living at the time of the student's consideration for this scholarship, a letter shall be obtained from the Lodge of the related Mason to the effect that the related Mason was in good standing at the time of his death.
Must have and maintain a "C" average.
If you meet the requirements for this scholarship, please complete the scholarship application and return to the Office of Student Financial Services by April 15, 2023.
Questions may be directed to the Office of Student Financial Services via email or by phone at (812) 488-2364.
Submitted by Heather Richards hr103@evansville.edu
Fall 2022 Deans' List
The Fall 2022 Deans' List is currently on display at the library. Congratulations!
Submitted by Meg Atwater-Singer ma35@evansville.edu
Employee of the month/year
The University of Evansville wishes to recognize monthly a non-faculty employee displaying records of achievement as a leader. Leadership may be demonstrated through Service to the University Community, Service to Students and/or Job Performance and Attitude. Please submit nominations by the 15th of each month for the SAA Executive Committee to review and President to approve.
Please click here to access the submittal form.
Questions that arise concerning any employee's status or eligibility will be determined by the SAA Executive Committee.
Award for the Employee of the Month
VIP Parking Space All Month
One extra Vacation Day
$100 in Ace Bucks on UE ID. Ace Bucks can be used at Chick Fila A, Rademacher's, Aces Place, and Chartwell's Dining.
Celebrating Fall Recipients as a One Group/Celebrating Spring Recipients as a One Group

Lunch with President Pietruszkiewicz – One per semester with a group of winners
UE Suite at Ford Center ($200 in food credit/gift certificate/Includes: admission, food and beverages for 20). – 2 nights, one for the fall group during the same fiscal year and one for the spring group in the next fiscal year.
A UE jacket with employee last name embroidered on the sleeve.
Award for Employee of the Year
$1,300 bonus check
2 Extra Vacation Days
Submitted by Fred Wilson fw2@evansville.edu
Over 650 Students Named to Fall 2022 Dean's List
Over 650 students were named to the University of Evansville Dean's List for the Fall 2022 semester. Congratulations to each and every one of you for all your hard work and dedication!
You can find your name on the Dean's List on our website.
Submitted by Julie Beer / jb855@evansville.edu
UE Track & Field Travels To Bellarmine Open Friday
The University of Evansville track and field teams will travel east on Friday to Louisville, Kentucky to take part in the 2023 Bellarmine Open at the Norton Healthcare Sports & Learning Center. Field events will begin the one-day meet at 9 a.m. central time, with track events on the banked indoor oval beginning at 10 a.m. central time.
UE will join 15 other schools at Friday's meet, including Division I foes Bellarmine, IUPUI, Morehead State, Murray State, Northern Kentucky, Tennessee Tech, UT Martin, USI and Western Kentucky. It will mark the second time this season in which UE will compete at the Norton Healthcare Sports & Learning Center, which is considered by many as one of the top indoor facilities in the Midwest. The 200-meter hydraulically-banked track designed by Mondo and Kiefer at the Norton Healthcare Sports & Learning Center is one of only eight such tracks in the United States.
Evansville is coming off of competition last weekend at the Vanderbilt Commodore Challenge in Nashville, Tennessee. The Purple Aces broke indoor school records in the 600- and 1,000-meters on the men's side last weekend, as senior Steven Burkhart (Vincennes, Ind./South Knox) and sophomore Adam Oulgout (St. Paul, Minn./Central) carved their names into the UE record books. Overall, UE has broken five school records in three combined meets so far this indoor track & field season, as senior Zach Dove (Princeton, Ind./Princeton Community) and graduate student Antonia Lamond (Nutley, N.J./Paramus Catholic) broke three indoor throwing records at the Commonwealth College Opener on December 3 at the Norton Healthcare Sports & Learning Center.
Submitted by Athletics
Contribute to AceNotes
To have content considered for inclusion in AceNotes, please submit a Marketing Request Form. Deadline for submission to AceNotes is 10:00 a.m. on the requested date of publication. Only articles concerning UE related/sponsored activities will be accepted. Articles submitted to AceNotes may be edited for length and clarity. Submitter contact information is at the end of each article.