| | |
| --- | --- |
| AceNotes Today | Wednesday, January 18, 2023 |
Student Showcase Exhibition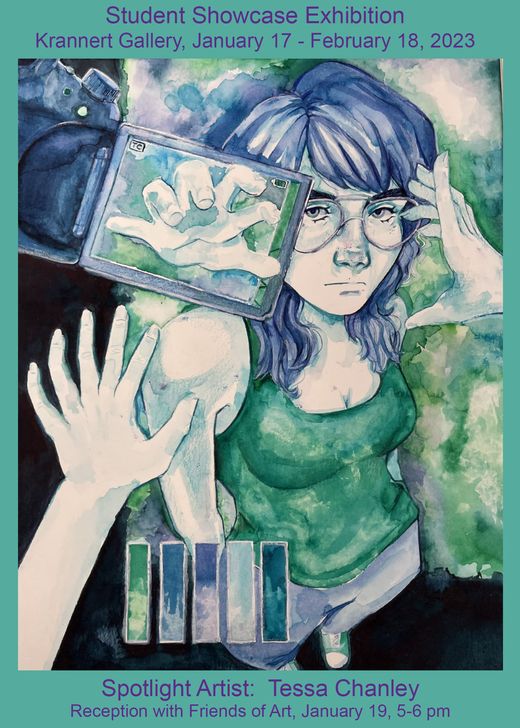 The STUDENT SHOWCASE 2023 exhibit in the Krannert Gallery includes Drawings, Designs, Paintings, and Ceramics which exemplify many of the concepts and techniques covered in specific Art courses. The Instructors/Professors selected the Art for this show as stellar examples of work completed in UE Art courses during the 1st Semester. The exhibit runs January 17 - February 18.
Also, in this exhibit is ART BY TESSA CHANLEY, class of 2024. Tessa received the Class of 2024 Outstanding Freshman Art Student Award. As part of this annual honor, the recipient is spotlighted in his/her Junior year, in the Student Showcase Exhibit.
The UE Friends of Art will be hosting a reception for UE Art Students in the Krannert Gallery on Thursday, January 19, 5-6pm.
Submitted by Carol McCraney cm177@evansville.edu
SAA Soupalooza Sign Ups
Please mark your calendars for Tuesday, February 14, for the UESAA Soupalooza. The social committee is so excited to bring this fun event back after being sidelined by COVID restrictions over the last few years. This is a wonderful fundraiser for the SAA to do more for our campus community. Five dollars will get you a bowl and an entry ticket. You will be able to sample the various soups then place your entry ticket in the bucket for the soup YOU think is the best! We will announce a winner that afternoon. You can also buy extra votes for $1.
Date: 2/14/23
Time: 11 AM – 1 PM
Cost: $5 for bowl
Menu: Various soups, desserts and water bottles
Where: Eykamp 251 and 252
Now…who has a winning recipe?? Sign up through the link below and list the soup you plan to bring in the comment section under your name. If you are not a soup person, you can sign up to bring a dessert. It is always fun to see and taste a little friendly competition!
https://www.signupgenius.com/go/4090C4BA8AE28A2F94-saasoupalooza
Submitted by Lori LeDuc ll138@evansville.edu
Intramural 3v3 Bball Tourmnament and 5v5 Bball Sign ups
The intramural 3v3 basketball tournament takes place Tuesday, January 17th at 7pm inside the fitness center. Teams are expected to show up at 6:45pm in the fitness center lobby and to have their teams and players signed up on imleagues.com.
Signups for 5v5 basketball close this Thursday at 6:30pm. Captains meeting for 5v5 Basketball is at 6:30, Thursday January 17th inside the fitness center lobby. Any questions should be referred to Drew @ah519
Submitted by Drew Hawkins ah519@evansville.edu
Randy Simmons Exhibit in Melvin Peterson Gallery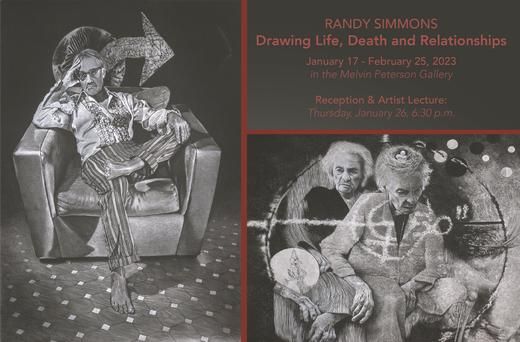 The Melvin Peterson Gallery will host the Drawing Life, Death and Relationships Exhibit by artist Randy Simmons from 01/17/2023 and through 02/25/2023. Gallery hours are Monday, Tuesday, Friday and Saturday from 12:00 p.m. - 3:00 p.m.; and Wednesday and Thursday from 12:00 p.m. - 6:00 p.m. Please join us for a reception and artist lecture on Thursday, January 26, 2023 at 6:30 p.m. in the Melvin Peterson Gallery.
Submitted by Carol McCraney cm177@evansville.edu
NBA Star Chris Herren visits Evansville
Reserve your ticket today for this inspiring FREE event! "Prevention starts with ALL: The Chris Herren Story" 7 Sisters is hosting a community speaking event on January 25th regarding addiction, recovery, education, and wellness. The speaker is Chris Herren, former NBA player and his story is a powerful one for every age to hear. Join us for this free event!
https://www.eventbrite.com/e/nba-star-chris-herren-visits-evansville-tickets-495180958577
Wednesday, January 25, 2023
7:00 PM
Reitz Memorial High School Auditorium
1500 Lincoln Ave.
Evansville, IN
Submitted by Tracy Gerth tg182@evansville.edu
Zoom in and learn about the new Master's in Heritage in Management at UE
Looking to pursue your Master's Degree? Have you ever wondered what it takes to lead a team of archaeologists, provide a fresh business vision for Stonehenge, manage Yosemite National Park's biodiversity, or assemble a collection of artifacts for the Smithsonian? If so, join us for a free informational session through Zoom about the Master of Arts in Innovative Leadership in Heritage Management.
Date/Time: January 19, 2023 | 12:00 p.m. CDT
Host: The session will be hosted by Emily Stammitti, PhD, Harlaxton College, British Faculty Member and MA Program Director.
Learn More and Register at www.evansville.edu/ILHM-InfoSession.
Submitted by Holly Lee Smith hh98@evansville.edu
Save a Life: Give Blood to the Red Cross 1/20 in Eykamp
UE's Center for Innovation & Change has partnered with the Red Cross and Alpha Phi Omega, our co-ed service fraternity, to help meet desperate need for blood in our community. Make plans now to donate blood on Friday, January 20 anytime between 7am and 6pm! To make your appointment, go to www.redcrossblood.org and type "UE" in the code, or stop by the Red Cross table in Ridgway.
All participating UE staff, students, faculty, athletes, and others will be entered into a drawing for a pizza party for their department / team. Please help us fill the slots and let's show up for the Red Cross! Big congrats to AOPi who won the contest during the last drive.
Thank you to all who have already signed up. We are nearly to our goal!
Submitted by Andrew Carter ac116@evansville.edu
Tutoring Begins 1/23
Peer Tutoring is slated to begin next week on Monday, January 23rd. The Spring 2023 tutoring schedule will be posted shortly and will be found here: https://www.evansville.edu/advising/academic-peer-tutoring.cfm.
Peer tutoring is a free service managed by Academic Services that is open to all current UE students. Each session is run by peer tutors—fellow students—who are familiar with the course material, having gone through it all themselves before. This is a great resource for if you have questions, want to refresh yourself on information, or even if you need a space that will help you focus on studying and other work.
If you have any questions in regards to tutoring, please direct them to Laci Rowe at lr152@evansville.edu / 812-488-5170 or by stopping into Academic Services (Olmsted 116)!
Submitted by Laci Rowe lr152@evansville.edu
Mobile Food Ordering is now live at UE
Mobile Food Ordering is now live at Rademacher's Café, Chick Fil A, and The Eatery. You can download the Transact Mobile Ordering app to your Android or iPhone device, choose the University of Evansville as the locations, and sign on with your campus account. All meal plan and Ace Bucks information will already be loaded onto your mobile account. We take credit card and Ace Bucks at Rademacher's Café and Chick Fil A. The Eatery accepts credit card, Ace Bucks, AND your meal exchange! Available now, your meal exchange can be used to order specific menu items we serve from The Eatery. If you have any questions, please feel free to stop by the Dining Services Office directly to the right of Chick Fil A. Our team will be happy to help set you up!
Submitted by Samantha Williams sw342@evansville.edu
Writing Center Open for Spring Semester
The Writing Center is open for the Spring 2023 semester! Please visit https://www.evansville.edu/writingcenter/ to make an appointment. Walk ins are welcome, but we may not have availability without an appointment. Remember, the Writing Center consultants are happy to help with invention, so it's never too early to visit.
Submitted by Kristina Groves kg76@evansville.edu
Ratchetdemic Book Club
Are you ready to discover what it means to be ratchetdemic? Are you ready to join a small group of sojourners to bridge ratchetness to academics? If so, we have a special opportunity for you.
The CDEI will facilitate two small groups of 5-7 people to read and discuss Dr. Christopher Emdin's book "Rachetdemic – Reimagining Academic Success.". There will be one student group and one Employee Resource Group (ERG).
Meeting times and locations will be determined once the groups are solidified. All interested individuals will receive free copies of Dr. Emdin's book.
Please contact the CDEI to express your interest.
Submitted by Rob Shelby rs262@evansville.edu
Fall 2022 Deans' List
The Fall 2022 Deans' List is currently on display at the library. Congratulations!
Submitted by Meg Atwater-Singer ma35@evansville.edu
Employee of the month/year
The University of Evansville wishes to recognize monthly a non-faculty employee displaying records of achievement as a leader. Leadership may be demonstrated through Service to the University Community, Service to Students and/or Job Performance and Attitude. Please submit nominations by the 15th of each month for the SAA Executive Committee to review and President to approve.
Please click here to access the submittal form.
Questions that arise concerning any employee's status or eligibility will be determined by the SAA Executive Committee.
Award for the Employee of the Month
VIP Parking Space All Month
One extra Vacation Day
$100 in Ace Bucks on UE ID. Ace Bucks can be used at Chick Fila A, Rademacher's, Aces Place, and Chartwell's Dining.
Celebrating Fall Recipients as a One Group/Celebrating Spring Recipients as a One Group

Lunch with President Pietruszkiewicz – One per semester with a group of winners
UE Suite at Ford Center ($200 in food credit/gift certificate/Includes: admission, food and beverages for 20). – 2 nights, one for the fall group during the same fiscal year and one for the spring group in the next fiscal year.
A UE jacket with employee last name embroidered on the sleeve.
Award for Employee of the Year
$1,300 bonus check
2 Extra Vacation Days
Submitted by Fred Wilson fw2@evansville.edu
Get Your W-2 Earlier with Electronic Consent
The Office of Accounting/Payroll will be issuing W-2s for 2022 no later than January 31, 2023. You may choose 1 of 2 options to receive your W-2:
Electronic W-2 – If you provide your consent, you will be able to view/print in Self-Service as soon as they are ready. Notification will be sent through AceNotes.
Paper W-2 – If you prefer, you can continue to receive your W-2 in the mail.
An electronic W-2 will give you earlier access than a mailed copy. It is IRS compliant and can be submitted with your tax return as usual.
To give consent for the electronic W-2, log in to Self-Service https://selfservice.evansville.edu and go to "Tax Information". Select "Receive my W-2 only in electronic form" and save.
If you are eligible to participate in the university's health plans, you may give consent to receive your 1095-C form electronically here also. If you choose to withhold your consent to view/print your online W-2 and 1095-C, a paper copy will be mailed to your home address. Please make sure that your current address is on file.
If you have questions, please contact Dawn Bury at ext 2159 or db287@evansville.edu.
Submitted by Dawn Bury db287@evansville.edu
Road Trip Hosts Needed
The Office of Admission needs current UE students who live in a residence hall or Jones Hall to host prospective high school seniors for Road Trip February 24-26. If you are available, you can apply to host online. Please contact Heather Cook (hw30@evansville.edu) or Jill Fisher (jf223@evansville.edu) if you have any questions. Deadline to sign up is Friday, February 10.
Submitted by Jill Fisher jf223@evansville.edu
Over 650 Students Named to Fall 2022 Dean's List
Over 650 students were named to the University of Evansville Dean's List for the Fall 2022 semester. Congratulations to each and every one of you for all your hard work and dedication!
You can find your name on the Dean's List on our website.
Submitted by Julie Beer / jb855@evansville.edu
Coleman sets career scoring mark at SIU
Marvin Coleman II had the top offensive game of his career, scoring 25 points to lead the University of Evansville men's basketball team on Tuesday night in a 78-70 defeat to Southern Illinois inside the Banterra Center.
"It would have been very easy to give in with the way we started the game but we fought," Purple Aces head coach David Ragland exclaimed. "We gave everything we had and loved our response. We looked more connected in times of adversity and just tried to find a way. That is what we have been working on with our group."
Coleman knocked down 9 of his 13 attempts and was a perfect 3-of-3 from long range. He added a team-best nine caroms. Kenny Strawbridge Jr. completed the game with 12 points while Gage Bobe added 11. Southern Illinois was led by Marcus Domask's 32-point effort. He hit 13 out of 18 tries.
The first 10 points of the evening belonged to the Salukis before a free throw from Antoine Smith Jr. got the Aces on the board. SIU added six more to its lead to go up 16-1. UE missed its first nine field goal tries before Smith connected on a triple. Gabe Spinelli hit consecutive shots to cut the deficit to 10 (18-8) as the half approached its midway point.
Southern Illinois took over the next segment, pushing their advantage to its largest of the half at 37-17 with 5:44 showing on the clock. Evansville never relented and its persistence paid off. Yacine Toumi picked up a pair of field goals and Gage Bobe drained a three to complete a 9-0 run that saw UE cut the gap to 37-26 with just over two minutes remaining.
Despite the Salukis knocking down three late free throws to hold a 42-30 halftime advantage, the Aces completed the first period on a 13-5 run.
Marvin Coleman II opened the second-half scoring with a triple to get UE back within single digits. Both defenses held the opposing offense at bay through the ensuing stretch as UE was able to stay within striking distance. With under 13 minutes left, Kenny Strawbridge Jr. drilled a triple to make it a 53-43 game but the Salukis countered to push the lead back to 15 when an offensive rebound led to a triple with under 10 minutes remaining.
Once again, it was Coleman pacing the offense, connecting on his third triple in as many tries. Evansville's deficit continued to hover between 10 and 15 minutes over the remainder of the contest with SIU maintaining a 76-61 edge with 94 ticks left. Battling right down to the final buzzer, UE rallied once again. Led by a Strawbridge trey, the Aces scored seven in a row to get within eight points with just over 30 seconds remaining.
Coleman recorded a putback to make it a 77-70 game but SIU was able to prevail by the 78-70 final. Evansville finished with a 47.4%-46.9% shooting advantage while the Salukis had a 38-29 edge on the boards. The Aces are back at the Ford Center on Saturday for a 3 p.m. game against Drake.
Submitted by Athletics
Contribute to AceNotes
To have content considered for inclusion in AceNotes, please submit a Marketing Request Form. Deadline for submission to AceNotes is 10:00 a.m. on the requested date of publication. Only articles concerning UE related/sponsored activities will be accepted. Articles submitted to AceNotes may be edited for length and clarity. Submitter contact information is at the end of each article.