| | |
| --- | --- |
| AceNotes Today | Tuesday, January 17, 2023 |
Intramural 3v3 Bball Tourmnament and 5v5 Bball Sign ups
The intramural 3v3 basketball tournament takes place Tuesday, January 17th at 7pm inside the fitness center. Teams are expected to show up at 6:45pm in the fitness center lobby and to have their teams and players signed up on imleagues.com.
Signups for 5v5 basketball close this Thursday at 6:30pm. Captains meeting for 5v5 Basketball is at 6:30, Thursday January 17th inside the fitness center lobby. Any questions should be referred to Drew @ah519
Submitted by Drew Hawkins ah519@evansville.edu
Randy Simmons Exhibit in Melvin Peterson Gallery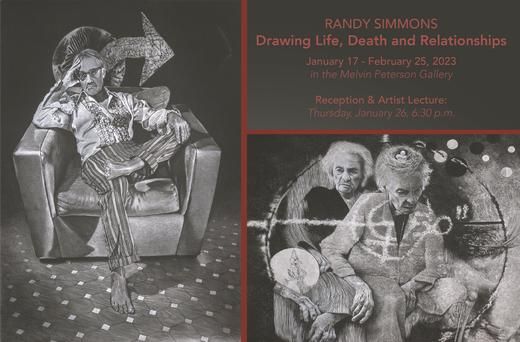 The Melvin Peterson Gallery will host the Drawing Life, Death and Relationships Exhibit by artist Randy Simmons from 01/17/2023 and through 02/25/2023. Gallery hours are Monday, Tuesday, Friday and Saturday from 12:00 p.m. - 3:00 p.m.; and Wednesday and Thursday from 12:00 p.m. - 6:00 p.m. Please join us for a reception and artist lecture on Thursday, January 26, 2023 at 6:30 p.m. in the Melvin Peterson Gallery.
Submitted by Carol McCraney cm177@evansville.edu
University of Evansville Theatre Presents Glimpses: an Evening with Matt Williams '73
The University of Evansville Department of Theatre is proud to announce that alumnus Matt Williams '73, will be returning to campus for GLIMPSES: An Evening with Matt Williams, at 7:30p.m., on Saturday, January 21, 2023.
UE Theatre alumnus and an Evansville native, Matt is best known as the Creator and Executive Producer of the hit series ROSEANNE and the Co-Creator and Executive Producer of HOME IMPROVEMENT, one of the most successful programs in television history. Williams started his television career when he joined THE COSBY SHOW during its premiere season and worked as a Writer/Producer on the show for three subsequent seasons. He also Co-created the series A DIFFERENT WORLD. Matt's work was nominated for Emmy and Humanitas Awards and won a Peabody Award for Outstanding Achievement in Television Writing.
In addition to his many credits, Matt is a founding board member of The New Harmony Project and the Cherry Lane Theatre. Matt is currently an Adjunct Associate Professor at Columbia University School of the Arts Theatre Program. He lives in New York with his wife, actress Angelina Fiordellisi, the Executive Director of the Cherry Lane Theatre.
Williams will be returning to campus to promote his upcoming book titled Glimpses, a new collection of stories of hope, humanity, and humor—his own. During a hardscrabble childhood, Matt heard the voice of a loving, generous Spirit who would be his guide for the rest of his life. This Spirit would lead him into the glamorous realms of New York and Hollywood's entertainment industry and show him, in encounters both delightful and heartwarming, that God can be found everywhere—especially where you least expect Her. This book presents readers with a compelling provocation—not only to see a glimpse of God in those around us, no matter the circumstances, but to be a glimpse of God for those who also need hope. Within the pages of this memoir is the very real truth: We can all be a light in the darkness.
Tickets for this event can be purchased online at uealumnionline.com/mattwilliams. Tickets are $75, which include your seat in the John David Lutz Theatre Lab and a post-show reception, with Matt, in the Matt Williams Lobby of Shanklin Theatre. Livestream tickets to the reading are available for $25. If you have any questions, please call 812.488.2744.
Submitted by Sharla Cowden sc75@evansville.edu
Zoom in and learn about the new Master's in Heritage in Management at UE
Looking to pursue your Master's Degree? Have you ever wondered what it takes to lead a team of archaeologists, provide a fresh business vision for Stonehenge, manage Yosemite National Park's biodiversity, or assemble a collection of artifacts for the Smithsonian? If so, join us for a free informational session through Zoom about the Master of Arts in Innovative Leadership in Heritage Management.
Date/Time: January 19, 2023 | 12:00 p.m. CDT
Host: The session will be hosted by Emily Stammitti, PhD, Harlaxton College, British Faculty Member and MA Program Director.
Learn More and Register at www.evansville.edu/ILHM-InfoSession.
Submitted by Holly Lee Smith hh98@evansville.edu
Save a Life: Give Blood to the Red Cross 1/20 in Eykamp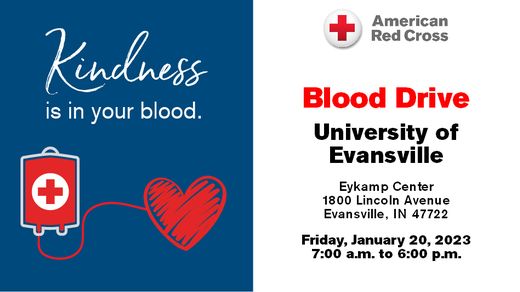 Give blood, help save lives! UE Blood Drive Friday, January 20, Eykamp Hall
UE's Center for Innovation & Change has partnered with the Red Cross and Alpha Phi Omega, our Co-Ed Service Fraternity, to help meet desperate need for blood in our community. Make plans now to donate blood on Friday, January 20 anytime between 7am and 6pm!
To make your appointment, go to https://www.redcrossblood.org/ and type "UE" in the code or call 1-800-RED CROSS.
Come give Jan. 1-31 and automatically be entered for a chance to win an exciting trip for you and a guest to Super Bowl LVII in Phoenix! Includes travel, hotel, $500 gift card, pre-game activities and more! Terms apply. Visit https://www.redcrossblood.org/local-homepage/events/super_bowl.html.
Submitted by Andrew Carter ac116@evansville.edu
Ratchetdemic Book Club
Are you ready to discover what it means to be ratchetdemic? Are you ready to join a small group of sojourners to bridge ratchetness to academics? If so, we have a special opportunity for you.
The CDEI will facilitate two small groups of 5-7 people to read and discuss Dr. Christopher Emdin's book "Rachetdemic – Reimagining Academic Success.". There will be one student group and one Employee Resource Group (ERG).
Meeting times and locations will be determined once the groups are solidified. All interested individuals will receive free copies of Dr. Emdin's book.
Please contact the CDEI to express your interest.
Submitted by Rob Shelby rs262@evansville.edu
2023-24 Margaret Schriefer Scholarship Application now Available
The Margaret E. Schriefer Liberal Arts Scholarship has been established for the University of Evansville in loving memory of Margaret E. Schriefer. This scholarship will be awarded annually to a deserving student, covering "full-tuition, books, supplies, materials, and laboratory fees. To be considered for this scholarship, students must meet the following qualifications:
Must be enrolled at The University of Evansville and have a major of study in Literature, English, Music or Theatre.
Must be a natural born citizen of the United States of America with no prior criminal record, other than minor traffic violations.
Must be a free and accepted Mason in good standing in a local lodge under the authority of the Grand Lodge of its state, or be the descendant, sibling, or nephew/niece of a Master Mason in good standing in his respective lodge under the authority of the Grand Lodge of its respective state. If the related Mason shall not be living at the time of the student's consideration for this scholarship, a letter shall be obtained from the Lodge of the related Mason to the effect that the related Mason was in good standing at the time of his death.
Must have and maintain a "C" average.
If you meet the requirements for this scholarship, please complete the scholarship application and return to the Office of Student Financial Services by April 15, 2023.
Questions may be directed to the Office of Student Financial Services via email or by phone at (812) 488-2364.
Submitted by Heather Richards hr103@evansville.edu
Fall 2022 Deans' List
The Fall 2022 Deans' List is currently on display at the library. Congratulations!
Submitted by Meg Atwater-Singer ma35@evansville.edu
Employee of the month/year
The University of Evansville wishes to recognize monthly a non-faculty employee displaying records of achievement as a leader. Leadership may be demonstrated through Service to the University Community, Service to Students and/or Job Performance and Attitude. Please submit nominations by the 15th of each month for the SAA Executive Committee to review and President to approve.
Please click here to access the submittal form.
Questions that arise concerning any employee's status or eligibility will be determined by the SAA Executive Committee.
Award for the Employee of the Month
VIP Parking Space All Month
One extra Vacation Day
$100 in Ace Bucks on UE ID. Ace Bucks can be used at Chick Fila A, Rademacher's, Aces Place, and Chartwell's Dining.
Celebrating Fall Recipients as a One Group/Celebrating Spring Recipients as a One Group

Lunch with President Pietruszkiewicz – One per semester with a group of winners
UE Suite at Ford Center ($200 in food credit/gift certificate/Includes: admission, food and beverages for 20). – 2 nights, one for the fall group during the same fiscal year and one for the spring group in the next fiscal year.
A UE jacket with employee last name embroidered on the sleeve.
Award for Employee of the Year
$1,300 bonus check
2 Extra Vacation Days
Submitted by Fred Wilson fw2@evansville.edu
Recharge Kit Giveaway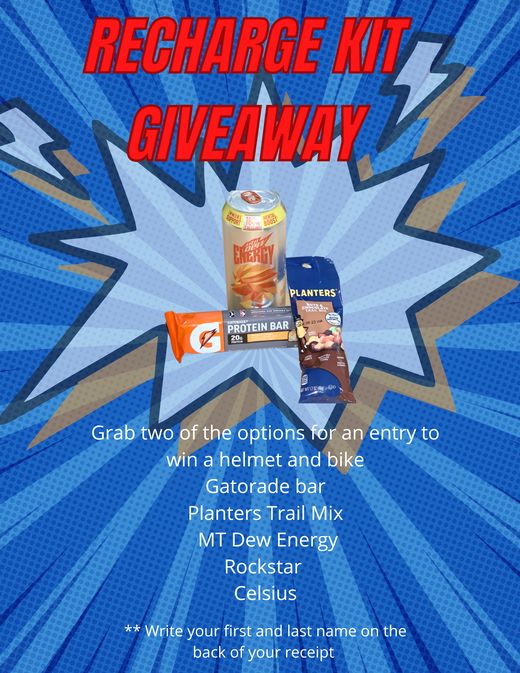 Giveaway time! Enter for a chance to win the bike and helmet in Aces by purchasing two of the following items: Gatorade bar, Planter's trail mix, Rockstar, Mountain Dew Energy, or Celcius. The last day to enter is February 1, and the winner will be announced on our social media accounts (@foodateue), so make sure to follow to find out who wins!
Submitted by Ka'Bria Carr kc403@evansville.edu
Ace CARE Van Needs Volunteers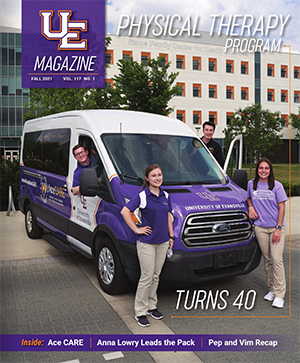 Ace CARE is a student-run organization that provides free physical therapy services to the uninsured and underinsured people of the Evansville community. This wonderful program allows students from the physical therapy, physician assistant, athletic training, and health science undergraduate degrees to get hands-on practice with patients while also providing health care to individuals who would not receive it otherwise!
Ace CARE has the amazing ability to provide a vulnerable community with transportation to and from their sessions on campus through the use of a van. There are even one to two physical therapy students riding along throughout the routes to help safely transfer patients into and out of the van. Currently, there is a need for more volunteers to donate their time, and help drive the van on Tuesday nights from 4 - 7:30pm. If you are interested or have any questions, please reach out to Dr. Schwartzkopf-Phifer at ks148@evansville.edu.
Come be a part of an organization that truly is changing lives and making the Evansville community a better place!
Submitted by Megan Fulhorst mf217@evansville.edu
UE Civil Engineering Student Awarded Scholarship by the APAI
The Asphalt Pavement Association of Indiana (APAI) has named Sam Schneiders (BSCE '23), as a 2022 APAI Scholar. The Civil Engineering student was recognized as an award winners during the Hall of Fame Induction Ceremony and Scholarship Awards Banquet, held in conjunction with the 2022 APAI Winter Conference and Expo on December 15th, 2022 at the Horizon Convention Center in Muncie.
Scholarships are awarded by the APAI Scholarship Committee to students studying construction management, civil engineering, and construction engineering and management at six nationally accredited Indiana universities, including the University of Evansville. Students must complete an in-person interview with members of the Scholarship Committee to receive an award. The total amount of scholarships awarded in 2022 by the association totaled $45,000 to deserving scholars, in anticipation that many recipients will remain in Indiana and seek employment opportunities with APAI's member contractors.
Submitted by Tonya Albright ta58@evansville.edu
Track & Field Tryouts & Informational Table In Ridgway Wednesday
The UE Track & Field team will conduct open tryouts for full-time UE students on Friday, January 27 and Saturday, January 28. Interested students can stop by the Ridgway Center on Wednesday between 11:30 AM and 1 PM and talk to UE Director of Track & Field/Cross Country Brooks LeCompte for more information. You can also email Coach LeCompte at bl176@evansville.edu. Tryouts are open to any full-time UE student (12 hours or more) who is within five years of beginning their college experience.
Submitted by Athletics
Aces travel to Carbondale on Tuesday
On Tuesday evening, the University of Evansville men's basketball team makes the short trek to Carbondale, Ill. for a road game at Southern Illinois. Tip is set for 7 p.m. CT with the Purple Aces Radio Network and ESPN+ having the coverage.
Last Time Out
- Trailing by as many as 18 points in the second half, the Purple Aces rallied to get within five points before Valparaiso won by a 76-69 final on Saturday at the Ford Center
- Yacine Toumi tied his career mark with 18 points while adding 7 rebounds
- Antoine Smith Jr. posted a season-best 16 points while Marvin Coleman II and Kenny Strawbridge Jr. added 15 and 12 points, respectively
- Freshman Gabe Spinelli made the first start of his career and scored 3 points
Continuing the Turnaround
- Over his last nine games, Marvin Coleman II is averaging 14.7 points per game while raising his season average from 5.4 points to 9.8
- He scored a career-best 22 points at Missouri State on Jan. 4 and followed that with 16 points against Illinois State
- Coleman reached double figures just once in the first 10 games before doing so in eight of the last nine outings
- His effort at Missouri State bested his old record of 18 points, which came earlier this season against Campbell
- Along with his scoring, Coleman has been depended on for extra minutes and has played at least 35 minutes in 8 of the last 9 contests
Season High
- Antoine Smith Jr. scored a season-high 16 points against Valparaiso and has recorded an average of 10.7 points in his last three outings
- It is a nice rebound from the prior four games that saw him post 4.8 PPG
- Smith has regained his edge from outside, knocking down 7 of his last 18 attempts and is shooting 39.2% from outside on the year
Top Marks
- Chris Moncrief has played at least 23 minutes in each of the last two games including his top season total of 24:51 against Valparaiso
- He recorded two blocks and two rebounds against the Beacons
- In the road game at Bradley, Moncrief played 23:13 and picked up two blocked shots
Scouting the Opponent
- Southern Illinois has won 9 of its last 10 games to enter Tuesday's game with a 14-5 overall mark
- The Salukis are one of three teams tied for the MVC lead at 6-2 in a logjam atop the conference with no clear cut favorite with the top eight teams separated by just one game
- Marcus Domask continues to pace the SIU in scoring and rebounding
- Domask is recording an average of 16.5 points and 6.3 rebounds per contest while pacing the squad with 67 assists and 10 blocks on the season
- Lance Jones is the other double digit scorer for the Salukis with 14.4 points and a team-best 34 steals
Submitted by Athletics
Contribute to AceNotes
To have content considered for inclusion in AceNotes, please submit a Marketing Request Form. Deadline for submission to AceNotes is 10:00 a.m. on the requested date of publication. Only articles concerning UE related/sponsored activities will be accepted. Articles submitted to AceNotes may be edited for length and clarity. Submitter contact information is at the end of each article.