| | |
| --- | --- |
| AceNotes Today | Monday, January 16, 2023 |
Call Out Meeting! Students for Life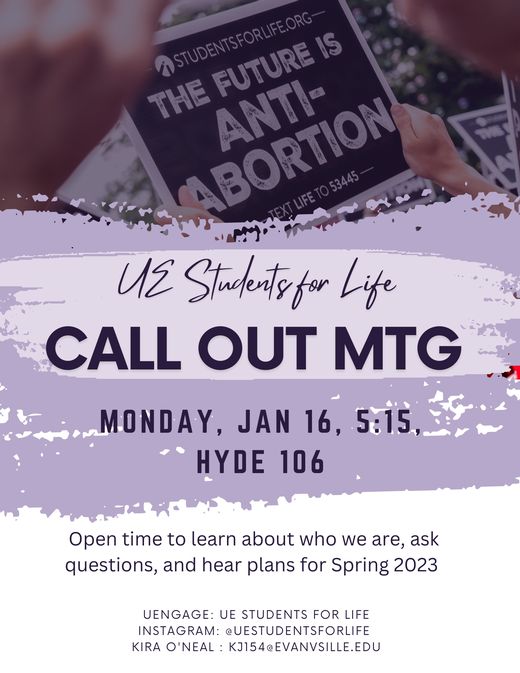 UE Students for Life will have a Call Out Meeting on Monday, Jan 16 at 5:15 in Hyde 106. This is an open time to learn about who we are, ask questions, and hear our plans for this semester.
Submitted by Kira O'Neal kj154@evansville.edu
University of Evansville Theatre Presents Glimpses: an Evening with Matt Williams '73
The University of Evansville Department of Theatre is proud to announce that alumnus Matt Williams '73, will be returning to campus for GLIMPSES: An Evening with Matt Williams, at 7:30p.m., on Saturday, January 21, 2023.
UE Theatre alumnus and an Evansville native, Matt is best known as the Creator and Executive Producer of the hit series ROSEANNE and the Co-Creator and Executive Producer of HOME IMPROVEMENT, one of the most successful programs in television history. Williams started his television career when he joined THE COSBY SHOW during its premiere season and worked as a Writer/Producer on the show for three subsequent seasons. He also Co-created the series A DIFFERENT WORLD. Matt's work was nominated for Emmy and Humanitas Awards and won a Peabody Award for Outstanding Achievement in Television Writing.
In addition to his many credits, Matt is a founding board member of The New Harmony Project and the Cherry Lane Theatre. Matt is currently an Adjunct Associate Professor at Columbia University School of the Arts Theatre Program. He lives in New York with his wife, actress Angelina Fiordellisi, the Executive Director of the Cherry Lane Theatre.
Williams will be returning to campus to promote his upcoming book titled Glimpses, a new collection of stories of hope, humanity, and humor—his own. During a hardscrabble childhood, Matt heard the voice of a loving, generous Spirit who would be his guide for the rest of his life. This Spirit would lead him into the glamorous realms of New York and Hollywood's entertainment industry and show him, in encounters both delightful and heartwarming, that God can be found everywhere—especially where you least expect Her. This book presents readers with a compelling provocation—not only to see a glimpse of God in those around us, no matter the circumstances, but to be a glimpse of God for those who also need hope. Within the pages of this memoir is the very real truth: We can all be a light in the darkness.
Tickets for this event can be purchased online at uealumnionline.com/mattwilliams. Tickets are $75, which include your seat in the John David Lutz Theatre Lab and a post-show reception, with Matt, in the Matt Williams Lobby of Shanklin Theatre. Livestream tickets to the reading are available for $25. If you have any questions, please call 812.488.2744.
Submitted by Sharla Cowden sc75@evansville.edu
NBA Star Chris Herren visits Evansville
Reserve your ticket today for this inspiring FREE event! "Prevention starts with ALL: The Chris Herren Story" 7 Sisters is hosting a community speaking event on January 25th regarding addiction, recovery, education, and wellness. The speaker is Chris Herren, former NBA player and his story is a powerful one for every age to hear. Join us for this free event!
https://www.eventbrite.com/e/nba-star-chris-herren-visits-evansville-tickets-495180958577
Wednesday, January 25, 2023
7:00 PM
Reitz Memorial High School Auditorium
1500 Lincoln Ave.
Evansville, IN
Submitted by Tracy Gerth tg182@evansville.edu
Fall 2022 Deans' List
The Fall 2022 Deans' List is currently on display at the library. Congratulations!
Submitted by Meg Atwater-Singer ma35@evansville.edu
Harlaxton is accepting Summer & Fall Applications
Harlaxton College is accepting applications for the upcoming summer and fall terms. We are offering two summer sessions in addition to our fall semester. Make sure to talk to your advisor before our deadlines!
The deposit deadline for summer sessions is on January 30, 2023. Deposits are used to determine which classes will run at Harlaxton this summer, so make sure to get your deposit in by the deadline so that your desired classes will be considered. Applications will continue to be accepted past January 30, but your desired classes may not be offered.
Fall applications are due March 6, 2023. You must complete an application and pay your deposit by this date.
To submit an application, please visit: https://studyabroad.evansville.edu/
If you have any questions, please feel free to reach out to harlaxton@evansville.edu.
Submitted by Victoria Cartal vr35@evansville.edu
EXSS 427 Student-led Personal Training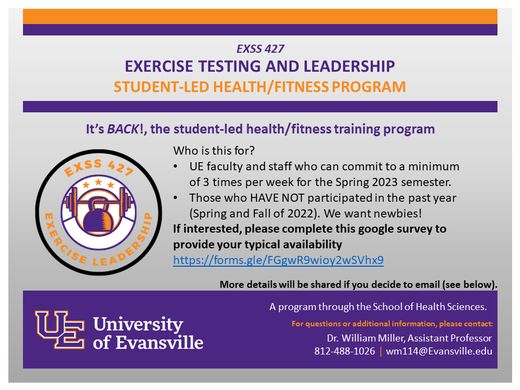 It's BACK!, the student-led health/fitness training program for the Spring 2023 semester. We are in need of a minimum of 52 faculty/staff members. Who is this for?
UE faculty and staff who can commit to a minimum of 3 times per week for the Spring 2023 semester.
Those who HAVE NOT participated in the past year (Spring and Fall of 2022). We want newbies!
If interested, please complete this google survey to provide your typical availability at https://forms.gle/FGgwR9wioy2wSVhx9
Submitted by William Miller wm114@evansville.edu
Employee of the month/year
The University of Evansville wishes to recognize monthly a non-faculty employee displaying records of achievement as a leader. Leadership may be demonstrated through Service to the University Community, Service to Students and/or Job Performance and Attitude. Please submit nominations by the 15th of each month for the SAA Executive Committee to review and President to approve.
Please click here to access the submittal form.
Questions that arise concerning any employee's status or eligibility will be determined by the SAA Executive Committee.
Award for the Employee of the Month
VIP Parking Space All Month
One extra Vacation Day
$100 in Ace Bucks on UE ID. Ace Bucks can be used at Chick Fila A, Rademacher's, Aces Place, and Chartwell's Dining.
Celebrating Fall Recipients as a One Group/Celebrating Spring Recipients as a One Group

Lunch with President Pietruszkiewicz – One per semester with a group of winners
UE Suite at Ford Center ($200 in food credit/gift certificate/Includes: admission, food and beverages for 20). – 2 nights, one for the fall group during the same fiscal year and one for the spring group in the next fiscal year.
A UE jacket with employee last name embroidered on the sleeve.
Award for Employee of the Year
$1,300 bonus check
2 Extra Vacation Days
Submitted by Fred Wilson fw2@evansville.edu
Recharge Kit Giveaway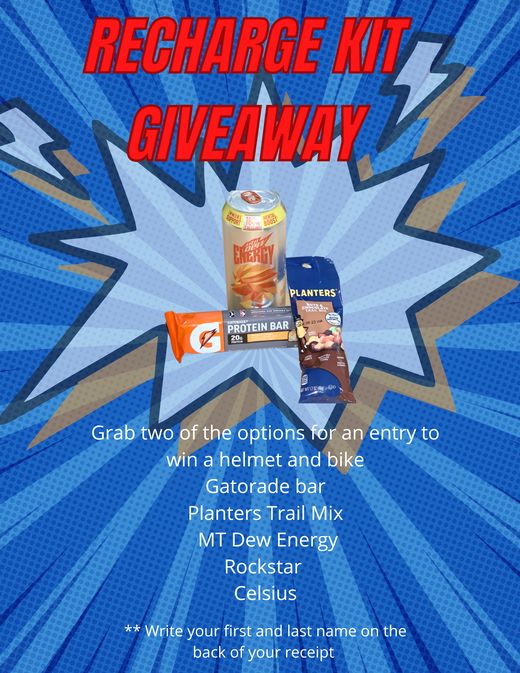 Giveaway time! Enter for a chance to win the bike and helmet in Aces by purchasing two of the following items: Gatorade bar, Planter's trail mix, Rockstar, Mountain Dew Energy, or Celcius. The last day to enter is February 1, and the winner will be announced on our social media accounts (@foodateue), so make sure to follow to find out who wins!
Submitted by Ka'Bria Carr kc403@evansville.edu
Get Your W-2 Earlier with Electronic Consent
The Office of Accounting/Payroll will be issuing W-2s for 2022 no later than January 31, 2023. You may choose 1 of 2 options to receive your W-2:
Electronic W-2 – If you provide your consent, you will be able to view/print in Self-Service as soon as they are ready. Notification will be sent through AceNotes.
Paper W-2 – If you prefer, you can continue to receive your W-2 in the mail.
An electronic W-2 will give you earlier access than a mailed copy. It is IRS compliant and can be submitted with your tax return as usual.
To give consent for the electronic W-2, log in to Self-Service https://selfservice.evansville.edu and go to "Tax Information". Select "Receive my W-2 only in electronic form" and save.
If you are eligible to participate in the university's health plans, you may give consent to receive your 1095-C form electronically here also. If you choose to withhold your consent to view/print your online W-2 and 1095-C, a paper copy will be mailed to your home address. Please make sure that your current address is on file.
If you have questions, please contact Dawn Bury at ext 2159 or db287@evansville.edu.
Submitted by Dawn Bury db287@evansville.edu
Road Trip Hosts Needed
The Office of Admission needs current UE students who live in a residence hall or Jones Hall to host prospective high school seniors for Road Trip February 24-26. If you are available, you can apply to host online. Please contact Heather Cook (hw30@evansville.edu) or Jill Fisher (jf223@evansville.edu) if you have any questions. Deadline to sign up is Friday, February 10.
Submitted by Jill Fisher jf223@evansville.edu
UE Civil Engineering Student Awarded Scholarship by the APAI
The Asphalt Pavement Association of Indiana (APAI) has named Sam Schneiders (BSCE '23), as a 2022 APAI Scholar. The Civil Engineering student was recognized as an award winners during the Hall of Fame Induction Ceremony and Scholarship Awards Banquet, held in conjunction with the 2022 APAI Winter Conference and Expo on December 15th, 2022 at the Horizon Convention Center in Muncie.
Scholarships are awarded by the APAI Scholarship Committee to students studying construction management, civil engineering, and construction engineering and management at six nationally accredited Indiana universities, including the University of Evansville. Students must complete an in-person interview with members of the Scholarship Committee to receive an award. The total amount of scholarships awarded in 2022 by the association totaled $45,000 to deserving scholars, in anticipation that many recipients will remain in Indiana and seek employment opportunities with APAI's member contractors.
Submitted by Tonya Albright ta58@evansville.edu
UE Track & Field Wraps Up Competition At The Commodore Challenge
University of Evansville sophomore Adam Oulgout (St. Paul, Minn./Central) continued his strong weekend of action at the Vanderbilt Commodore Challenge on Saturday, as he posted the third-fastest indoor mile time in school history to lead the charge for the Purple Aces.
Oulgout ran a time of 4:25.65 to post the best indoor mile time at UE since 2005, when UE Hall of Famer Nick Waninger posted a season-best mark of 4:21.85. Oulgout's time was seven seconds faster than his previous-best mark, and was just 11 seconds off of Hall of Famer David Denny's school-record indoor mile time of 4:14.9. Fifth-year runner Carson Kline (Terre Haute, Ind./South) also cut over 10 seconds off of his personal-best mark in the indoor mile with a time of 4:50.65 for UE.
Senior thrower Zach Dove (Princeton, Ind./Princeton Community) posted the best individual finish of the day for UE with a 12th-place showing in the men's shot put with a toss of 14.04 meters, with fellow senior Jaden Hayes right behind with a throw of 13.41 meters. Freshmen Jude Nguyen (Farmington Hills, Mich./North Farmington) and Jose Ocampo (Monterrey, Mexico) also placed 13th and 14th overall, respectively, in the men's 400-meter race with time of 54.98 and 56.36.
On the women's side, junior Brooke Springer (Henderson, Ky./Henderson County) posted UE's best finish, placing 23rd in a crowded women's shot put field with a toss of 8.99 meters. Graduate student Antonia Lamond (Nutley, N.J./Paramus Catholic) was right behind Springer with a toss of 8.85 meters.
Evansville will return to action next on Friday, when the Purple Aces travel to Louisville, Kentucky to take part in the Bellarmine Open.
Submitted by Athletics
Tenacious Aces come up just short in battle with UNI
Going basket-for-basket with one of The Valley's best squads, the University of Evansville women's basketball team led late, but could not hold on in a 73-68 loss to Northern Iowa on Sunday afternoon inside Meeks Family Fieldhouse.
"We gave ourselves a chance to win. They were a couple plays better than us down the stretch, but I'm so proud of our fight and putting ourselves in position to win that game," said Aces head women's basketball coach Robyn Scherr-Wells.
Four Aces finished in double-figures on the day with fifth-year senior A'Niah Griffin pouring-in a team-best 17 points, including a career-high four three-pointers. For the fifth-time in her last six games, fellow fifth-year senior Myia Clark scored double-digits, tallying 13 points. Rounding-out the double-figure scorers, senior Abby Feit finished with 12 points, while redshirt junior Barbora Tomancova had 11 points. The Panthers were powered by Grace Boffeli, who has 17 points and 10 boards in UNI's win.
Much like Wednesday night, Evansville found its opponent's offense hot to start the game. A quick run from the Panthers to start the game was answered by the Aces as UE sat down just one at 9-8 at the midway point of the opening period. UNI responded as well, going on a 10-3 run over the remainder of the quarter to lead by eight after the first 10 minutes.
The Panthers would build their lead as large as 14 in the second quarter, continuing its first period run and jumping-out to a 27-13 lead. Evansville's resiliency showed itself again as UE cut into its deficit with a 16-5 run that brought the Aces within three as the second period neared its close. Key to the Aces run were a trio of made three pointers with Griffin, Clark, and Feit all knocking-down shots from beyond the arc to aid Evansville's comeback as the Aces trailed 37-32 at the half.
Coming out of halftime, Evansville asserted itself, trading baskets with UNI and keeping its deficit under five for much of the quarter. The Aces persistence paid off in the latter portions of the period as Evansville grabbed its first lead of the game inside the final minute of the third with senior Jossie Hudson splashing a triple from the corner to make it a 47-46 lead. Just before the quarter break, UNI earned a trip to the free-throw line and split a pair, tying the game at 47 heading into the fourth.
The back-and-forth battle continued into the fourth quarter as the final 10 minutes featured five lead changes and four ties. A key stretch with under three minutes to play saw Evansville retake the lead on a three by Feit, followed by an and-one from Clark that handed UE its largest lead of the day with 2:07 left in the game. Leading 68-64, UNI began to again find its offensive rhythm and forced difficult shots for the Aces. UNI took the lead again on a three by Kayba Laube with just shy of 90 seconds remaining and Evansville could not get its answer on the other end as the Panthers captured the win.
Evansville goes on the road next weekend to take on Bradley and Illinois State on Friday and Sunday, respectively, in central Illinois.
Submitted by Athletics
UE Swimming & Diving Sweeps Bellarmine, Men Top UIC On 'Senior Day'
The University of Evansville swimming and diving teams swept visiting Bellarmine, and the UE men's team also knocked off Mid-American Conference rival UIC in a double-dual meet Saturday at Evansville's Deaconess Aquatic Center which featured UE, Bellarmine, UIC and Missouri State. The Purple Aces also honored 11 members of its swimming and diving program on 'Senior Day' on Saturday.
"Overall, I thought it was a great way to honor our senior class today," said UE head swimming and diving coach Stuart Wilson. "There was a lot of emotion today, and some of our swimmers struggled with handling those emotions which happens sometimes on 'Senior Day,' but overall, I thought it was a great day and we had a lot of different people step up and perform well today.
"This senior class is a very special group to me, as it was the group the came in my first year at Evansville. We have experienced a lot over the last four years and have grown together as a group. It will be tough to see them leave at the end of the year, but I know that each of them will succeed in their next steps in life."
On the men's side, senior Riccardo Di Domenico (Johannesburg, South Africa) helped lead the way for UE with individual victories in both the 100- (45.41) and 200-yard Freestyle (1:40.26) events, while also placing third in the 100-yard Butterfly (50.37). Sophomore Daniel Santos Lopez (Madrid, Spain) and junior Alon Baer (Gesher HaZiv, Israel) also earned two event victories, as Santos Lopez won both the 50 Free (20.78) and 100 Fly (49.14) while Baer swept the two Breaststroke events (100 – 56.61; 200 – 2:05.32).
Sophomore Patrik Vilbergsson (Kopavogur, Iceland) earned three top-three finishes in the 100- (second, 51.50) and 200-yard Backstroke (third, 1:53.02) events and the 500-yard Freestyle (third, 4:46.11). The UE men also got fourth-place finishes from juniors Grant Kay (200 Free, 1:43.53) and Jackson Caudill (1650 Free, 16:15.70), sophomore Jakob Grundbacher (100 Free, 47.31) and freshman Daniil Goncharuk (50 Free, 21.28) on their way to dual-meet victories over Bellarmine (190.50-86.50) and UIC (163-125). Missouri State won all three of its dual meets to sweep the men's competition.
On the women's side, senior Maya Cunningham (Yakima, Wash./Eisenhower) posted a second-place finish in the 200-yard Butterfly (2:06.92), a fourth-place finish in the 200-yard IM (2:10.13), and a fifth-place finish in the 100 Fly (58.25) to help lead the way. Fellow senior Sarah Jahns (Lilburn, Ga./Parkview) also posted a second-place finish in the 200-yard Backstroke (2:07.25), while sophomore Sveva Brugnoli (Rome, Italy) posted a third-place finish in the 100 Fly (57.99) and a fourth-place finish in the 50 Free (24.92) for UE. UE also got fourth-place finishes from sophomore Mari Müller (Zurich, Switzerland) in the 200 Butterfly (2:10.96) and junior Iryna Tsesiul (Minsk, Belarus) in the 100 Back (59.58) on the day.
On the women's side, UE defeated Bellarmine, 161-118, while falling to UIC and Missouri State in the double-dual meet format. Missouri State also swept the three dual meets on the women's side.
In diving, junior Madison Rollett (Evansville, Ind./Reitz) led the way for Evansville with second-place finishes in both the one-meter (238.50) and three-meter (247.20) competitions. She finished just under four points shy of UIC's Abigail Hellinga for the individual title on the one-meter boards, and was just under 10 points shy of the individual title in the three-meter competition as well.
"Overall, I was pleased with how the divers competed today," said UE assistant coach for diving Dustin Bredemeier. "Maddie continued her strong season with a good showing today, and was just off hitting that Zone qualifying mark again, as she has been right there all season. I also saw good things out of Levi (McKinney) and Val (Marx) as well today, and considering we have been off from competition for a month, I was pleased with the showing today."
Saturday's meet was the final swimming meet of the regular-season for UE, as up next will be the women's Missouri Valley Conference meet in mid-February and the men's Mid-American Conference Championships the first weekend in March for the swimmers. The UE diving team is scheduled to compete again on February 4 at the UIC Diving Invitational.
Submitted by Athletics
Women's Basketball closes homestand on Sunday against UNI
Coming off an important win on Wednesday night, the University of Evansville women's basketball team ends a two-game homestand on Sunday when it plays host to Northern Iowa at 1 PM inside Meeks Family Fieldhouse.
Sunday's matchup between the Aces and Panthers marks the 62nd all-time meeting in the series with UNI owning a 42-19 advantage. The Panthers took both meetings in 2021-22, including the most recent contest between the two sides, 78-58, inside Meeks Family Fieldhouse on Feb. 8, 2022.
UNI enters the Sunday showdown in second in the MVC standings with a 4-1 conference mark and a 9-5 overall record. Most recently, the Panthers captured a 70-69 win over Drake in Des Moines on Wednesday evening. Grace Boffeli and Maya McDermott power the Panthers, combining to average over 30 points per game. Boffeli sits in a tie for The Valley lead in rebounds per game, cleaning up the glass with 8.6 boards per contest.
Evansville is fresh off a 65-54 win over Indiana State on Wednesday evening in front of what was the second-largest women's basketball crowd in Meeks Family Fieldhouse history. The Aces look to add another impressive crowd to the record books on Sunday as one student in attendance at Sunday's contest will win a new TV courtesy of UE Athletics.
Submitted by Athletics
'Senior Day' Set For Saturday For UE Swimming & Diving
The University of Evansville swimming and diving program will celebrate "Senior Day" on Saturday at Deaconess Aquatic Center in downtown Evansville, as the Purple Aces will honor 11 seniors prior to a quad-meet against Missouri State, UIC and Bellarmine. The meet will begin at 11 a.m. with admission being $5 for fans, and UE students being admitted for free with a valid UE student I.D.
The Purple Aces swimmers have not competed since a strong showing on the men's and women's sides at the A3 Performance Invitational in Carbondale, Illinois November 10-12. UE placed second in both the men's and women's divisions, with multiple Evansville records falling that weekend. Saturday's meet will be the only swim meet prior to the conference championships for both teams, while the divers will compete again in the beginning of February at UIC.
On Saturday, Evansville will honor 11 senior members who comprise the first four-year recruiting class for head coach Stuart Wilson. UE will honor Sonsoles Aguayo (Jerez, Spain), Maya Cunningham (Yakima, Wash./Eisenhower), Sarah Jahns (Lilburn, Ga./Parkview), Apryl Jancouskas (Stafford, Va.), Allison McDonald (Cape Girardeau, Mo./Cape Central) and Sage Moore (Lexington, Ohio/Lexington) on the women's side, and Max Dehen (Ramsey, Minn./Anoka), Riccardo Di Domenico (Johannesburg, South Africa), Griffin Hammett (Loganville, Ga./Loganville), Sam Leatherwood (Loveland, Ohio/Milford) and Michael Whitehead (Brecksville, Ohio/Brecksville-Broadview Heights) on the men's side prior to Saturday's meet. Combined, this group has broken parts of 13 UE school records, while each senior has posted a cumulative GPA of 3.2 or above over the past four years.
"This senior group is a very special group for me," said Wilson. "They started at Evansville when I started here, and we have really grown together over the last four years. They have excelled in the pool and in the classroom over the last four years, but the thing that really makes this group special is the type of person that each of them is. I know that they will all go on to do great things after graduation."
Live results of Saturday's meet will be available via the Meet Mobile app.
Submitted by Athletics
Two UE Indoor Track Records Fall On Day One At Commodore Challenge
University of Evansville senior Steven Burkhart (Vincennes, Ind./South Knox) and sophomore Adam Oulgout (St. Paul, Minn./Central) broke the UE indoor track records in the 600- and 1,000-meter races, respectively, on Friday to lead the Purple Aces on the first day of the Commodore Challenge at the Vanderbilt Multipurpose Facility in Nashville, Tennessee.
Burkhart broke an 18-year-old record in the 600-meters with a time of 1:24.43 to break former Ace Craig Kerkhoff's previous record by over five seconds. Oulgout also broke former teammate Joey Rucinski's previous record in the 1,000-meters by over 12 seconds, as he placed eighth overall with a time of 2:35.77. Fifth-year runner Carson Kline (Terre Haute, Ind./South) also ran faster than the previous record with a time of 2:41.41 while placing 13th overall.
Senior Zach Dove (Princeton, Ind./Princeton Community) picked up right where he left off before winter break, cracking the 17-meter mark in the men's weight throw with a toss of 17.13 meters (56' 2.5") to place ninth overall. He is the only male in UE history to go over 17 meters in the men's weight throw event.
On the women's side, graduate student Antonia Lamond (Nutley, N.J./Paramus Catholic) narrowly missed beating her own school record in the weight throw, as she recorded a toss of 12.59 meters (41' 3.75") for UE. She set the UE standard last time out with a throw of 12.65 meters (41' 6").
Sophomore Preston Riggs (Ft. Branch, Ind./Gibson Southern) turned in his first indoor long jump as a Purple Ace with a leap of 5.30 meters (17' 4.75"), while senior Mariah Schaefer recorded her first 200-meter time with a mark of 30.25. On the men's side, junior Geordan Blades (Avon, Ind./Avon) went 23.84 in the 200-meters, while sophomore Denzel Lasam (St. Louis, Mo./De Smet Jesuit) was not far behind at 25.34.
In UE's final races of the day, freshmen Jude Nguyen (Farmington Hills, Mich./North Farmington) and Jose Ocampo (Monterrey, Mexico) went back-to-back in the men's 300-meters for the second-straight meet with times of 38.71 and 38.81, respectively. On the women's side, freshman Kate Walke (Batesville, Ind./Oldenburg Academy) made her UE debut in the 300-meter race with a time of 48.31.
The Commodore Challenge will continue on Saturday at 11 a.m. central time. Events scheduled to take place include the shot put, women's pole vault, the 60-meter hurdles and 60-meter dash, the triple jump, the mile, the 400- and 800-meter races, the 3,000-meters, and the 4x400-meter race. Saturday's action can be seen live on SEC Network+.
Submitted by Athletics
Rally falls short for UE men against Valparaiso
Valparaiso opened the second half on a 16-5 run and held off a late challenge to defeat the University of Evansville men's basketball team by a score of 76-69 on Saturday afternoon at the Ford Center.
Five Purple Aces reached double figures with Yacine Toumi leading the way with 18 points, tying his career high. Antoine Smith Jr. recorded 16 while Marvin Coleman II and Kenny Strawbridge Jr. tallied 15 and 12, respectively. Smith paced the team with his top career total of eight caroms. Valpo also had four double digit scorers led by Kobe King. He led all players with 20 points and 9 rebounds.
"I thought it was a good match-up and we put ourselves in a position to win. We had stretches at the start of the second half where we gave them easy baskets and got stuck offensively," UE head coach David Ragland stated. "Later in the game, we found our fight and worked to make our way back but credit Valpo. We need to work harder, be committed and stick together."
Gage Bobe got UE on the board with a layup and contributed on the defensive end as he drew a charge. With the game tied at 4-4, Yacine Toumi hit a pair of free throws before finding Marvin Coleman II for a basket that gave the Aces an 8-4 lead in the opening minutes. Valpo countered with eight in a row to go up 12-8.
Kenny Strawbridge Jr. put a temporary end to the run with a pair of free throws but the Beacons added five more to their lead to go up 17-10. Still trailing by seven, the Aces stormed back to tie the game with nine minutes remaining in the half. Toumi and Coleman had field goals while Antoine Smith Jr. capped it off with a three to knot the game at 19-19. Evansville's defense held Valparaiso scoreless for over four minutes as they missed seven shots in a row.
Consecutive baskets by Quinton Green broke the tie but with 3:45 left in the half, Antoine Smith Jr. hit his second triple to put UE back in front – 24-23. The final minutes of the half belonged to the Beacons, who completed the period on an 11-4 run to go into the break with a 34-28 advantage.
Hitting five of their first six shots of the second half, Valpo pushed their lead into double digits for the first time at 40-29. Three early triples saw the lead extend to 18 (55-37). Evansville chipped away at the deficit with five in a row as the game entered its final nine minutes. After the Beacons retook an 18-point lead (63-45), UE stormed back with seven in a row. Coleman drained a triple while Strawbridge forced a turnover and took the ball the distance for a dunk to make it a 63-52 game with 4:44 left.
Following a basket by the Beacons, a pair of blocked shots on the defensive end led to triples for UE. Smith and Strawbridge converted 3-pointers that made it a 65-58 score with 2:38 on the clock. Inside the final minute, the Aces got within five but it was not enough to overcome the deficit with the Beacons taking the 76-69 victory.
Valpo shot 49.1% in the contest with the Aces finishing at 46.8%. The Beacons finished the day with a 35-32 edge on the boards. Evansville will be right back at it on Tuesday with a trip to Southern Illinois for a 7 p.m. game.
Submitted by Athletics
Contribute to AceNotes
To have content considered for inclusion in AceNotes, please submit a Marketing Request Form. Deadline for submission to AceNotes is 10:00 a.m. on the requested date of publication. Only articles concerning UE related/sponsored activities will be accepted. Articles submitted to AceNotes may be edited for length and clarity. Submitter contact information is at the end of each article.