| | |
| --- | --- |
| AceNotes Today | Wednesday, January 11, 2023 |
Purple Patrollers Needed!!
Purple Patrol will return for the Spring 2023 semester, and we need employees to sign up and volunteer! The first Purple Patrol of the semester will be Friday, January 13.
To sign up for Purple Patrol, visit SignUpGenius and enter your information (please mention the team/department you're signing up). We ask that you sign up for one slot only (for now) so all our departments and offices have a chance to help! If several spots are still unfilled, we welcome multiple signups.
If you have any questions, please contact Julie Beer at jb855.
Submitted by Julie Beer / jb855@evansville.edu
University of Evansville Theatre Presents Glimpses: an Evening with Matt Williams '73
The University of Evansville Department of Theatre is proud to announce that alumnus Matt Williams '73, will be returning to campus for GLIMPSES: An Evening with Matt Williams, at 7:30p.m., on Saturday, January 21, 2023.
UE Theatre alumnus and an Evansville native, Matt is best known as the Creator and Executive Producer of the hit series ROSEANNE and the Co-Creator and Executive Producer of HOME IMPROVEMENT, one of the most successful programs in television history. Williams started his television career when he joined THE COSBY SHOW during its premiere season and worked as a Writer/Producer on the show for three subsequent seasons. He also Co-created the series A DIFFERENT WORLD. Matt's work was nominated for Emmy and Humanitas Awards and won a Peabody Award for Outstanding Achievement in Television Writing.
In addition to his many credits, Matt is a founding board member of The New Harmony Project and the Cherry Lane Theatre. Matt is currently an Adjunct Associate Professor at Columbia University School of the Arts Theatre Program. He lives in New York with his wife, actress Angelina Fiordellisi, the Executive Director of the Cherry Lane Theatre.
Williams will be returning to campus to promote his upcoming book titled Glimpses, a new collection of stories of hope, humanity, and humor—his own. During a hardscrabble childhood, Matt heard the voice of a loving, generous Spirit who would be his guide for the rest of his life. This Spirit would lead him into the glamorous realms of New York and Hollywood's entertainment industry and show him, in encounters both delightful and heartwarming, that God can be found everywhere—especially where you least expect Her. This book presents readers with a compelling provocation—not only to see a glimpse of God in those around us, no matter the circumstances, but to be a glimpse of God for those who also need hope. Within the pages of this memoir is the very real truth: We can all be a light in the darkness.
Tickets for this event can be purchased online at uealumnionline.com/mattwilliams. Tickets are $75, which include your seat in the John David Lutz Theatre Lab and a post-show reception, with Matt, in the Matt Williams Lobby of Shanklin Theatre. Livestream tickets to the reading are available for $25. If you have any questions, please call 812.488.2744.
Submitted by Sharla Cowden sc75@evansville.edu
Friday Night Live w/ Pastor JC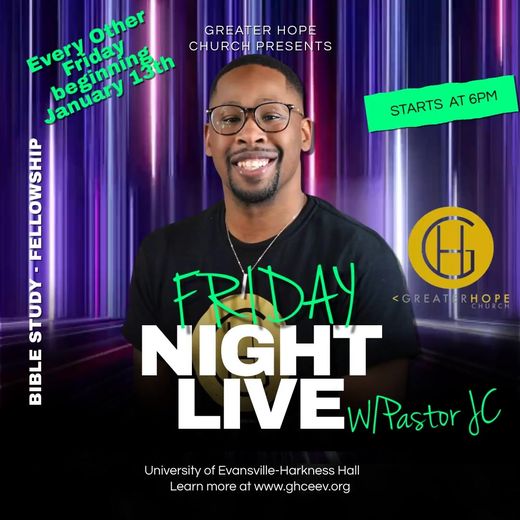 Please join Greater Hope Church this Friday at 6 p.m. for their Friday Night Live with Pastor JC in SOBA 162. This event is open to students, faculty, and staff!
Submitted by Rachel Roscoe rr209@evansville.edu
Zoom in and learn about the new Master's in Heritage in Management at UE
Looking to pursue your Master's Degree? Have you ever wondered what it takes to lead a team of archaeologists, provide a fresh business vision for Stonehenge, manage Yosemite National Park's biodiversity, or assemble a collection of artifacts for the Smithsonian? If so, join us for a free informational session through Zoom about the Master of Arts in Innovative Leadership in Heritage Management.
Date/Time: January 19, 2023 | 12:00 p.m. CDT
Host: The session will be hosted by Emily Stammitti, PhD, Harlaxton College, British Faculty Member and MA Program Director.
Learn More and Register at www.evansville.edu/ILHM-InfoSession.
Submitted by Holly Lee Smith hh98@evansville.edu
Save a Life: Give Blood to the Red Cross 1/20 in Eykamp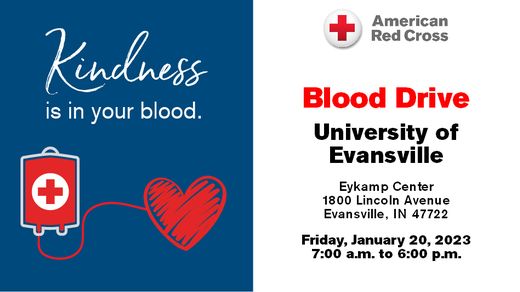 Give blood, help save lives! UE Blood Drive Friday, January 20, Eykamp Hall
UE's Center for Innovation & Change has partnered with the Red Cross and Alpha Phi Omega, our Co-Ed Service Fraternity, to help meet desperate need for blood in our community. Make plans now to donate blood on Friday, January 20 anytime between 7am and 6pm!
To make your appointment, go to https://www.redcrossblood.org/ and type "UE" in the code or call 1-800-RED CROSS.
Come give Jan. 1-31 and automatically be entered for a chance to win an exciting trip for you and a guest to Super Bowl LVII in Phoenix! Includes travel, hotel, $500 gift card, pre-game activities and more! Terms apply. Visit https://www.redcrossblood.org/local-homepage/events/super_bowl.html.
Submitted by Andrew Carter ac116@evansville.edu
Recharge Kit Giveaway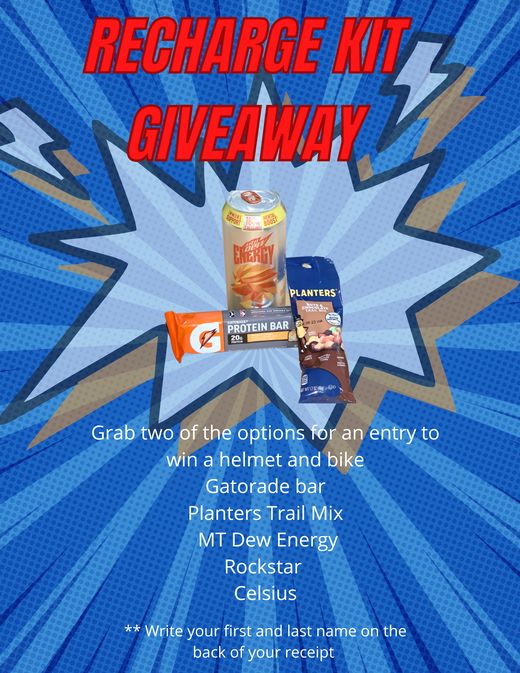 Giveaway time! Enter for a chance to win the bike and helmet in Aces by purchasing two of the following items: Gatorade bar, Planter's trail mix, Rockstar, Mountain Dew Energy, or Celcius. The last day to enter is February 1, and the winner will be announced on our social media accounts (@foodateue), so make sure to follow to find out who wins!
Submitted by Ka'Bria Carr kc403@evansville.edu
Update to Dependent Tuition Remission Policy
We are happy to announce the employee tuition benefit has been updated to reflect a shorter waiting period for 100% tuition remission for dependents. Dependent child/spouse of full-time employee will now be eligible for 100% remission the first full semester after employee begins employment at UE. The policy can be viewed in its entirety on the HR section of the MyUE page under "Benefits".
Submitted by Lori LeDuc ll138@evansville.edu
Come learn more about volunteering with Ace CARE

Ace CARE is holding an informational meeting on Thursday, January 12th at 4pm in GH 100 for undergraduate students interested in volunteering! Ace CARE is a student-lead, pro-bono organization that aims to meet the physical therapy and/or wellness needs of the uninsured and vulnerable populations of the Evansville community. It enhances the sense of service and educational experiences of the students involved.
Students that are pre-physical therapy and pre-physician assistant are greatly encouraged to volunteer to gain early experience working with patients and become more familiar with the programs that they will be entering. If you would like to learn more about this amazing organization, please come to the meeting on January 12th!
If you have any questions, feel free to reach out to Megan Fulhorst (mf217@evansville.edu).
Submitted by Megan Fulhorst mf217@evansville.edu
Spring Meal Plan Changes
Students can adjust meal plans for the Spring semester until Friday, January 13, 2023 at 5:00 p.m.
Submitted by Brian Conner bc32@evansville.edu
Professor McCracken and colleagues publish article concerning affirmative consent standards
Professor McCracken, Department of Psychology and Behavioral Sciences, and colleagues - recently published an article titled, "Does the affirmative consent standard increase the accuracy of sexual assault perceptions? It depends on how you learn about the standard." in Law and Human Behavior.
Specifically, they found that exposure to consent standards sometimes aids sexual assault decision-making but also leads to confusion (and dehumanization of perpetrators and victims), even in scenarios in which consent is normally discernable.
The article is now available to read, online.
Submitted by Evan McCracken em157@evansville.edu
Women's Basketball hosts Indiana State on Wednesday for Orange Out game
Looking to pack Meeks Family Fieldhouse, the University of Evansville women's basketball team welcomes Indiana State at 6 PM on Wednesday evening for its Orange Out game.
The Aces encourage all fans to wear orange to Wednesday's game and the first 500 fans will receive orange pom-poms. Wednesday's contest is also Evansville's Student Welcome Back Party with free pizza for the first 100 students and an AirPods giveaway.
Wednesday's matchup between the Aces and Sycamores marks the 64th all-time meeting in series history with Indiana State owning a 43-20 advantage in the all-time series. The two sides met three times in the 2021-22 season with Indiana State capturing two wins, including the most recent matchup in the opening round of Hoops in the Heartland, 89-75, in Moline, Ill.
Indiana State comes into the midweek matchup with a 7-6 overall mark and a .500 mark in conference play coming off of a weekend sweep of Valparaiso and UIC last weekend, the Sycamores' first weekend sweep in conference play since Feb. 23 and 25, 2017. The visitors are led by guard Del'Janae Williams, who is averaging 12.8 points per game. Williams proved to be difficult for the Aces to contain in the three meetings last year, going for an average of 16 points against UE in 2021-22.
Evansville comes into Wednesday's contest following a road split this past weekend, earning a 57-45 win over Valpo before falling 57-53 to UIC. Senior guard/forward Abby Feit powered Evansville this past weekend, averaging 18.5 points per game, while leading UE in scoring in both contests and adding an average of seven boards per game.
Submitted by Athletics
Free pizza, pom-poms, and AirPods giveaway for students at Wednesday's women's basketball game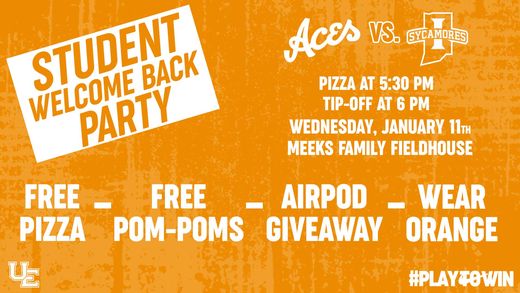 UE Students, don't miss out on our Student Welcome Back Party on Wednesday night in Carson Center! Free pizza is available for the first 100 students and free pom-poms are available for the first 500 fans. One student will walk away with brand new AirPods! Pizza arrives at 5:30 PM with tip-off of the UE Women's Basketball game versus Indiana State at 6 PM inside Meeks Family Fieldhouse! Come cheer on your Aces!
Submitted by Athletics
Contribute to AceNotes
To have content considered for inclusion in AceNotes, please submit a Marketing Request Form. Deadline for submission to AceNotes is 10:00 a.m. on the requested date of publication. Only articles concerning UE related/sponsored activities will be accepted. Articles submitted to AceNotes may be edited for length and clarity. Submitter contact information is at the end of each article.