| | |
| --- | --- |
| AceNotes Today | Tuesday, January 10, 2023 |
Purple Patrollers Needed!!
Purple Patrol will return for the Spring 2023 semester, and we need employees to sign up and volunteer! The first Purple Patrol of the semester will be Friday, January 13.
To sign up for Purple Patrol, visit SignUpGenius and enter your information (please mention the team/department you're signing up). We ask that you sign up for one slot only (for now) so all our departments and offices have a chance to help! If several spots are still unfilled, we welcome multiple signups.
If you have any questions, please contact Julie Beer at jb855.
Submitted by Julie Beer / jb855@evansville.edu
Friday Night Live w/ Pastor JC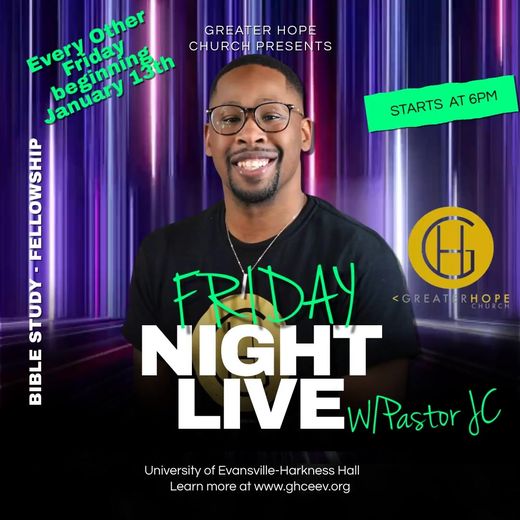 Please join Greater Hope Church this Friday at 6 p.m. for their Friday Night Live with Pastor JC in SOBA 162. This event is open to students, faculty, and staff!
Submitted by Rachel Roscoe rr209@evansville.edu
NBA Star Chris Herren visits Evansville
Reserve your ticket today for this inspiring FREE event! "Prevention starts with ALL: The Chris Herren Story" 7 Sisters is hosting a community speaking event on January 25th regarding addiction, recovery, education, and wellness. The speaker is Chris Herren, former NBA player and his story is a powerful one for every age to hear. Join us for this free event!
https://www.eventbrite.com/e/nba-star-chris-herren-visits-evansville-tickets-495180958577
Wednesday, January 25, 2023
7:00 PM
Reitz Memorial High School Auditorium
1500 Lincoln Ave.
Evansville, IN
Submitted by Tracy Gerth tg182@evansville.edu
Get Your W-2 Earlier with Electronic Consent
The Office of Accounting/Payroll will be issuing W-2s for 2022 no later than January 31, 2023. You may choose 1 of 2 options to receive your W-2:
Electronic W-2 – If you provide your consent, you will be able to view/print in Self-Service as soon as they are ready. Notification will be sent through AceNotes.
Paper W-2 – If you prefer, you can continue to receive your W-2 in the mail.
An electronic W-2 will give you earlier access than a mailed copy. It is IRS compliant and can be submitted with your tax return as usual.
To give consent for the electronic W-2, log in to Self-Service https://selfservice.evansville.edu and go to "Tax Information". Select "Receive my W-2 only in electronic form" and save.
If you are eligible to participate in the university's health plans, you may give consent to receive your 1095-C form electronically here also. If you choose to withhold your consent to view/print your online W-2 and 1095-C, a paper copy will be mailed to your home address. Please make sure that your current address is on file.
If you have questions, please contact Dawn Bury at ext 2159 or db287@evansville.edu.
Submitted by Dawn Bury db287@evansville.edu
Come learn more about volunteering with Ace CARE

Ace CARE is holding an informational meeting on Thursday, January 12th at 4pm in GH 100 for undergraduate students interested in volunteering! Ace CARE is a student-lead, pro-bono organization that aims to meet the physical therapy and/or wellness needs of the uninsured and vulnerable populations of the Evansville community. It enhances the sense of service and educational experiences of the students involved.
Students that are pre-physical therapy and pre-physician assistant are greatly encouraged to volunteer to gain early experience working with patients and become more familiar with the programs that they will be entering. If you would like to learn more about this amazing organization, please come to the meeting on January 12th!
If you have any questions, feel free to reach out to Megan Fulhorst (mf217@evansville.edu).
Submitted by Megan Fulhorst mf217@evansville.edu
Ace CARE Van Needs Volunteers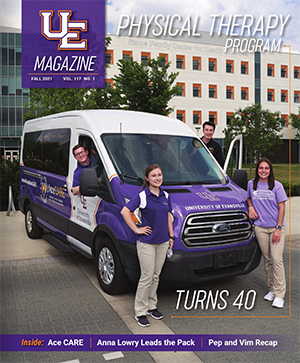 Ace CARE is a student-run organization that provides free physical therapy services to the uninsured and underinsured people of the Evansville community. This wonderful program allows students from the physical therapy, physician assistant, athletic training, and health science undergraduate degrees to get hands-on practice with patients while also providing health care to individuals who would not receive it otherwise!
Ace CARE has the amazing ability to provide a vulnerable community with transportation to and from their sessions on campus through the use of a van. There are even one to two physical therapy students riding along throughout the routes to help safely transfer patients into and out of the van. Currently, there is a need for more volunteers to donate their time, and help drive the van on Tuesday nights from 4 - 7:30pm. If you are interested or have any questions, please reach out to Dr. Schwartzkopf-Phifer at ks148@evansville.edu.
Come be a part of an organization that truly is changing lives and making the Evansville community a better place!
Submitted by Megan Fulhorst mf217@evansville.edu
Road Trip Hosts Needed
The Office of Admission needs current UE students who live in a residence hall or Jones Hall to host prospective high school seniors for Road Trip February 24-26. If you are available, you can apply to host online. Please contact Heather Cook (hw30@evansville.edu) or Jill Fisher (jf223@evansville.edu) if you have any questions. Deadline to sign up is Friday, February 10.
Submitted by Jill Fisher jf223@evansville.edu
Aces Pep Band - Spring 2023
Join the Aces Pep Band this semester. Aces Pep Band will rehearse Monday, January 9 and Tuesday, January 10 in Krannert Fine Arts, room 110, 4:00-4:50p. Instruments and music are available and you will be issued a Aces Pep Band shirt for the games. No preregistration required. Hope to see you Monday and Tuesday, January 9 and 10.
For more information contact Dr. Kenneth Steinsultz (ks306)
Submitted by Kenneth Steinsultz ks306@evansville.edu
Library Display Cases
Looking for a highly visible space to show off what is happening in your area of campus? The Library has the perfect place for you! The library has two display cases with great views and are available all year. The schedule is currently open for reservations. If you are interested in taking advantage of the space, contact Meg Atwater-Singer (812-488-2487 || ma35) with your preferred dates.
Submitted by Meg Atwater-Singer ma35@evansville.edu
UE Civil Engineering Student Awarded Scholarship by the APAI
The Asphalt Pavement Association of Indiana (APAI) has named Sam Schneiders (BSCE '23), as a 2022 APAI Scholar. The Civil Engineering student was recognized as an award winners during the Hall of Fame Induction Ceremony and Scholarship Awards Banquet, held in conjunction with the 2022 APAI Winter Conference and Expo on December 15th, 2022 at the Horizon Convention Center in Muncie.
Scholarships are awarded by the APAI Scholarship Committee to students studying construction management, civil engineering, and construction engineering and management at six nationally accredited Indiana universities, including the University of Evansville. Students must complete an in-person interview with members of the Scholarship Committee to receive an award. The total amount of scholarships awarded in 2022 by the association totaled $45,000 to deserving scholars, in anticipation that many recipients will remain in Indiana and seek employment opportunities with APAI's member contractors.
Submitted by Tonya Albright ta58@evansville.edu
Professor McCracken and colleagues publish article concerning affirmative consent standards
Professor McCracken, Department of Psychology and Behavioral Sciences, and colleagues - recently published an article titled, "Does the affirmative consent standard increase the accuracy of sexual assault perceptions? It depends on how you learn about the standard." in Law and Human Behavior.
Specifically, they found that exposure to consent standards sometimes aids sexual assault decision-making but also leads to confusion (and dehumanization of perpetrators and victims), even in scenarios in which consent is normally discernable.
The article is now available to read, online.
Submitted by Evan McCracken em157@evansville.edu
UE heads to Peoria for Wednesday contest at Bradley
Looking for its first win inside Carver Arena since 2016, the University of Evansville men's basketball team travels to Bradley on Wednesday evening. Tip is set for 7 p.m. CT with the Purple Aces Radio Network and ESPN+ having the coverage.
Setting the Scene
- UE looks to halt a few different streaks when it takes on the Braves
- Sitting at 0-6 in the MVC for the third time in four years, the Purple Aces look to earn their first league triumph of the season
- Evansville has dropped its last nine contests against the Braves and has lost the last three games by 31 points or more
Last Time Out
- Things came down to the wire on Saturday against Illinois State with the Redbirds using a late run to take a 69-61 win
- With 4:07 remaining, UE held a 60-58 lead before ISU completed the game on an 11-1 rally
- Marvin Coleman II and Kenny Strawbridge Jr. finished the game with 16 points apiece
Keep on Rolling
- Over his last seven games, Marvin Coleman II is averaging 15.1 points per game while raising his season average from 5.4 points to 9.4
- He scored a career-best 22 points at Missouri State on Jan. 4 and followed that with 16 points against Illinois State
- Coleman reached double figures just once in the first 10 games before doing so in six of the last seven games
- His effort at Missouri State bested his old record of 18 points, which came earlier this season against Campbell
- Along with his scoring, Coleman has been depended on for extra minutes and has played at least 35 minutes in each of the last seven contests
The Mark of Consistency
- Kenny Strawbridge Jr. scored 16 points against Illinois State and has chipped in at least 8 points in 16 out of 17 games
- He continues to lead the Aces while sitting 8th in the MVC with his season average of 16.2 points per game
- Finishing with a game-high 22 points at Indiana State, he reached the 20-point mark for the 7th time this season
- In the Dec. 21 game against Bellarmine, Strawbridge was held scoreless in the opening half but rebounded with 22 points in the final 20 minutes
Scouting the Opponent
- Bradley comes into Wednesday's game with an overall mark of 11-6 while going 4-2 through their opening six MVC games
- The Braves are a perfect 9-0 at home while going 2-6 in road and neutral site contests
- On Saturday, Bradley defeated Valparaiso by a final of 88-66 inside Carver Arena
- Rienk Mast leads four double digit scorers with an average of 12.9 points per game while pacing the squad with 8.3 rebounds
- Malevy Leons is averaging 11.2 points while Duke Deen and Ja'Shon Henry contribute 10.7 and 10.1 PPG, respectively
Submitted by Athletics
Your chance to be an NCAA DI mascot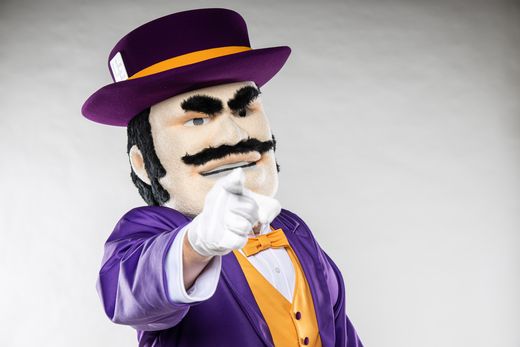 Want to be part of the gameday experience? UE Athletics is searching for dedicated students who would like to be Ace Purple! Help create a great atmosphere at our athletic events and get paid to do so! If interested, please contact Michael Robertson at MR328@evansville.edu.
Submitted by Athletics
Free pizza, pom-poms, and AirPods giveaway for students at Wednesday's women's basketball game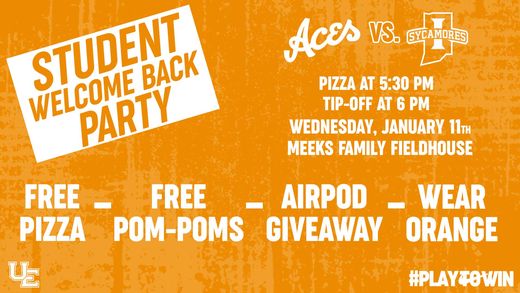 UE Students, don't miss out on our Student Welcome Back Party on Wednesday night in Carson Center! Free pizza is available for the first 100 students and free pom-poms are available for the first 500 fans. One student will walk away with brand new AirPods! Pizza arrives at 5:30 PM with tip-off of the UE Women's Basketball game versus Indiana State at 6 PM inside Meeks Family Fieldhouse! Come cheer on your Aces!
Submitted by Athletics
Contribute to AceNotes
To have content considered for inclusion in AceNotes, please submit a Marketing Request Form. Deadline for submission to AceNotes is 10:00 a.m. on the requested date of publication. Only articles concerning UE related/sponsored activities will be accepted. Articles submitted to AceNotes may be edited for length and clarity. Submitter contact information is at the end of each article.