| | |
| --- | --- |
| AceNotes Today | Monday, January 9, 2023 |
Purple Patrollers Needed!!
Purple Patrol will return for the Spring 2023 semester, and we need employees to sign up and volunteer! The first Purple Patrol of the semester will be Friday, January 13.
To sign up for Purple Patrol, visit SignUpGenius and enter your information (please mention the team/department you're signing up). We ask that you sign up for one slot only (for now) so all our departments and offices have a chance to help! If several spots are still unfilled, we welcome multiple signups.
If you have any questions, please contact Julie Beer at jb855.
Submitted by Julie Beer / jb855@evansville.edu
Zoom in and learn about the new Master's in Heritage in Management at UE
Looking to pursue your Master's Degree? Have you ever wondered what it takes to lead a team of archaeologists, provide a fresh business vision for Stonehenge, manage Yosemite National Park's biodiversity, or assemble a collection of artifacts for the Smithsonian? If so, join us for a free informational session through Zoom about the Master of Arts in Innovative Leadership in Heritage Management.
Date/Time: January 19, 2023 | 12:00 p.m. CDT
Host: The session will be hosted by Emily Stammitti, PhD, Harlaxton College, British Faculty Member and MA Program Director.
Learn More and Register at www.evansville.edu/ILHM-InfoSession.
Submitted by Holly Lee Smith hh98@evansville.edu
Save a Life: Give Blood to the Red Cross 1/20 in Eykamp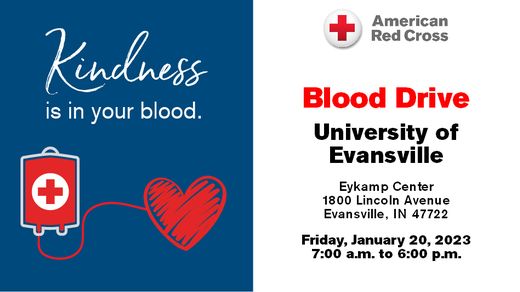 Give blood, help save lives! UE Blood Drive Friday, January 20, Eykamp Hall
UE's Center for Innovation & Change has partnered with the Red Cross and Alpha Phi Omega, our Co-Ed Service Fraternity, to help meet desperate need for blood in our community. Make plans now to donate blood on Friday, January 20 anytime between 7am and 6pm!
To make your appointment, go to https://www.redcrossblood.org/ and type "UE" in the code or call 1-800-RED CROSS.
Come give Jan. 1-31 and automatically be entered for a chance to win an exciting trip for you and a guest to Super Bowl LVII in Phoenix! Includes travel, hotel, $500 gift card, pre-game activities and more! Terms apply. Visit https://www.redcrossblood.org/local-homepage/events/super_bowl.html.
Submitted by Andrew Carter ac116@evansville.edu
Aces Pep Band - Spring 2023
Join the Aces Pep Band this semester. Aces Pep Band will rehearse Monday, January 9 and Tuesday, January 10 in Krannert Fine Arts, room 110, 4:00-4:50p. Instruments and music are available and you will be issued a Aces Pep Band shirt for the games. No preregistration required. Hope to see you Monday and Tuesday, January 9 and 10.
For more information contact Dr. Kenneth Steinsultz (ks306)
Submitted by Kenneth Steinsultz ks306@evansville.edu
Spring Meal Plan Changes
Students can adjust meal plans for the Spring semester until Friday, January 13, 2023 at 5:00 p.m.
Submitted by Brian Conner bc32@evansville.edu
Professor McCracken and colleagues publish article concerning affirmative consent standards
Professor McCracken, Department of Psychology and Behavioral Sciences, and colleagues - recently published an article titled, "Does the affirmative consent standard increase the accuracy of sexual assault perceptions? It depends on how you learn about the standard." in Law and Human Behavior.
Specifically, they found that exposure to consent standards sometimes aids sexual assault decision-making but also leads to confusion (and dehumanization of perpetrators and victims), even in scenarios in which consent is normally discernable.
The article is now available to read, online.
Submitted by Evan McCracken em157@evansville.edu
Aces edged in weekend finale at UIC, 57-53
Closing-out the weekend, the University of Evansville women's basketball team battled toe-to-toe with UIC before falling late, 57-53, on Saturday afternoon in Chicago, Ill.
For the second-straight game, senior guard.forward Abby Feit led the Aces offense, tallying a team-best 19 points to go along with five rebounds and three blocks. Two other starters finished in double-figures with fifth-year guard A'Niah Griffin and graduate guard Anna Newman each recording 10 points in the game. The Flames were powered by forward Josie Filer, who finished with a game-high 20 points and 10 boards.
Evansville was hampered early by foul trouble as redshirt junior center Barbora Tomancova picked-up a pair of fouls inside the first seven minutes of the contest. In her place, fellow center Celine Dupont gathered eight rebounds on the day, playing 18 minutes, including many early on. The Flames build a six-point lead at 10-4, but Evansville fought back to stay within four following the first quarter.
The lead reached as large as seven for UIC in the second quarter, but Evansville mustered another push. The Aces responded with a 7-0 run featuring a three from Newman and four-straight points to tie the game at 21. Just 90 seconds later, UE took the lead on a jumper by Griffin that lifted the Aces in front, 23-22. A small 5-2 run from UIC to close the half would regain the lead for the Flames at the break, 27-25.
Coming out of the half, Evansville quickly took control of the game. The Aces scored six of the first seven points of the second half, sparked a three-pointer from Tomancova that game UE what would be its largest lead of the night at 31-28. A back-and-forth contest continued with the Flames answering the Aces with a three of their own to tie the game again at 31. Following the Aces three-point lead, UIC would catch fire and go on a 15-3 run, securing a 10-point lead with under two minutes left in the third frame. Again, Evansville would not let the UIC run grow any further, cutting its deficit in half to 44-39 heading into the fourth.
Evansville quickly got within three to start the final quarter, but each attempt by the Aces to close in any further was answered by a Flames basket. UE gave itself one last chance late as a layup from Griffin made it a one possession game with 1:12 left, but the Aces could not knock down a pair of attempts in the game's final 30 seconds as UIC held on for the 57-53 win.
The Aces will host an "orange out" as Evansville returns home for a Wednesday night matchup with Indiana State beginning at 6 PM inside Meeks Family Fieldhouse. The first 500 fans at Wednesday game will receive a free orange pom-pom to cheer on the Aces.
Submitted by Athletics
Strawbridge and Coleman lead Aces against Redbirds
Kenny Strawbridge Jr. and Marvin Coleman II recorded 16 points apiece to lead the University of Evansville men's basketball team in Saturday's 69-61 loss to Illinois State at the Ford Center.
Strawbridge hit five shots and led the way with three steals. Coleman also had five field goal makes in the contest while hauling in four rebounds. Antoine Smith Jr. totaled nine points while Gage Bobe checked in with eight. Preston Phillips had a team-best seven rebounds.
"Today was a hard-fought game. It was a game that we gave ourselves the opportunity to win," Purple Aces head coach David Ragland said. "Forcing 19 turnovers is great but not capitalizing on them is not. Making 29 trips to the free throw line is great but missing 11 is not. Credit goes to Illinois State for doing what they needed to win."
Kenny Strawbridge Jr. opened the scoring with Evansville taking a 3-0 lead. Over the first four minutes, Illinois State missed its first three field goal tries while turning it over four times. Once the Redbirds got on track, they reeled off seven in a row to take their first lead at 7-3. ISU continued to hold the lead until Strawbridge scored his second basket of the game to tie it at 12-12 just past the midway point of the half. Down 12-7, Chris Moncrief got the rally started with a 3-point play.
Connecting on four of their next five attempts, the Redbirds scored 10 in a row and pushed their lead into double figures for the first time at 22-12. Their lead would reach 11 when a pair of free throws made it a 30-19 game with 3:52 remaining in the half. The Aces took control in the final minutes, completing the period on a 12-4 run to make it a 34-31 score at the break. Gage Bobe got things rolling with his second triple of the game.
After a Preston Phillips bucket, the Redbirds called a time out and scored four of the next six points to stabilize a 34-26 edge with 84 ticks on the clock. Marvin Coleman II picked up his second field goal before the Aces forced a turnover on the in-bound. Strawbridge hit a free throw to make it a 5-point game and the defense got the job done once again. Forcing the 13th Redbird turnover of the half, Strawbridge took it the distance for a layup in the final seconds to make it a 34-31 game heading into the locker room.
Illinois State extended the lead back to seven points in the opening two minutes of the second half before Evansville fought back once again. Antoine Smith Jr. drained a 3-pointer and Coleman added four points to make it a 43-41 game in favor of the Redbirds as the contest entered its final 12 minutes.
Strawbridge capped off a 7-0 run with a trey that put the Aces back in front by one at the 11:27 mark before a Coleman triple with 9:45 remaining completed an 11-2 run that gave UE a 48-45 edge. Illinois State hit back-to-back shots to jump back in front and the teams would swap the lead multiple times down the stretch. Evansville took four leads over the next sequence but ISU fought back each time, leading to a 60-60 score with under three minutes remaining.
Knocking down 9 out of 10 attempts, the Redbirds answered each time before changing the course of the game with an 11-0 run that turned a 60-58 deficit into a 69-60 advantage in the final minute of play. They would take the game by a 69-61 final. ISU shot 48.0% in the game while holding the Aces to 37.5%. The Redbirds also outrebounded the Aces by a 37-24 margin.
On Wednesday, UE will be in Peoria, Ill. for a 7 p.m. game versus Bradley.
Submitted by Athletics
Evansville looks to finish weekend sweep at UIC on Sunday
Coming off a 57-45 win over Valparaiso on Thursday night, the University of Evansville women's basketball team closes its weekend trip up north with a Saturday afternoon matchup with UIC at 2 PM (CT) in Chicago, Ill.

Saturday's matchup will be the 15th all-time meeting between Evansville and UIC, but the first as conference foes, as UE owns a 9-5 advantage in the series.
The two sides last met inside Meeks Family Fieldhouse on Dec. 5, 2018 with the Flames capturing a 62-54 win.
UIC enters the weekend with an 8-6 overall mark, while still searching for their first MVC win with an 0-3 record in Valley play. The Flames are coming off a 59-48 loss to Indiana State on Thursday evening. The home side UIC is led by three double-figure scorers in Josie FIler, Jaide McCloud, and Ky Dempsey-Toney, who all average 10-or-more points and over five rebounds per game.
Evansville comes into the weekend finale following a 57-45 win over Valparaiso on Thursday, Evansville's first road win in MVC play since defeating Valpo on the road during the 2020-21 campaign. On Thursday evening, Evansville got a classic performance from senior guard/forward Abby Feit, who tallied 18 points and nine boards in the victory.
INFO: For all of the latest information on University of Evansville athletics, log on to the sport page on GoPurpleAces.com or follow the program on Twitter via @UEAthletics.
TICKETS: To purchase tickets for University of Evansville athletics events, log on to GoPurpleAces.com and click on the TICKETS tab on top of the page
SUPPORT: For information on giving to UE Athletics or its individual athletics programs, visit the SUPPORT tab on the top of GoPurpleAces.com.
Submitted by Athletics
Aces bring back the sleeves on Saturday
Another weekend home game for the University of Evansville men's basketball team features a match-up against Illinois State on Saturday afternoon inside the Ford Center. Tip is set for 1 p.m. CT with the Purple Aces Radio Network and ESPN+ having the coverage.
Sleeves are Back
- Most basketball fans associate sleeved uniforms with the Purple Aces and for the first time since December 15, 2018, UE will display its trademark look
Last Time Out
- A midweek trip to Missouri State saw the Bears defeat the Purple Aces by a final score of 85-62 on Wednesday
- Marvin Coleman II reset his career scoring high with 22 points while hitting 9 of his 15 attempts from the field
- Finishing with 18 points was Kenny Strawbridge Jr.
- MSU turned 16 offensive rebounds into 19 second-chance points while forcing 16 UE turnovers on the other end of the floor
He Did It Again
- Connecting on a career-best 9 field goal attempts, Marvin Coleman II scored his top collegiate total of 22 points on January 4 at Missouri State
- An unbelievable streak has seen the fifth-year player reach double figures in five of the last six games after reaching the mark just once in the opening 10 games; the recent streak has seen his average jump from 5.4 PPG to its current mark of 9.0
- It bested his old record of 18 points, which came earlier this season against Campbell
- Over the last six games, Coleman is 15.0 points while seeing at least 35 minutes of action in each of those contests
The Mark of Consistency
- Kenny Strawbridge Jr. scored 18 points while hitting 7 of his 9 free throw tries at Missouri State
- He continues to lead the Aces while sitting 8th in the MVC with his season average of 16.2 points per game
- Finishing with a game-high 22 points at Indiana State, he reached the 20-point mark for the 7th time this season
Scouting the Opponent
- Led by first-year head coach Ryan Pedon, Illinois state enters Saturday's game with a 6-10 mark along with a 1-4 MVC record
- On Wednesday, the Redbirds dropped a 76-67 home game against the conference-leading Sycamores
- Kendall Lewis has established himself as the top force for ISU
- Lewis paces the Redbirds with 11.3 points and 6.7 rebounds per game while shooting 45.8% from the field
- Darius Burford is the second Illinois State player to average double figures, posting 11.0 PPG
Submitted by Athletics
Contribute to AceNotes
To have content considered for inclusion in AceNotes, please submit a Marketing Request Form. Deadline for submission to AceNotes is 10:00 a.m. on the requested date of publication. Only articles concerning UE related/sponsored activities will be accepted. Articles submitted to AceNotes may be edited for length and clarity. Submitter contact information is at the end of each article.