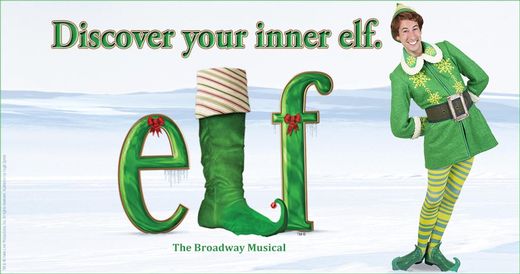 Thursday, December 22, 2022
Pre-show Dinner Reception is 6:00 – 7:15 p.m. CT
Performance 7:30 – 10:00 p.m. CT (including intermission)
The Fabulous Fox Theatre
527 North Grand Blvd.
St. Louis, MO 63103
On Thursday, December 22, we will be meeting at the Fabulous Fox Theatre to take in a really fun show together: ELF The Musical! We will also have an exclusive pre-show reception in the theatre's Marquee Room, with dinner, drinks, and dessert, where we can connect as Aces and chat before the performance. Tickets are $100, which will cover the performance, as well as dinner at the reception.
The holidays are a time for joining together and celebrating with one another, so we are inviting ALL members of the Aces family to this special event -- That means UE staff, UE alumni, current UE students, and even local high school students who have been accepted to the university! Friends and family are welcome to join, as well.
Our seats are located on the Orchestra Level - Section 2 - Rows EE, FF, GG. Once your tickets are reserved, we will print out hard copies and distribute them at the pre-show reception.
Please note there are a limited number of tickets available, so don't miss your chance to register!
For tickets, go to www.uealumnionline.com/2022ELF