| | |
| --- | --- |
| AceNotes Today | Monday, December 12, 2022 |
Purple Patrollers Needed!!
Purple Patrol will return for the Spring 2023 semester, and we need employees to sign up and volunteer! The first Purple Patrol of the semester will be Friday, January 13.
To sign up for Purple Patrol, visit SignUpGenius and enter your information (please mention the team/department you're signing up). We ask that you sign up for one slot only (for now) so all our departments and offices have a chance to help! If several spots are still unfilled, we welcome multiple signups.
If you have any questions, please contact Julie Beer at jb855.
Submitted by Julie Beer / jb855@evansville.edu
100's of Handcrafted Pottery Items at the UE Holiday Ceramics Sale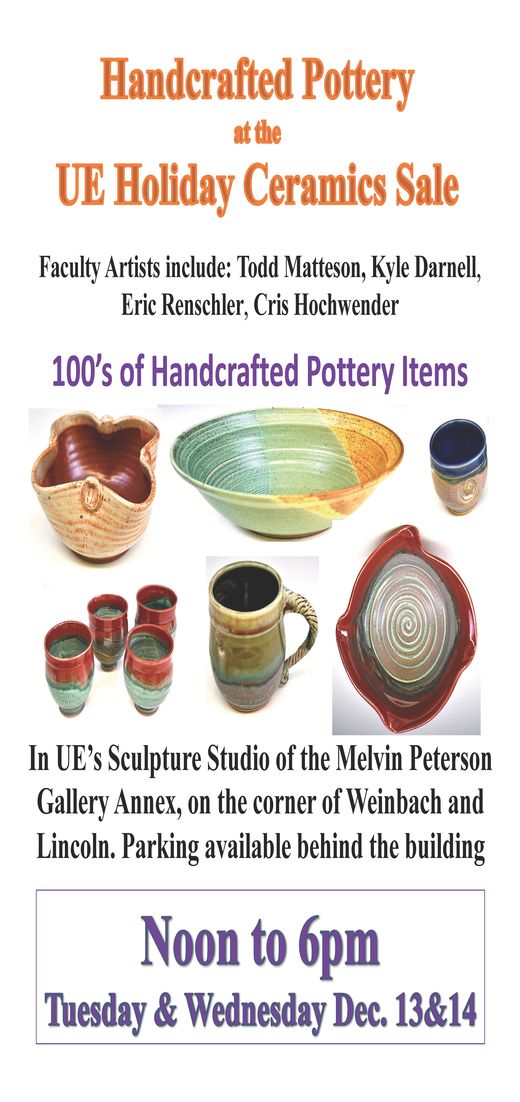 100's of Handcrafted Pottery Items at the UE Holiday Ceramics Sale
Noon to 6pm—Tuesday & Wednesday Dec. 13&14
In UE's Sculpture Studio of the Melvin Peterson Gallery Annex,
on the corner of Weinbach and Lincoln.
Parking available behind the building
Faculty Artists include:
Kyle Darnell
Todd Matteson
Eric Renschler
Cris Hochwender
Submitted by Cris Hochwender ch81@evansville.edu
"From the Ashes" YouTube Premiere - Monday, December 12
The campus community and public are invited to watch the YouTube Premiere of From the Ashes: The University of Evansville Purple Aces, a documentary by Joe Atkinson, Assistant Professor of Communication. The film will premiere at 7:00 p.m. on Monday, December 12, the evening before the 45th anniversary of the December 13 plane crash.

You can watch the premiere at evansville.edu/live.

On December 13, 1977, the plane carrying the UE Men's Basketball team to its game at Middle Tennessee State University crashed 90 seconds after takeoff, killing all 29 people on board. From the Ashes tells the story of the team Evansville lost that night – from its start as the University's first Division I basketball team through the school's effort to rebuild its program from the ashes of tragedy.
Submitted by Julie Beer / jb855@evansville.edu
45th Anniversary Services for the Dec. 13 Plane Crash
The University of Evansville will hold two services on Tuesday, December 13, to commemorate the 45th anniversary of the 1977 plane crash that tragically took 29 lives. The campus community and public are invited to partake in these services to honor the victims.
Daytime Service
Noon / Memorial Plaza
This service will include bagpipes by Tad Dickel, PhD; an invocation and message from Rev. Andy Payton, university chaplain; and the reading of the names and ringing of the peace bell for each victim. Afterwards, there will be a reception with hot drinks and refreshments in the Class of 1959 Gallery. Basketball game footage from the 1977 team, which has never been shown before, will also be on display.
Livestream: UE Alumni Association's Facebook page
Evening Service
7:00 p.m. / Neu Chapel
Rob Shelby, PhD, vice president for talent and community and chief inclusion and equity officer, will officiate the evening service. There will be special messages from Rev. Cindy Bumb '81, Mike Blake, and Curt Begle '99. At 7:22 p.m. - the same time that the plane crashed - a moment of silence will be observed.
Livestream: UE Music Conservatory's YouTube account
Submitted by Julie Beer / jb855@evansville.edu
Michele Adams Retirement Reception
The Office of Fiscal Affairs wishes to congratulate Michele Adams on her upcoming retirement. In her role as Executive Assistant, Michele has made innumerable contributions to the University of Evansville during her more than 20 years of service. Please join us as we honor Michele with a reception, details shown below. We hope to see you there!
Wednesday, December 14
3:00 - 4:30 PM
Olmsted Hall, First Floor Lobby
Submitted by Jenni Sauls js944@evansville.edu
It's Not Too Late to Register for Winter Intersession Courses
Get ahead by taking Winter Intersession online courses. Complete a missing required course, lighten your spring load, and take advantage of the winter break. Classes are held from December 16, 2022, through January 6, 2023. Students may take one class and register when registering for spring classes starting October 31, 2022.
For more information visit www.evansville.edu/wintersession.
Winter Intersession Course List: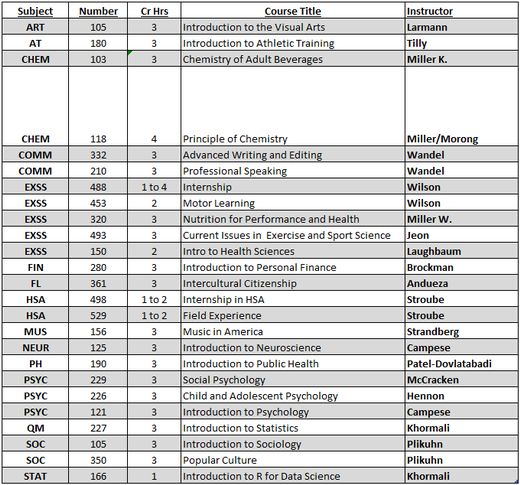 Submitted by Paula Heldt ph28@evansville.edu
Ace CARE Van Needs Volunteers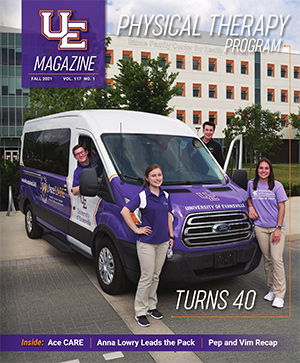 Ace CARE is a student-run organization that provides free physical therapy services to the uninsured and underinsured people of the Evansville community. This wonderful program allows students from the physical therapy, physician assistant, athletic training, and health science undergraduate degrees to get hands-on practice with patients while also providing health care to individuals who would not receive it otherwise!
Ace CARE has the amazing ability to provide a vulnerable community with transportation to and from their sessions on campus through the use of a van. There are even one to two physical therapy students riding along throughout the routes to help safely transfer patients into and out of the van. Currently, there is a need for more volunteers to donate their time, and help drive the van on Tuesday nights from 4 - 7:30pm. If you are interested or have any questions, please reach out to Dr. Schwartzkopf-Phifer at ks148@evansville.edu.
Come be a part of an organization that truly is changing lives and making the Evansville community a better place!
Submitted by Megan Fulhorst mf217@evansville.edu
Construction Notice for Ridgway Center
Questions or Concerns Regarding this Work:
Tony Holt: Manager of Campus Maintenance, 812-488-2730, th22@evansville.edu
Affected Dates:
Thursday, December 15, 2022 through
Friday, January 6, 2023
Description of Work:
A contractor will repair pipe and walls in the main restrooms on the first and second floors.
Impact for Occupants:
- Main restrooms will be unavailable for use during the entire shutdown period.
- There will be intermittent noise, dust, vibrations, and non-toxic odors associated with this project.
Action(s) Required:
- Please use caution near construction crews, equipment, and activity.
- Please follow posted signage and do not enter barricaded areas.
- Please use small restrooms on the second floor of Ridgway near the Center for Diversity, Equity and Inclusion; or find restrooms in adjacent buildings.
Thank you for your patience as we maintain our beautiful campus
To report a facilities emergency, call (812) 488-2775
Submitted by Mike Averett ma479@evansville.edu
Medical Profession Academy (MPA)
The Medical Professions Academy(MPA) is looking for 8th grade and 10th grade students in Vanderburgh and surrounding counties who are interested in science and medicine. The MPA is a half day program that is focused on preparing students for college by incorporating rigorous honors, AP, and dual credit classwork combined with unique community based experiences. The Medical Professions Academy offers students the ability to explore a large variety of different careers in science and medicine while also being a part of the broad range of activities offered at their traditional high school. Interested students and families can find more information and the application on our website. Applications are due December 16th. mpa.evscschools.com
Submitted by Melissa Edris me158@evansville.edu
Plant Sitting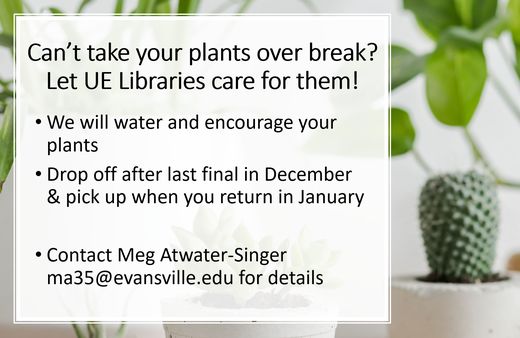 The library is offering to keep students' plants alive over the winter break if they cannot take them home. Contact Meg Atwater-Singer at ma35 for more information.
Submitted by Meg Atwater-Singer ma35@evansville.edu
Affordable Connectivity Program
The Department of Education has asked universities to communicate information about the government's Affordable Connectivity Program which provides eligible households (including Pell Grant households) a discount of up to $30 per month toward internet service and up to $75 per month for households on qualifying Tribal lands. Eligible households can also receive a one-time discount of up to $100 to purchase a laptop, desktop computer, or tablet from participating providers if they contribute more than $10 and less than $50 toward the purchase price.
For full eligibility requirements and the steps necessary to enroll in this program, please visit the Affordable Connectivity Program.
Submitted by Amy Sowders as560@evansville.edu
Latino ChangeLab and Department of Foreign Languages Advocate for Medical Professions Academy
On December 7, Imelda Salgado, a Medical Spanish minor, professors Lorena Andueza and Cindy Crowe, from the Department of Foreign Languages and Cultures, and Adriana Toribio, Health Access Advocate for Ascension St. Vincent, spoke to Latino 8th graders at Washington Middle School. After detailing the need for bilingual healthcare workers, they encouraged the students to attend the Medical Professions Academy and then enroll at UE to take advantage of the Medical Spanish minor. If you would like to get involved in helping our Hispanic community next semester through various projects, please contact Professor Crowe to learn more about the Latino Community Outreach ChangeLab (CHNG-310-S01)
Submitted by Cindy Crowe cc109@evansville.edu
Bailey Korschgen Creates UE's 2022 Holiday Card
Each year the UE president's family sends out a holiday card, and a student in the Department of Art provides the featured artwork. For the 2022 card, Bailey Korschgen's design was selected by President Pietruszkiewicz and his family. Congratulations to Bailey, who is a senior pre-art therapy student, for receiving this honor!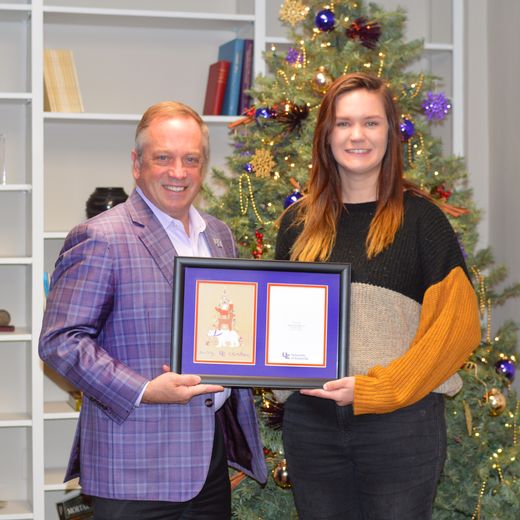 Here's a photo of Bailey's design up-close: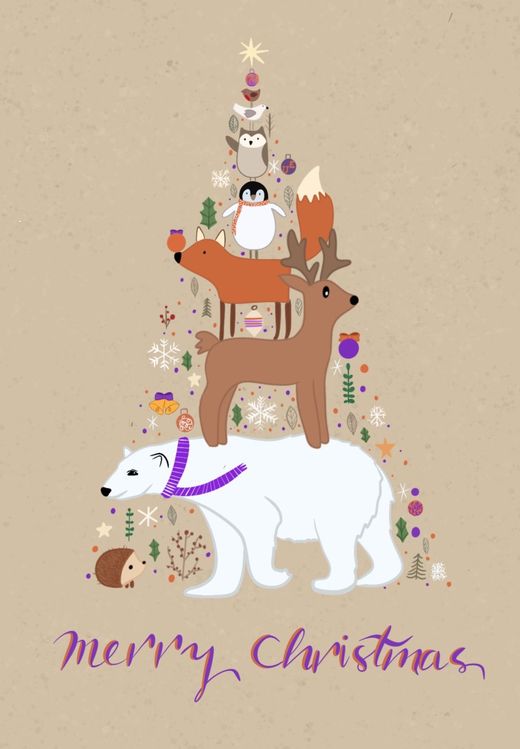 Submitted by Julie Beer / jb855@evansville.edu
Condolences to Dr. Ed Lacy
Beverly B. Lacy, 84, of Evansville, loving and beloved wife, mother, and grandmother, died on December 5, 2022, at the Linda E. White Hospice House in Evansville. She was born Beverly M. Broutin near Summit, Pike County, Mississippi on October 4, 1938, the daughter of Kressie L. Broutin and Velma Lee (White) Broutin. Her family moved to Sheffield, Alabama where she attended local public schools, graduating from Sheffield High School in 1956.
Beverly showed outstanding musical talent at an early age and began learning the piano at the age of five years. Later, she demonstrated equal interest and talent for the pipe organ. She attended Murray State University in Kentucky, earning the degree Bachelor of Music Education in 1960. Later, she became a graduate student at the University of Evansville, where she completed her Master of Music degree in Church Music and Organ in 1981.
While at Murray, she met her husband-to-be, Edwin Lacy, and theirs was to be a life-long loving partnership centered around their shared love of music, travel, and of their children and other family members.
She was a professional church organist for 60 years, playing for churches of nearly every denomination in Alabama, Kentucky, Illinois, West Virginia, Maine, and in England, eventually becoming the organist of the Methodist Temple in Evansville, where she served for 46 years.
Beverly was also a dedicated and skillful teacher. She began her career teaching music in Rockport, Indiana and then in Robinson, Illinois. In Evansville she taught at Totten Hall Nursery School (She was a genius at handling a class of 15 four-year-olds), at the Evansville Day School, and finally, for 11 years at Christ the King Elementary School. Throughout her life she maintained a class of private piano and organ students.
Beverly was preceded in death by her parents, Kressie L. and Velma White Broutin. She is survived by her husband of 62 years, Edwin V. Lacy, her sons, Edwin V. Lacy, III (Bridget) of St. Louis, MO, and Roger A. Lacy (Heather) of Bloomington, IN, her grandchildren, Victoria E. (Jacob Gabbard) of West Orange, New Jersey, Hoyt P. Lacy (Erika Hudson) of Stockholm, Sweden, and Katharine Lacy of Bloomington. Also surviving is her sister, Jacqueline Coons (Jim T. Coons) of Wesson, MS, nieces Jacqueline Lewis (Bruce) of Delhi, LA, nephew Robert Coons (Annette) of Fairfield Bay, AR, niece Beverly Lindsay (John) of Cleveland, MS, brother-in-law Norris Lacy (Susan) of State College, PA, and numerous cousins.
A celebration of life for family and friends will be held on December 28 from 3:00 p.m. to 5:00 p.m. at the Methodist Temple in Evansville. Memorial donations may be made to the Methodist Temple, 2109 Lincoln Avenue, Evansville, IN 47714.
Submitted by Amy Esche ae128@evansville.edu
Big second half lifts Ball State to win over UE basketball
Three days after setting his career scoring mark against Campbell, Marvin Coleman II had another strong effort, scoring 17 points as the University of Evansville men's basketball team fell by an 88-69 final to Ball State on Saturday inside Wortham Arena.
Coleman went 3-for-4 from outside while tying for the team lead with three assists and posting a team-best two steals. Kenny Strawbridge Jr. totaled 15 points and 8 rebounds while Antoine Smith Jr. drained four triples on his way to 14 points and 7 caroms. Preston Phillips tied his career scoring mark with 9 points while hauling in 9 boards.
"We knew we had to defend without fouling and it really set the tone. To give up 21 free throws in the first half, you tend to give up your aggression and we need to be more disciplined without fouling," UE head coach David Ragland explained. "We told our guys to do a better job of playing hands free. Over the last week, we have been able to be more diligent with our time and get extra shots up. It has helped to get extra rest and treatment."
Jaylin Sellers paced the Cardinals with 20 points on 6-of-9 shooting while Payton Sparks picked up a double-double. He registered 18 points and a game-high 12 rebounds. As a team, BSU was 31-of-40 from the line.
Strawbridge hit a jumper that gave Evansville a 3-0 lead to open the game. Ball State responded with eight in a row as a pair of triples found the bottom of the net to give them an 8-3 lead. Yacine Toumi ended the run when he drove to the basket for a field goal before the Cardinals added to the advantage.
Two free throws put BSU up 17-10 at the 12-minute mark before Evansville used the long ball to get right back in it. Preston Phillips and Antoine Smith Jr. drained back-to-back triples to make it a 1-point game. Over the next six minutes, Ball State slowly took control. Their defense held UE to 0-of-9 shooting with two turnovers. On the offensive end, BSU scored 11 in a row to go up 28-16 with five minutes to go in the half.
Marvin Coleman II hit his second triple of the day to cut into the deficit before the Cardinals pushed the lead to 42-28 at the break as they shot 50% including a 4-of-7 showing from outside.
Things continued to go Ball State's way in the second half as they scored eight of the first nine points before extending the lead to 22 when a triple made it 56-34 with just under 15 minutes remaining. Gabe Spinelli connected on the first 3-pointer of his career in the early moments of the period.
Evansville never gave up and shot its way back into contention. An 11-2 rally included a pair of 3-pointers from Smith along with five points from Coleman. His third triple of the afternoon made it a 58-45 game at the 11:45 mark. Ball State came back with five in a row and would see their lead grow even more.
Coleman knocked down two free throws following a BSU technical to temporarily stop the run, but the Cardinals continued to cruise. With under five minutes remaining, they went up by an 83-55 score. UE continued to battle back in the final minutes, getting as close as 16 (85-69) before the game finished with an 88-69 BSU victory.
Ball State shot 44.4% in the game while going 9-for-19 (47.4%) from outside. Evansville completed the day shooting 39.0% while going 9-of-18 from 3-point range.
With final exams set for this week, the Aces will have some time off before returning to the floor on December 21 with a home game against Bellarmine.
Submitted by Athletics
Men's basketball heads to Ball State
On Saturday, the University of Evansville men's basketball team travels to Muncie, Ind. for a non-conference game at Ball State. Tip is set for 1 p.m. CT with the Purple Aces Radio Network and ESPN+ having the coverage.
Last Time Out
- Down by six points with three minutes remaining, the Purple Aces outscored Campbell by a 16-4 margin to finish the game before earning a 72-66 win
- Wednesday's game against the Camels featured a season-high 19 lead changes
- Marvin Coleman II and Yacine Toumi each set their career highs with 18 points and interestingly enough - both were 7-for-11 from the floor
- Antoine Smith Jr. scored a season-high 15 points while hitting the triple that gave UE the lead for good
- Freshmen Gabe Spinelli (9 points) and Chris Moncrief (4 points) also had the top scoring games of their young careers
Clutch Hits
- With one minute remaining in the Dec. 7 game against Campbell, Antoine Smith Jr. drained a 3-pointer that gave the Aces a 66-64 lead that they would hang onto in a 72-66 win
- Smith completed the game with a season-high 15 points while draining 3 of his 4 outside attempts
- It was his second start of the season with his first being a 10-point game at UNI
- He has been on a roll of the last three games, averaging 12.3 points per game after recording a mark of 5.9 PPG through the opening eight contests
Back in the Fold
- Yacine Toumi missed the UNI game due to health protocols but returned with a vengeance against Campbell as he posted a career-high 18 points
- Toumi was 7-for-11 from the field while hauling in six rebounds
- The effort was his seventh double digit scoring performance in his 10 games
Locked In
- Marvin Coleman II enjoyed one his top collegiate games against Campbell as he set career-highs in scoring (18 points), field goals (7), triples (4) and minutes (38:20)
- It was his first double digit scoring game since opening the season with 11 at Miami
- Coleman entered the game hitting just two of his first 22 3-point tries but rebounded to hit 4 out of 7 against the Camels
- Over the last three games, Coleman has converted 14 out of 30 attempts (46.7%)...he opened the season hitting just 13 out of his first 70 field goal tries (18.6%)
- He is tied for 12th in the MVC with 6.2 rebounds and is tied for 16th with 2.7 assists per contest
Making Some Noise
- Every time freshman Chris Moncrief has taken the floor, he has evolved his game
- He enjoyed his best performance against Campbell where he hit both field goal attempts (including a dunk) while being credited with a pair of assists
- Moncrief has played 9 or more minutes in four of the last five games
Evolving his Game
- Gabe Spinelli has turned his season around over the last five games
- The freshman registered a career-high 9 points on 4-for-6 shooting versus Campbell and has averaged 5.8 points over the last five contests while hitting 14 of his 25 attempts (56.0%)
- In his first six games, Spinelli scored a total of 7 points (1.2 PPG) and hit 2 of his first 11 attempts
- His previous high of six points came against Fairfield and Southern Illinois
Scouting the Opponent
- Ball State sits at 5-4 on the season following a 76-59 road victory over Eastern Illinois on Wednesday
- The Cardinals are 2-0 at home with wins over Earlham and Indiana South Bend
- Four players average in double figures with Payton Sparks leading the way with 14.4 points per game while hitting 61.3% of his attempts
- Sparks also leads the squad with 7.9 rebounds per game
- Jarron Coleman is averaging 12.7 PPG and has a team-high 32 assists
- Jaylin Sellers and Demarius Jacobs have scoring marks of 12.3 and 12.2 PPG, respectively
Submitted by Athletics
Contribute to AceNotes
To have content considered for inclusion in AceNotes, please submit a Marketing Request Form. Deadline for submission to AceNotes is 10:00 a.m. on the requested date of publication. Only articles concerning UE related/sponsored activities will be accepted. Articles submitted to AceNotes may be edited for length and clarity. Submitter contact information is at the end of each article.