| | |
| --- | --- |
| AceNotes Today | Friday, December 9, 2022 |
Holiday Art Sale Hours Changed
The Holiday Art Sale in Ridgeway University Center will be held from 1:00PM - 4:00PM today.
Please stop by to shop for original art created by UE students.
Submitted by Carol McCraney cm177@evansville.edu
Purple Patrollers Needed!!
Purple Patrol will return for the Spring 2023 semester, and we need employees to sign up and volunteer! The first Purple Patrol of the semester will be Friday, January 13.
To sign up for Purple Patrol, visit SignUpGenius and enter your information (please mention the team/department you're signing up). We ask that you sign up for one slot only (for now) so all our departments and offices have a chance to help! If several spots are still unfilled, we welcome multiple signups.
If you have any questions, please contact Julie Beer at jb855.
Submitted by Julie Beer / jb855@evansville.edu
The Night It Rained Tears: Remembering the Victims
On December 13, 1977, a tragic plane crash took the lives of 29 members from both the UE community and the flight crew. We will hold both a daytime and evening service on Tuesday, December 13 to mark the 45th annivesary of this fateful evening. Until then, we encourage you to read each day about those who perished in the crash.
The flight crew included five individuals, who are included below:
Jim Stewart — President
Bill Hartford — General Manager
Paula Smith — Flight Attendant
Ty Van Pham — Pilot
Gaston Ruiz — First Officer
Submitted by Julie Beer / jb855@evansville.edu
"From the Ashes" YouTube Premiere - Monday, December 12
The campus community and public are invited to watch the YouTube Premiere of From the Ashes: The University of Evansville Purple Aces, a documentary by Joe Atkinson, Assistant Professor of Communication. The film will premiere at 7:00 p.m. on Monday, December 12, the evening before the 45th anniversary of the December 13 plane crash.

You can watch the premiere at evansville.edu/live.

On December 13, 1977, the plane carrying the UE Men's Basketball team to its game at Middle Tennessee State University crashed 90 seconds after takeoff, killing all 29 people on board. From the Ashes tells the story of the team Evansville lost that night – from its start as the University's first Division I basketball team through the school's effort to rebuild its program from the ashes of tragedy.
Submitted by Julie Beer / jb855@evansville.edu
45th Anniversary Services for the Dec. 13 Plane Crash
The University of Evansville will hold two services on Tuesday, December 13, to commemorate the 45th anniversary of the 1977 plane crash that tragically took 29 lives. The campus community and public are invited to partake in these services to honor the victims.
Daytime Service
Noon / Memorial Plaza
This service will include bagpipes by Tad Dickel, PhD; an invocation and message from Rev. Andy Payton, university chaplain; and the reading of the names and ringing of the peace bell for each victim. Afterwards, there will be a reception with hot drinks and refreshments in the Class of 1959 Gallery. Basketball game footage from the 1977 team, which has never been shown before, will also be on display.
Livestream: UE Alumni Association's Facebook page
Evening Service
7:00 p.m. / Neu Chapel
Rob Shelby, PhD, vice president for talent and community and chief inclusion and equity officer, will officiate the evening service. There will be special messages from Rev. Cindy Bumb '81, Mike Blake, and Curt Begle '99. At 7:22 p.m. - the same time that the plane crashed - a moment of silence will be observed.
Livestream: UE Music Conservatory's YouTube account
Submitted by Julie Beer / jb855@evansville.edu
Elf: The Musical at the Fabulous Fox Theatre in St. Louis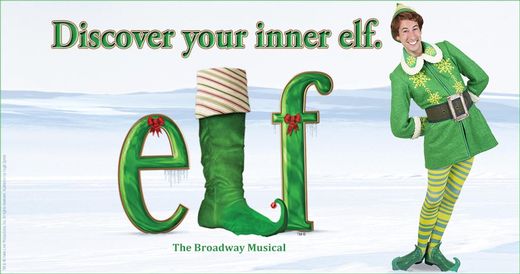 Thursday, December 22, 2022
Pre-show Dinner Reception is 6:00 – 7:15 p.m. CT
Performance 7:30 – 10:00 p.m. CT (including intermission)
The Fabulous Fox Theatre
527 North Grand Blvd.
St. Louis, MO 63103
On Thursday, December 22, we will be meeting at the Fabulous Fox Theatre to take in a really fun show together: ELF The Musical! We will also have an exclusive pre-show reception in the theatre's Marquee Room, with dinner, drinks, and dessert, where we can connect as Aces and chat before the performance. Tickets are $100, which will cover the performance, as well as dinner at the reception.
The holidays are a time for joining together and celebrating with one another, so we are inviting ALL members of the Aces family to this special event -- That means UE staff, UE alumni, current UE students, and even local high school students who have been accepted to the university! Friends and family are welcome to join, as well.
Our seats are located on the Orchestra Level - Section 2 - Rows EE, FF, GG. Once your tickets are reserved, we will print out hard copies and distribute them at the pre-show reception.
Please note there are a limited number of tickets available, so don't miss your chance to register!
For tickets, go to www.uealumnionline.com/2022ELF
Submitted by Jaime Wilder jw663@evansville.edu
It's Not Too Late to Register for Winter Intersession Courses
Get ahead by taking Winter Intersession online courses. Complete a missing required course, lighten your spring load, and take advantage of the winter break. Classes are held from December 16, 2022, through January 6, 2023. Students may take one class and register when registering for spring classes starting October 31, 2022.
For more information visit www.evansville.edu/wintersession.
Winter Intersession Course List: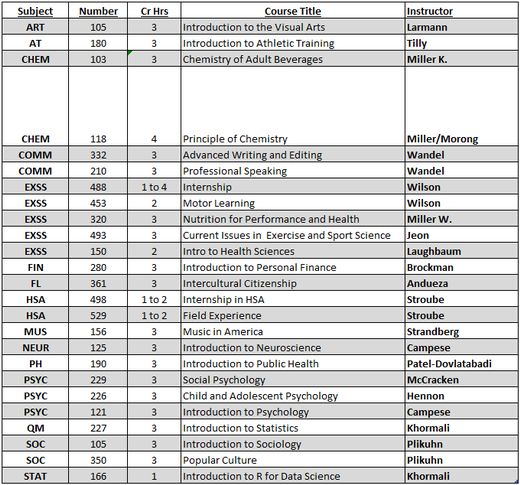 Submitted by Paula Heldt ph28@evansville.edu
Construction Notice for Ridgway Center
Questions or Concerns Regarding this Work:
Tony Holt: Manager of Campus Maintenance, 812-488-2730, th22@evansville.edu
Affected Dates:
Thursday, December 15, 2022 through
Friday, January 6, 2023
Description of Work:
A contractor will repair pipe and walls in the main restrooms on the first and second floors.
Impact for Occupants:
- Main restrooms will be unavailable for use during the entire shutdown period.
- There will be intermittent noise, dust, vibrations, and non-toxic odors associated with this project.
Action(s) Required:
- Please use caution near construction crews, equipment, and activity.
- Please follow posted signage and do not enter barricaded areas.
- Please use small restrooms on the second floor of Ridgway near the Center for Diversity, Equity and Inclusion; or find restrooms in adjacent buildings.
Thank you for your patience as we maintain our beautiful campus
To report a facilities emergency, call (812) 488-2775
Submitted by Mike Averett ma479@evansville.edu
Medical Profession Academy (MPA)
The Medical Professions Academy(MPA) is looking for 8th grade and 10th grade students in Vanderburgh and surrounding counties who are interested in science and medicine. The MPA is a half day program that is focused on preparing students for college by incorporating rigorous honors, AP, and dual credit classwork combined with unique community based experiences. The Medical Professions Academy offers students the ability to explore a large variety of different careers in science and medicine while also being a part of the broad range of activities offered at their traditional high school. Interested students and families can find more information and the application on our website. Applications are due December 16th. mpa.evscschools.com
Submitted by Melissa Edris me158@evansville.edu
Holiday Art Sale Today
The Holiday Art Sale will be held TODAY, Friday December 9, in Ridgeway University Center from 9:00AM - 4:00PM.
Original art created by UE Art Department students and faculty will include ceramics, prints, drawings, and paintings. Please come by to shop for holiday gifts or to add to you personal collection.
Submitted by Carol McCraney cm177@evansville.edu
Spring Meal Plan Changes
Students can adjust meal plans for the Spring semester until Friday, January 13, 2023 at 5:00 p.m.
Submitted by Brian Conner bc32@evansville.edu
Latino ChangeLab and Department of Foreign Languages Advocate for Medical Professions Academy
On December 7, Imelda Salgado, a Medical Spanish minor, professors Lorena Andueza and Cindy Crowe, from the Department of Foreign Languages and Cultures, and Adriana Toribio, Health Access Advocate for Ascension St. Vincent, spoke to Latino 8th graders at Washington Middle School. After detailing the need for bilingual healthcare workers, they encouraged the students to attend the Medical Professions Academy and then enroll at UE to take advantage of the Medical Spanish minor. If you would like to get involved in helping our Hispanic community next semester through various projects, please contact Professor Crowe to learn more about the Latino Community Outreach ChangeLab (CHNG-310-S01)
Submitted by Cindy Crowe cc109@evansville.edu
Bailey Korschgen Creates UE's 2022 Holiday Card
Each year the UE president's family sends out a holiday card, and a student in the Department of Art provides the featured artwork. For the 2022 card, Bailey Korschgen's design was selected by President Pietruszkiewicz and his family. Congratulations to Bailey, who is a senior pre-art therapy student, for receiving this honor!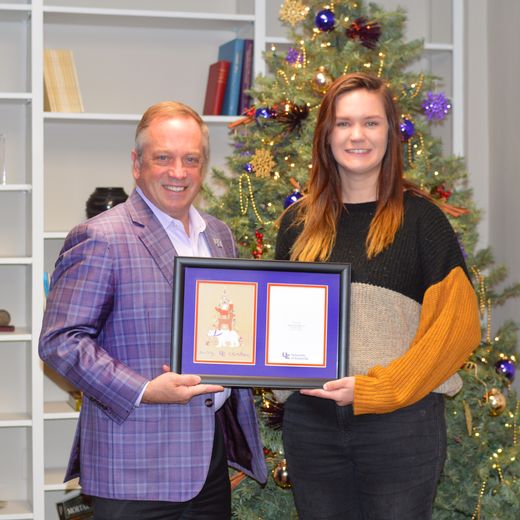 Here's a photo of Bailey's design up-close: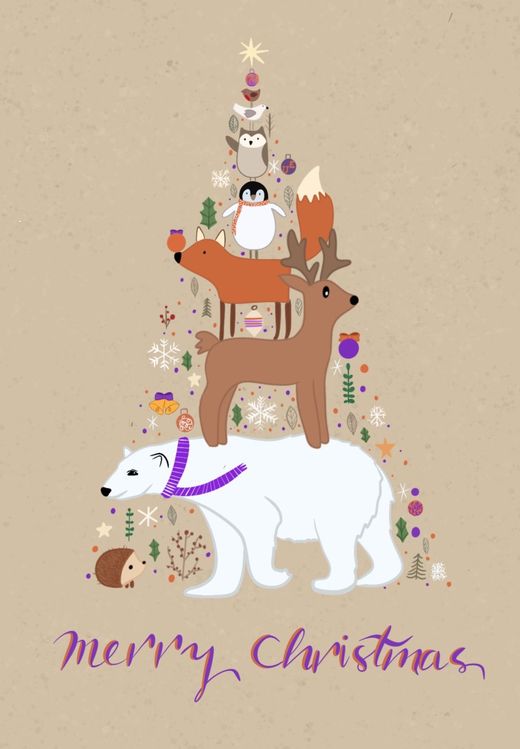 Submitted by Julie Beer / jb855@evansville.edu
Condolences to Dr. Ed Lacy
Beverly B. Lacy, 84, of Evansville, loving and beloved wife, mother, and grandmother, died on December 5, 2022, at the Linda E. White Hospice House in Evansville. She was born Beverly M. Broutin near Summit, Pike County, Mississippi on October 4, 1938, the daughter of Kressie L. Broutin and Velma Lee (White) Broutin. Her family moved to Sheffield, Alabama where she attended local public schools, graduating from Sheffield High School in 1956.
Beverly showed outstanding musical talent at an early age and began learning the piano at the age of five years. Later, she demonstrated equal interest and talent for the pipe organ. She attended Murray State University in Kentucky, earning the degree Bachelor of Music Education in 1960. Later, she became a graduate student at the University of Evansville, where she completed her Master of Music degree in Church Music and Organ in 1981.
While at Murray, she met her husband-to-be, Edwin Lacy, and theirs was to be a life-long loving partnership centered around their shared love of music, travel, and of their children and other family members.
She was a professional church organist for 60 years, playing for churches of nearly every denomination in Alabama, Kentucky, Illinois, West Virginia, Maine, and in England, eventually becoming the organist of the Methodist Temple in Evansville, where she served for 46 years.
Beverly was also a dedicated and skillful teacher. She began her career teaching music in Rockport, Indiana and then in Robinson, Illinois. In Evansville she taught at Totten Hall Nursery School (She was a genius at handling a class of 15 four-year-olds), at the Evansville Day School, and finally, for 11 years at Christ the King Elementary School. Throughout her life she maintained a class of private piano and organ students.
Beverly was preceded in death by her parents, Kressie L. and Velma White Broutin. She is survived by her husband of 62 years, Edwin V. Lacy, her sons, Edwin V. Lacy, III (Bridget) of St. Louis, MO, and Roger A. Lacy (Heather) of Bloomington, IN, her grandchildren, Victoria E. (Jacob Gabbard) of West Orange, New Jersey, Hoyt P. Lacy (Erika Hudson) of Stockholm, Sweden, and Katharine Lacy of Bloomington. Also surviving is her sister, Jacqueline Coons (Jim T. Coons) of Wesson, MS, nieces Jacqueline Lewis (Bruce) of Delhi, LA, nephew Robert Coons (Annette) of Fairfield Bay, AR, niece Beverly Lindsay (John) of Cleveland, MS, brother-in-law Norris Lacy (Susan) of State College, PA, and numerous cousins.
A celebration of life for family and friends will be held on December 28 from 3:00 p.m. to 5:00 p.m. at the Methodist Temple in Evansville. Memorial donations may be made to the Methodist Temple, 2109 Lincoln Avenue, Evansville, IN 47714.
Submitted by Amy Esche ae128@evansville.edu
UE Volleyball announces signees for 2023
Weeks after announcing the addition of one of the top 100 high school players in the nation for the second year in a row, University of Evansville head volleyball coach Fernando Morales has announced the signing six additional student-athletes to National Letters of Intent. This group joins middle blocker Chloe Cline, who was a high school teammate of Evansville's Kora Ruff.
Carlotta Pascual – Pin Hitter/ Middle Blocker – Mount Vernon, Ind.
Originally from Spain, Carlotta Pascual makes the quick trip to Evansville from Mount Vernon, Ind. She recently completed her senior season at Mount Vernon HS where she put up solid numbers to wrap up her high school career. Her father Rafael Pascual was named the MVP of the 1998 FIVB Volleyball Men's World Championship.
Coach Morales on Pascual
"She is a very talented player that can play multiple positions and will grow a lot here in our program."

Ainoah Cruz – Libero – Arecibo Puerto Rico
Regarded as her age group's top libero in Puerto Rico, Cruz has worked with the Puerto Rico National Team program and was on the U-19 National Team. Last month, she won the National High School Championship in Puerto Rico. Her club team – Capitanas – finished in third place at the AAU National Championship last year in Orlando.
Coach Morales on Cruz
"Ainoah will come to give us depth in the libero position. She is a very skilled player and dominates all techniques of her position."

Luana Kuhn – Outside Hitter - Brazil
Kuhn joins the Purple Aces program from Brazil. She was named her age group's best outside hitter in her state on multiple occasions. Kuhn brings a wealth of experience to the UE program given her age.
Coach Morales on Kuhn
"Luana is a very well-rounded player that dominates all the skills. She brings the international experience and will be a contributor to our team from day one."

Angelica Gonzalez – Outside Hitter – Puerto Rico
Gonzalez has a family history with the sport of volleyball in Puerto Rico. Both of her parents played at the professional level and for the National Team. They were each regarded as the top blockers in Puerto Rico professional league history at one point in their careers. Angelica has developed her volleyball career between Florida and Georgia where she played on some of the top club teams in the area. Gonzalez was selected to the Georgia High School All-State Team. She completed her high school career with Lassiter HS in Marietta, Ga.
Coach Morales on Gonzalez
"She has been getting better every year and is a big threat on the net both hitting and blocking."

Lexi Owen – Setter – Owensboro, Ky.
Owen is regarded as one of the top setters in the area and enjoyed an excellent club season in 2021-22. That success translated into her senior season at Daviess County HS. She was recently named an All-County First Team player.
Coach Morales on Owen
"She will give us a lot of depth in the setting position and her competitiveness will make everyone better in our team."
Holland Morris – Pin Hitter/Middle Blocker – Florence, Ky.
Holland is a native of Florence, Ky. who played at Randall K. Cooper High School. She is a versatile player who can play multiple positions including middle blocker, defensive specialist, right side and outside. Morris was named to the 2022 AVCA All-American Watch List and was an All-Region Honorable Mention in 2021.
Coach Morales on Morris
"Holland is a very hard-working player always looking to get better. She will bring a lot to our practices and will give us a lot because she can play in multiple spots. Her abilities increase the depth of our team while giving us multiple options."
Submitted by Athletics
Rollett's Second-Place Showing Highlights Day For UE Divers At IUPUI
University of Evansville junior Madison Rollett (Evansville, Ind./Reitz) posted a second-place showing in the women's one-meter competition on Thursday to highlight the Purple Aces' day in a diving-only dual-meet with IUPUI at the IUPUI Natatorium in Indianapolis, Indiana.
Rollett came just points shy of setting a personal-best score in the one-meter competition with a score of 251.70 to place second on the one-meter boards. She was edged by IUPUI junior Sadie Smith, who posted an NCAA Zone cut mark of 267.23 to win the one-meter competition. UE sophomore Valorie Marx (Evansville, Ind./Reitz) finished eighth in the one-meter competition with a score of 182.63.
In the women's three-meter competition, Rollett finished fifth in a tightly-contested meet in which first through fifth place was separated by just over 25 points. Rollett recorded a score of 233.70 to place fifth, while IUPUI's Isabella Smith won the competition with a score of 259.13. Marx once again posted an eighth-place finish with a score of 185.25 on the three-meter boards.
On the men's side, freshman Levi McKinney (Boonville, Ind./Boonville) recorded a pair of fourth-place finishes against the Jaguars. In the one-meter competition, McKinney recorded a score of 203.93 to place fourth. Meanwhile, in the three-meter competition, McKinney posted a score of 260.10 to place fourth, finishing just six points shy of third place, and 15 points out of second. IUPUI's Adam Schmehl swept both the one-meter and three-meter competitions on the men's side.
Thursday's meet concludes the fall portion of the schedule for the University of Evansville swimming and diving programs. The Purple Aces will return to action next on Saturday, January 14 when UE hosts Missouri State, UIC and Bellarmine on "Senior Day" at the Deaconess Aquatic Center in Evansville.
Submitted by Athletics
Contribute to AceNotes
To have content considered for inclusion in AceNotes, please submit a Marketing Request Form. Deadline for submission to AceNotes is 10:00 a.m. on the requested date of publication. Only articles concerning UE related/sponsored activities will be accepted. Articles submitted to AceNotes may be edited for length and clarity. Submitter contact information is at the end of each article.