| | |
| --- | --- |
| AceNotes Today | Thursday, December 8, 2022 |
Purple Patrollers Needed!!
Purple Patrol will return for the Spring 2023 semester, and we need employees to sign up and volunteer! The first Purple Patrol of the semester will be Friday, January 13.
To sign up for Purple Patrol, visit SignUpGenius and enter your information (please mention the team/department you're signing up). We ask that you sign up for one slot only (for now) so all our departments and offices have a chance to help! If several spots are still unfilled, we welcome multiple signups.
If you have any questions, please contact Julie Beer at jb855.
Submitted by Julie Beer / jb855@evansville.edu
SAA Meeting, Decorating Contest, & Reception
SAA will be having an end of year meeting and Holiday Reception at 2:00pm on Friday, December 16th.
The meeting will last about a half an hour, followed by a reception and recognition of the Holiday Decorating Contest participants and winners.
For more info regarding the decorating contest, please see below.
It's not too late to decorate!
The UESAA social committee is hosting a decorating contest for all employee areas across campus for the upcoming holiday season.
Dates to decorate: November 28 – December 8
Photos will be posted to UE Positively Purple on December 9th. Late submissions will still be considered.
Join us for a 30 minute holiday reception following the SAA Meeting on December 16th, in Eykamp, for voting and to announce the winners.
Decorate your office, department, cubicle, etc and then submit a picture to ll138@evansville.edu for a chance to win lunch for your team. The winners will be announced at the December 16th reception.
The SAA Social Committee encourages you to take a holiday stroll around campus and enjoy all the wonderful decorations!
Submitted by Rebecca Oates ro32@evansville.edu
"From the Ashes" YouTube Premiere - Monday, December 12
The campus community and public are invited to watch the YouTube Premiere of From the Ashes: The University of Evansville Purple Aces, a documentary by Joe Atkinson, Assistant Professor of Communication. The film will premiere at 7:00 p.m. on Monday, December 12, the evening before the 45th anniversary of the December 13 plane crash.

You can watch the premiere at evansville.edu/live.

On December 13, 1977, the plane carrying the UE Men's Basketball team to its game at Middle Tennessee State University crashed 90 seconds after takeoff, killing all 29 people on board. From the Ashes tells the story of the team Evansville lost that night – from its start as the University's first Division I basketball team through the school's effort to rebuild its program from the ashes of tragedy.
Submitted by Julie Beer / jb855@evansville.edu
Holiday Art Sale
The Holiday Art Sale will be held in Ridgeway University Center on Thursday 12/8 and Friday 12/9 from 9:00 AM - 4:00 PM. Original art created by UE Art Department students and faculty will include ceramics, prints, drawings, and paintings. Please come by to shop for holiday gifts or to add to your personal collection.
Submitted by Carol McCraney cm177@evansville.edu
Pottery Sale: Save the Date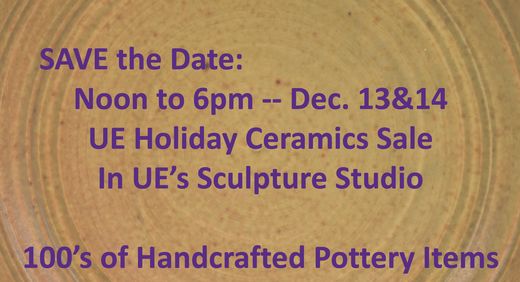 SAVE the Date:
Noon to 6pm -- Dec. 13&14
UE Holiday Ceramics Sale
In UE's Sculpture Studio
100's of Handcrafted Pottery Items
Submitted by Cris Hochwender ch81@evansville.edu
Read & Study Day Relaxation Event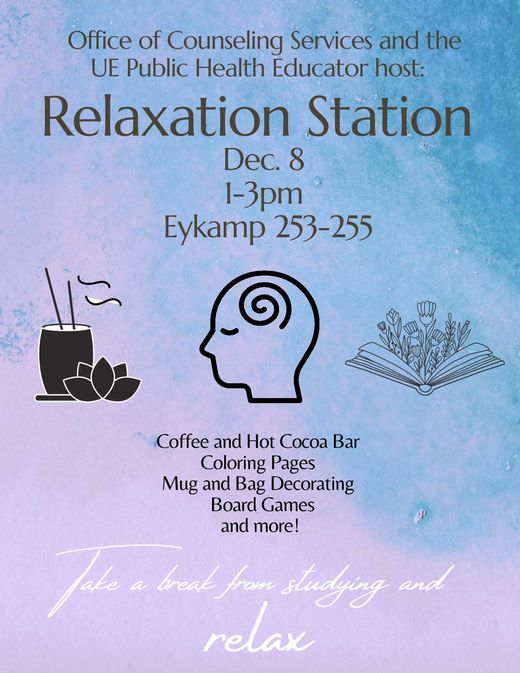 The annual Relaxation Station will be Dec. 8 from 1-3pm in Eykamp 253-255.
There will be a Coffee and Hot Cocoa Bar, Coloring Pages, Mug and Bag Decorating, Board Games, and more!... Also, there will be prizes! Just swing by and enjoy the last day before finals!
Take a break from studying and RELAX!
Submitted by Blake Johnson bj109@evansville.edu
45th Anniversary Services for the Dec. 13 Plane Crash
The University of Evansville will hold two services on Tuesday, December 13, to commemorate the 45th anniversary of the 1977 plane crash that tragically took 29 lives. The campus community and public are invited to partake in these services to honor the victims.
Daytime Service
Noon / Memorial Plaza
This service will include bagpipes by Tad Dickel, PhD; an invocation and message from Rev. Andy Payton, university chaplain; and the reading of the names and ringing of the peace bell for each victim. Afterwards, there will be a reception with hot drinks and refreshments in the Class of 1959 Gallery. Basketball game footage from the 1977 team, which has never been shown before, will also be on display.
Livestream: UE Alumni Association's Facebook page
Evening Service
7:00 p.m. / Neu Chapel
Rob Shelby, PhD, vice president for talent and community and chief inclusion and equity officer, will officiate the evening service. There will be special messages from Rev. Cindy Bumb '81, Mike Blake, and Curt Begle '99. At 7:22 p.m. - the same time that the plane crashed - a moment of silence will be observed.
Livestream: UE Music Conservatory's YouTube account
Submitted by Julie Beer / jb855@evansville.edu
Pancakes Are Coming: Pancake Study Break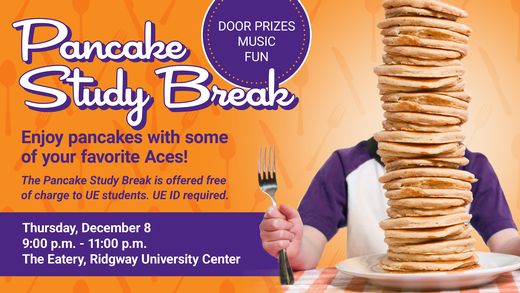 Finals are coming up - but so are pancakes! Take a break from studying for finals to join some of your favorite Aces at the Pancake Study Break! This event is free of charge for UE students. A UE ID is required. Pancakes and more will be available on Reading-Study Day - Thursday, December 8 - from 9:00-11:00 p.m. in The Eatery in Ridgway University Center. There will also be drawings for prizes - so don't miss out! A valid UE ID is required to enter.
Submitted by Chad Hart ch299@evansville.edu
Free Paper Shredding on Thursday, December 8
Free off-site paper shredding by Piranha Mobile Shredding will return to campus once again December 8 (Reading Study Day) from 10:00 a.m. - 1:00p.m. All UE students, faculty, staff, and alumni can take advantage of this free service by bringing paper to the Piranha truck in Koch Center for Engineering and Science parking lot. Paper will be shredded off-site. We will place bins along the parking lot to allow each person to empty their own material.
So, if mounds of paper are taking over your office, home, or room, this is the time to gather those old files, receipts, cancelled checks, tax forms, etc. No need to take out the staples or paper clips. Avoid identity theft by having confidential information permanently destroyed.
Please - no telephone books, magazines, or newspapers. Also, please note that there is a 100-pound paper limit per visit (number of visits is not limited).
Submitted by Amber Elkins ae152@evansville.edu
Michele Adams Retirement Reception
The Office of Fiscal Affairs wishes to congratulate Michele Adams on her upcoming retirement. In her role as Executive Assistant, Michele has made innumerable contributions to the University of Evansville during her more than 20 years of service. Please join us as we honor Michele with a reception, details shown below. We hope to see you there!
Wednesday, December 14
3:00 - 4:30 PM
Olmsted Hall, First Floor Lobby
Submitted by Jenni Sauls js944@evansville.edu
Art Exhibit "Reflections" in Melvin Peterson Gallery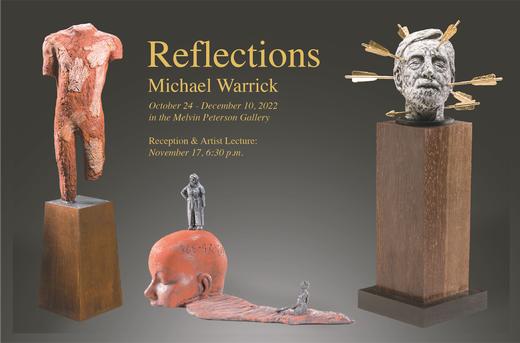 The University of Evansville presents "Reflections", an exhibit by Michael Warrick, on display at the Melvin Peterson Gallery through Saturday, December 10.
All are welcome to attend the reception and artist lecture on Thursday, November 17 at 6:30 PM in the Melvin Peterson Gallery.
The exhibit and reception are part of the Emerging Contemporary Artist Lecture Series sponsored by the Efroymson Family Fund and the UE Department of Art.
The hours for the Melvin Peterson Gallery are Monday 12–3pm; Tuesday 12–3pm; Wednesday 12–6pm; Thursday 12–6pm; Friday 12–3pm; and Saturday 12–3pm.
Submitted by Carol McCraney cm177@evansville.edu
Construction Notice for Ridgway Center
Questions or Concerns Regarding this Work:
Tony Holt: Manager of Campus Maintenance, 812-488-2730, th22@evansville.edu
Affected Dates:
Thursday, December 15, 2022 through
Friday, January 6, 2023
Description of Work:
A contractor will repair pipe and walls in the main restrooms on the first and second floors.
Impact for Occupants:
- Main restrooms will be unavailable for use during the entire shutdown period.
- There will be intermittent noise, dust, vibrations, and non-toxic odors associated with this project.
Action(s) Required:
- Please use caution near construction crews, equipment, and activity.
- Please follow posted signage and do not enter barricaded areas.
- Please use small restrooms on the second floor of Ridgway near the Center for Diversity, Equity and Inclusion; or find restrooms in adjacent buildings.
Thank you for your patience as we maintain our beautiful campus
To report a facilities emergency, call (812) 488-2775
Submitted by Mike Averett ma479@evansville.edu
Introducing Youth Programs
The Office of Youth Programs is new to the University of Evansville and has been established to help create pipelines to youth in our community. We strive to create programming that will create a spark in youth to consider and obtain a college education. We have partnered with local youth-serving organizations such as Potter's Wheel, Dream Center, YMCA, and Boys & Girls Club to bring middle and high school youth to campus. We are currently running our UE Explorers After-School Program. This is a once-a-month program where students from our partner organizations come to campus to meet with academic faculty to learn about a specific academic area and then have dinner in The Eatery.
We also plan to offer summer camps for the upcoming Summer 2023. We plan to offer camps in the following areas: STEM, ART, MUSIC, DANCE, and our first PRIDE Camp! Camps will either be daily or residential. More information regarding summer camps will be available in February 2023. As we expand our programming, we are looking for academic areas to partner with and UE students to volunteer to help with the programming. If you are interested, please contact Apryl Weatherford (Director of Youth Programs) at aw605@evansville.edu and/or Rachel Roscoe (Youth Programs and Special Events Coordinator) at rr209@evansville.edu. More information about Youth Programs can be found at: Youth Programs - University of Evansville.
Here are a few pictures from our UE Explorers session with the College of Education!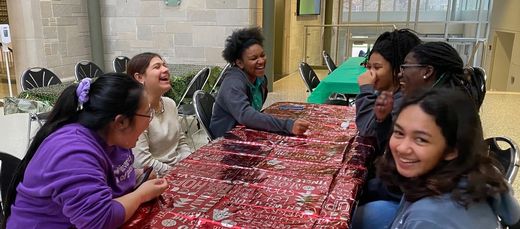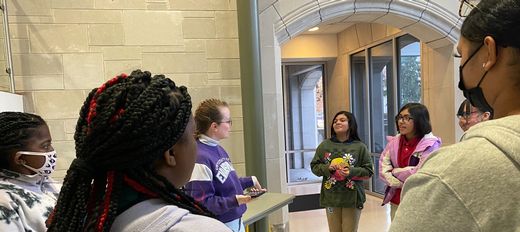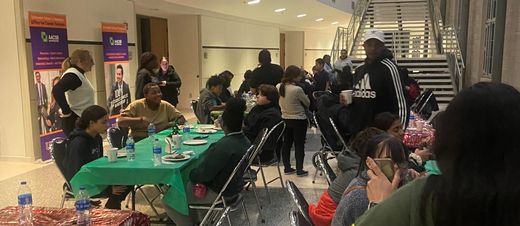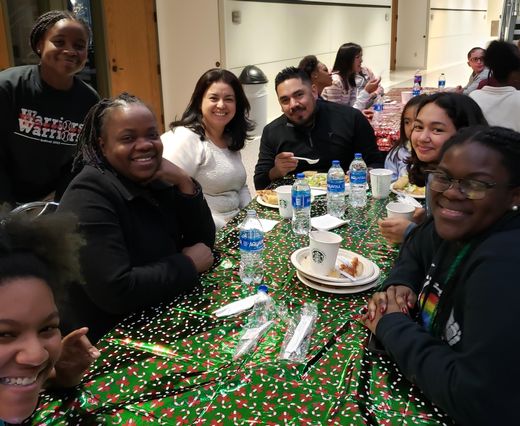 Submitted by Rachel Roscoe rr209@evansville.edu
Plant Sitting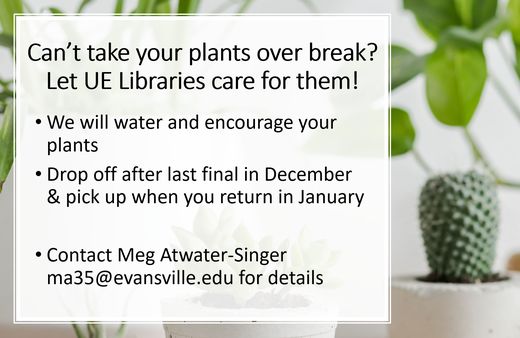 The library is offering to keep students' plants alive over the winter break if they cannot take them home. Contact Meg Atwater-Singer at ma35 for more information.
Submitted by Meg Atwater-Singer ma35@evansville.edu
The Night It Rained Tears: Remembering the Victims
On December 13, 1977, a tragic plane crash took the lives of 29 members from both the UE community and the flight crew. We will hold both a daytime and evening service on Tuesday, December 13 to mark the 45th annivesary of this fateful evening. Until then, we encourage you to read each day about those who perished in the crash.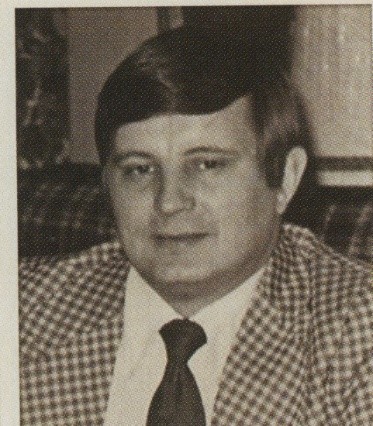 Maurice King
Maurice King was a Purple Aces booster. He was very active in the West Side Nut Club. He entered into a partnership in Moutoux Furniture in 1974.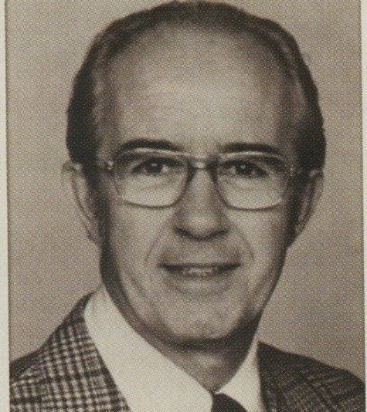 Charles Goad
Charles Goad was an Evansville Aces fan who was one of the owners of Goad Equipment Company. He was also a deacon at First Christian Church and a member of Turners, the Eagles, and Kiwanis Club.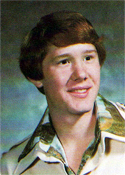 David Furr
David Furr was a freshman from Olney, Illinois. He was not on the plane that evening, but he died two weeks later in an automobile accident with his brother, Byron Furr, 16. He was pledged to Sigma Phi Epsilon Fraternity and was a member of the Methodist Temple in Evansville, IN. David was an All-Southern Illinois selection, played on the Tigers baseball team, and was a member of the National Honor Society.
Submitted by Julie Beer / jb855@evansville.edu
Bailey Korschgen Creates UE's 2022 Holiday Card
Each year the UE president's family sends out a holiday card, and a student in the Department of Art provides the featured artwork. For the 2022 card, Bailey Korschgen's design was selected by President Pietruszkiewicz and his family. Congratulations to Bailey, who is a senior pre-art therapy student, for receiving this honor!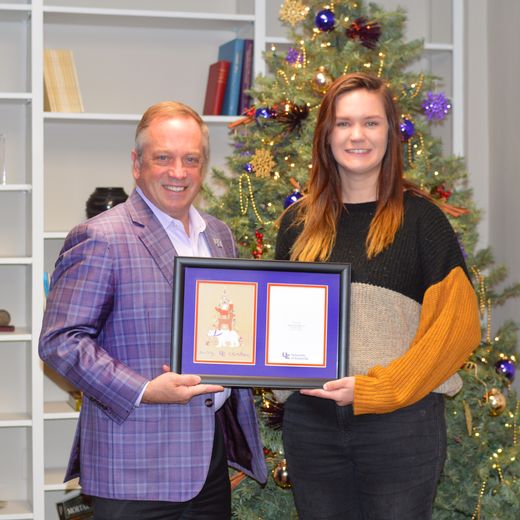 Here's a photo of Bailey's design up-close: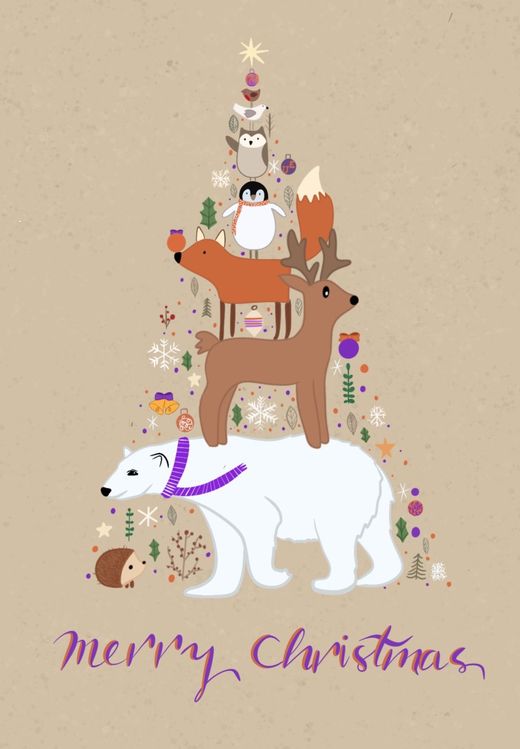 Submitted by Julie Beer / jb855@evansville.edu
Congratulations
Congratulations to Jade Shelby on her promotion from Records & Registration Specialist to Academic Advisor.
Jade thanks everyone she's worked with for making this shift possible and for all of the support!
All new registration changes/inquiries will need to be emailed directly to academicservices@evansville.edu. Thank-you and Congratulations!
Submitted by Academic Services
Diaz highlights four Aces selected to United Soccer Coaches all-region teams
After a resurgent season that saw the Aces reach their second-straight MVC Championship Final, the University of Evansville men's soccer team placed four student-athletes on the United Soccer Coaches all-region teams, it was announced in a release from the organization on Wednesday morning.
Leading the way for Evansville was freshman forward Nacho Diaz, who received first-team all-West region honors. Coming to Evansville from Almeria, Spain, Diaz made an immediate impact on the team and the conference. The MVC's league leader with nine goals and 21 points, Diaz tallied two goals in a game three times this season and recorded a pair of game-winning goals. In the Missouri Valley Conference postseason awards, Diaz was named MVC Freshman of the Year and was selected to the league's all-conference first team and all-freshman team.
Capturing second team all-region honors, graduate goalkeeper Alex Vidizzoni proved to be a force in goal for the Aces this season. The Codroipo, Italy native recorded eight shutouts on the year, putting him inside the top 10 in both single-season and career shutouts despite playing just 17 matches in the white and purple. Vidizzoni was in goal for each of Evansville's eight wins and ended the year with a 0.88 goals-against average. For his efforts, Vidizzoni was selected as second team all-MVC by the Conference.
Earning third team all-region recognition were senior defender Ethan Garvey and sophomore midfielder Jose Vivas. In his fourth year anchoring the Aces backline, Garvey helped Evansville to eight wins in 2022, while limiting opposing attacks to just 0.95 goals per game. In the midfield, Vivas was one of the driving forces behind a resurgent Evansville offense, scoring four goals and dishing-out three assists as UE amassed 24 goals on the season.
The four all-region honorees for the Aces are the most since Evansville also earned four all-region selection following the 2009 campaign. In all, 13 student-athletes from the MVC were selected to their respective all-region teams with a league-best four coming from Missouri State and UE.
Submitted by Athletics
Aces close Kentucky road trip on Thursday at Bellarmine
Closing-out its road slate in 2022, the University of Evansville women's basketball makes the short trip to the Derby City to face Bellarmine at 5:30 PM (CT) on Thursday evening at Freedom Hall in Louisville.
Thursday night marks the fifth all-time meeting between the Aces and Knight with each side capturing two matchups in series history. The two sides are meeting for the third straight year with Evansville having won the last two contests, including last year's meeting in Freedom Hall, 89-83. Evansville and Bellarmine enter Thursday night's matchup coming-off of playing the same opponent last. UE earned a 75-65 win over Morehead State on Friday evening, while Bellarmine dropped a road game with the Eagles, 63-59, on Sunday afternoon. The Knights enter the midweek clash with a 2-6 record, but have a 1-0 record in games played at Freedom Hall. Through six games, Evansville has recorded a pair of road wins, tied for the most in a single-season by the Aces since the 2016-17 season when UE captured five road victories.
Senior guard/forward Abby Feit has been on a tear of late, jumping to the top of the Aces scoring list. Feit leads the team averaging 15.8 points per game after scoring in double-figures in four-straight games, including 19+ in three of the last four. Redshirt junior Barbora Tomancova has been a force in the paint for Evansville, recording her third double-double in six games with 11 points and 12 boards in UE's win over Morehead State. Tomancova has also excelled at knocking down her attempts at the charity stripe, where she is shooting 92.3% from the line, the 24th-best free-throw percentage in the nation.
Following Evansville's matchup with Bellarmine, the Aces return to Meeks Family Fieldhouse to begin what will be the longest homestand of the season for UE. Featuring non-conference games against SEMO and UT Martin before the holiday and closing with the conference-opening weekend against SIU and Missouri State, the Aces will play four-straight home contests over the next three weeks.
Submitted by Athletics
Aces win a thriller over Campbell
Trailing by six points with 3:08 remaining, the University of Evansville men's basketball team finished the game on a 16-4 run to hang on for a 72-66 win over Campbell University on Wednesday at the Ford Center.
Antoine Smith Jr. and Marvin Coleman II each hit pivotal 3-pointers during the final stretch as UE clinched its third victory of the season.
"I thought at the beginning that we had the right energy defensively and we were able to finish the game in a similar way to how we started it," Purple Aces head coach David Ragland said after the win. "We played with the right energy from start to finish. Our guys really felt the energy from the fans over the last three minutes and that made a huge difference. We appreciate our fans and community for their support."
Coleman, Yacine Toumi, Gabe Spinelli and Chris Moncrief all set career scoring marks in the contest. Both Coleman and Toumi scored 18 points and hit 7 out of 11 attempts. Coleman tied his career mark with four 3-pointers. Spinelli had a nice game, hitting four out of his six attempts to score nine points while Moncrief recorded four tallies.
Finishing the night with 15 points was Antoine Smith Jr. He was 4-for-6 from the field and 3-of-5 from long range while adding five boards. Smith hit the 3-pointer that put Evansville in the lead for good with one minute remaining. Capping off the night's records was Kenny Strawbridge Jr., who dished out a career-high seven assists.
Marvin Coleman II got the Aces on the board with a jumper as the team started 2-for-3 from the field to take a 4-3 lead. The next six points belonged to the Camels as they went up 9-4 six minutes into the contest. Yacine Toumi took over at that point, scoring seven Evansville points in a row.
Toumi found an open Antoine Smith Jr. for a triple to complete a 10-0 run that gave Evansville a 14-9 advantage with 7:32 remaining in the half. Campbell missed six attempts in a row but regrouped to convert four out of their next five field goals to go back in front at 21-19. The Camels went back up by four when a bucket by Anthony Dell'Orso gave them a 28-24 advantage with just over two minutes left.
Smith knocked down his second triple of the night on the ensuing possession to help the Aces complete the half on a 7-0 run. Toumi hit another basket before Kenny Strawbridge Jr. hit two free throws in the final second to send UE to the break with a 31-28 lead.
Campbell knocked down four of its first five field goal tries of the second half to tie the score at 36-36. Coleman kept UE on pace, hitting his second triple. The shots continued to find the bottom of the net for the Camels as they started the period 6-for-9 on their way to a 43-37 advantage.
After starting 1-for-7 in the second half, Gabe Spinelli drained two shots as UE hit three in a row to retake a 44-43 edge. Strawbridge made a perfect pass to Spinelli, who dunked it and was fouled. Spinelli went on to finish the 3-point play. As the half moved past the midway point, the Camels wrestled away a 52-47 lead but it was the freshmen who brought UE back.
Chris Moncrief and Spinelli had back-to-back dunks while Coleman hit triple #3 of the game to tie it at 54-54. As the game entered the final four minutes, the Camels once again took a 6-point lead with a pair of triples making it a 62-56 game. After Toumi connected on his 7th make of the night, Strawbridge found Coleman for his fourth triple to make it a 1-point game.
With 1:38 on the clock, Toumi hit a pair of free throws that put Evansville on top – 63-62. A layup put Campbell back on top before UE took the lead for good when Coleman found Antoine Smith Jr. for a triple. From there, the Aces held strong to finish with the 72-66 victory.
"It feels good," Antoine Smith Jr. exclaimed. "We had a few games come down to the final few minutes so it feels great to finish."
UE shot 49.1% for the game with Campbell finishing at 44.2%. Both teams finished with 30 rebounds. Evansville returns to the road on Saturday for a 1 p.m. CT game at Ball State.
Submitted by Athletics
Contribute to AceNotes
To have content considered for inclusion in AceNotes, please submit a Marketing Request Form. Deadline for submission to AceNotes is 10:00 a.m. on the requested date of publication. Only articles concerning UE related/sponsored activities will be accepted. Articles submitted to AceNotes may be edited for length and clarity. Submitter contact information is at the end of each article.