| | |
| --- | --- |
| AceNotes Today | Wednesday, December 7, 2022 |
SAA Meeting, Decorating Contest, & Reception
SAA will be having an end of year meeting and Holiday Reception at 2:00pm on Friday, December 16th.
The meeting will last about a half an hour, followed by a reception and recognition of the Holiday Decorating Contest participants and winners.
For more info regarding the decorating contest, please see below.
It's not too late to decorate!
The UESAA social committee is hosting a decorating contest for all employee areas across campus for the upcoming holiday season.
Dates to decorate: November 28 – December 8
Photos will be posted to UE Positively Purple on December 9th. Late submissions will still be considered.
Join us for a 30 minute holiday reception following the SAA Meeting on December 16th, in Eykamp, for voting and to announce the winners.
Decorate your office, department, cubicle, etc and then submit a picture to ll138@evansville.edu for a chance to win lunch for your team. The winners will be announced at the December 16th reception.
The SAA Social Committee encourages you to take a holiday stroll around campus and enjoy all the wonderful decorations!
Submitted by Rebecca Oates ro32@evansville.edu
"From the Ashes" YouTube Premiere - Monday, December 12
The campus community and public are invited to watch the YouTube Premiere of From the Ashes: The University of Evansville Purple Aces, a documentary by Joe Atkinson, Assistant Professor of Communication. The film will premiere at 7:00 p.m. on Monday, December 12, the evening before the 45th anniversary of the December 13 plane crash.

You can watch the premiere at evansville.edu/live.

On December 13, 1977, the plane carrying the UE Men's Basketball team to its game at Middle Tennessee State University crashed 90 seconds after takeoff, killing all 29 people on board. From the Ashes tells the story of the team Evansville lost that night – from its start as the University's first Division I basketball team through the school's effort to rebuild its program from the ashes of tragedy.
Submitted by Julie Beer / jb855@evansville.edu
Holiday Art Sale
The Holiday Art Sale will be held in Ridgeway University Center on Thursday 12/8 and Friday 12/9 from 9:00 AM - 4:00 PM. Original art created by UE Art Department students and faculty will include ceramics, prints, drawings, and paintings. Please come by to shop for holiday gifts or to add to your personal collection.
Submitted by Carol McCraney cm177@evansville.edu
Pottery Sale: Save the Date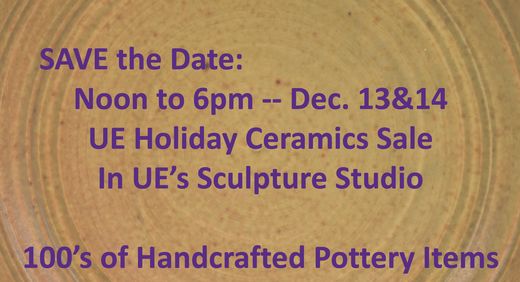 SAVE the Date:
Noon to 6pm -- Dec. 13&14
UE Holiday Ceramics Sale
In UE's Sculpture Studio
100's of Handcrafted Pottery Items
Submitted by Cris Hochwender ch81@evansville.edu
Read & Study Day Relaxation Event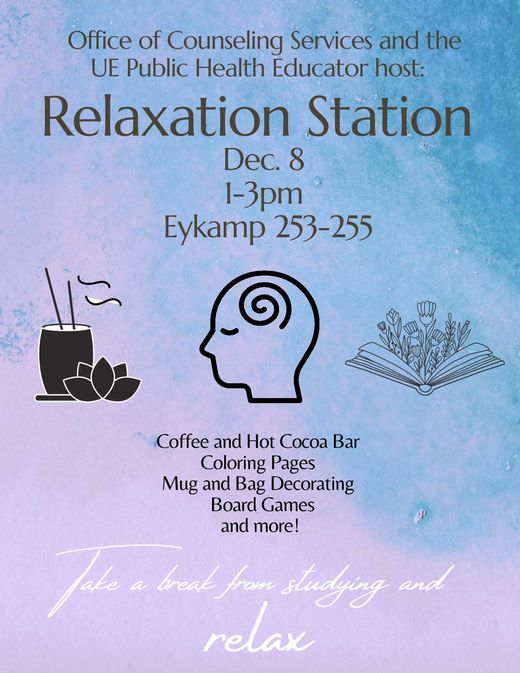 The annual Relaxation Station will be Dec. 8 from 1-3pm in Eykamp 253-255.
There will be a Coffee and Hot Cocoa Bar, Coloring Pages, Mug and Bag Decorating, Board Games, and more!... Also, there will be prizes! Just swing by and enjoy the last day before finals!
Take a break from studying and RELAX!
Submitted by Blake Johnson bj109@evansville.edu
45th Anniversary Services for the Dec. 13 Plane Crash
The University of Evansville will hold two services on Tuesday, December 13, to commemorate the 45th anniversary of the 1977 plane crash that tragically took 29 lives. The campus community and public are invited to partake in these services to honor the victims.
Daytime Service
Noon / Memorial Plaza
This service will include bagpipes by Tad Dickel, PhD; an invocation and message from Rev. Andy Payton, university chaplain; and the reading of the names and ringing of the peace bell for each victim. Afterwards, there will be a reception with hot drinks and refreshments in the Class of 1959 Gallery. Basketball game footage from the 1977 team, which has never been shown before, will also be on display.
Livestream: UE Alumni Association's Facebook page
Evening Service
7:00 p.m. / Neu Chapel
Rob Shelby, PhD, vice president for talent and community and chief inclusion and equity officer, will officiate the evening service. There will be special messages from Rev. Cindy Bumb '81, Mike Blake, and Curt Begle '99. At 7:22 p.m. - the same time that the plane crashed - a moment of silence will be observed.
Livestream: UE Music Conservatory's YouTube account
Submitted by Julie Beer / jb855@evansville.edu
Pancakes Are Coming: Pancake Study Break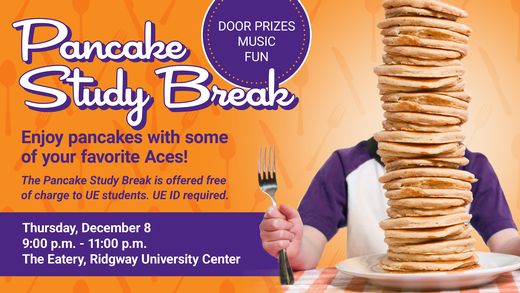 Finals are coming up - but so are pancakes! Take a break from studying for finals to join some of your favorite Aces at the Pancake Study Break! This event is free of charge for UE students. A UE ID is required. Pancakes and more will be available on Reading-Study Day - Thursday, December 8 - from 9:00-11:00 p.m. in The Eatery in Ridgway University Center. There will also be drawings for prizes - so don't miss out! A valid UE ID is required to enter.
Submitted by Chad Hart ch299@evansville.edu
Free Paper Shredding on Thursday, December 8
Free off-site paper shredding by Piranha Mobile Shredding will return to campus once again December 8 (Reading Study Day) from 10:00 a.m. - 1:00p.m. All UE students, faculty, staff, and alumni can take advantage of this free service by bringing paper to the Piranha truck in Koch Center for Engineering and Science parking lot. Paper will be shredded off-site. We will place bins along the parking lot to allow each person to empty their own material.
So, if mounds of paper are taking over your office, home, or room, this is the time to gather those old files, receipts, cancelled checks, tax forms, etc. No need to take out the staples or paper clips. Avoid identity theft by having confidential information permanently destroyed.
Please - no telephone books, magazines, or newspapers. Also, please note that there is a 100-pound paper limit per visit (number of visits is not limited).
Submitted by Amber Elkins ae152@evansville.edu
Elf: The Musical at the Fabulous Fox Theatre in St. Louis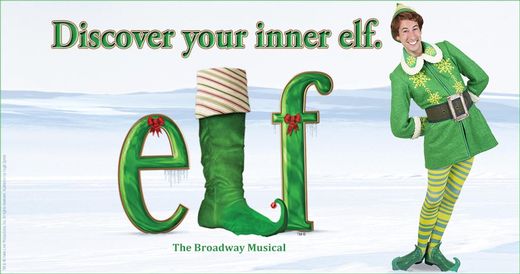 Thursday, December 22, 2022
Pre-show Dinner Reception is 6:00 – 7:15 p.m. CT
Performance 7:30 – 10:00 p.m. CT (including intermission)
The Fabulous Fox Theatre
527 North Grand Blvd.
St. Louis, MO 63103
On Thursday, December 22, we will be meeting at the Fabulous Fox Theatre to take in a really fun show together: ELF The Musical! We will also have an exclusive pre-show reception in the theatre's Marquee Room, with dinner, drinks, and dessert, where we can connect as Aces and chat before the performance. Tickets are $100, which will cover the performance, as well as dinner at the reception.
The holidays are a time for joining together and celebrating with one another, so we are inviting ALL members of the Aces family to this special event -- That means UE staff, UE alumni, current UE students, and even local high school students who have been accepted to the university! Friends and family are welcome to join, as well.
Our seats are located on the Orchestra Level - Section 2 - Rows EE, FF, GG. Once your tickets are reserved, we will print out hard copies and distribute them at the pre-show reception.
Please note there are a limited number of tickets available, so don't miss your chance to register!
For tickets, go to www.uealumnionline.com/2022ELF
Submitted by Jaime Wilder jw663@evansville.edu
Art Exhibit "Reflections" in Melvin Peterson Gallery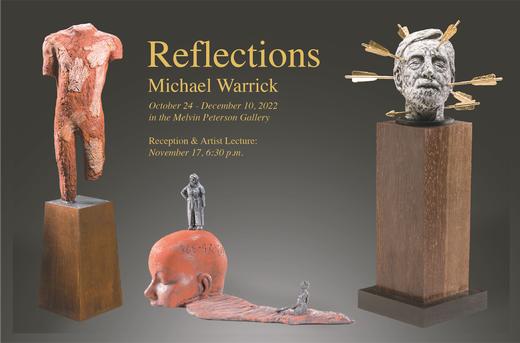 The University of Evansville presents "Reflections", an exhibit by Michael Warrick, on display at the Melvin Peterson Gallery through Saturday, December 10.
All are welcome to attend the reception and artist lecture on Thursday, November 17 at 6:30 PM in the Melvin Peterson Gallery.
The exhibit and reception are part of the Emerging Contemporary Artist Lecture Series sponsored by the Efroymson Family Fund and the UE Department of Art.
The hours for the Melvin Peterson Gallery are Monday 12–3pm; Tuesday 12–3pm; Wednesday 12–6pm; Thursday 12–6pm; Friday 12–3pm; and Saturday 12–3pm.
Submitted by Carol McCraney cm177@evansville.edu
It's Not Too Late to Register for Winter Intersession Courses
Get ahead by taking Winter Intersession online courses. Complete a missing required course, lighten your spring load, and take advantage of the winter break. Classes are held from December 16, 2022, through January 6, 2023. Students may take one class and register when registering for spring classes starting October 31, 2022.
For more information visit www.evansville.edu/wintersession.
Winter Intersession Course List: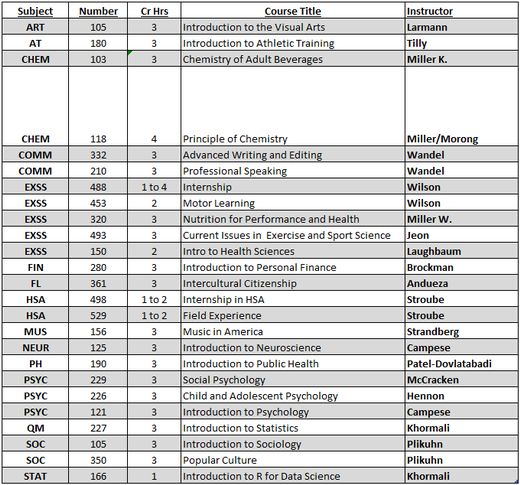 Submitted by Paula Heldt ph28@evansville.edu
Medical Profession Academy (MPA)
The Medical Professions Academy(MPA) is looking for 8th grade and 10th grade students in Vanderburgh and surrounding counties who are interested in science and medicine. The MPA is a half day program that is focused on preparing students for college by incorporating rigorous honors, AP, and dual credit classwork combined with unique community based experiences. The Medical Professions Academy offers students the ability to explore a large variety of different careers in science and medicine while also being a part of the broad range of activities offered at their traditional high school. Interested students and families can find more information and the application on our website. Applications are due December 16th. mpa.evscschools.com
Submitted by Melissa Edris me158@evansville.edu
Introducing Youth Programs
The Office of Youth Programs is new to the University of Evansville and has been established to help create pipelines to youth in our community. We strive to create programming that will create a spark in youth to consider and obtain a college education. We have partnered with local youth-serving organizations such as Potter's Wheel, Dream Center, YMCA, and Boys & Girls Club to bring middle and high school youth to campus. We are currently running our UE Explorers After-School Program. This is a once-a-month program where students from our partner organizations come to campus to meet with academic faculty to learn about a specific academic area and then have dinner in The Eatery.
We also plan to offer summer camps for the upcoming Summer 2023. We plan to offer camps in the following areas: STEM, ART, MUSIC, DANCE, and our first PRIDE Camp! Camps will either be daily or residential. More information regarding summer camps will be available in February 2023. As we expand our programming, we are looking for academic areas to partner with and UE students to volunteer to help with the programming. If you are interested, please contact Apryl Weatherford (Director of Youth Programs) at aw605@evansville.edu and/or Rachel Roscoe (Youth Programs and Special Events Coordinator) at rr209@evansville.edu. More information about Youth Programs can be found at: Youth Programs - University of Evansville.
Here are a few pictures from our UE Explorers session with the College of Education!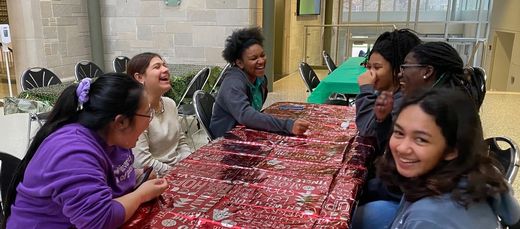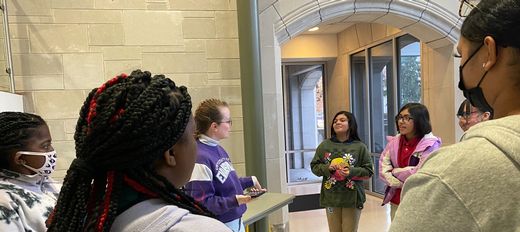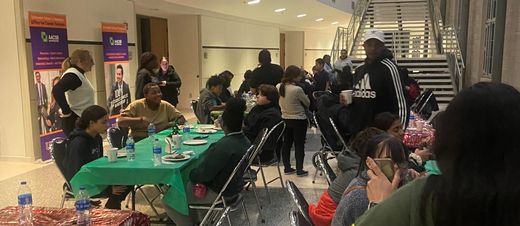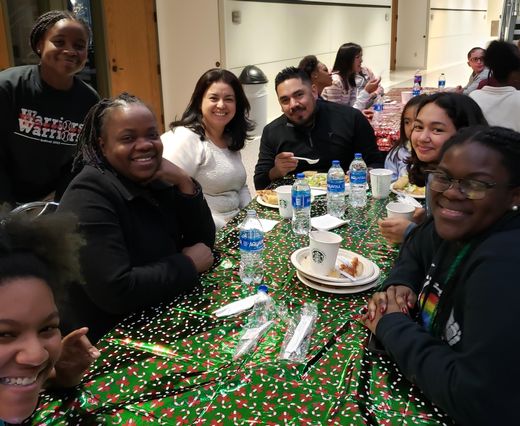 Submitted by Rachel Roscoe rr209@evansville.edu
The Night It Rained Tears: Remembering the Victims
On December 13, 1977, a tragic plane crash took the lives of 29 members from both the UE community and the flight crew. We will hold both a daytime and evening service on Tuesday, December 13 to mark the 45th annivesary of this fateful evening. Until then, we encourage you to read each day about those who perished in the crash.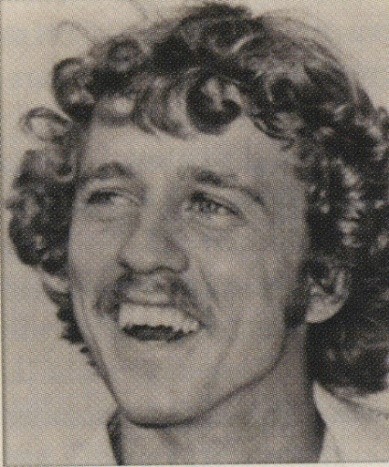 Mark Kniese
Mark Kniese was a junior physical education major. He was the trainer for UE's basketball and soccer teams as well as Harrison High School, from where he graduated before attending UE.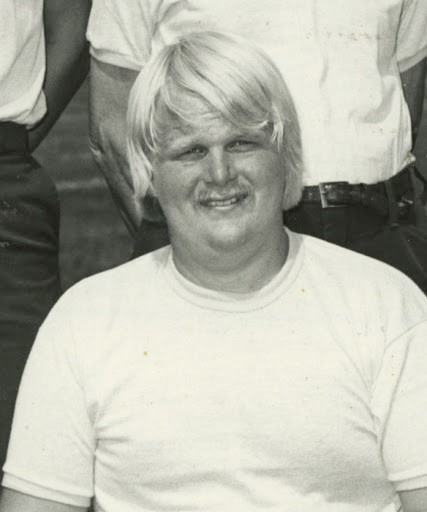 Mark Kirkpatrick
Mark Kirkpatrick was a student manager from Evansville, Indiana. He also managed football and baseball. He graduated from Central High School where he umpired and refereed. He was a physical education major.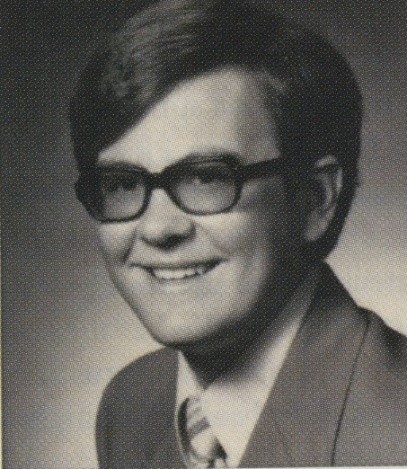 Jeffrey Bohnert
Jeffrey Bohnert was on a scholarship as a student manager. He was from Evansville, Indiana and graduated from Harrison High School. Jeffrey was a biology major and in the National Honors Society.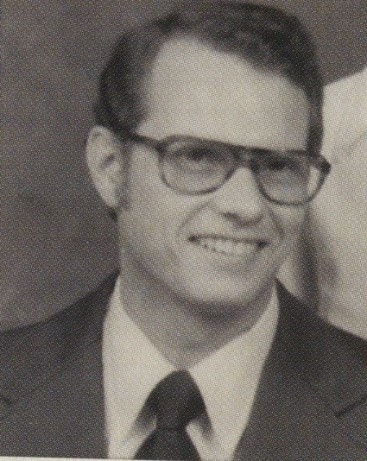 Charles Shike
Charles Shike was the comptroller for UE and was originally from Monmouth, Illinois. He got a master's degree from UE, and he served as both president of the Green River Kiwanis Club and financial advisor to United Way.
Submitted by Julie Beer / jb855@evansville.edu
Spring Meal Plan Changes
Students can adjust meal plans for the Spring semester until Friday, January 13, 2023 at 5:00 p.m.
Submitted by Brian Conner bc32@evansville.edu
Dawn Murtaugh: Fiber Art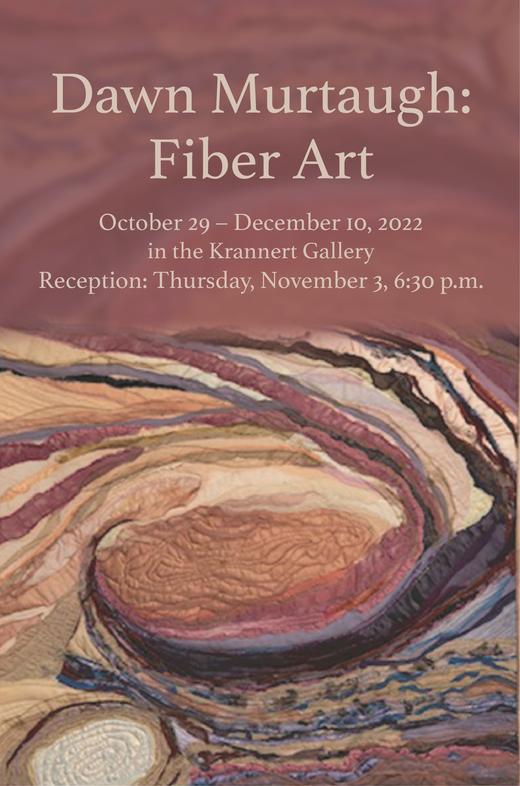 The Dawn Murtaugh: Fiber Art exhibit is open from October 29 through December 10, 2022 in the Krannert Gallery. Please plan to attend the artist reception on Thursday, November 3 at 6:30 p.m.
Submitted by Carol McCraney cm177@evansville.edu
Congratulations
Congratulations to Jade Shelby on her promotion from Records & Registration Specialist to Academic Advisor.
Jade thanks everyone she's worked with for making this shift possible and for all of the support!
All new registration changes/inquiries will need to be emailed directly to academicservices@evansville.edu. Thank-you and Congratulations!
Submitted by Academic Services
UE Diving Travels To IUPUI Thursday
The University of Evansville diving team will wrap up the 2022 calendar year competition-wise on Thursday, as the Purple Aces will travel north to Indianapolis to battle IUPUI. The meet will begin at 1 p.m. central time at the IUPUI Natatorium.
UE will be represented by junior Madison Rollett (Evansville, Ind./Reitz) and sophomore Valorie Marx (Evansville, Ind./Reitz) on the women's side and freshman Levi McKinney (Boonville, Ind./Boonville) on the men's side against the Jaguars.
UE's divers last competed on November 10-12, when UE took part in the A3 Performance Invitational. Rollett and McKinney both won the three-meter competition on the women's and men's sides at the A3 Performance Invite, with Rollett also finishing second in the women's one-meter competition. Marx also has had a strong fall, as she has posted personal-best scores in both the one-meter and three-meter competitions so far this fall.
"With the three local divers on the team, having the opportunity to compete not only against high-level competition, but also the opportunity to compete in one of the finest diving facilities in the nation like the IUPUI Natatorium, was a key stepping stone for each of them as they pursued their opportunities to dive at the collegiate level," said UE assistant coach for diving Dustin Bredemeier. "I see this meet as an opportunity to one, reflect on their past performances at this facility that helped shape them into the divers they are today, and two, to allow them to look forward as we head into championship season in March."
IUPUI features multiple NCAA Zone qualifiers on their diving squads this year, led by sophomore Alex Scott, who finished 19th in the NCAA in the platform competition last year. Freshman Sebastian Otero has also posted NCAA Zone qualifying scores already this year, while winning both the one-meter and three-meter competitions in five of his six meets competed in so far this year.
Submitted by Athletics
Men's basketball faces Campbell on Wednesday
Returning to non-conference play for its next three games, the University of Evansville men's basketball team opens the stretch on Wednesday versus Campbell inside the Ford Center. Tip is set for 7 p.m. CT with the Purple Aces Radio Network and ESPN+ having the coverage.
Last Time Out
- A furious second-half rally saw the Purple Aces trim a 20-point halftime deficit to just six points before Northern Iowa fended off the challenge to take a 72-55 win on Saturday in Cedar Falls
- The Panthers took an 18-4 lead out of the gate and would lead for the duration of the contest
- Kenny Strawbridge Jr. led the way once again as he recorded 17 points
- Antoine Smith Jr. registered 10 points while playing over 32 minutes
Still in the Top Ten
- With his scoring average of 16.8 points per game, Kenny Strawbridge Jr. continueus to lead the Aces while ranking 9th in the Missouri Valley Conference
- Scoring 25 points against Fairfield, Strawrbridge reached the 20-point mark for the fifth time this season
- His top scoring output of the season saw him register 25 points on 11-of-18 shooting
- Over the last six games, he is averaging 17.8 points while shooting an 44.8% (39-for-87) from the field
- Since hitting four of his six 3-point attempts against Robert Morris, he has two of his last 11 from outside
Making the Start
- In his first start of the 2022-23 season, Antoine Smith Jr. scored 10 points and hauled in five rebounds at Northern Iowa
- For the first time this season, Smith has posted back-to-back double digit games as he totaled 12 against SIU and 10 at UNI
- Smith played a season-high 32:29 against the Panthers and hauled in five rebounds, his highest total since the opener at Miami
- He was a perfect 5-of-5 in the Valley opener against the Salukis on the way to his top scoring game of the season
Leading on the Boards
- Marvin Coleman II added seven more rebounds to his season tally at UNI and paces Evansville with an average of 6.4 per game
- His average is tied for 10th in the MVC and he has recorded 7 or more caroms in six of the ten games
- In the finale of the Hostilo Hoops Community Classic in Savannah, Marvin Coleman II recorded 8 rebounds, 6 assists and 5 steals
- He led the Aces in all three categories in the contest and is tied for 18th in the MVC with 2.5 assists/game
Scouting the Opponent
- Campbell enters Wednesday's game with a 4-4 record after dropping their last contest at East Carolina by a 79-69 final on Friday
- On Nov. 27, the Camels picked up an 87-85 home overtime win over Stetson
- Ricky Clemons paces Campbell with 13.3 points per game while shooting 57.1% from outside
- Clemons also leads the team with 31 assists, 14 steals and 34.2 minutes per game
- Joshua Lusane (11.0 PPG), Jesus Carralero (10.6 PPG) and Anthony Dell'Orso (10.3 PPG) also average double figures
- Jay Pal is their leading rebounder with 7.1 per game
Submitted by Athletics
Contribute to AceNotes
To have content considered for inclusion in AceNotes, please submit a Marketing Request Form. Deadline for submission to AceNotes is 10:00 a.m. on the requested date of publication. Only articles concerning UE related/sponsored activities will be accepted. Articles submitted to AceNotes may be edited for length and clarity. Submitter contact information is at the end of each article.