| | |
| --- | --- |
| AceNotes Today | Tuesday, December 6, 2022 |
Holiday Art Sale
The Holiday Art Sale will be held in Ridgeway University Center on Thursday 12/8 and Friday 12/9 from 9:00 AM - 4:00 PM. Original art created by UE Art Department students and faculty will include ceramics, prints, drawings, and paintings. Please come by to shop for holiday gifts or to add to your personal collection.
Submitted by Carol McCraney cm177@evansville.edu
Pottery Sale: Save the Date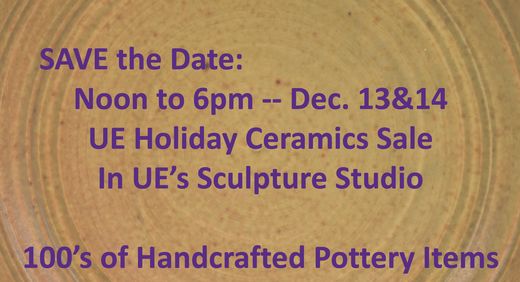 SAVE the Date:
Noon to 6pm -- Dec. 13&14
UE Holiday Ceramics Sale
In UE's Sculpture Studio
100's of Handcrafted Pottery Items
Submitted by Cris Hochwender ch81@evansville.edu
Read & Study Day Relaxation Event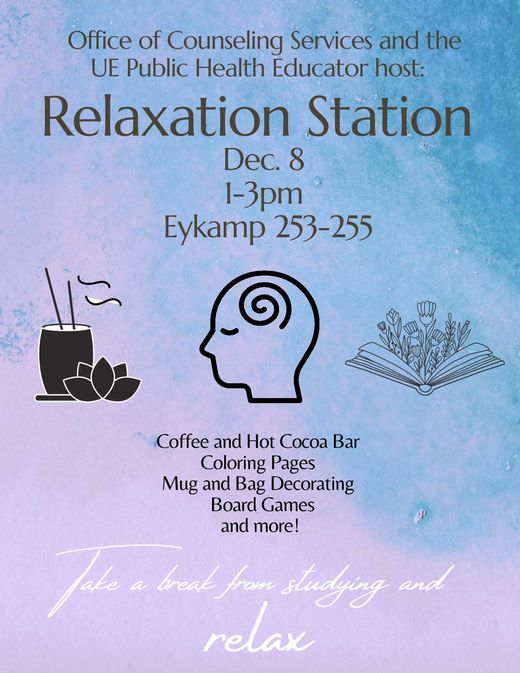 The annual Relaxation Station will be Dec. 8 from 1-3pm in Eykamp 253-255.
There will be a Coffee and Hot Cocoa Bar, Coloring Pages, Mug and Bag Decorating, Board Games, and more!... Also, there will be prizes! Just swing by and enjoy the last day before finals!
Take a break from studying and RELAX!
Submitted by Blake Johnson bj109@evansville.edu
45th Anniversary Services for the Dec. 13 Plane Crash
The University of Evansville will hold two services on Tuesday, December 13, to commemorate the 45th anniversary of the 1977 plane crash that tragically took 29 lives. The campus community and public are invited to partake in these services to honor the victims.
Daytime Service
Noon / Memorial Plaza
This service will include bagpipes by Tad Dickel, PhD; an invocation and message from Rev. Andy Payton, university chaplain; and the reading of the names and ringing of the peace bell for each victim. Afterwards, there will be a reception with hot drinks and refreshments in the Class of 1959 Gallery. Basketball game footage from the 1977 team, which has never been shown before, will also be on display.
Livestream: UE Alumni Association's Facebook page
Evening Service
7:00 p.m. / Neu Chapel
Rob Shelby, PhD, vice president for talent and community and chief inclusion and equity officer, will officiate the evening service. There will be special messages from Rev. Cindy Bumb '81, Mike Blake, and Curt Begle '99. At 7:22 p.m. - the same time that the plane crashed - a moment of silence will be observed.
Livestream: UE Music Conservatory's YouTube account
Submitted by Julie Beer / jb855@evansville.edu
Pancakes Are Coming: Pancake Study Break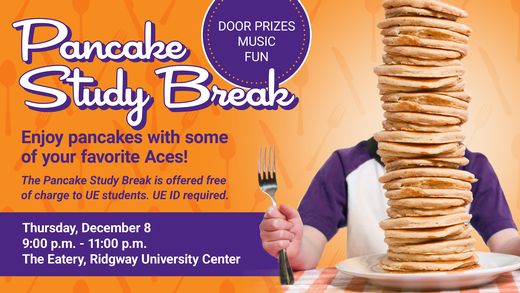 Finals are coming up - but so are pancakes! Take a break from studying for finals to join some of your favorite Aces at the Pancake Study Break! This event is free of charge for UE students. A UE ID is required. Pancakes and more will be available on Reading-Study Day - Thursday, December 8 - from 9:00-11:00 p.m. in The Eatery in Ridgway University Center. There will also be drawings for prizes - so don't miss out! A valid UE ID is required to enter.
Submitted by Chad Hart ch299@evansville.edu
Free Paper Shredding on Thursday, December 8
Free off-site paper shredding by Piranha Mobile Shredding will return to campus once again December 8 (Reading Study Day) from 10:00 a.m. - 1:00p.m. All UE students, faculty, staff, and alumni can take advantage of this free service by bringing paper to the Piranha truck in Koch Center for Engineering and Science parking lot. Paper will be shredded off-site. We will place bins along the parking lot to allow each person to empty their own material.
So, if mounds of paper are taking over your office, home, or room, this is the time to gather those old files, receipts, cancelled checks, tax forms, etc. No need to take out the staples or paper clips. Avoid identity theft by having confidential information permanently destroyed.
Please - no telephone books, magazines, or newspapers. Also, please note that there is a 100-pound paper limit per visit (number of visits is not limited).
Submitted by Amber Elkins ae152@evansville.edu
Michele Adams Retirement Reception
The Office of Fiscal Affairs wishes to congratulate Michele Adams on her upcoming retirement. In her role as Executive Assistant, Michele has made innumerable contributions to the University of Evansville during her more than 20 years of service. Please join us as we honor Michele with a reception, details shown below. We hope to see you there!
Wednesday, December 14
3:00 - 4:30 PM
Olmsted Hall, First Floor Lobby
Submitted by Jenni Sauls js944@evansville.edu
Art Exhibit "Reflections" in Melvin Peterson Gallery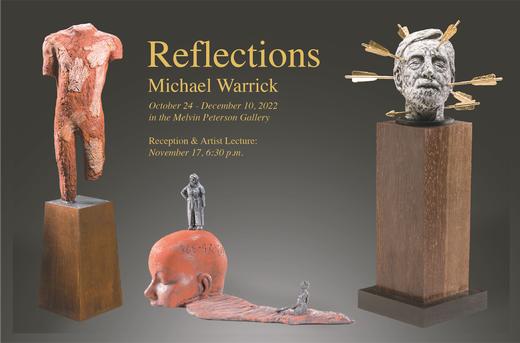 The University of Evansville presents "Reflections", an exhibit by Michael Warrick, on display at the Melvin Peterson Gallery through Saturday, December 10.
All are welcome to attend the reception and artist lecture on Thursday, November 17 at 6:30 PM in the Melvin Peterson Gallery.
The exhibit and reception are part of the Emerging Contemporary Artist Lecture Series sponsored by the Efroymson Family Fund and the UE Department of Art.
The hours for the Melvin Peterson Gallery are Monday 12–3pm; Tuesday 12–3pm; Wednesday 12–6pm; Thursday 12–6pm; Friday 12–3pm; and Saturday 12–3pm.
Submitted by Carol McCraney cm177@evansville.edu
Introducing Youth Programs
The Office of Youth Programs is new to the University of Evansville and has been established to help create pipelines to youth in our community. We strive to create programming that will create a spark in youth to consider and obtain a college education. We have partnered with local youth-serving organizations such as Potter's Wheel, Dream Center, YMCA, and Boys & Girls Club to bring middle and high school youth to campus. We are currently running our UE Explorers After-School Program. This is a once-a-month program where students from our partner organizations come to campus to meet with academic faculty to learn about a specific academic area and then have dinner in The Eatery.
We also plan to offer summer camps for the upcoming Summer 2023. We plan to offer camps in the following areas: STEM, ART, MUSIC, DANCE, and our first PRIDE Camp! Camps will either be daily or residential. More information regarding summer camps will be available in February 2023. As we expand our programming, we are looking for academic areas to partner with and UE students to volunteer to help with the programming. If you are interested, please contact Apryl Weatherford (Director of Youth Programs) at aw605@evansville.edu and/or Rachel Roscoe (Youth Programs and Special Events Coordinator) at rr209@evansville.edu. More information about Youth Programs can be found at: Youth Programs - University of Evansville.
Here are a few pictures from our UE Explorers session with the College of Education!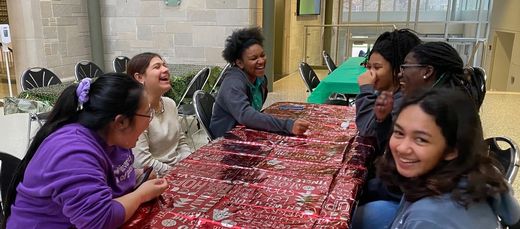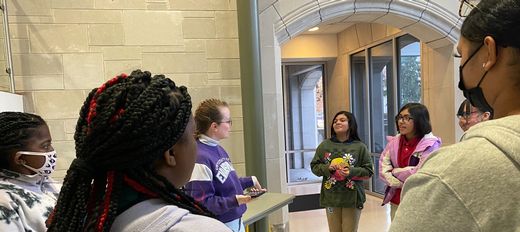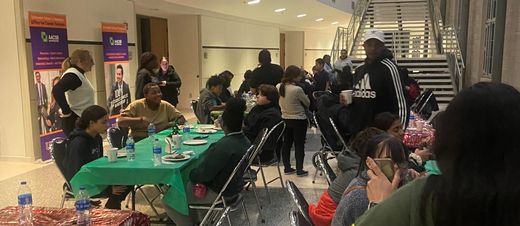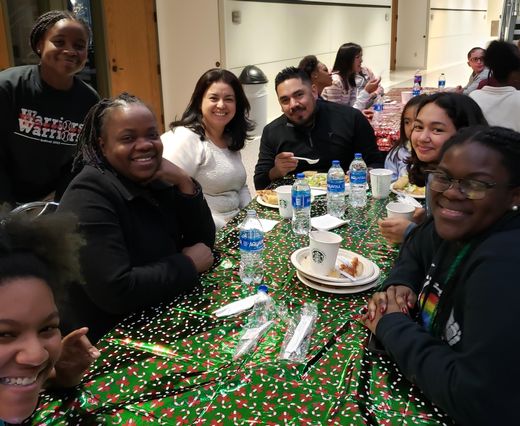 Submitted by Rachel Roscoe rr209@evansville.edu
Library Display Cases
Looking for a highly visible space to show off what is happening in your area of campus? The Library has the perfect place for you! The library has two display cases with great views and are available all year. The schedule is currently open for reservations. If you are interested in taking advantage of the space, contact Meg Atwater-Singer (812-488-2487 || ma35) with your preferred dates.
Submitted by Meg Atwater-Singer ma35@evansville.edu
Plant Sitting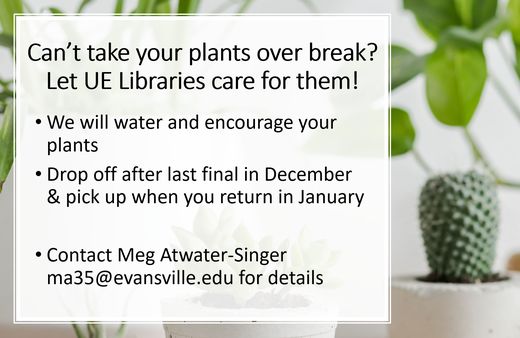 The library is offering to keep students' plants alive over the winter break if they cannot take them home. Contact Meg Atwater-Singer at ma35 for more information.
Submitted by Meg Atwater-Singer ma35@evansville.edu
Pizza and a Movie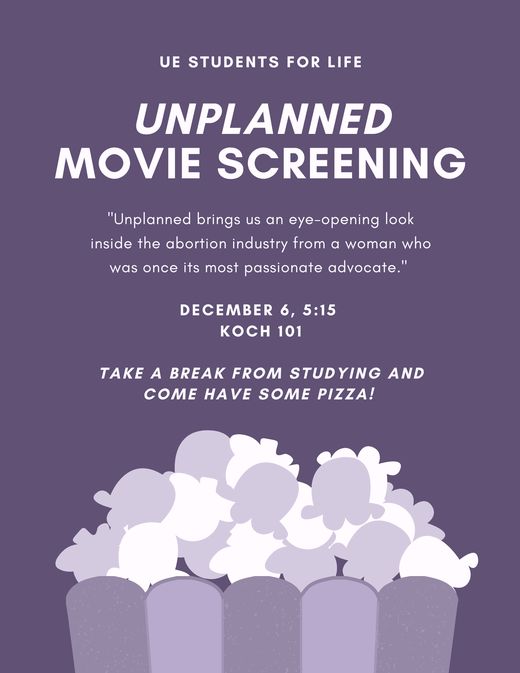 Come take a study break and have some pizza and fellowship as we watch Unplanned, the powerful story of how one abortion worker's life was turned completely upside down. This will be Tuesday, December 6 at 5:15 in Koch 101.
Submitted by Kira O'Neal kj154@evansville.edu
The Night It Rained Tears: Remembering the Victims
On December 13, 1977, a tragic plane crash took the lives of 29 members from both the UE community and the flight crew. We will hold both a daytime and evening service on Tuesday, December 13 to mark the 45th annivesary of this fateful evening. Until then, we encourage you to read each day about those who perished in the crash.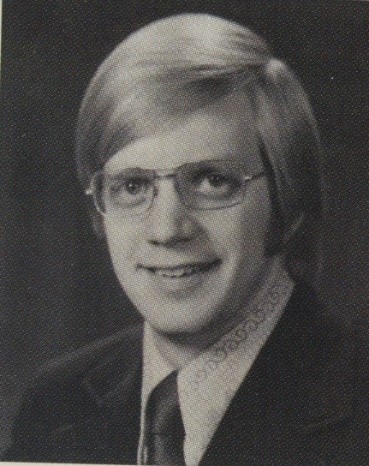 Gregory Knipping
Gregory Knipping was the sports information director for the Aces and was a graduate from the University of Missouri. He was a member of College Sports Information Directors of America and Football Writers of America. He also served Purdue in the same capacity before coming to UE. He was the first full-time person in his position for the Aces.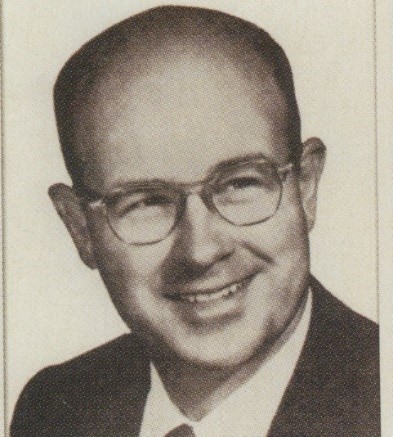 Marvin Bates
Marvin Bates was a well-known sports announcer and a member of the Indiana Basketball Hall of Fame. He was a radio voice for WUEV while teaching social science at Central High School. Bates also worked in public relations. He was voted Most Outstanding Indiana Sportscaster two separate years. He also served in the Air Force during World War II.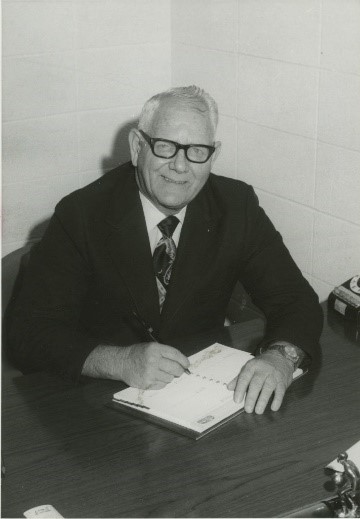 Robert Hudson
Robert Hudson was the business manager for the athletic department at UE for 22 years before he became the assistant athletic director in 1977.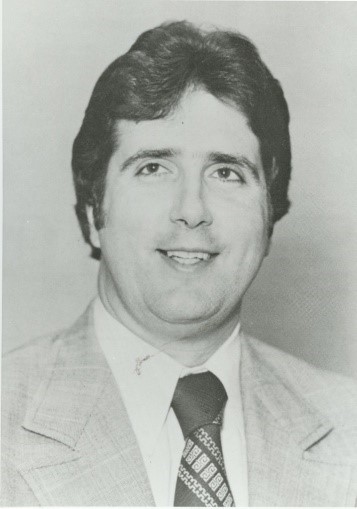 Bobby Watson
Bobby Watson was in his first season as head coach, and prior to his arrival he was an assistant coach at Oral Roberts University. He was from Bethel Park, Pennsylvania, and he was a star baseball and basketball player in high school. He also played basketball at the Virginia Military Institute where, in 1964, the team won the Southern Conference Championship and played in the NCAA Tournament. He went on to be the ninth-round pick by the Baltimore Bullets in the NBA Draft, but he decided to take a coaching position instead. Later, he joined the army and served two stints in Vietnam.
Submitted by Julie Beer / jb855@evansville.edu
Congratulations
Congratulations to Jade Shelby on her promotion from Records & Registration Specialist to Academic Advisor.
Jade thanks everyone she's worked with for making this shift possible and for all of the support!
All new registration changes/inquiries will need to be emailed directly to academicservices@evansville.edu. Thank-you and Congratulations!
Submitted by Academic Services
Contribute to AceNotes
To have content considered for inclusion in AceNotes, please submit a Marketing Request Form. Deadline for submission to AceNotes is 10:00 a.m. on the requested date of publication. Only articles concerning UE related/sponsored activities will be accepted. Articles submitted to AceNotes may be edited for length and clarity. Submitter contact information is at the end of each article.